If BDSM and other kinks and fetishes are your thing and you are looking for like-minded people in the kink community to hookup with, then this FetLife review is a must-read.
FetLife is a kinky dating platform that helps you find potential matchups for real-life meet-ups primarily.
In today's article, we are going to assess just what it offers those of us who are looking for an online dating site that provides something that commercial ones can't.
During this comprehensive review, we don't only look at the strengths and weaknesses of FetLife but also take you through every aspect of the site.
OFL Top Recommendations based on 100,000+ Survey

"Serious Relationships"
"Discreet Hookups"
"Best Course for Men"
"Quick Flings"
"Normal Hookups"
"Our Quiz"
And that includes:
So if you've wanted to get into the niche dating world to explore your sexual fantasies, make sure you read this review to gather all the information you need.
Is your dating app giving you the best chance for success?
Make sure to take our online dating site/app quiz to find out.
It's a fact that people who follow our dating site suggestions have on average 2 extra dates per month.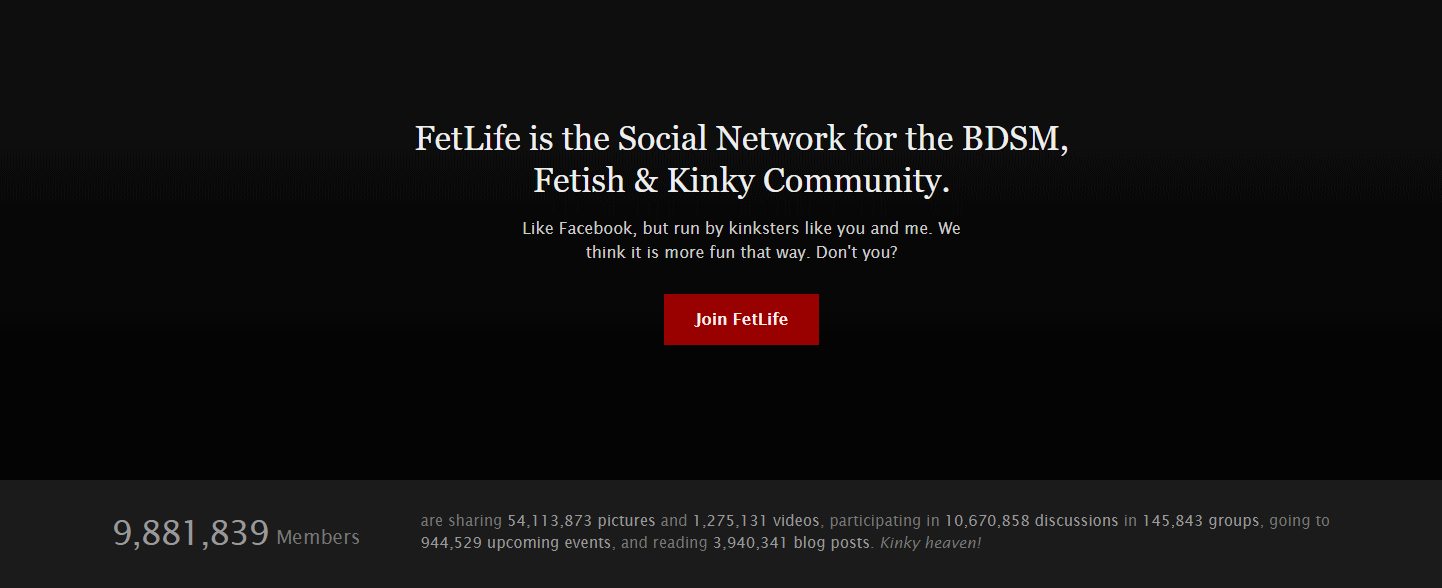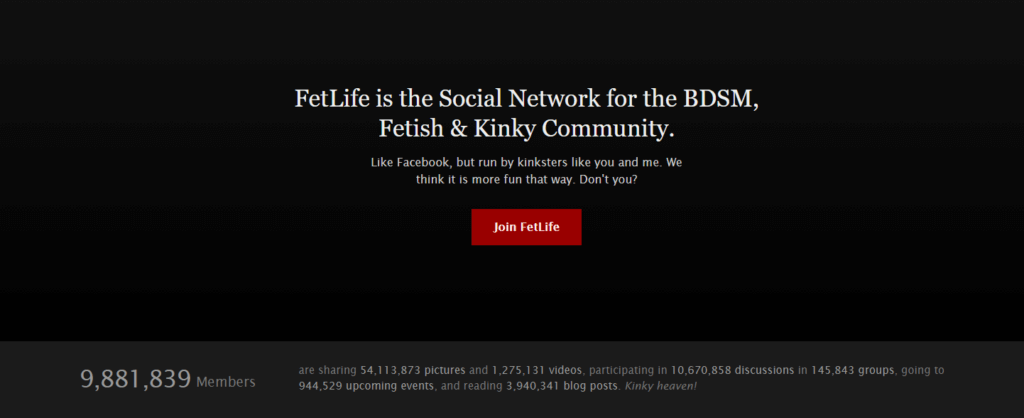 Ease of use – 3.5/5
Success rate – 3.5/5
Key features – 3/5
Price – 5/5
It's one of the biggest BDSM, kink and fetishes found online
Close to 10 million users have signed up for profiles on the site
The site is free to use and you can message any other users without paying
$5 per month gets you a few added perks but also contributes to the running of FetLife
As a new user, it was very difficult to work out how to search for a potential matchup at first
The site could do with a regular search engine like its competitors
Reply rates aren't always the greatest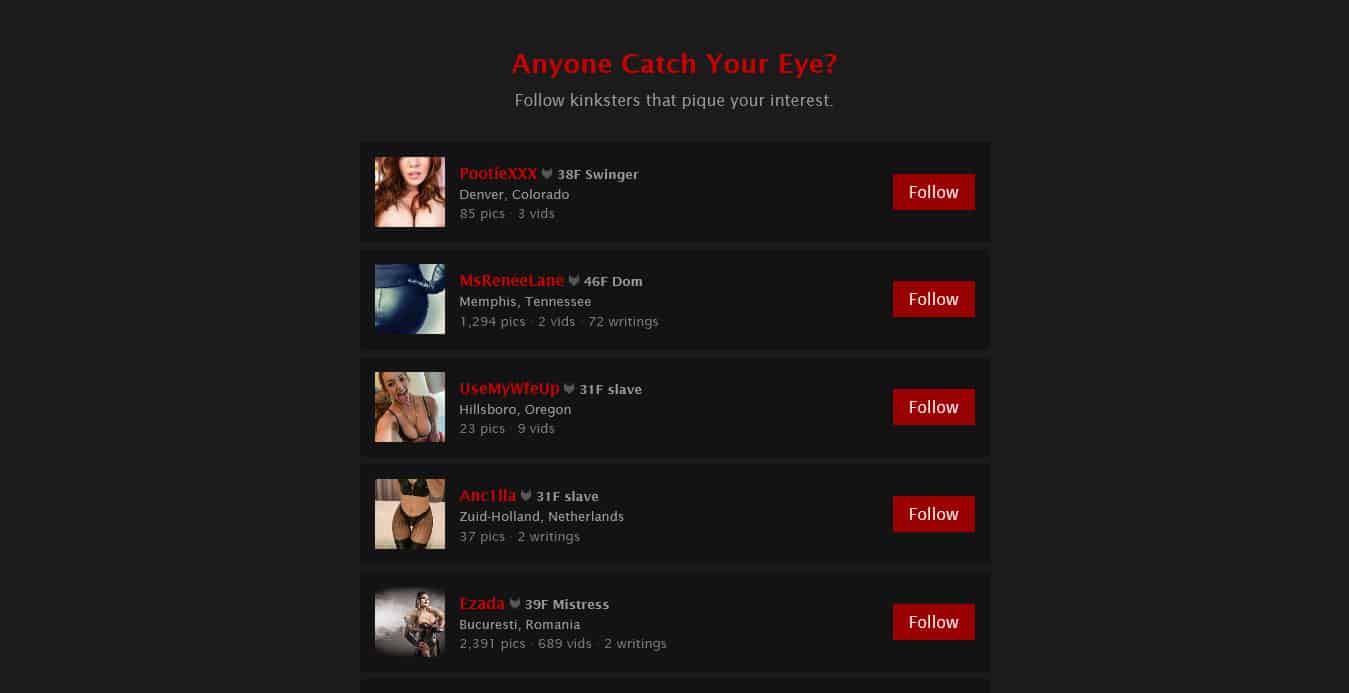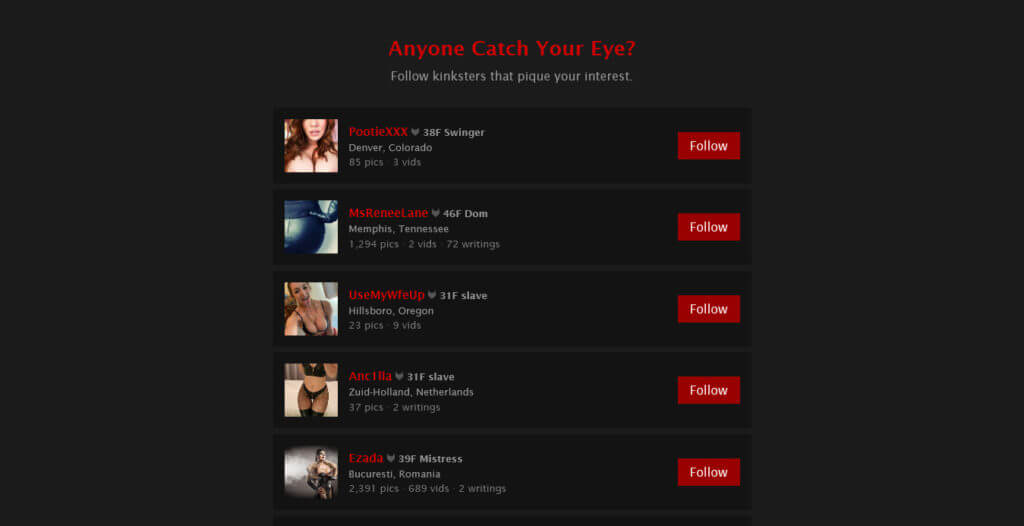 Who Is It For/Demographics?
Many people look for dating sites that can cater to their sexual preferences, regardless of whether they are looking for a serious relationship (like Tinder or eHarmony) or casual hookup (like BeNaughty or Ashley Madison).
That's because although you might find like-minded people while searching a more commercial site, the chances are highly unlikely.
So why not turn to niche dating sites for fetishes, BDSM and other kinks?
Many others have.
In fact, FetLife says that 9.8 million people have signed up for the site.
OFL Top Recommendations based on 100,000+ Survey

"Serious Relationships"
"Discreet Hookups"
"Best Course for Men"
"Quick Flings"
"Normal Hookups"
"Our Quiz"
I am sure that many regular dating sites would love user figures like that.
But let's dig into those numbers and demographics a little more.
Over 4.5 million users are from the United States
Users have shared over 54 million pictures and 1.2 million videos
Over 100000 people join the site each month
If you evaluate FetLife against other BDSM and kink sites on the internet from a user point of view, it is one of the biggest, that's for sure.
Gender ratio and user age ranges
Male-dominated.
That's how I would describe the gender ratio on FetLife.
Through my research, I can reveal that for every female that has signed up for a profile on the site, three males have done so as well.
That means:
75% of users are male
25% of users are female
And that's something that may or may not play a part in your decision to start a profile page here.
Just bear in mind, however, a gender ratio that is so far apart doesn't hurt a dating website with almost 10 million users as much as it would one with 500000 users, for example.
So while women only make up 25% of the user base, that's still 2.5 million females that you can access through the search bar, right?
And the most popular age ranges?
Well, although you find all age ranges well represented with users, the most popular age range is 25 to 34 year-olds.
It seems that young people like what FetLife has to offer as the next biggest group are the 18-24 year-olds.
Those two alone make up over half of the users found on the site.
Here is the data I collected regarding the most popular age range to the least popular:
25-34 year-olds: 28% of all users. 21% of these users are male and 7% are female
18-24 year-olds: 24% of all users. 18% of these users are male and 6% are female
25-34 year-olds: 28% of all users. 21% of these users are male and 7% are female
55 and older: 18% of all users. 13% of these users are male and 5% are female
35-44 year-olds: 16% of all users. 11% of these users are male and 5% are female
44-54 year-olds: 14% of all users. 10% of these are users are male and 4% are female
So while the two youngest age groups make up half the user base, the remaining users are very well spread across the other age ranges.
None of them are below 10% of the total user base with the smallest, the 44-54 years-olds at 14%.
Let me just clarify that even further.
14% of the total user base is 1.4 million people.
So in just that age range, we have more users than some dating sites have in total.
This just confirms to me what a massive site FetLife is.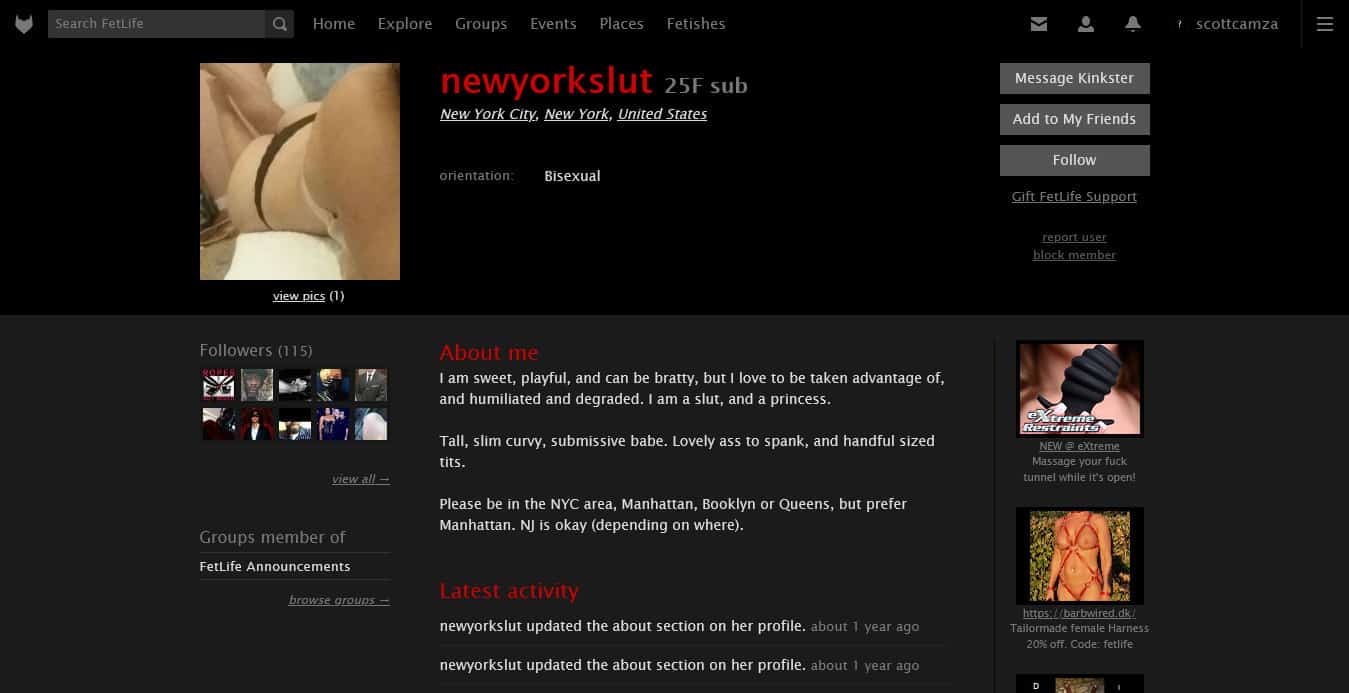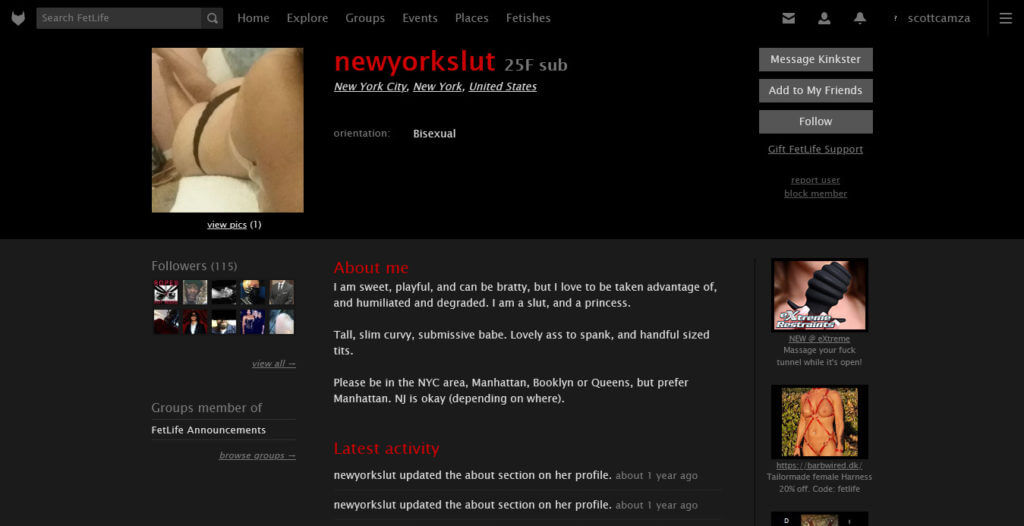 As with all dating websites, you need to register as a user first before you start your journey.
There are a few ways that you can tackle the signup process.
Either you are going to use the desktop version of the site or you could use the app.
The app, which is available for both IOS and Android devices, is not found on either Google Play or the Apple Store.
It's a third-party download and that might influence your decision as to where to register using it or not.
Even though there is a mobile app, I went the website route as I prefer an official app that's endorsed by Apple or Google.
So let's look at the signup process in more detail.
First up, if you are someone who prefers the convenience of using a social media account to sign up, you don't have that luxury here.
So here's the information that you will need to provide as part of the registration process:
Your nickname to be used on the site
Your gender (There are 12 to choose from)
Your sexual orientation (There are 12 to choose from)
Your role (There are 15 to choose from)
Your birthdate
A valid email address
Your location
A secure password
A profile picture (you can skip this if you'd prefer)
Finding your way around

FetLife
The registration process isn't lengthy at all.
In fact, five minutes and you are already viewing the site and what it has to offer.
The overall look of FetLife fits in with the theme of this dating site I feel.
Basically, there are two major colors here, black and gray with user profiles providing flashes of other colors.
When you do log in for the first time, you are encouraged to sign up for groups that may interest you.
This gives FetLife a social network aspect over and above the dating side of things.
Exploring the site will show you that FetLife uses two menu systems.
The main one, which serves the dating side of things, is found at the top of the screen.
A secondary menu system on the left-hand side handles those social network aspects I mentioned earlier.
Let's start with the main menu system as I believe it's the one that's most used.
Here you will find the following menus:
Home: Click here to go to the home page. When you joining various groups, you can see their updates here
Explore: Here you can find people to perv, kinksters to follow or other users to make friends with. This is a host of pictures, videos and more that you can look through
Groups: Groups of varying kinds across a range of subjects can be found by clicking on this menu.
Events: FetLife holds events in major cities across America. Click here to find out if there is one near you.
Fetishes: Click here to add various fetishes that you are interested in to your profile
Places: Here you can set locations as to where you can meet other kinksters
Envelope icon (Messages): All the messages that you send to other users, as well as those they send to you, can be found under this menu
Person icon (Friend requests): Click here to see all your friend requests
Bell icon (Notifications): All important notifications are displayed here
And now Feeds, the secondary menu system:
Latest activity: Click here to see the latest activity from users you follow or befriended
Group activity: This will show you the latest activity in the groups you have joined
Status updates: These are status updates friends you have made on the site
Writings: See the latest writings of other users here
Pictures: Pictures uploaded by others that you follow or who you have made friends with can be viewed here
Videos: You can view videos posted by those you follow or your friends here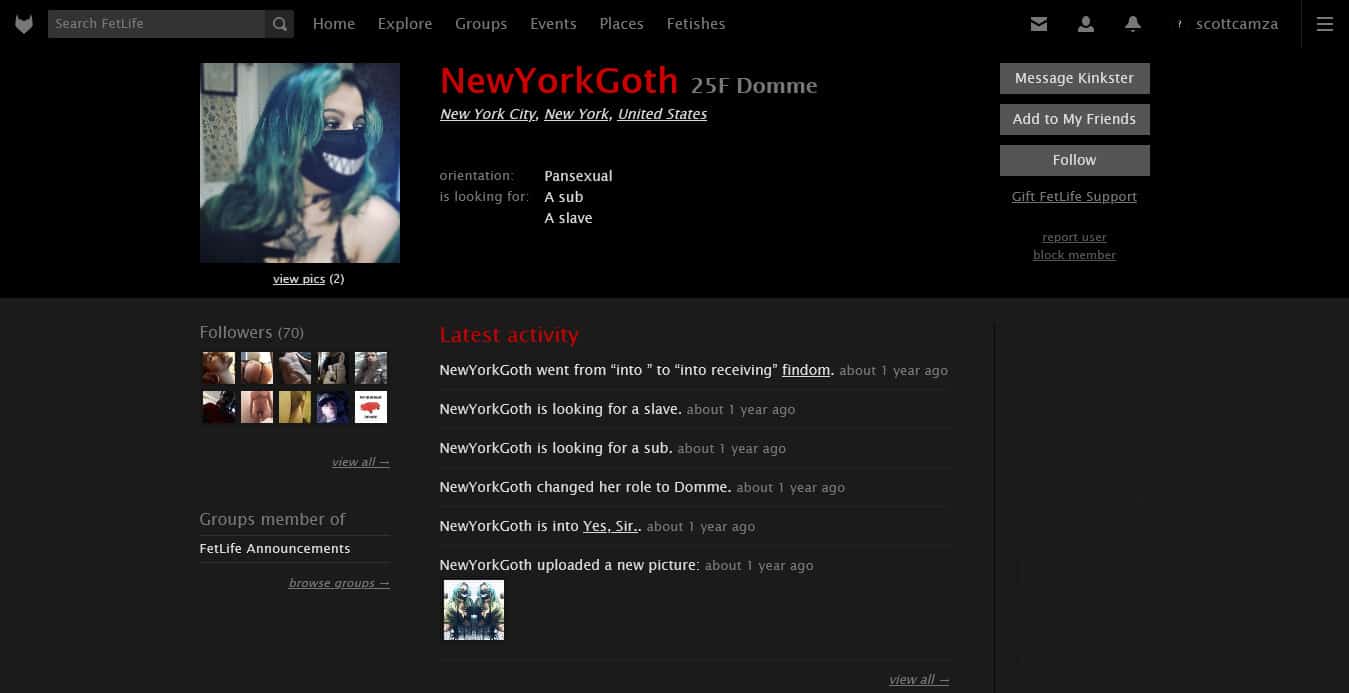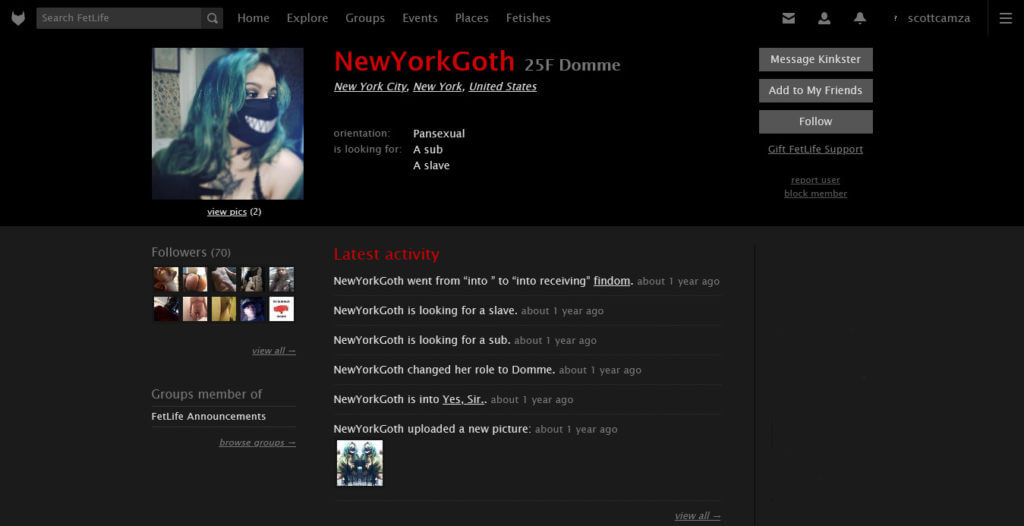 In analyzing your profile on the site, you are going to find that it doesn't really have any depth to it at all.
All you have is a profile picture, your location, your age, your sexual role and your sexual orientation.
You can add your various fetishes if you want to while it will also display the groups you belong to.
As part of the social network aspect of the site, other users or friends can come and write on your wall.
And that's what I initially thought.
But it bugged me that my profile had no information.
Because when clicking on my username, that just brought up my profile view but didn't actually allow me to edit it.
But there is a way, it's just that obvious.
You need to click on the three horizontal stripes on the far-right of the screen.
Then click on "Edit Profile".
Now you can add:
How active you are
What type of relationship you are looking for
An "About Me" section
If you are in a relationship
Your fetishes
Your websites
Sadly, it seems that many other users haven't found that this is the way to edit their profiles because they were left empty just like mine was initially.
Clearly, this is a massive oversite by those behind the site and it's certainly something I did not like.
While conducting my research into FetLife, it became very clear to me that the group aspect of the site is critical in helping to find potential matchups.
While I will demonstrate what I mean by this a little later, I just feel it's a part of the site that's probably a lot bigger than most people realize when they join up.
And there are groups for just about any kink that you can think of.
From the moment you access the site for the first time, you are asked which groups you would like to browse.
For me, the main downside of this is that a new user is trying to find their way around and might not want to join groups straight up.
I know from my perspective that I didn't.
I just wanted to get a feel for the site, complete my profile and then start searching for potential matchups.
But without groups, you find out that doing so is actually pretty difficult.
Again, I will analyze this in more detail a little later in this review.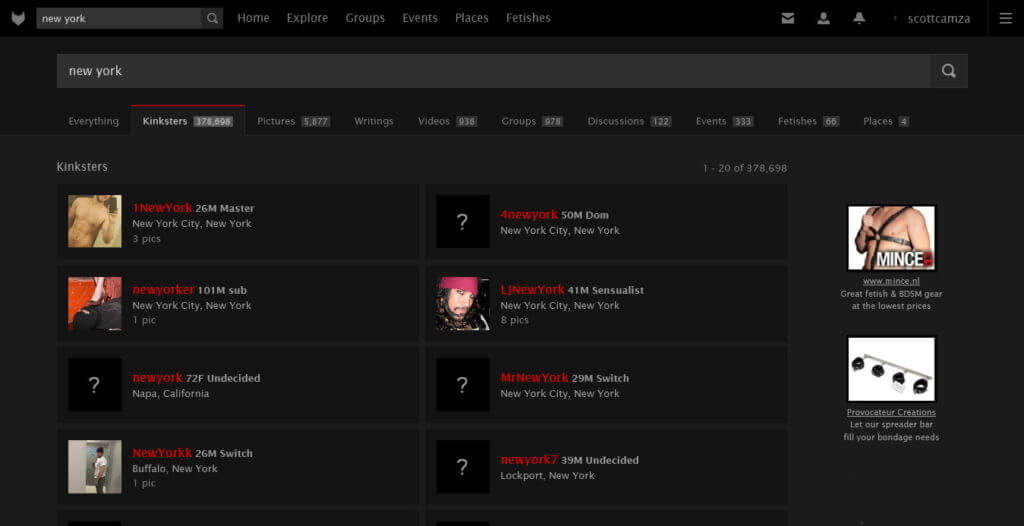 So once you've taken you time to look around the site and find out what every menu does and where all the important things are, you are going to start to search for a potential matchup, right?.
Well, the first thing you need to know is that, unlike many other dating websites or apps, FetLife is not going to provide you with matchups near your location.
And I really think this is one of the areas of the site they can improve in.
All it needs is a matching algorithm to detect your location and provide you with any matchups that are from the same area.
After all, this is one of the parameters you fill in when you are signing up as a user, right?
Searching for matchups on

FetLife
So if there aren't matchups, you probably thinking that you can use the search engine to find matchups, right?
Well, you'd be wrong.
Again, finding potential matchups and the tools at your disposal to do so were worse than I expected.
That's until you get to know just how the site operates because it really does do things a little differently.
When you do understand, well, that solves your problem, that's for sure.
If you click on the Discover menu, you can scroll through thousands of pictures and videos of users under the following sub-menus:
Friends and following
Kinky and popular
Fresh and pervy
Stuff you love
I tested all of these submenus and they if you have a bit of a voyeuristic streak, you'll love them.
It's only by luck that you will find someone that might be near your location, which is a must, unless you don't mind an online, long-distance hookup.
For me, not having a search engine as other sites do is a drawback.
But all is not lost.
So then how do you search on the site?
Well, there are two ways: using the search bar at the top left of the screen, and groups.
My findings while using the site showed that groups are a critical part of making FetLife work for you.
But let's talk about the search bar first.
Because I believe if used correctly, you can easily find a potential matchup near your location.
And this is how you do it.
You will notice that if you click on the search bar, it just offers a keyword search.
So if you stay in New York, type that in.
That brings up a range of search returns in the following categories:
Everything (shows you all the returns across all categories)
Kinksters (this is FetLife users based in New York, both male and female)
Pictures (images posted by people based in New York)
Videos (videos posted by people based in New York)
Groups (Groups for New York-based users)
Discussions
Events
Fetishes
Places
If you only want to look for females, then refine your search to "New York females".
Then you can simply look through the Kinksters tab to see potential matchups that you might like to contact.
Now let's get to the Groups.
You can search for them as I have above, or you can go to the Group Activity secondary menu.
When you click on that, you will see an option to "Meet Kinksters" near your location.
That's another way to find people near where you live.
So don't bypass groups, they really can be pretty useful.
Reaching out to others on

FetLife
As with all dating sites, if found that the reply rate on the site could be a little hit and miss.
Messaging is pretty easy, though.
And it's free.
To send a message, click on the profile of someone you like and then the message button.
It's in an email format, including a subject.
You can add people as your friend as well from their profile but probably shouldn't do so until they have responded to your message.
This is a very visual medium, obviously, so you can see the profile pictures and videos posted by users, but you don't have access to all of them.
If you contribute monthly towards FetLife, all of the videos and pictures on the site are available to you.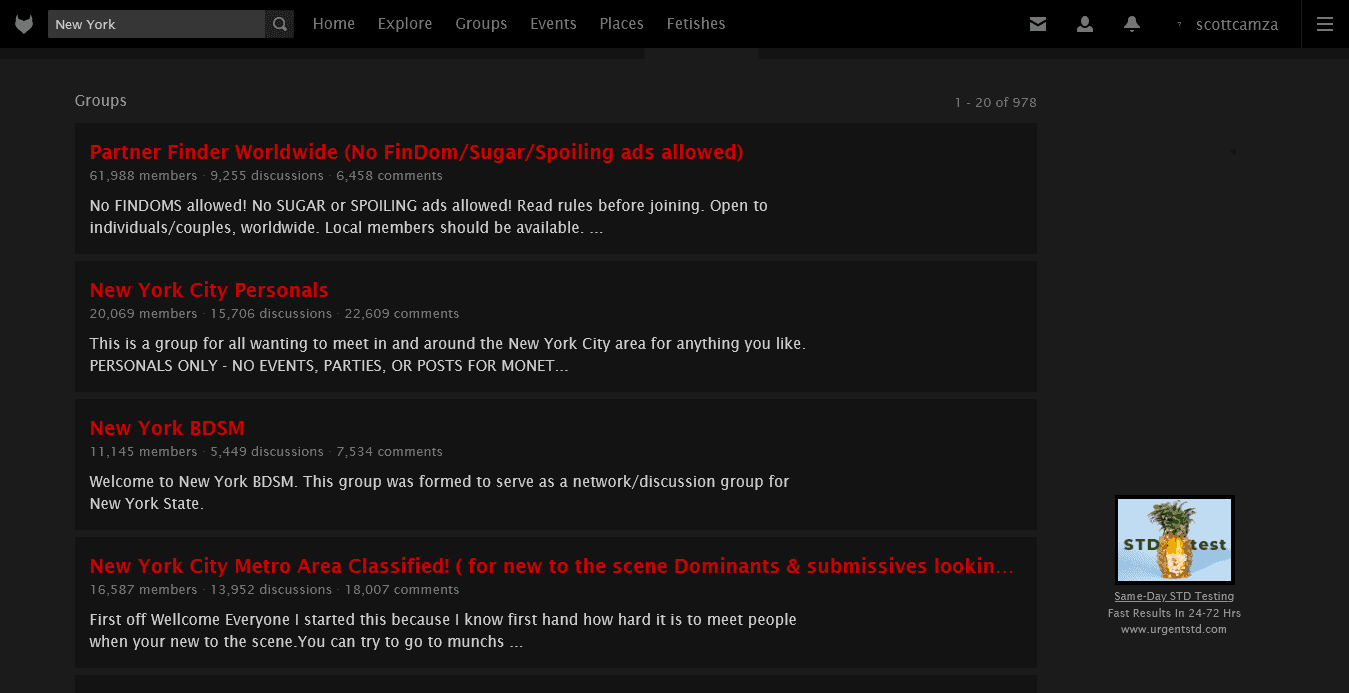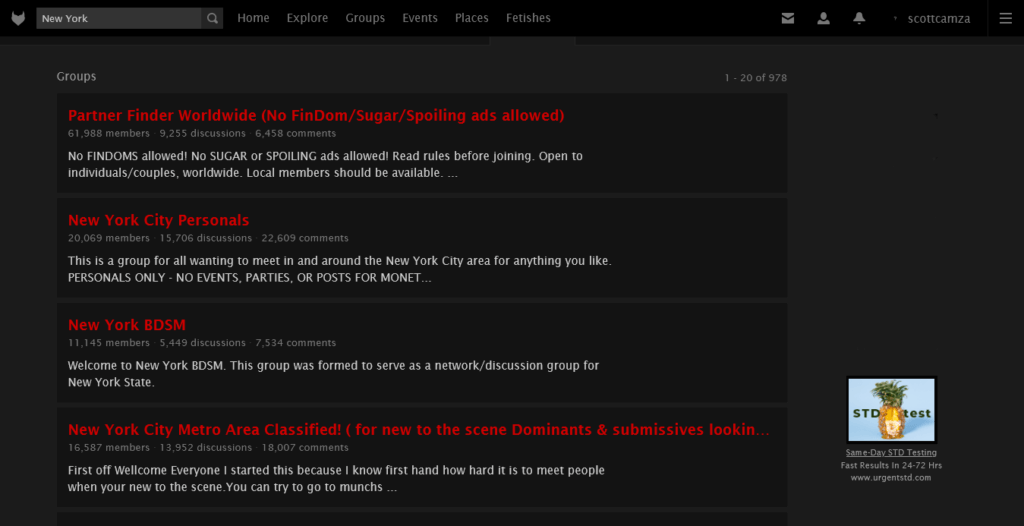 FetLife does include some extras for users who want to contribute towards keeping the site going.
I will get into what that costs a little later in this review, but here are the features that you have access to if you do.
1. See the top-ranked pictures and videos over a 24-hour period.
Pictures and videos are a large part of this website.
As a contributing user, you can see the top-ranked videos and pictures of each 24-hour period
2. "

I Support FetLife

" badge
Nothing too spectacular but your profile will have a special badge added to it to show others that you are helping to support the site.
3. Access to all pictures and videos on the site
If you contribute to the site, you can access all of the pictures and videos ever uploaded.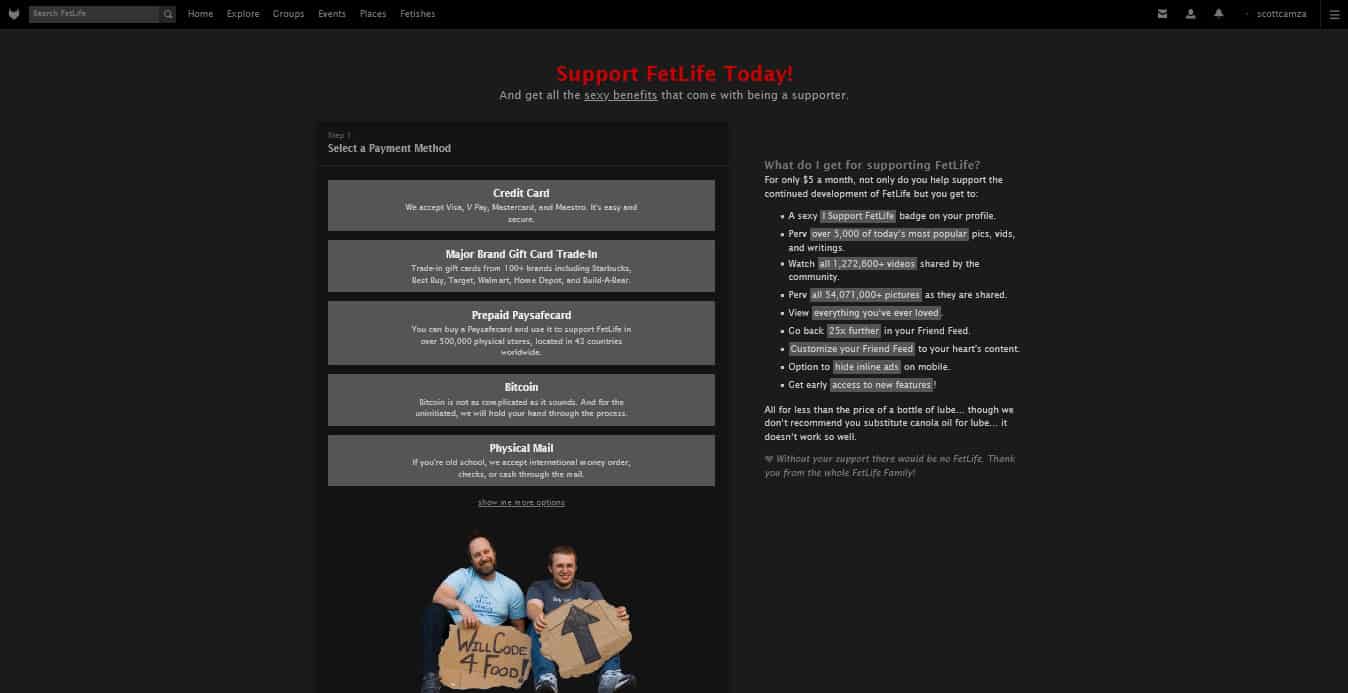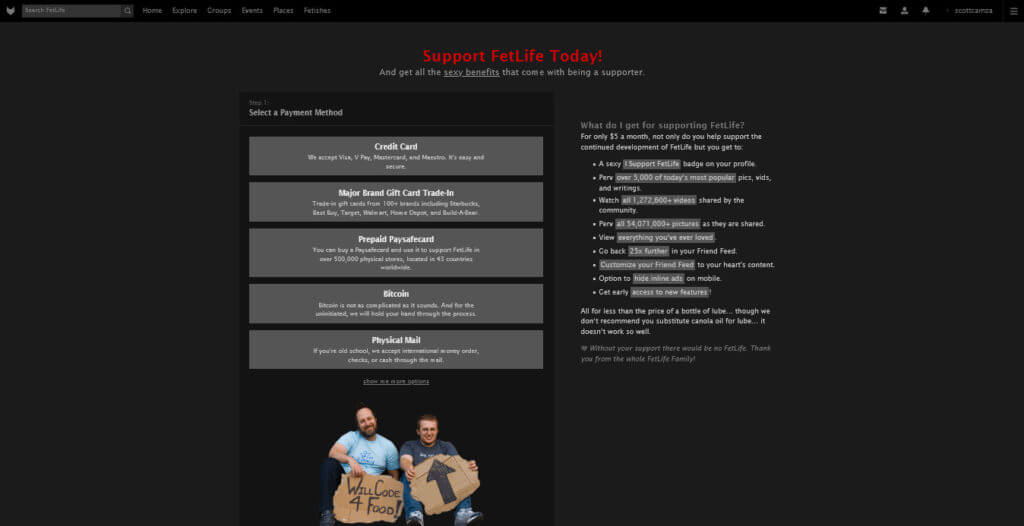 There's not a lot of extra features here but remember, this is more about contributing to helping to run FetLife than actually buying into a membership.
So what's that contribution going to cost you?
Well, it's just $5 per month.
That's it.
And you can pay in so many different ways.
Not even commercial dating sites have all of the options available.
They are:
Credit card
Paysafecard
GiroPay
Bitcoin
Without a doubt, those behind FetLife see it as more of a community of like-minded people and that's why they charge so little.
And that's if you want to pay.
Clearly, this is something they have got right with the site.
Almost 10 million users proves it too.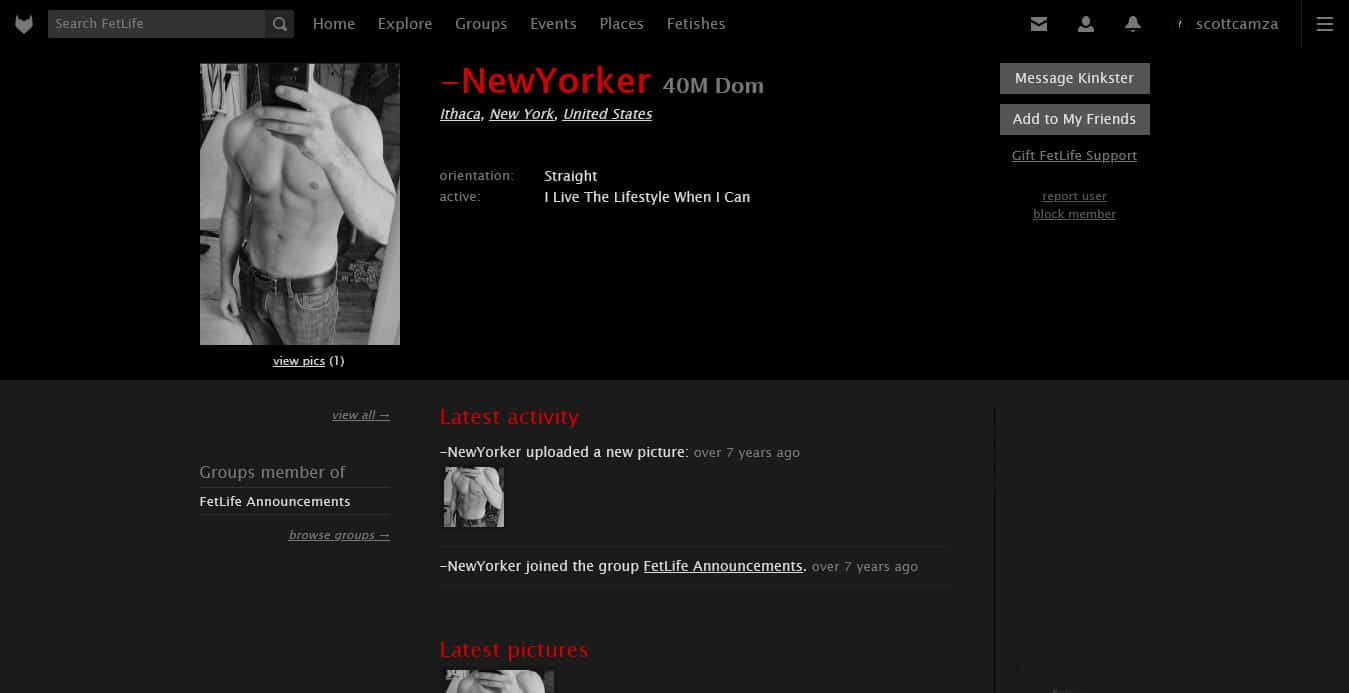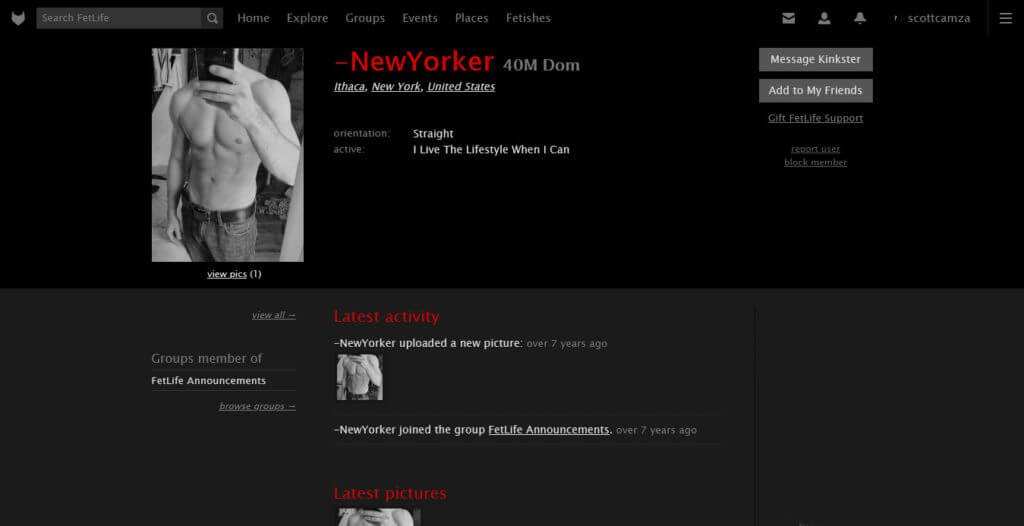 Conclusion and Overall Rating
Thanks for taking the time out to read through this FetLife review.
I must admit that in the beginning, it took me a little while to get used to how the site operates.
Because it is different from a regular dating site that's for sure.
But my findings regarding FetLife are that it is one of the biggest BDMS, kink and fetish sites available online.
Sure it has its strengths and weakness – could we just have a regular search engine please, but once you get the hang of how it works, it's simple to use.
For a rating, FetLife gets 3.75 out of 5.
The Onlineforlove experts took the time to study and test all areas of FetLife.
They have concluded that this is an effective dating site for those looking for BDSM hookups and relationships or other kink and fetish encounters.
The review approach used includes making use of the site for a long period of time.
We then rated critical criteria regarding how it operated, how to search for other like-minded people, how to contact them and more as the review went on.
Our final evaluation is based on these critical factors: price, ease-of-use, success rate, user population, and key features, amongst others.