Hello and welcome to our dating website review of RichMeetBeautiful.
It's one of a wave of sugar datings sites that provides sugar daddies and sugar babies with a platform to find their potential soul mate.
So if you are looking for successful men or beautiful, young women, then make sure you read this RichMeetBeautiful review to the end.
But unlike other sugar daddy dating sites, this has another aspect.
OFL Top Recommendations based on 100,000+ Survey

"Serious Relationships"
"Discreet Hookups"
"Best Course for Men"
"Quick Flings"
"Normal Hookups"
"Our Quiz"
And that's because it's not just for wealthy men looking for sugar babies, but wealthy women too.
During this in-depth review we look into:
And because there's so much information to get through, let's get started.
What's your price is running a deal right now where girls can sign up completely free. We suggest you don't miss out on this limited offer. It's the biggest SD/SB site online.
Is your dating app giving you the best chance for success?
Make sure to take our online dating site/app quiz to find out.
It's a fact that people who follow our dating site suggestions have on average 2 extra dates per month.

Ease of use – 4.5/5
Effectiveness – 4.5/5
Key features – 4/5
Pricing – 4/5
A small, but growing user base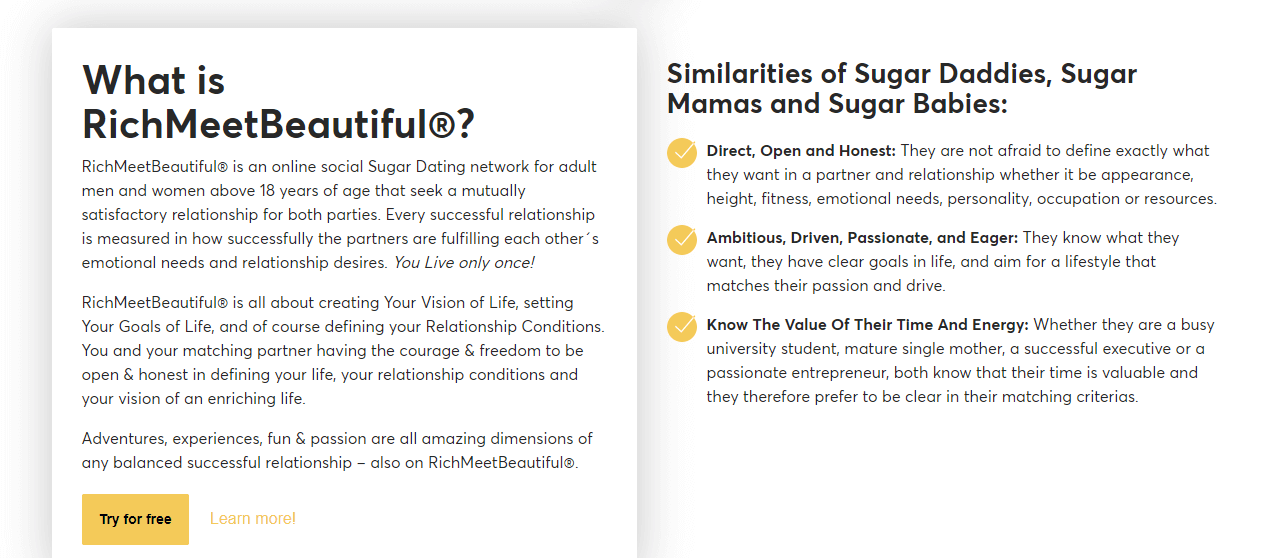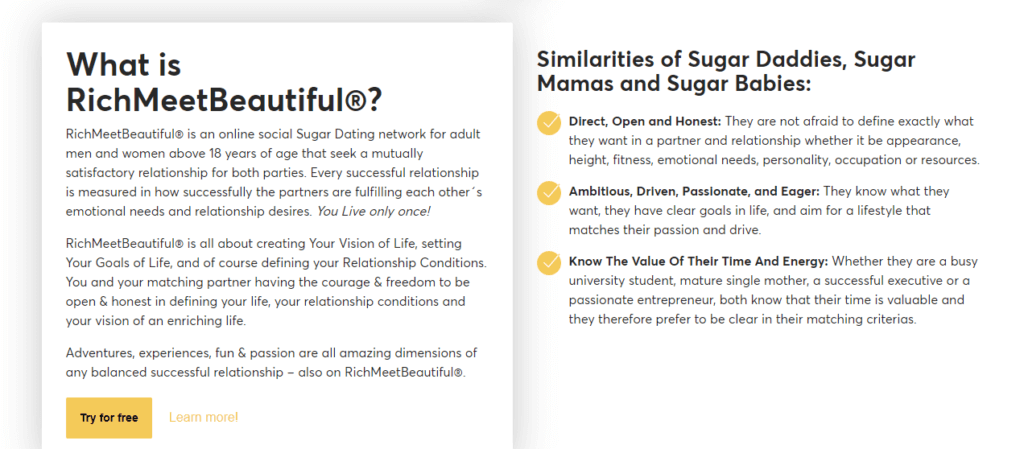 Who Is It For/Demographics?
As mentioned in the introduction to this review, normally sites like this only cater to two target audiences: rich men and young, beautiful women.
OFL Top Recommendations based on 100,000+ Survey

"Serious Relationships"
"Discreet Hookups"
"Best Course for Men"
"Quick Flings"
"Normal Hookups"
"Our Quiz"
That's not the case with RichMeetBeautiful.
Here sugar mommies and handsome young men are free to signup too.
The basic idea behind the site is hooking up (like BeNaughty or Ashley Madison), and not long-lasting relationships (like Tinder or eHarmony).
But just how popular is it?
Well, to find that out, we need to look a little more into the demographics behind the site.
That's not always readily available either.
Luckily, I've done the hard work for you and done some digging of my own.
Although it only launched in 2017, RichMeetBeautiful has quickly become one of the top millionaire dating/sugar baby dating sites online.
It operates globally but is extremely popular across Europe, particularly the United Kingdom, France, and Norway as well as in the United States.
Now it's important to remember that this site is still very new to the online dating scene.
Yet its popularity can be seen in some amazing user numbers considering its newbie status.
Around 500 000 users have signed up for profiles since 2017
150 000 of those users are from the United States
The RichMeetBeautiful android dating app has been downloaded over 10 000 times
60 000 users are active on the site each week
That's just under 9 000 per day and 240 000 per month
And the site's user base is growing at an astonishing rate all the time.
It's only going to get bigger, that's for sure.
Breaking down the gender ratio and age ranges of users
If you visit the landing page for the site, you will see claims of four sugar babies for every one sugar daddy.
In practice, however, it's even a little more than that because:
87% of users on the site are female
13% of users on the site are male
Most females on the site are aged between 18 and 30 which makes sense, as sugar babies dominate the site.
Most male users are aged between 35-54 years old, the classic age range for sugar daddies.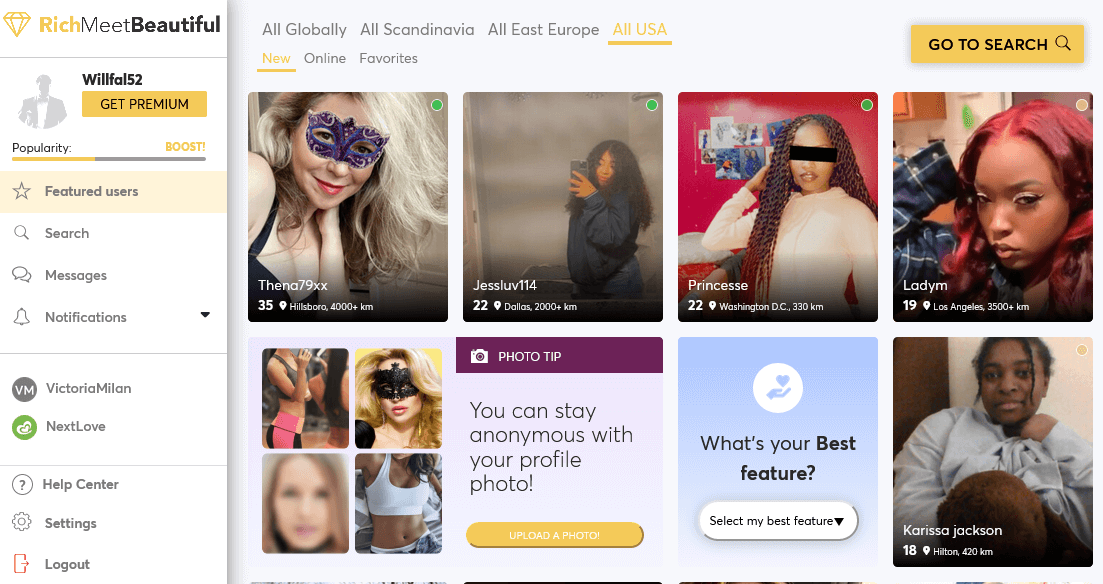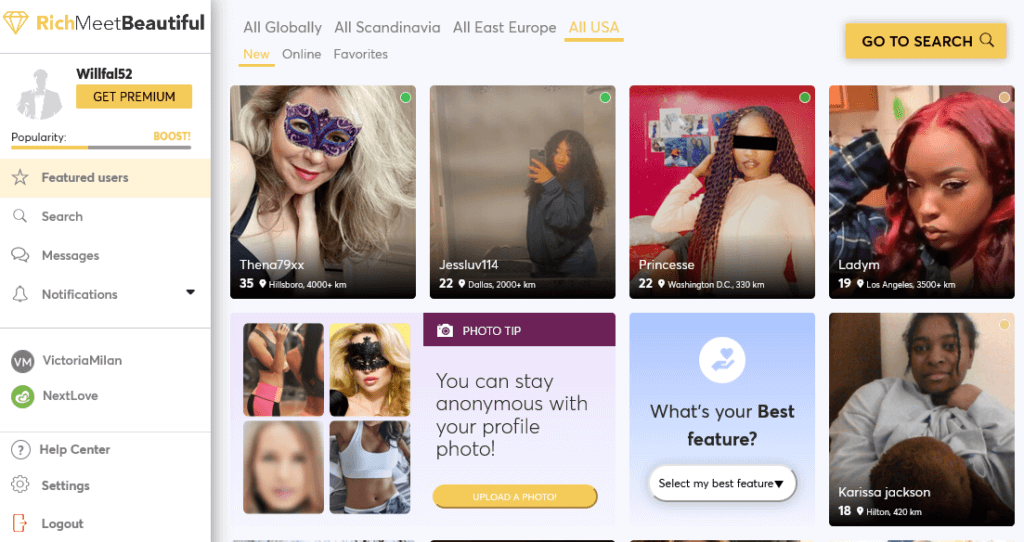 To sign up as a user on RichMeetBeautiful, you have two options.
Download either the IOS and Android app and begin the process that way
Head on over to the landing page and start the process there
I much prefer the second option as it allows me to get a good look through the terms and conditions of each dating site I sign up for.
It also means you can use a social media account if you'd like to make the process a little simpler.
In this case, your only option is to connect using your Facebook account.
So let's look at the account creation process because it's a little different from many other dating sites.
You start by providing the following information:
A username
Email address
Your gender
The gender you are looking for
A password
Your date of birth
But there's something else that I have never seen before on any other dating site.
And that's a captcha check to confirm that you aren't a bot.
I found that pretty unique.
On sites like this, your appearance is important, so that's the next thing you will need to provide details about including:
Your height
Your weight
Your body type
Hair and eye color
Your facial hair
A rating on your overall looks
Interestingly, unlike many of these sugar daddy dating sites, you aren't asked about your net worth.
It is something you can fill in on your sugar baby profile later, however.
After providing your location, your email address is validated by clicking on the link confirmation that RichMeetBeautiful sends to you.
By doing so, you are taken straight to the site for the first time.
First impressions and finding your way around
Wow!
I can see why this site has become so popular in a relatively short space of time.
I absolutely love the way it is designed.
But it not only looks good visually, but it also operates in such an easy manner too.
Before we get into that, however, let's first talk a little about the overall design.
There are two distinct panels here.
On the left-hand side of the home page, you will find a smaller panel with menus.
These you use to navigate the site.
The main panel, however, is the viewing panel.
And it's filled with profiles.
At first, these are new members to the site but you can adjust it to see those who are currently online or even users that you have made your favorites.
The pictures are large as well, so you can get a good look at each user before you click on their profiles to find out more.
Let's quickly look into the menus by which you will navigate the site.
There aren't too many of them either.
They are:
Featured users: Click here to see the current featured users on the site
Search: This takes you to the site search engine
Messages: All your sent and received messages are stored here
Notifications: Click here to see who has visited your profile or see who you have visited, who you have sent or received gifts from, your favorites, who you have sent or received winks from as well as private key requests.
There are also links to the help center as well as settings.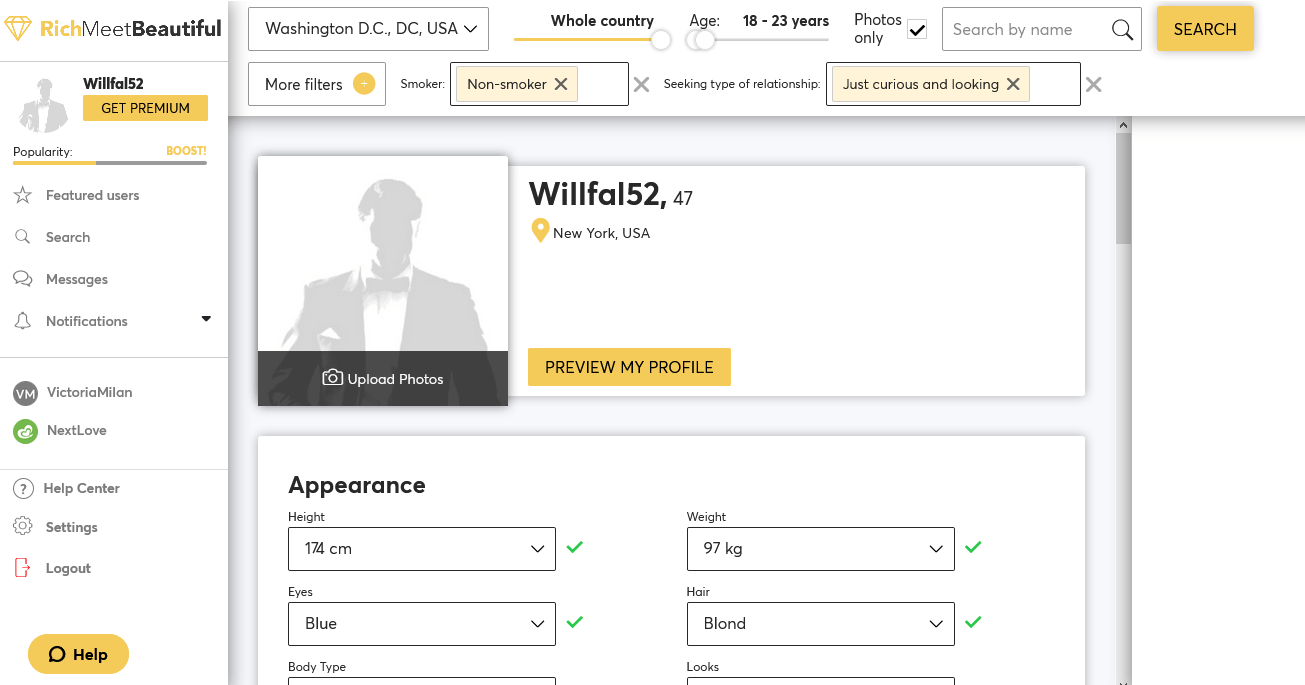 RichMeetBeautiful Profiles
No, what you filled in during the registration process by no means completed your profile.
There is still plenty to do.
As you'd guess, with sugar daddy dating sites, completing a profile is a must, especially if you are a sugar daddy.
That's because there is just so much competition out there.
You've got to make sure that you do everything you to get a head start, right?
And while profiles are packed with information, completing one will take around 15 minutes.
It's basically just selecting options from a pull-down menu.
This includes:
More appearance parameters
Background and lifestyle parameters
Personality parameters
What you are looking for (including the type of relationship)
An "About You" section
What you are looking for in a partner
Why it's important to complete all this is the fact that all of these parameters can be used during searches, which helps users on the site find the exact type of matchup they want.
As to the overall quality of the user profiles on-site.
Well, I was more than impressed I can tell you that.
I conducted various searches across the United States and they turned up some stunningly beautiful sugar babies.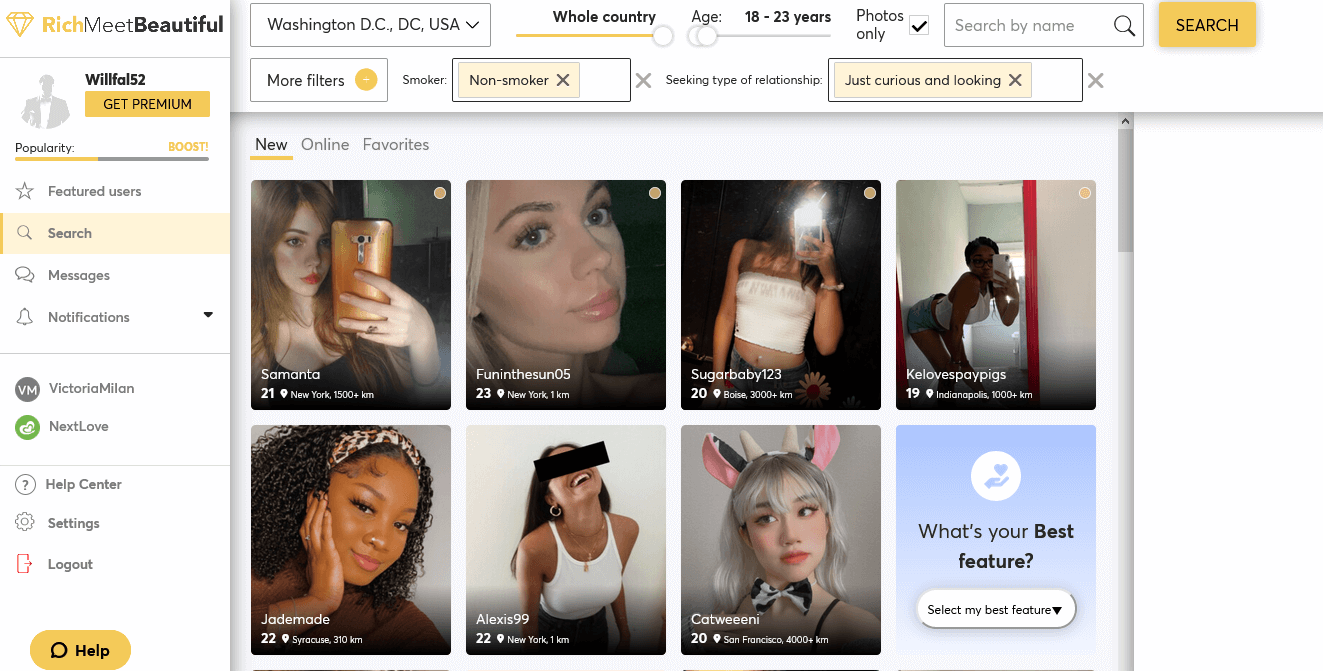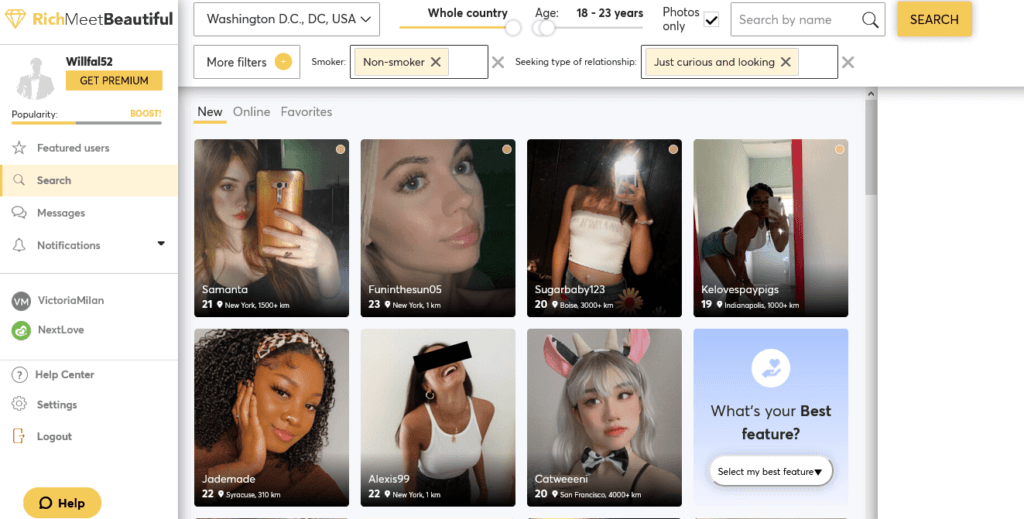 With all the finer details of registration and site navigation covered, let's get into the nuts and bolts of RichMeetsBeautiful.
And that's how you go about using the site to help you find a potential matchup that meets what you are looking for.
Luckily, RichMeetsBeauftiful makes the process super simple right from the get-go.
Searching for the right matchup
I've already mentioned that you are presented with profiles the moment you hit the site.
These are featured users initially, but you can change what you see her.
For example, you click the "Online" tab to see users online now.
This will show you users in the country that you stay but if you want to change that, you can as well.
There are four options:
Globally
Scandinavia
East Europe
USA
Changing to one of these probably isn't going to be that useful first up, but it might come in handy if you are a businessman that travels often.
While it's nice seeing these user profiles, I couldn't find filters to make them more relevant to what I wanted, for example, location.
So that's where the search tool comes in handy.
By clicking on the Search menu, you get the chance to change several filters:
The location you want to search
The distance potential matchups should be from you
The age range of potential matchups
If they have photos or not
That's the basics.
You can add any number of parameters taken from user profiles based on:
Appearance parameters
Background and lifestyle parameters
Personality parameters
What they are looking for in a relationship
And more
There are so many filters that you can tweak here if you'd like.
Or you can perform a more simple search to see what comes up.
And those are how you can find potential matchups.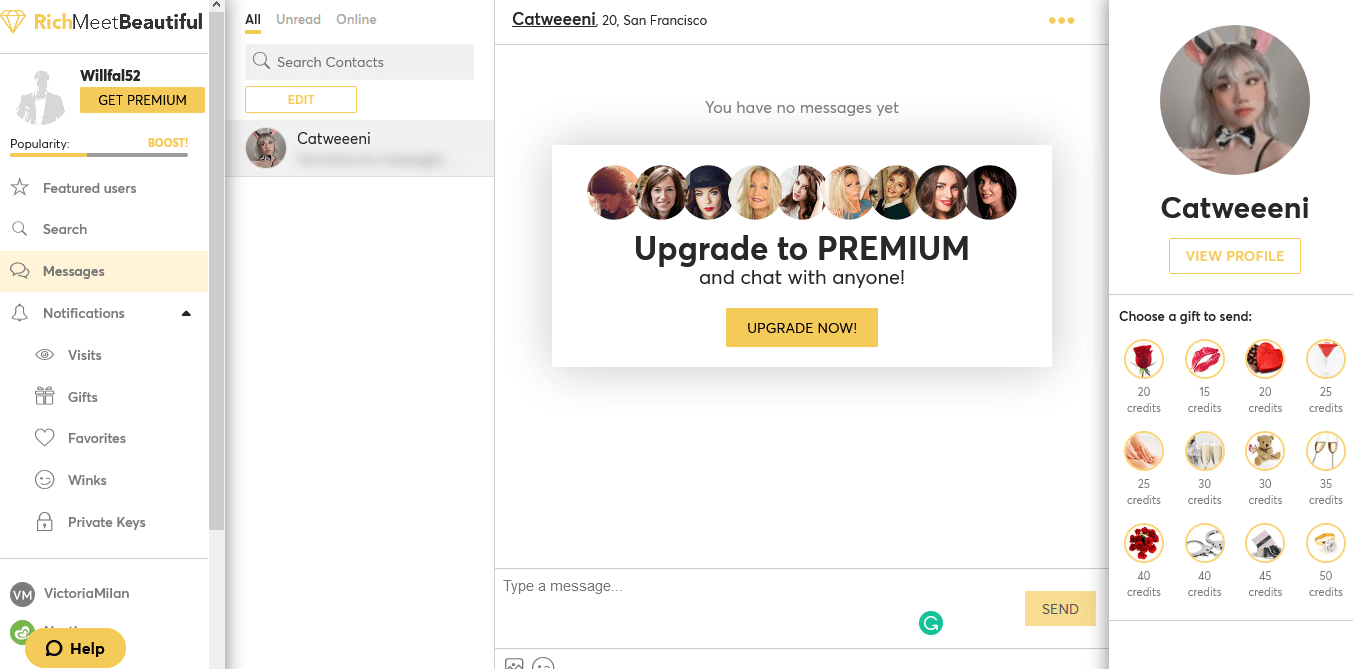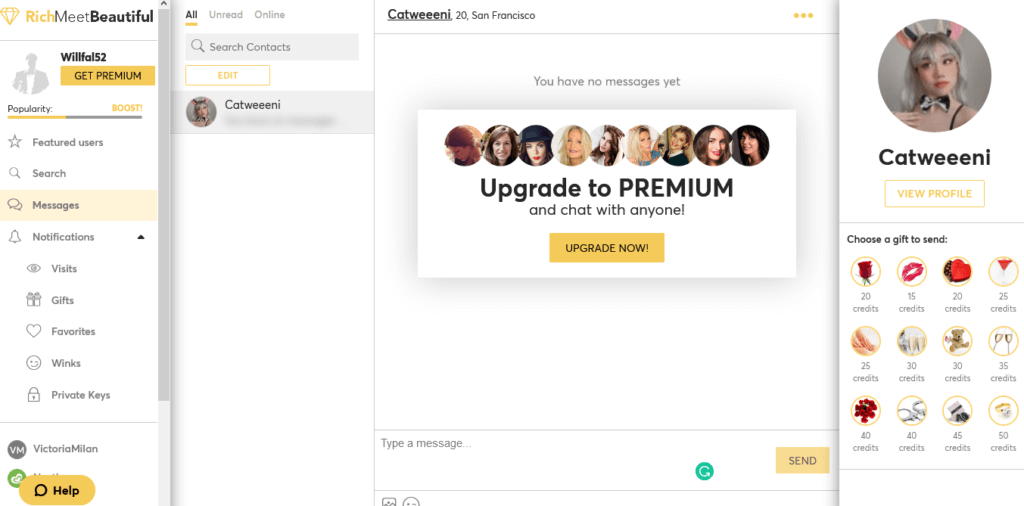 Making contact with other users
Like most millionaire dating and sugar daddy sites, those that are considered to be sugar babies are free to send messages.
Yes, they won't have to pay for membership to do so at all.
Sugar daddies, on the other hand, cannot send messages at all.
You won't even be able to view a message from someone if you receive it.
It's blurred out.
So the only way to use the site effectively is to sign up for membership.
You won't even be able to see who has viewed your profile, who has favorited it, or who has sent you a wink.
Again, that's only for members.
But again, if you are a wealthy man or woman then buying membership on the site isn't really going to be an issue now, is it?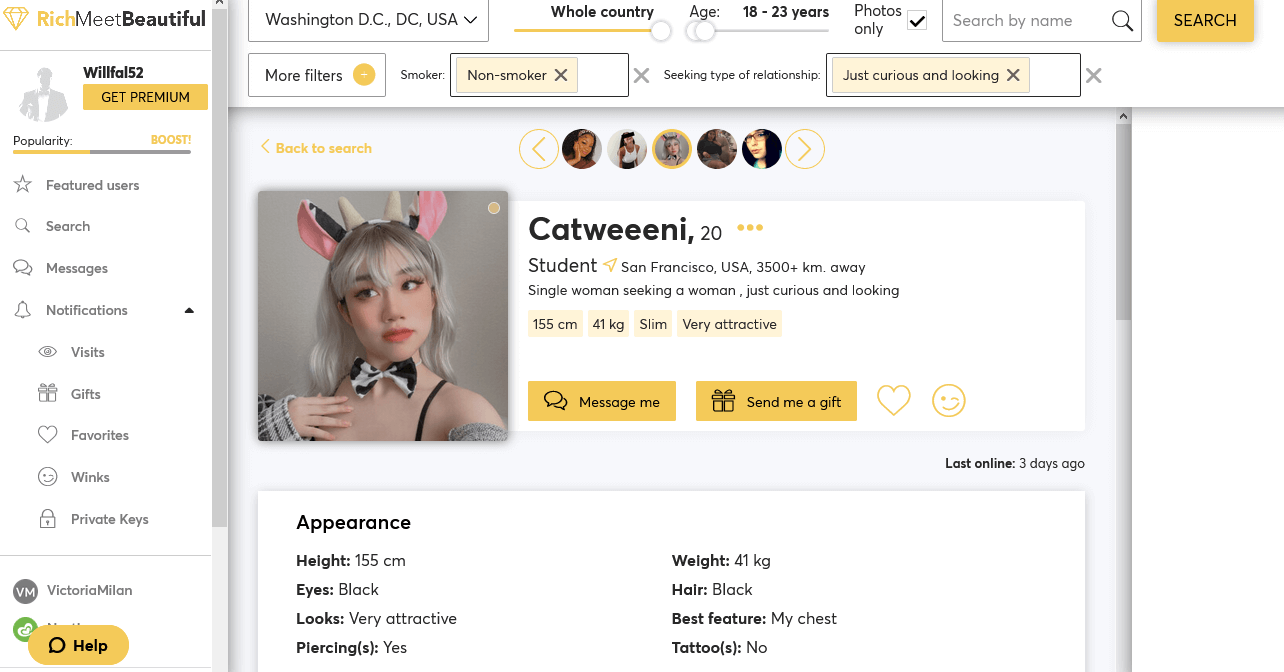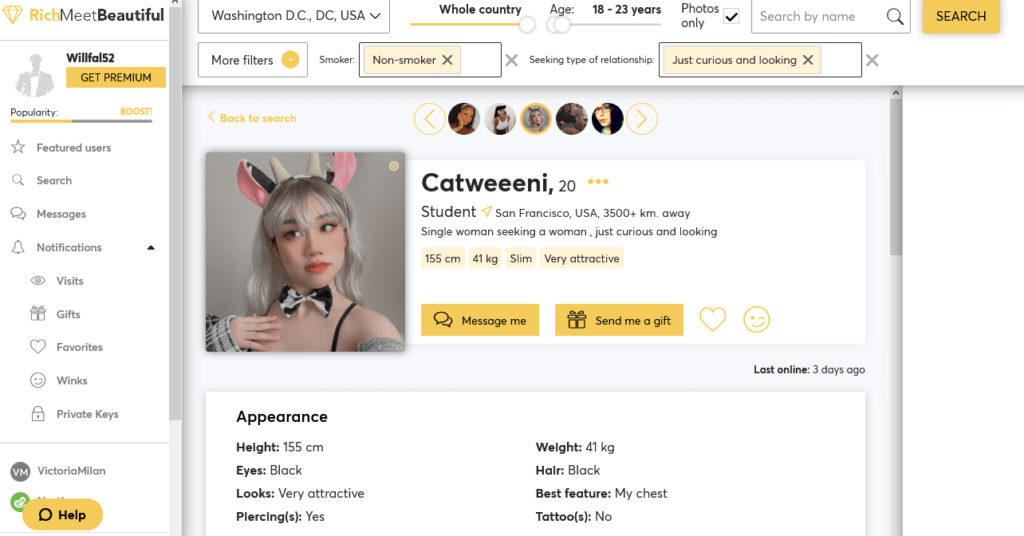 It's now time to look at all the key features that you can expect from RichMeetBeautiful should you sign up for premium membership.
But before we jump into that, I think it's critical to list the things a regular user can achieve on the site.
This includes:
Signing up for a free profile
Use the search engine
Complete a full profile
Upload photos
View other users' profiles and photos
Read the RichMeetBeautiful blog
While those are all excellent in their own way, they don't allow for a critical component that's needed on a dating site.
And that's the ability to communicate.
That's the perfect introduction to the key features that you can expect as a premium member.
If you are a rich sugar mommy/ daddy, you can only send and reply to messages through premium membership.
As we read earlier, however, sugar babies can send and receive messages as regular users.
Seeing that it's rich men and women that make profiles on the site to meet sugar babies, having to pay for membership to message them surely won't be a problem, right?
2. Know who visited your profile, favorited or winked at you
Never underestimate just how critical this can be in your quest to find the right sugar baby.
Remember, they've got so much choice when it comes to just who they can approach for a sugar relationship, right.
So if your profile picture has attracted them to your profile, then they could well be interested in possibly meeting you.
And don't be put off if they've visited your profile but not messaged you yet.
Strike first!
Yes, that's right, if send them a message, you really have nothing to lose.
While it's going to cost extra to do so using "coins", the on-site currency, as a member you can send gifts to other users.
This is almost always a sugar daddy sending a gift to a sugar baby.
In my time on the site, I didn't once come across a sugar baby that had taken out membership.
Interestingly, if you want to send a gift, you need to take out one of the extended premium membership options.
That's either the three-month or six-month membership.
You cannot send gifts if you opt for the one-month membership on RichMeetBeautiful.
If a user has uploaded photos and made them private, as a premium member on the site, you can make a private key request.
This alerts them to the fact that you would like to view their private photos and then they can decide to grant you access.
With premium membership, all advertising is removed from the site.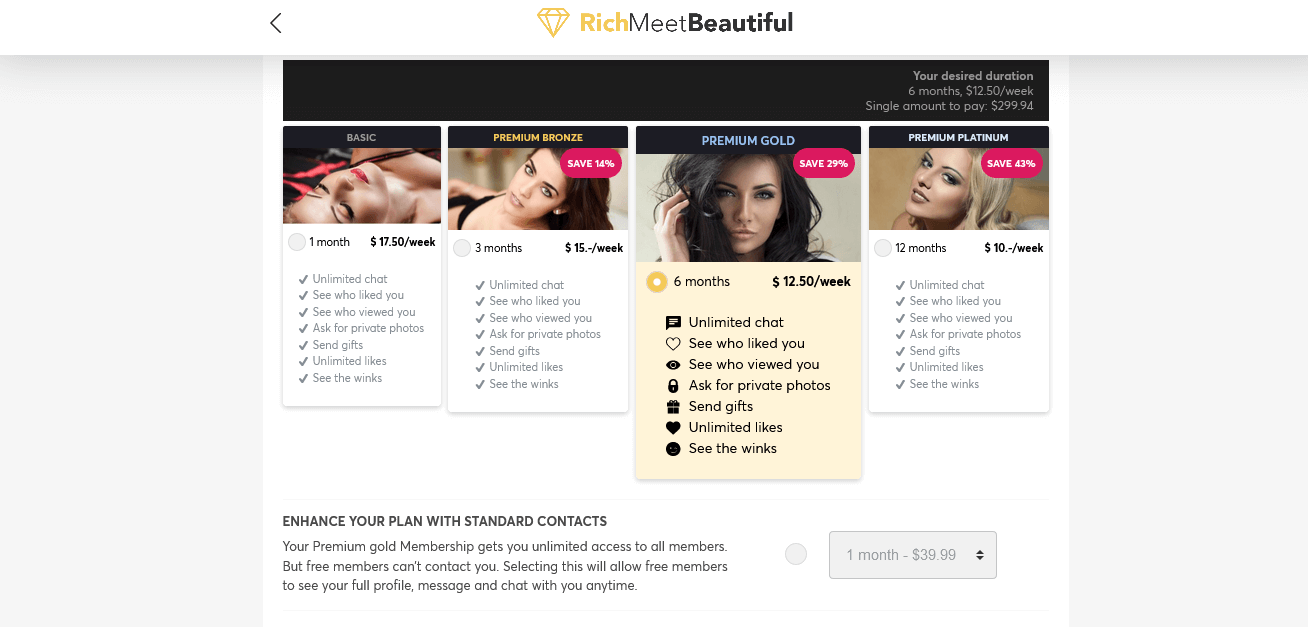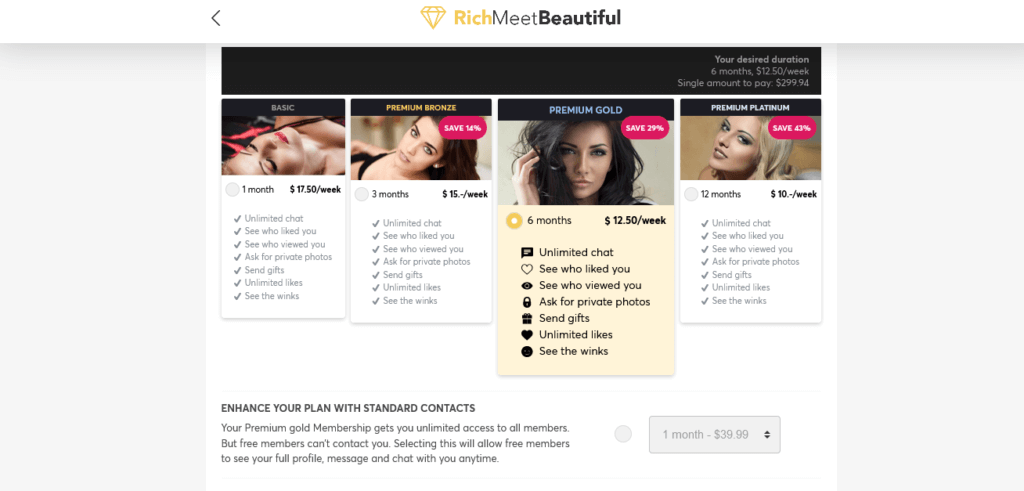 Now that you have an idea of what premium membership brings in terms of key features, you are going to want to know the cost, right?
It's more expensive than a regular dating site, that's for sure.
But that's probably what you expected.
Here's a breakdown:
1-month membership: $69.99
3-month membership: $179.97
6-month membership: $299.94
12-month membership: $479.88
Pricey, right?
But for quality sugar daddy/sugar baby hookups, it's a price worth paying in my book.
As for payment options, you can use your credit card or make a direct debit.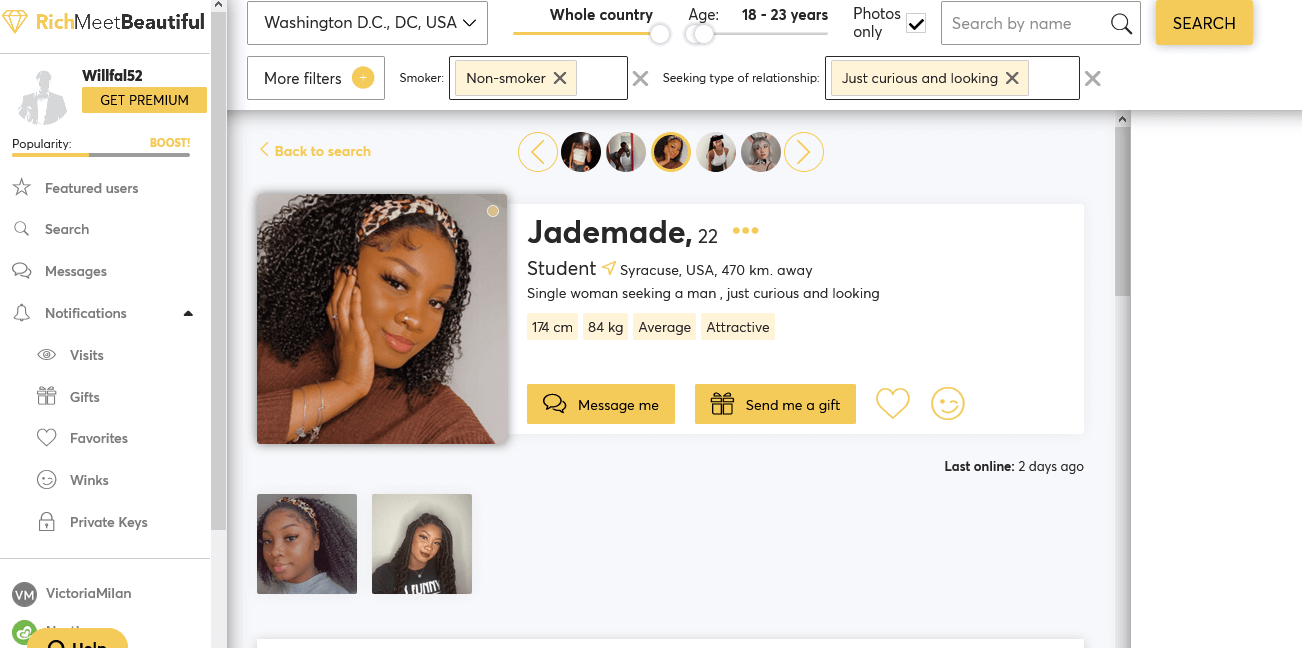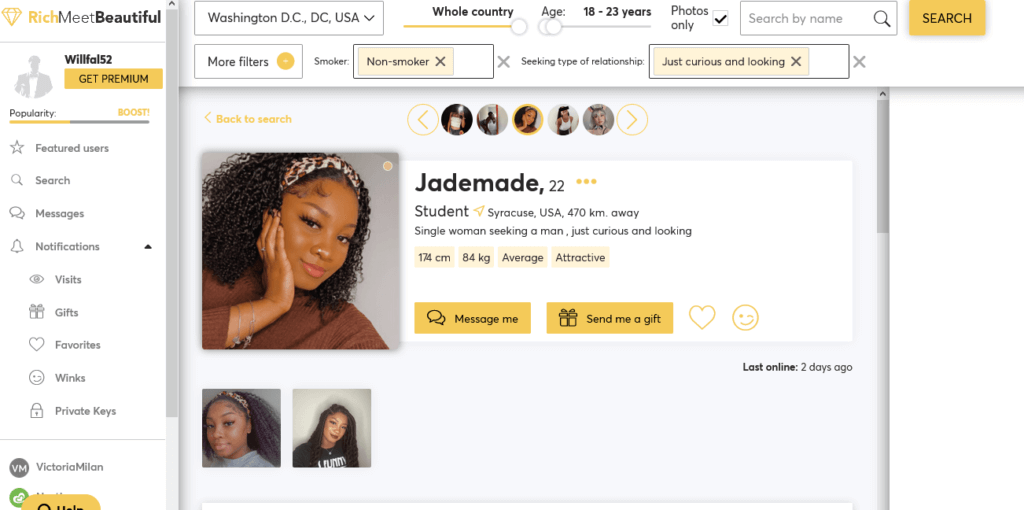 Conclusion and Overall Rating
Thanks for taking the time out to read through our review of RichMeetBeautiful.com.
As far as sugar dating sites go, it really is one of the best available today and its superstar rise indicates that for sure.
And while we've seen it is not cheap, it really has so much to offer in terms of features but more importantly, the quality of the users you will find here.
During my time on the site, I had no indication that anyone was trying to scam me or that there were any fake profiles.
Plus, if you are still worried about that, only deal with those who have verified their profiles.
It's a site that will continue to go from strength to strength as the user base increases, that's for sure.
And for a rating, it gets 4.25 out of 5.