In the modern era, TV Shows occupy a lot of our free time, so everybody wants a partner that will enjoy the same shows as you.
Well, fans of My Little Pony can connect with other My Little Pony fandom members through Bronymate – while discussing your favorite TV show, you might fall in love.
In this Bronymate review, we'll among other things explore:
OFL Top Recommendations based on 100,000+ Survey

"Serious Relationships"
"Discreet Hookups"
"Best Course for Men"
"Quick Flings"
"Normal Hookups"
"Our Quiz"
In addition, we'll answer one of the most important questions: is Bronymate a scam?
Let's begin!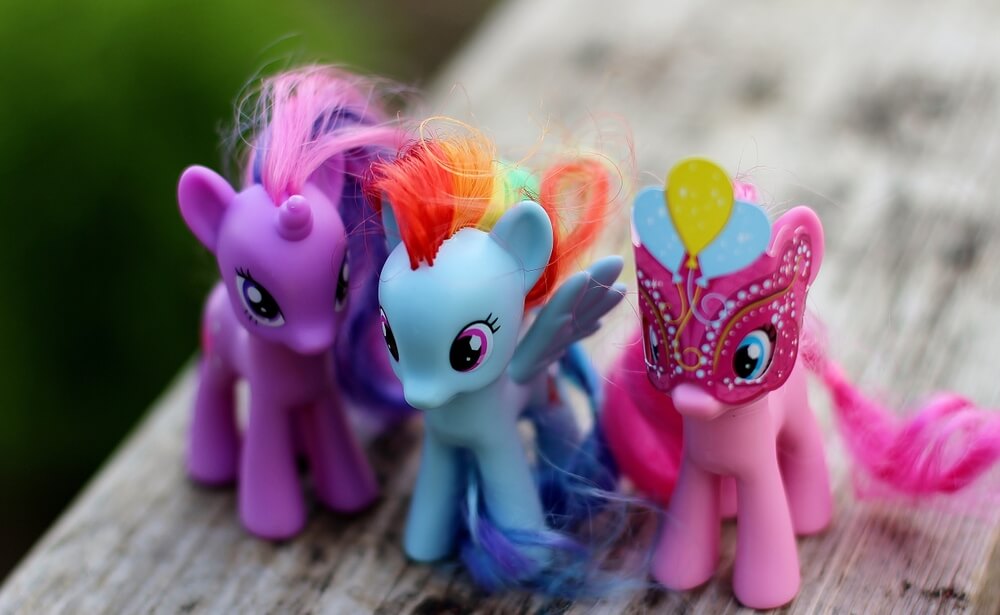 BronyMate Review in Video Form
Audio (podcast) form for those of you on the go
Effectiveness – 3/5
Features – 3.5/5
Ease of use – 3/5
Price – 3.5/5
The website where fans of My Little Pony can share clips, news and talk about their favorite show, not just a website for hooking up
Many search filters to make browsing easier
User-friendly interface
You can see who viewed your profile
If you aren't a fan of My Little Pony, the website won't be so entertaining
No mobile app
Who is it for/ Demographic Makeup
Firstly, I will talk about statistics – the average age of users, where they come from, and how many people are using Bronymate to date a Brony.
By knowing this information, you will be able to determine whether the audience of the website suits you or not.
Since My Little Pony was one of the most famous cartoons all over the world, Bronymate is an international dating website.
The site is more of a genuine connection site (like eHarmony) than a hookup site (like BeNaughty or Ashley Madison).
It promotes diversity and has zero-tolerance for any type of discrimination, so all races and ethnicities are welcome.
Its largest percentage of users are Americans and Canadians.
OFL Top Recommendations based on 100,000+ Survey

"Serious Relationships"
"Discreet Hookups"
"Best Course for Men"
"Quick Flings"
"Normal Hookups"
"Our Quiz"
Other users are mostly from the United Kingdom or Germany.
Besides Europe, the website has a large fan base in Asia.
Keep in mind that even though the website is available in a variety of states across the globe, only the English version of the website is available – you might need to use Google Translate to communicate or use the website.
Believe it or not, plenty of men enjoyed watching this show when they were younger, so this website has an equal number of men and female users.
For a long time, the only genders you could choose from upon signing up were female or male.
Nowadays, Brony mate includes three options – female, male, and trans, so all of their users feel welcomed.
At first, the website might seem childish and a platform for kids.
However, underage users cannot join the website, and you have to be at least 18 years old to create an account.
Most users are between 18 and 30 years old, but other categories are present as well – the number of middle-aged users is on the rise, and this age group is becoming more and more active.
What about the scammers and fake profiles?
The website can't recognize all of the scammers, so they are present, but in a small percentage.
Because all of the member's data is checked, creating a fake account isn't so easy.
When it comes to the interest of the members, they all have one thing in common – My Little Pony was one of their favorite shows growing up (for many users it still is).
So the topic of almost all conversations on the website is this kid's cartoon.
Members believe that this one common interest and hobby is more than enough to bond and create meaningful connections.
This is a website for serious dating and a place to start new friendships.
Now, let's get into details about how this website works and how you can date a brony.
Also, I will give you a few tips on how to use the search filters, to meet the right people, and which communication tools are great for making the first move.
How does it work for the target group?
Getting started on the website is super easy.
To meet other Pegasisters and Bronnies, you have to create an account.
I will talk about the registration process a bit later – for now, the only thing you need to know is that you need to be a member to browse on the website, use features, and meet other users.
Brony mate has two types of search filters – basic and advanced.
If you do not want to meet people outside your city or country, then I recommend the local search.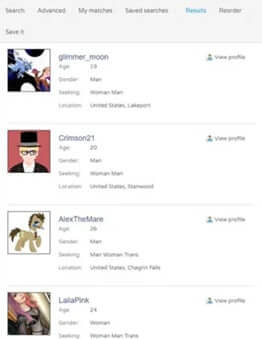 Location is one of the basic filters, so just select either your city or country when browsing.
Besides this filter, you can also add preferred age or gender.
This can help you narrow down the search and eliminate, for you, both younger and older users.
Also, you can only view people that are online or members that have uploaded their profile picture.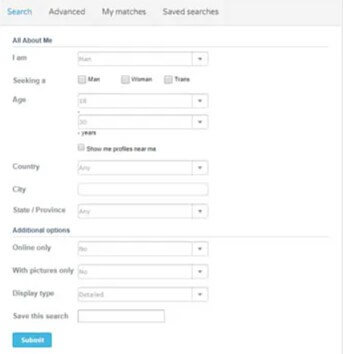 If you have any additional preferences, use the advanced search filters.
Another thing that should be noted is that the website doesn't have any specific matching algorithm.
You won't get daily recommendations or see a match rate with any of the users.
If you find someone attractive, it is up to you to determine how compatible the two of you are.
Then, you can contact them.
Wondering how to do that?
Continue reading!
Making Contact on Bronymate
Bronymate offers you some standard communication tools.
You will easily grasp how they work and how to use them since they aren't so innovative.
When it comes to contacting members, there aren't any recommended strategies.
It comes down to you and what you feel comfortable doing – if you are shy to send the message immediately, then try one of the other available features.
Firstly, you can send a friend request – members will be added to your list of friends, and see that they caught someone's eye.
After this, you can send a wink – this feature is similar to like or flirt.
The other side can respond with a wink, and this is usually a green light – you can send that message, and start getting to know each other.

The messaging feature on Brony dating website isn't similar to an instant messenger.
It resembles an email – each message has to have a subject and a body.
There is also a limit – what you want to say cannot exceed 2000 characters.
It may seem a lot at first, but you will notice that often you need more to share your point or thought.
Also, you can add emojis – these are great for spicing up the conversation or can help you express yourself when you can't think of the right word.
Keep in mind that the messaging feature isn't available to everyone – if you are a free member, you will only get access to friend requests and winks.
To send messages, upgrade your profile.
Can you meet your soul mate on Bronymate?
Well, if sharing an interest in a similar cartoon is important to you – then yes!
Bronymate is the website for creating deep and meaningful relationships.
With a variety of search filters, you can meet someone that doesn't only share the love for My Little Pony, but checks off other boxes – appearance, age, or location.
However, all of this is useless if you do not upgrade your account and start chatting.
Without the messaging feature, there isn't much to do on the website – you can only browse and send winks, which won't lead to any relationship.
Another thing that your success will depend on our wishes – as said, most members are looking to settle down, but there is also a small portion of them that are interested only in making new friends.
If you spend plenty of time chatting with someone, fall in love, and then discover that they are only on the website to chat and have no intentions of dating a Brony, you might feel disappointed.
Before you start getting to know someone on a deeper level, ask them what they are looking for – if you have the same goal, great!
When it comes to features, Brony mate doesn't have much new to offer – features are quite basic, and they are mostly different communication tools.
Don't expect any fun My Little Pony quizzes, blogs, or something similar.
Here is a short description of Bronymate's key features:
As said, this feature is only available to premium members – if you want to chat with members, you have to purchase one of the subscriptions.
Messages are not in a form of instant messages or texts.
The inbox has a layout similar to email platforms.
Every message has to have the subject.
Also, the length of the message cannot exceed 2000 characters.
If you have a bunch of unread messages and feel overwhelmed every time you open your inbox, block some of the messages with the blocking feature.
By doing this, some of the members won't be able to contact you in the future, so your inbox won't be constantly flooded with messages.
Even when someone returns a wink, starting conversations is still hard – some users are just shier than others.
If you struggle to come up with a good conversation starter or pick-up line, send one of the prewritten messages.
These are adapted to fit the vibe of the website, so you can send "Brohoof" or "Facehoof".
"Welcome to the herd" is the message that will make new members smile and feel welcomed on the website.
There is also standard conversation starts such as "Just saying Hi" and "Kisses to you".
When the person replies, you will feel more comfortable and the conversation will flow.
Now it is time to learn more about the bronymate's registration process.
Also, in this part of the brony mate review I will talk about the website's usability – does it have a user-friendly interface, and is there a mobile app?
Bronymate's sign-up process
Becoming the Bronymate's member is quite easy and the entire sign-up process can be completed in under five minutes.
Also, joining the website won't cost you a dime.
To start the process, go to the Bronymate's home page.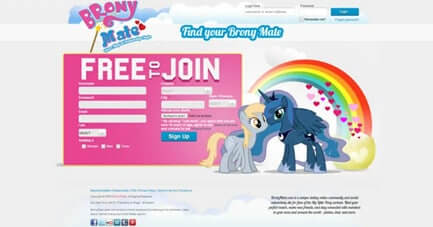 You will be asked to share some of the basic information such as age, gender, name, location, and email address.
If you are under 18, you won't get access to the website, so minors should seek another dating website for My Little Pony fandom.
In this first step, you will also have to type the username – it can be a combination of your first and last name, or first name and the name of your favorite My Little Pony.
You can also use digits when creating a username.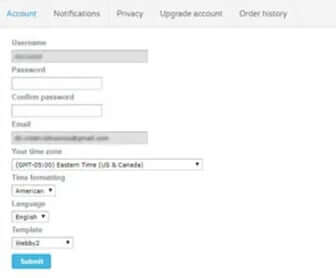 After this step is done, your profile goes through the verification process.
Verification consists of email confirmation – you will receive an email with a confirmation link and four-digit number.
Just click on the link and type the provided passcode.
When you become the brony mate member, you will be able to start exploring.
However, before you start searching, sending winks, and adding members to your friends' list, upgrade your profile a bit.
More detailed profiles have higher visibility and better match rate – with an informative profile, you can expect more dates and boost the probability of meeting your future spouse.
As additional information, you can share your physical traits, such as height or body type, or add details about your ethnicity, since this is an important criterion for some members.
Since this is a website dedicated to fans of My Little Pony, add the information about your favorite character from the show.
In the end, you can write a short introduction paragraph, and upload the profile picture.
Change your activity status to online and start browsing and meeting Pegasisters and Bronnies.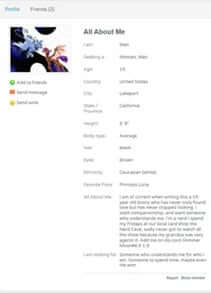 Bronymate's website navigation
The website has a user-friendly, blog-like interface – super simple, so people of any age can navigate it.
When it comes to theme and choice of colors, it resembles the TV cartoon – it is quite colorful and vibrant, and users (true fans of this famous cartoon) find it quite appealing.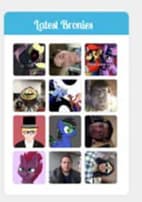 However, others, which stumble upon the website by accident, find it quite childish.
In all honesty, the theme, as well as design, is outdated – even though the current interface suits people that aren't computer geeks, there is also a more modern design that is just as user-friendly.
You might feel overwhelmed by colors and choice of font.
Also, since the colors are vibrant, finding what you need is sometimes difficult – features blend with the background.
So, anyone who is looking for a website with a simple theme, shouldn't join the Bronymate.
When it comes to profile quality, most of the profiles are quite detailed.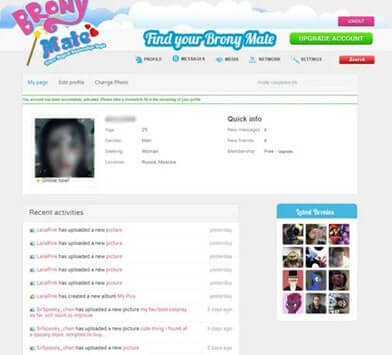 Private information isn't displayed, but you can see some general info such as age, gender, and location.
Also, any additional information is available as well.
As said, uploading the profile picture is recommended.
However, the profile picture can be anything, and many are using cartoon avatars as profile pictures.
So, even though the profiles are informative, you cannot tell much about their authenticity – they can seem fake, and be genuine and vice versa.
Since there aren't many My Little Pony dating websites and fans of all ages are using only this website, you would expect that Bronymate made their platform available on all devices.
However, the official Bronymate app still doesn't exist.
If you want to stay in touch with Bronnies on the go, you can use the mobile browser.
Unfortunately, the usability of this version is low – the website just isn't adapted to fit the small screens of mobile phones.
Brony mate isn't a free dating website.
Some features can be used without any charge, but for others, you have to purchase one of their memberships.
So, what is the difference between free and premium membership?
What features are getting unlocked with the subscription?
Standard members can join the website, update their profile information, add photos, and browse.
They also have access to chat rooms, but this access is limited – you can only respond, and not create your chat rooms.
When it comes to private messages and the inbox, this feature is locked.
Premium members have more options on the website – firstly, they have access to both chat rooms and inbox.
Also, they can create their chat rooms and be admins.
Another benefit of a premium subscription is advanced filters.
Furthermore, they can see who viewed their profile.
Bronymate offers two subscriptions: silver and gold, and prices are determined by duration.
There is a three-day trial, so you can see whether you enjoy the extra features.
Here are the prices:
Gold
1-month – $34.00
3-month – $72.00
6-month – $126.21
Lifetime – $295
Silver
1-month – $3 per day
3-month – $48.16
6-month – $84.00
Lifetime – $195
Subscriptions are automatically renewed and there isn't a money-back guarantee.
You pay via PayPal or credit card.
Overall Rating – 3.25/5
I gave the Bronymate an overall score of 3.25 out of 5.
If you are a big fan of My Little Pony and want to meet like-minded people, then this dating website is a great choice – it is the only dating platform dedicated to fans of this cartoon, so all fans are in one place.
However, the website should improve its design – just because it is the only My Little Pony dating website, doesn't mean that the quality of the website should be low.
Since many members are premium members, they should enjoy the website with a great interface and features.
Also, the lack of an app is another big con.
Write your thoughts about the website in the comments!
And while you are there, check out the FAQ!
Yes! Bronymate is a safe place for all Bronnies and Pegasisters. The website has a strict safety policy, so its members are protected from scammers.
Some features are – you won't have to pay to join, browse, or join chat rooms.
Private messages as well as advanced search filters are fee-based.
You can purchase either a Gold or Silver membership via PayPal or credit card.
Yes, this is a legit dating website for fans of the TV cartoon My Little Pony.
Users can enjoy chatting with other members, share their favorite scenes and clips from the show, and often these friendships lead to deeper connections and marriage.
4. About Bronymate company?
Bronymate was created in 2013, by two fans of the show.
Since then, it became an international dating website with thousands of users.
1. How do I join Bronymate?
All you have to do to join the website is to fill out one form – these are just some basic questions.
Once this is completed, you have to verify your profile and email via confirmation link and four-digit code that you will receive.
After, you can start browsing and chatting.
2. How to cancel Bronymate?
Subscriptions on Bronymate are automatically renewed.
If you wish to turn off this feature or cancel the subscription, you will have to contact the support team.
Keep in mind that this website doesn't offer refunds, so you can enjoy the benefits of a premium account until your subscription expires.
3. How to delete Bronymate?
To delete your profile, you can either do it manually or contact the support team.
If you want to do it on your own, go to your profile and click on options – there you will find the option to close your account.
When an account is deleted, all of its information is deleted as well.
4. How to contact Bronymate?
You can contact the support team via the website – the link is https://www.bronymate.com/contactus.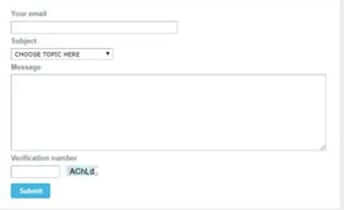 1. How does the Bronymate algorithm work?
The website doesn't use any matchmaking algorithm – you have to contact the members manually and you have to determine the compatibility on your own.
Messages, winks, and friend requests are available for contact.
2. How do I block people on Bronymate?
There are two ways to resolve this problem.
You can send a message to the support team, explain the situation and reason for blocking a user.
You can also do it manually by visiting the member's profile – the block button is on the profile page.
3. How do I report people on Bronymate?
Write an email to the support team to report the Bronymate's member.