Today, we are going to review Jack'd, a dating app for gay men and an alternative to the likes of Grindr and Scruff.
Jack'd isn't new, in fact, it has been around for over a decade now.
And it's a gay dating app that's seen tremendous growth during that period as more queer people turn to it to hook up (like BeNaughty or Ashley Madison), meet new online buddies, look for long-term relationships (like Tinder or eHarmony), or just participate in gay chat.
This review is going to assess Jack'd in minute detail and in it, we will highlight both the strength and weaknesses this mobile app has.
OFL exclusive offers - Check all of them

"Serious Relationships"
"Discreet Hookups"
"Best Course"
"Quick Flings"
"Normal Hookups"
"Our Quiz"
Our critique of the site takes in the following:
So if you are a member of the LGBTQ community, reading this review will help solve many of the questions you may have about Jack'd.
So why don't you jump straight in?
Is your dating app giving you the best chance for success?
Make sure to take our online dating site/app quiz to find out.
It's a fact that people who follow our dating site suggestions have on average 2 extra dates per month.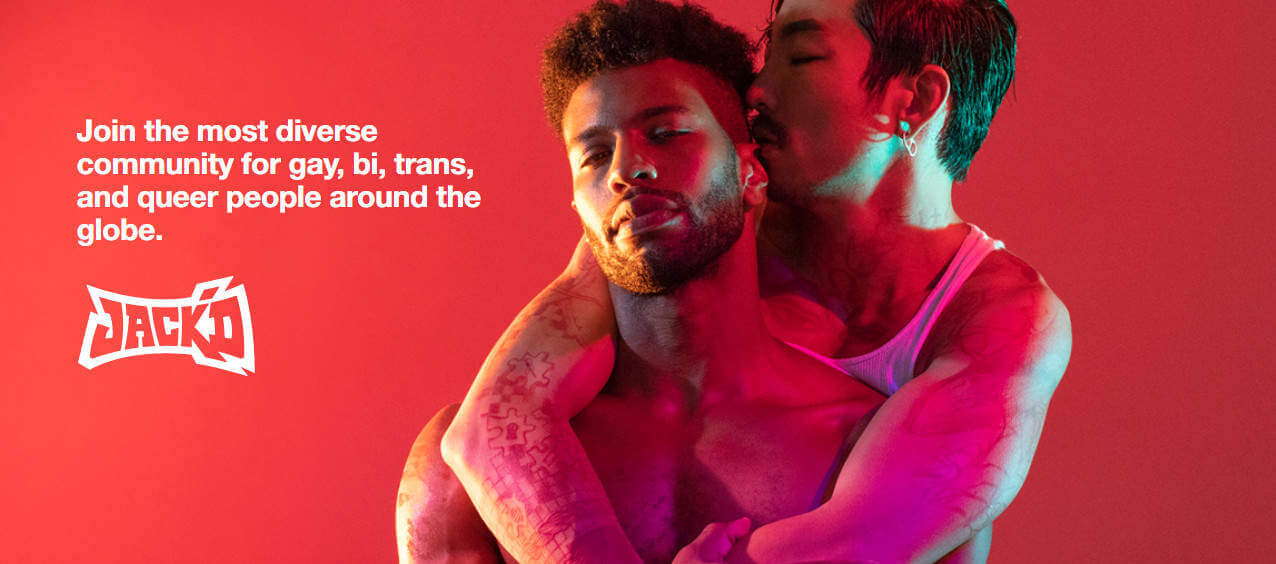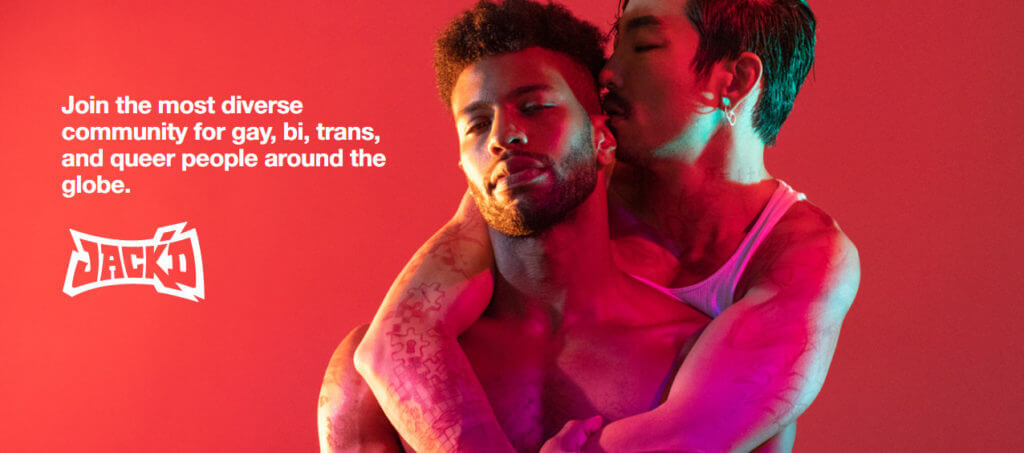 Ease of use – 4/5
Success rate – 3.5/5
Key features – 4/5
Price – 4/5
Registration takes around a minute and you are online
Messaging is free for all users
Membership offers some incredible added extras at a very competitive price
The app crashed from time to time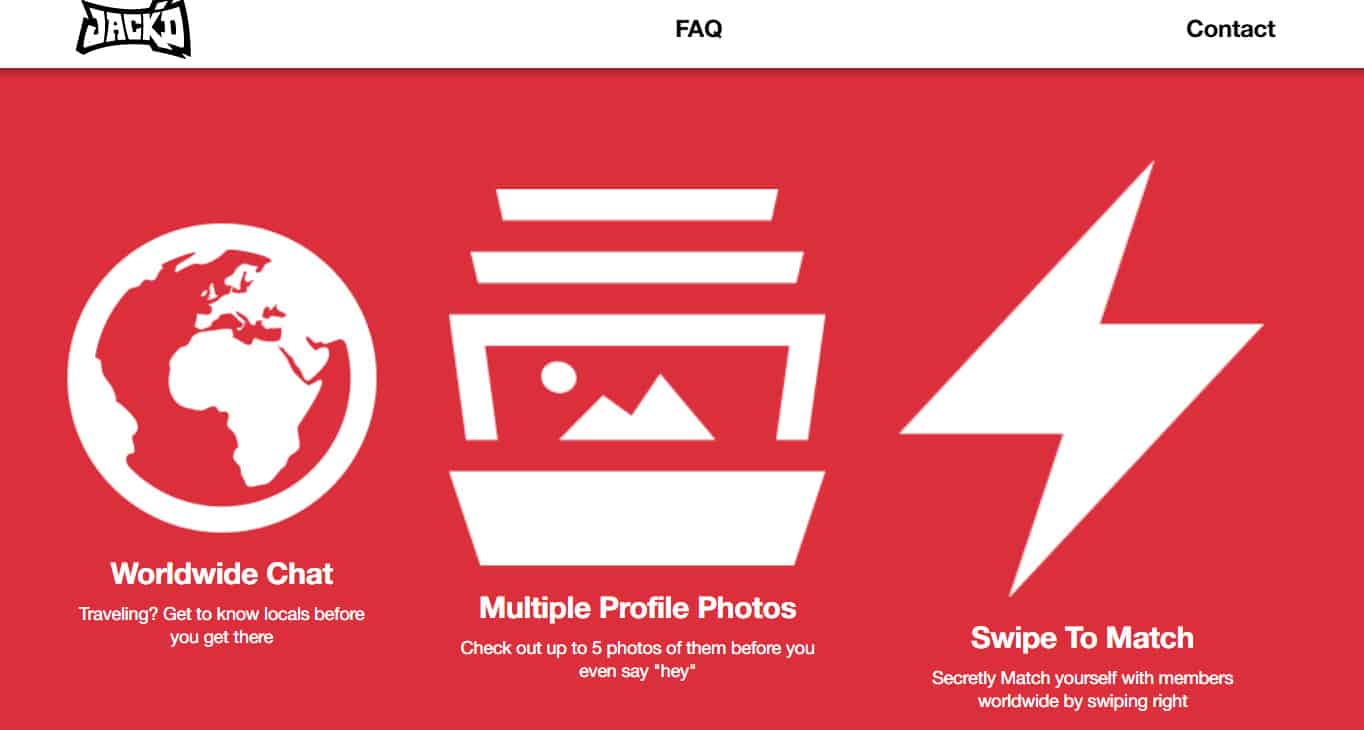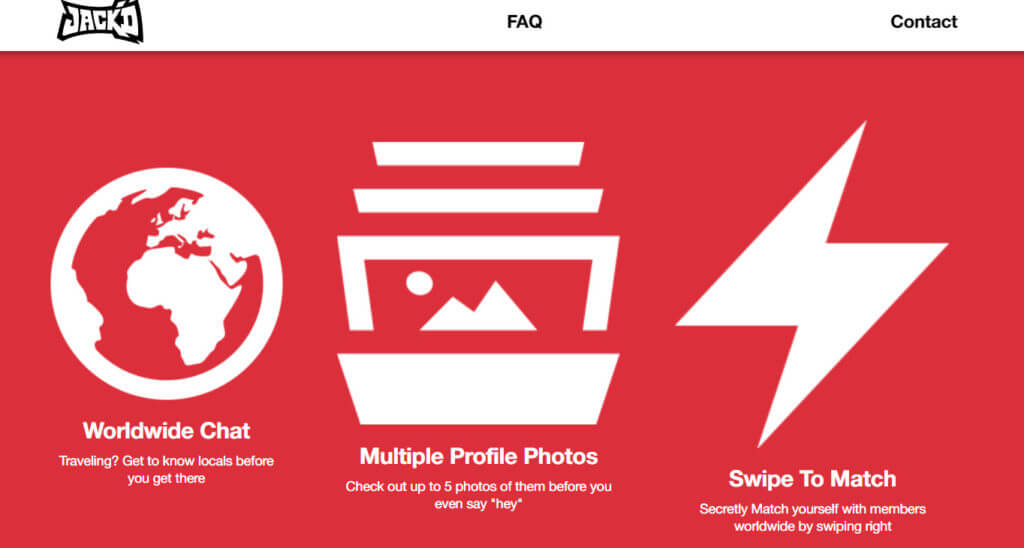 Who Is It For/Demographics?
The Jack'd app is a Tinder-style platform where swiping is the order of the day.
Since 2010, it's grown significantly in popularity and I can clarify that at this point, Jack'd has around 5 million users.
While collecting more data about the app, I found out the following:
Around 50000 users are active on the app each week
That's over 7000 per day and 200000 each week
The app has had around 5 million installs on Google Play
It's rated at 4.0 stars on the App store
Jack'd is available in around 180 countries
Jack'd is open to trans and bisexual men as well as those how are bi-curious.
It's also a brilliant app for people of color and the QPOC community.
In identifying the age ranges of Jack'd users, I found that all ages were well-represented, from 18 to 55 and over.
The two biggest age groups of users on Jack'd were the 25-34 year-olds and the 35-44-year-olds.
Between them, they account for over half of the population on free gay sugar daddy sites
.
The smallest group of users were those of 55 and older, which is often the case in online dating sites for gay men.
Although they only make up 7% of the total user base, it's important to remember that's still over 300000 people.
Here's the full breakdown of the age groups that frequent Jack'd from the most popular:
25-34-year olds (35% of the user base)
35-44-year olds (28% of the user base)
18-24-year olds (16% of the user base)
45 to 54-year olds (14% of the user base)
55 and older (7% of the user base)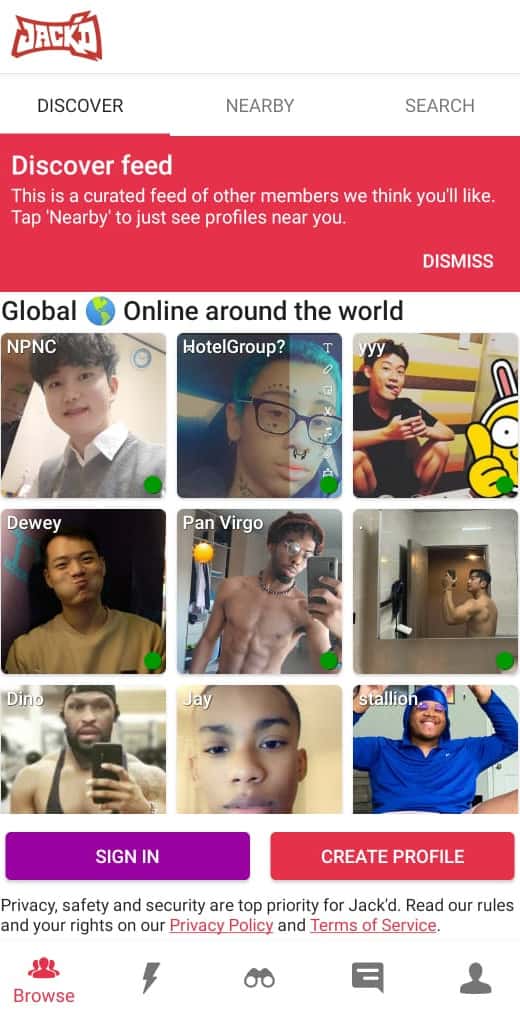 While Jack'd does have a website, it's for informational purposes only.
If you want to make use of this dating platform, you have to download the Jack'd app, available for Android and IOS handsets.
Jack'd compares well with its rival apps in terms of the signup process.
In fact, you can browse some of the profiles on the app without even signing up first.
Should you prefer to use a social media account to speed up everything a little, you can sign in with Facebook.
I'm not going to take you through the whole process because it's just so simple.
Note, however, you do have to upload a profile photo as you cannot register a profile without one.
This is something the team at Jack'd have got right in my book.
Far too many dating sites let you signup without a profile picture these days and that just makes it easier to run a fake profile.
Once you get access to the site, Jack'd will immediately remind you to complete your profile.
Should you choose to look around first, the reminder won't go away.
After I while I found it annoying, but despite that annoyance realized that it was there for a reason.
Completing your profile won't take that long anyway, so rather just get it out the way.
Here's the information you will have to provide:
Your email address
A password
Height
Weight
Ethnicity
Hashtags that you would associate with yourself (for example, #kinky, #submissive, #bear and more)
What you are and the scenes you are into (for example, #daddy, #bear, #muscle and more)
What you are open to including friendship, relationships, no strings attached, dates, chat only, networking)
Your pronouns
Your gender identity
Your current relationship status
What you are looking for
Your activities and interests
Where you live
Sexual preferences
Sexual safety practices
HIV status
Links to social media accounts
Home city
You can add further pics if you'd like
I think it's critical that you gather all this information in one place for a potential matchup to get to know more about you.
Of course, you would expect in return that they do the same and it seems that many users Jack'd take this seriously from what I have observed.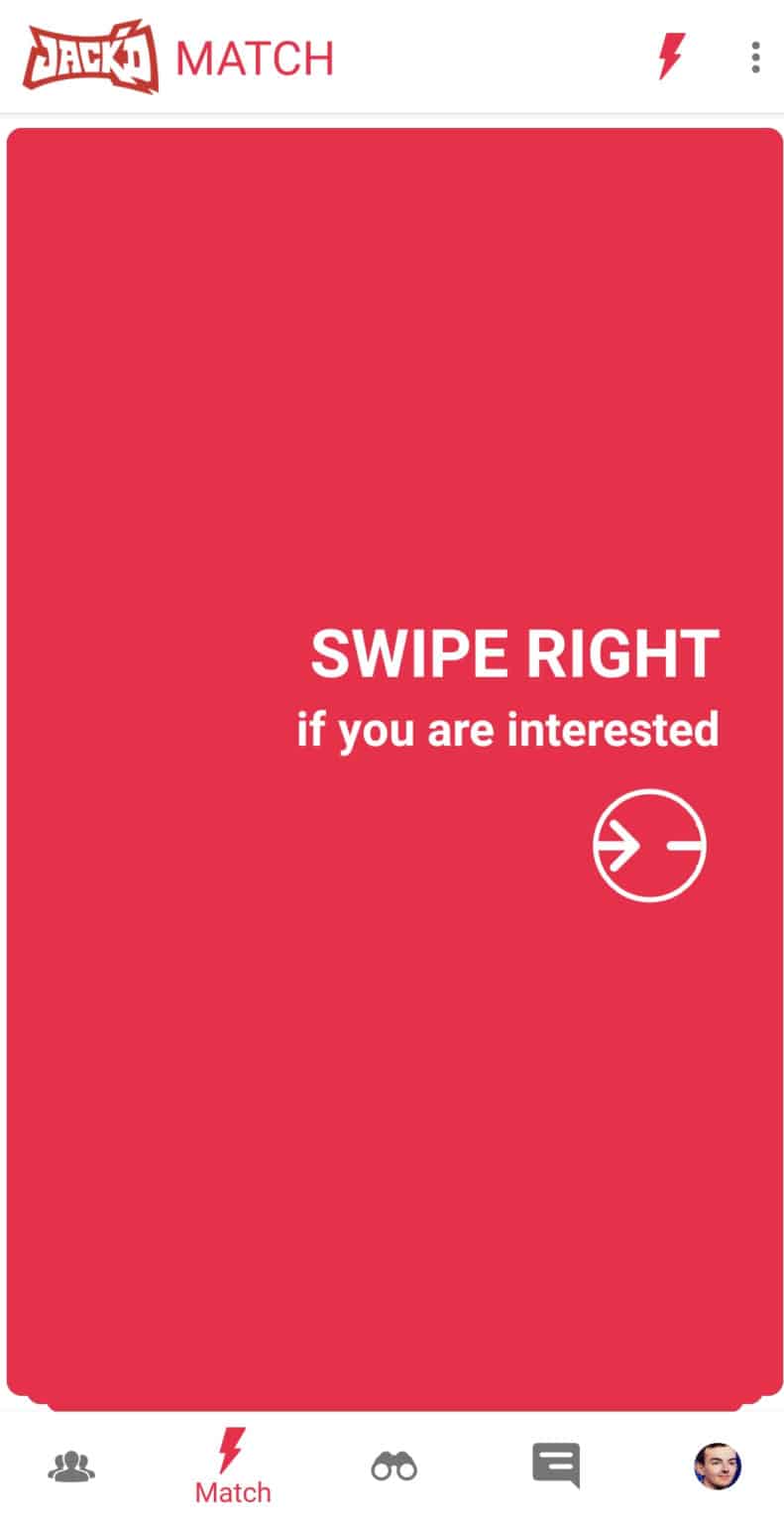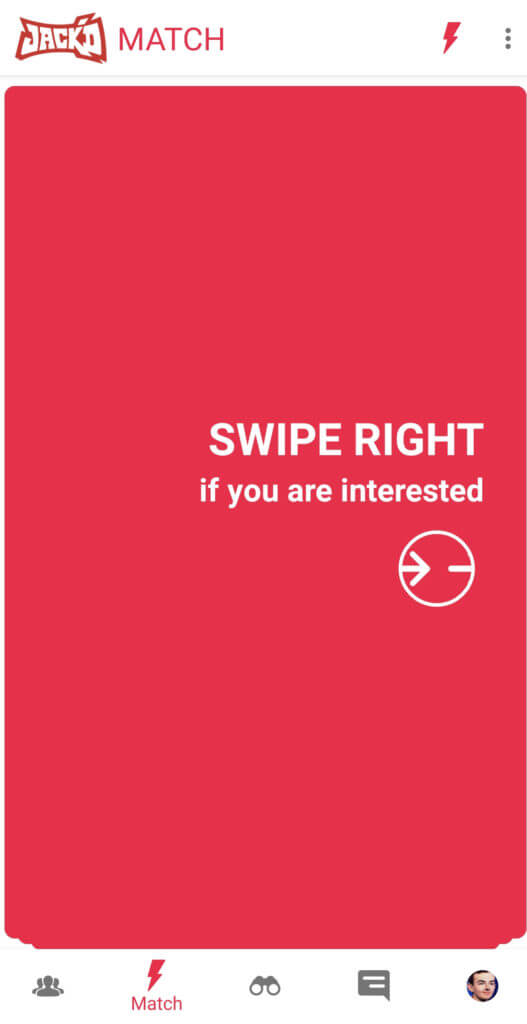 Finding your way around the

Jack'd App
While testing Jack'd, I found it to be very similar to other dating apps, both in the way it looks and operates.
It's just a case of confirming what each menu does as you begin to use it.
But here's an idea for you.
When you return to the home screen of Jack'd it provides you with a bunch of user profiles that you can look through.
These can be adjusted at the top of the screen using three menus:
The Discover option is the default.
Jack'd say that these are profiles that the app thinks you'd like but are not necessarily near your location.
If you are just wanting to meet new friends to participate in some gay chat, looking through these makes complete sense.
If you want to find local gay men near your location, you are going to click on the Nearby menu.
Jack'd also lets you launch searches of your own, but that's something that I will demonstrate later.
Those aren't the only menus you will find.
In fact, what I have just discussed is part of the "Browse" menu that you will find at the bottom of the screen.
It's part of the main menu system you will use to navigate your way around Jack'd.
Browse: I indicated what this menu entails above
Lightning bolt icon (Match): This is where you will see if you've matched with anyone. You can also play the match swipe game here. Swiping left means a pass, right means you like the profile and down means you are not sure.
Binocular icon (Viewers): See who has viewed your profile, waved you or who you have viewed or waved at.
Chat bubble icon (Messages): All sent and received messages you can find here
Your picture: Click here to access your profile, upload private photos to a private album and change settings.
Lastly, you will notice two more menus at the top of the screen.
First, the star will give you access to any profiles you may have favorited and secondly, the padlock item contains any private photos or albums others have sent to you.
It's one of the highlights of the app for me.
I love the overall design and Jack'd is a joy to navigate.
While profiles are put front and center, as they should be, Jack'd make finding your way around super easy.
For example, while it uses icons to represent the various menus, once you click on them, the menu gets a name.
For example, the lightning bolt menu is Match.
This is brilliant for people who may never have used a dating app before.
Everything is just extremely well laid out.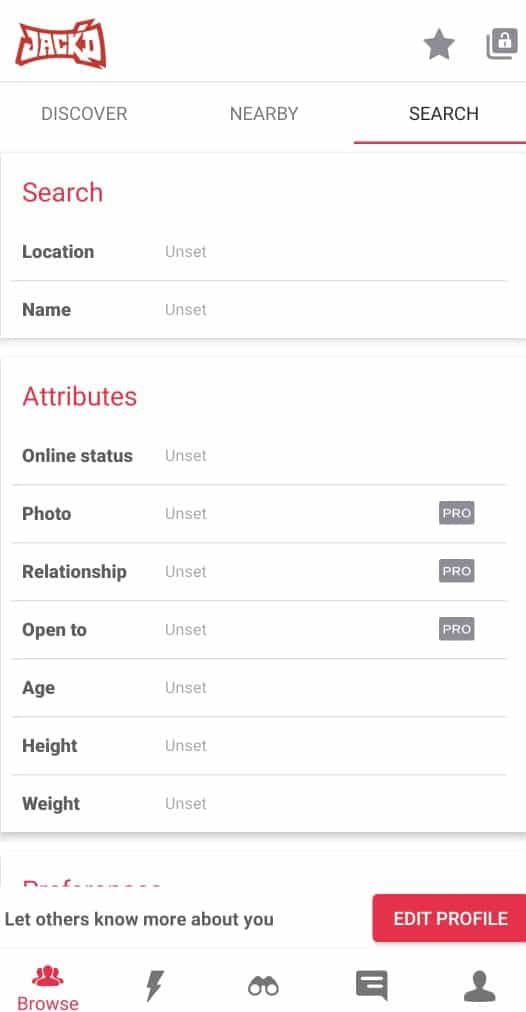 So now that you know a little more about how to find your way around Jack'd let's talk about how you can find a potential matchup.
For a start, you probably are going to look through the matchups that the app suggests for you, right?
Remember, this can be found under the Discover menu.
If you'd like, you can look at the Global option for men all over the world to chat with but if you are looking for a hookup or a long-term relationship, obviously those matchups are probably going to have to be local.
To explore those profiles, all you need to do is click on the Local tab that you will find under the Discover menu.
Find someone you want to know more about and simply tap their picture to bring up their profile.
Profiles have a ton of information and you can learn a lot about each individual from it, including how far they are from your location
Simply slid up to access their profile information.
You will also notice a "Not for Me" and an "I'm interested" button.
This is essentially like swiping left or right.
At the bottom of their profile, you will discover an "Insights" button.
Click on this to see how likely people are to return your message.
As a Jack'd Pro member, there are even more insights for you to discover.
If you'd prefer to swipe through profiles, you can click the lightning bolt that will bring up the match menu.
If you swipe right and they swipe right, it's a mutual matchup.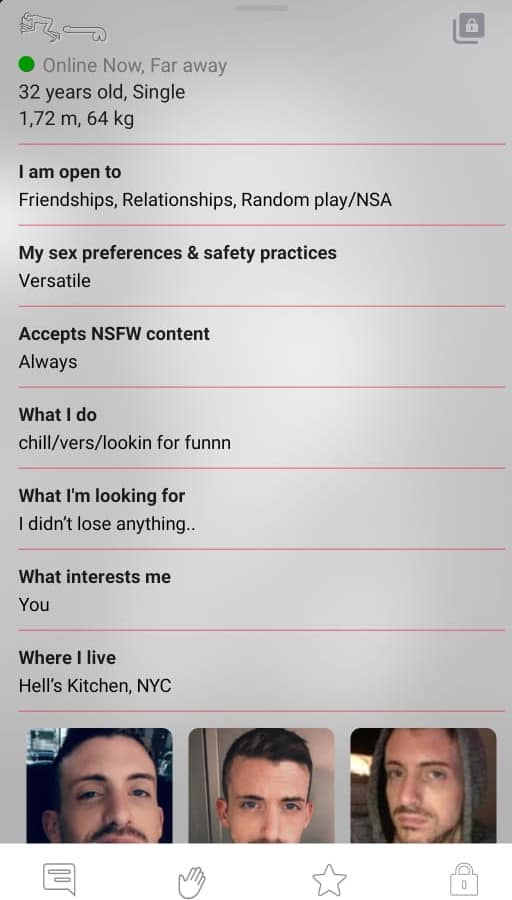 Searching for your own matchups
Just to confirm, looking through matchups isn't the only way to find someone worth contacting.
You can also search for you own.
To do that, click the search option under the global menus.
This certainly exceeded my expectations because not many dating apps allow for searching like this.
Instead, they present you with matchups and that's how you find someone.
As a regular user, you have many search parameters that you can use as well.
These include:
Location (set this anywhere in the world if you want, for instance, New York)
Username
Online status
If they have a photo (for Jack'd Pro users only)
Relationship type (for Jack'd Pro users only)
Open to (for Jack'd Pro users only)
Age
Height and weight
Ethnicity
Sex preferences ((for Jack'd Pro users only)
What scene they are into
What role they play
I believe that this is one of the best features of Jack'd because it allows you to control exactly what you are looking for.
It's simple.
Just message them.
If you find someone in the matchups that Jack'd shows you or during your own searches, if you view their profile and scroll down to the bottom, you have an option to message them.
You cannot messages someone that you swipe right on in Matches, however.
You can also add users to your favorites or send them a wave as a way to break the ice.
You can even share your private albums if you want to.
It couldn't be easier.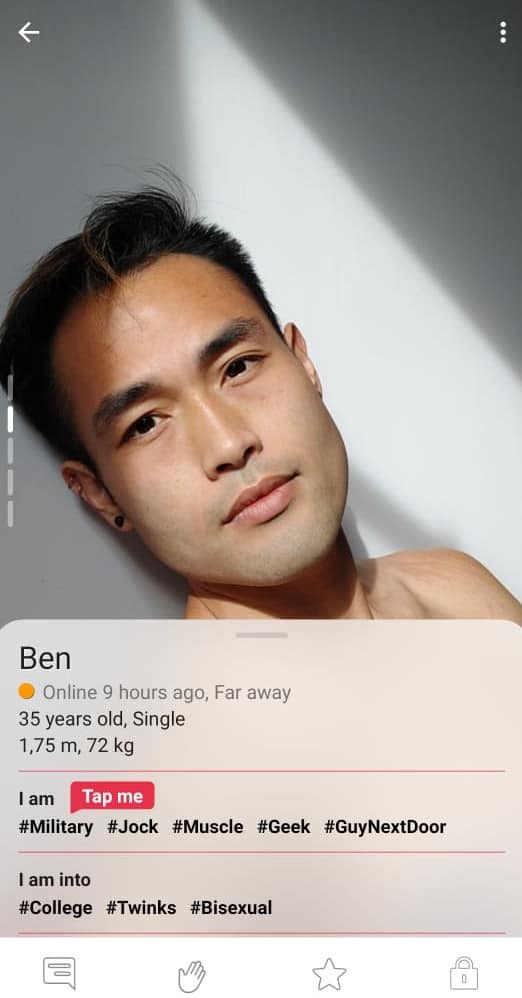 As a regular user on the site, there's a lot going for you, that's for sure.
Obviously, however, if you signed up for Jack'd Pro membership, there are extra tools and benefits at your disposal.
Jack'd members get up to 20 extras and I am going to highlight a few of them here now:
1. Unlimited

Private Albums
Yes, should you like to keep private pics, you can do so in an unlimited amount of albums.
And you can share those albums with any other users you choose.
This is something I mentioned a little earlier.
Insights is a helpful tool that Jack'd allows all users to find out more information about a potential matchup.
Some sections, like what scenes a user is into as well as various age insights are for paying members only.
3. More potential matchups
The number of potential matchups that regular users receive are limited.
If you choose membership, that becomes 1000.
Sent a message in error?
It happens, that's for sure.
Miss all the drama that's caused by a missent message by simply unsending it.
Without a doubt, Jack'd has an amazing search engine, even for regular users.
But to make it even more impressive, Jack'd Pro members get a few more parameters that they can add including searching for users that have a photo or perhaps for a specific relationship type.
Prefer searching for others without leaving a trace?
Don't want your profile to appear in other users' matchups?
Well, as a member you can access the Stealth Mode from your profile if you'd prefer to go incognito.
I can confirm that advertising on Jack'd is unobtrusive.
But members won't have to worry about seeing any adverts at all.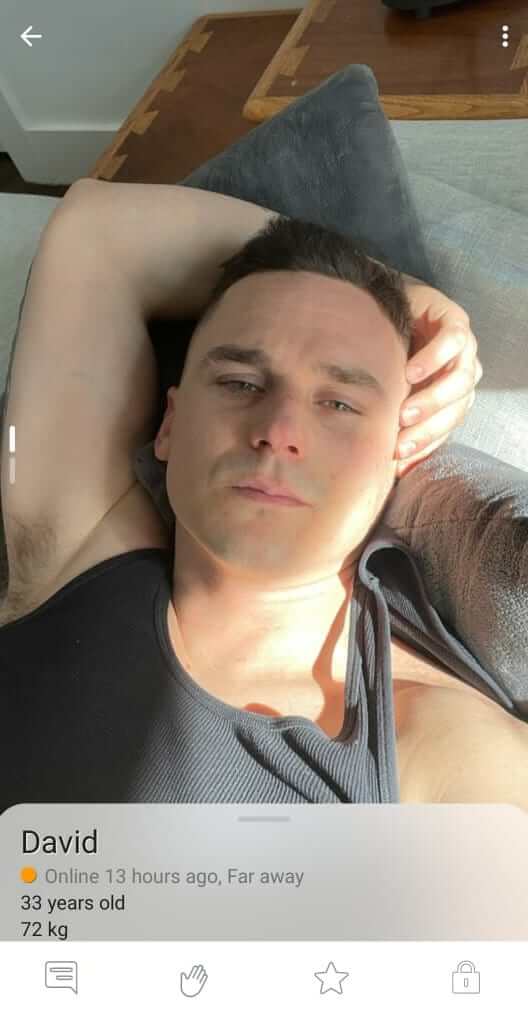 You can use Jack'd without paying for membership but as we've seen above, the added extras that it offers are more than useful.
Many users will make their decision as to whether they opt for membership or not based on the cost involved.
If you are a dating app veteran, you know that app-only dating is generally way less expensive than dating websites.
But what are you going to pay for membership on Jack'd and what options do they have in terms of the contract lengths?
Here are your options:
1-month membership: $9.99
3-month membership: $21.99 ($7.33 per month)
12-month membership: $57.99 ($4.83 per month)
Compared to Grindr or Scruff, it's cheaper and Jack'd is on par with Hornet.
For me, the membership price is well worth it for all the additional features that you are going to be able to access.
Conclusion and Overall Rating
Thanks for reading this review of Jack'd.
To summarize, for me, it's easy to see why this dating app is so popular.
I love how simple it is to use, how you don't need to be a member to use it effectively and that you can message other users for free.
The whole design and just the way the app works in general shows that those behind Jack'd have taken the time to design something that's going to stand the test of time.
Jack's is certainly no fly-by-night dating app and I can only see it going from strength to strength.
I would highly recommend that you try it out and today, it gets a rating of 3.9 out of 5.

The team at Onlineforlove spent weeks studying what Jack'd had to offer as part of this comprehensive review.
In that time, we concluded that Jack'd is a gay dating app that's aimed at gay men, bisexual men and others of all ages who are looking for various types of relationships, from gay chat to hookups and long-term relationships.
Our approach to this review saw us identify key criteria that we apply to all dating sites we review.
These key criteria took into account registering as a user on the site, how the site operates, the quality of the profiles found as well as searching for potential matchups.
Our overall evaluation also focuses on membership pricing, the success rate in matchups, how many users it has and the features it offers.