Gay men looking for a hook up or love have several options when it comes to sites on the web where they can sign up.
Manhunt is such a site.
If you've ever thought about making a profile on Manhunt but needed more information about the site, then you've come to the right place.
That's because, in this extensive review of Manhunt, we cover just about everything you need to know about the site including:
OFL Top Recommendations based on 100,000+ Survey

"Serious Relationships"
"Discreet Hookups"
"Best Course for Men"
"Quick Flings"
"Normal Hookups"
"Our Quiz"
Once you are done reading this review, there is no doubt that you will know if Manhunt is a site that you need to sign up for.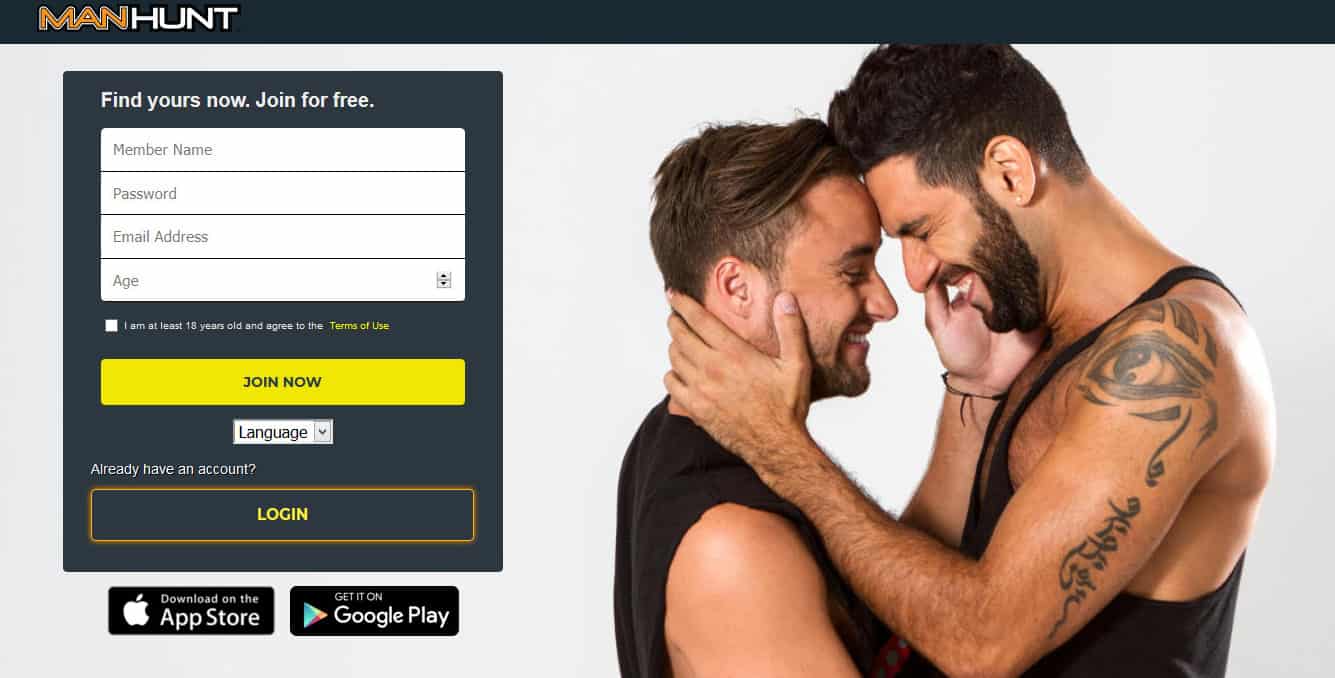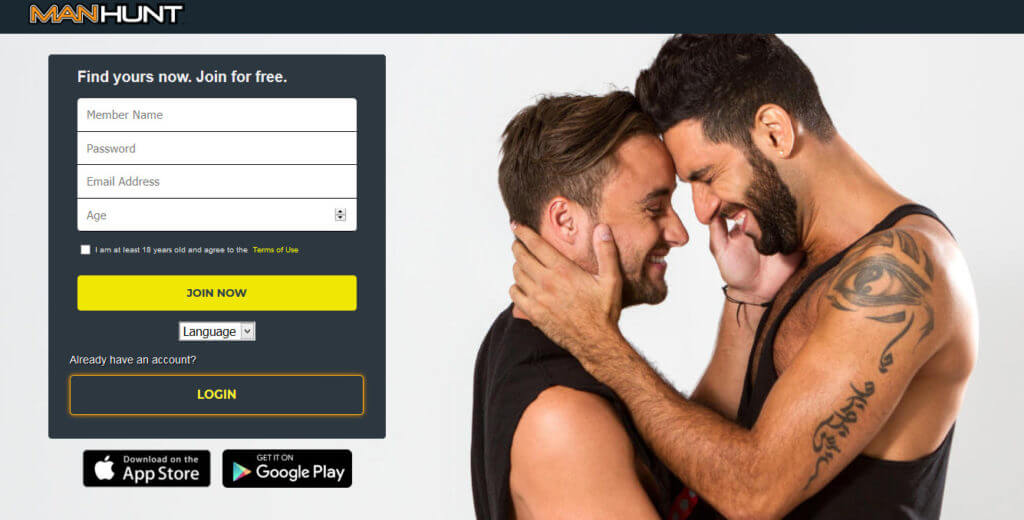 Is your dating app giving you the best chance for success?
Make sure to take our online dating site/app quiz to find out.
People who follow our dating site suggestions have on average 2 more dates per month.
Effectiveness 4/5
Ease of Use 4/5
Key Features 3/5
Pricing – 4/5
OFL Top Recommendations based on 100,000+ Survey

"Serious Relationships"
"Discreet Hookups"
"Best Course for Men"
"Quick Flings"
"Normal Hookups"
"Our Quiz"
Simple registration
Loads of users
Cheap membership options
Provides healthcare information for users
A little explicit if that's not your thing
The site design could use a makeover
Not that many extra features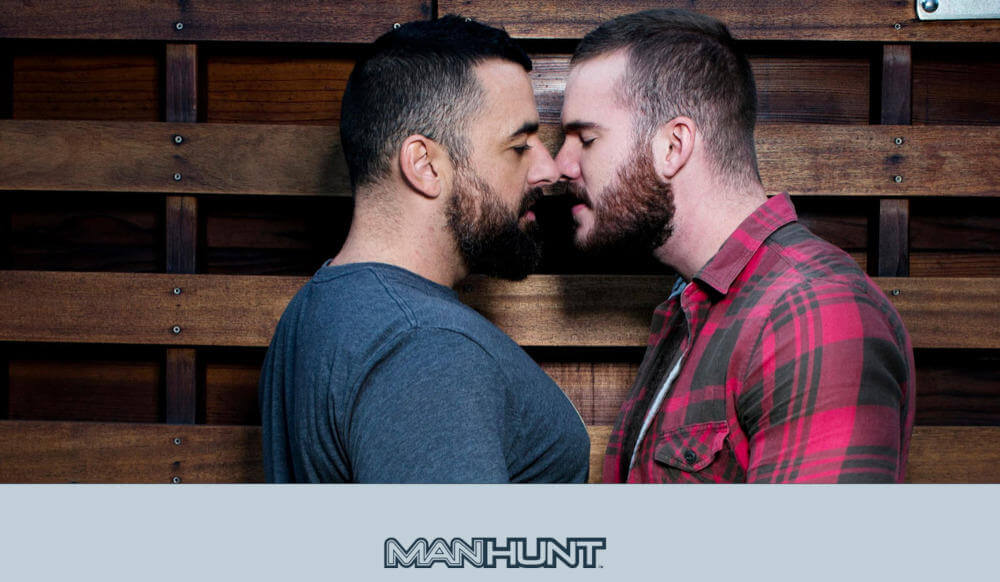 Who Is It For/Demographics?
It doesn't take a rocket scientist's intellect to work out just who Manhunt is catering for.
Yes, it a dating site for gay men.
Actually, from what I've seen and read about Manhunt, it is more of a hookup site (like BeNaughty or Ashley Madison) than a dating site (like Tinder or eHarmony), but for gay men.
And it's big, that's for sure.
Manhunt, which started way back in 2001 in Boston, now has users from all over the world as it continues to grow.
So how many users are there?
You'd expect a website that's been around since 2001 to have a large user base.
The thing is, with a niche website, which Manhunt is, that's not always the case.
But Manhunt breaks that mold.
In fact, the team behind Manhunt says that to date, 6 million people have made use of the website to try to hook up with other like-minded users.
Many regular dating sites would be more than happy with stellar figures like that, that's for sure.
But here are some more figures for you about the site:
1.5 million members (not users) come from the United States alone
More than three-quarters are looking to hook up instead of long-term dating
Member logins equate to over 30 000 per day.
That's 300 000 logins each month from members alone
In total, the website receives over 8 million pageviews each month
Without a doubt, this is one of the most active sites for gay men on the internet today.
But next, we need to see just how effective it is in helping you hook up with someone or perhaps even to find long term love.

So it may have over 6 million users and receive over 8 million pageviews each month, but can Manhunt find you the right kind of hook up?
It certainly has everything in place to do so, that's for sure.
From the moment you enter the site, everything is geared towards you seeing potential matchups.
In fact, based on your initial answers when filling in the sign-up form, you will have potential matchups to look through before you've even completed your profile.
Even though I stay outside of the big city, there were numerous profiles of potential hook-ups leaving within a 20-mile radius.
So without a doubt, that user base that Manhunt claims seems to be pretty legit, especially as the profiles didn't seem to be bots at all.
Other than browsing through those initial profiles, Manhunt's main tool in turning up potential matchups is based on its search feature.
How searching works on Manhunt
When it comes to searching for a matchup, Manhunt offers nothing new.
It's the standard fare, in fact.
You can search according to a number of parameters, so you can make your searches as narrow or as wide as you like.
Obviously, if you are not in a big city and your searches are struggling to turn up any matches, you may have your parameters far too narrow.
Change them and see if that makes a difference.
There is no doubt that while searching through the profiles, you will find out that Manhunt is a hook up site more than anything else.
So if it's a casual fling you are looking for, then Manhunt can help.
Finally, you can make "buddies" on Manhunt.
This is like friends on Facebook and a good way to find favorite profiles that you'd like to get in or stay in contact with.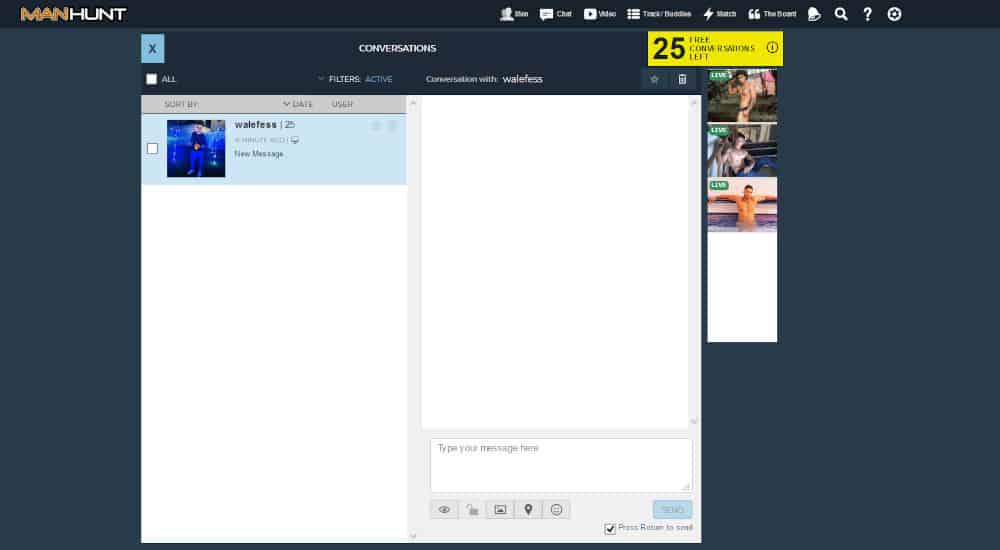 So once you've worked your way through the profiles of potential matchups and found some that you'd like to get to know better, you obviously need to establish contact.
And this is where I think Manhunt excels.
That's because, even as a free user of the site, you can send and receive messages.
You've probably tried many other sites where the ability to communicate is hidden behind the membership paywall.
But luckily, that's not the case with Manhunt.
Don't get too excited yet, however.
You are limited in how many messages you can send each day and that number is 10.
It's reasonable I feel, especially if you can find profiles of people that seem to be excellent matches and are likely to reply.
Of course, should you wish to send more, membership will allow unlimited messages.
But that's something I will cover a little later in this interview.
So the ability to send messages without paying a fee is awesome but Manhunt has other ways to contact a user as well.
Fancy someone you'd like to chat with at some point?
Then send them a "wink".
This is very similar to other websites and basically, it's a virtual way of flirting.
You can also video chat with users.
For me, this is invaluable, especially if you meet someone you are wanting to hook up with.
Getting them in a video chat beforehand lets you suss them out a little more before committing to a meeting.
And that's a good thing.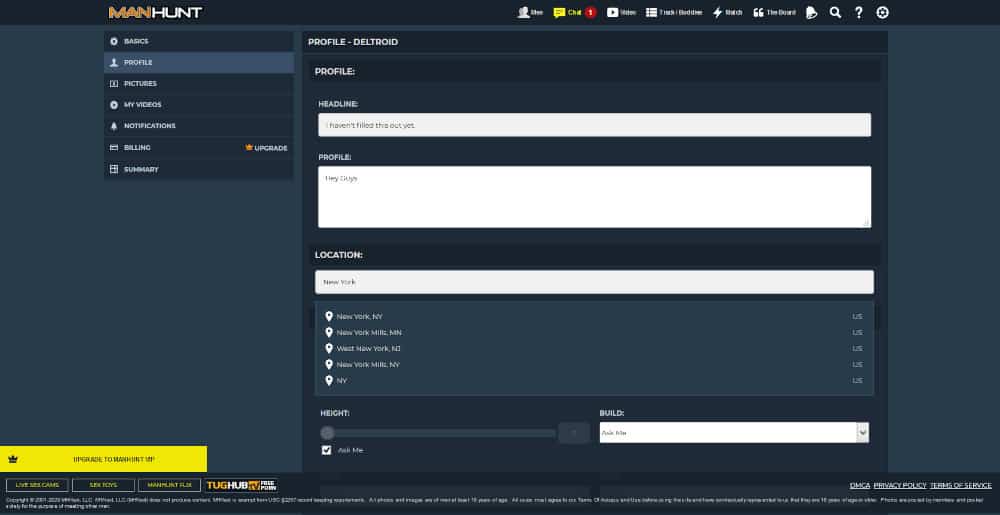 I was a little worried when I first logged onto the website to sign up.
Initially, I received a "not secure" message from my browser but that quickly changed, showing that the site was indeed secure and safe.
Also, you are going to be bombarded with adverts, so you better get used to that.
One final warning before we get going on the overall ease of use.
Many of the users on this site have no problem with nudity, including full-on shots of their private parts.
So be prepared!
Setting up my account took just a minute.
While other dating and hook up sites allow you to use your social media logins to sign up, Manhunter hasn't got to this stage as of yet.
But to be honest, this wasn't something that bothered me because I never use those to sign up to dating websites anyway.
So it's a traditional method where you will pick a username, select your password, enter your email and away you go.
Within a second you are on the site but they seem pretty strict about a profile picture, so I uploaded one.
That said, I did see profiles without them, so you could probably delete it at some stage as well.
You also can upload another 15 photos if you wish.
I also had to verify my email address before I was allowed to send messages, another extra level of security which I think is important.
From there, Manhunter encourages you to take some time to beef up your profile.
There's lots you can enter here, for example height, weight, age, appearance and more.
Some of it isn't for prudes, for example, the length of your man bits!
Once you are done, it's onto searching for potential matches.

On the whole, there's nothing to write home about when it comes to the design of Manhunt.
But then again, this isn't a website that is trying to win any design awards, right?
That's simply not what it's built for.
That said, it's not unpleasant to navigate around and if you've used a dating site before, you will quickly become acclimatized as to where everything is.
That's because Manhunt uses a tried and trusted layout so finding your way around isn't that difficult.
If you'd prefer to look through matchups on your phone, Manhunt does have an app.
Initially, this was only available for Android users but recently an IOS version came out as well.
The overall design of the app is far more modern than the website but you have limited functionality here.
In fact, a number of the features you can use while on the website aren't available.
You can message, however, and that seems to be how most people make use of the app.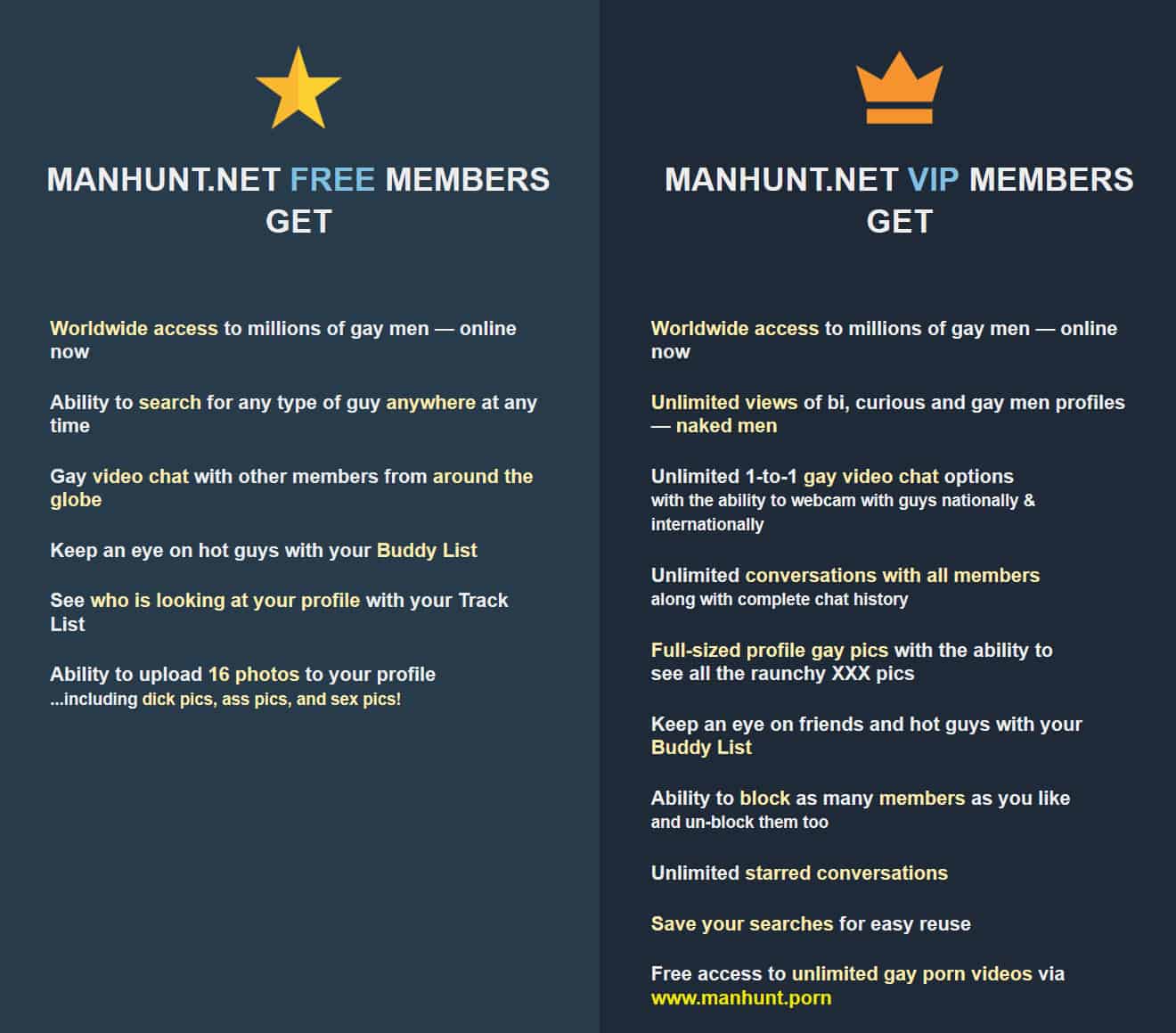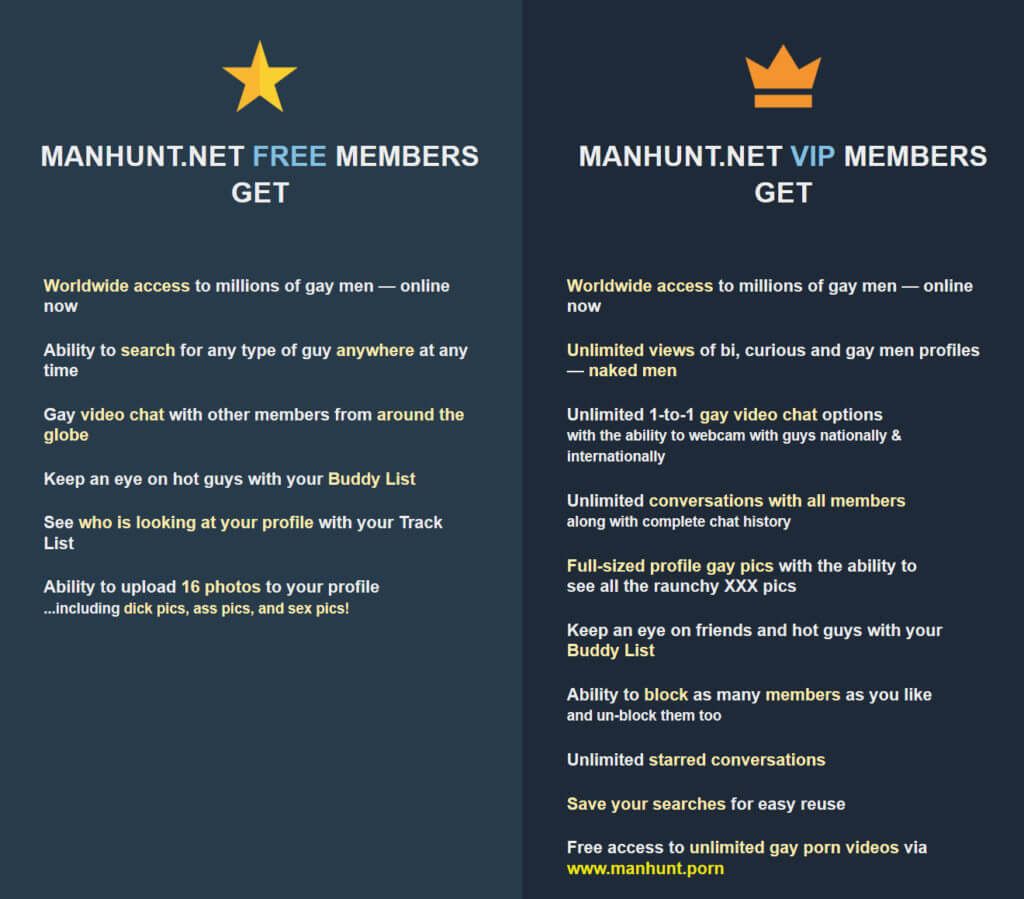 Let's break down the key features of Manhunt from the perspective of a normal user first and then as a paying member.
When you sign up for Manhunt and start browsing around, there is are lots of things you can do, including messaging people, which is awesome.
Of course, you cannot send unlimited messages but at least you can fire off some each day to potential matchups.
So how much are you limited to when it comes to messages?
Well, you can send 10 per day.
You can also do the following:
Select 20 profiles as buddies. This is essentially picking them as favorites like on other sites
Limited 1-on-1 video chat. You can only receive calls from others
Keep a history of your conversations with other users for a period of 14 days
Browse unlimited profiles
Bookmark or "star" a conversion that you'd like to go back to
So as a regular user, there's not a lot you can do but at least you can communicate with others.
Many other hook up websites just don't offer something like that.
And if you'd like to become a paying member, then what can you expect extra from Manhunt?
First off, those 10 messages a day that you could send as a regular user now become unlimited.
Here are all the other perks you can expect as a member:
Unlimited video chat. You can make and receive calls
Select 1,000 profiles as "buddies".
View photos in full size
The ability to perform more advance searches with added parameters
"Star' conversations are unlimited
Conversation history is unlimited
Access to TubHubTV. As a member of Manhunt, you have a free membership to this service
The Board: This allows you to post personals to others in your location without having to link your profile.
See the last 50 people who viewed your profile
While Manhunt gives you a range of extras as a regular user, that grows even more when you opt to pay for membership.
Some of these offerings are upgrades of what regular users receive while others are stand-alone features that are only for Manhunt members.
Some are more useful than others I feel, but they are all worth checking out, that's for sure.
So if you want to become a member of Manhunt the next thing we need to look into is the pricing structure for members.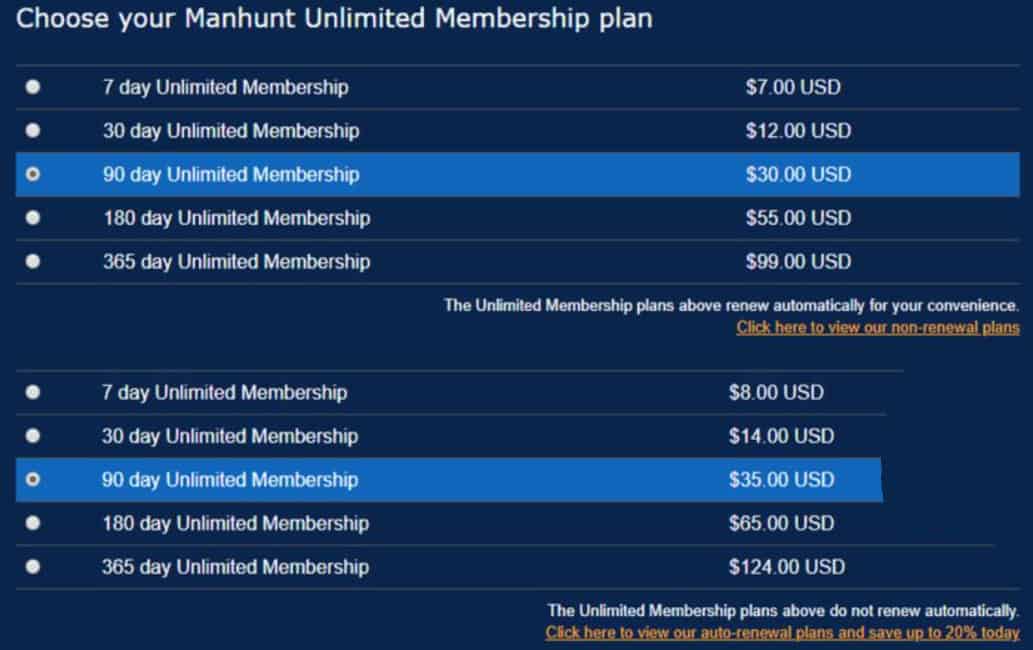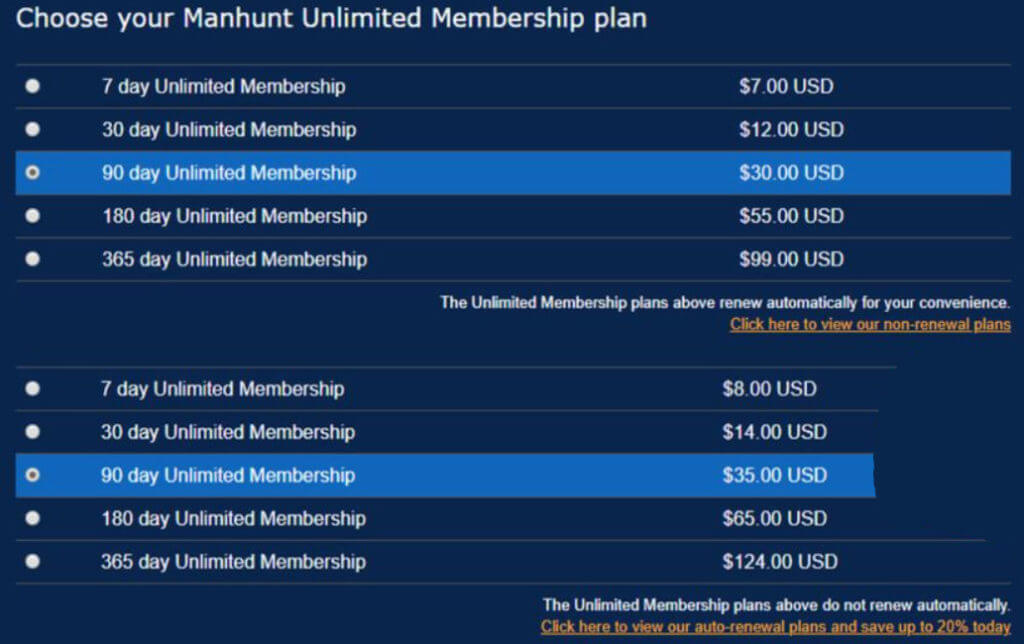 Now that you know the key features that members will have at their fingertips when signing up on Manhunt, let's look at the pricing of the various packages on offer.
What I appreciate here is that the team behind Manhunt has not gone for the traditional membership packages in terms of one, three or six months.
Those haven't vanished and remain a choice for you as a member, but there are additions as well.
Those additions include a one-week membership option as well as a 12-month option.
When signing for a membership, if you choose an auto-renewal on that membership, you receive discounts as well, while if you opt to renew it yourself, those discounts fall away.
Let's look at a full breakdown:
1 week – $7
1 month – $12
3 months – $30 ($10 per month)
6 months – $55 ($9.17 per month)
12 months – $99 ($8.25 per month)
1 week – $8
1 month – $14
3 months – $35 ($11.67 per month)
6 months – $65 ($10.83 per month)
12 months – $124 ($10.33 per month)
From a pricing point of view, I think that Manhunt is more than fair with their offerings.
You have so much choice here, and choice can never be a bad thing.
But what really stands out for me, and so many other dating and hook up sites can learn from this, is the fact that they include a one week option.
And it's cheap.
That means you don't have to try out a membership for a month to see if it works for you.
A week is more than enough to see how Manhunt operates from a member's perspective and to test out all the added features that membership brings.
From there, if you like what's on offer, you can opt for one of the other membership packages, right?
For most users of this site, membership is not out of reach.

Conclusion and Overall Rating
So there you have it for our in-depth review of Manhunt.
Without a doubt, this is one of the biggest gay male dating sites on the internet today.
If you live in a fairly big city anywhere in the world, the chances of finding matchups are very high.
Of course, that chance will diminish when you live in smaller cities as well as small countries but because Manhunt is one of the go-to sites for gay men, don't ever rule out your chances.
Manhunt has some major positives going for it.
The biggest is by far the fact that you can send messages, even as a regular user.
They might only be limited to 10 per day, but that's far better than nothing and many dating sites could learn from that.
While Manhunt might not have as many features as some other sites, it does allow for video chat between users.
That's another plus point.
I also was blown away by the variety of membership packages on offer as well as their excellent pricing strategy.
Having a membership package for a week just makes sense and allows a regular user to see what membership offers without having to commit for a month.
I am sure that using a strategy like this converts many regular users into paying members.
While there are many positives, Manhunt is a little dated in terms of design and could do with a makeover.
While it may only be a hook up site, that doesn't mean it has to look like it was a website from the early 2000s.
So let's get to my rating of Manhunt.
I am going to give this hook up site a score of 3.75 out of 5.
What are your thoughts on Manhunt?
Have you used it before?
Were you successful in meeting someone?
If you haven't used Manhunt, did this review convince you to try it out?
Let us know in the comments below.
Frequently Asked Questions