Launched in 2009, Tinychat is a video chat and instant messaging site. Giving other social sites a run for their money, Tinychat allows for creating chat rooms based on chosen topics. Your experience here will be more like getting into a virtual world that promises excitement and newfound friendship.
Additionally, this is one of the few dating chat sites that comes with HD quality video streaming in every chat room. Because of this, all your moments of interaction will be crystal clear. This chat site stays true to the old-fashioned way of communication, connecting people all over the world through video conferencing. Looking to sign up? Good! This Tinychat review will tell you everything you need to know to get into the platform.
Pros:
Free video chat site
Aesthetically pleasing, modern design
A high-definition webcam that works seamlessly
Beginning a video chat is very easy
Users are free to put a limitation on the number of participants in their video chats
An array of features that make the user experience unique
Moderators review chat rooms to ensure that all the users and chat rooms adhere to the set standards of communication
Cons:
Costly subscription prices
Users as young as 13 years of age can create an account. Due to the lack of stringent security measures and the rising cases of predators, this environment may not be particularly safe for children
Member Information
I found the member activity on Tinychat to be quite high. This is commendable for a video chat site, as many people on the internet like hiding behind their profiles. Tinychat takes this right out of the equation, as you can see exactly who you are talking to.
OFL Top Recommendations based on 100,000+ Survey

"Serious Relationships"
"Discreet Hookups"
"Best Course for Men"
"Quick Flings"
"Normal Hookups"
"Our Quiz"
Whenever I was online, it wasn't hard to find someone to video chat with. Since the chat site has over two million members from the United States alone, you can be certain that you will not experience a dull moment here.
Weekly, there are about 500,000 active members. The female members on the platform (68%) outweigh the male members (32%). Tinychat is mostly made up of the millennial age group. Therefore, if you are looking to interact with people of the more mature age group, you will only find several countable profiles here. With members from all corners of the world, you will enjoy diversity and an array of personalities through your camera.
Sign Up Process
RATING
3.5/5
Signing up to Tinychat is relatively easy. Where other similar chat sites only require you to enter your name and password or sign in as a guest user, Tinychat requires its users to create an account first.
After inputting my preferred username and password, I filled in details of my email address, my birthdate and birth year. After that, my Tinychat account was active. There was no email verification process, which means that even users who have fake emails or information can sign up.
After the sign-up process, I was redirected to a page where I uploaded my profile picture and listed my gender. Additionally, I was automatically assigned a URL that I could share with those that I wanted to join my chat room.
If you want to skip the hassle, Tinychat also allows its users to sign up using their Facebook accounts. This way, you will link your Facebook information to Tinychat, and you are golden!
Contacting People
RATING
3.0/5
The main way to contact members is by joining chat rooms or participating in group broadcasts on Tinychat. The latter is done through text, audio, video, or all three. The purpose of the broadcast is to let other members of the platform know that you are willing to engage with them and equally let others know exactly who you are. However, broadcasts are only available for premium members of the platform, not those with free accounts. Even so, this isn't a big deal because you can do without the broadcasts.
In the chat rooms, I opted to go for old fashioned messaging to interact with those online. From the online list, I identified who I wanted to chat with: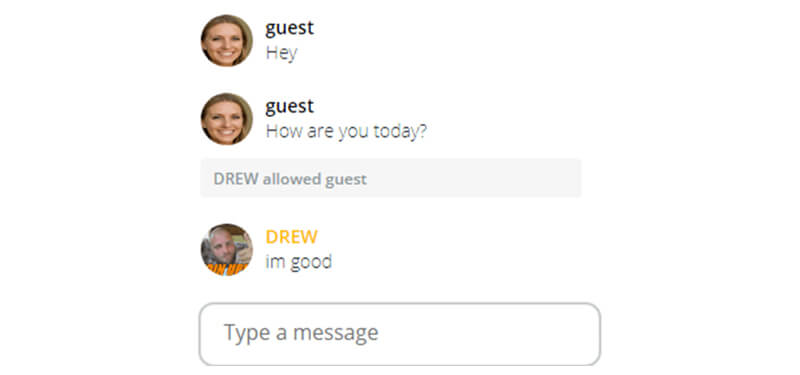 As I was chatting with my interests, I could buy and send gifts, which made the conversations much more exciting.
Profile
RATING
3.0/5
The fact that Tinychat members engross themselves in deep conversations makes extensive profile information a little less meaningful. This is likely why the profiles on the platform do not hold a lot of information.
OFL Top Recommendations based on 100,000+ Survey

"Serious Relationships"
"Discreet Hookups"
"Best Course for Men"
"Quick Flings"
"Normal Hookups"
"Our Quiz"
This is my profile on the site: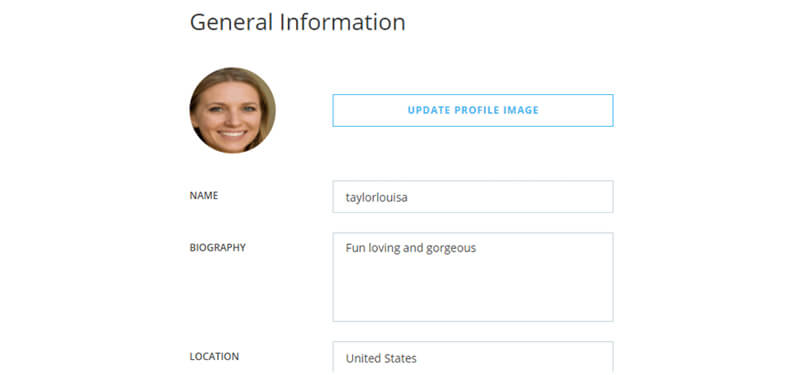 To get to know those who pique your interest, you will have to strike up a conversation. There is no other way about it. Even so, you will still read a short biography and find out the different locations of the members of the site, as this information is visible on all profiles.
Premium members get a badge alongside their profiles and a different profile color to showcase their membership level and the perks that they will enjoy. Uploading your profile photo is free, and you can choose to change it whenever you want. It is important to note that there is no level of strictness where profile photos are concerned. You can choose to forego a photo altogether. It's up to you!
Mobile App
RATING
3.0/5
The Tinychat mobile app is available for Android and iOS users. As such, it can be downloaded from the Google Play Store or the Apple Store. It is highly convenient for users who are on the go as they will be able to engage in the video chats no matter where they are.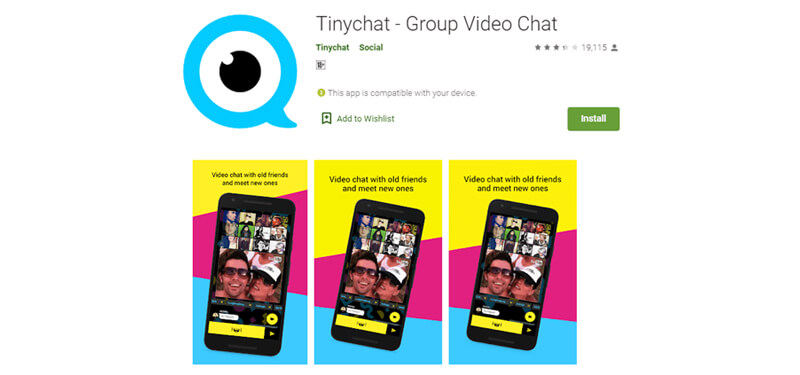 I particularly loved the vibrant theme, as it made the app come to life. Even though Tinychat targets the millennial generation, its mobile app is not "young and immature" in any way. You will appreciate its seamlessness and usability.
Membership Options
RATING
3.0/5
Tinychat offers free accounts as well as subscription-based accounts. With a free account, you can register, join chat rooms, and browse the live directory. However, subscription-based accounts offer a few more perks.
Apart from participating in high-quality video chats when you subscribe, you will not encounter any advertisements. Finally, you will enjoy priority listing in the directories.
There are three types of subscription accounts, including Tinychat Pro, Tinychat Gold, and Tinychat Extreme. The only difference between these accounts is the subscription fee that you pay.
Here is a breakdown of the site's pricing: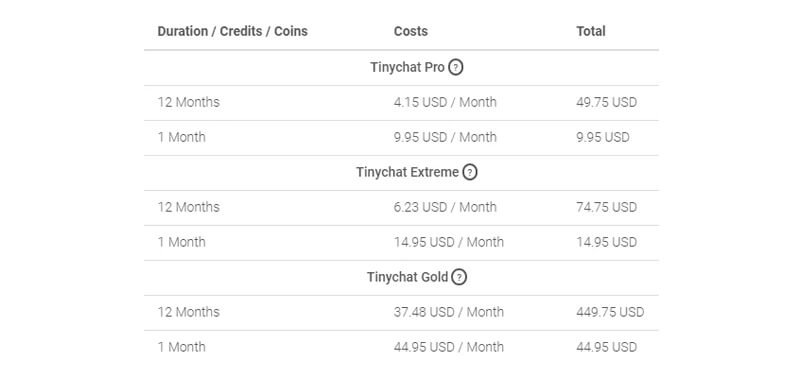 The only downside is that Tinychat's membership pricing is on the higher side compared to similar chat sites.
The Bottom Line
Tinychat brings a level of excitement by re-introducing the good old video chat rooms. It is jam-packed with features that are appealing to the younger demographic. The site is well-designed and comes with a convenient and aesthetically pleasing app. As soon as you sign up, you will be inclined to talk to others. While premium accounts offer a "luxury" experience, you can make the most out of the free account as it also allows you to join group chats. The only downsides are the lack of security measures and the fact that the premium account pricing is higher. Other than that, you will enjoy Tinychat and all its offerings.
Frequently Asked Questions
What is the Tinychat group video chat?
This is when several Tinychat members come together and interact through a single video call.
The Tinychat desktop version vs the Tinychat app: Which is better?
While both the Tinychat desktop version and app serve users in a similar way, to use the desktop version of the site, you will need to sit behind your computer. However, the app gives you the freedom of movement because you can access it on the go. Additionally, the Tinychat app comes with more features than the website itself. As such, the app is the clear winner here.
How do you access the Tinychat gay rooms?
Tinychat is not exclusively a gay chat site, but it does come with gay chat rooms. To access these rooms, log into your Tinychat account using your username and password. On the top right corner, click on "chat room" and the select the "gay chat rooms" option.
How can I download the Tinychat mobile app?
The Tinychat mobile app will allow you to video chat with old friends while meeting new ones on the way. To download the app, do the following:
Using your phone, go to Google Play Store or the Apple Store
In the respective chat boxes, type in "Tinychat app" and click on "search." Several suggestions will appear
Select the Tinychat application and select the "download" option. This will automatically begin the download process on your mobile phone
Once the installation process is complete, open the app, sign up, and enjoy the chat rooms
Can I upgrade from a Tinychat free account to a paid account?
While you can use Tinychat free of charge, you can make a subscription to enjoy even more perks. To upgrade your account, go to the "settings" section of the site and click on "upgrade instantly" and you will be presented with three upgrade options; Gold, Extreme and Pro. Choose the pricing that suits you best.
Which emulator can I use when setting up a Tinychat download for PC?
Bluestacks is the only emulator that you can use when downloading the Tinychat app to your PC.
This is how you can download the application successfully:
Download Bluestacks (https://bluestacks.com) or any other APK file installer on your computer
Launch and install the file downloader
Once installed, run to open the file
Go to the Google Play Store and search for "Tinychat for PC"
Select the application from the search results
Click on the "download" option
Once the download process is complete, open the application and run it on your computer
Sign up or log into your account, and Tinychat is ready for use