Findom and paypig sitting in the tree
K-i-s-s-i-n-g!
First comes HePays.
Then comes a message.
OFL Top Recommendations based on 100,000+ Survey

"Serious Relationships"
"Discreet Hookups"
"Best Course for Men"
"Quick Flings"
"Normal Hookups"
"Our Quiz"
Then comes money as a large baggage,
Sucking his thumb (yeah, right!),
Wetting his pants (oh, yes!),
Doing the hula, hula dance!
And, this lovely children's song just introduced us to the world of HePays – an online dating site for adults that is excellent for sugar daddies looking for sugar babies. Or, anything that comes under the sugar dating term.

Hmm, but is it worth it?
Let's get off the tree and stop K-i-s-s-i-n-g (or, whatever that you're doing) for a little while to see what's the deal with HePays. And that includes:
Is your dating app giving you the best chance for success?
Make sure to take our online dating site/app quiz to find out.
It's a fact that people who follow our dating site suggestions have on average 2 extra dates per month.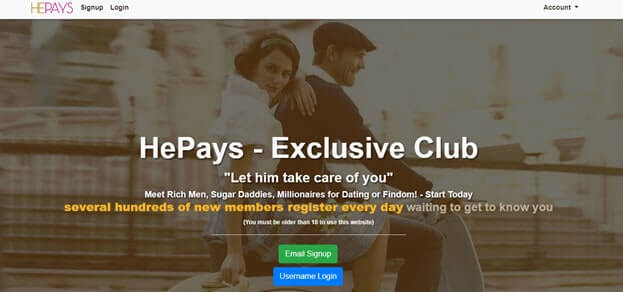 Effectiveness – 3/5
Features – 4/5
Ease-of-use – 4/5
Price – 5/5
highly active members
men's paradise (way more female members)
highly interactive with a variety of features (blog and streaming included)
quite affordable
scam profiles present
a low number of members from the USA
The simplest answer to this question is that HePays is a dating site for those interested in such a "romantic" establishment where he pays and she is paid (for) something.
In other words, HePays is a dating website where sugar daddies, dommes, pay pigs, and sugar babies of the world can find companionship of whatever sort, serious relationships (like Tinder or eHarmony) or hookups (like BeNaughty or Ashley Madison).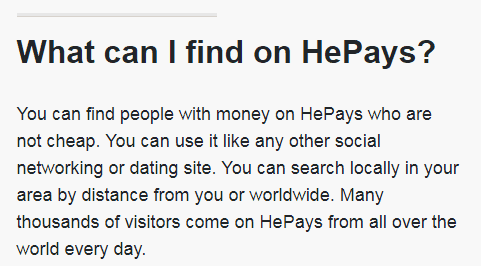 Whether you are a man seeking a dominatrix, or you are a domme looking for someone to splurge on you, this is where you need to come.
That is, if you just like being called paypig, then Hepays.com is the right choice for you.
Or, if you are a girl, but would still find a rich man and "Let him take care of you", this is where you come to.
Barring "traditional" forms of dating (male+female), Hepays.com shows awareness of the queer types of the world and lets you opt for gay or lesbian relationship. Bisexual girls specifically can have pretty high chances of finding whomever they want to satisfy their needs with.
So, HePays offers a full scope of dating possibilities to its users.
If we talk demographics, the numbers are slightly in favour of men, which means that there are more female members as is the unwritten rule with sugar dating sites.
In numbers, this is the 62% – 38% women to men ratio we are talking about.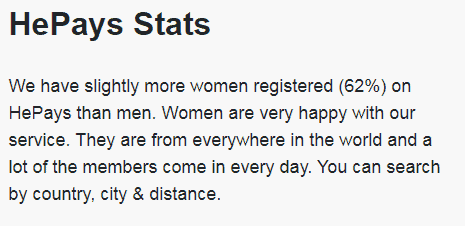 Speaking overall, the age distribution is nothing unexpected. Of course, you need to be 18+ to register. Accordingly, you will find members (mostly female) of only 18 on this site. Interestingly, this site also seems appealing to people above 55.
Still, the majority of users are 25-35 years old, which is ideal age (from various aspects). More specifically, this is when your physical strength is at its peak and you are discovering all there is in the world and making the right decisions business-wise.
To continue with some other significant facts, HePays has members from all over the world but is still mostly used by Europeans (quite normal, having in mind it was founded in the Czech Republic). They even offer the blog version in German and Spanish.
At any point, Hepays.com has some 100.000 active users so it's great if you want to try your luck with someone currently online.
As for the USA, there are some 300.000 members, so not great, not terrible.
By the way, the site embedded a clause that says Americans aren't allowed on this dating site, but you can disregard this.
I know, I know – you are dying to hear if this dating website will get you anywhere or if it's actually full of scammers without a penny to spare.
We all know how frustrating it is when someone presents themselves as something they're not.
I mean, he promises Screaming Eagle Sauvignon Blanc and then he shows up with wine in a carton.
Bi*ch, please!
Easy, dominatrixes and paypiggies!
Once I go through these questions, you will have a clearer picture of the rate of success you can expect on Hepays.com.
How Does it Work for your Target Group?
The simplest way to succeed here is to know what you're looking for. For example, you identify yourself (male or female) and say who and what you are interested in.
As said, you can opt for a hetero or straight relationship (or both) and start from there. Moreover, these are the dating modes available to choose from.
Findom / Paypig – an excellent option for those seeking a financially submissive relationship (a domme ordering male around how to spend his money);
Seeking Love – for those truly looking for a serious commitment;
Arrangement or Sugar – as obvious, for a "normal" relationship between sugardaddy and sugarbaby;
Casual/Fling/Affaire – friends with benefits, no-strings-attached, one-night stands;
Camgirls – no explanation needed;
Only Gays – clear enough;
Only Lesbians – clear enough,
Doms and Subs – dominant and submissive sexual relationship. With money in the game, of course.
Once you opt for one of these, you will be one step closer to success. According to the choice you make, the site will make adequate suggestions to you and the matching process will be faster
So, choose wisely.
Out of many sugar dating sites out there, Hepays.com differentiates itself due to the fact that ladies are very eager to text you as soon as you become a member. Generally speaking, girls are very active in communication so men will have no issues with the lack of women to talk to.
There's no fake shyness here. We all know why we came here, so let's get down to business.
In any case, the possibilities to make contact with other members through Hepays are many.
Old-fashioned messaging. With this option, you can text other members one at a time and display your interest in them. Of course, people can text you too. HePays is great this way in terms that it lets you define who you want to be contacted by. This means that you define the limit (of credits) below which the members will not be able to get in touch with you.
Blogging. This is a great way to get more attention from the audience and prospective members to get in touch with later on. HePays provides a unique URL you can use for your blog and get more people following what you do.
Forum. Although most people find forums as unnecessary and irrelevant jabber, in the case of HePays.com this one comes as a great aid in finding your next findomme or sub.
Other. Surprise, surprise! Immediately after signup, you are advised to fill out some additional details about yourself. And, as always, the strong recommendation is that you do. Among other things, here you'll find the option to add your Kik and/or Skype account. These can come quite handy later on if you want to explore communication with someone even outside HePays.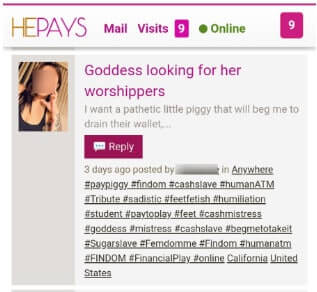 As we can see, these are some of the methods/features you can apply to get in touch with other users on this sugar dating site.
Later on, we'll check some other cool features to employ in order to make your HePays experience pleasurable.
Finally, what are your chances of success with Hepays.com?
Is it all scam and scammers you're going to come across or there might still be some good ones?
I know you read the real life reviews on Sitejabber and I am aware of what they said.
Yes, it is true that no matter what site you visit, there are always fake profiles and scams. This just means that you need to pay more attention.
Accordingly, Hepays dating website will require a bit more attention on your part, but if you know what you're looking for, you will have no difficulties in finding it.
If you input all the right parameters and you provide sufficient data about yourself, the site's algorithm will help you find exactly who/what you are looking for.
No matter how easy or difficult to use a dating website is, I still think that the key features are what makes you keep using it.
When we talk about our sugar dating site here, these are the features you simply can't omit.
Here we have the focus on the live interaction with other users. HePays dating lets you post videos, gifs, or even YT links. Make the most use of these to make your profile and yourself as interesting and as appealing as possible to your prospective dates.
A highly useful tool to find people in your vicinity for a quick…date. Yes, that's the word I was going for.
She's up all night 'til the sun
I'm up all night to get some
She's up all night for good fun
I'm up all night to get lucky
Yeah, it's just that here, you're getting lucky with the match suggestion that the algorithm makes. Then it's up to you to make yourself all the luckier.
Note that the suggestions don't repeat. Each refresh means a new potential match.
Looking for some hot stuff baby this evening,
I need some hot stuff baby tonight…
If so, go to this public forum to read about sexually charged and erotic topics. Who knows, you might stumble upon something juicy.
Yes, this is possible!
Let's say you write a blog or make a YouTube video mentioning HePays (read, advertising), you can get paid depending on the currently applicable rules.
6. Communicate Externally
With this sugar dating site, you do not have to limit yourself to the means of communication provided by the site.
Instead, you can make your Kik and/or Skype account visible and transfer communication there, if you'd like to share more gifs, more videos, or more sensitive and sensual content.
There is absolutely nothing worse, online dating-wise, than coming to a dating site just to find it a bloody mess!
Now imagine coming to a site to find a findomme or rich men to have fun with, just to get confused with the site outline!
Thanks, but no, thanks!
We want simplicity – it's complicated enough we can't find someone in real life so have to resort to online dating, let alone if we had to spend hours figuring out how it all works.
So, what's the deal with our sugar dating site here?
Is Hepays easy to use?
Let's check!
There's nothing extraordinary here!
The registration process with HP is as simple as it gets.
As you open the HePays homepage, you will see the field Email Signup. As you click it, you will be presented with a short registration form that asks you to enter the utterly basic details.
And yes, by basic we mean e-mail, username and password.
Congratulations, you are now a member!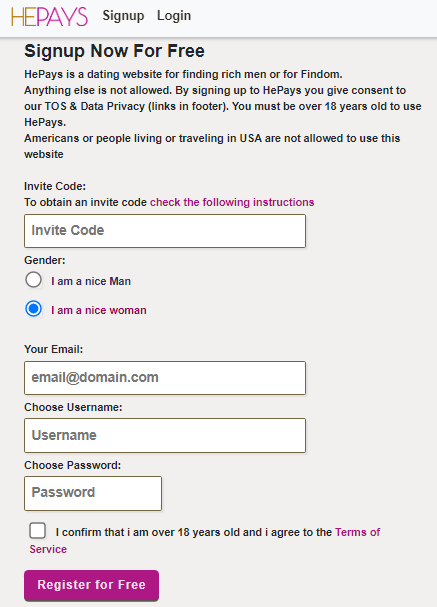 May your quest for paypigs, subs, dommes, sugardaddies or sugarbabies, all of them hetero or straight, (whichever that you're looking for) be as short and as pleasant as possible!
Now, the experience tells us that the mere registration form is rarely enough. You always need to give more.
This means that from here you should proceed to update your profile further, making it more appealing to potential matches.
A few steps are included in this process such as providing your photo, writing something about yourself, or giving other communication channels (Kik) that members can see without paying.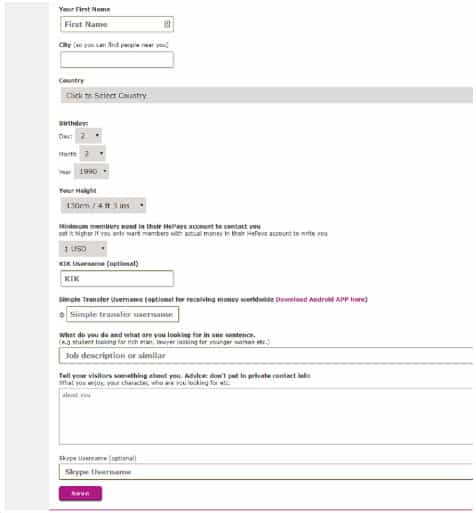 Moreover, to avoid being perceived as a scam, you should go through the profile verification process that is done in one of the following ways.
Write your profile number on a piece of paper, take a photo of yourself holding that piece of paper (face clearly visible) and then upload this photo; or
Take a photo of yourself holding your official ID document.
With this, you are a full member, and moreover, a verified member that will easily and promptly be contacted by other members.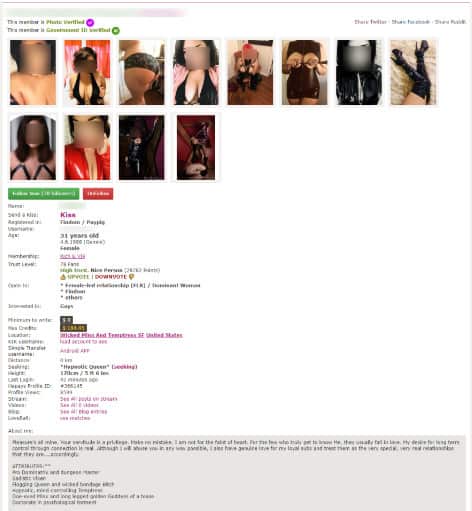 Remember, simplicity is what we want?
And, it is simplicity what we got!
Those who made the site know that we didn't come to them to research the Higgs boson, but to find a findom, or sugar baby and paypig, or sugardaddy.
HePays is such an online dating site where simplicity prevails. The main pane is categorised into 8 main tabs that are easily discernible.
To be more precise, these are the tabs in question.
Mail – this is where you will find all the communication features/options,
Visits – here you'll find everything you visited,
Online – shows the list of currently active/online members,
$Rich – money, money, money, must be funny in the rich men's world (shows members with the highest credits),
Q&A – a poll of sorts where you can answer a question from other members or ask one yourself,
Forum – no explanation needed,
Earnings – tells you how much you've earned,
Account – this is where you find all the settings.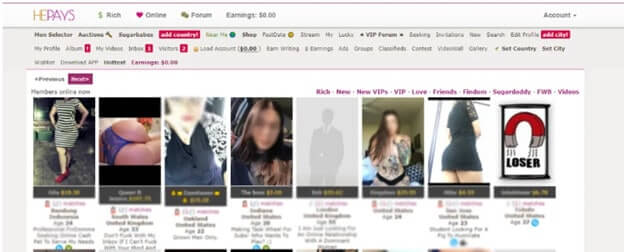 Still, the most important thing is that all of these are easily accessible and easily switched between so using the site will be as simple as possible.
Not only does a dating site get negative reviews if it doesn't have an app to offer, but the team behind HePays realized the necessity of its members to look for dommes and subs no matter where they are at a given moment.
This is why they came up with an app that is almost equally functional as the desktop version.
However, the only drawback is that the app is still not available for iOS. As it is still in development, the iOS users can give a shot to the mobile version that includes the same features as the desktop version.
Here we come to the topic of money.
I can guess what you're expecting to read, but you may yet be surprised.
First off, let me tell you that there's quite an array of things you can do as a free member. Most notably, you can message people with no imposed limits on who can text them.
As for fee-based services, these come in different modes and offer different things.
Speaking of the fee itself, when you decide to become a paying member, you load your account with credits (paid with actual currency) and then you use credits for further purchasing.
Paying member modes include Paying Member, Comfortable Earner, Earning Well, Rich+VIP, and Super Rich+VIP.
The difference is that each includes a different number of credits, such as Paying Member 15, Comfortable Earner 25, Earning Well 50, Rich+VIP 100, and Super Rich+VIP 150. Each credit is purchased for 1 USD.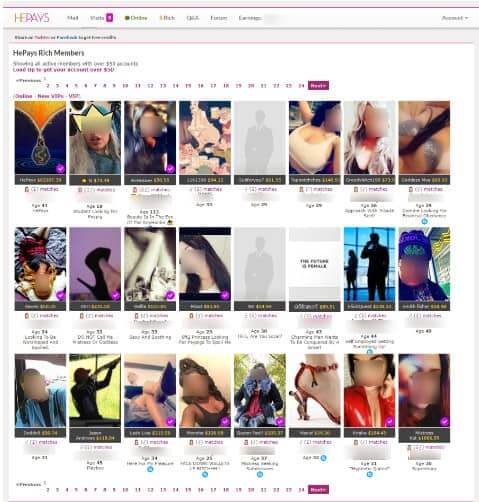 As an additional nudge, as a paying member, you get unlimited messaging, for one. Next, if you're paying more than 50 USD, you're marked as rich. And, as a VIP, you get to upvote and downvote members, post unlimited photos and see the Top Secret photos of other members.
Overall rating – 4/5
With this, I rest my case!
Now it's up to you to try your luck with Hepays and to let us know the fun you had.
In the meantime, I am moving over to the…
The FAQ is a rather important section to be omitted that lightly. It is perfect to relieve you of any remaining doubt you may have, so here we go!
As for the state of facts, here come the "in a nutshell" answers!
The next set of FAQ refers to the typical doubts on creating an account.
The last set of FAQs refers to the practical use of the site.