Charmerly is a dating platform that has been connecting Russian singles all over the world for quite some time now and it has managed to gather a loyal audience.
Even though it was first made with a mission to connect Russian singles across the whole world, it evolved into a dating service for foreigners and Russian women.
In case you are a man interested in meeting women from different cultures, in this case, from Russia, then this is probably the best dating platform for you that will provide you with plenty of valuable connections.
During our Charmerly review, we will also analyze the site, particularly in terms of:
OFL Top Recommendations based on 100,000+ Survey

"Serious Relationships"
"Discreet Hookups"
"Best Course for Men"
"Quick Flings"
"Normal Hookups"
"Our Quiz"
Is your dating app giving you the best chance for success?
Make sure to take our online dating site/app quiz to find out.
It's a fact that people who follow our dating site suggestions have on average 2 extra dates per month.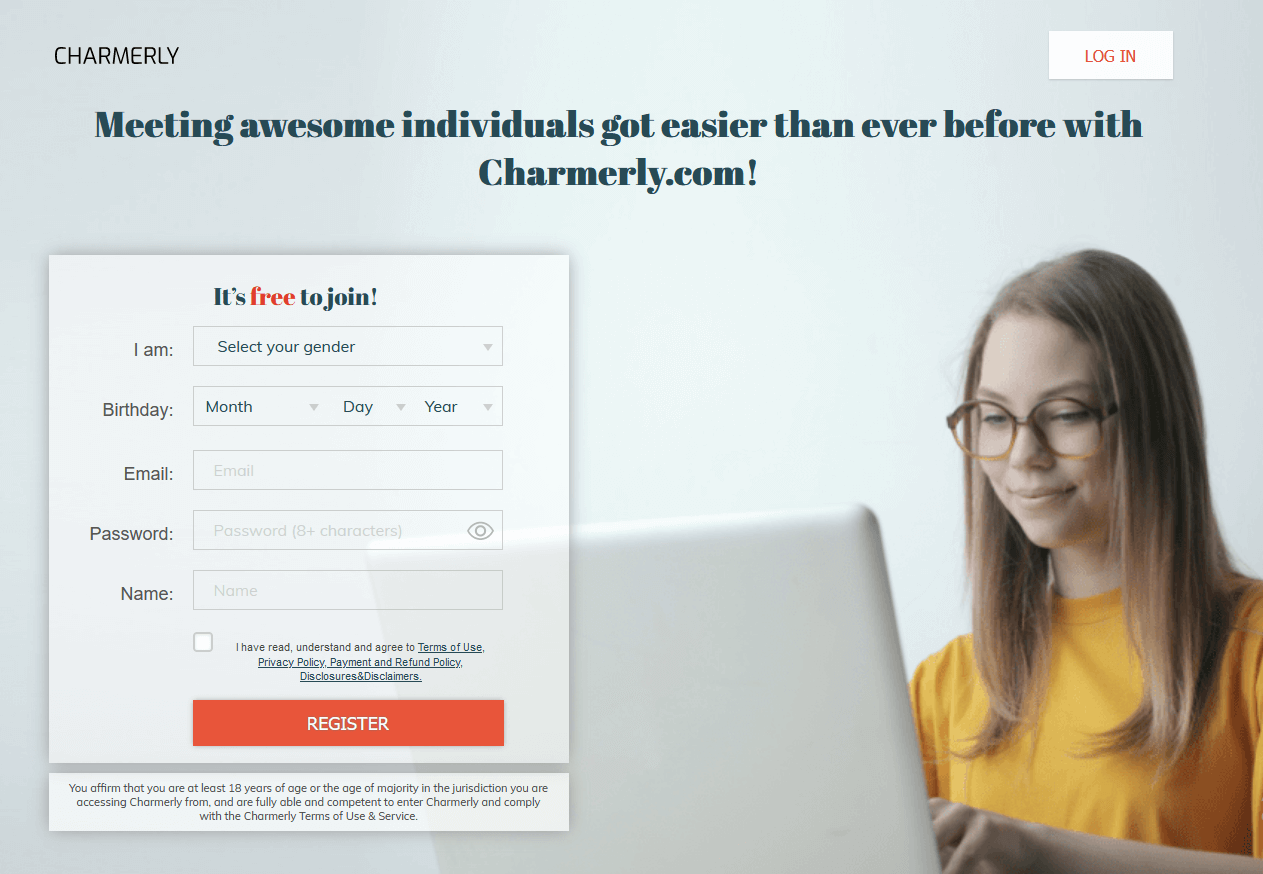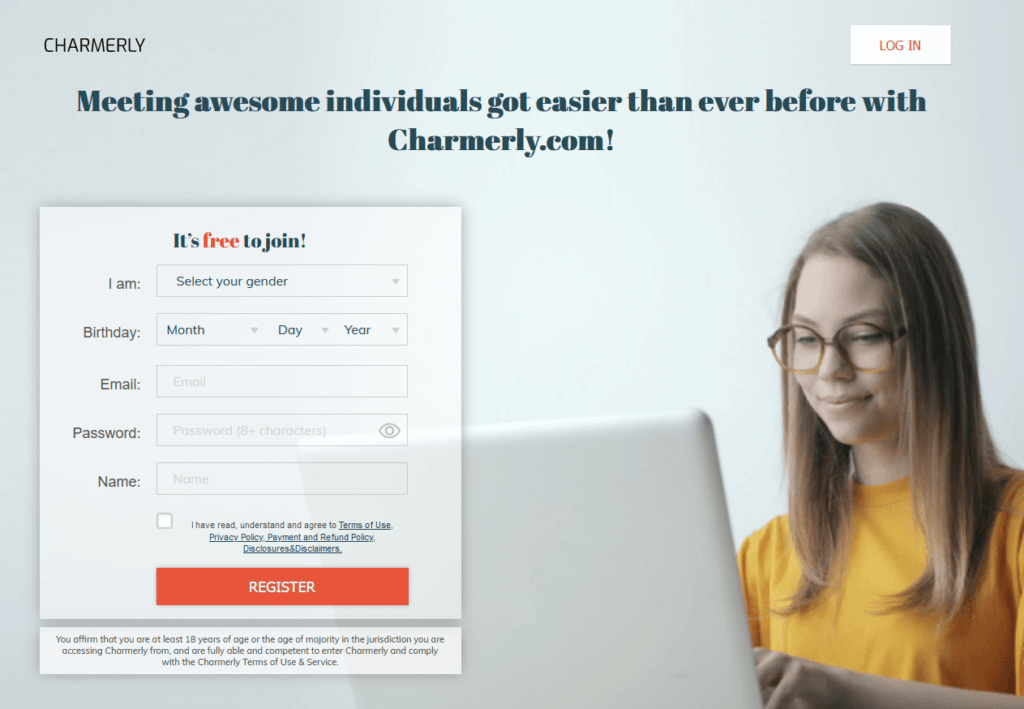 Effectiveness 4/5
Features 2/5
Ease of use 3/5
Pricing 5/5
Plenty of users from many different countries
Great profile quality
Questionnaires and personality tests
Great for serious relationships
Doesn't have fake profiles
​Affordable
Easy to navigate through
Doesn't have a mobile app
​Doesn't have too many features
Search filters are useless
Bad homepage interface
The Charmerly dating website was first made with a mission to connect Russian individuals living across the world, but soon this website evolved into something else.
Most of its users were Russian women and since little to no men were joining, the creators decided to transform it into a platform that helps foreigners meet beautiful Russian females.
Since that happened, most female users on the platform are from Russia, while others are usually from Ukraine or other post-soviet countries near Russia.
Female users make up 55% of Charmerly.com users and others are foreign males looking for some beautiful company.
Foreigners are mostly from the United States, but there is a significant number of members from Australia, the United Kingdom, Brazil, New Zealand, and South Africa.
You can see that this website has a pretty diverse userbase and it is open for users from different parts of the world, even though it was aimed at Russians.
Some of them are looking for a foreign bride and a partner from another culture, while others are looking for company while they are spending their business trips or holidays in Russia.
OFL Top Recommendations based on 100,000+ Survey

"Serious Relationships"
"Discreet Hookups"
"Best Course for Men"
"Quick Flings"
"Normal Hookups"
"Our Quiz"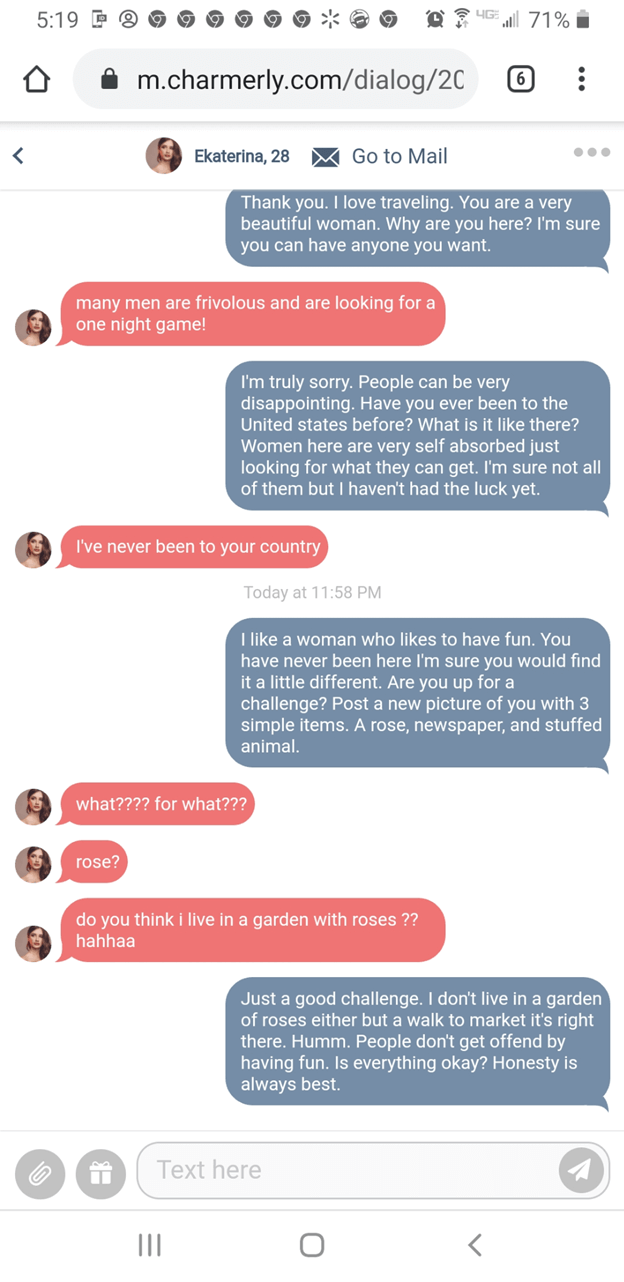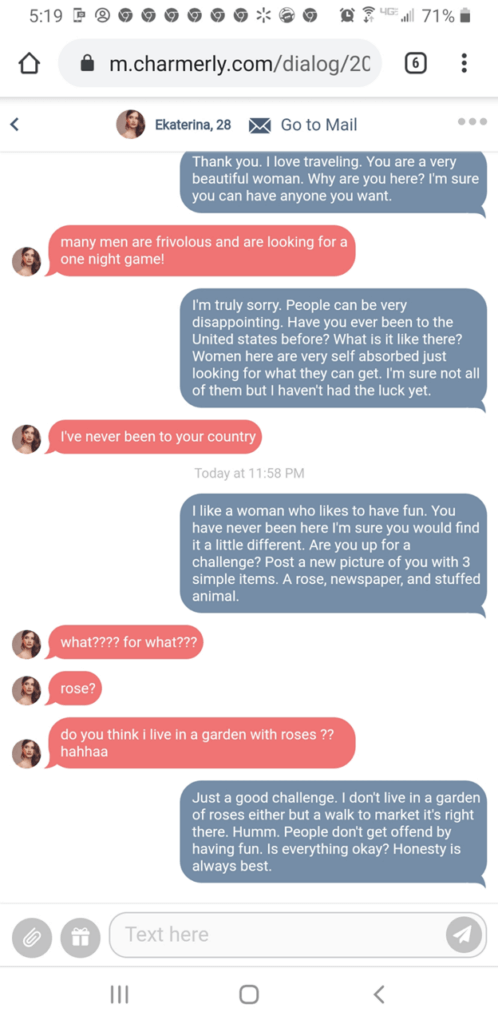 The platform is also LGBTQ-friendly, but over 97% of its users are straight and are looking for traditional relationships, so you probably won't have too much luck if you are a member of this community.
Most members are also looking for a serious long-term relationship (like eHarmony or Tinder), so if you are looking for a casual hookup (like BeNaughty or Ashley Madison), this definitely isn't the place for it.
The majority of users are somewhere between 24 and 35 years old, but you can also find plenty of older people on the platform who are looking to establish valuable relationships with others.
Don't be fooled by the fact that Charmerly users are pretty young because most of them are still looking for a serious relationship and plenty of them are dating to marry, so don't be surprised if you receive a marriage offer from someone who is just 25 years old.
Male users tend to be a lot more active than female ones, so it might take you some time to establish a conversation with someone.
When it comes to design, the Charmerly dating site is pretty much outdated, but thanks to light and vibrant colors it still manages to look attractive to its users.
Even though it is pretty simple, your homepage where you will be seeing other people's profiles is very chaotic and you can really get lost while scrolling.
I believe this is something that also makes the whole dating process a lot more exhausting because it is very easy to get lost in hundreds of different profile pictures.
On the other hand, the profile quality is pretty much great and you will get a brief overview of other users' information and photos, so this is something Charmerly.com should really be praised for.
The website is pretty much functional and you can easily access all the advanced search filters so even people who have never used a dating site before will be able to easily navigate through it.
However, the search filters may not always provide you with the outcome you have expected because most Charmerly users don't leave too much information about themselves, so these search filters can be quite useless sometimes.
You should also be very careful when sending messages to someone because the webpage tends to have some bugs and it can open up a wrong chat, which will lead to you spending credits.
Some bugs can also appear while you are uploading information and photos to your profile so make sure you get rid of them before you save any changes.
Ease of Use (Mobile and Desktop version)
Using the Charmerly.com website can be quite confusing at some times and even though the platform is very simple, its design is what can make things complicated.
For that reason, we will thoroughly guide you through the platform and help you create your account, and start connecting with other users with ease.
Creating an account on Charmerly.com is basically the same as creating an account on any other dating platform or social media.
Once you open the Charmerly website, you will be greeted with a simple "hello" message and you will see the "Register now" button in the bottom right corner.
When you click on it, a registration form will appear on your desktop screen and you will be able to start the sign-up process.
You will be required to upload basic information about yourself like your name, age, gender, birth date, location, and of course, your email and your password.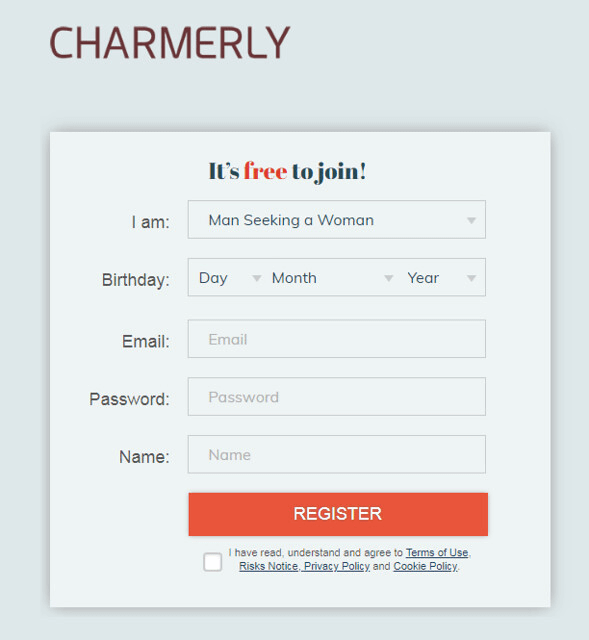 Once you have filled out all of these brackets, you will also have to answer the CAPTCHA test so the website can be sure you are not a random bot.
After you have done all of this, you will receive an email where you will be provided with a confirmation link.
When you click on it, your identity will be confirmed and you will be allowed to start using the platform without any obstacles.
The platform also provides you with a few short questionnaires that are completely optional, but you should be aware that they can be very helpful when looking for a significant other.
If you want to find love on this platform, you certainly want to know what are the things the other person likes, and there is no better way to do it than through tests like this.
All of the information from the questionnaire will appear on your profile and others will be able to look for you through these categories.
For that reason, I recommend investing a bit of your time and energy and completing all of these tests.
When it comes to profile quality, we can say that Charmerly really provides its users with great and informative profiles that help them learn a lot about the other person.
All the information you have uploaded about yourself will be present on your profile, and you will also be allowed to upload as many photos and videos as you want.
This is a great option because many people don't have trust in online dating communities and don't want to get scammed by some weirdo on the internet.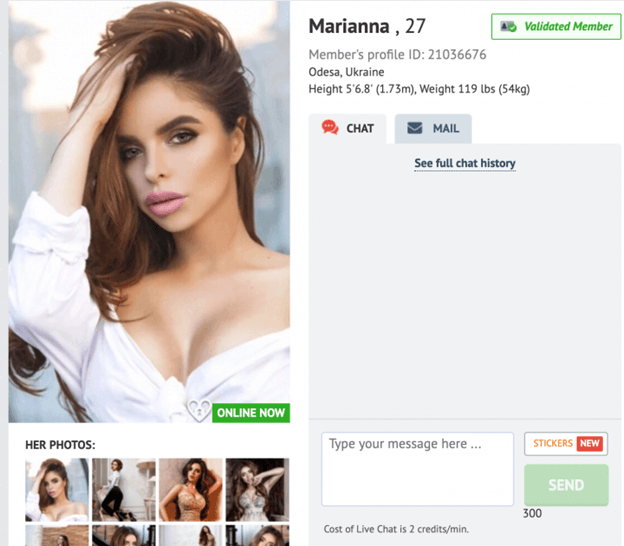 By uploading your videos and photos you will make your profile look more realistic and everyone will be reaching out to you.
You also have the option to complete several questionnaires, and all the information you leave in them will be available on your profile for other users to see.
There is also an option of adding additional information and leaving a short description of yourself that I encourage you to do.
Charmerly also offers you to validate your dating profile which means that you will email them your ID, driving license or some other document that was issued by the government in order to confirm your identity.
All the users who do this will have a green badge and a "Validated" sign next to their name which will signalize other people on the platform that they are a real person.
Everyone who has a Charmerly dating profile will be able to see your profile, and they will also be able to browse your photo albums, but this is something you can disable in your profile settings.
Connecting with other users
Connecting with other users is a bit different in comparison to other dating platforms and not everyone will get the opportunity to message people they find interesting.
The search features are also not that amazing, but you will be able to search for people from different countries and modify your preferred age range.
Charmerly algorithm is really pretty basic and it offers you only a simple search that usually doesn't provide the users with too much useful information.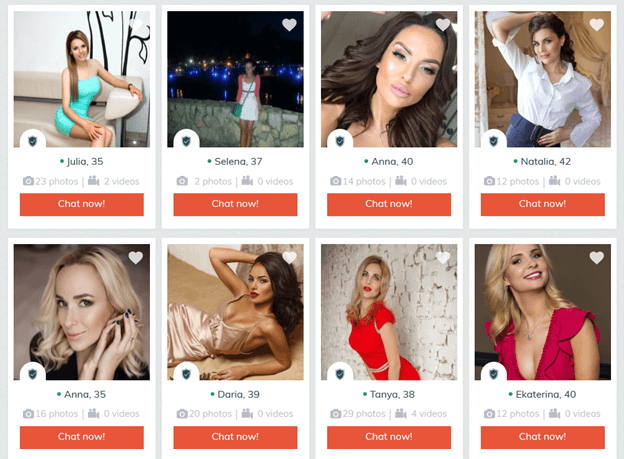 While the search tool is completely free and you can do an extended search for a potential love interest that fulfills all of your criteria, messaging people is completely different.
Premium members are the only ones that get access to the messaging feature and you can either invest in a monthly membership or buy credits if you want to connect with others.
New users always receive 20 free credits, but after they have used up all of these, they will need to purchase another round of credits if they want to keep the conversation going.
There is also an option for joining chat rooms that are completely free, but you will not be able to discuss a potential relationship with someone this way because each chatroom usually has a specific topic and sticks to it.
Charmerly also provides its users with the option to send real-life gifts to other users, and this is usually used by male members.
When you get an offer like this, Charmerly will provide you with a list of different gifts and you will get to choose the one that you like.
Once your partner has paid for it, Charmerly will contact you in order to get all the delivery information they need and they will send the gift to your home address as soon as possible.
You shouldn't be worried about your personal information being revealed because Charmerly customer support is the only one who will have access to your address and full name and surname.
Charmerly also offers something else for its users who are tired of online dating and messaging, and that is setting up dates in real life.
All you have to do is make sure you provide the platform with your agreement for a real-life date and make sure the other side did the same.
When the mutual confirmation is up on the website, Charmerly staff will arrange the date for you, schedule the cafe or the restaurant, and all you two have to id show up on time.
Charmerly really can't pride itself on many different features that you don't come across on other dating platforms, but there are some pretty good ones that will elevate your whole dating experience.
All Charmerly users can send real-life gifts to other people on the platform through this special feature.
Charmerly will provide you with a list of potential gifts, and once the person you have sent this offer chooses their gift, you will have to swipe your credit card and pay for it.
Charmerly handles all the shipping details and makes sure the gift is on their door as soon as possible.
As we have already mentioned, all Charmerly users that provide the support team with a copy of their ID, driver's license, or some other document issued by their government will earn a Validation badge.
This green badge will appear next to your name and everyone who comes across your profile will be able to see it.
As we have already mentioned, Charmerly is a pretty outdated website and they still don't have a mobile app, so you will have to use the platform through your mobile browser.
Unfortunately, there is no mobile-friendly version of the platform so you will definitely struggle with navigating through it on your phone.
If you are a new Charmerly member, I recommend sticking with the desktop version and using your PC or laptop to connect with other users.
When it comes to the price, the Charmerly website doesn't offer you a traditional membership but rather makes you buy credits in order to get in touch with other people on the platform.
If you want to continue connecting with new members and looking for someone who is interested in a serious relationship, you will have to pay for every message you send.
Messages are referred to as credits, and each credit will cost you 0.10 dollars, but you can also immediately buy 20 of those for 2 dollars.
While the credits are really not expensive, you should be aware that you will exchange hundreds, if not thousands of messages with many different users on this platform, and in the end, you will spend much more money than you would on a regular membership on some other dating platform.
Also, you will have to pay an extra 0.10 dollars if you want to exchange stickers, pics, or gifs because these are charged double.
In my opinion, this is pretty bad business politics and I believe most users give up on this platform once they see how much money they are spending just to message other people on the platform.
My advice is to invest some money into these credits and once you believe you have found someone who is worthy of your attention, you can exchange your members and continue messaging them through Whatsapp.
In case you want to provide someone with real-life gifts, you will have to connect your credit card to your account.
You should also be aware that this is the only way to pay for your Charmerly credits, so if you are skeptical about connecting your credit card to platforms like this, then maybe you should avoid Charmerly.
As you could see in our Charmerly.com review, this is a very good dating platform that helps foreigners from many different countries meet beautiful Russian and Ukrainian women.
This amazing platform will help you find your significant other from another country and connect you with plenty of valuable people.
It is a very safe and legit dating website so you don't have to worry about different types of scams and fraudsters because you are 100% protected at all times.
Charmerly is definitely one of the best dating services for international dating and I encourage you to create your own profile and try your luck on this amazing webpage.
We hope you have enjoyed our Charmerly review and that you were able to find all the relevant information about this dating platform.
In case you are interested in meeting foreign women or men, we encourage you to create your Charmely profile as soon as possible and start meeting amazing people.