Online dating is filled with websites such as Asian Melodies.
Many of them allow female members to sign up from all over the Far East, while others focus on specific countries.
Think Thailand, Indonesia or South Korea.
Asian Melodies is one such site.
OFL Top Recommendations based on 100,000+ Survey

"Serious Relationships"
"Discreet Hookups"
"Best Course for Men"
"Quick Flings"
"Normal Hookups"
"Our Quiz"
It caters towards men (mostly Westerners) who want to meet and date ladies from the Far East but in this particular instance, China.
So in this Asian Melodies dating site review, you'll learn the following:
So if you'd like to find out more about Asian Melodies and see if it's a dating site for you, then for sure, you are in the right place.
Let's begin then.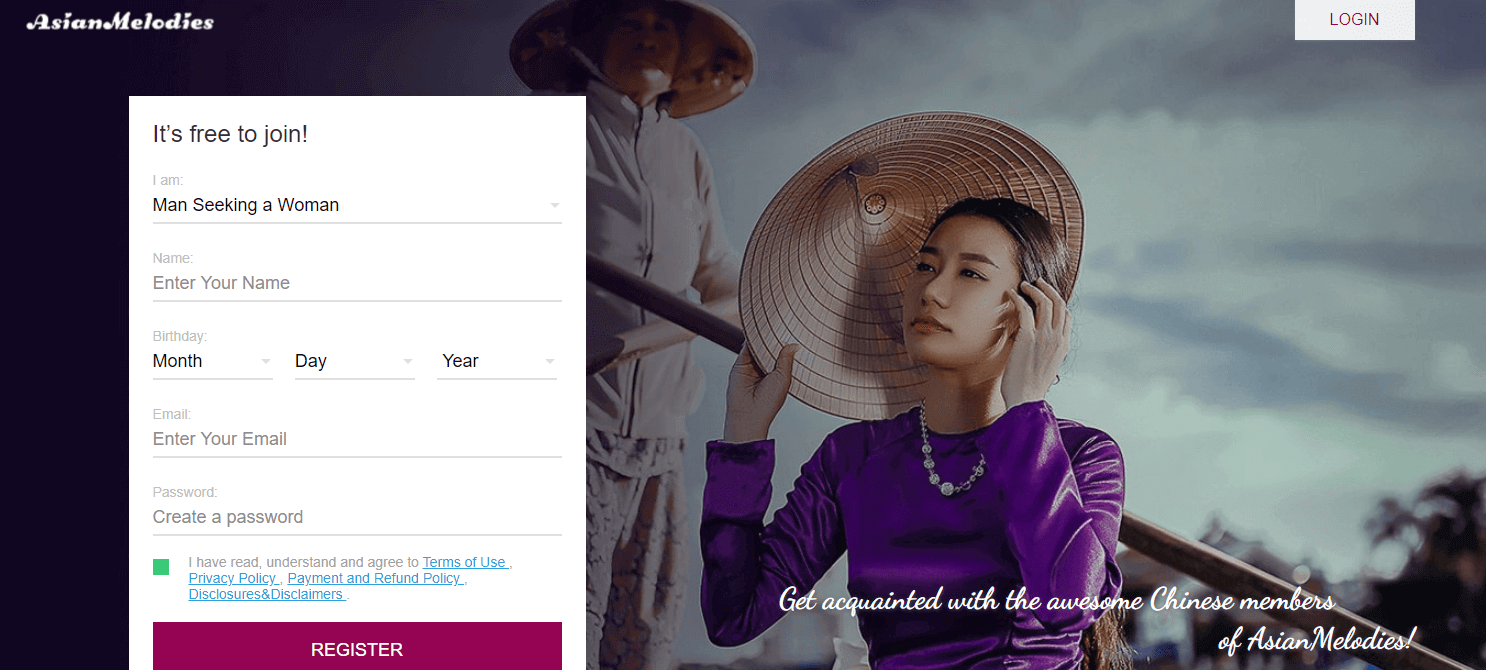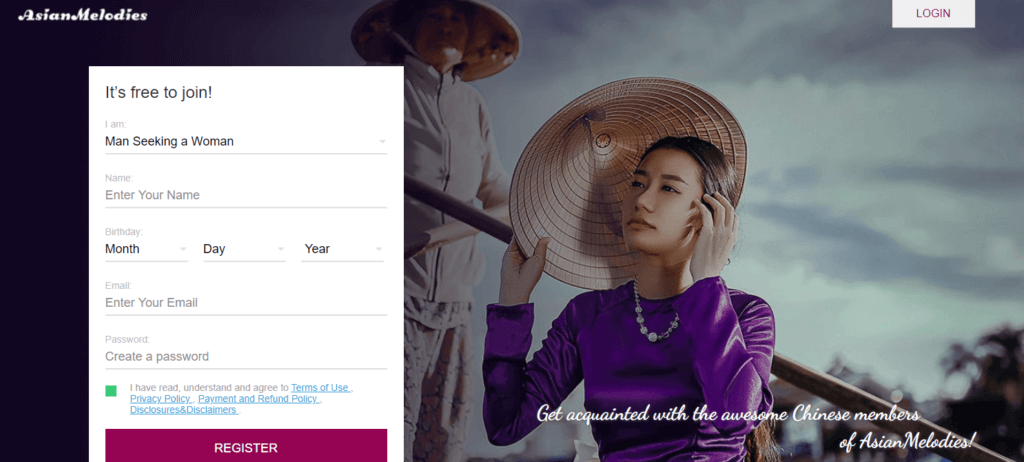 Asian Melodies Review in Video Form:
Audio (podcast) form for those of you on the go:
A quick one below on the ratings
Ease of Use 4/5
Effectiveness – 3/5
Key Features – 2/5
Pricing – 2/5
Registration includes a comprehensive questionnaire to help provide you with the best matchups
A well-designed interface that's easy to find your way around
A large user base
User can validate their profiles
No form of membership
Just about everything on the site costs "credits"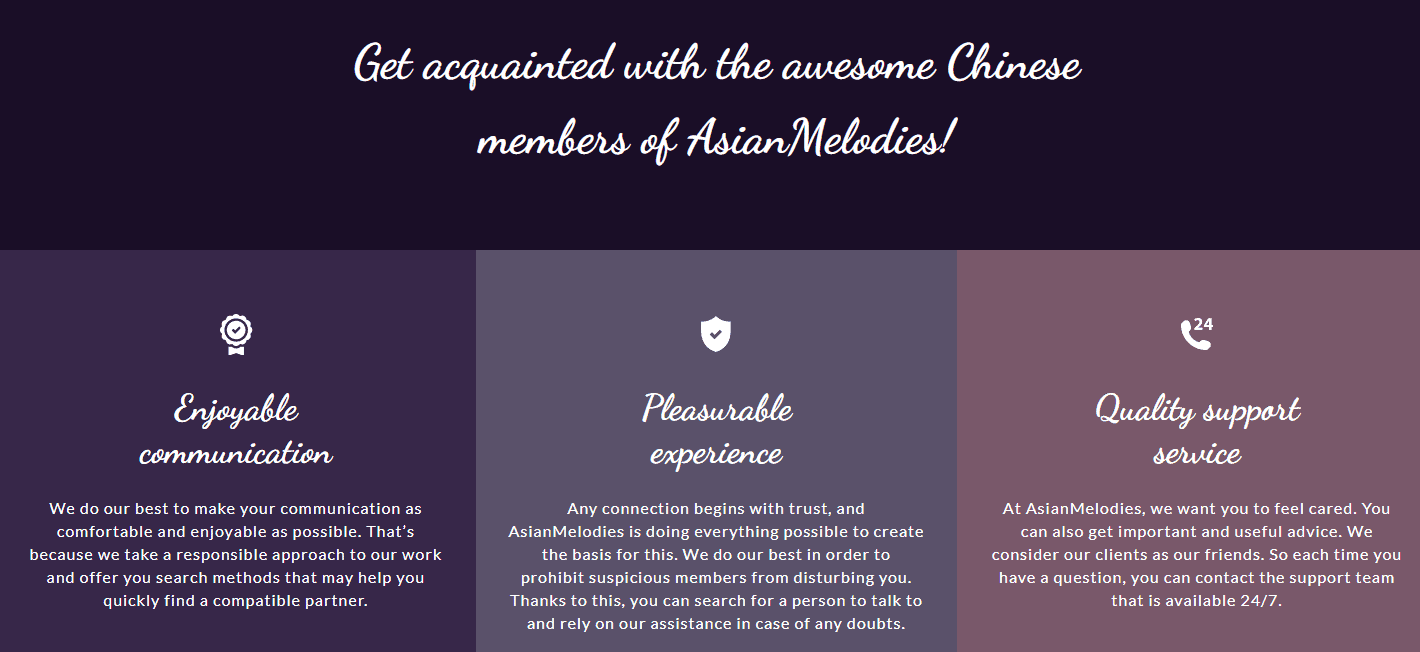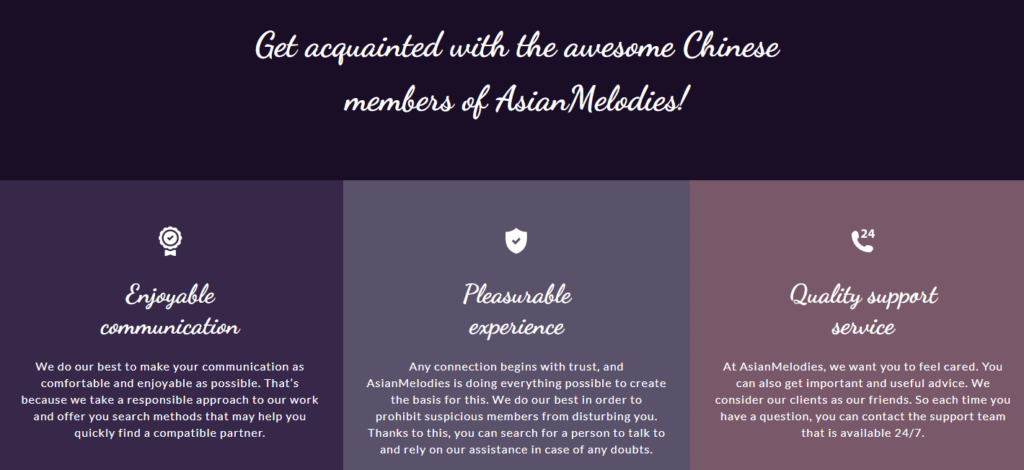 So in the intro to this review, we established that Asian Melodies is a site that's predominately for people from China who want to meet up with others in the West and vice versa.
The thing is while many of those who have profiles on the site are from China, during my time on Asian Melodies I found other nationalities from the Far East too, which is never a bad thing.
But then, if you want to date women from other parts of the world for flings or hookups, you should check sites (like BeNaughty or Ashley Madison).
However, If all you want is a serious relationship, do check out sites (like eHarmony) that specialize in such relationships.
The more the merrier, I say.
But let's get onto what is covered in this section.
And that's a number of demographics behind the site.
These include:
User numbers
Gender ratio of male to female users
Age ranges of users
Just how many users do Asian Melodies have?
Finding the number of users that a dating site has can be a tricky business.
While some sites are keen to tell, usually in the form of a massive banner on their registration page, others keep their user numbers close to their chests.
And I've always wondered why that's the case.
It is what it is, right?
If you are an extremely niche dating site, there's nothing wrong with having a small user base because perhaps only a tiny percentage of the population is into what you are offering.
Now because of the target market that Asian Melodies is aimed at, I know that the user base is not going to be small.
For one, many of the users are from China, one of the most populous countries on earth.
There are other users from the Far East as well and don't forget to add to that the Westerners who want to date someone of Asian descent.
That said, Asian Melodies don't tell you what their user count is and despite some in-depth research, it wasn't forthcoming either.
But it's in the millions, that's for sure.
Why do I say that?
Well, I was able to find the following facts and figures that back up my thoughts.
For example:
Over 1 million users alone come from the United States
The site has over 1 million users active online each month
That's over 250 000 active on the site each week
And that breaks down to around 35 000 users looking for love on Asian Melodies each day
So yes, the user numbers here must be well over 2 million at least, I would guess.
Ultimately, however, user numbers mean little as long as a dating site can provide you with the kind of matchups you want, right?
Gender ratio and age ranges of Asian Melodies user base
So the next important demographic is ratio when it comes to the gender of Asian Melodies user base.
Normally, with sites that see Western men looking for love overseas (and particularly in the Far East), it's the male users that are far in excess of the female users.
And Asian Melodies doesn't buck that trend at all.
70% of users on the site are male
30% of the users on the site are female
That's a ratio of a little over 2:1 which is constant with other similar sites too.
Some, however, can even have a higher ratio of male to female users.
Lastly, before we get down to the nitty-gritty of the site itself, we have to take look at age ranges.
And the statistics here are very revealing.
The biggest user group on the site in terms of age is the 55 and old group who makeup 29% or close to a third of all users on Asian Melodies.
Of that group, 23% are male.
That further indicates the theory of the older Western man looking for a relationship with a younger female from the Far East, possibly for marriage.
The next biggest group is the 25-34 year-olds.
This accounts for 22% of the users, but the biggest amount of female users are found here (9%).
Here's a complete breakdown of the age groups on the site:
55 and older (29% of all users of which 23% are male and 6% female)
25 to 34-year-olds (22% of all users of which 13% are male and 9% are female)
35 to 44-year old (19% of all users of which 11% are male and 8% are female)
45 to 54-year olds (18% of all users of which 13% are male and 5% are female)
18 to 24-year olds (12% of all users of which 10% are male and 2% are female)
So now we know all the numbers, it's time to get a little more hands-on with Asian Melodies.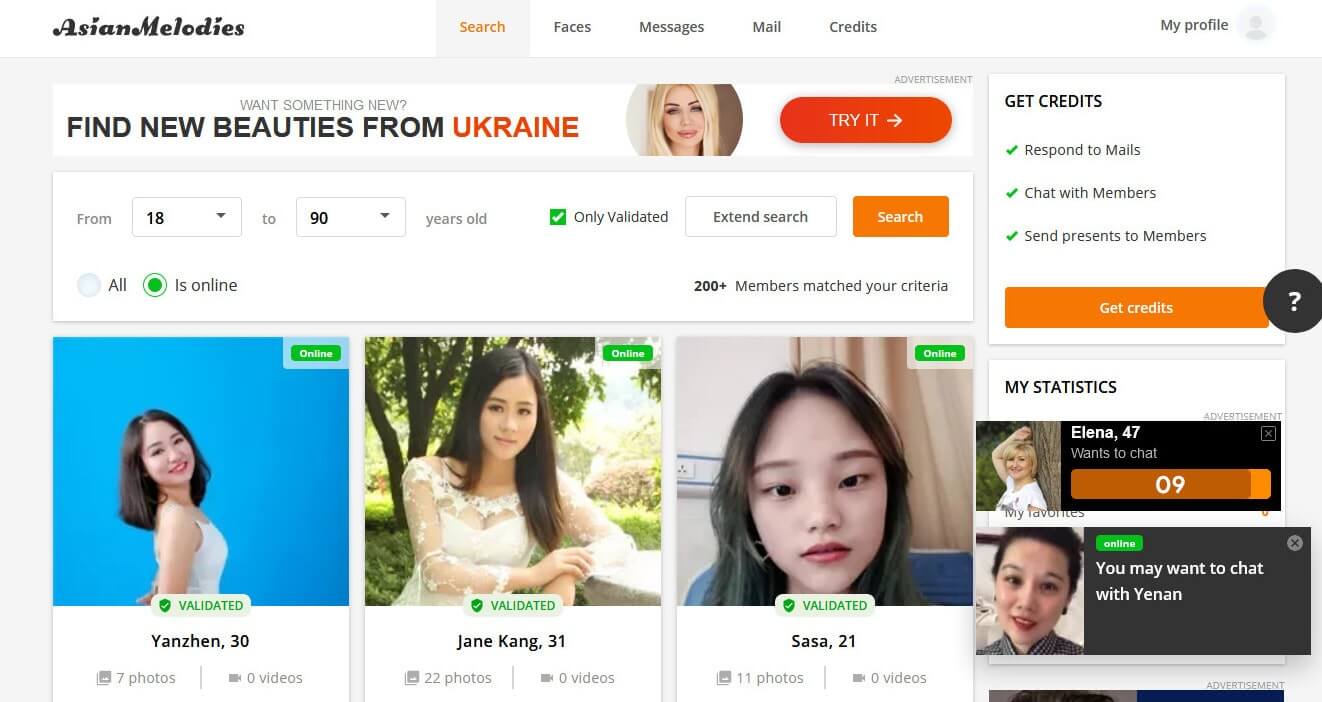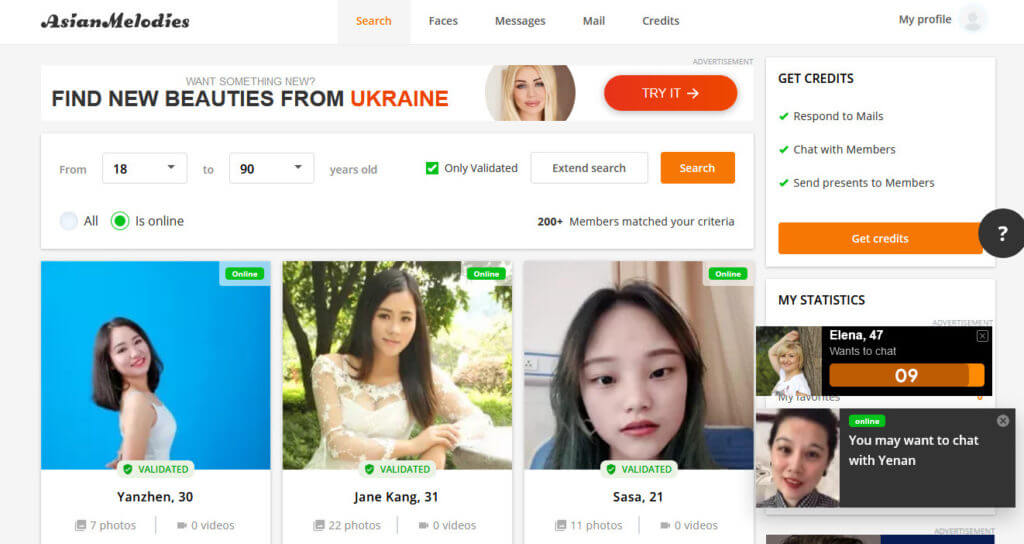 Asian Melodies make the registration process for new users quick and simple.
They even say so on their registration page.
That's because they want you as a new user on their site and trying it out.
That way, they can hope to get you to find a potential matchup and buy "credits", the on-site currency.
But more about that later.
Let me talk you through the registration process first.
First up, you are going to have to do this online because there is no Asian Melodies app for you to complete the process on your smartphone.
It's so simple though.
Just provide
Your gender
The gender you would like to match up with (and yes, Asian Melodies does allow for gay and lesbian users)
Your name (a username I guess)
Birthdate
Email address
Password
Well, that will get you into the site and no, there isn't the need to validate your email address.
You will have to do a bit more before you can start finding your way around.
And that comes in the form of a short questionnaire which is all about helping the site produce the right kind of matchups for you instead of making it a more hit or miss affair.
To complete around 10 questions that form part of this will take you no more than 8 to 10 minutes.
So what can you expect?
As an example, the first question relates to the type of users you would prefer to deal with on-site.
That question alone has eight answers but they are all selectable, so you can have one answer or eight.
So you could say you want to deal with people who:
Want to flirt
Are looking for a friend
Have strong family values
Those are just some of the examples but I am sure you can already see how what you chose can influence the matchups you will receive.
Of course, those matchups will be users that put in similar answers to what you did.
There are also other sections to complete related to
Appearance parameters of potential matchups (like height, weight, body type)
Lifestyle parameters (related to habits)
You don't get to miss out on that either and by filling in all your details as mentioned above, you are populating your profile at the same time.
There are also questions on your education, occupation and more.


The look and feel of the site
Asian Melodies is pleasing the eye from a design point of view.
From the start, it makes the profiles of potential users the focal point.
And it does this by using bigger profile pictures than other dating sites use.
I like the way they stand out too, particularly in the way that Asian Melodies uses a crisp, clean, modular design to highlight them.
As a new user, you will immediately notice that the site has a welcome package for you.
That takes the form of 20 free "credits", the currency used on the site.
That equates to $2.99, so it's a nice gift first up, that's for sure.
Navigation around the site will mainly be done by using the primary menus found at the top of the screen.
Search: While the home page includes a simple search bar, you can launch far more in-depth searches from here.
Faces: Faces is a match-up game where you can find potential users that you'd like to get to know better
Messages: Message sent and received are found here
Mail: Emails you send and receive will be stored here
Credits: If you'd like to buy more "credits" you can do so here
By completing your questionnaire on registration, your profile is basically complete.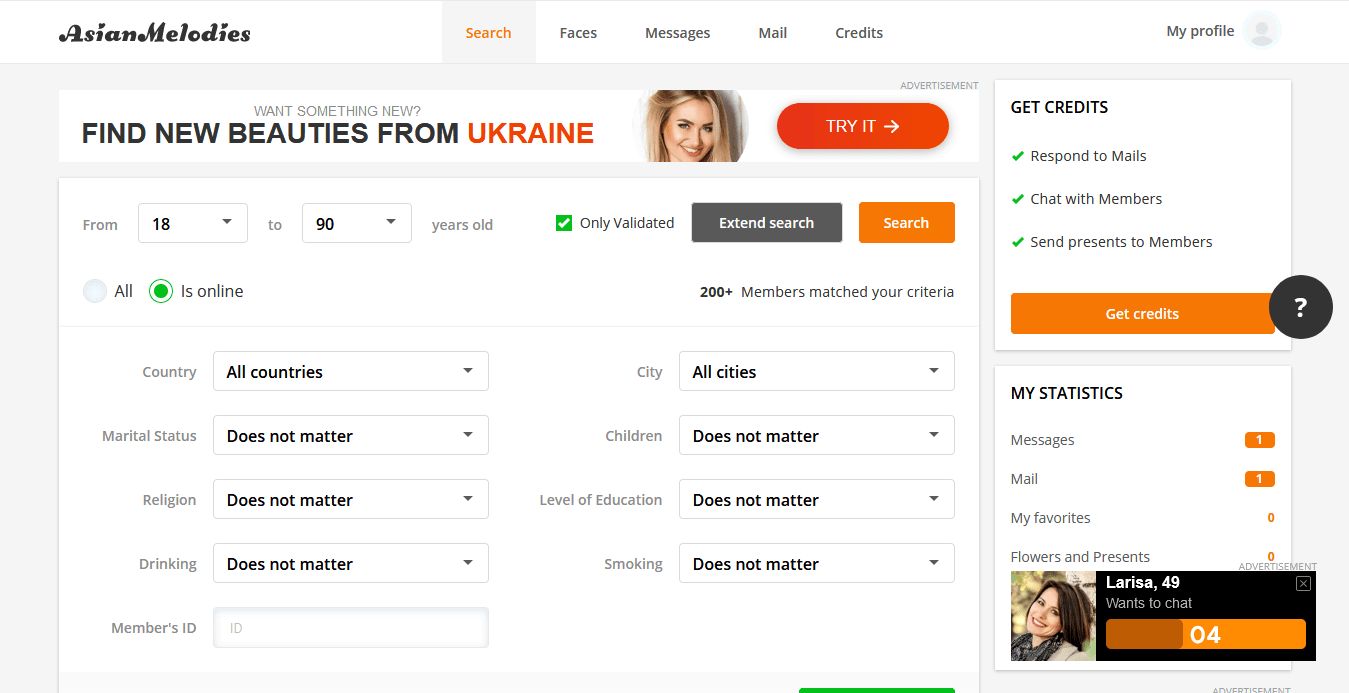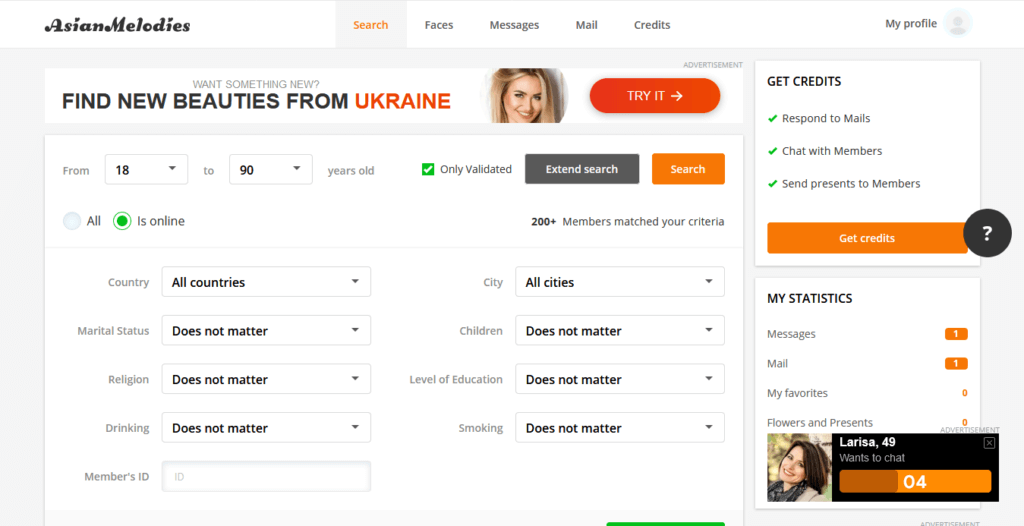 We've covered the registration process for Asian Melodies and although there is a questionnaire to fill in, you will be up and running on the site pretty quickly.
In this section, we look at just how you can go about finding matchups and then contacting them.
Asian Melodies and the search for love
Asian Melodies gives you three ways in which you can try to find the matchup of your dreams.
First up, you can play the "Faces" match-up game, something we will cover a little more later in the review.
Secondly, you can launch your own searches using the search menu.
Thirdly, you can browse through the matches that Asian Melodies present to you which are accessible from the home screen of the site.
I want to speak specifically about the search engine.
The basic version allows you to search with only a few details.
You can input an age range that returns should fall into
You can specify if they should be online at that moment
You can specify that only validated profiles are shown
What's a validated profile?
Well, it's one that has been validated through the site.
In other words, you know the person on the other is real.
This is useful because just like all other dating sites, Asian Melodies does have some fake profiles.
As a regular user, you also get the opportunity to adjust your searches a little more using the extended search option.
This means you can fiddle with certain parameters and add or take them away as you prefer.
These extra parameters include:
The country and city the matchup should live in
Their marital status
Their religion
If they have children or not
Their education level
If they drink or smoke
Remember that at all times, the matching algorithm used by Asian Melodies is also taking into account all the answers you filled in on the questionnaire when you first joined up on the site as well as when returning matches.
I really do like the fact that you can search with these advanced filters.
There aren't that many of them but it does allow you to make your searches very specific.
Often, these advanced search filters are hidden behind a paywall but not on Asian Melodies.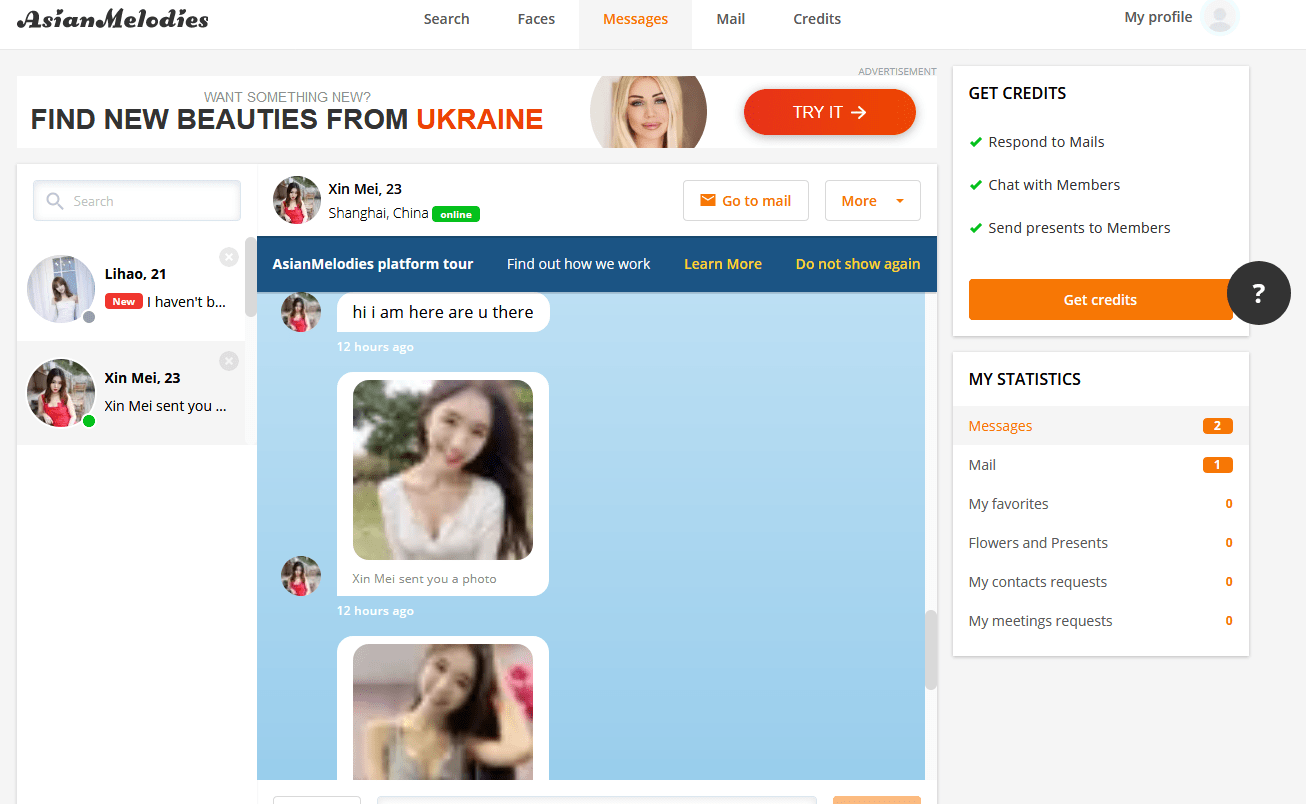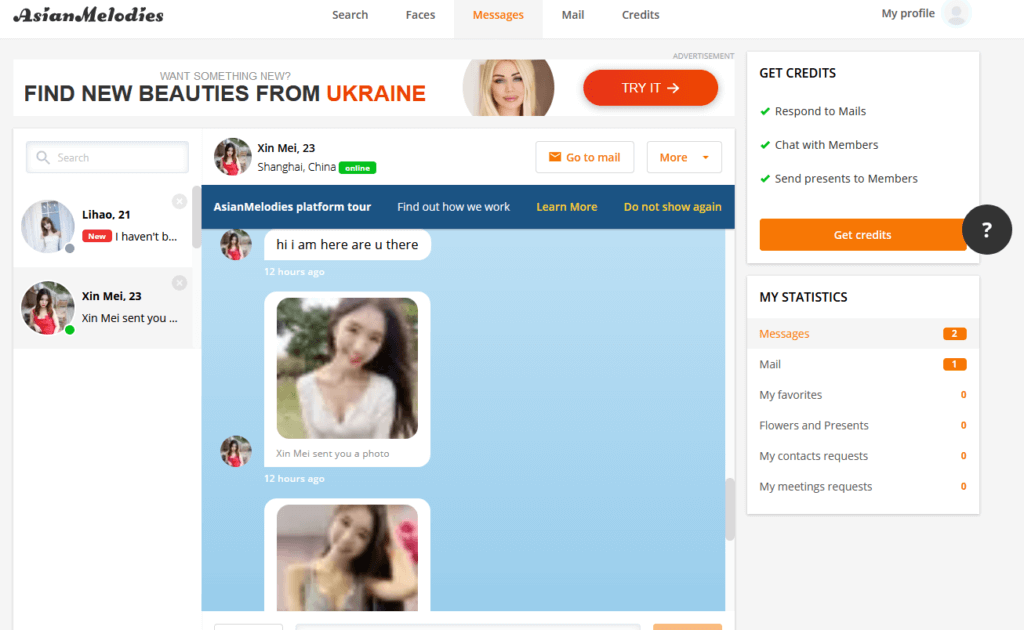 Reaching out to other users
Once you have identified a profile of someone that you'd like to chat to, simply click on it to learn more about them.
Asian Melodies allows you to see all the information you want about each user.
In other words, you can access their profiles in full and even view all the photos each user has posted.
But what about contacting them.
Well, the two main options are to send an instant message or an email.
And to do that, you will need to have bought "credits" the currency used on the site.
Remember, you get 20 in your welcome pack, so try them out.
Of course, that's not going to last that long.
Soon, you will need to purchase more to use on messaging but also other features.
Here's a breakdown of how you can spend your "credits".
Live chat – 2 credits per minute
Chat stickers – 5 credits
Chat photos – 10 credits
Chat videos – 50 credits
Sending mails – 10 credits for the 1st one, then 30 credits for each one in sequence thereafter
Open mails – 10 credits per mail
Opening photos in mails – 10 credits per photo
Opening video attachments – 50 credits
Sending real gifts – 100 credits
Meeting requests – 625 credits
Things can get a little pricey, that's for sure.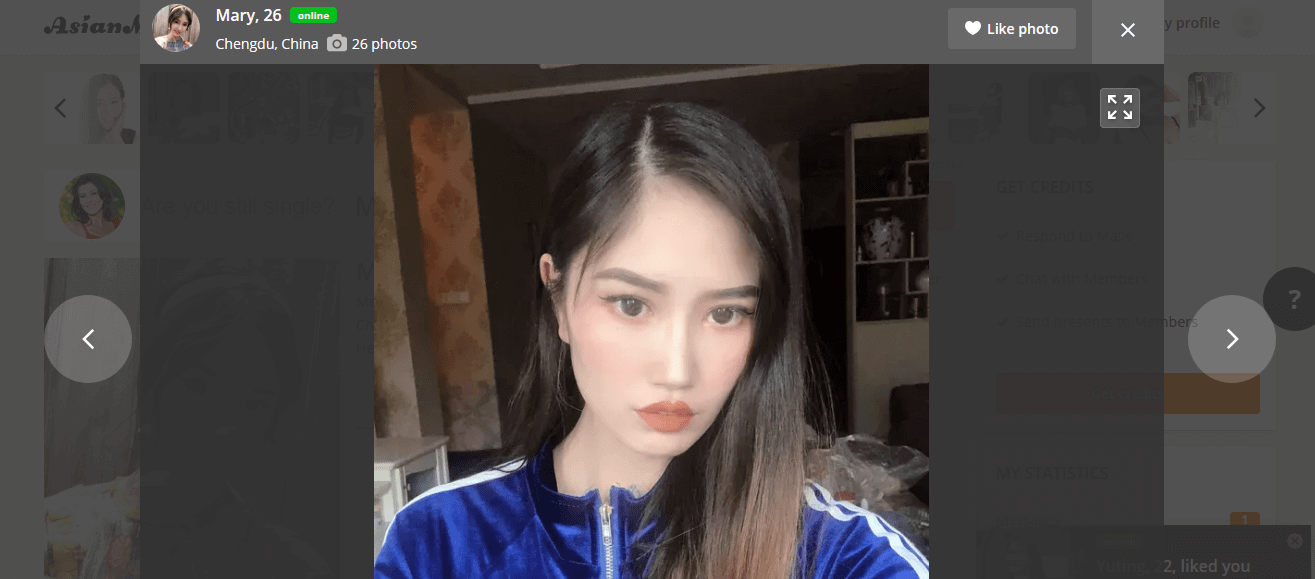 As Asian Melodies works on "credits" as opposed to a monthly fee, there aren't that many key features like other dating sites have which members can make use of.
There are a few things that I would like to highlight, however.
Faces is a roulette-style matchup game that presents you with potential matchups.
It will show you a profile picture of a user on Asian Melodies and then you can either skip them (and they won't show up again), partially skip them (so they will show up again) or like them.
It's all a bit of fun really.
If you want to find a quick way of lightening your loads of "credits", you can do so by sending real gifts to users on the other side of the world.
It's costly though.
A way to get someone's attention, winks don't cost a thing.


That's a fair number of key features that members can access on the site, that's for sure.
But if you really think about it, some are a little more useful than others.
For example, uploading your own videos or viewing those of other users, while handy, isn't really going to make much of a difference in your quest for that perfect matchup.
So now that you know what the features are that Asian Melodies offers, we've got to look into what payment for membership on the site cost.
You will quickly find, however, is that there are no membership options.
We've already talked about "credits" and the role they play in the site.
And that's all you basically need to make use of the various key features that Asian Melodies has to offer.
If you've used similar dating sites like this before, ones that focus on women from the Far East, you've probably seen something similar where "credits" are the on-site currency that buys into everything.
I must say, I am not a particular fan of this style of currency for a dating site.
That's because just about everything you want to do will mean you have to spend "credits".
And to me, it's more about fleecing as much money out of a user as possible.
That said, it's how Asian Melodies operates, so let's look at how you can buy "credits" and in what amounts.
You can pay for "credits" using your credit card or with PayPal.
There is only one option to purchase, however.
And that's 20 "credits" for $2.99.
That's your only option.
I wish there was more to be honest because it's very easy to burn through 20 "credits", that's for sure.
Here's a reminder as to what the various ways to spend "credits" are going to cost.
Live chat – 2 credits per minute
Chat stickers – 5 credits
Chat photos – 10 credits
Chat videos – 50 credits
Sending mails – 10 credits for the 1st one, then 30 credits for each one in sequence thereafter
Open mails – 10 credits per mail
Opening photos in mails – 10 credits per photo
Opening video attachments – 50 credits
Sending real gifts – 100 credits
Meeting requests – 625 credits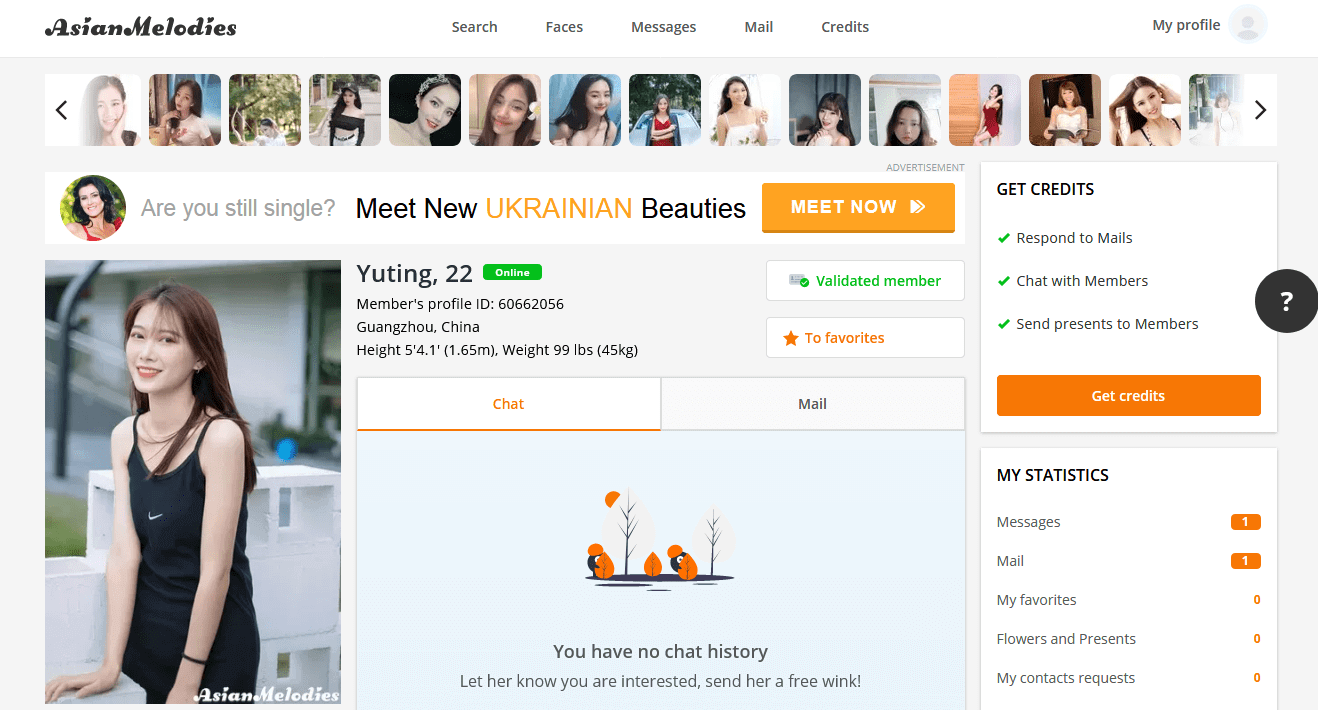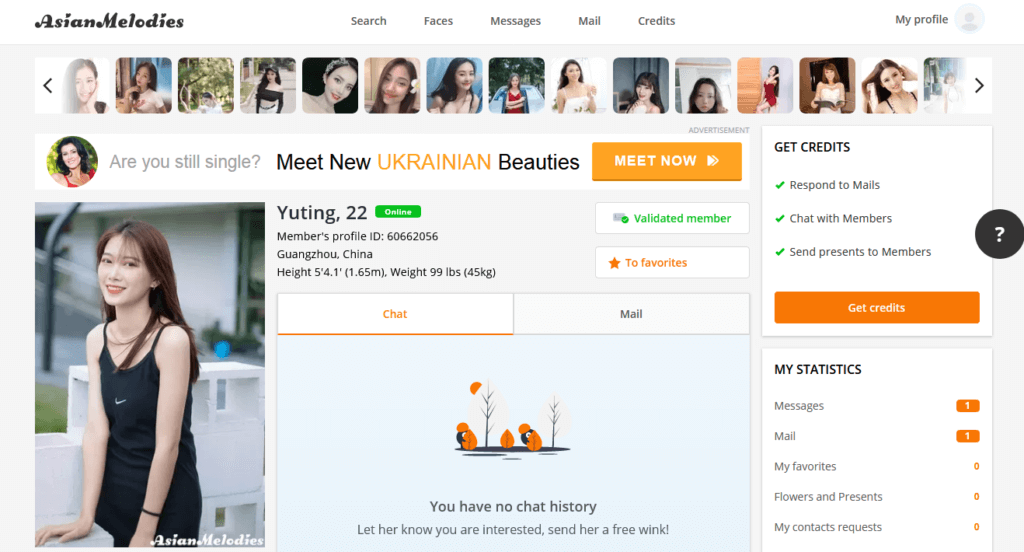 Conclusion and Overall Rating
There are lots of things that I like about Asian Melodies and there are lots of things that I don't.
In terms of the overall look and feel of the site, well it's well-designed and easy to operate.
I love the fact that because you have to fill in a questionnaire during the registration process, your matchups are based on factors that you can control.
And then you can still search with an advanced search filter to help find that perfect person to start communicating with.
The site does fall flat because of the fact that there is no membership and everything works with "credits".
It's not the first site to do so and certainly won't be the last.
But for me, all online dating sites that operate in this way are also so pricey.
Everything costs "credits".
Also, if you want to purchase them, you can only buy 20 at a time.
But certain things, like arranging a meetup with someone from the site, requires 625 "credits".
That's a lot of credit card transactions to get there, right.
Listen, I am not trying to say you can't find your dream girl from the Far East here, but it's going to be pricey.
So today, Asian Melodies scores 2.75 out of 5.
Frequently Asked Questions
Asian Melodies is a dating site with millions of users.
It's been around for a period of time and allows users to validate themselves which added to the overall safety aspect of the site.
For example, you could get yourself validated and only deal with others who are validated.
That's an impressive safety mechanism that not many other dating sites have.
No, it's not.
Sure, you are free to start your profile and even to search for potential matchups using advanced search tools.
But the site currency comes in the form of credits and you will need to contact other users, read messages and emails, and send gifts.
Asian Melodies is very expensive.
Yes, it is.
The user validation system helps with peace of mind in the fact that those users certainly cannot be fake profiles or bots.
Asian Melodies is a dating site for Westerners to meet potential partners in the Far East, predominantly China.
To date, over a million people have registered profiles on the site.
The only way to join the site currently is through the Asian Melodies website.
Here you will have to register as a user and the process is pretty comprehensive.
That's to help with matchups and to ensure that your profile is complete before you can use the site.
While logged into the site you have to click on your profile picture.
This you will find on the right-hand side of any page you are currently on.
Then click "Profile Settings" and you will see a "Deactivate Account" tab on the right-hand side in red.
Click on it and your profile is taken offline.
You can contact the team at Asian Melodies by email.
Send your messages to [email protected].
The registration process for Asian Melodies takes some time.
And with good reason.
That's because each user fills in a comprehensive questionnaire that not only helps complete their profile but also finds out information about the types of matches they are looking for.
This information is used by the matching algorithm to provide each user with the best matchups.
Other users can be blocked or reported from their profiles.
Scroll down till you see the "Like", "Wink" and other buttons.
Click on the one that says "More" to open the block and report user options.