Niche dating sites that cater to big beautiful women (BBW) or Big Handsome Men (BHM) are becoming more prevalent in online dating.
And why shouldn't they be?
These online dating services provide the platform for us to do so.
But as with other niche dating websites, it can be a minefield in trying to decide just which BBW dating site is worth starting a profile on.
OFL Top Recommendations based on 100,000+ Survey

"Serious Relationships"
"Discreet Hookups"
"Best Course for Men"
"Quick Flings"
"Normal Hookups"
"Our Quiz"
That's why reading various reviews about sites for BBW Singles and BHM's is the perfect place to start to help you make the right decision.
Today, we look at one of these sites in our Large Friends review.
Perhaps it's here that you can find a perfect match.
In this review, we will assess the following:
Is this the best BBW site around?
Let's find out.
Is your dating app giving you the best chance for success?
Make sure to take our online dating site/app quiz to find out.
It's a fact that people who follow our dating site suggestions have on average 2 extra dates per month.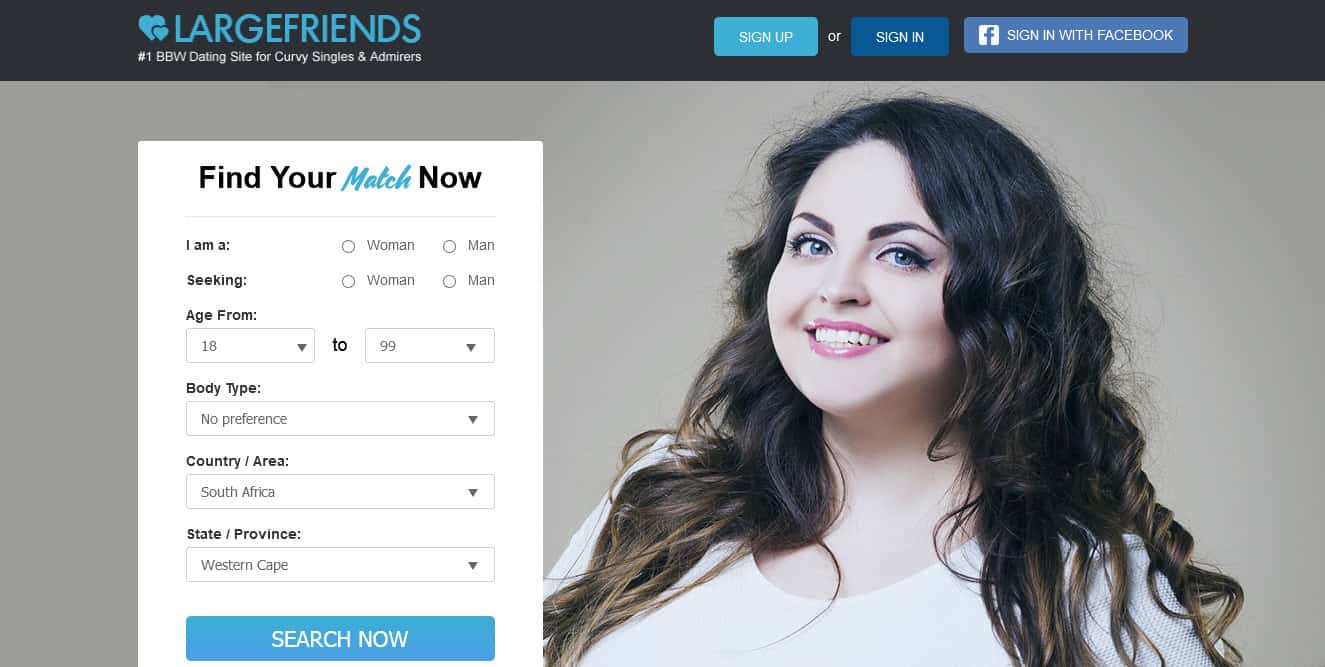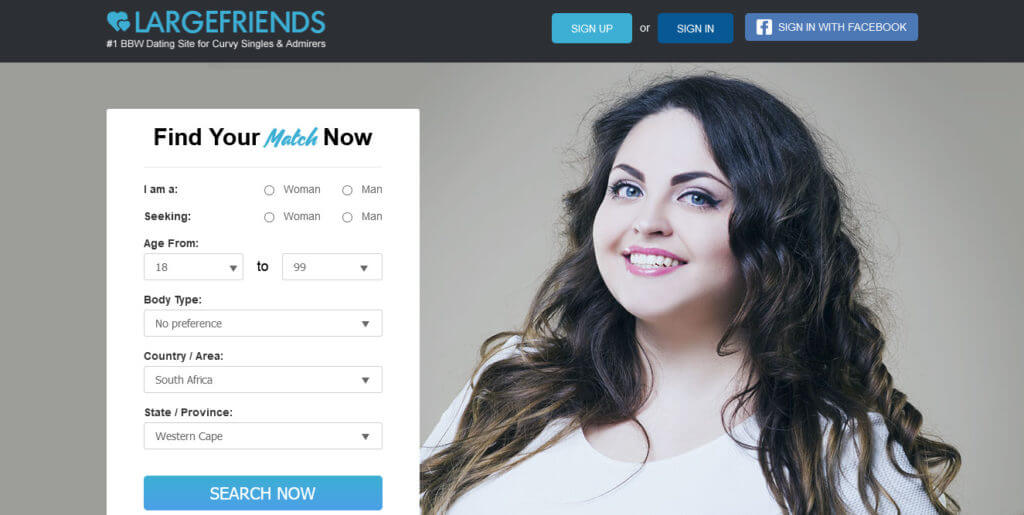 Ease of use – 4/5
Effectiveness – 3.5/5
Key features – 3.5/5
Pricing – 3.5/5
Around 1.7 million users have registered for profiles on the site
Free users can respond to messages they receive
Simple registration, comprehensive profiles and various search options available
Some powerful membership features, including advanced searches
While easy to use, the site is extremely dull in its design
The app is not very popular
Effective use of the site means becoming a member so you can send messages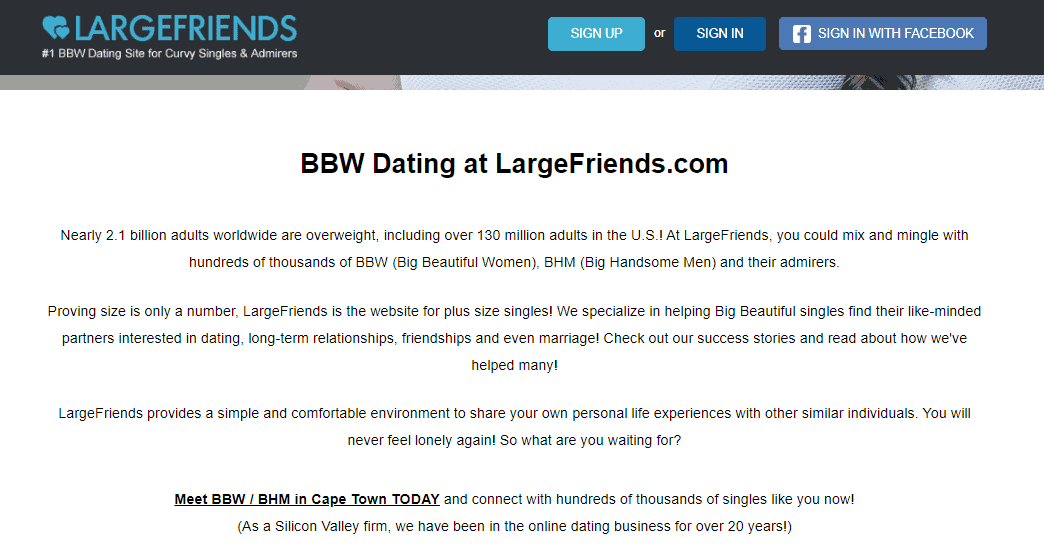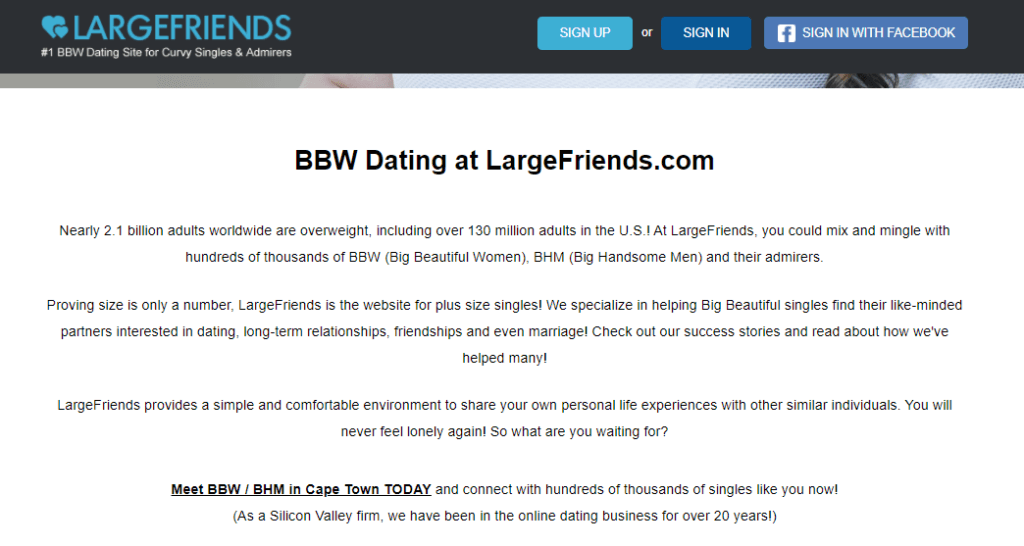 Who Is It For/Demographics?
While we've already established that this is a site for BBW and BHM's, I'd just like to clarify something.
OFL Top Recommendations based on 100,000+ Survey

"Serious Relationships"
"Discreet Hookups"
"Best Course for Men"
"Quick Flings"
"Normal Hookups"
"Our Quiz"
These are not the only target market for Large Friends.
That's because you will find people that don't share that kind of body type but who are wanting to date plus-sized singles.
So, yes, Large Friends has three main target markets: big beautiful women, big handsome men and those who want to date them.
And many of them are looking for long-term relationships (like Tinder or eHarmony) rather than a casual hookup (like BeNaughty or Ashley Madison).
We know who the site is for but can we identify just how many people have signed up for profiles?
Often to determine that number takes tons of research.
But I can confirm that Large Friends clearly are proud of their user numbers because you can find them on their landing page.
And that highlights that there are a healthy 1.7 million users.
This isn't a small dating site, so to speak.
Here are a few more facts and figures I've gathered:
While there is an Android app for large friends, it's only been downloaded around 50000 times
Around 350000 users are based in the United States
Around 60000 visits the site each month
That's 15000 users per week and 2000 per day
Gender ratio and

Large friends

user age ranges
One of the best pieces of dating advice I ever received was that sites that have a more equal gender ratio are far easier to use than those that don't.
That's unless of course you are the gender that the skewered ratio favors, for example, if you are a male and there are three females for every man on the site.
A gender ratio where both men and female profiles are as close to each other in terms of contributing to user numbers just solves these various issues, I feel.
So let's analyze what LargeFriends.com offers:
56% of the users are male
44% of the users are female
If we evaluate it against some of Large Friends' rivals, it's very different.
For example, WooPlus has 65% male and 35% females while BBW Cupid has 33% male and 67% female.
So in that regard, Large Friends has an advantage.
The biggest group of users on-site in terms of age are between 25 and 34 years old.
The figures indicate that they are around 27% of all users.
The smallest group of users on Large Friends are aged between 45 and 54 years old.
They are around 16% of all the users.
But yes, users are well spread from 18 to 55 and over, there are no worries in that regard if you are going to find a potential matchup or not.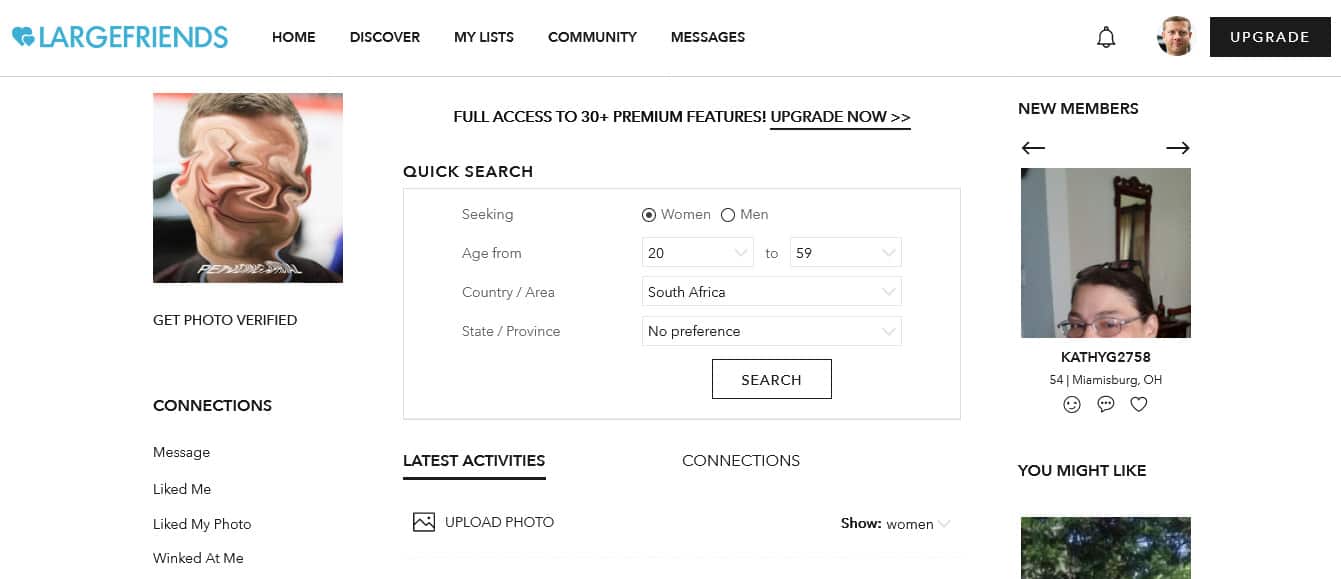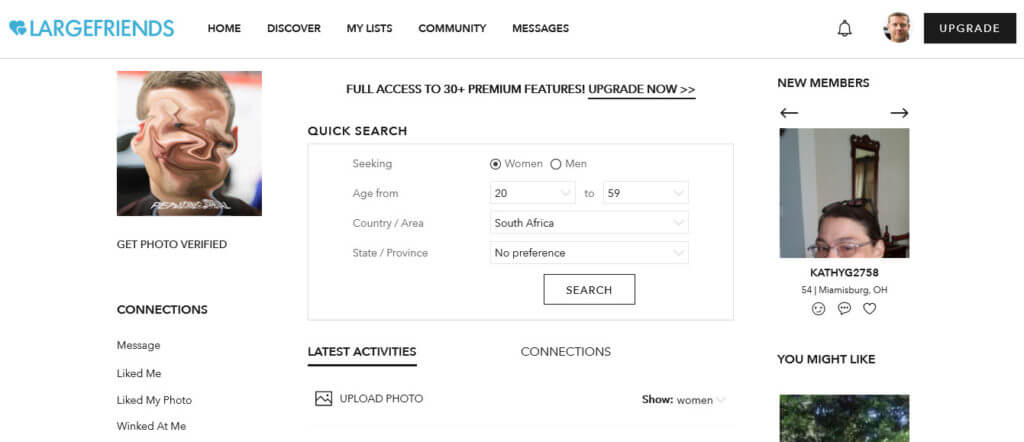 If you'd prefer to start using this online dating portal using your phone, there is a Large Friends App that's available for Android devices.
With only 50000 installations, however, it doesn't seem to be that popular.
I signed up via the website where Large Friends aren't scared in showing the success stories that they've had.
But you want to create your own, right, so let me quickly demonstrate how easy starting your profile is.
When you explore the registration page, you are greeted with a nice clear and appealing interface.
Starting the registration process means providing some information about yourself.
So that's:
Your gender
The gender you'd like to meet (Large Friends is LGBT friendly)
The age range they should be
Their body type (11 to choose from)
Your location
Easy enough, to start but I do have one little critique here.
Why include 11 different body types if this is a site that's catering to BBW and BHM's and those who want to date them?
It's a bit strange to me.
Once you've provided those details, you are given two ways to complete your signup:
I chose the email method which means providing your age and your email address.
Now you are in the final stages of registering your profile.
The following information is still needed, however:
First name
Username
A secure password
Height
Your body type
Ethnicity
Relationship status
Upload photo
Profile headline
Complete an "About You" section
What your ideal matchup should be like
Now verify your email by inputting a code that the site sends to you and you've registered.
While it seems like lots of information that you need to provide, it doesn't take more than five minutes.
That's because you haven't completed your profile in full, so let's start with that.
Your profile on

Large Friends
While you have provided bits of information for your profile, there's still much to add.
Profiles on Large Friends are packed with information and they have a few excellent additions.
For example, one of these is questions you can pose to a potential match.
This is for you to fill in and come up with questions that you would like to have answered by someone who views your profile.
I really like this aspect as it's a nice icebreaker and you can use it to your advantage, that's for sure.
Here's the other information that you can still fill as well:
Eye and hair color
Your weight
Your education
Your political views
Your personality (22 options to choose from and you can include multiple answers)
Your occupation
Annual income
If you smoke or drink
If you have or want to have children
If you have pets
Your musical preferences
Your interests
What you are looking for in a relationship
Your star sign
When you compare your Large Friends profile to other dating sites, they are very similar.
This is standard information that you find on all of them.
But it's super important that you fill in this information as it can be used by other users as search parameters when they launch advanced searches.
But your profile isn't done yet.
Click on the "More About Me" tab to provide information on:
"Your first date idea"
"We should go on a date if…"
Details about your job
Your dislikes
Your favorite jokes
Any other personalized information you want to add
Yes, these are comprehensive profiles and I love that.
I observed during my time on the site that users seem to take their profiles pretty seriously too as most of them, but not all, had made an effort to complete them.
That's critical too, especially when a dating site offers an advanced search feature that uses profile parameters.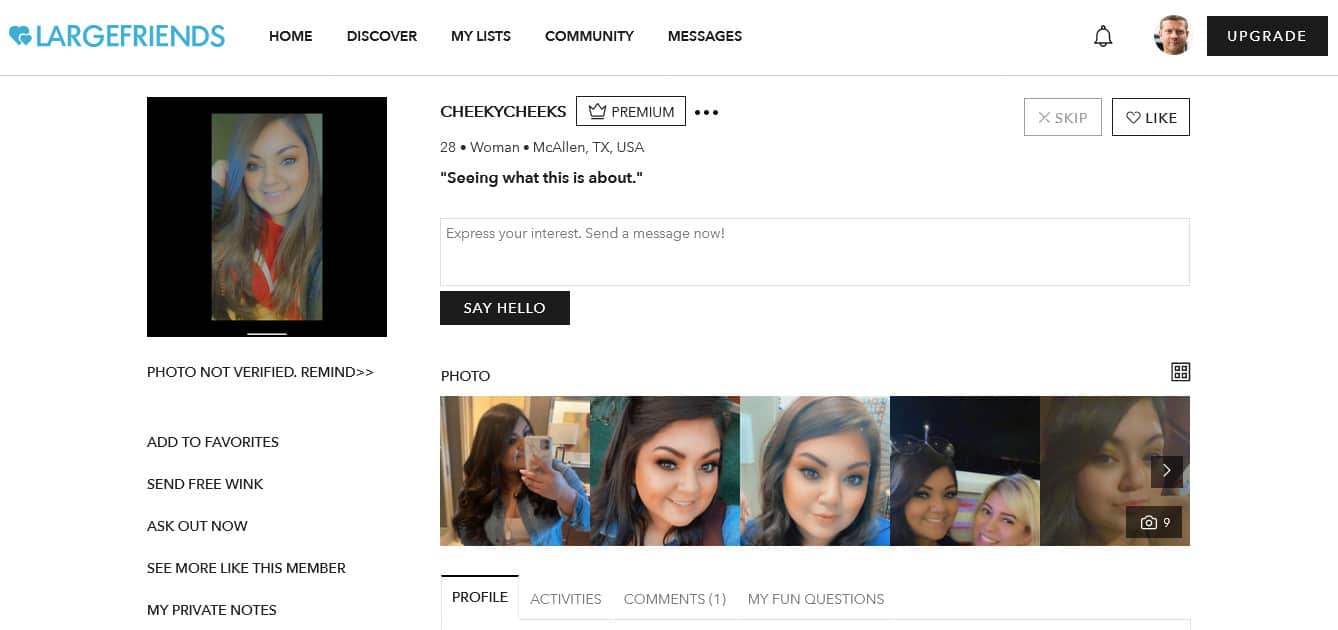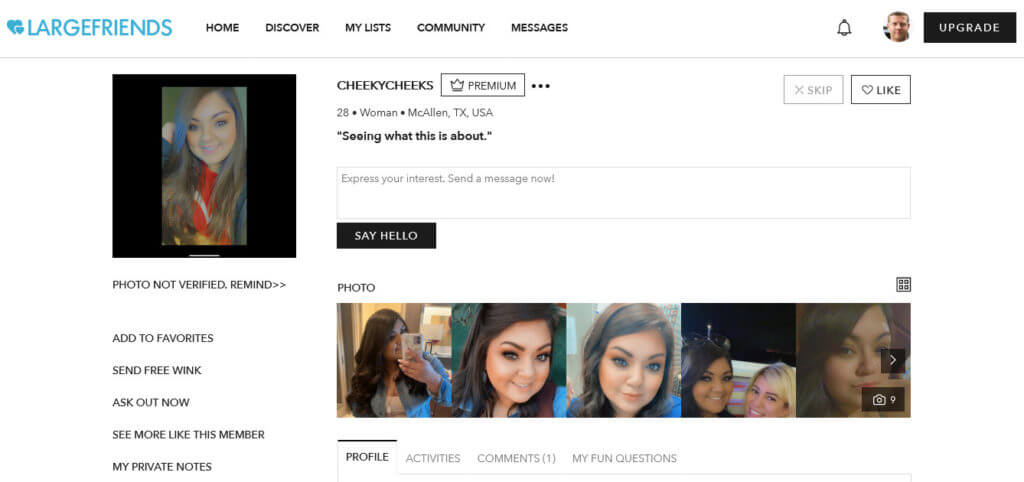 Finding your way around the site
Listen, Large Friends isn't the most colorful site you are ever going to see.
It's basically black and white with color provided by the Large Friends logo and the profiles on the site.
This isn't a major critique from my side at all but it's a little dull overall.
That can be overlooked, however, thanks to the fact that it is so easy to use.
A simple menu system will guide you to various areas that you will need to access during your dating journey.
These menus are:
Home: This takes you to the main page of Large Friends
Discover: Launch your searches for "the one" here
My Lists: See who has viewed your profile, winked at you, who you have liked and more here.
Community: A range of extras can be found here including first date ideas, a roulette-style dating game, blogs and more.
Messages: This is where you will find all messages
Most of these menus have sub-menus when you hover over them.
For example, the Discover menu includes searches by location, new members, body type and reverse matches.
This is something we will explore a little more later in the review.
Before we get to that, let's quickly jump back to the home page of the site, an area where you will spend lots of time.
Here you can launch quick searches, browse through new members, see the latest activities of other members in the form of a social networking-like feed and more.
There is a secondary menu on the left-hand side of the screen as well called Connections.
Here you can access your messages, see who like your profiles or photos as well as those users who winked at you or favorited your profile.
More and more dating sites are offering users the chance to verify their profiles.
This helps stop scammers from running fake profiles.
Other than showing you are trustworthy, there are benefits to running a verified profile as well.
Without a doubt, the highlight of these advantages is the fact that verified profiles rank higher in search returns than those that unverified.
The verification process is simple too and just requires you to upload your identity card or drivers license.
To verify your profile, hover over your picture on the right-hand side of the screen and click on Verifications.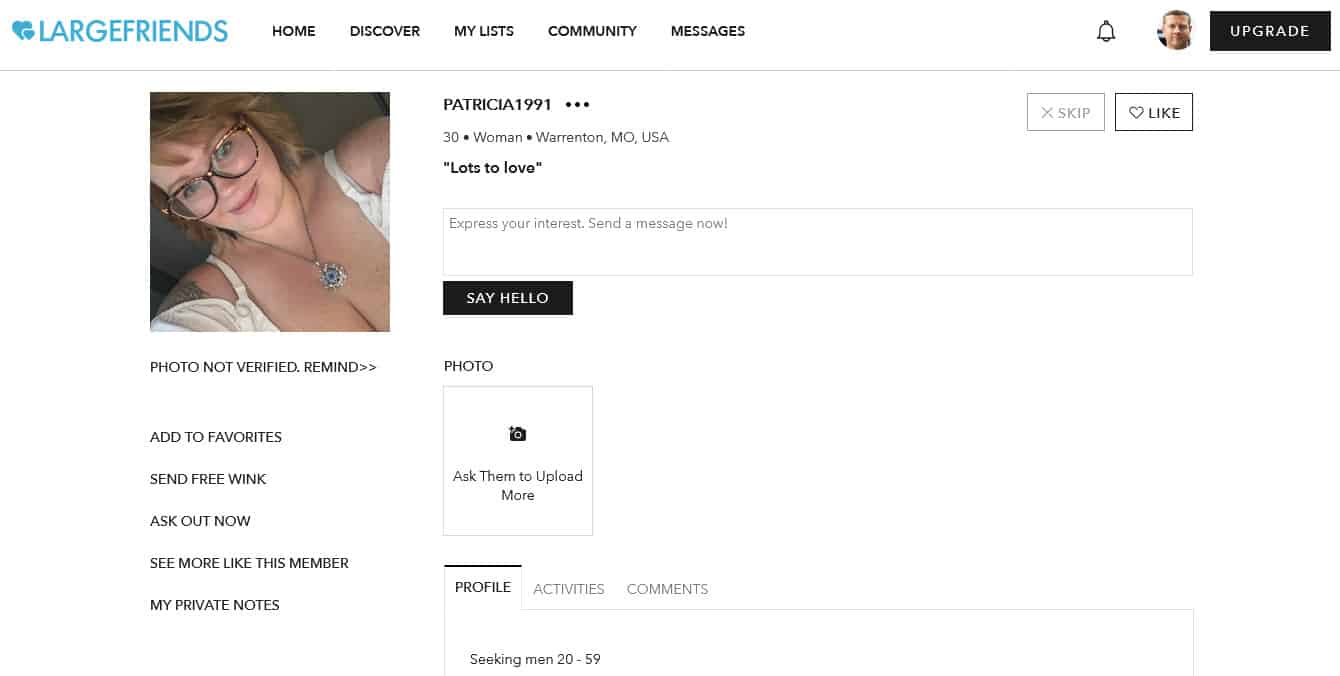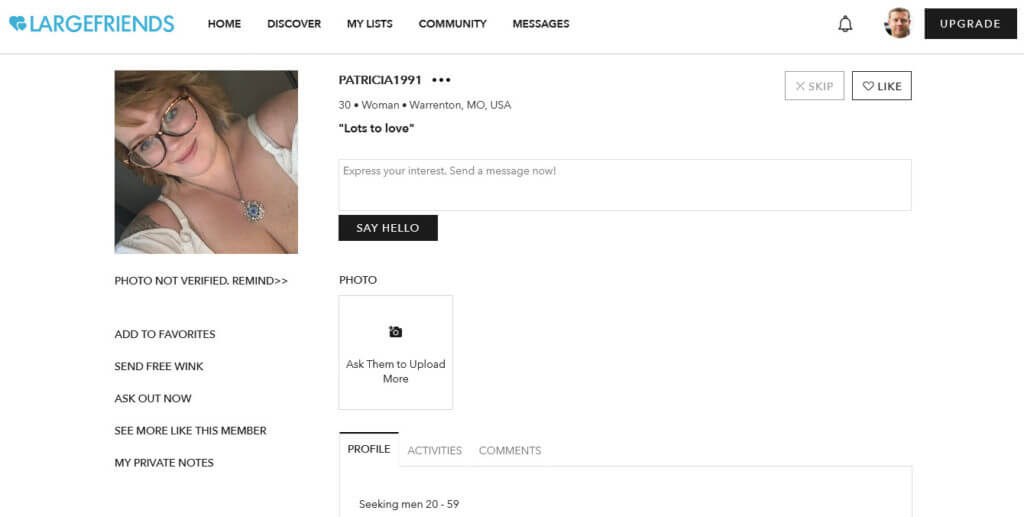 So how are you going to go about finding the best possible matchup on this BBW dating site?
​Well, you could start from the homepage.
Here you can:
Check out new members
See other users the site thinks you might like
Browse users in the activity feed
Use Spark, the roulette-style matching game
See a gallery of BBW beauties as picked by the site
Launch a quick search of your own
That's just the start of it really, but believe me, you can spend hours going through profiles from the leads you can find here.
Launching your own searches on the site
The quick search bar that you will find on the homepage allows you to search for matchups with the following parameters:
You can of course also check the search options under the Discover menu.
This includes:
Searching via username
Body type
New members
Reverse matches
The last three options are available to members only.
Large Friends also include an advanced search for members.
This adds a range of profile parameters that can help you find the exact kind of matchup you are looking for.
These relate to appearance, education, profession, lifestyle and more.
In assessing the ways you can reach out to other users, you will quickly see that Large Friends works like many other dating sites.
While you have a few ways of showing interesting in someone, messaging, the ultimate tool is only available for users prepared to become members of the site.
There is a little hope, however.
If a member sends you a message, you can reply.
But you cannot send any messages of your own.
You can like their profile as well as send them a free wink.
There is also an "Ask Them Out" feature as well but to use this, you will have to add a first date idea to the site.
Without a doubt, messaging is a member's feature that's needed to use the site effectively.


As a premium member, this dating website provides you with the following features.
As I've already highlighted, a regular user can reply to messages from a premium member, but they cannot send any themselves.
You have no such worries when you take out a membership as you can send unlimited messages.
And there is no limit to the number of messages you can send either.
So if you think someone might be the ideal matchup, simply fire off that message.
I love advanced search parameters.
They help to fine-tune your searches so that you can turn up the right kinds of matchups that are just what you are looking for.
Of course, it helps that Large Friends has close to two million users.
So if you do add extra parameters, you can be sure of returns filled with potential matchups.
That's as long as you don't add too many.
3. See full profiles/full-sized pictures
When I am browsing a dating site, I want to see a full profile of a potential matchup.
That's not an option for regular users here, however.
Only members can see the full profile of another user.
That also relates to photographs as well.
As a regular user, you cannot see full-sized photos.
Premium members will be able to, however.
They can also see when was the last time someone logged into the site, another useful tool.
4. Extra browsing privacy
Many dating site users don't like to leave a trace that they have browsed someone's profile.
That's why you will see incognito browsing as something that's often offered as a membership perk.
And that's the case here, too.
​​5. See compatible matches
​​​​I believe this is an excellent addition to the membership features found on Large Friends.
​Finding matches that are most compatible too you would be one of the first areas that I would start my search for a potential matchup.
For me, along with the chance to message others, this is the standout feature.
There's plenty of key features for paid members that are worth exploring.
But as we know, that's going to cost you.
So let me reveal just how many membership packages are on offer here and what they are going to set you back.
You have four options available to you for premium membership: 1-month, 3-months, 6-months and 12-months:
1-month: $29.95
3-months: $59.95 ($19.98 per month)
6-months: $95.95 ($15.99 per month)
12-months: $143.95 ($12.00 per month)
The month-to-month figure indicates that Large Friends is on par with Complete BBW in terms of price but almost twice as expensive as WooPlus.
WooPlus, however, is app-only and they always tend to be cheaper when compared to dating sites.
Payment options include credit card and PayPal.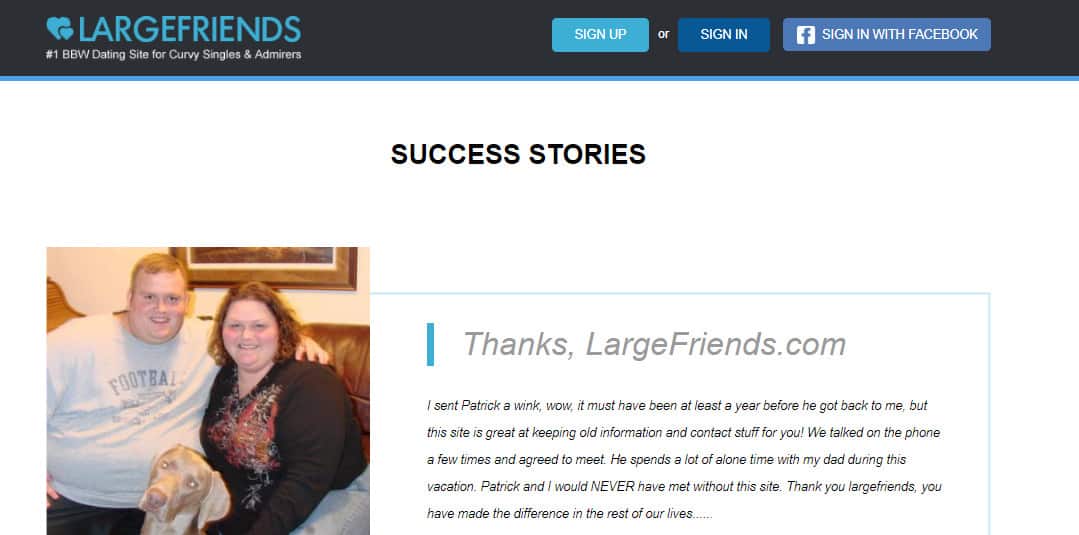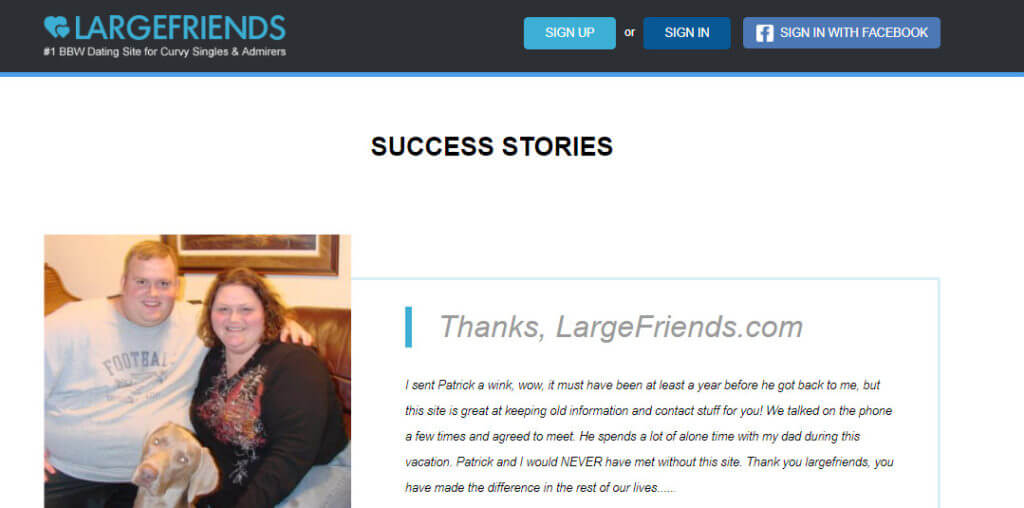 Conclusion and Overall Rating
Thanks for taking the time to read this LargeFriends.com review.
To summarize, this is a BBW and BHM dating site that's got a lot going for it.
If we compare it with similar sites, it's on par, if not better than many of them.
For one, the user base is approaching 2 million.
Without users, a site cannot be effective, so Large Friends doesn't have that problem, that's for sure.
Registration as a user and then finding your way around the site couldn't be simpler plus the tools you need to find a new friend, someone to date, or a long-term relationship are at your disposal.
Some of them, however, are behind a paywall which price-wise is on par with other similar dating sites.
So to conclude if you are looking for a BBW dating site, Large Friends is worth trying out.
It gets a rating of 3.6 out of 5.
Large Friends was studied and tested by Onlineforlove over an extended period.
In that time, we concluded that it's a site that's effective in helping plus sized singles on their dating journey.
The approach during this process was to provide star rating for those critical criteria that we rank our dating sites and apps by.
And our final evaluation of this dating site for big beautiful women and big handsome men and those who want to date them is based on a number of factors.
This includes price of membership, overall ease of use from signing up to using the site, the features it has, how many users have signed up and the likelihood of finding a matchup.