Twoo certainly isn't strictly a dating site, but it can be used in that way, that's for sure.
It's about meeting new people, making friendships and as the site says on its landing page, you may just find the love of your life.
In today's review, we are going to be talking about Twoo, a site that's all about meeting new people from all over the world.
This Twoo dating site review will focus on how to use the site effectively.
OFL Top Recommendations based on 100,000+ Survey

"Serious Relationships"
"Discreet Hookups"
"Best Course for Men"
"Quick Flings"
"Normal Hookups"
"Our Quiz"
We will cover:
There are so many users looking for so many different things from casual chats, to making new friends on the other side of the planet as well as looking for love.
Let's discover the beauty behind Twoo.

Check for the ratings before proceeding.
Ease of Use 4/5
Effectiveness – 4/5
Key Features – 4/5
Pricing – 4/5
Millions of users all over the globe
Twoo has an app for Android and Apple phones
Excellent search parameters
You can chat with certain users for free
Well-priced membership
The app can be a little confusing at first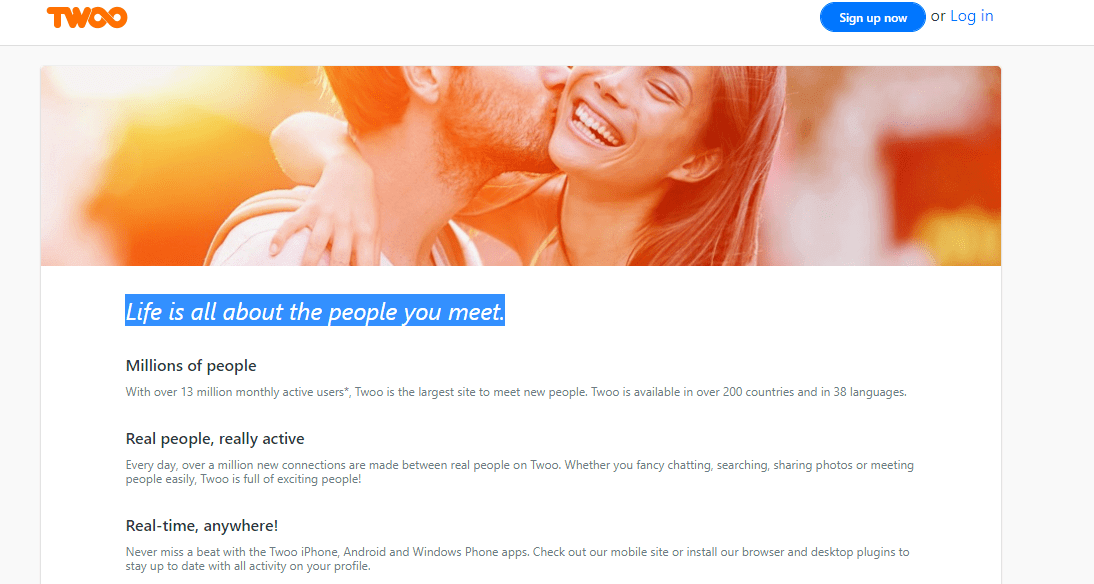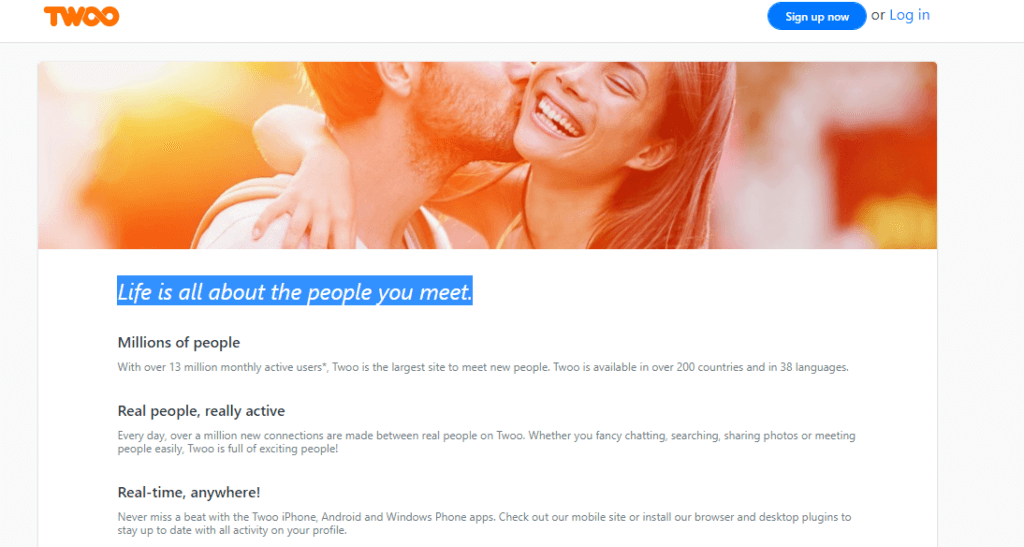 OFL Top Recommendations based on 100,000+ Survey

"Serious Relationships"
"Discreet Hookups"
"Best Course for Men"
"Quick Flings"
"Normal Hookups"
"Our Quiz"
Twoo is a truly global social networking site.
It's used by millions of people over the world and its main focus is on helping those people to meet others.
In fact, Twoo's tag line is "Life is all about the people you meet."
And that's why people join up.
This characteristic makes it different from dating sites that focus on hookups (like BeNaughty or Ashley Madison) or connect those seeking serious relationships (like eHarmony).
They want you to chat with others and make new friends on a global scale.
But with over 13 million users currently, you can bet your bottom dollar that a large percentage of those users are also using Twoo in their search for love.
So we've already established that Twoo currently has over 13 million users.
And that's growing all the time, that's for sure.
But let's look at some other facts and figures behind the site.
Of the 13 million users currently, around two million of them come from the United States
Each week, 700 000 users are active on the site
That's 100 000 per day and a staggering 2.8 million each month
2,049,250,334 conversations have taken place on Twoo since its inception
Twoo is available in 38 languages and includes users from over 200 countries
I am sure you will agree, some of those are amazing numbers, that's for sure.
Also, it's clear that Twoo is popular across the globe, thanks to the fact that it's available in 200 countries and in 38 languages.
That's unbelievable.
Gender breakdown and user age ranges
The gender split on Twoo is pretty even.
Yes, there are more male users than female users, but unlike some other sites, the ratio is pretty close.
The breakdown is as follows:
60% of users on Twoo are male
40% of users on Twoo are female
As for age ranges, you probably thinking that Twoo is a site most frequented by 18-24 year-olds, right?
Yes, it is popular with them but the biggest age group on the site is from 25-34 years old.
Around 36% of all users of Twoo are found in this age range.
The next biggest group are the 18-24 year-olds who contribute 21% of total members.
Here's a full breakdown of the age ranges of users found on Twoo from the most to least popular:
25-34 year-olds: 36% of all users (20% male and 16% female)
18-24 year-olds: 21% of all users (13% male and 8% female)
35-44 year-olds: 20% of all users (12% male and 8% female)
45-54 year-olds: 13% of all users (8% male and 5% female)
55 and older: 10% of all users (6% male and 4% female)
So yes, while the younger age groups are far more prevalent on the site, if you are on the older end of the user spectrum, people from 45 to 55 and older still make up around 23% of all users.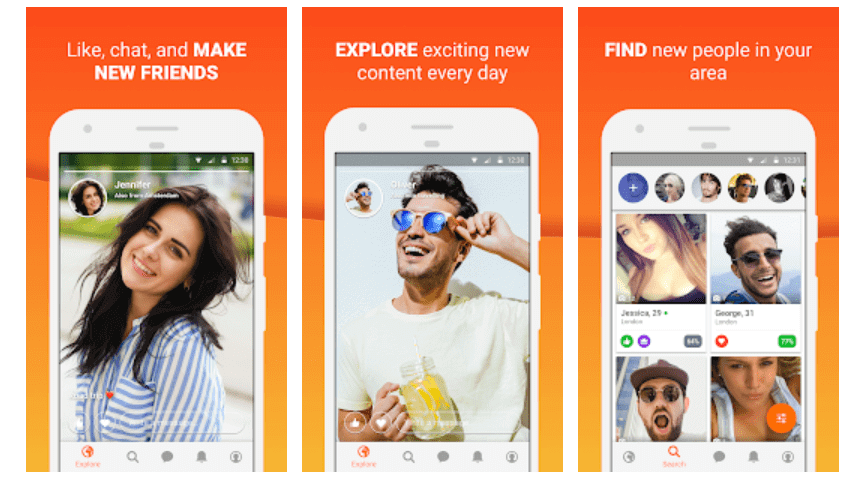 Now that all the number crunching is out of the way, let's take you through the process of signing up for a Twoo user account.
Twoo's undoubted popularity means that you can register online through the website or by using the Twoo app.
It's available in both the Apple and Google Play store.
Further evidence of Twoo's popularity is the fact that on the Google Play store alone, it has been downloaded over 10 million times.
And for that reason, I am going to take you through the registration process using the app itself and not the Twoo website.
Once you have downloaded the app, you can use your Facebook account to log in automatically.
Of course, this is the quickest route available, but if you are anything like me, you don't like to use your social media accounts to register for dating apps.
That means that you will have them provide some information to complete the registration process.
That includes the following:
Your email address
A password
From there, Twoo takes you to a two-step profile completion.
It doesn't really take long either and cannot be skipped.
The information you need to fill in for your profile is:
Your gender
Why you want to use the site (options include chat, make friends, date)
Who you want to meet (Twoo is gay and lesbian-friendly)
A profile picture
Your name
Date of birth
Your location (the app can add this automatically if you wish)
If you are used to dating apps, you probably will find your way around Twoo pretty easily.
As someone who prefers to use the website version over an app, I found Twoo pretty confusing at first but I eventually worked out how everything operates.
Initially, however, you will start on a screen with lots of user profiles.
These are the people who are currently online all over the world and who are using the app to stream.
You are welcome to access their streams and you can even chat to them in the stream if you wish by sending messages.
To navigate the app, however, you are going to use the menus at the bottom of the screen.
And I want to talk about those now.
Thumbs up (Explore): This is the roulette-style matchup game on Twoo and I will cover it in greater detail later in the review
Four squares (Search): This brings up potential matchups that can be found near you
Play button with brackets (Live): Click this to go back to the live streaming screen
Speech bubble (Messages): This is where you can access incoming and outgoing messages
Bell (Notifications): Here you can see who has viewed or liked your profile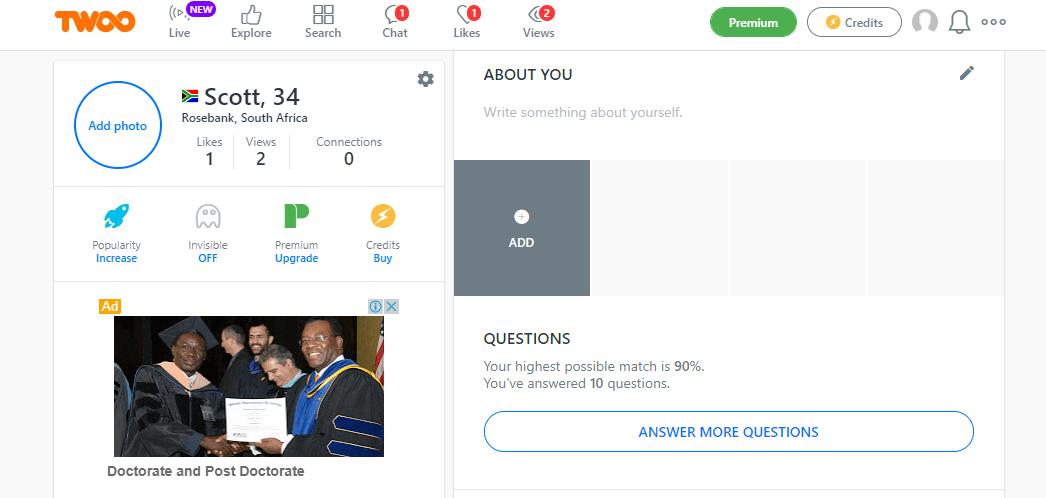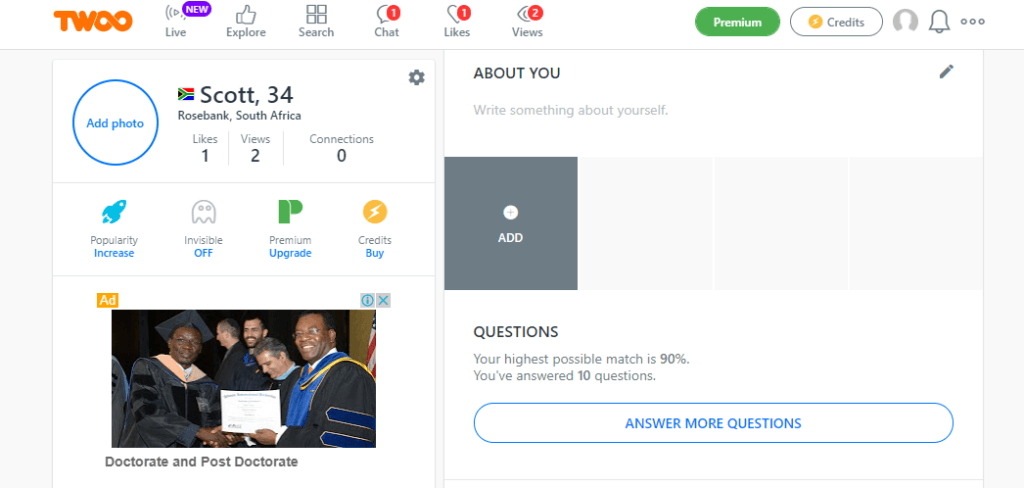 While registering for the app, you would have only filled in the very basic information for your profile.
To access it and fill in more, which helps with the matchup algorithm, you need to complete it.
And it's not going to take too much of your time.
First up, you will need to provide an About Me section.
Following that, there are a number of questions for you to answer regarding relationships.
This helps Twoo find the best possible matchups for you.
But what types of questions can you expect?
Well, here's an example: "Would you consider having an open relationship, where you can see other people?"
The questions cover relationships, lifestyle, sex, religion, ethics and more.
After that, you will complete the section which highlights what you are looking for in a match in terms of gender, age-range, and location.
Other information that needs to be completed is:
Work
Education
Job
Field of study
Relationship status
Body type
Hair color
Height
If you wear glasses
Ethnicity
Eye color
If you have tattoos or piercings
The style of clothing you prefer
Your best part
Your overall appearance
Where you live
Who you live with
Income
Religion
If you smoke
If you drink
If you play sports
If you like to travel
If you have a car
The food you like
There is a full personality section to fill in as well as a section where you can list your favorites in terms of food, music, movies, books… the list is endless.
I love Twoo's profile.
Sure, it takes a fair amount of time (at least 15 to 20 minutes) to complete it but it's very comprehensive and you can learn a lot about someone from it.
Also, other than your profile picture, you are allowed to add others to your profile as well.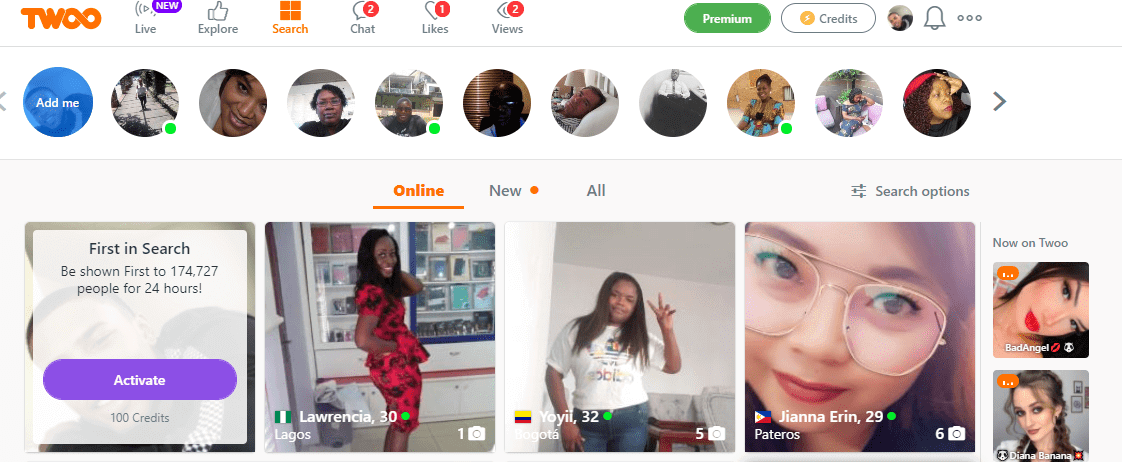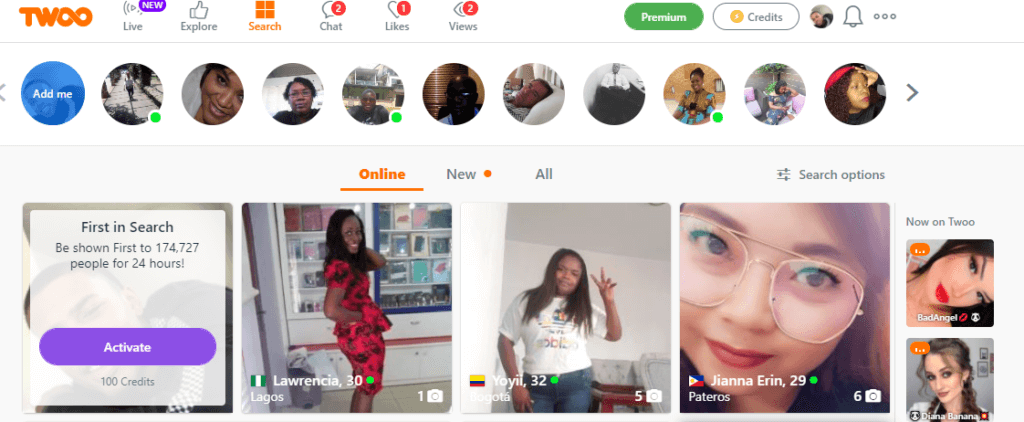 Once you've taken the time time to familiarize yourself with the app or the website, it's your chance to put Twoo to the test in your search for love.
Apps like this have a number of ways for you to do this and I am going to take you through the two most obvious methods on Twoo.
The first I want to talk about is Explore.
This is accessed through the menu that looks like a thumbs up.
Essentially what you have here is a roulette-style matchup game.
And it works just like all others you might have encountered before.
That means you have the option to swipe left or right depending on whether you like the profile of another user that's presented to you.
And if they like you back, well then that's a matchup.
If you've used a dating app before, perhaps Tinder even, you will know what this is all about.
The thing is, while these matchups are certainly worth going through, I prefer to search on my own.
And you can do that easily enough on Twoo by clicking on the Search button, represented by the icon of four squares.
The first time you click on it, Twoo presented you with users that are located near you.
Of course, you can tweak the types of matchups that you receive as well.
To do this, you must click on the red circle in the bottom right-hand corner.
That's the search settings button.
Here you can make changes to the search returns as you see fit.
For example, you can change:
The types of returns you want (like only people who want to date)
The gender you are looking for
The age range
Their location in relation to you (you can even set this to worldwide)
There's an advanced filter that takes in all those details from your profile which includes:
Education
Body type
Height
Hair and eye color
Ethnicity
Relationship status
If they have or want children
Zodiac sign
Sexual orientation
If they drink or smoke
Religion
What sports they like
If they like to travel
Their attractiveness (as rated by themselves)
Their responsiveness
If they have videos
Wow!
That sure is lots of extra parameters right.
And they really do come in very useful on a site with so many users.
In fact, there really are endless possibilities for fine-tuning your searches with the number of extra parameters available to you from the advanced search filter.
And that can really help turn up the perfect kinds of matchups you are looking for.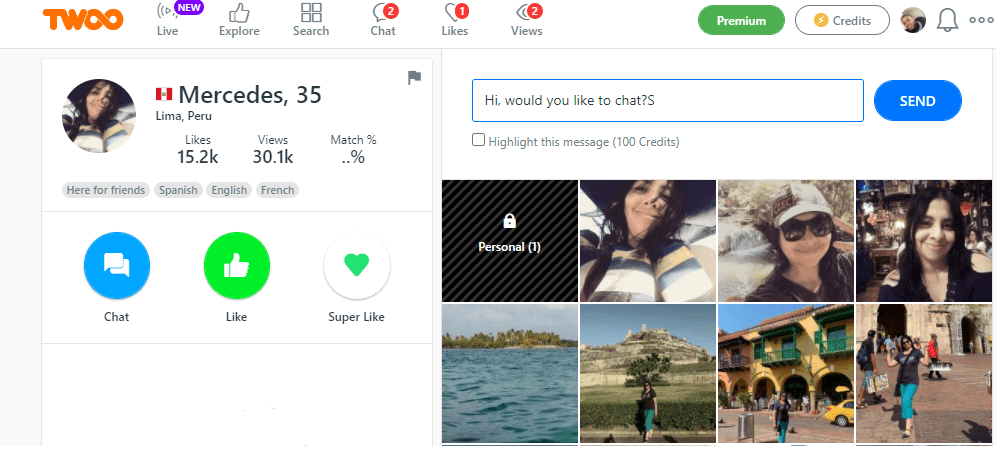 So Twoo does allow some forms of messaging between users, but there are provisos in place.
For example, you can message a user that Twoo provides for you in their matchups but you cannot message verified users unless you have a verified account yourself.
You can also only contact a limited amount of people each day.
And on a website with so many users, sometimes chatting with those who are verified is the best course of action, especially if you are searching for love.
Ultimately, at the end of the day, if you are serious about using Twoo in your search for love, you are going to have to look into taking out a Twoo membership.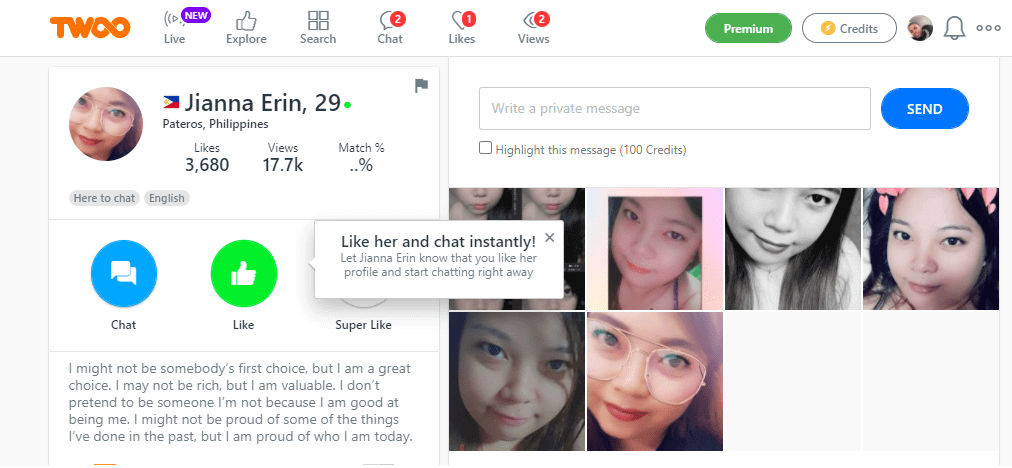 Let's talk about some of the key features that Twoo has to offer.
As a free member you can:
Create your Twoo account
View other user profiles who have public profiles
Chat with other users who have public profiles
Play the Explore matchup game
Use the search feature (with advanced parameters)
Of course, if you choose to become a member of Twoo, there are added extras.
1. Chat with users who have verified accounts
We've already established that while regular users of Twoo can chat with others, it's only with users who have public profiles.
This isn't always ideal when you are looking for love.
When you have a Twoo membership, however, you can chat with anyone on the platform, including those users who have verified their profiles.
2. See who has liked or viewed your profile
While free users can click on this part of the app, anyone who has liked or viewed their profile is greyed out.
As a paying user of Twoo, however, you don't have that problem.
Of course, this can be a powerful tool in your search for someone special and you should follow up if anyone has liked or viewed your profile.
As a free user, there is a limit on the number of people you are allowed to contact each day.
For paid membership, however, you can contact 25 more people each day.
If you'd prefer to leave no trace behind that you've viewed someone else's profile, you can change your security setting to browse incognito.
5. See if your messages have been read
This is a useful tool, especially if you are trying to make contact with someone.
If they are not reading your messages, it's best to move onto and utilize your time looking for another user that's going to be more responsive.
While Twoo's advertising isn't too intrusive, it's always nice to remove it.
As a member of Twoo, here are some other extras that you can expect.
Filter searches
Promote your profile in the Explore matchup game
5 chances to highlight your profile each month
The chance to go back on a skip in the Explore matchup game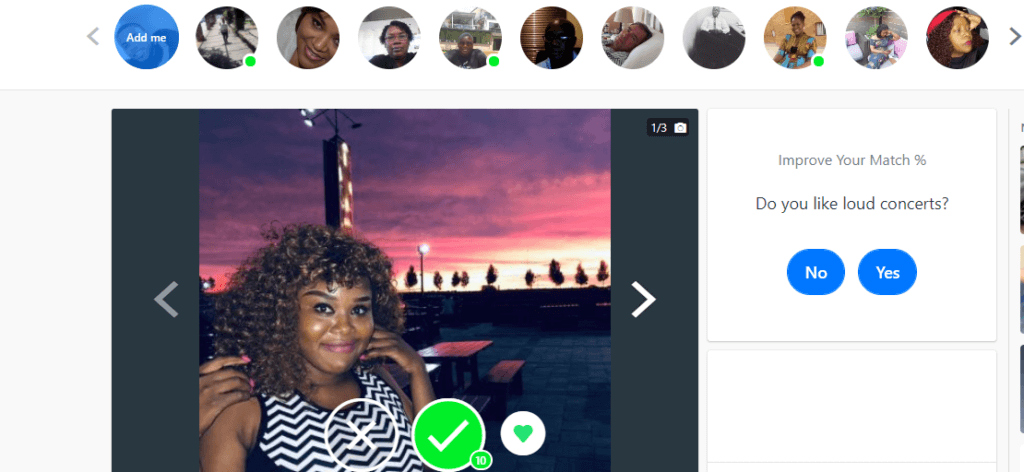 Free users certainly have lots of functionality on Twoo.
But as we've seen from the key features above, there are lots of extra things that taking out membership on the site brings to the party, that's for sure.
But what does membership cost?
Well, Twoo has a few options for you to mull over, from one week to one year, in fact.
Let's look at them a little more closely:
1-week premium membership – $7.99
1-month premium membership -$12.99
3-month premium membership – $30.99 ($10.33 per month)
6-month premium membership – $46.98 ($7.83 per month)
12-month premium membership – $77.88 ($6.49 per month)
Those are excellent price points in my book.
And if I were you, I'd opt for either the one-week or one-month membership to give the site a decent tryout.
If you see it as a platform that could prove useful, then the extended memberships, with the big discounts always can become an option.
Only you will truly know if you would make use of a platform like this for 12-month, for example.
Twoo also uses credits for a few features that you can buy into that don't require membership.
Luckily, unlike other dating sites, these credits aren't that expensive.
550 credits – $9.99
900 credits – $14.99
1 250 credits – $19.99
2 750 credits – $39.99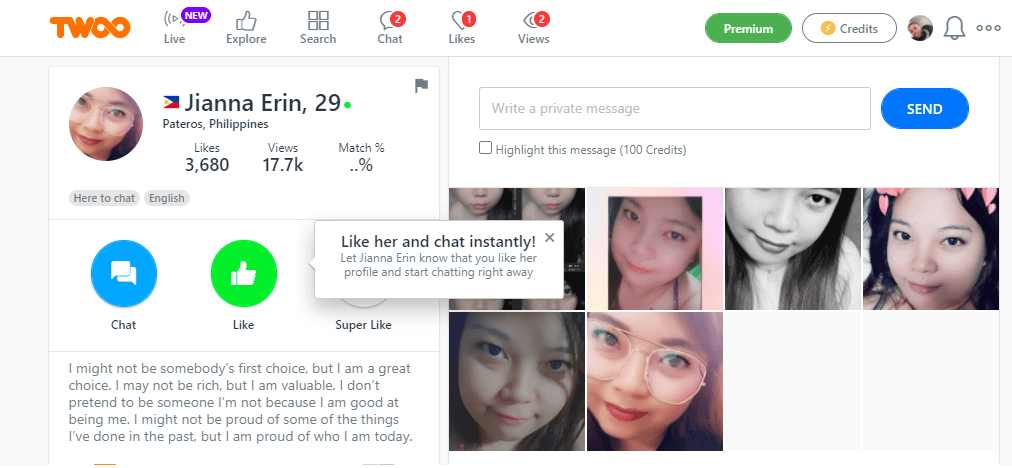 Conclusion and Overall Rating
And that's it for our review of Twoo.
It's a little different from other dating sites, that's for sure.
In fact, it's not just a dating site but a platform where people all over the world chat, make new friends and yes, find love.
I like the fact that when you do sign up for a profile on the site, you can state exactly what your intention is.
Also, Twoo provides you with matches to people who are looking for the same thing, so you don't have to go through thousands of profiles of others who might just want to chat, for example
While Twoo allows for regular users to communicate with others, membership, which is so well priced is something I would think that you would need to consider.
Remember, in this review, we covered Twoo from the app point of view, but if you prefer to use the website, that's just as easy to use.
So what about a rating for Twoo?
Well, it gets a more than respectable 4 out of 5.
It's an excellent app and well worth your time checking out.
Have you used Twoo before?
What were your experiences?
If not, do you think it's an app that you would consider in your quest for love?
Let us know in the comments below.
Frequently Asked Questions
Yes, Twoo is safe.
You can rest assured that all your personal and other details are safe and secure.
Many aspects of Twoo is free.
You can even message other users who have regular public profiles.
There are lots of extras to be had with membership, however and the best thing is that it's very well priced.
Twoo is a registered dating site and app.
It's currently owned by Match, one of the biggest dating sites on the planet, so yes, it is legit.
Twoo first appeared on the scene back in 2011 when it was launched by Massive Media.
It is currently owned by Match and has millions of users who are found all over the world.
Perhaps the easiest way to join Twoo is through their app which is available for Android and Apple handsets.
The process is a simple one and doesn't take up a lot of your time.
Just remember to complete your comprehensive profile, especially if you want Twoo to provide you with the right kinds of matchups.
Should you wish to delete your Twoo account, click on the "Settings" button.
Then click on the edit button found in the "Account" section.
From there you will need to click on the "Delete Account".
And that's it.
You can email Twoo at the following address: [email protected]
Or you can contact the Twoo helpline on +32 2 400 4320.
Your profile is key to having Twoo provide you with the best possible matchups.
There are a number of questions that you can complete on it over and above the regular profile entries.
All of this information is used to bring you the right people to chat with.
If someone has messaged you or harassed you and you don't want to talk to them, you can block their profile.
Simply go into the message they sent you, click on the three dots in the top-right hand corner of the app and then select block or report user.