Well Hello is an online adult hookup site.
Here, people are looking for casual flings, one-night stands, and definitely no-strings-attached-sex with other willing partners (like BeNaughty or Ashley Madison).
If you desire a long term relationship, you should check out eHarmony
It's in competition with so many other similar sites out there that are vying for your attention if that's the kind of online platform you are looking for.
In this in-depth review, we will analyze the following:
OFL exclusive offers - Check all of them

"Serious Relationships"
"Discreet Hookups"
"Best Course"
"Quick Flings"
"Normal Hookups"
"Our Quiz"
There's nothing that's not covered in this review and by reading it, you can make the right choice when looking for casual hookups.
So why not jump straight in then to see if Well Hello is all it claims to be.

Ease of Use 3.5/5
Effectiveness – 2.5/5
Key Features – 2.5/5
Pricing – 3.5/5
Beautiful, modern design
Quick registration
$1 per day access
Strong user base
Fake profiles constantly messaging you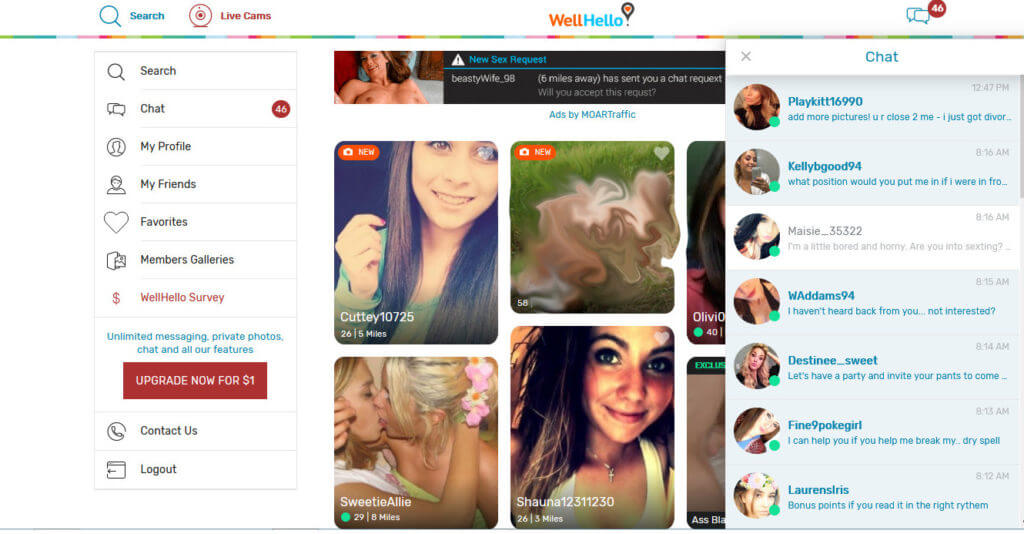 Who Is It For/Demographics?
Just go take a look at the Well Hello registration page.
The site certainly makes no bones about the fact that it's all about hooking up with someone and getting your funky on, that's for sure.
People using Well Hello want physical relationships.
There is no looking for love here.
It's all about no-strings-attached sex.
Be it a one-off, or finding someone to meet with on a regular basis for sex and sex alone.
And you will find all types of people on the site including those who are looking to explore their kinky side or a particular fetish.
So how many users does Well Hello have?
The thing about hookup sites is that they are popular.
If you've never heard of Well Hello, you'd be forgiven in thinking that it's not going to have that many users.
But it seems that there are just as many people around the globe looking for a one-night stand as there are hoping to find the love of their life.
So while you might not have heard of it, Well Hello is the home to a few million users from across the globe.
While it's most popular in the United States, users can be found in Canada, the United Kingdom and other parts of the world.
Never mind where you live, you will never know if you have potential hookup partners just around the corner from you if you don't try, right?
But here's a few more figures to help convince you:
Around 1.7 million of Well Hello's users are from the United States
400 000 of them are active on the site each week
That's close to 60 000 per day and over 1.6 million each month
Those are some stellar figures when it comes to users and the overall activity on the site.
Saying that it's a little busy is just a slight understatement, that's for sure.
Are there more male users than females?
The easy answer here is YES!
It's no different from all other hookup sites in that regard.
Virtually everyone one of them has far more male users than female users.
Here the ratio difference is pretty significant.
70% of all users on Well Hello are males
The remaining 30% are females
It's just something you have to live with and to be honest, everybody else using the site has got around it, so can you.
It really isn't a major problem, even if you are a male and looking for a female.
All you might have to do is look a little deeper.
But what age ranges are the most popular on Well Hello?
Before we give the users of this website a complete breakdown in terms of ages, it's important to note the biggest group of users on the site.
That would be the 25-34-year-olds who make up close to a third (32%) of registered profiles.
The smallest group of users on Well Hello are aged 55 and up and contribute around 10% of the user base.
A full-breakdown of user ages makes for interesting reading:
25-34 year-olds (32% of all users of which 22% are male and 10% are female)
18-24 year-olds (24% of all users of which 16% are male and 8% are female)
35-44 year-olds (20% of all users of which 14% are male and 6% are female)
45-54 year-olds (14% of all users of which 10% are male and 4% are female)
55 and older (10% of all users of which 7% are male and 3% are female)
You see, it's pretty well spread.
There is always going to be a dominant age group of users on any dating site and Well Hello is no different.
But even the smallest group on the site, those over 55 contribute around 10% of the users.
So take the users in the United States alone (1.7 million) – that's around 170 000 of them that are going to be 55 and older.
When you put in in those terms, you can see that if you are looking for matchups, Well Hello should really be able to provide you with some, no matter what age range you prefer.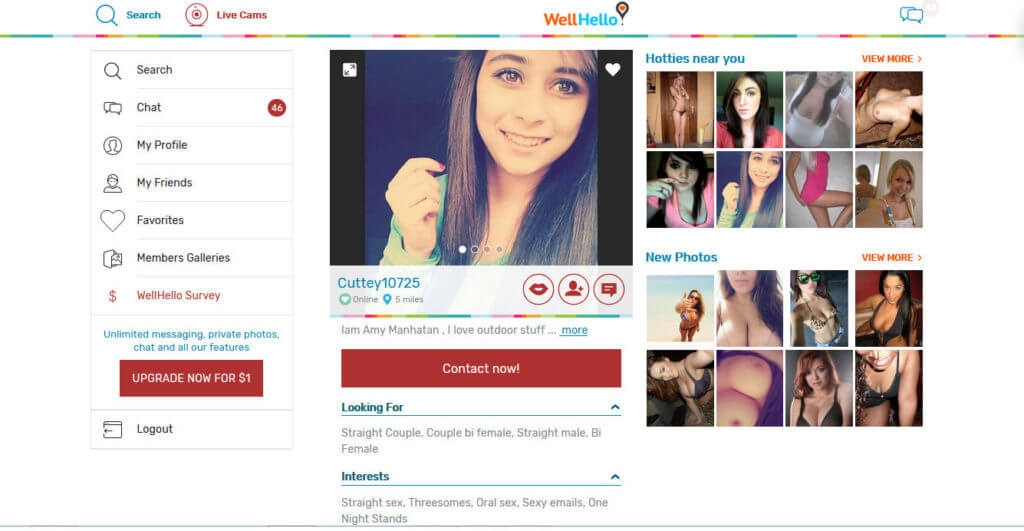 Point your web browser at the Well Hello registration page to begin signing up for your profile.
There isn't an app for this dating site, so you can only register in this manner.
Registration is simple enough and takes you through all the steps you would have seen if you've used these sites before.
Even if this is your first ever dating site, I really don't need to explain the process step-by-step.
Just make sure you have an email address, a well-thought-out user name (you'd be surprised how that can help attract people to your profile on a site like this) and a password.
Yes, that's all that you need.
On gaining access to the site
Fill those in on the registration page, click the sign-up link and you are given access to the site.
Without even filling in one piece of information on my profile, I was immediately receiving messages.
In the space of five minutes, I had 16 of them!
Realistic?
Well, to be honest, I don't think so.
Some of them seemed to be real people but you'd have to be a member to find out.
But more on that later.
Before we get into finding matchups (or them finding you), let's talk a little more about the site itself.
In my time reviewing dating sites, I can't recall a hookup site that's better designed than Well Hello.
The home page itself has two distinct panels.
On the left, you will find the main menu system by which you will navigate the site.
The rest of the screen is taken up by matches that Well Hello returns to you.
These are initially based on your location. '
Of course, you are free to browse these and yes, many of them seemed legit to me.
Profiles aren't packed with information at all, but this is a hookup site, right?
You not trying to find the love of your life here.
So I spoke about the menu system that you will find on the left-hand side of the screen.
This is going to be your primary way to find your way around.
It's pretty basic too, there's nothing here that's not easy to understand.
And it adds to why I love aspects of this site.
Often, hookup sites are so complicated and overcrowded with menus, pictures, profiles and advertising.
This is the opposite.
It's just so uncluttered.
The menu system itself just has six different sections.
These are:
Search
Chat
My Profile
My Friends
Favorites
Members Galleries
All of these do exactly what they say.
There are three icons at the top of the screen as well.
The first is another link to the search menu, the second takes you to off-site live cams and the third is a link to your messages.
You don't really need to make use of these unless of course, you want to access those live cams.
As the registration process is so quick, absolutely nothing in your profile is filled in when you start out on the site.
As I mentioned earlier, profiles on Well Hello aren't packed with information but it is still super important that you complete it.
It won't take long either, probably no more than 10 minutes.
All you need to do is:
Upload your best profile picture
Fill in an "About Me" section
Complete appearance parameters (height, body type, ethnicity)
Provide your sexual orientation
Provide your relationship status
Say how you'd like to meet up and where
There is also a section where you can set your preferences.
For example:
What you are looking for (straight male/female, couple, bi-couple and nine other options)
Your interests (straight sex, swinging, threesomes and 14 other options)
Weirdly this preferences section isn't under your edit profile section but a separate one itself, so don't miss it because it's pretty crucial.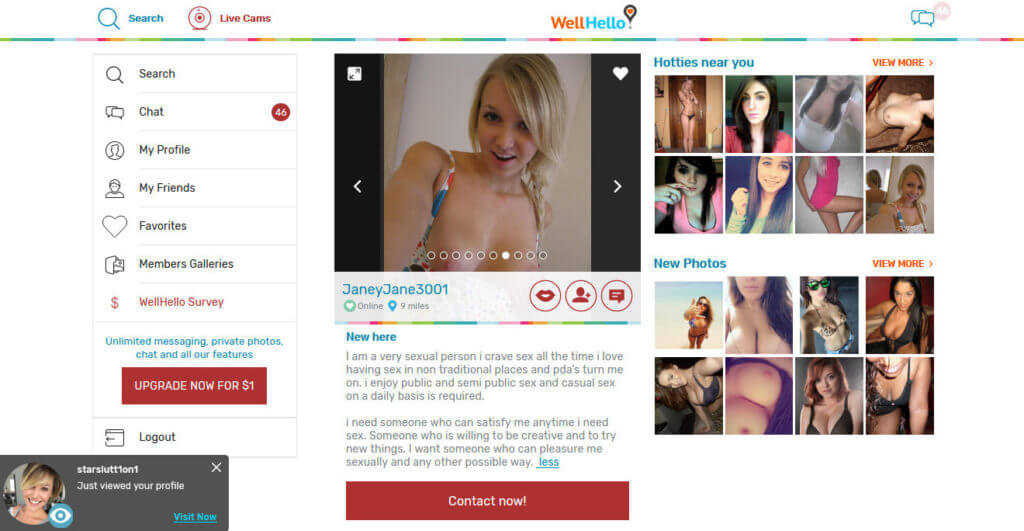 Earlier, I mentioned how from the minute I joined the site that I was receiving messages left, right, and center from other "users".
In fact, within the first 10 minutes on the site, I had received 20 messages.
That wasn't only from seperate users, some sent multiple messages.
And I hadn't even completed my profile yet.
While I think some of these were real, others, I am not so sure and they could be trying to get a new user all excited to sign up for a membership.
After not replying to any of them, the messaging calmed down which I found interesting.
Perhaps they were all real users and the fact that I didn't reply meant they moved on to someone else, looking to hook up with them instead.
Searching for hook ups on Well Hello
Anyway, other than people reaching out to you, you are obviously going to launch searches of your own on the site.
And that's what I want to talk about now.
Because profiles don't have that much information, the search engine is very basic.
In fact, you can only set three parameters:
Gender
Age range
Distance from your location
That's it.
You cannot search for the type of relationship you want, physical attributes or any other parameters but those outline above.
There isn't an advanced search engine for members of the site either.
I really do think they are missing out on something with that, even if you can search by sexual orientation for example.
Making contact on Well Hello
You cannot send messages, flirt with someone or add them to your friend's list without paying a fee.
Interestingly, that's just $1 for unlimited messaging as well as adding friends and flirting.
But that's only for one day.
OFL exclusive offers - Check all of them

"Serious Relationships"
"Discreet Hookups"
"Best Course"
"Quick Flings"
"Normal Hookups"
"Our Quiz"
This is the first dating site that I have seen do this.
I mean others do offer free trials for a period of time, but not $1 per day.
I think it's a pretty cool initiative and one where you can try the site out and see if it will work for you.
Of course, there are full membership options as well.
Let's see what added key features you can expect should you opt to become a member of Well Hello.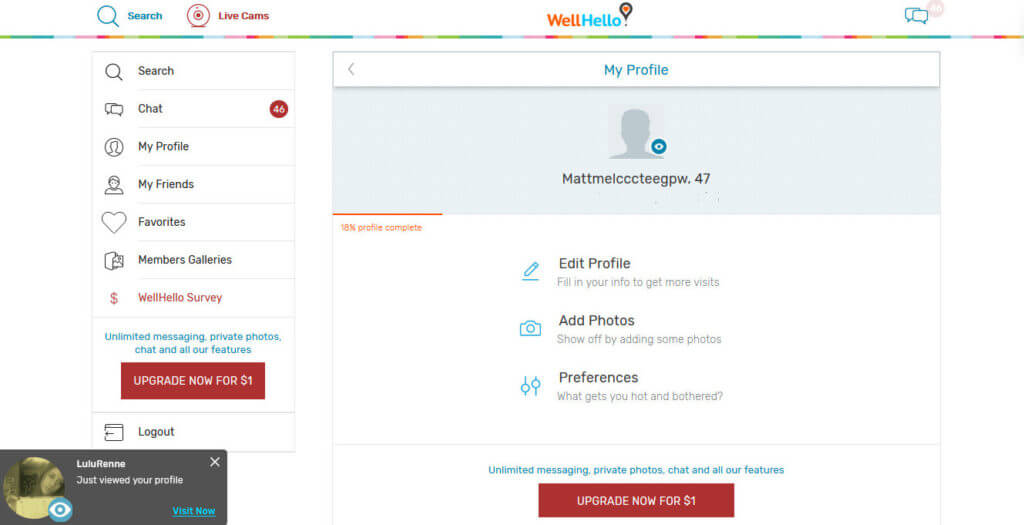 Here are the extra features available to members of Well Hello.
As a member, you can upload pictures into your private gallery.
No one can see these, not even other members.
You have the power, however, to give other members permission to these galleries as you see fit.
Members are free to message any others on the site.
This is unlimited messaging, so you can fire away at each and every matchup you'd like to get into contact with and perhaps eventually hookup with.
3. Chat, flirt and add friends
As a member, you can chat in chat rooms with other users, you can send flirts to anyone and even add them as a friend.
Friends add a bit of a social network feel to the site.
4. View other member videos
Many users post videos on their profiles but you have to take out a membership to view these.
Of course, you can produce your own videos as well.
5. See who has viewed your profile
Membership also allows you to see who has viewed your profile, something that's worth following up on if they have not reached out to contact you yet.
On the whole, these features aren't that spectacular, I've seen hookup sites with options that are far superior.
But they are not the worst either.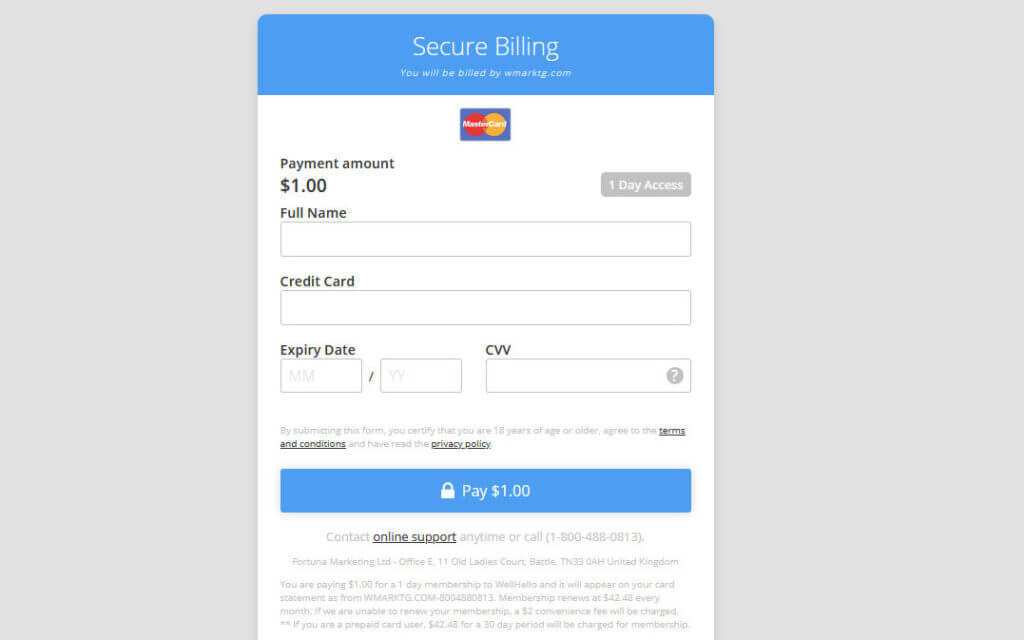 The one major advantage about Well Hello is that it gives you options
You don't need to take out membership on the site.
If you are going to log in a few days a week to check for hookup options, the $1 for one day's access is the way to go.
But should you want some of those key features and would prefer to log in each day, then you can try the one-month membership.
There is another option, a 12-month membership, while it's cheap, are you going to use this site for a year?
If so, then yes, by all means, go for it.
But let's see just how much membership costs.
$1 per day (payable when you want to use the site)
1-month membership: $24.95
12-month membership: $89.40 ($7.45 per month)
Overall, those prices aren't bad at all.
If I was new to the site, I would definitely try the $1 per day option to see just what I could get out of it and whether all those messages you receive first up are fake profiles or not.
If you can make the site work for you, try the monthly membership.
When compared to other hookup sites, it's cheaper than most but not all.
At the end of the day, each individual is going to know what works best for them.
But of course, without paying a cent, the site won't work for you.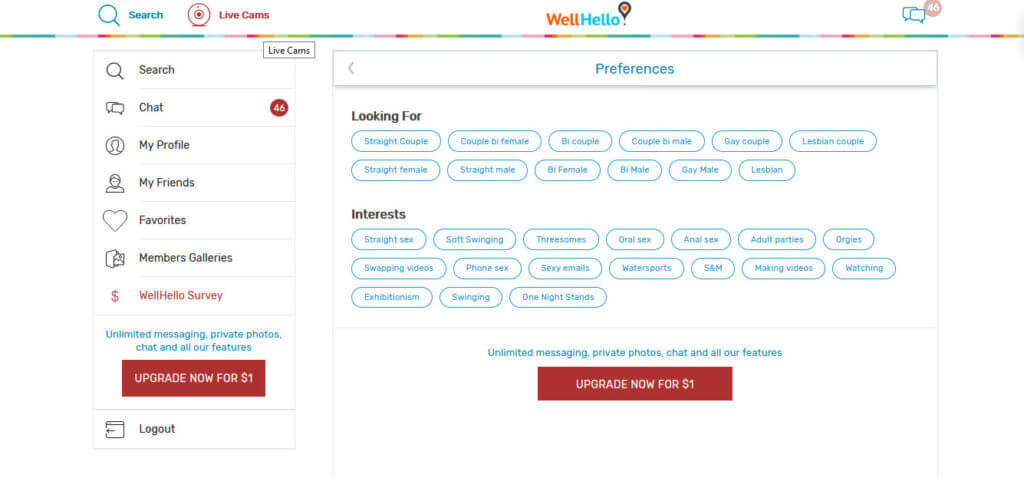 Conclusion and Overall Rating
Ok, so there are things I love about Well Hello and things I hate.
It's such a well-designed site and that makes it not only easy to use but fun also.
The constant messaging, however, even before you've completed your profile is probably fake.
While I don't mind the messaging, it's the fact that they pop up on the left-hand side of the screen and have to be close by clicking on an (x) that becomes annoying.
Especially when you get 10 of them in five minutes.
I've mentioned throughout this review that there are fake profiles on the site and if you read the terms and conditions, it's pretty much confirmed that some are run by the staff of Well Hello.
It's all about trying to get you to sign up for membership.
And for me, if a site provides quality matchups, and there certainly are on this site, then that will do the selling for you.
Yes, I was able to find excellent matchups that had plenty of potential and they were near me as well.
That's because Well Hello is a very popular dating site.
It doesn't need staff to try and message you.
In terms of features, well they not that brilliant but for the price you pay for membership, they are par for the course.
And I love that if you'd prefer to pay $1 for a day's access to the site, you can.
That's one real plus point for me.
So what rating does Well Hello get today then?
Well, it gets 3 out of 5.
It's worth trying out in my book but it really could be better without the constant harassment because ultimately, all that fake messaging is exactly that.
Frequently Asked Questions