Cougar dating sites are all over the internet.
Just type in cougar dating services into Google and you will get page return upon page return of dating sites where older women are looking to date younger men.
And vice versa of course!
This isn't just a one-way online dating street.
OFL Top Recommendations based on 100,000+ Survey

"Serious Relationships"
"Discreet Hookups"
"Best Course for Men"
"Quick Flings"
"Normal Hookups"
"Our Quiz"
Sure, you can look for cougars while using regular online dating services such as Tinder, OkCupid, eHarmony, AdultFriendFinder, BeNaughty, Ashley Madison, or others for your mature dating, but why would you?
It just makes sense for mature women and young men to rather use online dating sites that cater exactly to what they are looking for instead.
Today, we specifically look at LuvCougar.com and see if it is one of the best cougar sites around, one where you can live the cougar life.
As we assess and evaluate what it has to offer, we will examine the following:
So let's get this review of LuvCougar started then and analyze just what this adult dating site is all about.
Cougarlife.com is running a deal right now, and we suggest that you don't miss out on this limited offer. It's the biggest Cougar/Cub site online.
Is your dating app giving you the best chance for success?
Make sure to take our online dating site/app quiz to find out.
It's a fact that people who follow our dating site suggestions have on average 2 extra dates per month.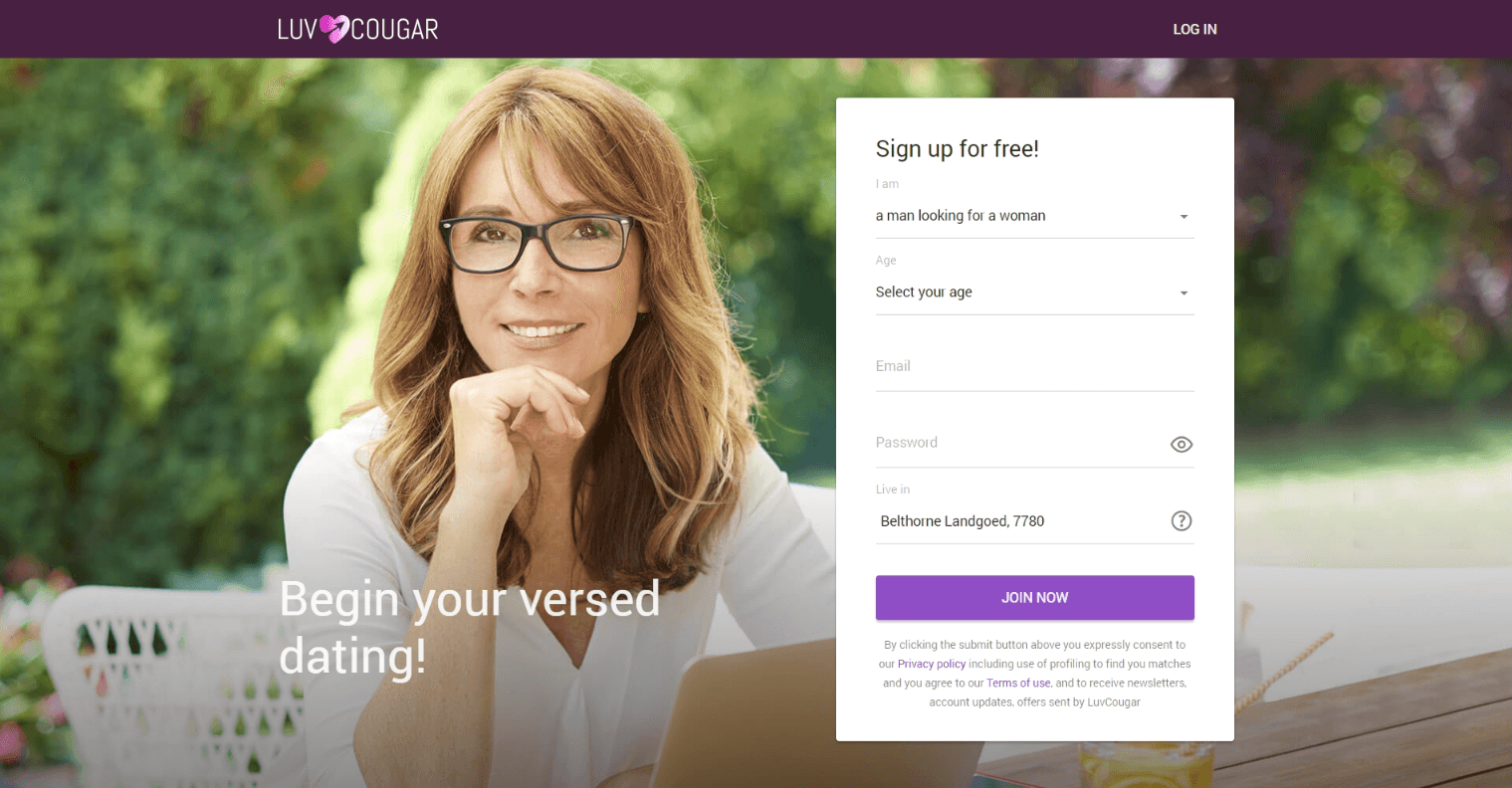 Ease of Use 4/5
Effectiveness – 2/5
Key Features – 3/5
Pricing – 3/5
Simple registration and profile creation
Matches are provided for you the moment you log in for the first time
Various membership payment options
The user base is still small but it is growing
Automated messaging from the site using other users' profiles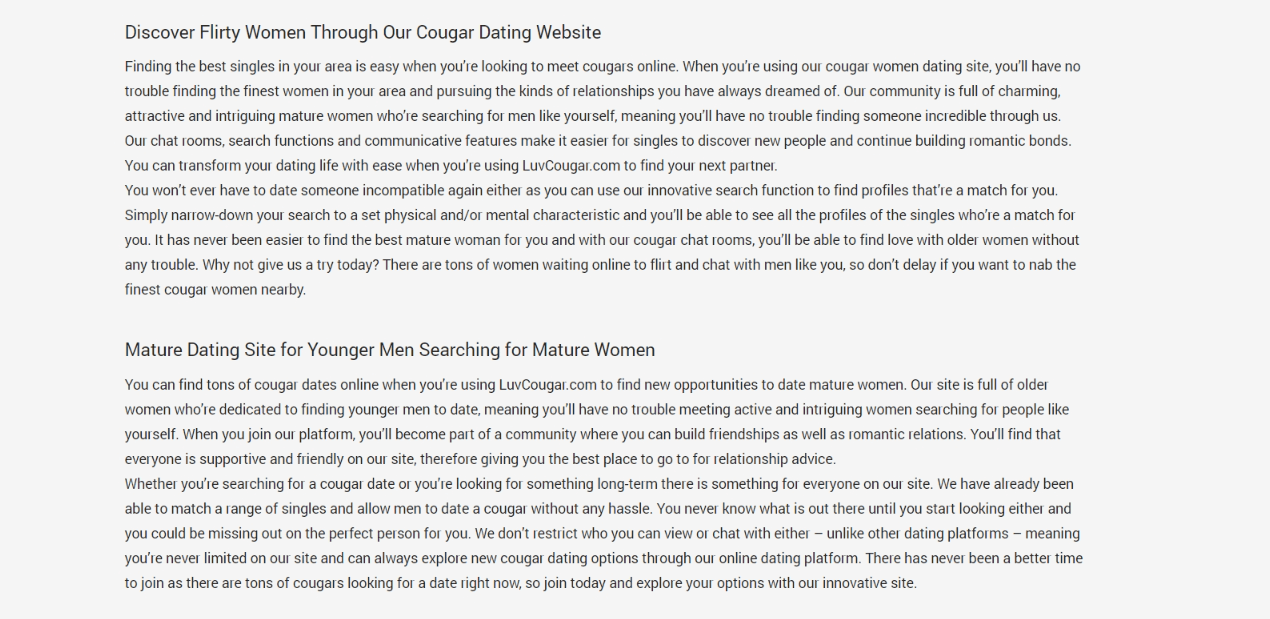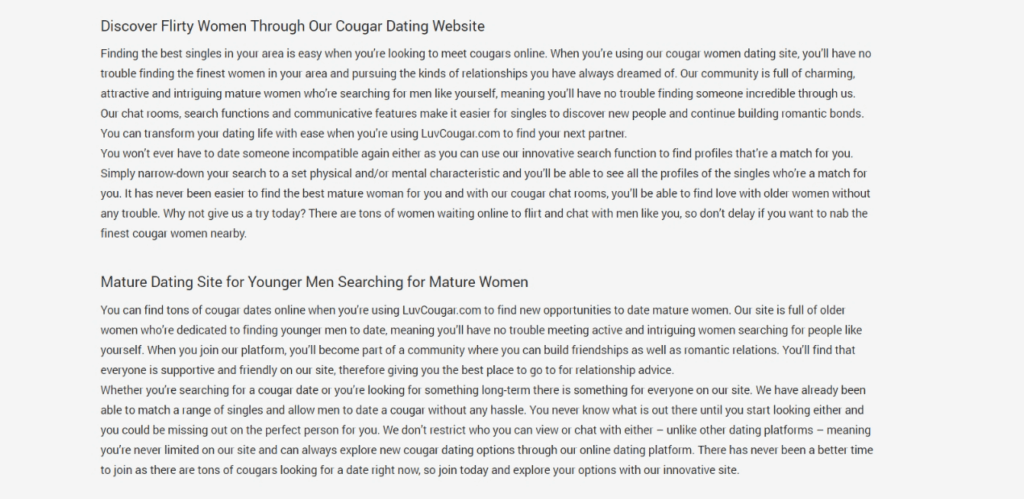 Who's It For/Demographics?
So while there is no restriction as to who can sign up to use LuvCougar – dating sites, even niche ones, don't do that – it's obvious who it is aimed at.
OFL Top Recommendations based on 100,000+ Survey

"Serious Relationships"
"Discreet Hookups"
"Best Course for Men"
"Quick Flings"
"Normal Hookups"
"Our Quiz"
Older women – comprising of cougars but milfs too – and younger men.
That's the number one target here.
These two groups aren't looking to get together with marriage in mind either.
No, it's all about a date hookup, finding someone to get down and dirty with, and certainly not someone that's going to be your soulmate.
I guess, however, from time to time, that's bound to happen, however.
Now that we've cleared that up, let's look at the number of users you are going to find here.
All the best dating sites have one thing in common and that's a strong user-based.
That's why any dating sites review will generally start with the demographics behind the site.
Sadly, the ones who run LoveCougar certainly keep their cards close to their chest.
There's no bragging about user numbers anywhere on their page.
Much digging online brought up nothing either which isn't ideal.
But from my time on the site, matchups were to be found, even though I don't live in a massive city like New York.
Obviously, if you do, that's going to benefit you more than living in a small town.
But with a simple registration process, there is literally nothing stopping you from starting an account and seeing the type of matchups you can find near your location.
When it comes to age ranges, the majority of women on the site are between the ages of 35 and upwards (obviously, because they are cougars or milfs).
The male users of the site are generally between 18 and 25 years old but sometimes a little older too.
While I wasn't able to get a breakdown on the user gender ratio either, it seems like more males have registered for profiles than females.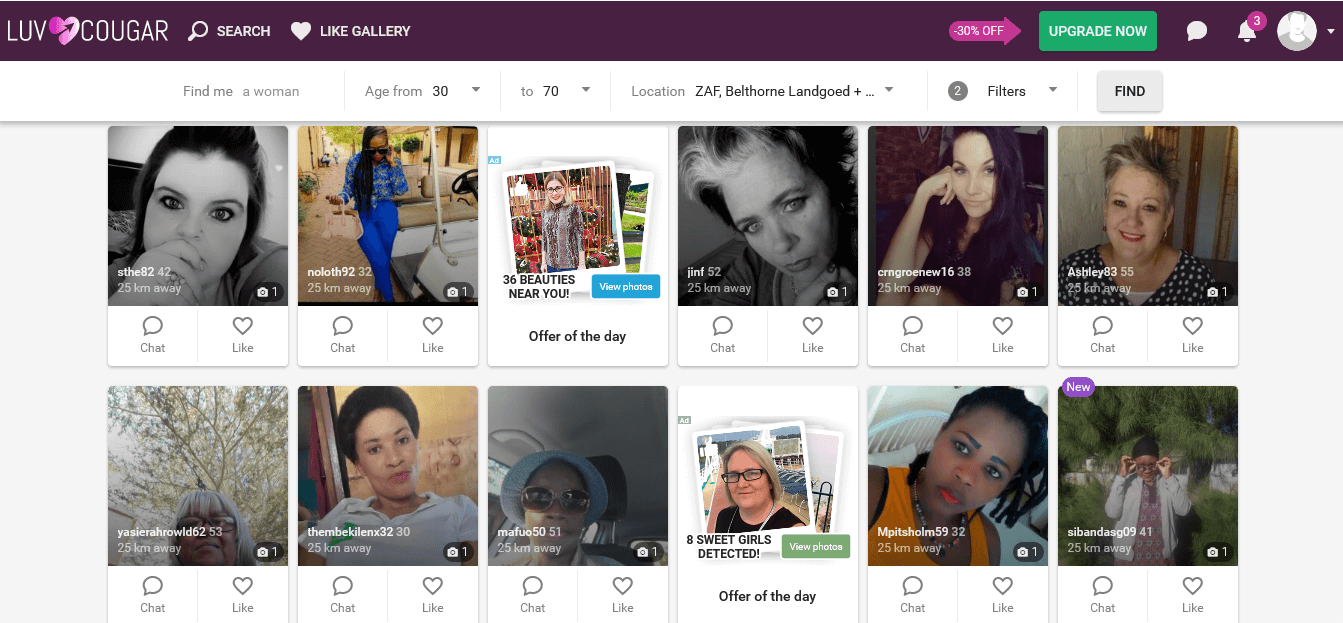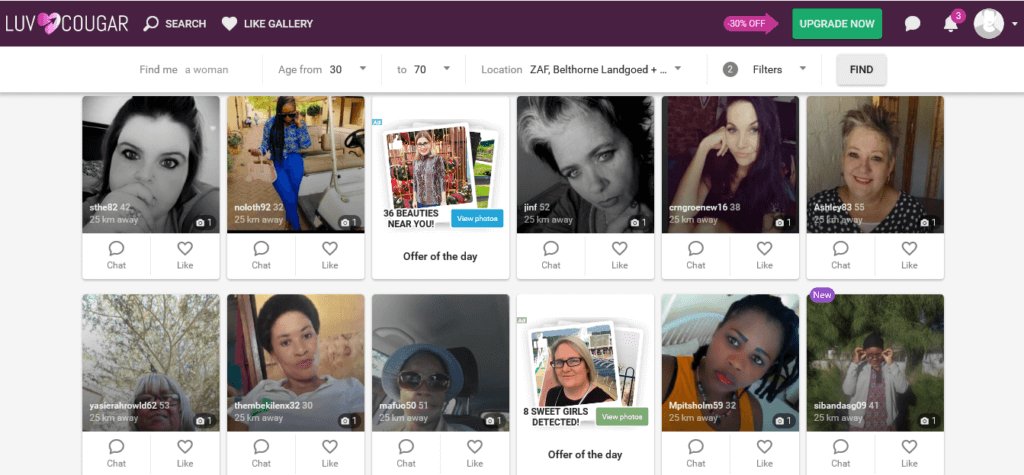 While it does offer a mobile view, there is no app for LuvCougar, neither for Android or IOS handsets.
To be honest, I wouldn't register on my phone with a mobile view either.
While it's fine for browsing through profiles, I think you are best completing the registration process on the website using a laptop.
With some websites, you will have to set aside a fair few minutes to get the registration process completed.
Here, however, it is relatively simple.
To start, you can select your gender and the gender you want to meet, your age, a valid email address, your password, and your location (which should be filled in already thanks to Google).
You will notice that LuvCougar does have LGBTQ options.
That's because cougars and those they want to date can be lesbian but you'd probably find them using more specialized niche dating sites for that.
But yes, the option is available.
Once you have provided that information, you will have to go to your email to either click on a link in it or get a code from it to input on the site.
This is an authorization step to help stop people from creating scam accounts.
While it's probably not very good in doing so, at least if they do want to create a fake profile, they are going to need a valid email address.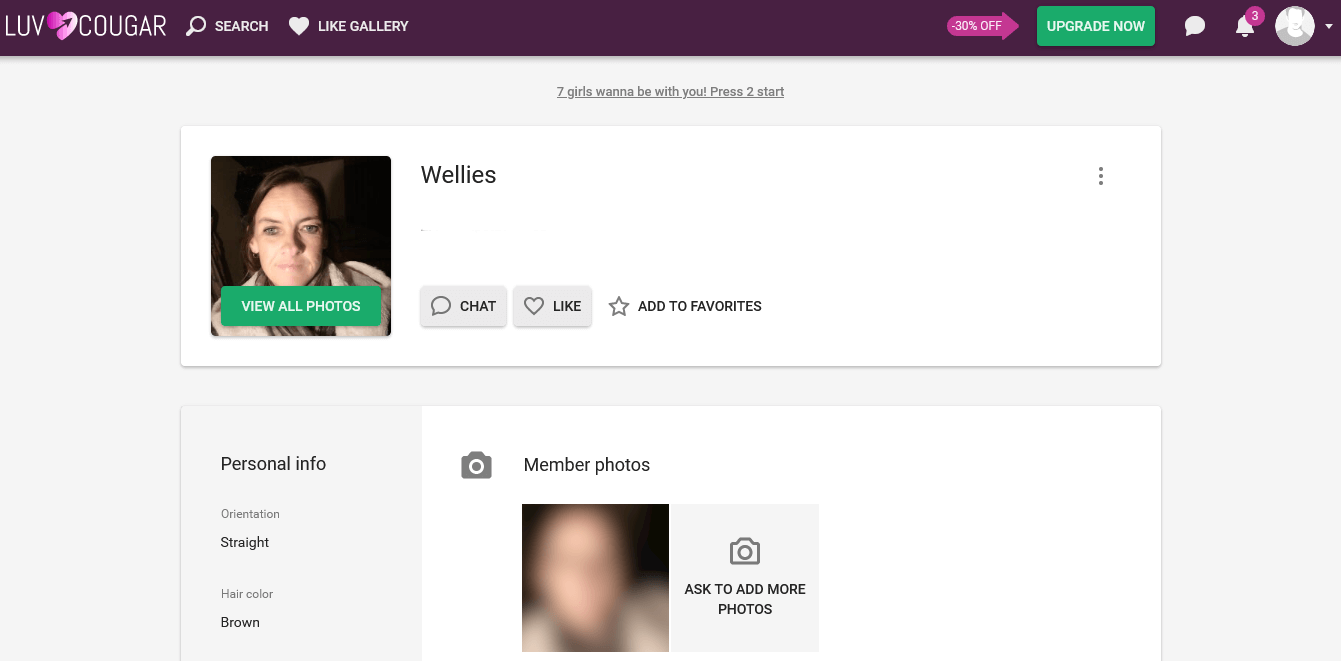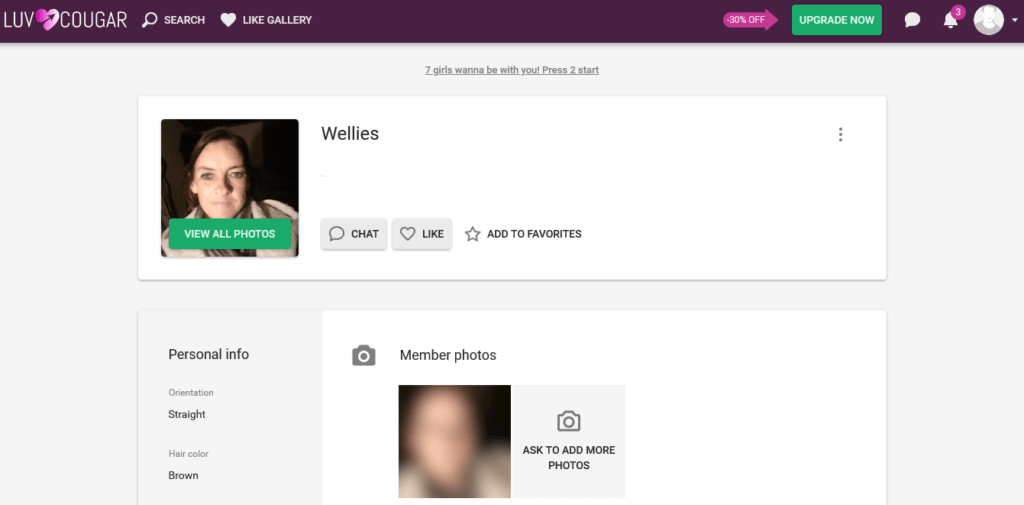 Finishing your profile on LuvCougar
Before you've gained full access to the site, LuvCougar takes you through a few steps that help you to get your profile started on the site.
It starts with your profile picture.
And the stats are there in black and white because according to LuvCougar, users with profile pictures get twice as many messages.
I was also able to get more of a handle on user numbers in the fact that the site says that around 80000 users have profile pictures.
Obviously, that's not counting those that don't I wouldn't say they would reach that number.
Next up is a chance to share some more information about yourself.
This includes the following:
A screen or user name
A status update (this is like a profile header)
Appearance parameters (body type, hair and eye color)
Your ethnic origin
If you have tattoos
You can also promote your account at this point.
This means the site itself will add you to other users' favorites, send promotional messages and like matchups on your behalf.
While some people might be fine with this, I skipped it.
Why?
Well, who knows what the messages say?
Ultimately, they are pre-generated and aren't from you.
For me, it would be a terrible idea to let the site handle this so uncheck the box if you don't want them to.
After you've done that, you can access the site for the first time.
While it will immediately show you cougars or young men near your location, your profile isn't finished.
So perhaps take five minutes to get that out of the way.
Just click on your profile picture to access it.
There are two specific sections to your profile
Personal info: This includes information you filled in previously
Additional info: This also includes information you filled in previously but there are a few more areas to add.
The extra sections you can add under additional information is:
If you have piercings
If you drink
If you smoke
Your income range
Your level of education
Your weight and height
If you have or want children
Where you live (alone, with others, etc.)
Your religious beliefs
Again, this won't take more than a few minutes to complete.
If you'd like to you can add a video to your profile or upload more pictures.
And that's it for your profile.
Quick and simple, right.
Now it's time to get to know the site a little better.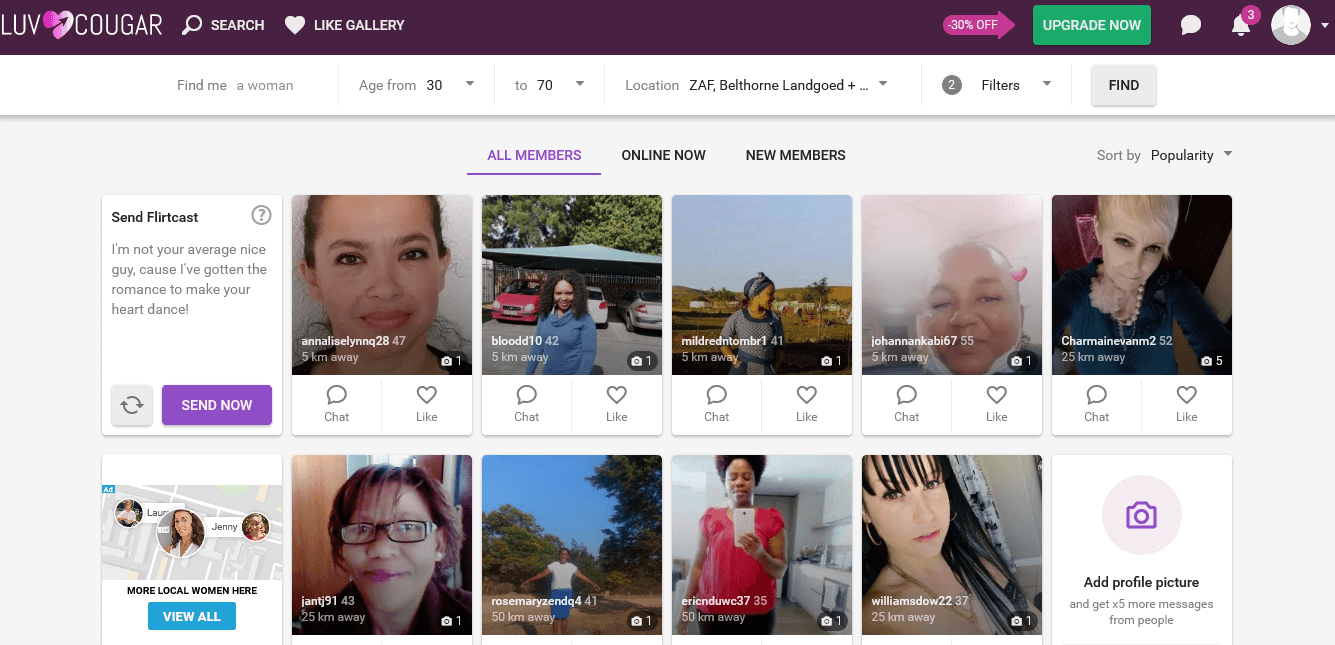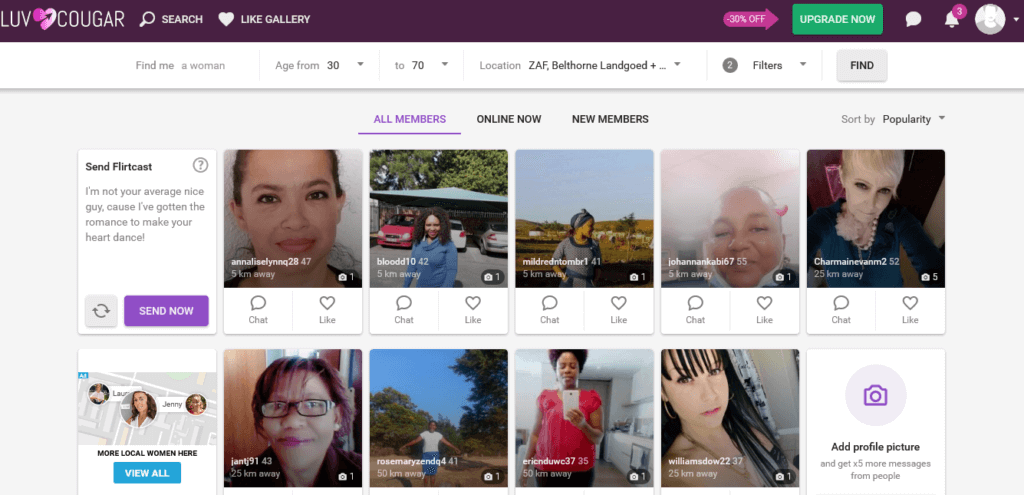 LuvCougar really couldn't be any easier to use, that's for sure.
This is a site that is not only good to look at but so easy to use too.
It's not like some dating sites that hide critical tools in menus behind menus.
This just uses a simple system that works.
To go back to the main page at any time, simply click the LuvCougar logo that you will find on the top left of the screen.
This is the same as clicking the Search menu you will see at the top of the screen.
What this does is provide you with users that have signed up for the site and who are near your location.
Useful, right?
We will get back into these profiles a little later in the review but for now, let's take about all the other menus and icons that you will use to navigate LuvCougar.
They are:
Search: We've discussed this but it's the menu you will come back to time and time again
Like Gallery: This presents potential matchups individually. We will discuss it in a bit more detail later in the review
Speech bubble icon: When you see a notification appear here, you know you have received a message. Click the icon to read it.
Bell icon: This is just a notification icon and will indicate various things you should be paying attention to.
Your profile picture: Here is where you can access your profile, settings for LuvCougar, check activity on your profile, access the help center and more.
Not a lot of menus, right?
It just makes finding your way around that much easier.
But what about finding the right kind of matchup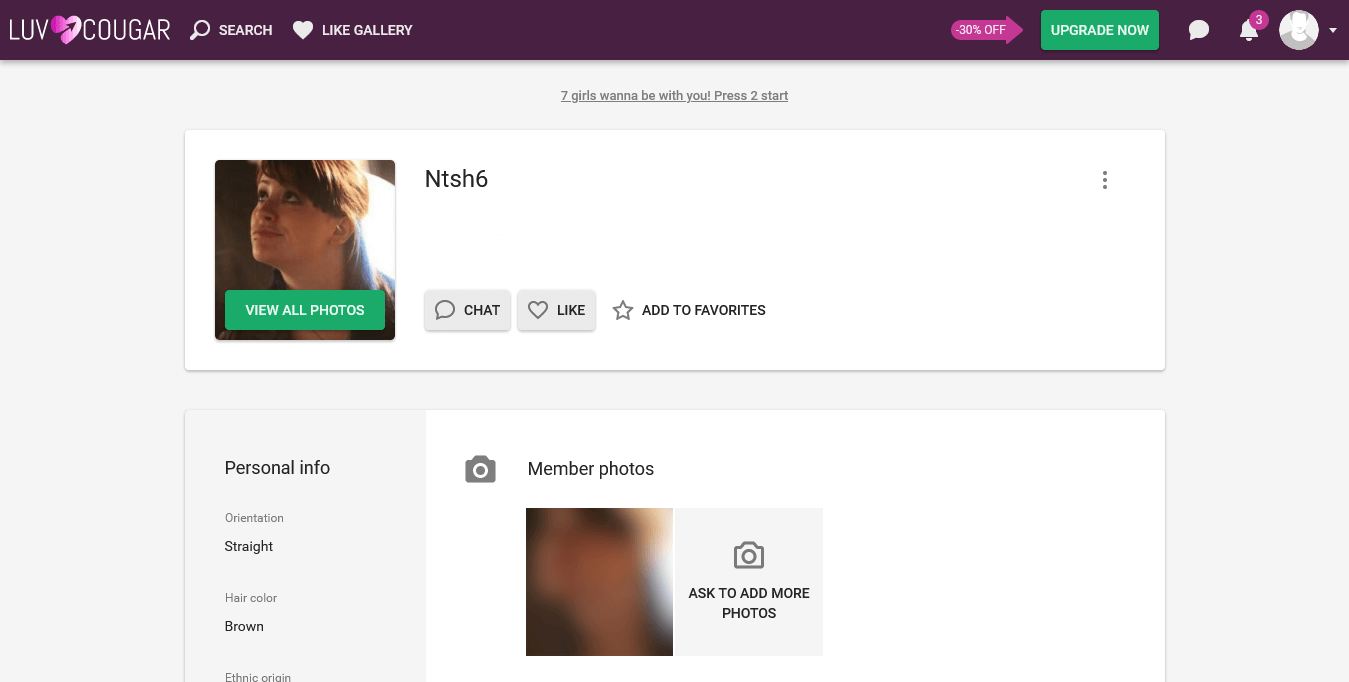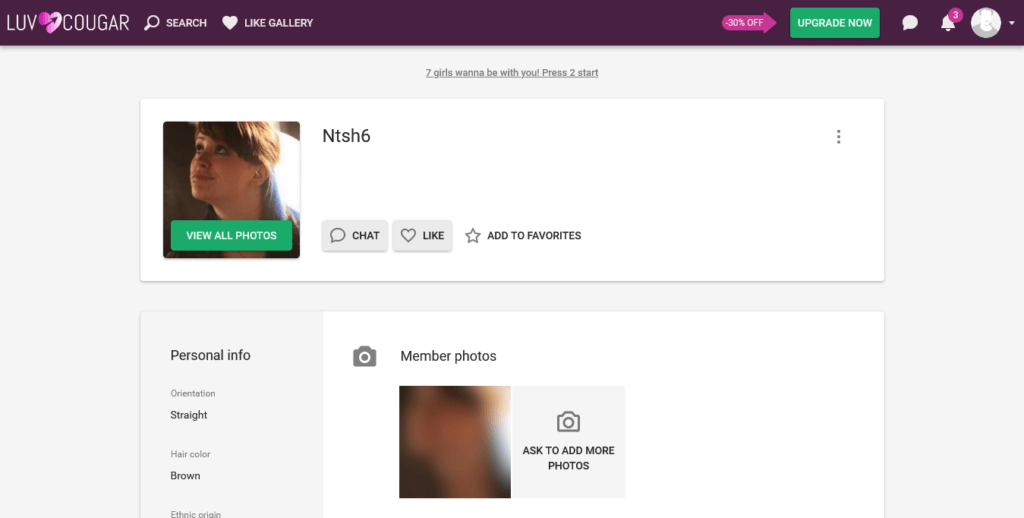 I am a big fan of the way that LuvCougar presents their matchups.
You can easily view the profile pictures of each user as they are fairly big on the screen.
They are also shown in rows of five at a time, so you can easily scroll through them and find those that immediately stand out to you based on their profile picture.
That's going to be the major drawcard first up, right?
One thing you will notice on the search screen is the fact that you have three ways of displaying other users:
All members: Well, technically it's not all but more those that fit with your preferred parameters, for example, age range. Remember this can be set in your profile.
Online now: If you are desperate to try to talk to someone now, then only target those who are online by clicking this tab. It's useful, but you might just miss out on the best potential matchup who isn't online at that moment.
New members: This is particularly useful when you have used the site for some time and want to only see the new members that have joined up recently. It just means you don't have to scroll through profiles of others users you've already seen before and who don't interest you.
Lastly, before I start talking about setting your own search parameters, you can also adjust how matchups are presented using the "Sort By" option located on the right-hand side of the screen.
Once you've decided on All, Online, or New Members, you can then sort them further by:
Popularity
Last activity
Distance
Age
The two most critical out of these four options are distance and last activity.
If you anything like I am, you want matchups that are not only close to you but are active on the site and didn't last log-in a few years ago.
Lastly, I just want to take about the Like Galley.
While not a favorite of mine I can quite see why people use something like this to look through matchups.
That's because it provides you with a roulette-style way of presenting them, one on one.
Try it out and see if it works for you.
Using parameter searches on LuvCougar
It's all good and well with a website providing you with matchups but what if you want to look for your own.
Well, that's easily done by using the search bar you will see at the top of the matchup screen.
The obvious parameters are here for you to change including:
You can also add filters of your own which takes into account various parameters from user profiles.
There are nine in total and they include:
If the user must have a profile pic or not
If they must have a profile video or not
Sexual orientation
Tattoos or piercings
Eye and hair color
Ethnicity
Body type
It's not that many parameters, certainly as much as other websites give but then again, profiles on LuvCougar aren't packed with that much information.
For me, there are enough parameters to help you refine your searches just enough.
But can you messaging them once you've found the perfect one?
Well, in a way, yes.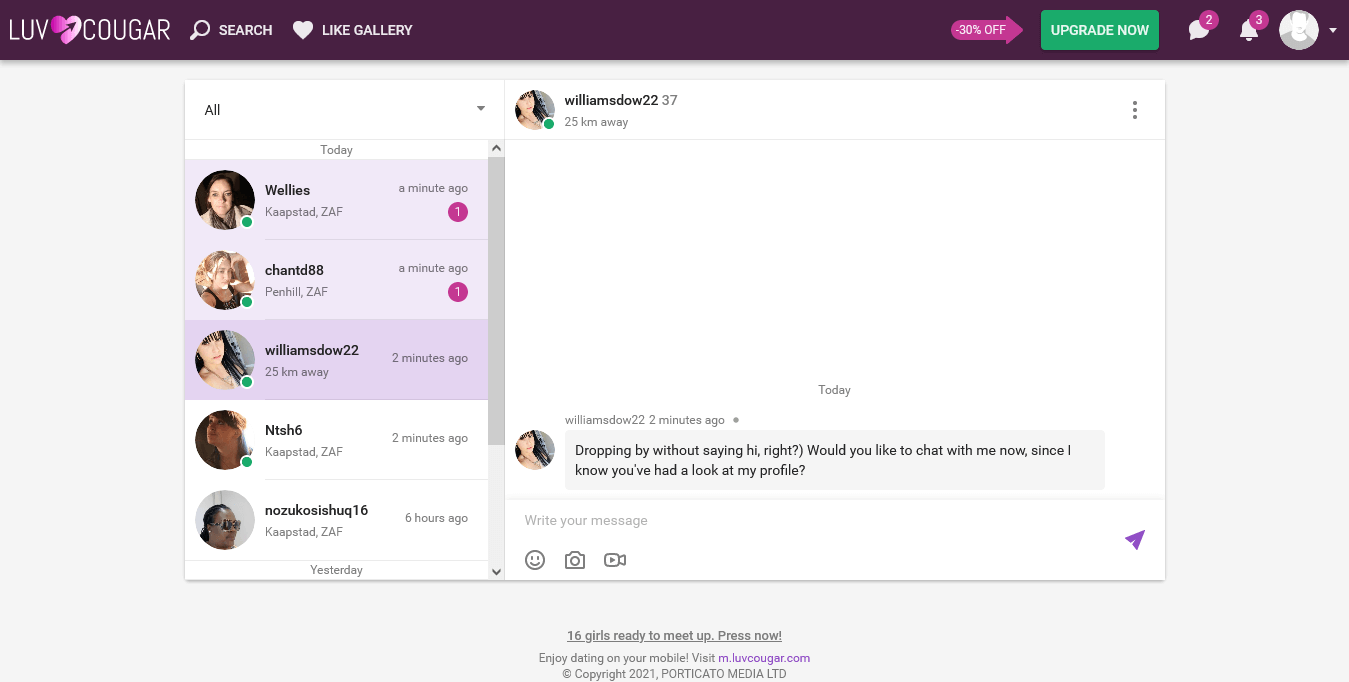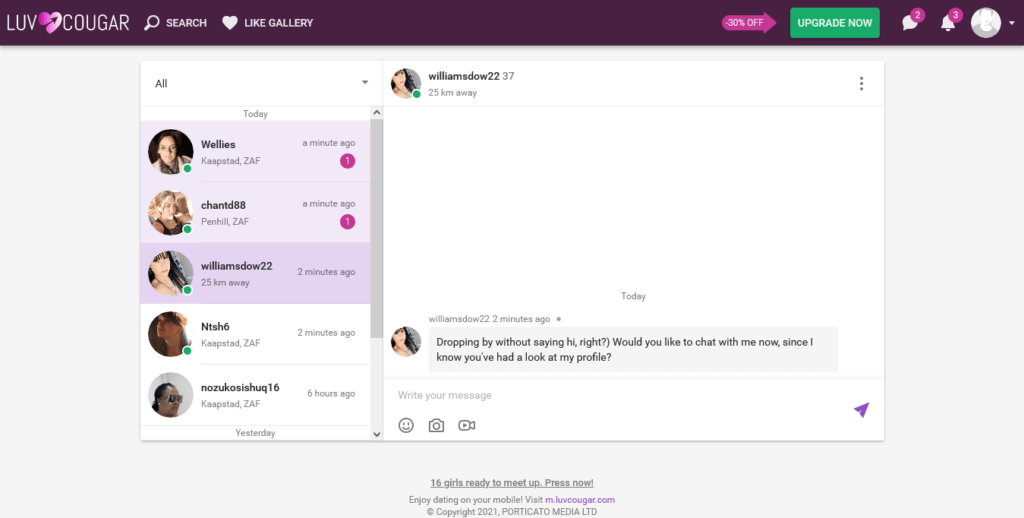 Reaching out to others on LuvCougar
So messaging is not free on LuvCougar.
It's a perk for members only.
But there is some good news.
And that's the fact that you can try out the messaging features as a free user.
Yes, all new users will receive five free messages.
There is a catch, however and let me clarify what it is.
These can only be sent messages and not one where you reply to someone who has sent you a message.
So effectively, you can send a message to someone but if they reply, you cannot reply to them.
Why not just make it five free messages and include replies in that as well.
For me, that's one thing about the free messaging they can improve so you can at least talk to one individual using a few messages more than your initial one.
But that's how it is I guess.
Messaging takes the form of a conversation window and LuvCougar uses an instant messaging system over the email messages so many other dating sites choose.
The last thing I want to mention here is a broadcast that all users can send to others.
This is a pre-generated message that you can choose that all other users in your vicinity will receive.
It's a pretty good idea to use it when you first join up with the site as a way to announce yourself.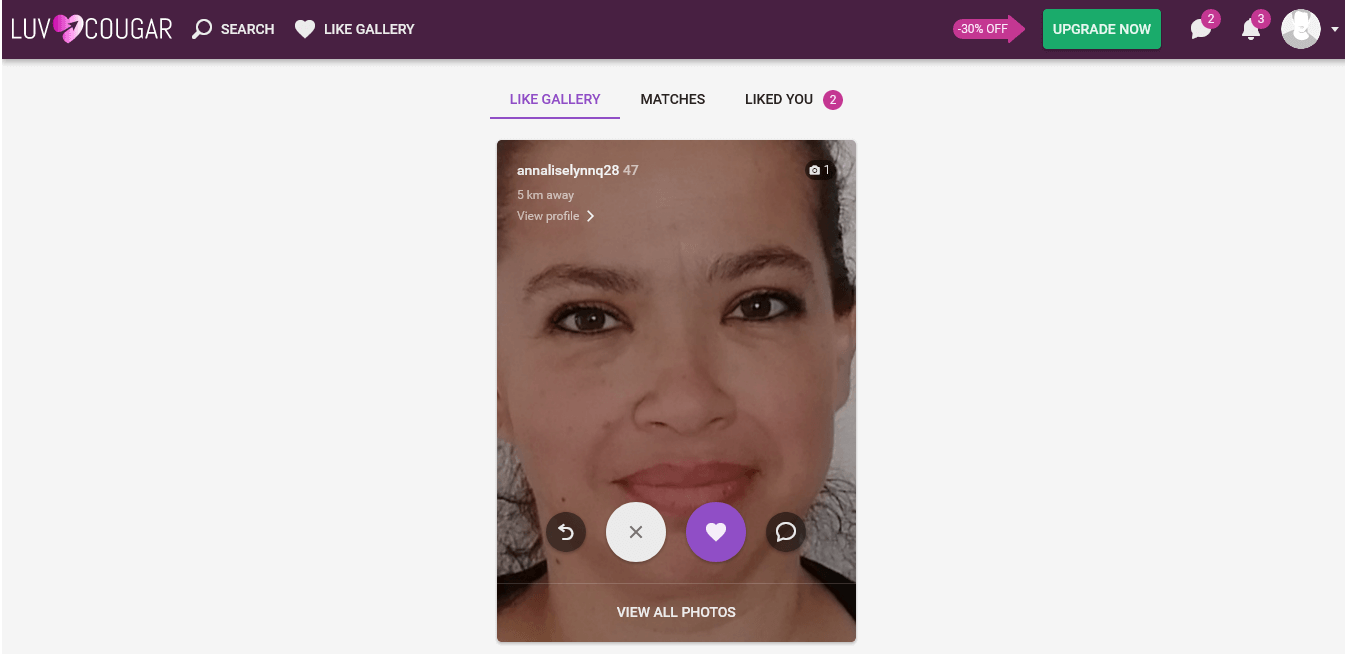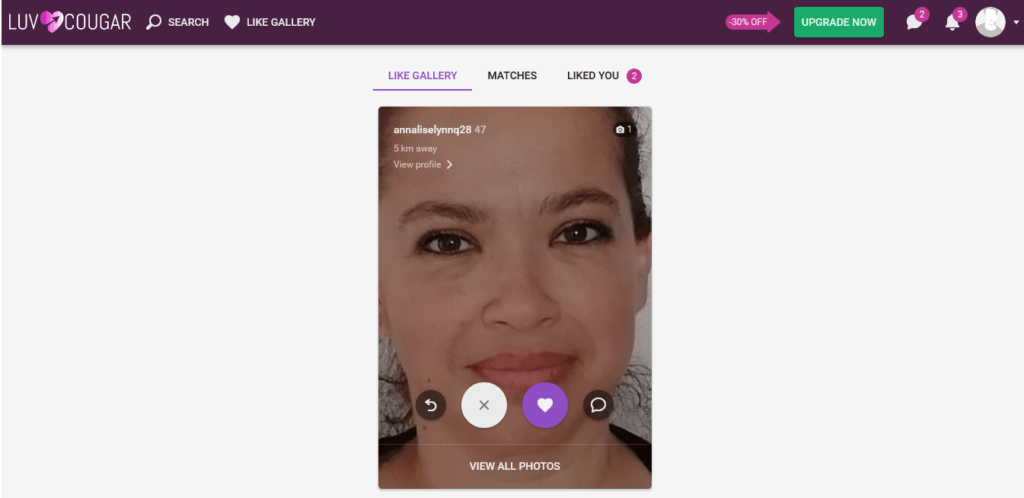 Obviously, if you do choose to sign up for membership, you'd expect that for your cash, you won't only be able to send messages.
And yes, that's right.
For those who choose to become members of LuvCougar, there are a fair few extra that your dollars will bring.
One of the most annoying things for me about this site was the fact that if you click on a user profile photo, you won't see it in full size.
Instead, you will be whisked away to the membership upgrade page and urged to sign up.
That's because only members of LuvCougar can see the photos of other users in full size.
This is not only their profile picture but any that you come across on their profile as well.
With online dating being such a visual activity, seeing these photos in full size is a must for me.
It's just that other dating sites don't let you pay for that.
As a member, you can be guaranteed support 24/7.
So if you have a query with a credit card payment, or if someone is harassing you on the site, you can easily contact the LuvCougar support team to help you sort out the situation.
They won't give dating tips, however, that's for you to figure out.
3. Know exactly what other users want in a relationship
As a member, when you click on a users' profile, you can see what type of relationship they want.
This is more suited to a general dating site, however, because, on one that's all about cougars, the answer is pretty obvious for most.
Members will receive more search results and matchup returns than a regular user sees.
That opens up more possibilities and more people to chat to.
Lastly, when chatting to other users, you can share media in the chat with them.
This is not only photos but includes videos as well.
For me, this is a pretty useful feature and not something that many other dating sites offer.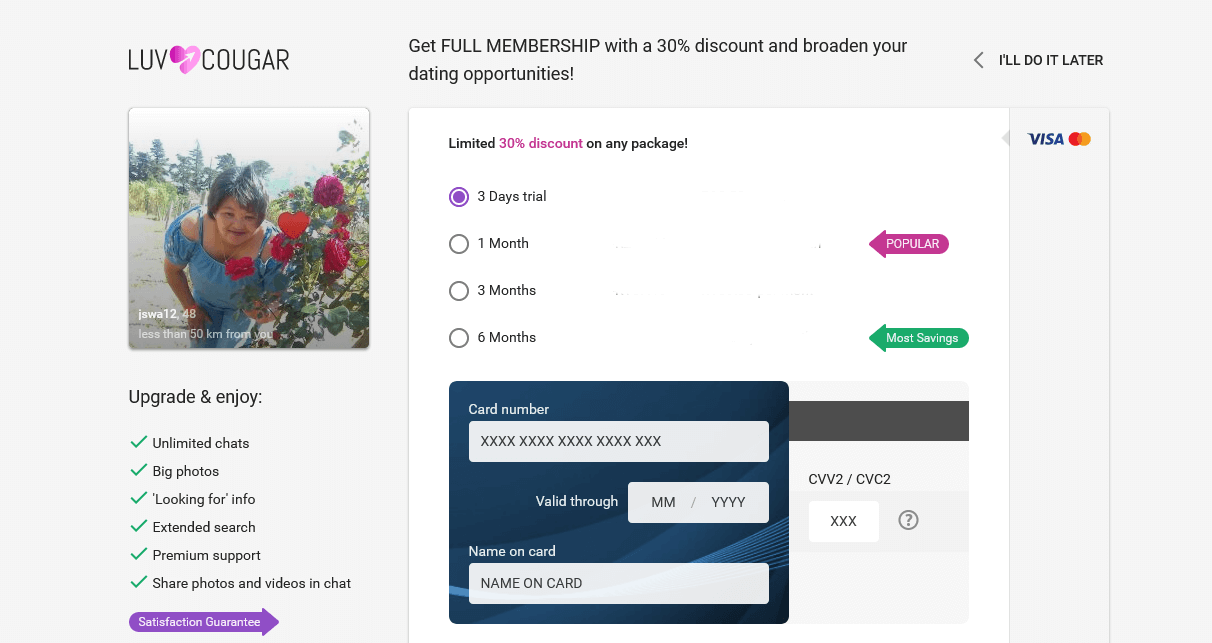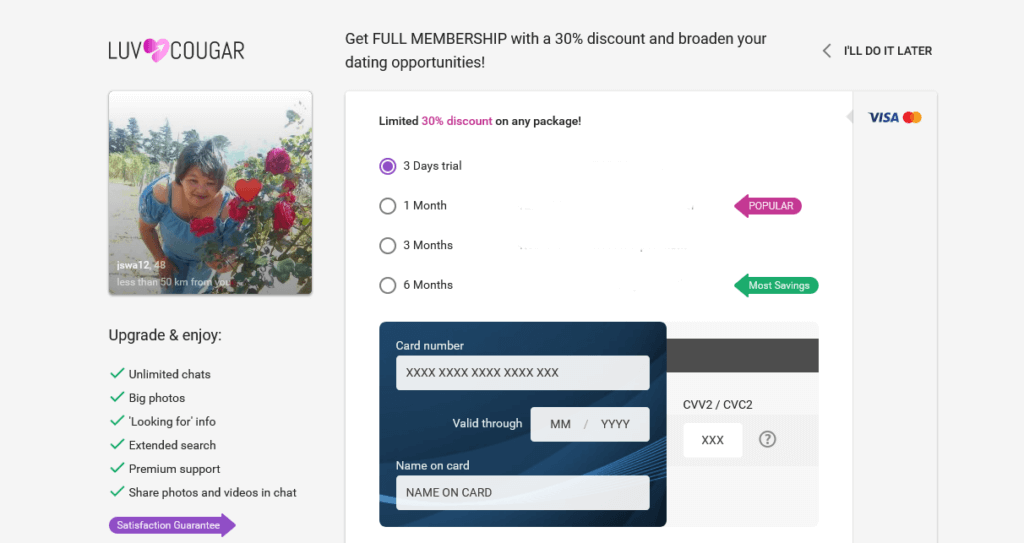 Let's talk about the pricing of the various membership packages that LuvCougar offers.
I can confirm that they have several packages including one day, one week, one month and three month options.
These do change from time to time but here's the pricing listed in the time I was using the site.
1-day: $0.99
1-week: $7.00
1-month: $29.99
3-months: $49.99
If you are lucky enough to see a day membership, that might be the best place to start to test just how well LuvCougar can work for you.
But on the whole, pricing is pretty much on par with rival cougar dating sites and cheaper than some of them too.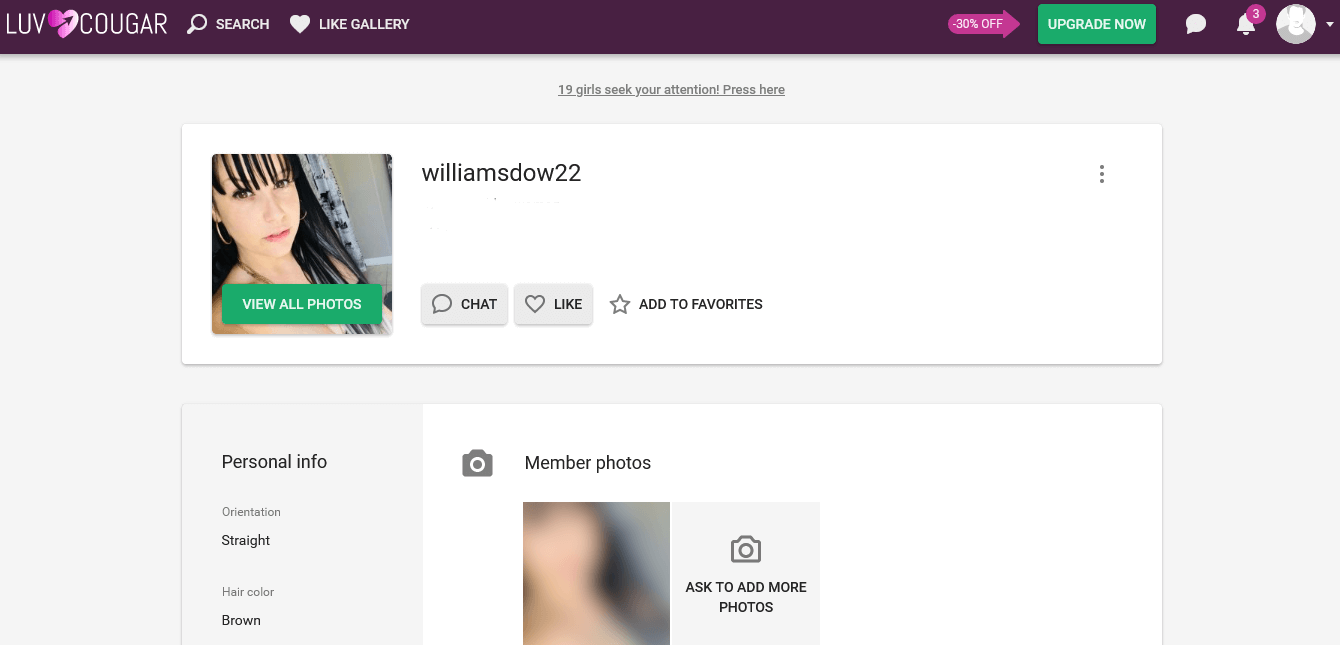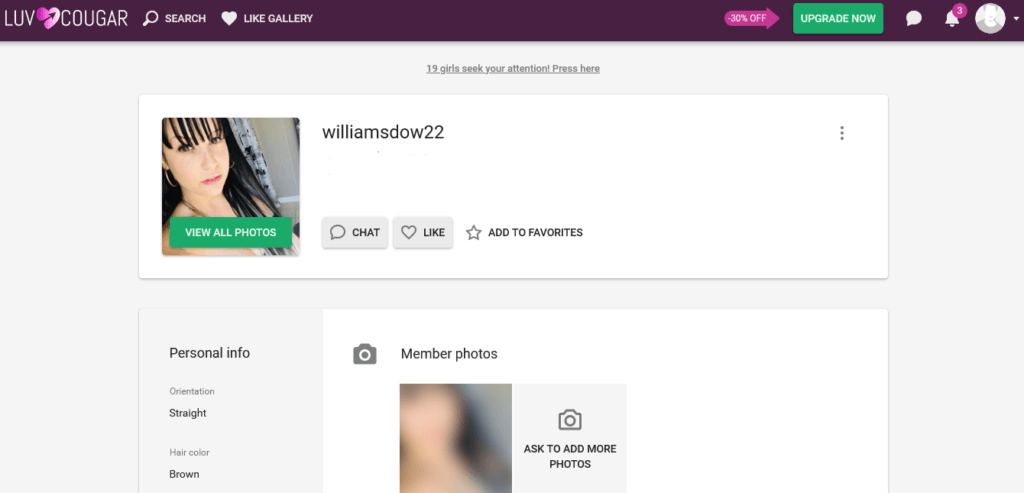 Conclusion and Overall Rating
Our LuvCougar.com review has come to an end.
Is this a site that you should be trying out?
Well, because registration is free and you can be online in a couple of minutes seeing what it has to offer, then my answer is 'Yes, why not?'
It's not the biggest cougar dating site on the planet but in the few years it has been around, LuvCougar has grown and I estimate the user base to be well over 100000 users.
That means, if you live in a metropolitan area, it's more likely to work for you but that stands to reason, right?
While pricing is a little expensive, LuvCougar often runs specials, so perhaps you could sign-up when you see those.
As for features, there are a few useful ones and others that rival dating sites don't have behind a paywall, but each to their own I guess.
So how much does LuvCougar get as a rating then?
Well, it scores 3 out of 5.
Our comprehensive review of LuvCougar was put together by the team at Onlineforlove who spent weeks studying what it has to offer.
Our approach during the review was to identify key criteria by which to score the site overall.
These key criteria took into account, user registration, how user-friendly the site is and how it operates, the quality of the profiles, and how effective the search engine is.
Our overall evaluation also focused on membership pricing, the success rate in matchups, how many users it has, and the features it offers.