The world's largest social sex network?
Or just a hookup site filled with bots, fake profiles, and scams?
In today's review of SocialSex.com, we look into a site that's been around the online dating scene since 2012.
Similar to other hookup dating websites like BeNaughty or Ashley Madison, most of the people who join SocialSex are looking for online hookups for casual sex mainly. They are not looking for long-term relationships, like on Tinder or eHarmony.
OFL Top Recommendations based on 100,000+ Survey

"Serious Relationships"
"Discreet Hookups"
"Best Course for Men"
"Quick Flings"
"Normal Hookups"
"Our Quiz"
But you will find people who want to fulfill their BDSM, kink and other fetish needs too.
And while we assess SocialSex in full during this review, we are going to ask the following questions:
Rest assured, we evaluate SocialSex in full and report our findings at the end of this review so to give you a clear picture as to whether you should start a profile here or not.
Is your dating app giving you the best chance for success?
Make sure to take our online dating site/app quiz to find out.
It's a fact that people who follow our dating site suggestions have on average 2 extra dates per month.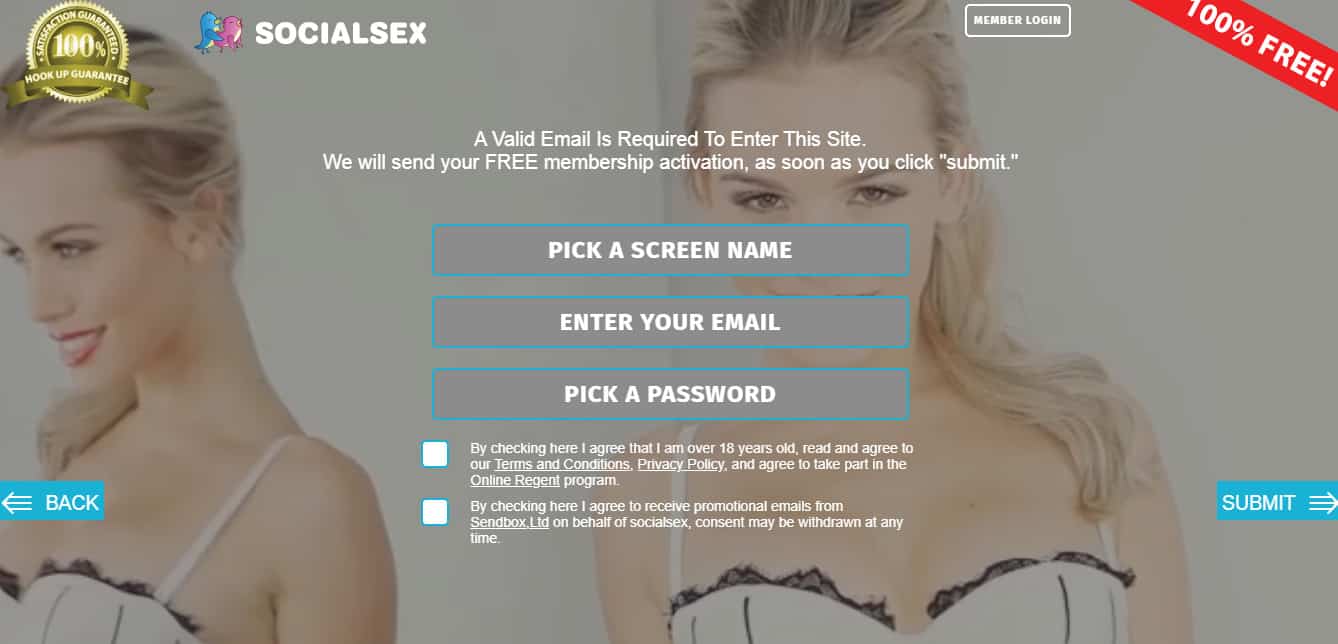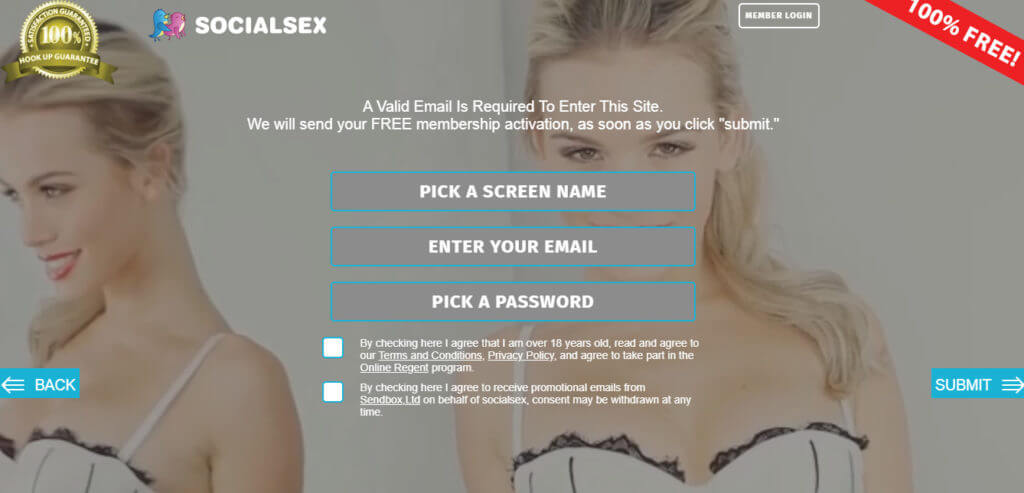 Ease of use – 2.5/5
Success rate – 2.5/5
Key features – 2/5
Price – 2.5/5
Very comprehensive profiles packed with details, more than most other hookup sites
Chat rooms for members
Excellent matchup and search options to help you find a casual partner or whatever you are looking for
The website is extremely slow
You will soon hate the fact that it continually opens other browser windows to affiliate sites when you click on various menus
It's filled with obvious fake profiles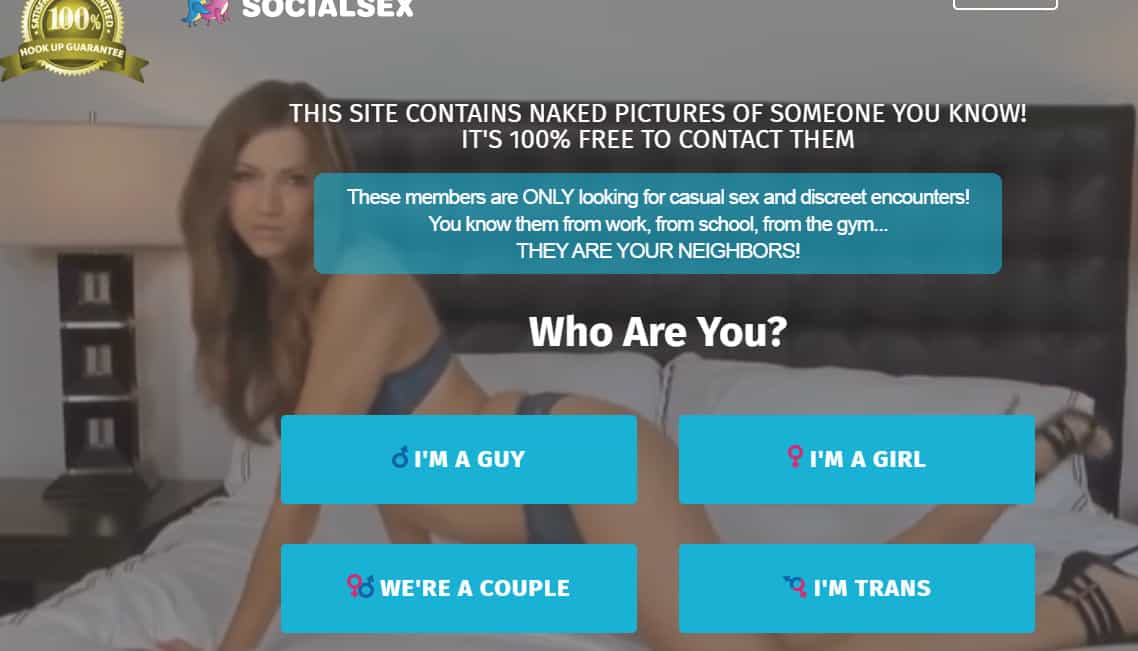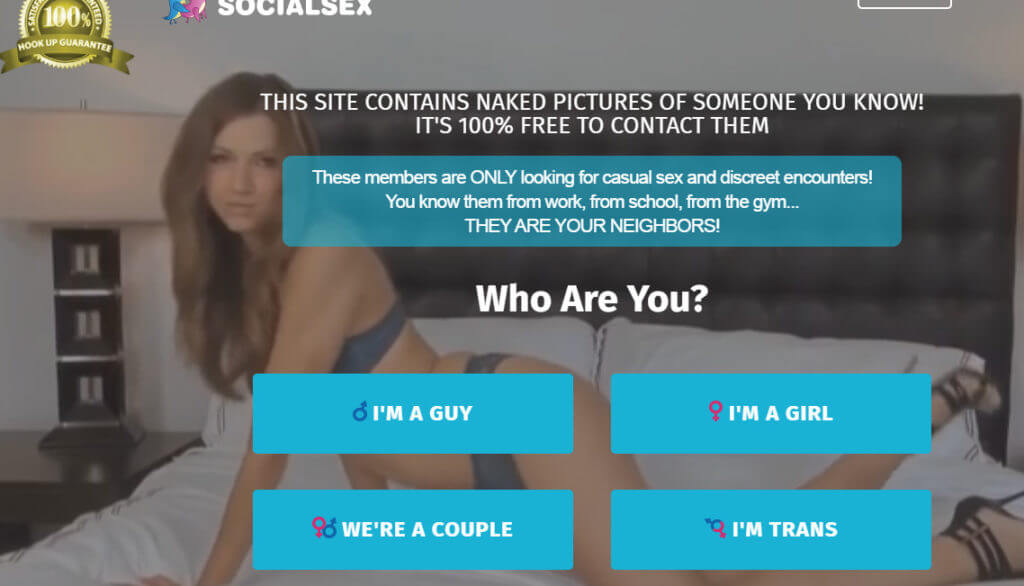 Who Is It For/Demographics?
In the introduction to this SocialSex review, I gave you a very good idea of what the site is about.
But is it for everyone?
Well, SocialSex is primarily used by heterosexuals but if you are gay or lesbian, you are more than welcome to start a profile here as well.
OFL Top Recommendations based on 100,000+ Survey

"Serious Relationships"
"Discreet Hookups"
"Best Course for Men"
"Quick Flings"
"Normal Hookups"
"Our Quiz"
What I can tell you is that it's not available in all countries, however.
As to user numbers, well it's into the millions, that's for sure.
The thing is, are they all real women and men like you and me or are their bots and fake profiles here?
Well, that's something we will look into a little later in this review.
Here are a few more facts and figures that I was able to research.
Around half a million Americans have profiles on the site
Around 35000 users are active on the site each day
That's around 250000 every week
79% of profiles on the site are men
21% of profiles on the site are women
That's a 4:1 ratio
The largest group of users are aged between 25 and 34 years old
They make up a third of the entire user base
If you compare SocialSex with other similar adult dating sites, you will find that there are many similarities from a demographic point of view.
That's especially true when it comes to the gender ratio (males always tend to dominate) and the biggest group of users by age.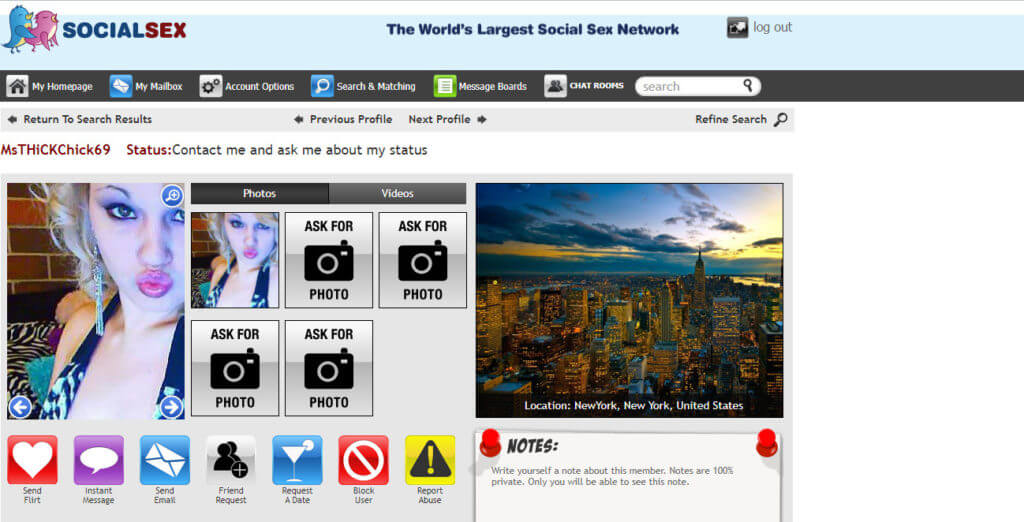 There are no apps to use to sign up for this hookup site or quick social media logins.
You've got to point your browsers to the SocialSex homepage and register the old-fashioned way.
And that means providing some critical information that will help secure your profile on the site.
This includes:
Your gender (including man, women, couple and transgender options)
The gender you are looking for (same options as above)
Your date of birth
Your location
Sexual questions (your likes and dislike for example)
Type of relationship you are looking for (discreet encounter, one night stand, friends with benefits, boyfriend/girlfriend, husband/wife, master/slave)
A headline for your profile
A section to describe yourself
A section to describe what you are looking for in a matchup
Ethnicity
Height
Body type
Marital status
Languages you speak
Username
Email address
Password
Once you've completed that, you have to wait for email verification to arrive in your inbox.
Click on the link and you gain access to the site.
Despite waiting up to 15 minutes for the email, I was forced to run the whole process again as the first email never arrived and there wasn't an option to resend it.
The second time, it did arrive within a matter of a few minutes and I could gain entry into SocialSex.
​And let me clarify, that's where the annoyances began.
Finding your way around the site
Although it's not that old of a dating site, SocialSex's design looks like something out of the early 2000s.
It's laid out in a modular fashion with the menu system easy to find at the top of the screen.
They've taken a little dig at Twitter by using a similar bird for their logo.
Well, there are two of them in fact being a little naughty.
Before we get into how the site operates, let me first confirm the menus you will find to help you navigate.
These are:
My Homepage: This returns you to the homepage where you can find matchups, access your profile, see who has viewed your profile and check site activity from other users
My Mailbox: Your messages will be found here
Search and Matching: You can launch searches of your own from here
Message Board: Yes, if you'd like to post on one of the numerous message boards available, click here.
Chat Rooms: Again, pretty old-school to be fair but chat rooms are only available to members.
You can explore the site some more as there are other secondary menus but you will keep coming back to those above.
And let me tell you, they will frustrate you.
Why?
Well first up, the site is extremely slow.
It takes a couple of seconds for anything to open once you've clicked on it.
My major critique, however, and something that those behind the site need to improve is the fact that other browser tabs open when you click on these menus from time to time.
And this will test your patience.
What they reveal are affiliate sites, paid advertisers and more.
It's extremely annoying as all you end up doing is to close browser windows that you never opened.
I understand that this probably helps the site earn income but I suggest they find a better way of going about it.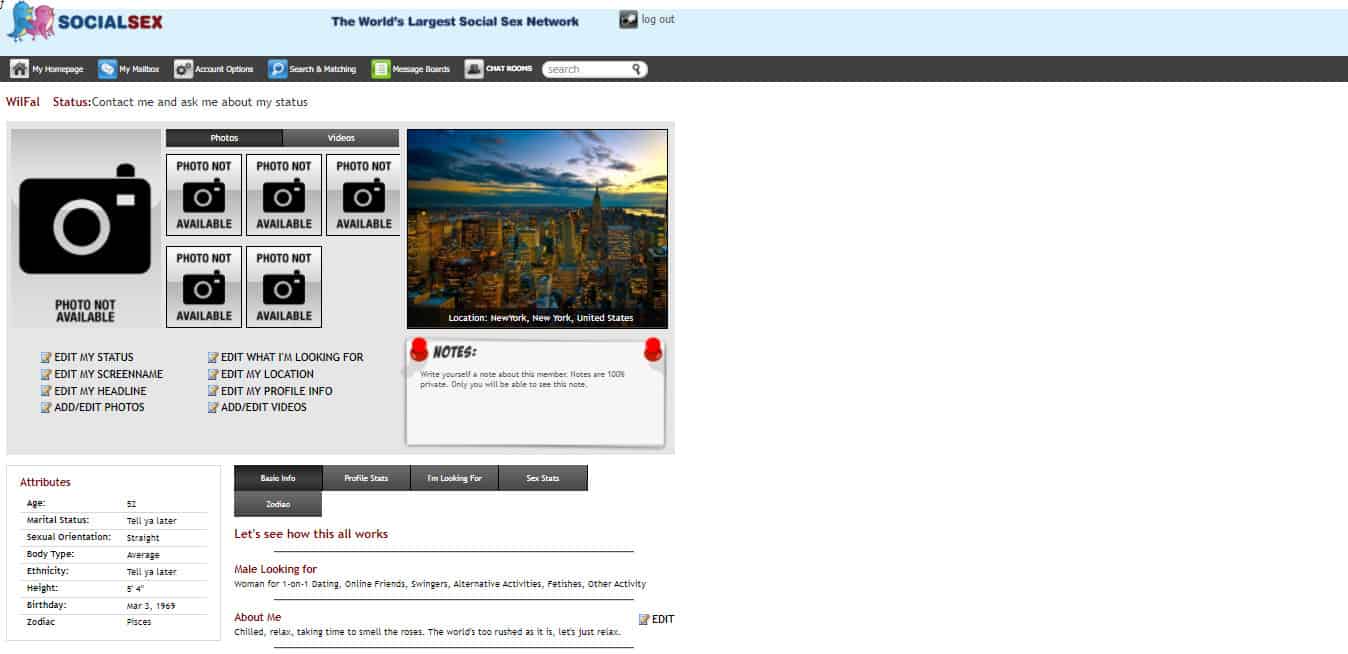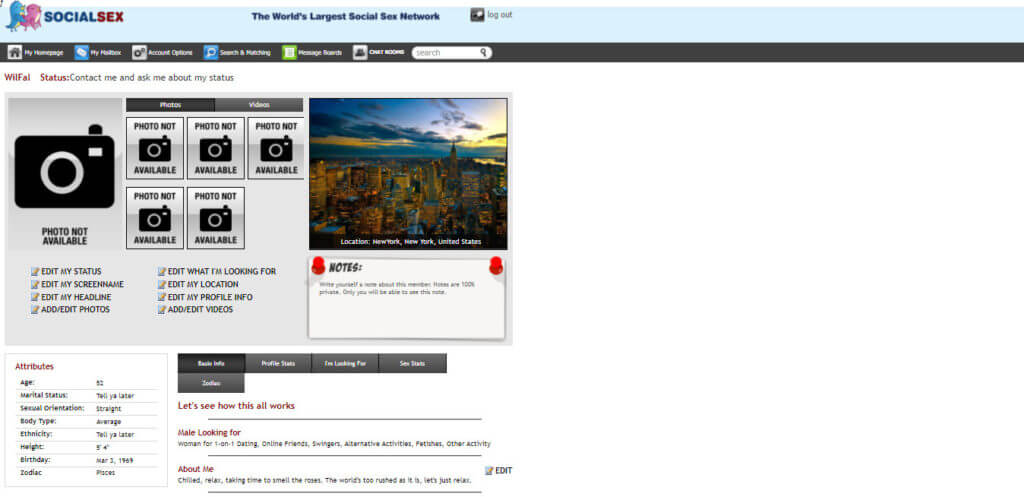 One of the things that SocialSex gets right is the user profile.
There's so much information that you can find out about someone from their profile, providing they fill it in of course.
While you would have completed some of it during the registration process, there's still much to do.
Your profile is split into four main sections:
Basic information
Profile stats
I'm looking for
Sex stats
Zodiac
This features a huge amount of information for you to fill in.
It will take you a good 20 minutes to do so.
It's worth it though because in using the site, many of the users I looked through has filled in much of their profiles.
The ones that didn't often had supermodel looks and to me, they immediately stood out as possible fake profiles.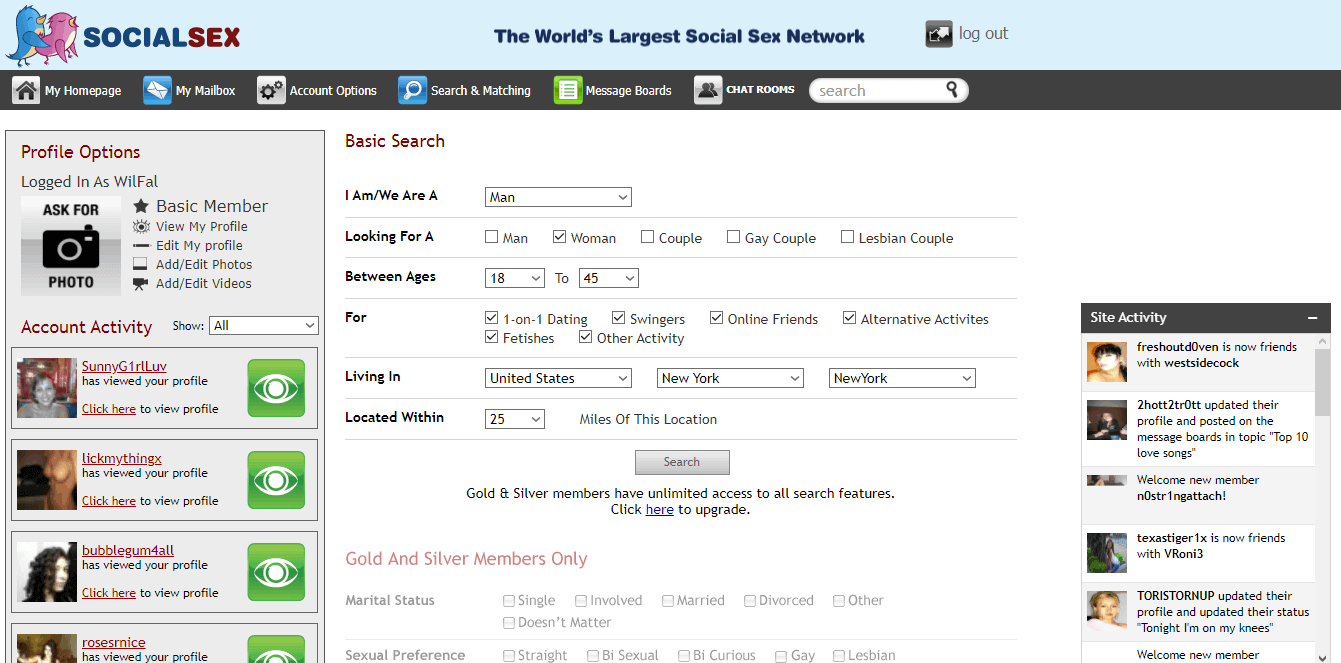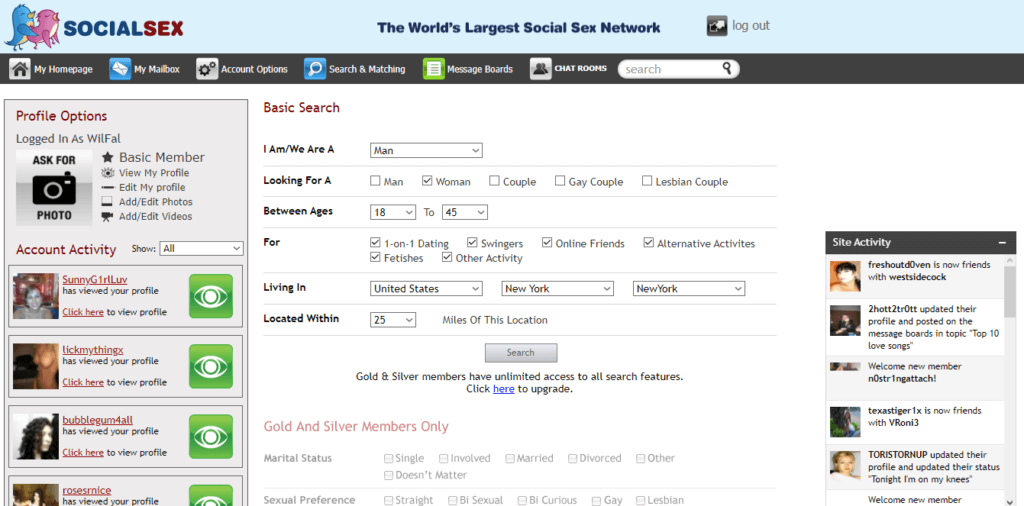 So just how are you going to go about finding someone to hookup with on the site?
Well, it does give you plenty of options, that's for sure.
For me, this is one of the strengths of the site.
So let's start with matchups first.
To view them, you can go to the homepage.
SocialSex lists a range of profiles that you can quickly look through to see if you want to find out more about someone.
See something you like and you can easily click however over the profile and either add them as a friend or view their profile in full.
You have six different menus here to help you find a matchup.
They are:
Local: These matchups are near your location
New members: Those who have recently joined the site
Viewed me: Users who have clicked on your profile
Friends list: Anybody that accepts your friend request will be found under this menu
On Cam: You can watch users that are hosting webcam shows here
Hottest members: Click here to see the hottest members on the site
Searching for a matchup on

SocialSex
While it's awesome that the site does provide matches for you to browse through, you are going to always look for those of your own as well.
And when it comes to that, the tools that SocialSex provides exceeded my expectations, that's for sure.
To launch a search of your own, click on the Search and Matching menu.
As a regular user, you can input the following parameters for your searches:
The gender you are looking for
The age range
The type of relationship you want
Location (City, State, Country)
How far the returns should be from your location in terms of distance
There is an advanced search engine that's available for members of the site too.
This adds the following extra parameters to help you fine-tune your search to your exact specification.
Marital status
Sexual preferences
Body type
Height range
Ethnicity
Languagues
Hair color
Eye color
If they smoke or drink
If they have pictures
Members can also save the different search that they launch which is handy.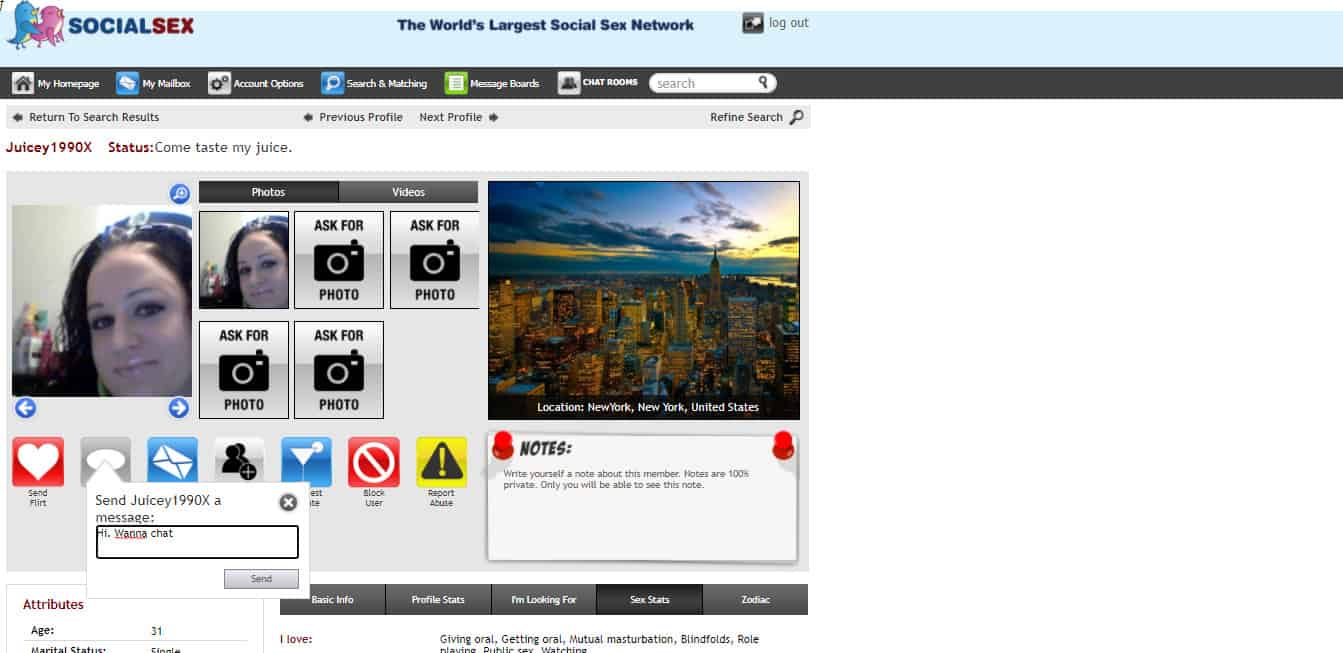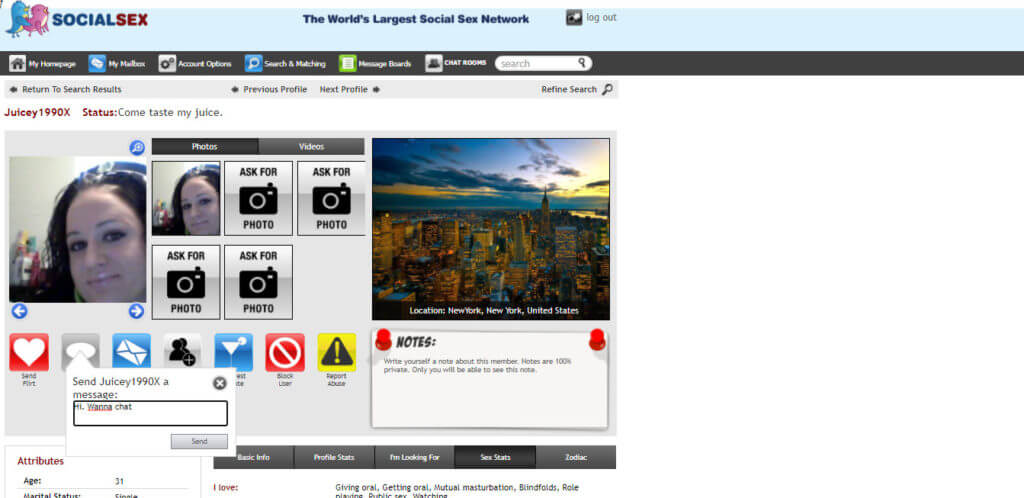 As a regular user, there is no way for you to get into contact with someone else via messaging or in a chat room.
​Both of these communication options are for members only.
From a users' profile, you can even request a date but that too is for members only.
Free users can't even send a flirt to someone else.
You guessed it, for members only.
So to get anywhere on this site, membership is a must.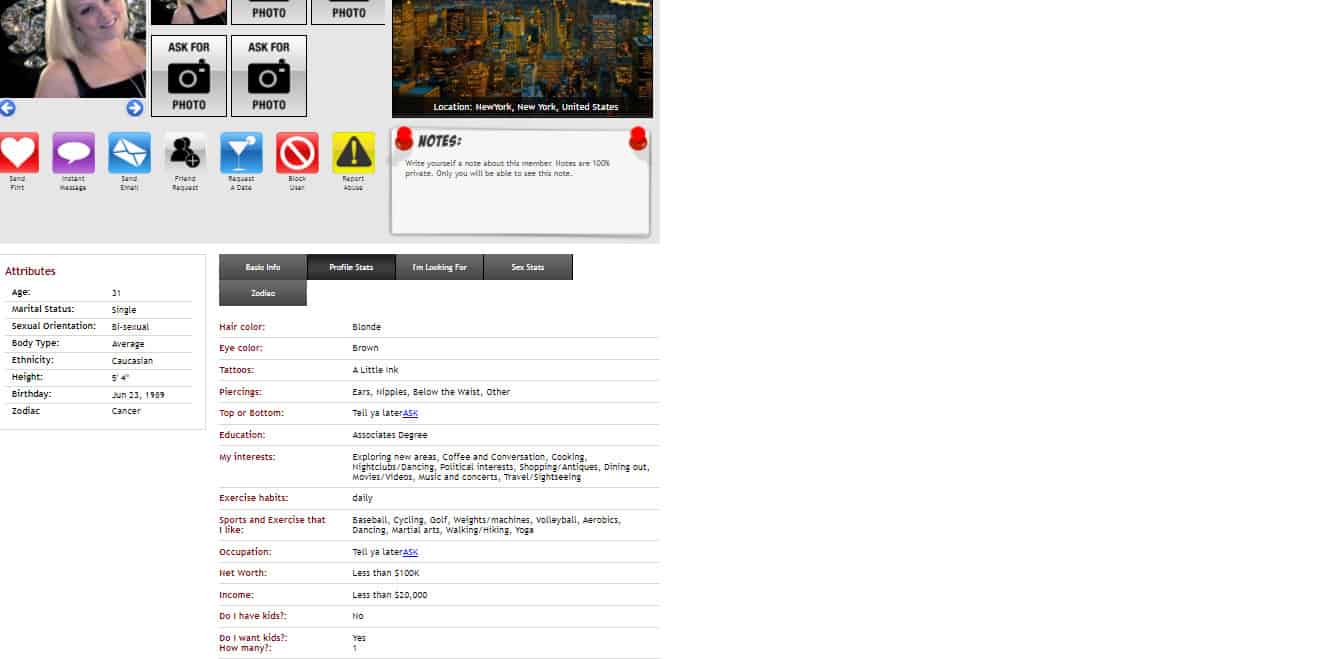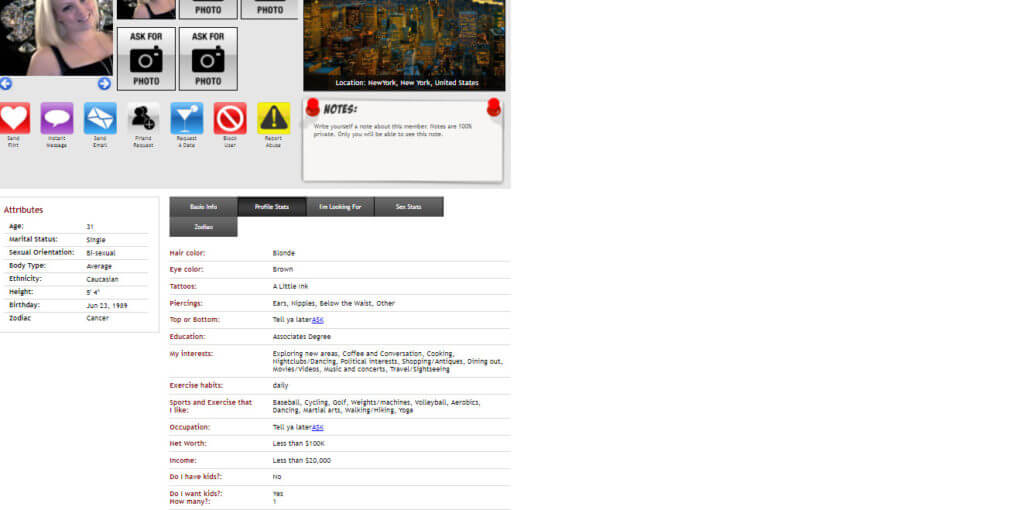 Here's a breakdown of the features you can expect should you choose to sign up for membership.
As a member, you can send as many messages as you like to other users.
You can also instant message them as well from their profiles.
If you want, you can send flirts to other users and send date requests too.
2. Feature in all search results
All members are featured in search returns of other users and also at the top of these search returns.
That gives you more chance of people reaching out to you.
I am not sure how paying a membership fee to access pornography that can be found for free elsewhere on the internet is a perk.
But yes, it's a feature for members on SocialSex.
Members get a 100-day guarantee.
For what exactly, the site doesn't mention.
It's not a mystery that I could solve either.
Members also get access to member webcams if that's your kind of thing.
6. Advanced search options
Members of the site get to use the advanced search engine when looking for a potential matchup.
This adds a host of extra parameters that are linked to user profiles.
At least this is useful.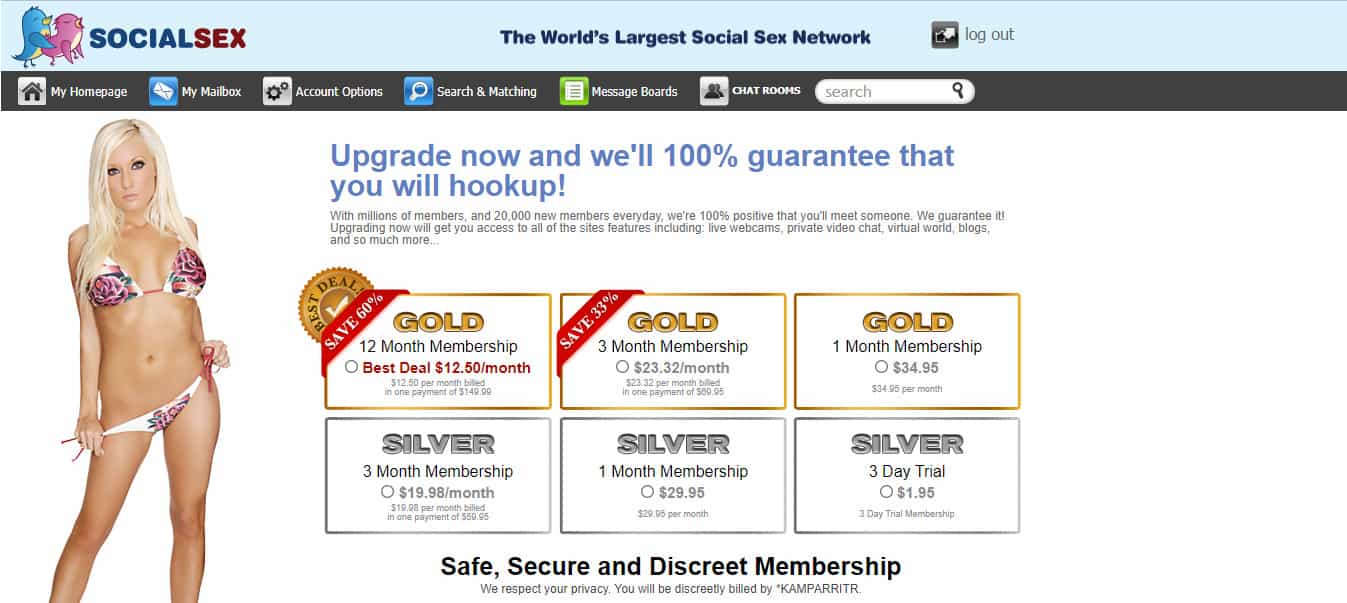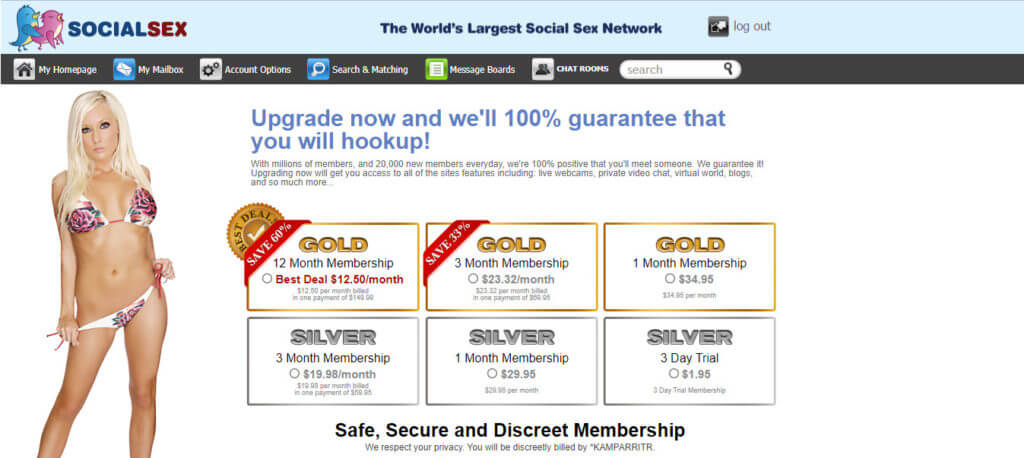 While those are the key features you can expect as a paying member, what are you going to pay to use them?
And what type of contracts can you expect as a new member?
Well, in determining the pricing of the membership packages, I was pleasantly surprised by the number of options available.
You have two membership options: Gold membership and Silver membership.
Of course, Gold membership will give you all of the key features we covered above, while Silver membership doesn't offer them all.
Here's a full breakdown of the packages:
Silver membership
3-day trial: $1.95
1-month membership: $29.95
3-month membership: $59.95 ($19.95 per month)
Gold membership
1-month membership: $34.95
3-month membership: $69.95 ($22.32 per month)
12-month membership: $149.99 ($12.50 per month)
When a trial is offered on a dating site, that's what I always start with.
And three days is more and enough time to conduct a thorough look at the site and to see if it will serve your needs.
That starts with the types of matchups that it can present to you.
Message them as well to see who replies and who doesn't all while you have that membership available.
Then you can make your final decision as to what membership (if any) you want to take out on the site.
From my perspective, membership pricing is expensive for the extras available.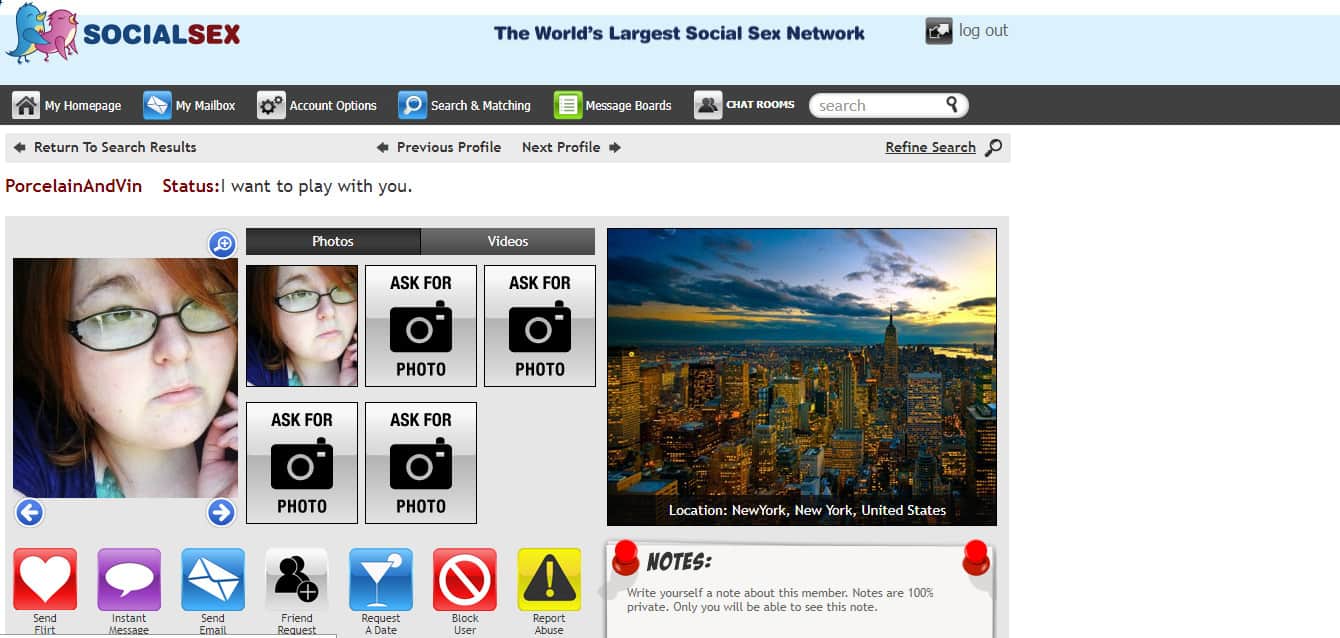 Conclusion and Overall Rating
Time to summarize our SocialSex.com review.
For me, the negatives of this site far outweigh the positives.
There are real users to be found here but there are tons of fake profiles too.
You can immediately notice them with their supermodel looks and profiles with barely any information.
If you are going to use the site, rather steer clear of those.
Without buying into a membership package, you are going to get very little accomplished on SocialSex.
​Membership is expensive, especially when you consider what's on offer for your money.
The only worthwhile features are the fact that you can send messages and have access to the advanced search engine.
But the main area to improve on SocialSex is the website itself.
It's just so slow and don't get me started on the fact that whenever you click a menu, a new browser window opens.
That's just plain annoying.
Can you find hookups here?
I am sure you can.
You just might get way too irritated by the site before you do.
To conclude, our rating for SocialSex is 2.4 out of 5.
Every aspect of SocialSex was studied and tested by the Onlineforlove team and we concluded that it is a hookup site primarily for everyone, including those in the LGBTQ+ community.
During our time reviewing, the critical criteria related to the site were rated in terms of how SocialSex operated as a dating and hookup portal.
At the end of the review, an evaluation using a star rating system was based on the following critical factors: membership price, how easy (or difficult) the site is to use, user population, key features and more.