Online Dating has made it possible for people to engage in diverse types of relationship.
DateYou is here to help fulfill your fantasy.
It's certainly become quite popular over the last few years and it is a site where people are looking for a variety of relationship types.
In this thorough DateYou dating site review, I will look at the website with these points in mind:
OFL Top Recommendations based on 100,000+ Survey

"Serious Relationships"
"Discreet Hookups"
"Best Course for Men"
"Quick Flings"
"Normal Hookups"
"Our Quiz"
Let's delve right in!


DateYou Review in Video Form:
Audio (podcast) form for those of you on the go:
Check out the rating first.
Ease of Use 5/5
Effectiveness – 3/5
Key Features – 2/5
Pricing – 3/5
DateYou has a decent user base
It offers a refreshing design that's a little different but fun to navigate
DateYou gives you 100 coins to try the site out
Purchasing coins is pricey
To send one message costs 50 coins
DateYou doesn't have many key features


Who Is It For/Demographics?
DateYou is a site where users join up to look for long-term love, online relationships, and even hookups.
Their registration page even says, "You decide what you want to do at DateYou."
OFL Top Recommendations based on 100,000+ Survey

"Serious Relationships"
"Discreet Hookups"
"Best Course for Men"
"Quick Flings"
"Normal Hookups"
"Our Quiz"
You will find all types of users on this site from those looking for a longer relationship (like eHarmony or Tinder) to those who want to keep it all online and even users wanting a casual hook up (like BeNaughty or Ashley Madison).
As for the LGBTQ community, you are welcome to register and create a profile.
It's just that the large majority of users on DateYou are looking for straight relationships.
So that's just a little bit behind who the site is aimed at and who actually makes use of it.
But what about some numbers behind the site.
Just how big is DateYou's user base?
Well, that's a good question.
Because although I put in plenty of research time, I was unable to find a definitive answer.
There were other facts and figures, however, that suggest that this is a busy dating site, that's for sure.
For example:
Around 250 000 users are active on the site each week
That's just over 60 000 per day and around 1 million each month
350 000 DateYou users are from the United States
This is a global site, so with those user figures from the United States backed up by the active users on-site each week, we could assume that DateYou must have over 1 million users.
But the actual number is not important, right?
It's whether DateYou can turn potential matchups that are worth following up.
But more on that later.
While we on the subject of numbers, let's breakdown the ratio between men and women users of the site as well as their age ranges.
DateYou's gender ratio and age ranges of users
DateYou is a site that's dominated by male users.
In fact, for every female user, there are four males.
That's right:
80% of the users on the site are male
20% of the users on the site are female
That's some pretty high numbers when it comes to male users but DateYou won't be the first online dating site to have significantly more male users than female users and it won't be the last either.
As for age ranges, well the most dominant group on-site are the 55 and older group.
35% of users, of which 30% are male, make up this group.
I am going to admit, I wasn't expecting an older group like this to dominate this dating site.
Just bear in mind that the second biggest groups are 45-54-year-olds and 25-34-year-olds which both contribute 20% to the total users.
And yes, again the males dominate both of those groups too.
Here's a full breakdown of the age groups found on the site from the most popular to least popular.
55+
45-54-year olds
25-34-year olds
35-44-year olds
18-24-year olds
So there you have the demographics behind the site and who makes use of it.
It's time to get into the site itself, starting with registration.


At this point, you can register for DateYou from your smartphone but it's through the website which is mobile phone optimized.
No matter what way you choose to do it, the registration process is fairly run-of-the-mill.
Note, that it does give you the option of using your Facebook or Google account, which speeds the process up even more.
That's up to you, however.
Even though dating sites are very secure, I tend to avoid this method of registration and prefer to use the email method.
So what does YouDate need from you during registration?
Well, you will have to provide the following:
A username
A password
Your email address
Your age
Your gender
The gender you want to match up with
There is always a link to the rules of the site, communication policy, and the privacy policy.
Although it's a bit boring, sometimes it's good just to take some time to read through them.
Even without using your social media account, the registration process is super fast.
In fact, that's the only information that you will need to provide to access the site.
Yes, you do need to confirm your email address as well by clicking on a validation link but literally, it takes a minute to get online.
Finding your way around DateYou
Some websites have similar templates but with DateYou, everything here is unique, including the menu system, but more on that later.
There are three distinct modules that you will notice when you access the site.
On the left-hand side, you will see the number of coins you have (the site currency) as well as the search engine the site uses.
The middle module includes a bunch of profiles the site has suggested to you.
This takes centerpiece on the site and is there to show user profiles with their pictures very prominent.
The right-hand side includes a mini menu made up of icons, which I will explain later and serves as the area in which notifications will pop up from time to time, for example, if you get a message.
It's a clever design and I think it works very well.
Now onto the main menu at the top of the page.
This doesn't include many menu options you would have seen on other dating sites, so yes, it is a bit different.
The menus you will find here are:
Chats: Click here to see any chats someone has initiated with you
Inbox: The inbox kind of doubles up on chats but also includes messages you haven't responded to yet which are bolded
Visitors: See who has visited your profile
Likes: See who has liked your profile
Favorites: If you favorite other users' profiles, they will appear here
Now I talked about a mini-menu found in the right-hand panel.
This consists of icons and includes:
Heart icon: This shows who likes your profile
Lips icon: Shows who sent you a kiss
Gift icon: This shows who sent you a gift
Chat bubble icon: Shows you who sent you a message
Eye icon: SHows you who has visited your profile
As you can see, some of these double up on the main menu.
Overall DateYou has a clever design that's pretty unique.
The site is pleasing to the eye as well and I enjoyed finding my way around it.
It's a simple design and while the menus are a little different from most other dating sites out there, they are not confusing at all.
Also, the color scheme matches the dating theme well.
So because you can get onto the site so quickly, there is no part of the registration process that incorporates filling in parts of your profile.
The only sections completed on it are your username and your age.
It's therefore imperative that you take a couple of minutes at some point, preferably once you check the site out, or even first thing once you log in, to complete your profile.
And you will only need to put in a few bits of information, for example:
What you are interested in (flirting, dating, chatting, etc)
Your relationship status
Your height
Your body type
If you have kids
If you smoke or drink
Your educational level
Your profession
The language you speak
And that's it.
It really isn't a lot of information but there's enough for you to get an idea of what your potential match-up is all about and the same can be said for them.
Also, you can add more pictures than just your profile pic and these are accessible to other users as well, which is nice.
Sometimes, extra pictures are often hidden behind a paywall but that's not the case here.
Finally, because profiles on DateYou don't contain as much information as on other dating sites, make sure you fill in the "About Me" section.
There's a chance here to get a lot of information across to someone who is viewing your profile.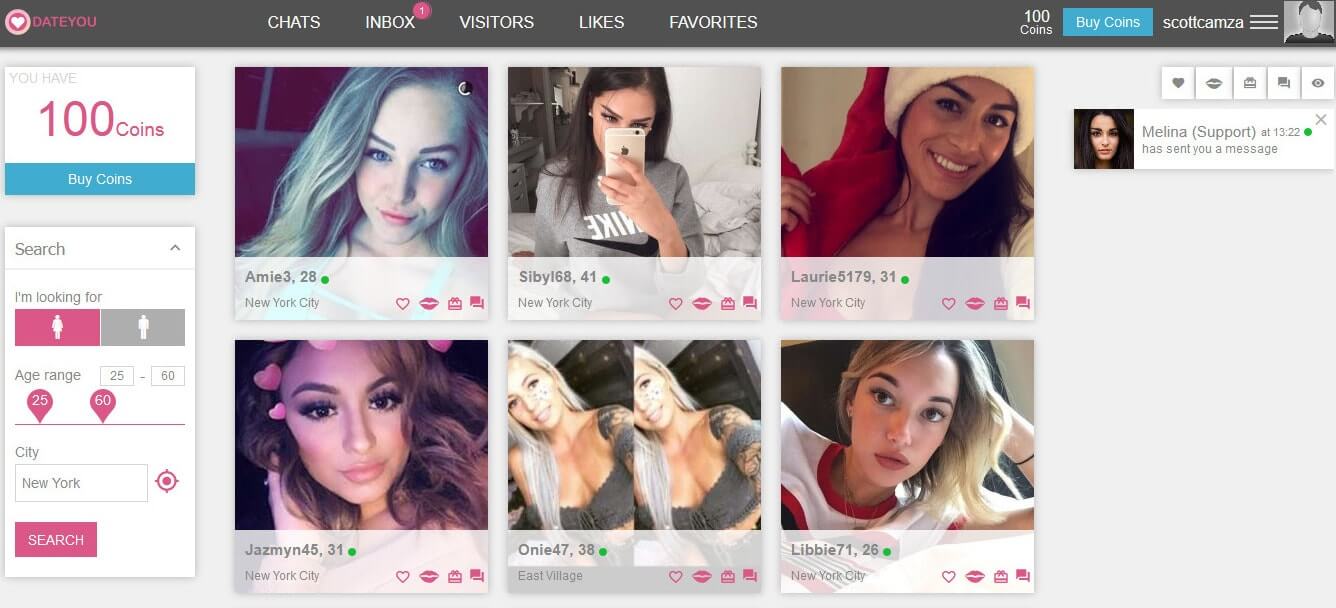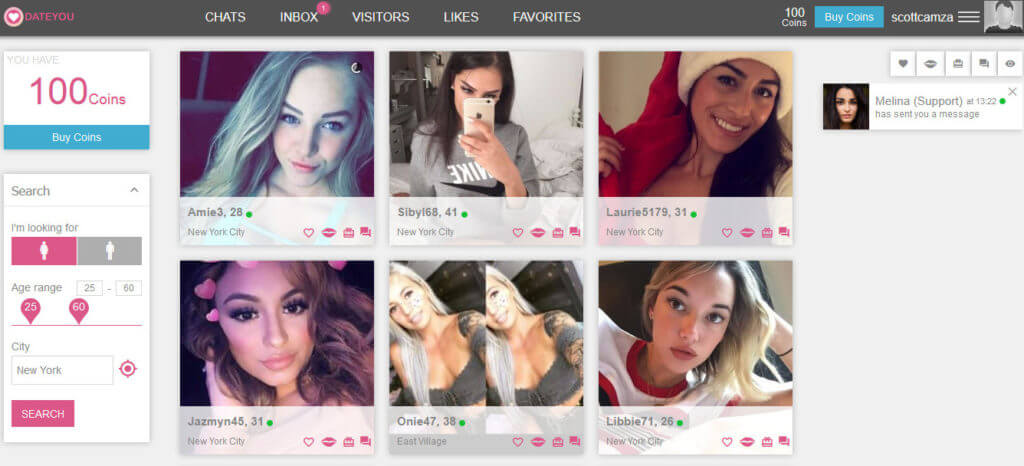 So that's all you need to know about how to register for DateYou and how the site works.
Let's talk a little bit more about how effective it is in helping you find the kind of matchups you are looking for.
Remember, if you are a male looking to date a female, there's lots of competition and a smaller pool of female users.
And you can find matchups in two ways.
First, can go through those that are presented to you by the site.
This is a bit hit and miss because it's generally location-based profiles that you will see.
They might not be exactly what you are looking for and in my case, were across a range of ages.
The second way is to use DateYou's search engine.
And to be honest, it's not that impressive.
Why?
Well, because it only offers a very basic search.
The details you can change for your searches are:
The gender you are looking for
The age range matchups should fall into
Their location
There is no advanced search filter here at all.
That to me is a major oversight because each and every profile has parameters that could form part of an advanced search engine, for example, if you want to search for a certain body type, or if you only want matchup returns of people who don't smoke.


So let's talk about how you would go about contacting someone on the site.
Well, this is achieved through their profile.
Here you will find an option to message someone.
Of course, it's not free but you probably could have guessed that, right?
DateYou uses a currency called coins.
And you get 100 of these to use as a new user.
That's amazing, right?
Not really.
That's only two messages.
That's right, each message you send costs 50 coins.
In fact, anything you do on the site, except sending someone a virtual kiss, liking or favoriting their profile, costs coins.
As an example, sending a virtual gift, for example a teddy bear, costs 60 coins.
Want to send a golden heart?
Well, that's 180 coins.
I am sure you can see just how you will have to purchase coins time and time again to use the site effectively, even if only for messaging.
And no, there is no membership packages that you can buy into.
The site operates on coins and coins only.


So while there is no membership package and therefore no key features associated with that, in this section, we are going to look at some other features that DateYou offers
While this is similar to messaging, it's presented in a different way.
If you have a chatbox open with someone, you are talking to them in a real-time chat situation.
It's a good way to get to know someone better but of course, every message is going to cost you 50 coins at a time, so be sure to not use one-word answers, right?
Another thing that's going to cost you coins, gifts are popular on the site and people often send them to each other.
We've already established that these gifts are virtual and include a range of different options.
All-in-all there are twelve gifts and they include:
Cuddly toys (teddy bear, dog, cat)
Drinks (a cup of coffee, cocktail, champagne)
Food (cupcake, sundae, cake)
Bling (red heart, diamond, gold heart)
Are they necessary?
I really don't think so.
Other than registering for a profile, filling it out, and searching for love, kisses are one thing on the site that doesn't cost coins.
You can send as many kisses as you like to all the matchups you fancy.
It's a way of showing your interest and that you'd like to get to know them more.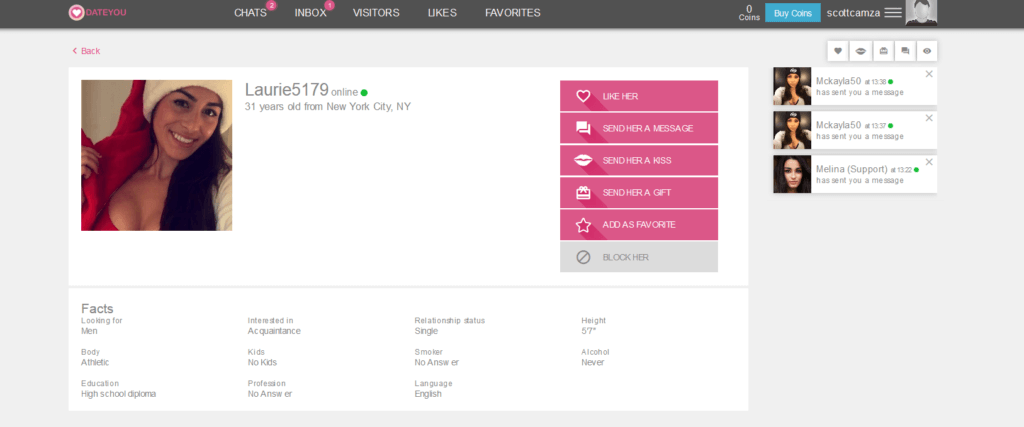 Without any form of membership, you are going to have to purchase coins, the currency used on DateYou if you'd like to reach out to someone.
I really wouldn't waste them on silly virtual gifts that mean nothing.
But just how many options are their when it comes to coins or do they have a base price.
Well, here a breakdown of the options you have when it comes to purchasing coins.
Please note, this was converted from euros into dollars.
200 – $6
500 – $12
1 150 – $30
2 400 – $60
5 000 – $120
Yes, it's pricey that's for sure.
Just remember, 50 coins to send a message.
If you buy 200 that's effectively four messages for $6 or $1.50 per message.
Of course, the more coins you buy, the lower the price per coin is, so if aim to use the site for any length of time and you can afford it, buy the larger batches of coins.
It just makes sense, but it's still pretty expensive.
From time to time, DateYou also runs specials on the large coin packages where you can get up to 500 extra coins on the 5 000 coin option.
At least that's a few extra messages that you can send.


Conclusion and Overall Rating
Thanks for taking the time to read this in-depth review of DateYou.
I will admit, it's a site that has me a little divided.
I really love the overall design and the way the site operates in general.
It's got a lot going for it, including an active user base that's growing all the time.
But there are some warning signs for me.
During my time on the site, there did seem to be a few fake profiles.
And I received messages from these profiles that were pretty generic.
Once you reply the next message seems to be trying to get you to talk more and more.
Perhaps it was my imagination, but that's just an impression I got at certain points.
That said, my search on the site turned up a host of matchups near my location that certainly was worth following up on.
I guess many dating sites today have a problem with fake profiles, so that's nothing new.
As for the search engine, well it could be better.
That's because it doesn't allow you to use profile parameters in your searches and I really can't understand the reasoning behind this.
Even if it was an extra where you would have to spend coins, I think it would be useful.
Speaking of coins, well you are going to need plenty of them considering a message costs 50 coins a shot.
And generally, I prefer dating sites to have a membership plan, preferable a one-month option to start with longer options as well.
At least DateYou does give you 100 coins to start, so you can get an idea of how the system works.
But mainly, you are going to need coins for messages.
The virtual gifts are just a waste of your money in my eyes.
So let's get onto a final rating for DateYou.
It's a site with a lot of potential, that's for sure, and I love the way it looks overall.
It's a bit different from other dating sites out there in its design.
Today, it gets 3.25 out of 5.
Frequently Asked Questions
No, this isn't a free dating site.
It operates on a "coin" currency system.
They are needed to send messages for the most part but also virtual gifts.
DateYou provides you with 100 "Coins" to start off with, but they don't last long considering that to send one message costs 50 of them.
DateYou is a legit dating site.
It is registered in the United States as an online dating site.
DateYou includes a range of users who are looking for all kinds of relationships although many of them seem to be on the search for long-term love.
Currently, DateYou has over a million users.
The only way to sign up for DateYou is through their website.
There is no app as of yet for this dating site.
The sign-up process will take around a minute in total as there isn't much information that they want from you.
You will need to complete your profile afterwards.
To delete your DateYou account, you need to click on the three bars to the left of your profile picture while on the main page.
From there, you will be given an option to delete your account.
Click on it and your account will be removed from the DateYou system.
You cannot retrieve it at a later date should you wish to and if you want to use the site again, you must make a new account.
You can mail them which is probably the quickest route.
Send your messages to [email protected].
Your other option is to click the help/support tab found on the home page.
There aren't many parameters for the DateYou algorithm to take into account when finding matchups for you.
It's only gender, age-range and location, really.
Although each user profile does have other parameters that can be used, for example, those relating to appearance, these do not form part of the search engine.
As with just about every other dating site, to block someone, you must click on their profile.
Under the options to like, send a message, send a gift and add as a favorite, you will find the block user button.
Click on it and that user is now blocked from communicating with you.