Chances are that you've probably never heard of LesPark.
It's a lesbian dating app that's hugely popular in the Far East, particularly in China. It is primarily intended for those who are looking for serious relationships (like eHarmony or Tinder), and not so much for those who seek casual hookups (like BeNaughty or Ashley Madison).
But it's slowly become more well-known in the lesbian community around the world.
And why wouldn't it, thanks to the fact that it has millions of users.
OFL Top Recommendations based on 100,000+ Survey

"Serious Relationships"
"Discreet Hookups"
"Best Course for Men"
"Quick Flings"
"Normal Hookups"
"Our Quiz"
But it's more than a dating app.
It also includes social network features, lesbian chat, group voice chat, and other features that have helped raise its popularity in LGBTQ circles.
In today's review, we analyze this app to help identify if it can work for those in the West.
This review will cover the following:
For lesbians looking for a potential dating app, or perhaps a place to find new friends, our in-depth review will help to confirm if LesPark fits the bill.
Is your dating app giving you the best chance for success?
Make sure to take our online dating site/app quiz to find out.
It's a fact that people who follow our dating site suggestions have on average 2 extra dates per month.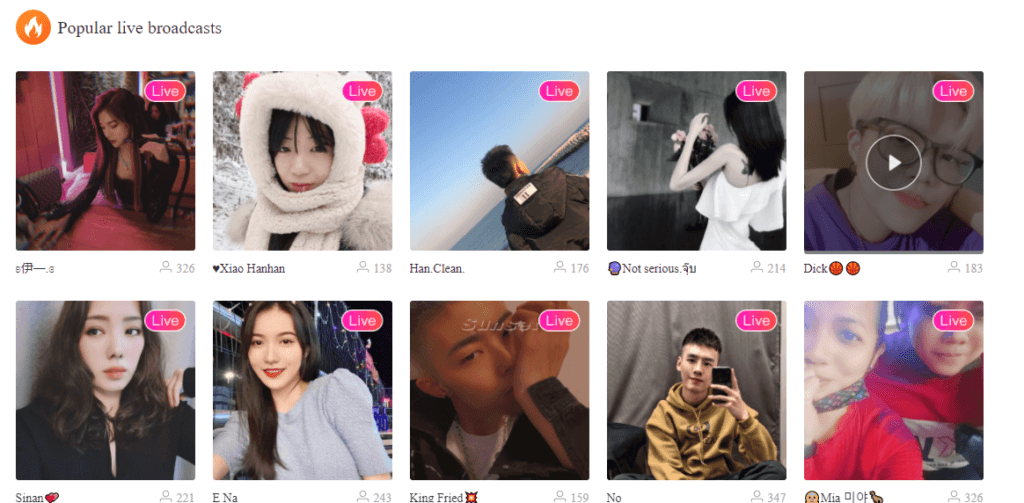 Ease of use – 2/5
Success rate – 2/5
Key features – 4/5
Price – 3.5/5
Over 8 million users
Free to download with many free features as well
It includes lots of key features if you sign up for membership which is also well priced
Initially, the app was very confusing to use
It's difficult to find potential matchups if you are not based in the Far East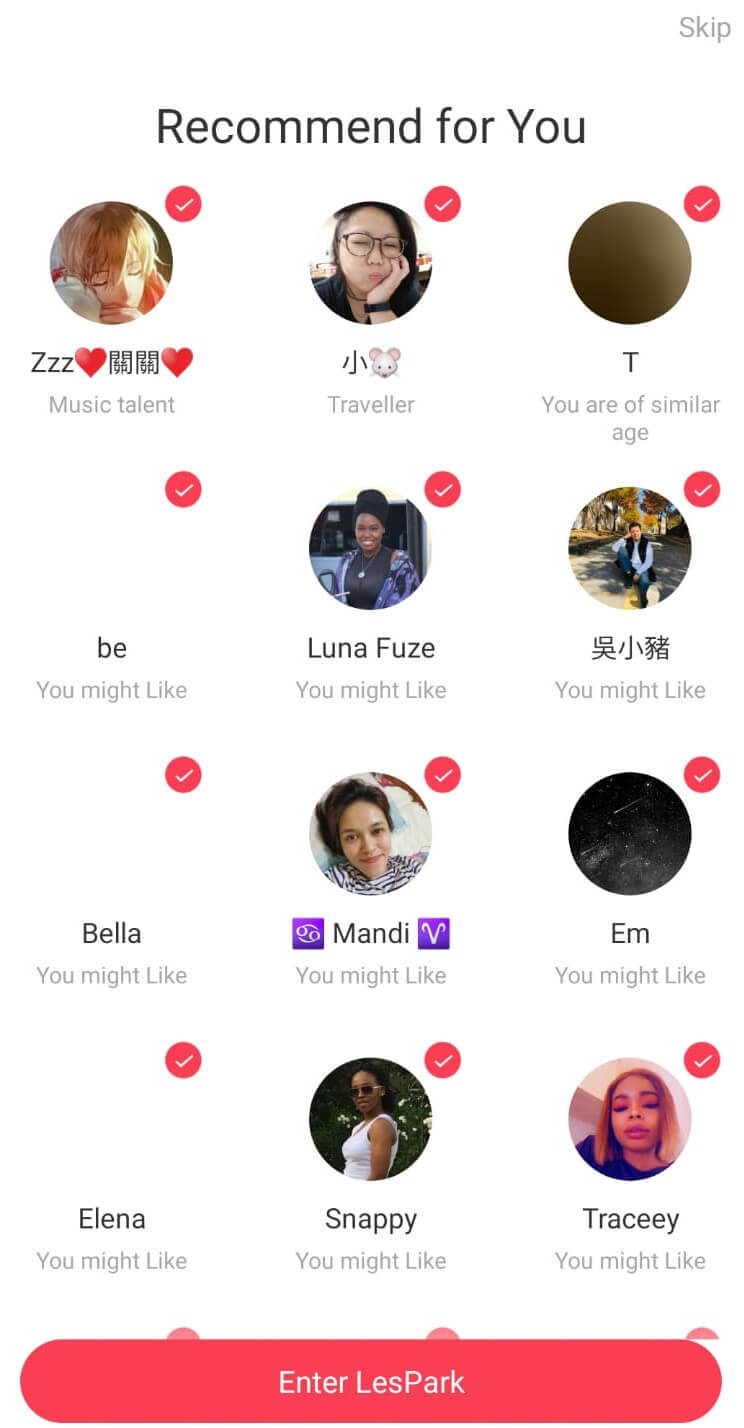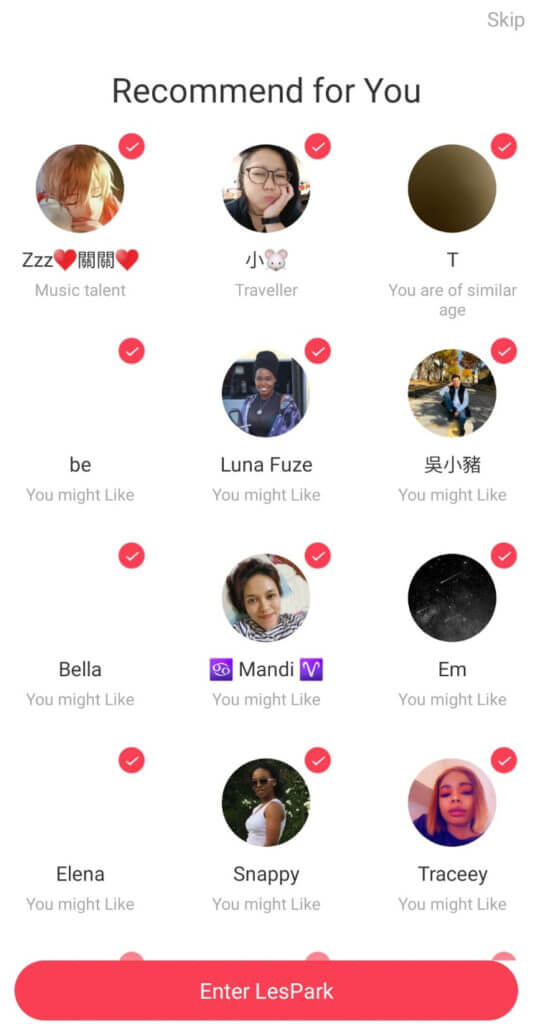 Who Is It For/Demographics?
Developed by Qingyuan Park Culture of Media Co. LTD, this dating app started out in China.
Recently, however, the LesPark community started to grow slowly around the globe.
OFL Top Recommendations based on 100,000+ Survey

"Serious Relationships"
"Discreet Hookups"
"Best Course for Men"
"Quick Flings"
"Normal Hookups"
"Our Quiz"
I believe that this is because it's not only about dating.
LesPark is used for live streaming, as a chat app and for social networking.
But before we get to review what it does, we have to gather information about user numbers and other demographics.
Determining user numbers wasn't difficult at all.
At the moment, around 8 million people have signed up for profiles on the app.
It's not difficult to analyze why either.
China, after all, is the most populous country in the world and that's where many of the users come from.
The facts and figures below will demonstrate a little more about the overall demographics of the site.
Around 10000 users are based in the United States
Every day close to 10000 users log into the app
That's 70000 a week and close to 300000 a month
The LesPark app has been downloaded over 1 million times on Google Play and has a rating of 4.2 stars
It has a 4.8-star rating on the App store which ranks up there with some of the best apps in online dating
The biggest group of users on-site are between the ages of 25-34 years old
They make up 35% of all users
The next biggest is the 35-44-year-olds who account for 24% of users that have registered on LesPark.
The 45-54-year-olds are the smallest group of users at 10% of the overall total.
Those numbers indicate to me that LesPark is a busy app but while it is growing amongst Western users, it still is mostly filled with users from China and the Far East.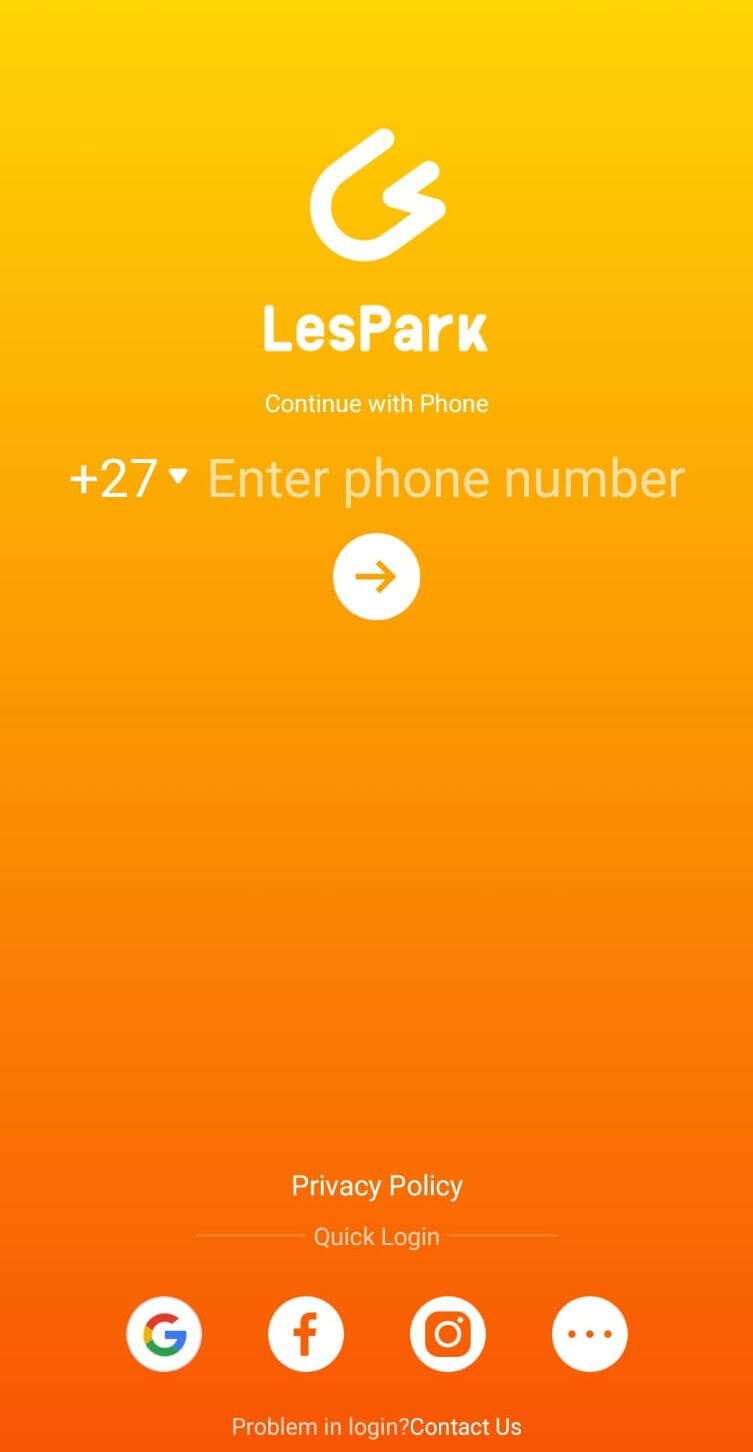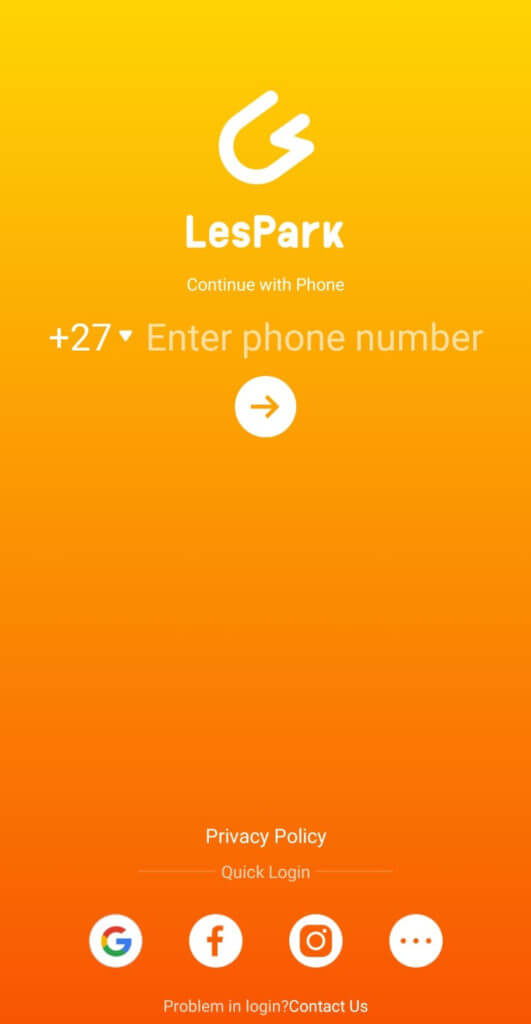 While LesPark has a homepage you can only register there if you understand the Chinese.
That's why I downloaded the LesPark app.
This is available on Google Play and the App Store and while it's meant to be in English, I was first presented with what seemed to be a Chinese version.
I found that by pressing on one of the icons, the app allowed me to register and suddenly the language turned to English.
I am not sure if other users will have the same experience and could not find any reference to it on the Google Play or App Store page for the app.
You can register with a social media account if you'd prefer and your options include Facebook, Google and Instagram.
You can also use a valid email address or even your phone number.
I don't think I have ever seen a dating app that allows that many options.
I chose my phone number, it just seemed the most obvious seeing that I would review the app on my mobile device.
Next up is providing profile information which includes:
Your nickname
Your role
Your current relationship status (of which there are eight options)
Your interests
Your tags (funny, kind, single, spontaneous as examples)
And that's your LesPark profile done with, for now.
While most dating apps are pretty minimalistic in what they offer, LesPark takes the other extreme.
While there are five main menus at the bottom of the screen, all of them have more submenus.
And that creates an app that looks extremely busy.
I feel that they should rather tone things down a little because when I first accessed LesPark, I really had no idea where to go and what to do.
On the whole, the app doesn't look particularly appealing.
It uses a basic white color scheme with the only real color coming from the profile pictures of users.
At the end of the day, it's not how a dating app looks but the experience it can give you in terms of what you are looking for.
LesPark has five menus that you will find at the bottom of the screen that are used to find your way around.
These are:
Home: This takes you back to a page where LesPark presents you with matchups. You can scroll through them and add comments to their pictures, share their profile with other friends you've made on the site, like their profile or follow them.
Video: This menu is all about people who like to live broadcast using the app. You have various ways to filter them, for example, if they are nearby, if they are trending, if they are considered a LesPark superstar (some of the most popular users) and more.
Chat: If you like to chat and want to encourage faster communication, you can join up with other users in various chatrooms on the app. Many of the chats are in Chinese so it might be difficult to find a room where people are speaking your language.
Me: This takes you to your profile and you can change various parameters relating to yourself here. You can also record a profile message for other users to listen to.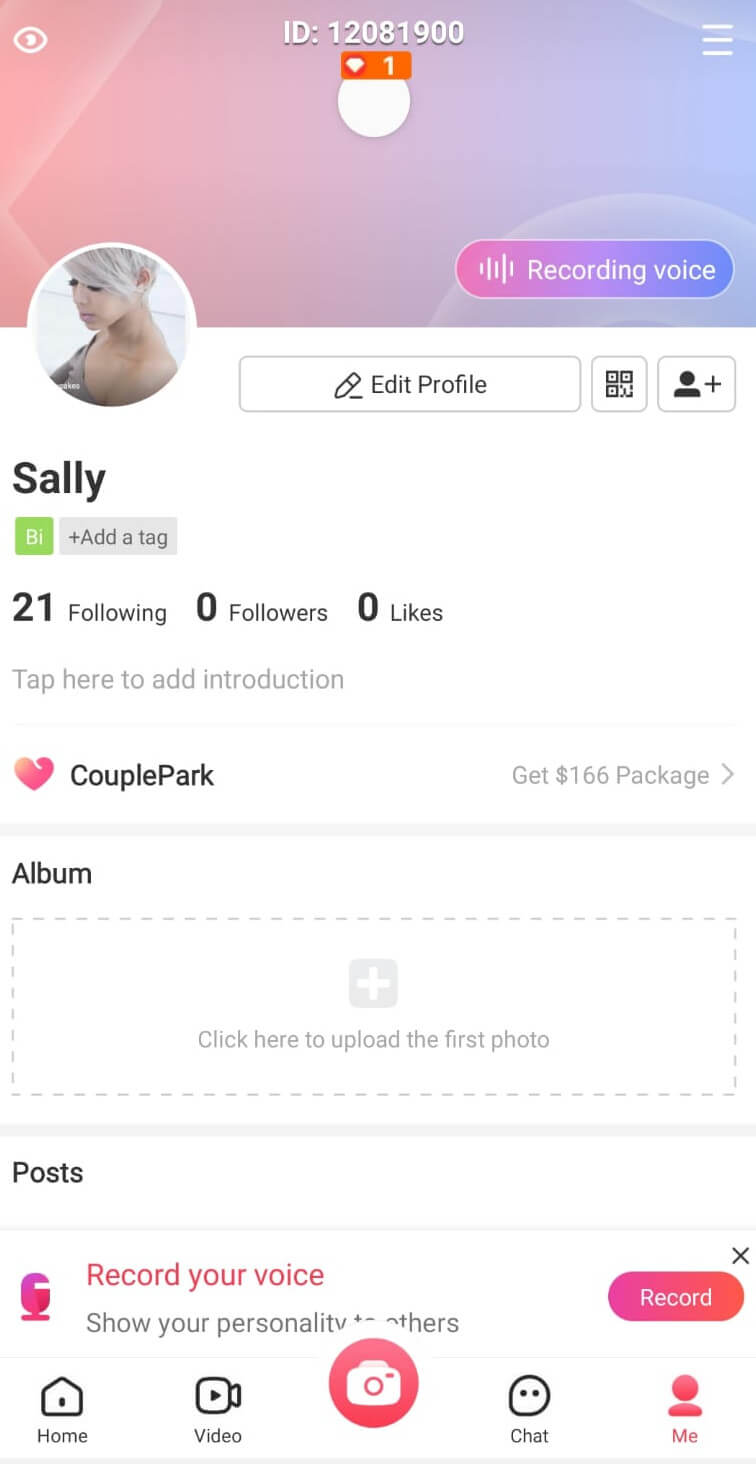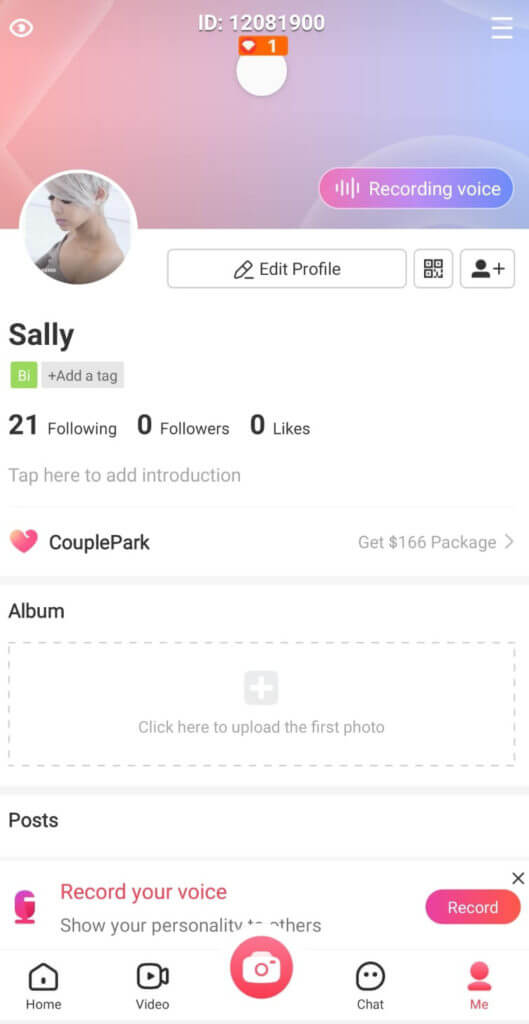 Let's talk about your profile on the app.
Despite the fact that you filled in a large portion of it during the registration process, there is still more information you can add.
This includes:
An About Me section
Your location
Your race
Your birthdate
Your height
Your weight
What you are looking for on this site (chat, dating, meeting new friends, short-term relationship, etc).
It took me around five minutes to add the extras.
While searching through other profiles, I noticed that many users had TikTok videos as their lead profile picture, which I thought was a little different.
Trying to look at other user profiles proved very difficult at first. I finally solved the problem by clicking on the profile picture of someone that I wanted to learn more about.
And that finally brought up their profile.
From what I observed, users on LesPark are really into the social networking side of things.
That means they love to make status updates and post pictures… lots of them.
You can also see the information about them as per the various profile parameters.
Each user also has a profile album where they can add photos.
Just like the app, most profiles are packed with information and again, for me, everything is a little too busy.
But I suppose the more you use the app, the more you will get used to it.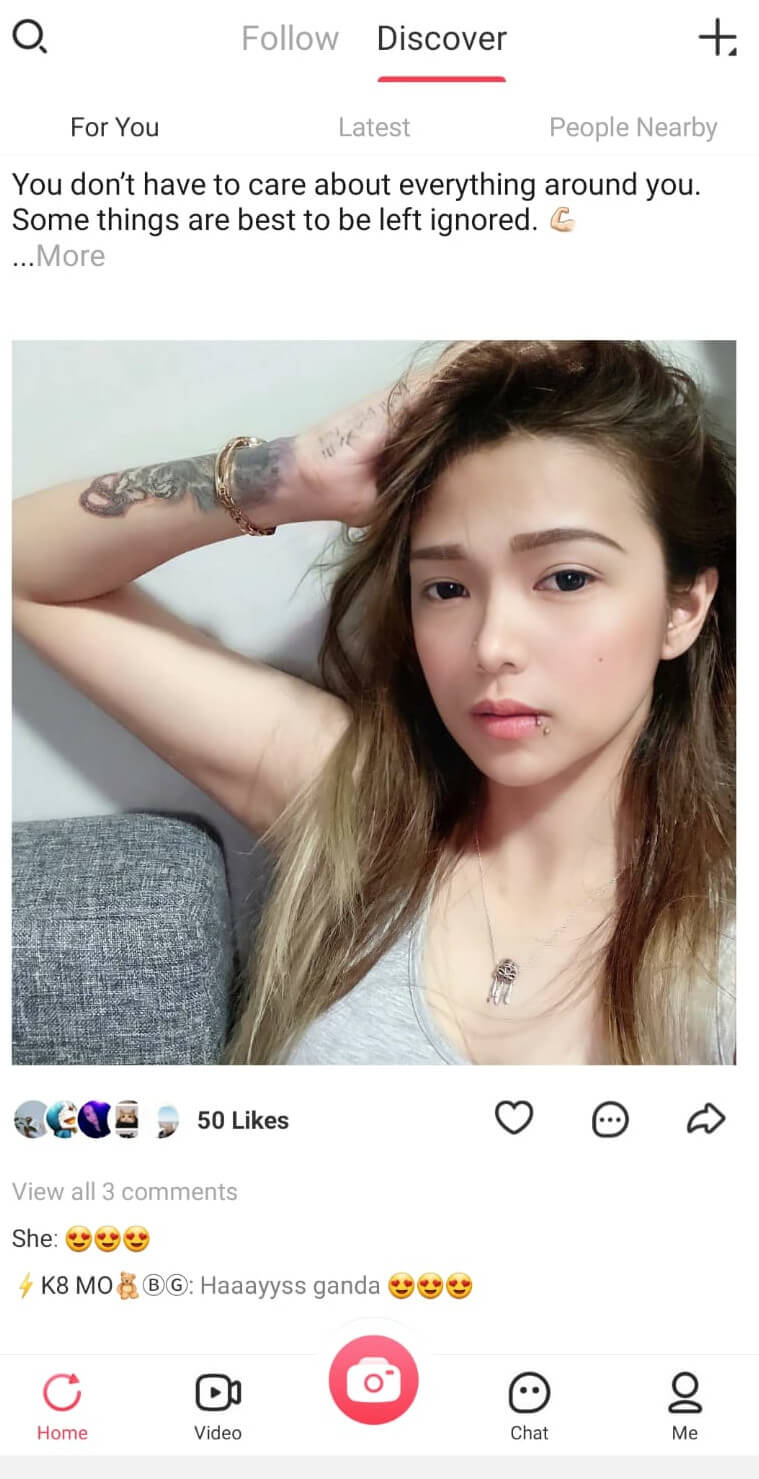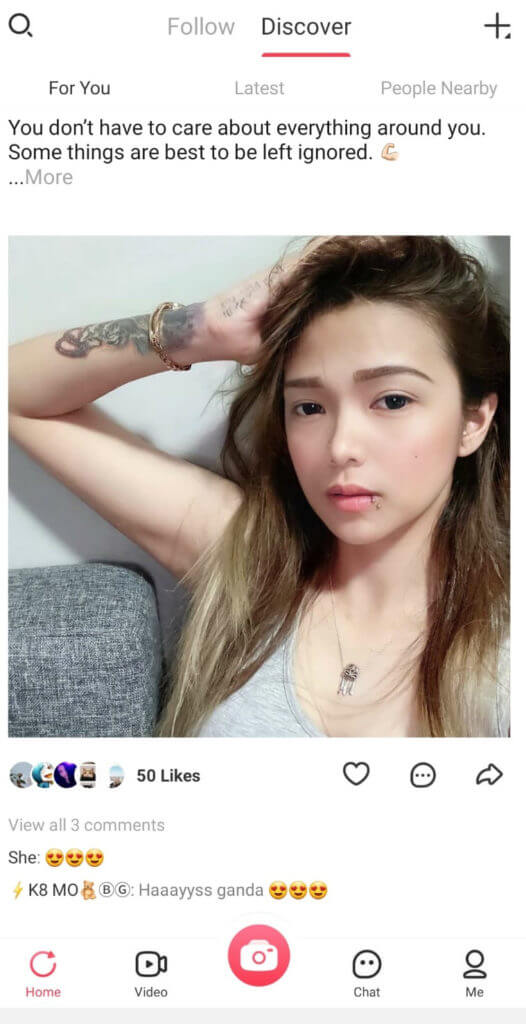 So I have already explained that LesPark is big in China.
So just how effective can it be in helping you find a matchup if you don't live in the Far East?
Well, at the end of the day, that is going to depend on what you want to use it for.
If you want to find friends or chat buddies on the other side of the world, then yes, the social networking aspect of LesPark is perfect for that.
But if you are looking for love close to your location and you aren't from the Far East, you are probably aren't going to have much luck.
Still, because the app is free to download and register a profile you might as well try it out.
Searching for matchups on

LesPark
The obvious way to look for matchups is by using the Home menu.
You will notice two menus at the top of the screen once you've clicked on the Home menu: Follow and Discover.
The first menu is more about finding cool people to follow from the social networking aspect of the app.
To find potential love, you need to make sure you have clicked the Discover menu.
That will open up three additional menus:
For you
Latest
People nearby
Start your search by clicking on people nearby.
That will bring up people that fit in with your match requirements and who are near your location.
The main downside I found here was the steps you had to go through just to see someone's profile to find out more about them.
Eventually, I discovered that if you click the three dots at the top of the screen, it opens even more menus.
For example, you can block and report a user here but if you want to view their profile, click on the three dots (more) menu.
That finally brings up their profile details.
It really isn't very obvious and I only found out by trial and error.
This is one of the things that those behind the app should look to improve.
If you are looking for a matchup, access to their profile shouldn't be hidden behind tons of menus, I feel.
As for getting into contact with others, there are plenty of options available.
Some are free and others require membership.
For example, you are welcome to enter the chat rooms and speak to other users.
But to do that, you will have to verify your profile.
As an extra level of security, users who want to chat with others or even join chatrooms have to verify their profiles first.
There are two types of verification.
The first has you record a video of yourself saying a range of numbers as instructed by the app.
This is then sent to the admin team at LesPark who then verify that you are who you say you are.
The second verification, which is needed if you want to perform livestreams sees you enter your real name and identification number.
Then you must take a photo of yourself holding your identity document and submit it to the admin team.
This is one of the things that LesPark gets right in terms of security.
I think other apps could learn from their verification process.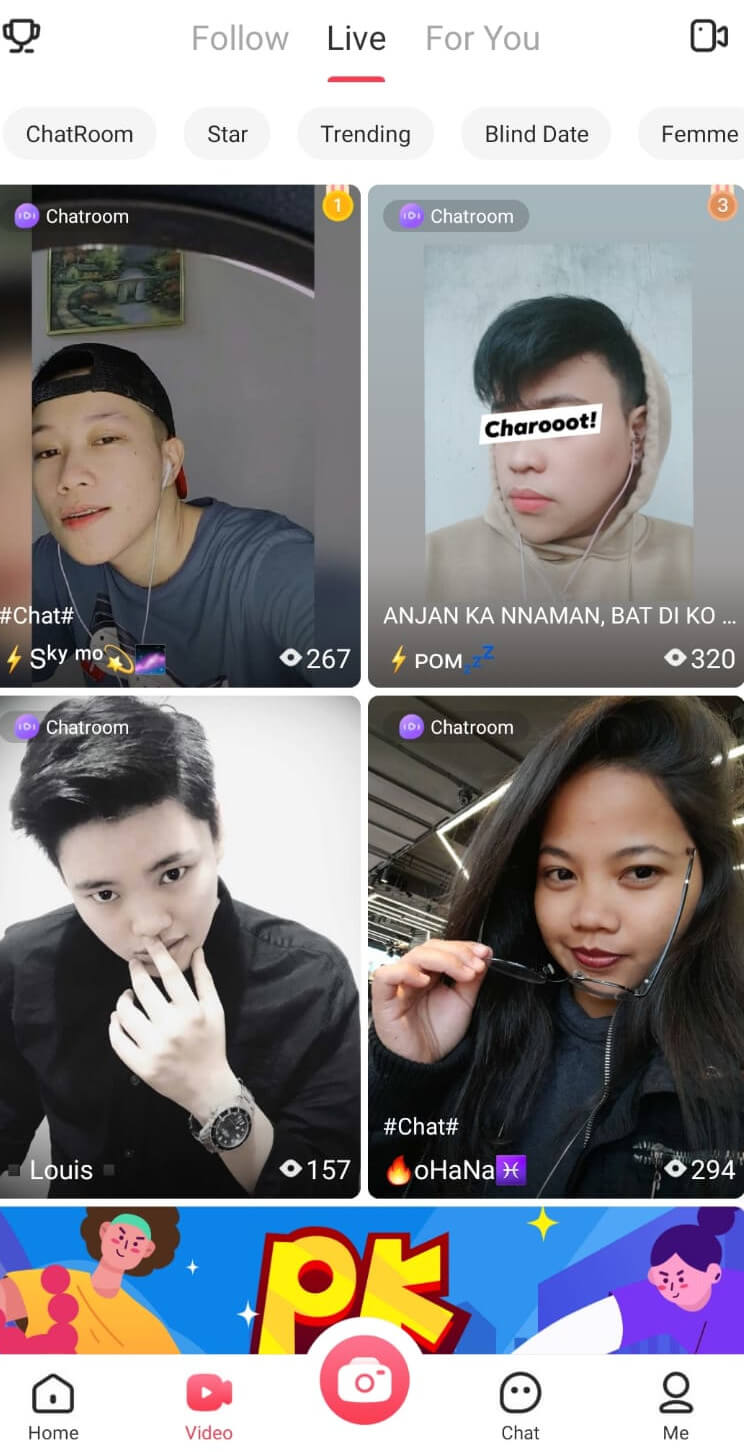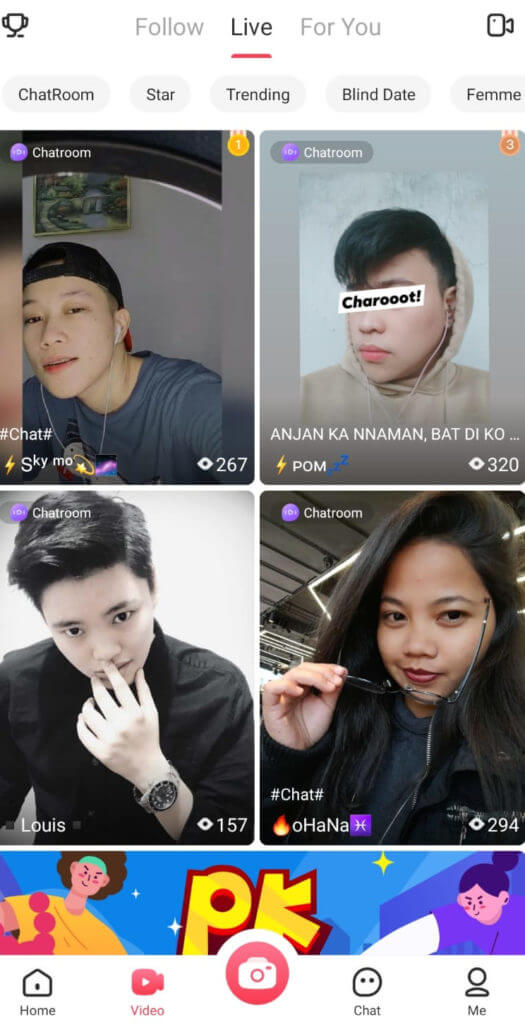 Here are some of the key features LesPark has to offer.
Want to share your particular love story?
Well, you can with Lovers' Park.
This will be seen by all other members that access your profile or other users that follow you.
If you'd like to spend time browsing through other users without leaving a trace that you have done so, as a member you can do so.
Profiles are a big deal on LesPark and if you want to make your looks even better, membership allows you to get added extras.
These include an identity badge, dynamic backgrounds and avatar pendants.
Members are able to voice chat with each other.
These chats are also saved and kept on record.
5. See who has viewed your profile
​​​​A standard feature of most dating app membership packages, seeing who has viewed your profile might just lead you to the greatest matchup of all time.
There are so many other added extras.
I feel that these are the ones that most fit in with the dating aspect of the app, however.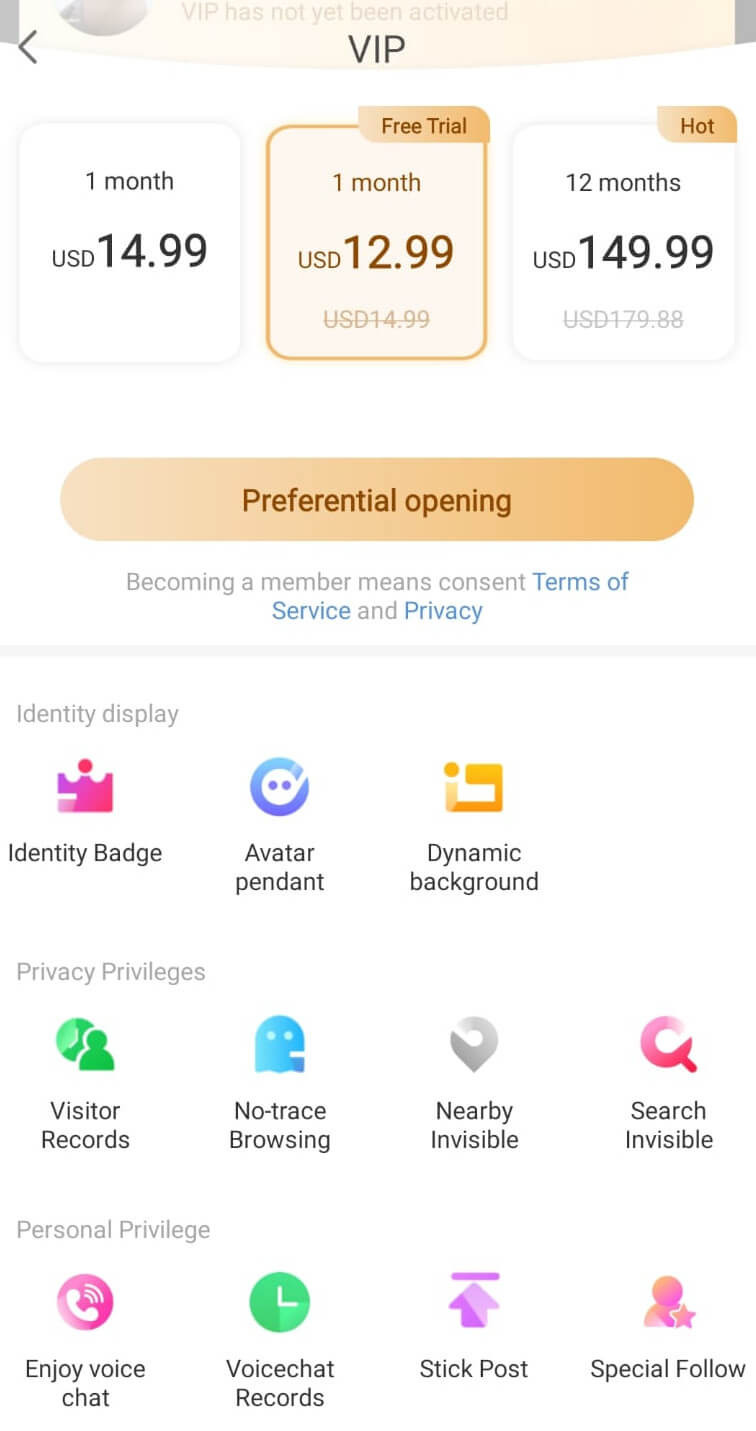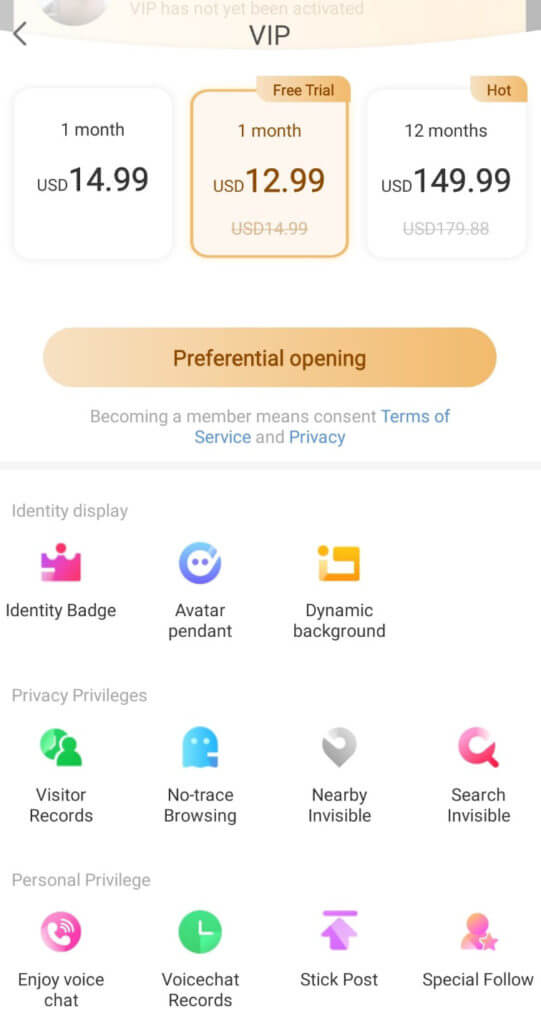 LesPark VIP is the membership option offered to users should they want to access those extra features we covered above.
There are just two membership packages that you can choose from.
These are a month-to-month option and as well as a yearly option.
The cost for these are as follows:
1-month membership: $14.99
12-month membership: $59.99
For me, LesPark is well priced.
While you can make excellent savings on the yearly option, I think it's critical that you first determine if there are potential matchups near your location.
That's unless you want to use LesPark for the social networking aspect of it and to find friends all over the world.
Still, I would try for a month first and depending on how that goes, you could then consider the 12-month membership and benefit from the savings it brings.
They are way over 50% on a month-to-month basis.
I'd also like to highlight that this app uses virtual currency as well.
These are called coins and they can be used on-site for a variety of things, for example, sending a virtual gift to other users.
Here's a breakdown of what coins cost:
42 credits: $0.99
210 credits: $4.99
420 credits: $8.99
686 credits: $14.99
2 086 credits: $46.99
4 118 credits: $89.99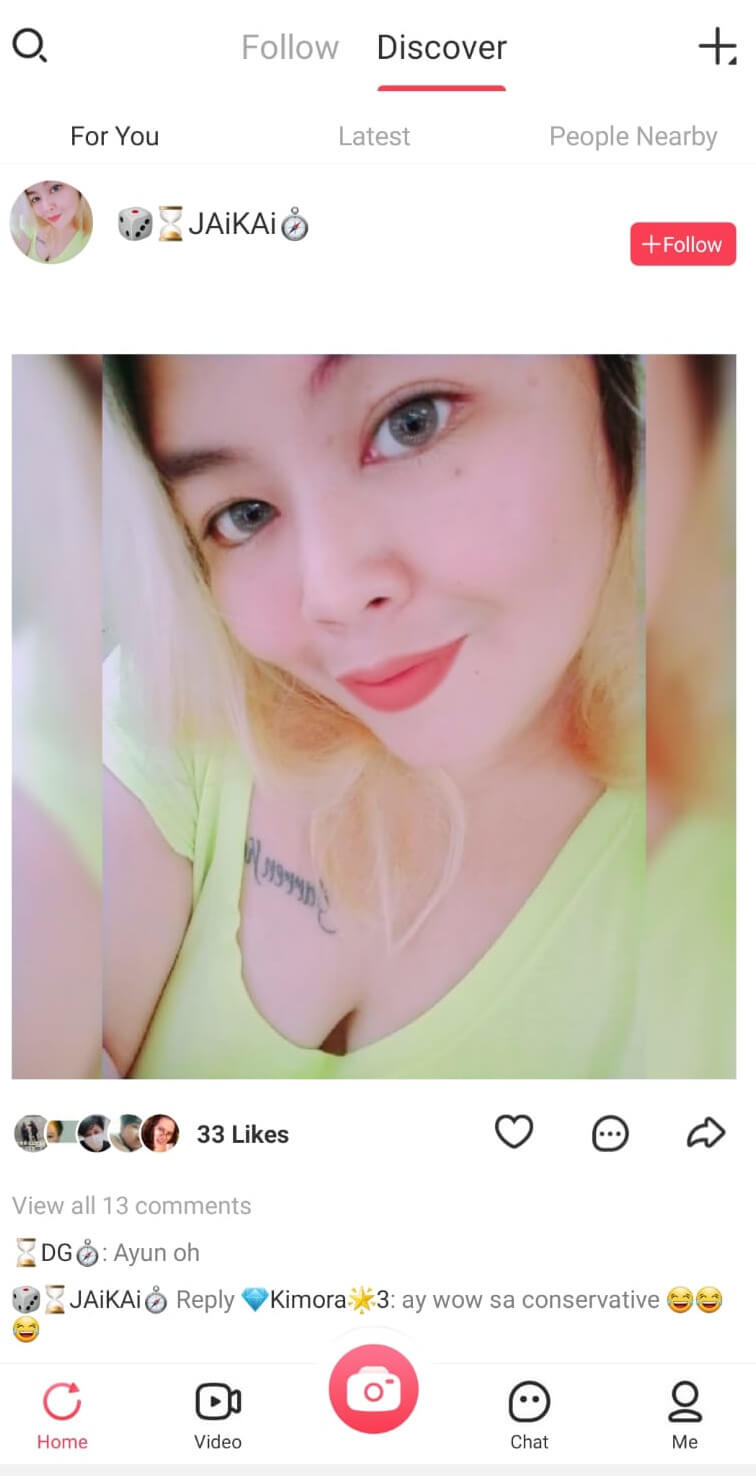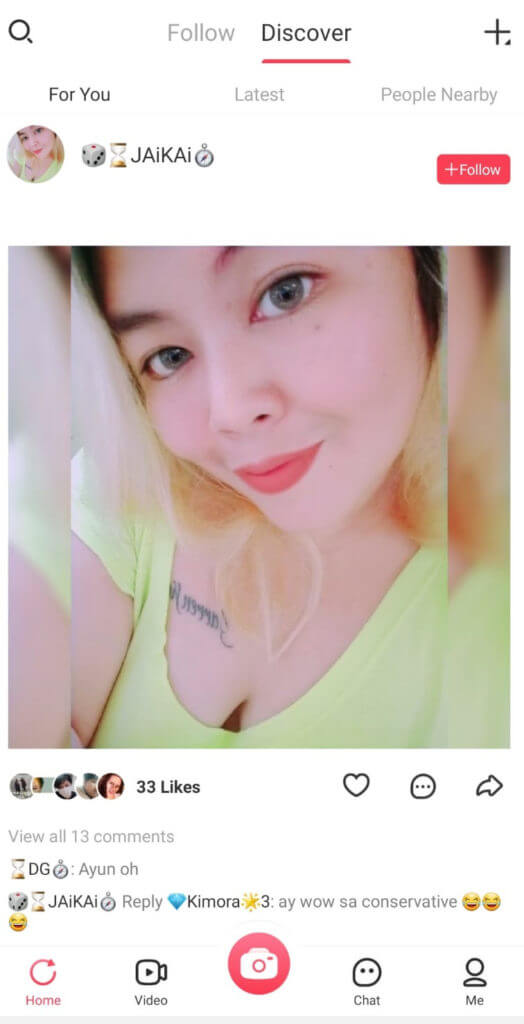 Conclusion and Overall Rating
LesPark is an interesting app that's certainly not all about dating.
There are things that I like about it and things that I don't.
For me, it's just incredibly busy, there is so much going on.
I am still not sure that in the two weeks I used the app, that I discovered everything about it.
That's because you will find menus behind menus and more menues behind those.
Also, it's made for users from China in mind, so they make up 98% of the people you will find using the app.
That said, I was able to find a few matchups near my location so it might be worth you while taking a chance on trying out LesPark to see what you find.
There is lots of potential here but I think the whole social networking aspect and the dating aspect trip over each other.
Many users are just wanting to live stream and make new friends around the world it seems.
In terms of a rating, I am giving LesPark 2.8 out of 5.
Onlineforlove studied and tested the LesPark app concluded that while it has around 8 to 10 million users, not many of them are found outside of the Far East.
The approach we used was to give a star rating for the most important criteria for the app as we reviewed it.
We found that while it does have users that are not based in the Far East, it's a hit and miss affair if you will find any near you.
Our overall evaluation of the app is based on these factors: price, ease of use, feature-set, website population, the likelihood of finding a matchup and mobile experience.