Hello and welcome to our online dating site review of Wealthy Men.
​Just from the name alone, you've probably formed an idea of what this dating site is all about.
It falls into a category called rich men dating.
It doesn't matter what you call them, they all generally operate in the same way (like BeNaughty or Ashley Madison), and nothing like regular dating sites (like Tinder or eHarmony), for example.
OFL Top Recommendations based on 100,000+ Survey

"Serious Relationships"
"Discreet Hookups"
"Best Course for Men"
"Quick Flings"
"Normal Hookups"
"Our Quiz"
So if you ever have asked the question "what are the best dating websites for millionaires" or "what are the best places to meet wealthy single men" then perhaps this review will help answer that.
But what are we going to look at?
We will cover:
So if you are a young woman and you've wanted to know the best way of dating wealthy men or vice versa, carry on reading to find out.
What's your price is running a deal right now where girls can sign up completely free. We suggest you don't miss out on this limited offer. It's the biggest SD/SB site online.
Is your dating app giving you the best chance for success?
Make sure to take our online dating site/app quiz to find out.
It's a fact that people who follow our dating site suggestions have on average 2 extra dates per month.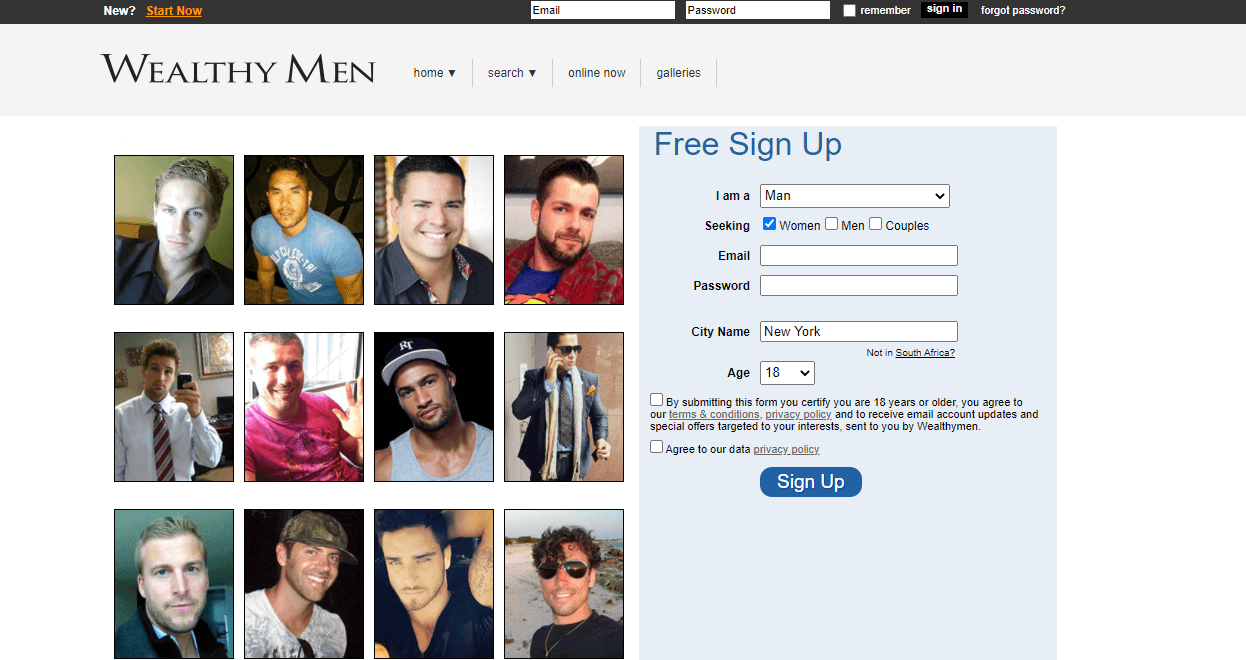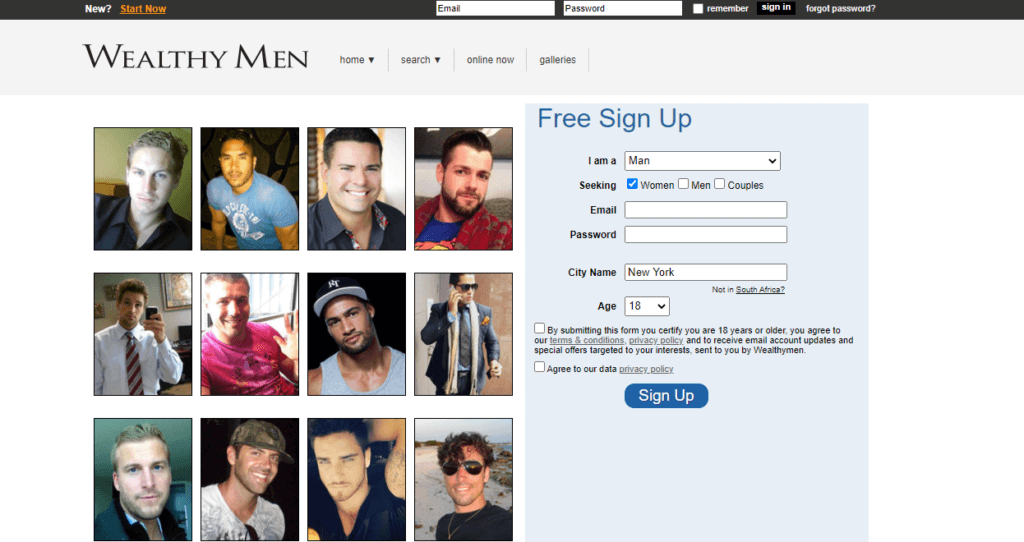 Ease of use – 4/5
Effectiveness – 3/5
Key features – 3.5/5
Pricing – 3.5/5
Long-term membership is cheap
Offers a 7-day free trial
3-month guarantee that you will find someone on site
Easy and fun to use
Regular users can't see full profiles or message others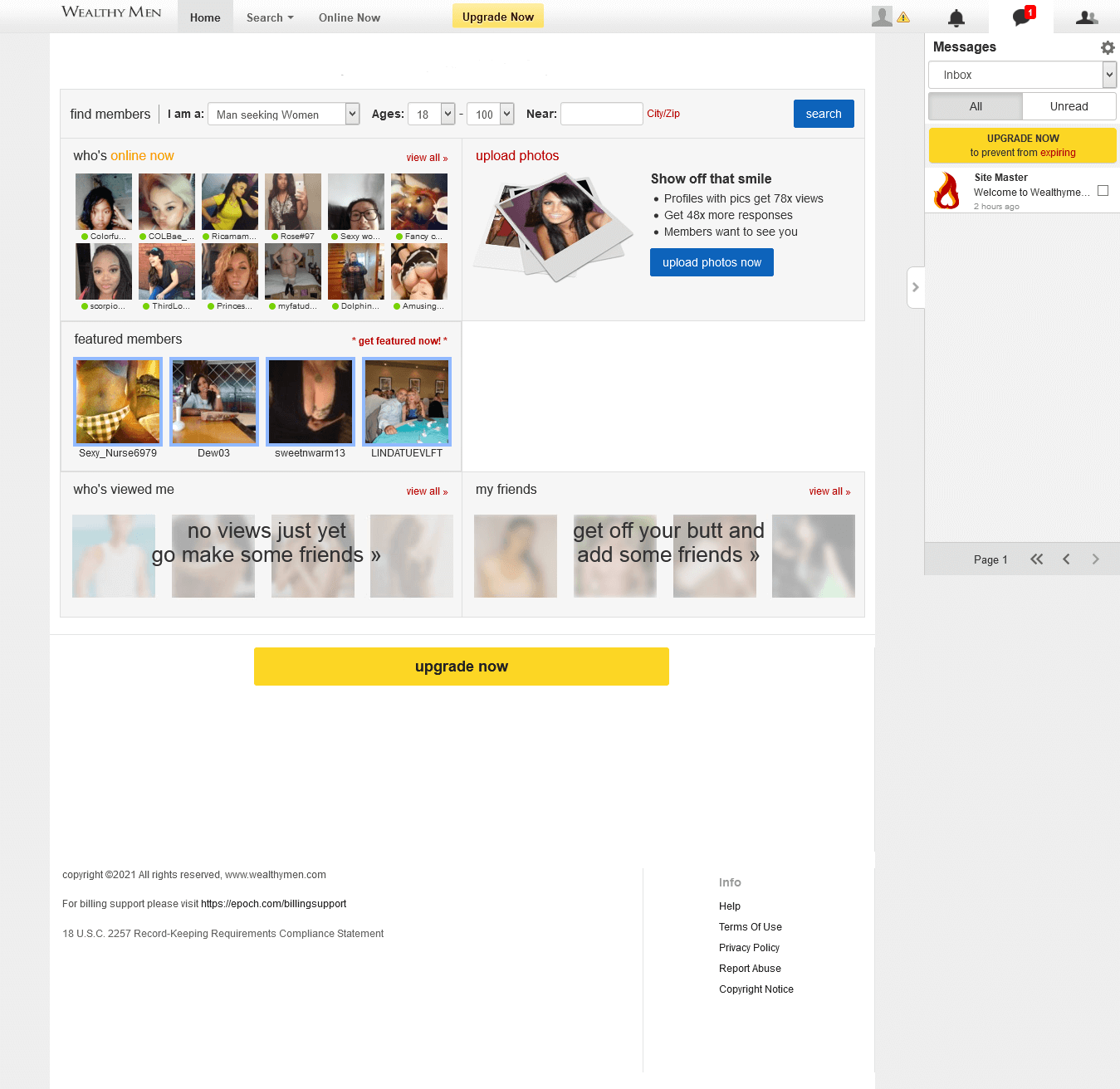 Who Is It For/Demographics?
From the introduction to this dating site review, we've already seen just what wealthy dating sites are all about.
OFL Top Recommendations based on 100,000+ Survey

"Serious Relationships"
"Discreet Hookups"
"Best Course for Men"
"Quick Flings"
"Normal Hookups"
"Our Quiz"
It's the perfect place for older men who are rolling in the cash to find younger women to be their companions.
It might be someone to take out on a business dinner, or when you need a date for a cocktail party with the mayor.
Whatever the reason, a site like Wealthy Men can provide you with someone for a one-off occasion, or perhaps even for a long-term relationship.
Often the difficult part of dating sites reviews is finding just how many users a site has.
Some love to tell you and others keep those numbers close to their chest.
When that happens, as is the case with WealthyMen, you've got to do some digging.
And that digging turned up the following:
Approximately 300 000 users have registered for profiles on the site
Around 60 000 users are online each month
That's around 2 000 per day and 15 000 each week
While there is no hint of age ranges, you know that the male users will be 35 and above and the female users 18 – 25 mostly.
Of course, there will be one or two anomalies within that.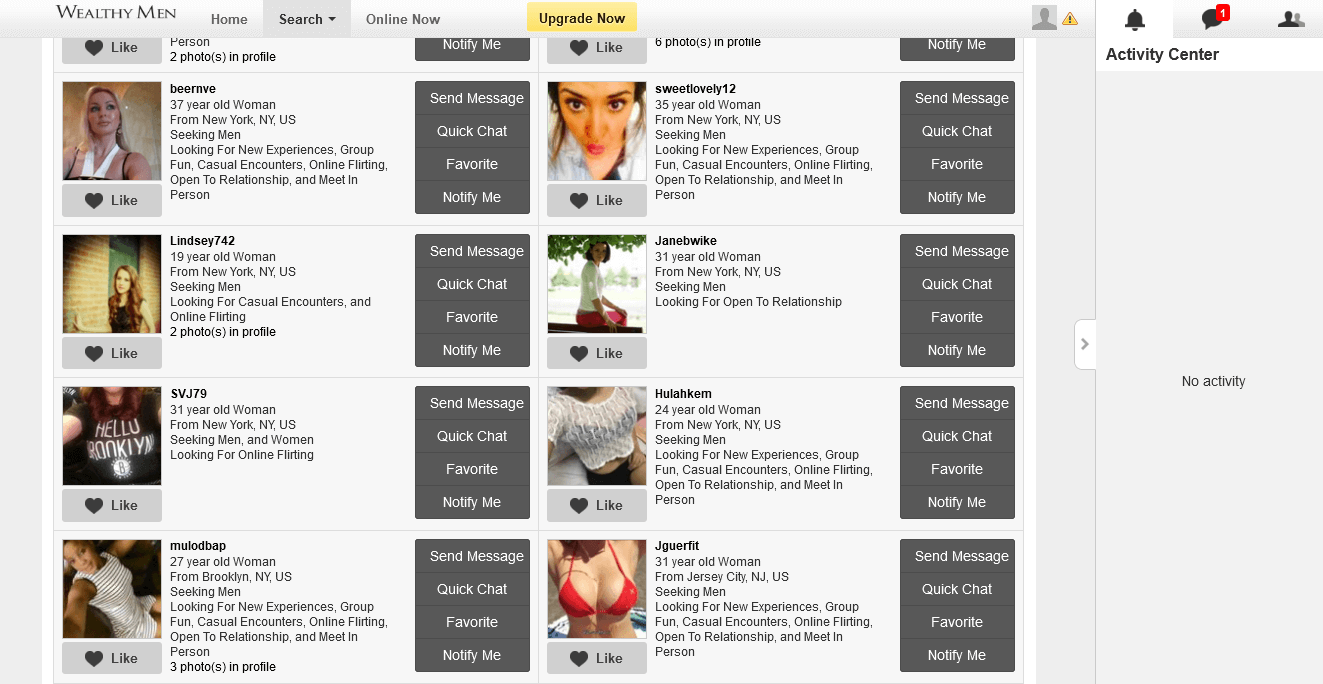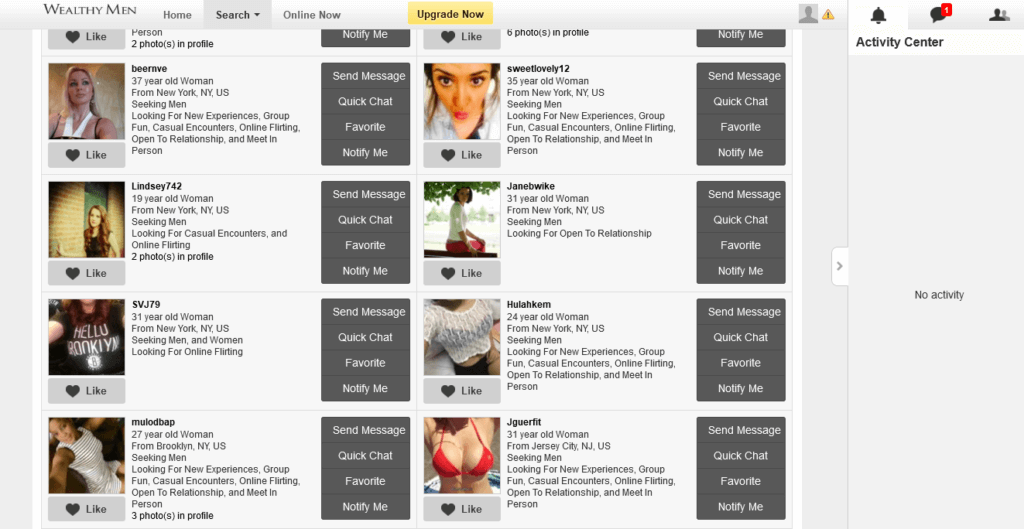 When it comes to an app equivalent to the WealthyMen website, yes there is one.
But it's only for IOS devices and can be downloaded from the Apple Store.
For the purposes of this review, we started our WealthyMen user account by registering via the website.
While it's not the worst landing page I've ever seen for a dating site, I would have expected a little more when I pointed my browser at WealthyMen.com
For a site that's trying to attract rich people to sign up for a profile, it was just a little bland.
But it's not what it looks like, I guess but more about how it performs.
To get the ball rolling, you will need to provide your gender and the gender you'd like to meet, your email address, a password, the city you live in, and your age.
Straight away, you are taken to the site without the need to validate your email or fill in any part of your profile.
And while it's tempting to jump straight in, rather start with providing other users with more information about yourself by starting with that.
Before we get there, let's talk about the site itself.
Well, the site doesn't have much color of its own – everything is pretty grey – it has its own unique design that sets it apart.
And lucky, there are splashes of color thanks to the fact that profiles of other users are pretty dominant on the home page.
They dominate the main viewing panel that appears from the left-hand side of the site and moves three-quarters of the way across the page.
It's a design that I really like.
The other quarter of the page on the right-hand side is where you can view notifications, messages, and connections (for example, people you have favorited).
Just a few menus across the top of the home page help you to navigate the site.
These are:
Home: This takes you back to the homepage where you can view potential matchups near your location.
Search: This launches the WealthyMen search engine. This is what you will use to help facilitate matchmaking on the site.
Online now: See users that are currently online
Profile picture: Click here to make changes to your profile
Bell icon: All important notifications appear here
Speech bubble icon: Click here for your messages
People icon: This is the connections menu where you can see who you have favorited, etc.
I love sites like this that keep things simple.
There aren't menus after menus just for the sake of it.
Those behind the site have given you what you need to navigate your way efficiently.
As I mentioned earlier, there is nothing that contributed to completing your profile while you registered as a user for the site.
Some sites just want to get you online as quickly as possible and that's certainly how WealthyMen operates.
It's both a good and bad thing, however.
While it's awesome that the registration process doesn't take half an hour, there is the risk that people won't fill in their profiles properly.
But because users are at 0% competition when they first hit the site, perhaps that drives them to get their profile completion out of the way.
Or maybe it's the silly user name they get given.
Yes, WealthyMen will assign you a username first up.
Try HealthCoast882.
Not that appealing, really.
Luckily, it's easy to change.
But what else is there in your profile that you need to know about?
Well, you are going to have to include a profile picture, obviously.
Luckily, WealthyMen constantly reminds you until you do.
So that's a good thing in my book.
Here's what a profile on WealthyMen includes:
Display name
An "About Me" section
An "About You section
Profile tag line (like a headline)
What you are seeking (women, men)
What you are interested in (for example, new experiences, casual encounters, meeting in person and more)
Date of birth
Location (country and city)
Appearance parameters (ethnicity, height, body types, hair and eye color)
Income
Marital status
Profession
Religion
Mood status (online flirting, meet in person, serious relationship)
Living arrangements
Would travel to meet someone or not
Play level (including webcam play, weekend romps, one-time fling, sex and maybe more)
Most of these options are simply checking a tick box.
It took me all of five minutes to complete my profile and it was the "About Me" and "About You" sections that took the longest part of that.
You also have the options of verifying your photos which provides a level of security on the site.
I think it's important too as gaining access to the site didn't even need a validated email address.
But enough about your own profile, what about the quality of users on the site.
Well, one thing I will immediately say is that they are not scared to show a bit of flesh.
And yes, there is nudity from time to time.
Actually, at a point during my time reviewing the site, it had a bit of a hookup site feel to it because of the nudity.
But I guess that's the way some users want to get attention, right?
On the whole, however, there were some extremely beautiful young women near my location and that bodes well for all other users.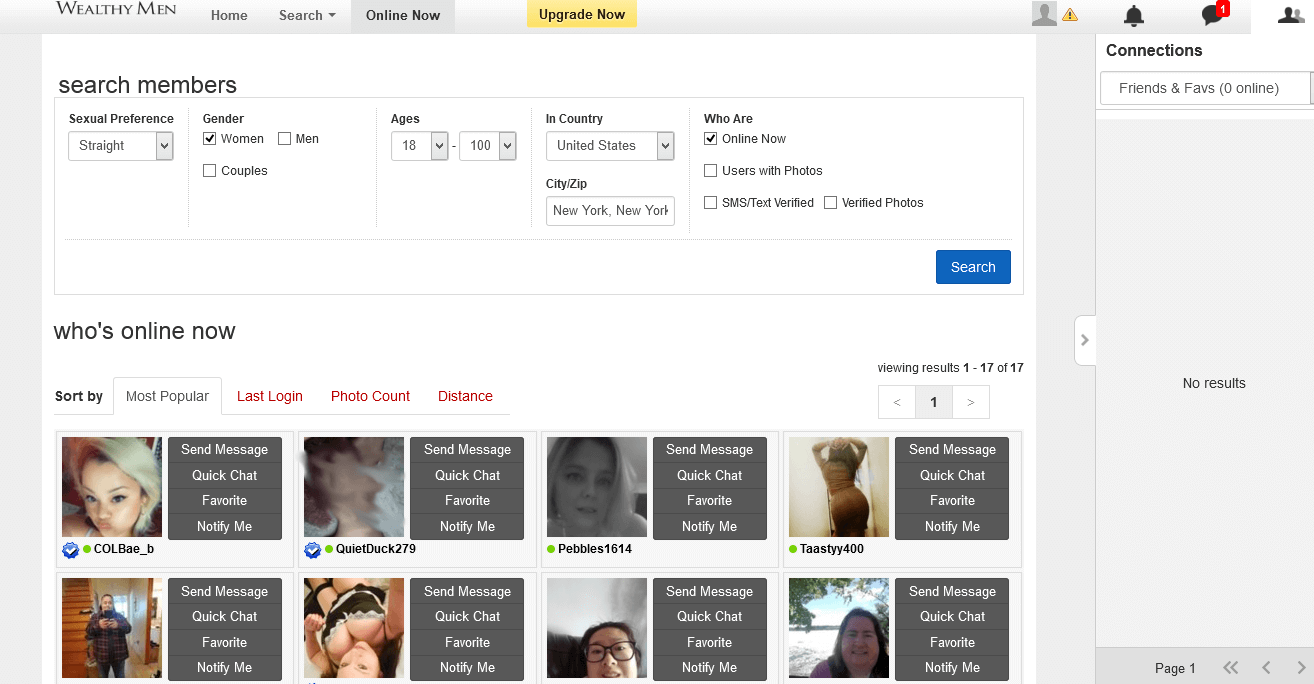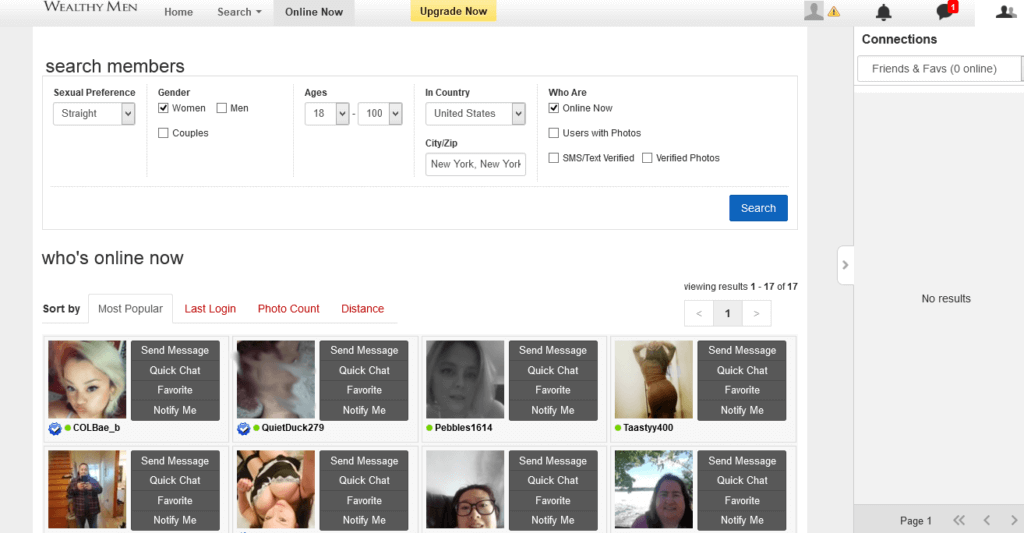 So how do you go about finding those wealthy men or young women on this sugar daddy dating site?
​Well, there's a fair number of tools at your disposal, which is nice.
And first up in this section, we are going to look at all the ways that WealthyMen helps you to find a potential matchup.
So how do you get a rich boyfriend, gay daddy, or find attractive women on WealthyMen?
Well, from the moment you are first given access to the site, you will be presented with potential matchups on the homepage.
But as with most dating sites, these aren't always the most accurate.
For example, here they are initially users that are currently online.
You can also see featured members as well.
As I said, almost all of these aren't going to be near your location.
Some could be in New York, others closer by.
The problem comes in the fact that you wouldn't actually know.
Why?
Well, you can't view their profiles as a regular user.
This isn't a free dating site at all.
To get the most out of it, you are going to have to consider membership.
But we will talk more about that later in the review.
The best way to go about finding your sugar baby or wealthy man is by using the matchmaking search engine.
Hovering over the Search menu at the top of the screen brings up several sub-menus.
These are:
Search members: Here you can search exclusively through profiles of users who have already signed up for a membership on the site.
Advanced search: This allows you to search using the advanced search engine. This is available for all users, not just those who have taken out gold membership.
SMS users: Those who have been verified via text messages
Most popular: These are the most popular profiles on WealthyMen
New faces: Click here to see all new users that have registered for profiles on the site
Who's viewed me: Click here to see any users that have viewed your profile
Online now: By clicking on this menu, you will see users that are currently online
Mood statuses: View users by their current mood status update
While all of these certainly have their place, it's the advanced search engine that you will keep on coming back to time and time again.
Here you can include any number of profile parameters to search by including:
Appearance
What kind of relationship they are interested in
Just how compatible they are with you (taking into consideration religion, language and marital status)
Their sexual preference
Their location
Their age range
If they are online currently
If they have a profile picture
If they are SMS verified
If they have verified photos
Once you've made your search, you can then sort the returns using the following filters:
Distance from you
Last login
Photo count
Most popular
Overall, I was very impressed not only with the advanced search engine and the way it could be fine-tuned but also with the results it brought up.
You are also not confined to just searching in your current location.
You can search for potential matchups anywhere in the world which is more than useful for someone who travels often.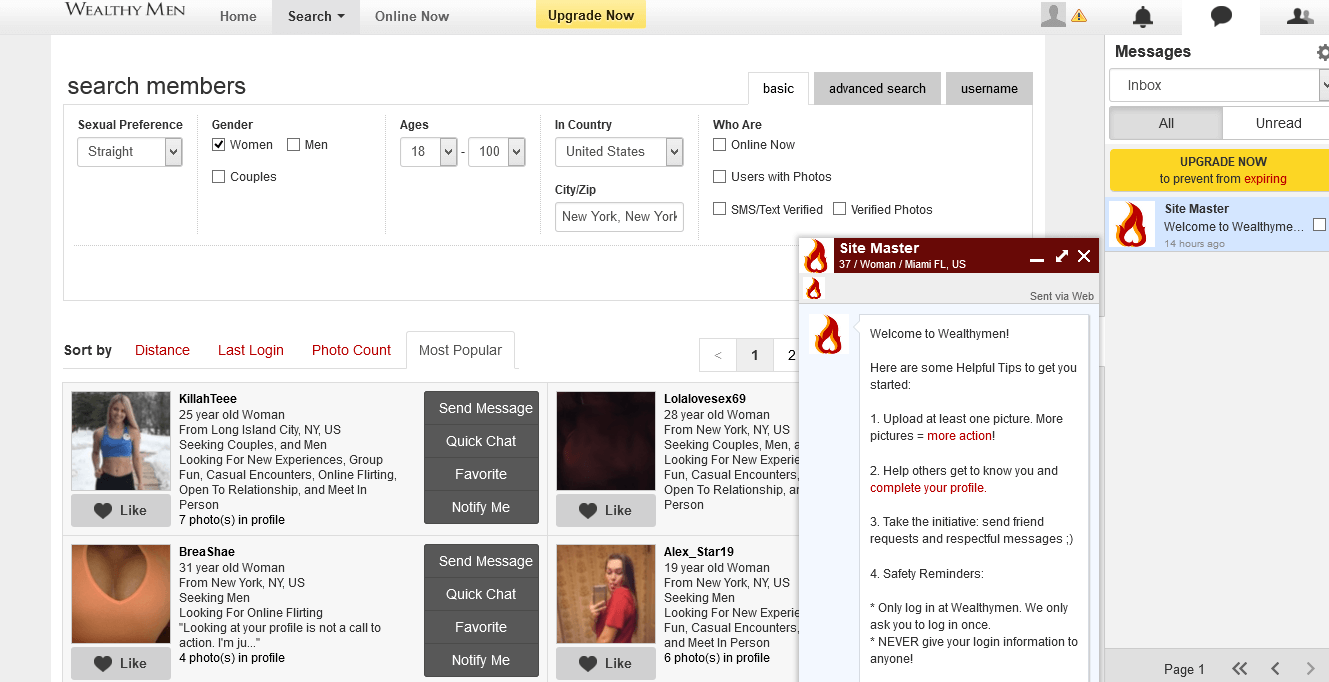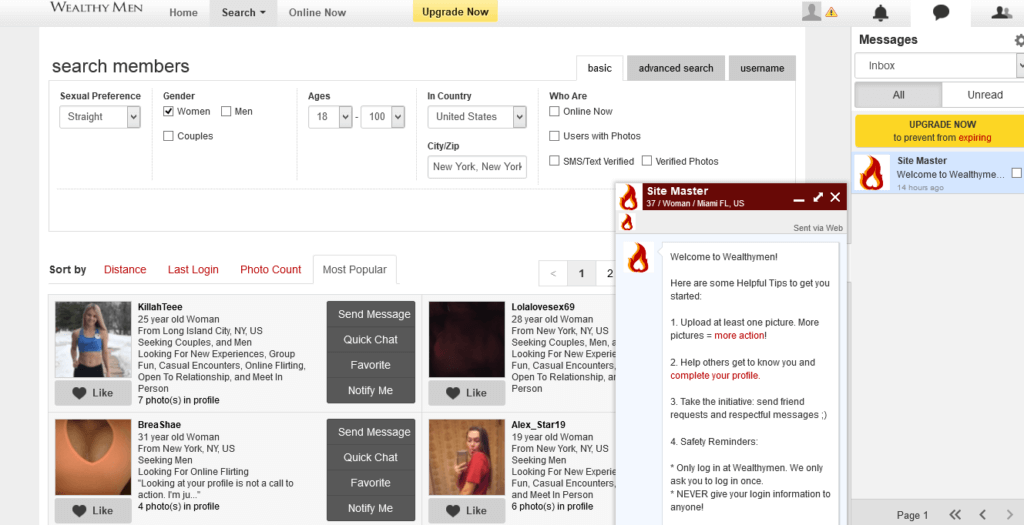 Reaching out to other users
So while the search engine will provide you with excellent search returns, there is one catch.
You cannot view full profiles.
Click on someone that you'd like to get to know more about and you are immediately taken away to the membership sign-up page.
That's how many of these sites operate.
To be honest, it doesn't bother me that much either because to message anyone, just like on 99% of other dating sites across all niches, that's a member-only feature.
That said, you will notice in your search returns that each profile has a few options.
These are:
Send message: If you have a membership
Quick chat: You can send a one-line message but it's from a selection and you can only message once. For example, "You look great, care to chat?"
Favorite: Add them to your favorites
But that's it in terms of communication with others for free users.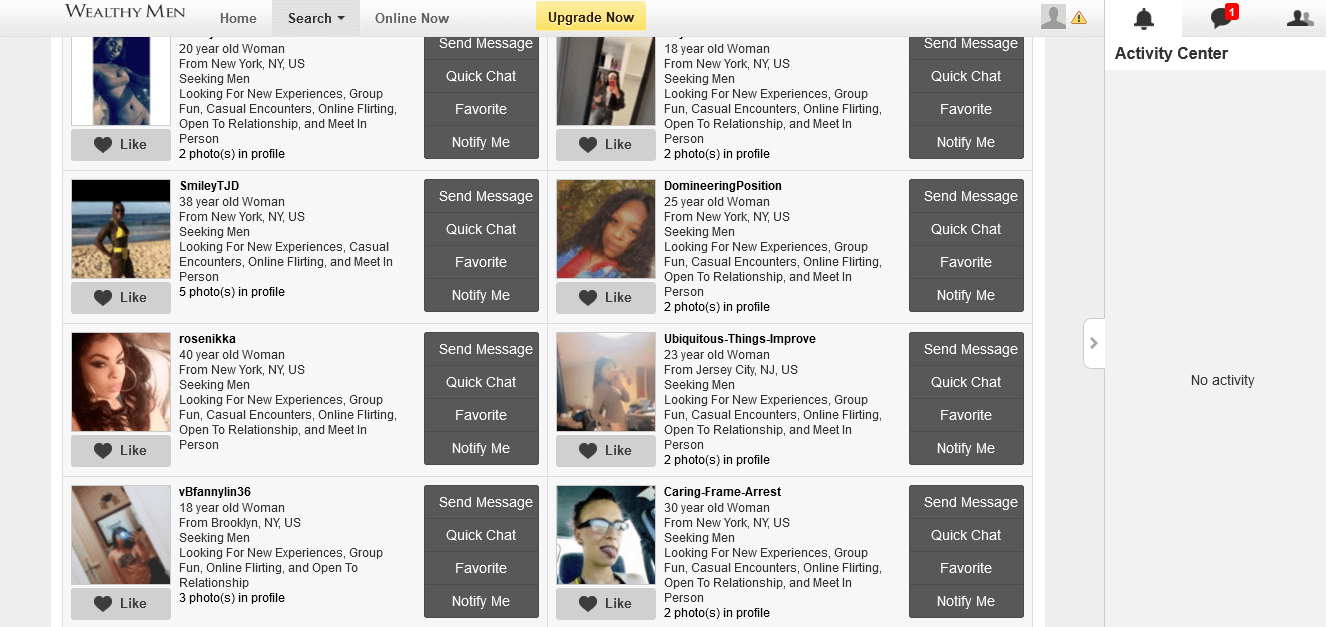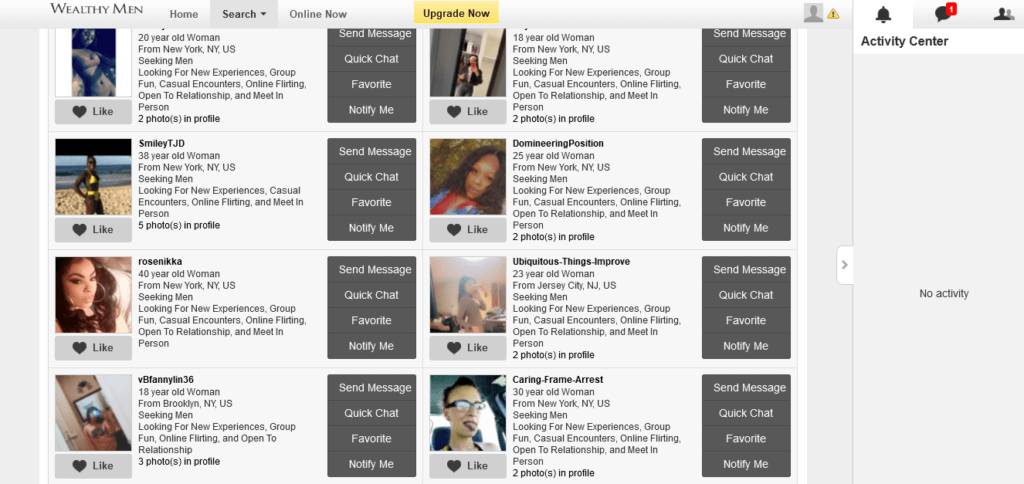 If you opt for membership on the site, these are some of the key features that are available to you.
1. Send and receive messages
As we've seen already, while regular users can send very limited quick messages and only one per user, reading and sending longer messages is only for paying members.
Without membership, you aren't going to get very far on the site without messaging, that's for sure.
While we are all initially attracted to the profile pics of other users, there is no doubt that we always want to learn more about someone through their profile.
But as we have seen, you cannot view full profiles if you aren't a member of the site.
Along with messaging, this for me is the most important perk of membership.
3. See who viewed your profile
All members can see which other users have clicked on their profiles, even if it was a free user.
Members are allowed to give ratings to other users on the site
WealthyMen promises that if you aren't able to find someone to hook up within three months, they will give you another three-month membership for free.
To further show that they are legit users on the site, members can verify their photos, their profession as well as the income they earn.
If you are a sugar daddy, verifying your income might just be the boost you need to make you more attractive to sugar babies.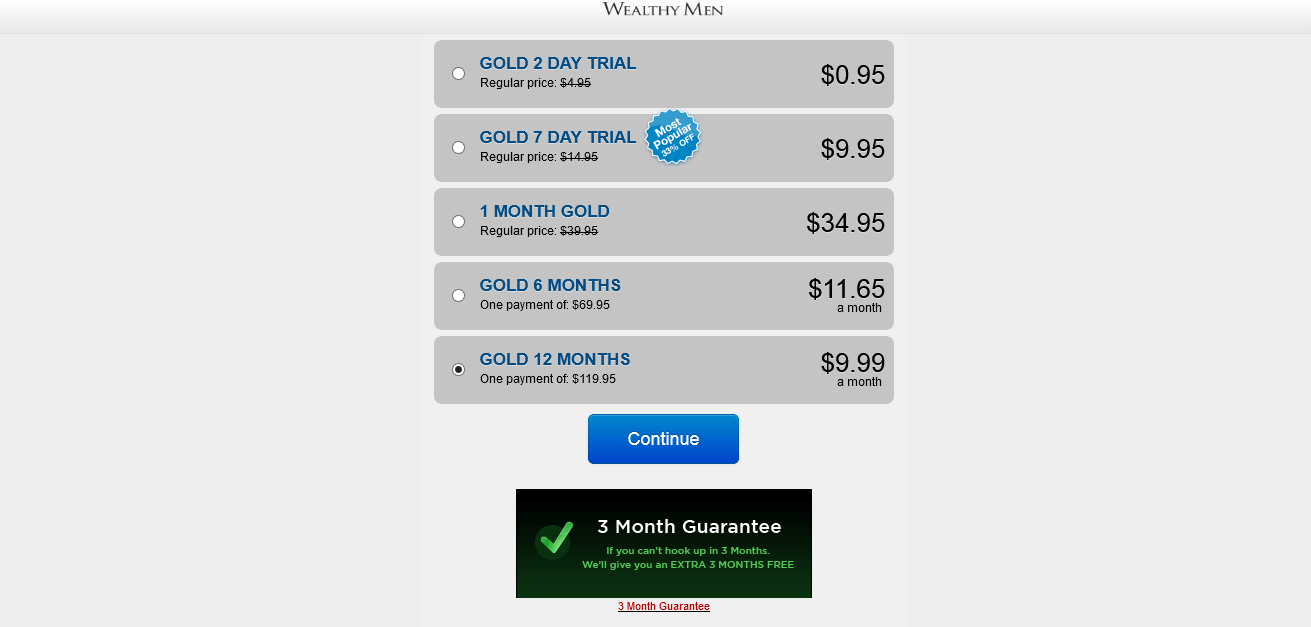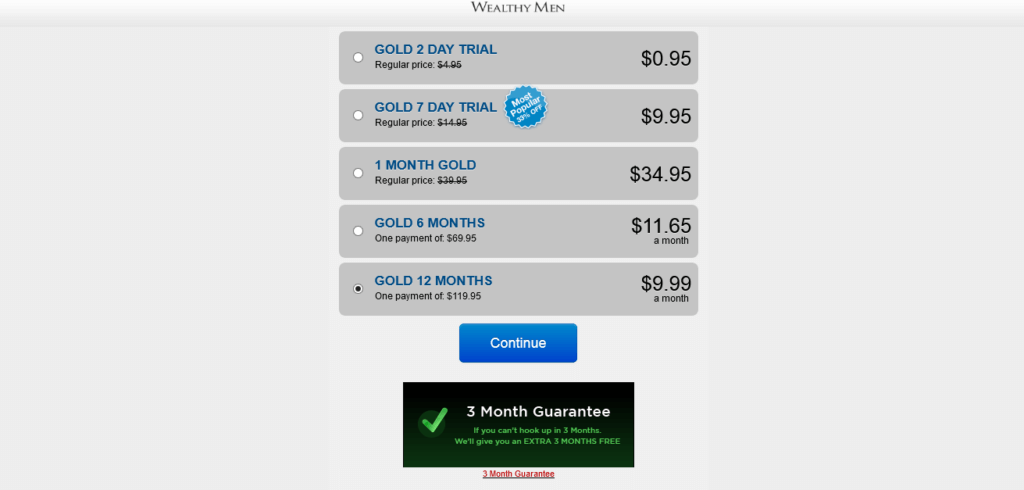 WeathyMen offers several different membership packages in terms of the length of the contract.
But for me, the most critical thing that you can do as a regular user is try out the site for a week.
And that's possible thanks to the 7-day trial which costs $14.95 (sometimes marked down to $9.95).
Dating sites with trial membership are some of my favorites.
They allow you to spend time on the site to see how it's could potentially work for you.
And seven days is more than enough to do that, that's for sure.
Should you then wish to buy a longer membership, here are your options:
1-month membership: $34.95
6-month membership: $69.95 ($11.65 per month)
12-month membership: $119.95 ($9.99 per month)
There is a saving of around 66% per month to be had on the six-month membership option over the month-to-month package.
If you are looking to use the site for a period of time, taking out this membership option makes the most sense to me.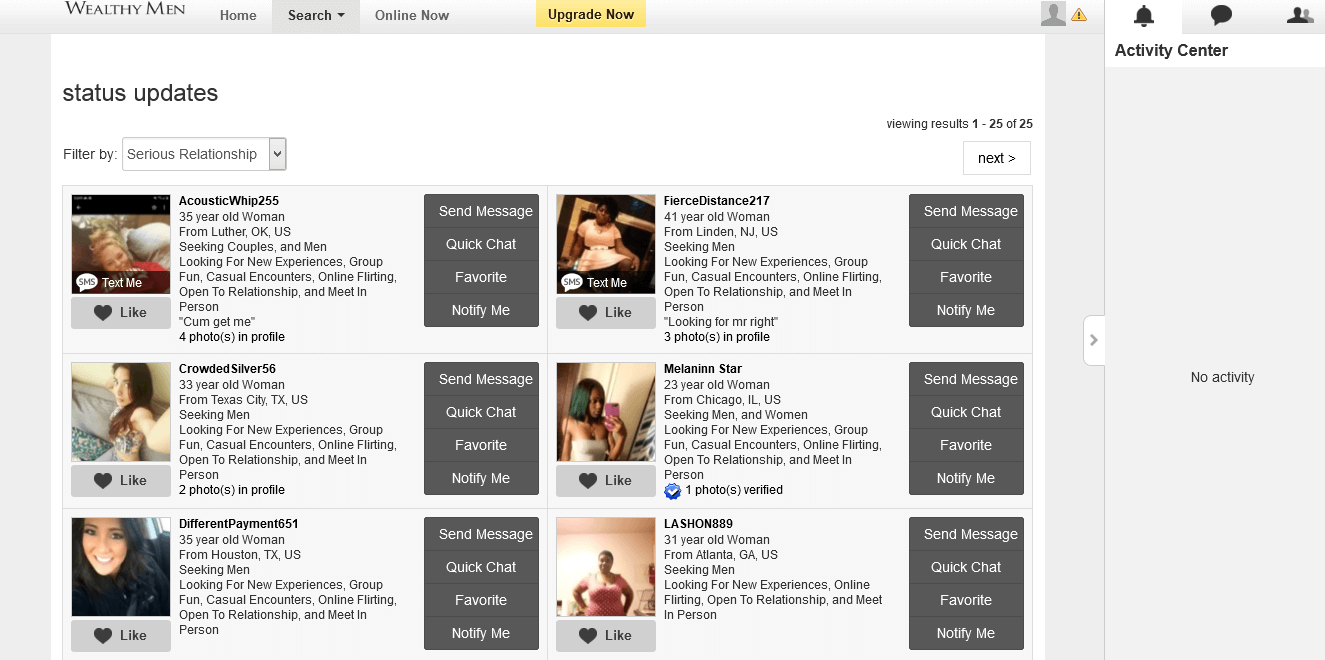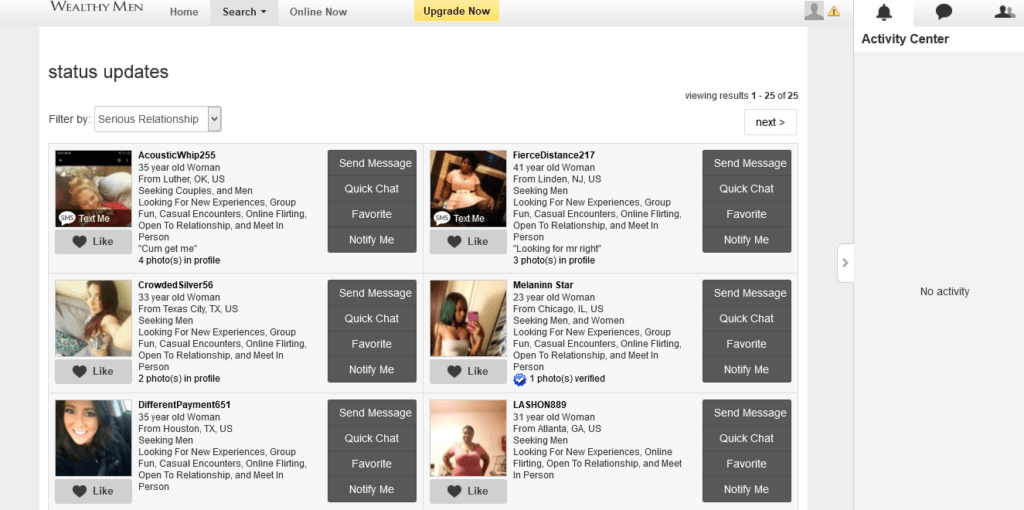 Conclusion and Overall Rating
And that's it for our WealthyMen.com review.
Thanks for taking the time to read it.
While this isn't the biggest rich men dating site on the internet, it certainly has its place in online dating and you can meet attractive women or wealthy single men here, that's for sure.
It's worth your while checking it out too thanks to the 7-day trial on offer.
Overall, membership is a necessity, free users just won't have much luck on the site thanks to the fact that you cannot message or see full profiles of other users.
I also love the fact that those behind the site put their money where their mouths are with their three-month guarantee.
​But let's get a final rating for WealthyMen.
It scores a very solid 3.5 out of 5.