Hello everyone and welcome to our Match.com review 2023!
This article will be focused on the following features of the dating service:
Let's dive right into this Match.com breakdown so we can see how it compares to the list of best dating sites!
OFL Top Recommendations based on 100,000+ Survey

"Serious Relationships"
"Discreet Hookups"
"Best Course for Men"
"Quick Flings"
"Normal Hookups"
"Our Quiz"
Is your dating app giving you the best chance for success?
Make sure to take our online dating site/app quiz to find out.
It's a fact that people who follow our dating site suggestions have on average 2 extra dates per month.
Audio (podcast) form for those of you on the go
Match.com – The staggering numbers
Since 1995, millions of people have found potential matches on Match.com.
The site is owned by the Match Group, just like Tinder, OkCupid, Bumble, etc.
To join the over 500,000 matches completed yearly, it costs $41.99/month, or $23.99/month (3-month package) or $20.99/month (six months plan).
About 22 million members use this site monthly in 24 countries around the world.
Next, to eHarmony, Match.com is one of the largest dating sites on the internet.
Match.com not only serves singles within the United States, but they also cater to singles living in a total of 24 countries (the US included of course) and have websites in 15 different languages.
Our researchers believe that it is this diversity that gives them one of the largest membership bases when it comes to the world of online dating sites.
In addition to their large membership base, they also boast a wide number of features not found on other dating websites.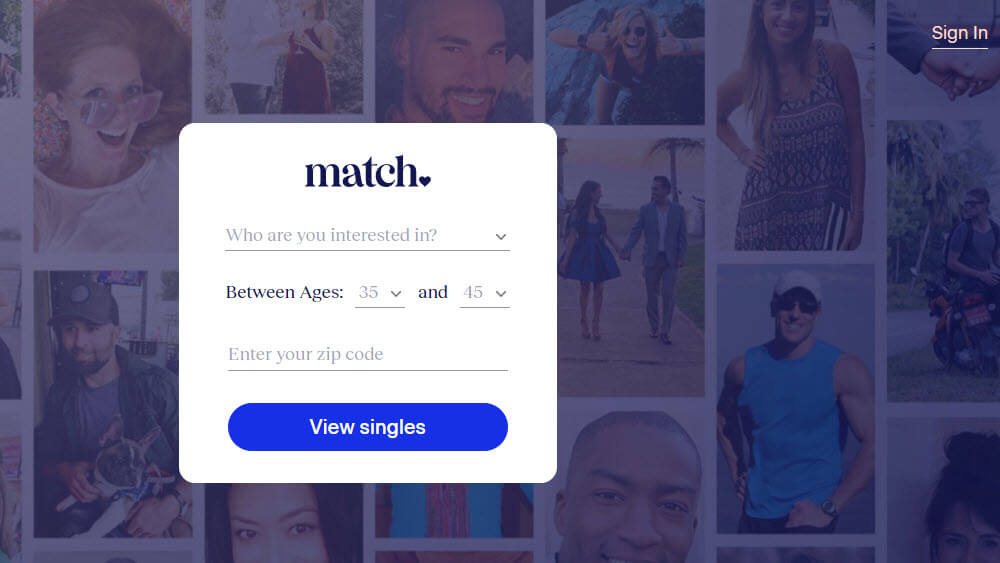 It should also be noted that a growing number of Match.com members are people aged 50 and over.
This is great news for seniors looking for a well-established, trusted website where they too can find lasting, meaningful relationships and even marriage.
We gave Match.com an overall rating of 5 stars out of 5, this is how it ranked for each feature.
Ease of use – 5/5
Success rate – 5/5
Key Features – 5/5
Pricing – 4.5/5
But are there all positive reviews about match.com, or does this great site have some areas to improve on?
Now let's look at some of the likes and dislikes we observed with the Match.com website.
Match.com has a cool six-month guarantee.
They offer wireless dating with Match.com Mobile
They have a cool keyword search tool called MatchTalk
They have a free monthly magazine called Happen, "because love doesn't come with instructions".
They have lots of members
You are not able to see the subscription costs unless you register with the website
The profiles on match.com vary a lot (some people spent time on their profile, and some did not).
It takes a while for customers service to respond to all complaints
The free version doesn't offer much benefits
Profile changes are reviewed manually by Match.com staff
How easy is Match.com to use?
We believe our Match.com reviews interest you up till this point, but there is more to be uncovered.
If you're not new to the wonderful world of online dating, then you won't have any trouble using Match.com, as navigating the site is quite simple.
We found the site to be beautifully designed with appropriate images and graphics.
They have also taken great care to make sure that the graphics do not detract from the content on the site.
Users, however, who are new to online dating will feel a bit overwhelmed by the layout and design of the Match.com home page.
The first thing that Match.com showcases is "More ways to meet at Match.com."
The registration and signup process takes only a few minutes to complete.
During this time, you'll be asked to fill out a questionnaire (ensure to fill it out completely), to help the matchmaking algorithm suggest the best matches for you.
The "About me" section is limited to 100 words only, so you have to choose your descriptive words carefully and make a good first impression on potential first dates.
Also, the site shows the percentage compatibility between users and potential matches – this, for us, was awesome.
We have provided their registration tool and the guide to getting you started with dating and meeting your potential match.
Unfortunately, you will need to scroll down before you can see the links to the other areas of the site such as their FAQ section, Dating Advice section, and more.
Check here to see the current design of match.com.
If you think being present in 24 countries and having websites in 15 different languages doesn't make it one of the most popular dating websites on the internet, then this Match.com review is absolutely for you.
Match.com currently enjoys a membership size of between 17 million to 22 million.
Match.com is one of the leaders in online dating, certainly among the top 10 online dating sites given its wide reach within the global economy.
And with a customer service that is so responsive to real-life issues, helping to solve problems with regards to finding a mutual match and more, users are surely in good hands.
Founded in 1995, match.com claims to have "inspired twice as many marriages as any other dating site in the world."
Match.com claims to be responsible for more dates, relationships, and marriages than any other dating site in the world.
With their large user base that consists of baby boomers, young individuals, Christians, Jews, etc., who can blame them, or overwhelmingly refute this claim.
Guys looking for older women to date or searching for beautiful single women near their neighborhood and far away from all throng here for a piece of the action.
So let's get into some figures.
The Match.com staff calculates that an average of 200,000 people find the people that they are looking for on Match.com.
In one year alone they estimate that about 500,000 people were able to find meaningful relationships through using Match.com.
Our researchers believe these numbers to be correct considering the overwhelming popularity of the site and the number of successful relationships and marriages that Match.com has enabled.
Now, these are certainly some encouraging figures especially for older people who are seeking meaningful, long-term relationships.
Also, men and women who are divorced but thinking of starting to date again would find this dating app very useful and friendly.
Staying safe is also a big theme for the mobile app.
Because there are unscrupulous people with fake profiles everywhere, dating safely is key, just as it is with most top online dating sites.
How much does Match.com cost?
Sadly Match.com makes finding out their subscription costs as easy as digging for oil.
Although I have a new article with the updated match.com prices!
After some digging the closest that this Match.com review could come up with was the following pricing list:
One month = $41.99 per month
Three months = $23.99 per month
Six months = $20.99 per months – This package also comes with their Match.com guarantee.
They also have additional paid features that members can take advantage of such as matchPhone, Highlighted Profile, and First Impressions to name a few.
Now, this might all sound expensive; however, when you compare the features that this site offers to that of other dating sites, you will realize that you get greater value here than most other sites.
The six-month package is the best choice mostly because it comes with the Match.com guarantee.
If you want to try match.com without paying, there is a special match 3-day trial that's available!
This six-month membership plan has got so many perks, a large chunk of the users of the online dating site show interest and opt for it.
With the number of users, this best online dating site boasts, few, if any, can match its robustness.
Even with such fees, Match.com makes people feel that online dating is worth it all.
There is something for everyone at Match.com because it offers a wide range of features.
Some of their more unique features are:
MatchWords – This is similar to the keywords that we use when searching for information using your favorite search engines.
Just create a list of keywords that you want to search for, and match.com will do the rest.
They will even send you some of the popular MatchWords that have been recently added to help you get started.
Lack the time actually to search through profiles yourself?
Don't worry; Match.com Platinum will assign you a personalized, professional matchmaker to do the searching for you.
MindFindBind with Dr. Phil – If you need assistance in jump-starting your online dating experience, then you can be a part of Dr. Phil's exclusive monthly program.
This program will walk you through how to get your mind ready for a date, how to find that special someone, and how to bind/bond with them as time passes by and you spend a lot of time together.
Furthermore, the paid membership and premium plan options unlock more perks for the user through the search options.
Member's profile, body type, ethnicity, daily matches, relationship status, similar profiles, age range, reverse matches, and more are offered to paid members.
Even with rights reserved for people with a free account or free membership, the standard plan (or free trial) can still get you that perfect match.
Also, free users can read match.com emails without subscribing.
There are more and more perks for premium users like attending match events, specifying deal-breakers while completing the questionnaires, and more.
That being said, free dating can be fun, but to get the best out of Match.com, the paid membership option remains the best.
This is similar to others in the category of the best online dating sites.
When you visit Match.com to open a dating profile, consider what personal information you would like to give – depending, of course, on the Match.com offer you desire.
Ensure you upload a striking profile picture alongside a username that will make an impact in the mind of users while avoiding information that will cause a distraction on your dating profile.
Onlineforlove registered to the match.com dating site to determine if the hype around the site was true before concluding.
Our approach was to analyze and test all the features that make it one of the best dating sites in the world and rate them on a scale of 1 to 5.
Our evaluation was based on the following factors: price, ease-of-use, navigation and layout, website population, and overall user experience.
Match.com review conclusion
Overall, this site is just great.
So, our rating for Match.com is:


Match.com truly is one of the go-to online dating sites for anyone who is looking for a serious relationship and even marriage.
They cater to young people, seniors, gays, lesbians, Christians, Jews, and people in other geographical locations.
After all people outside of the US are looking for love as well.
With their large membership, unique features, success stories, and affordable packages there is no reason not to give this website a try if you are serious about finding love.
Additionally, there is nothing to be afraid of because of their Match.com guarantee – if you don't find someone special within six months of using the site they will give you an additional six months free.
Who else can make that promise?
We highly suggest you check out some VS articles such as Zoosk vs match, Chemistry vs Match, Match vs PoF, Match vs OkCupid, or eharmony vs match!
Well, that is all everyone for our match review, we hope this article helped you choose the dating site that is right for you!
As it is a site that has its presence in over 24 countries, The Ultimate Long-Distance Relationship Survival Guide will serve you well.
Click here for the ultimate guide to creating an online dating profile.
It is meant to serve as a mentor as you dip your toes into the waters of online dating.
The guide can be found on our homepage.