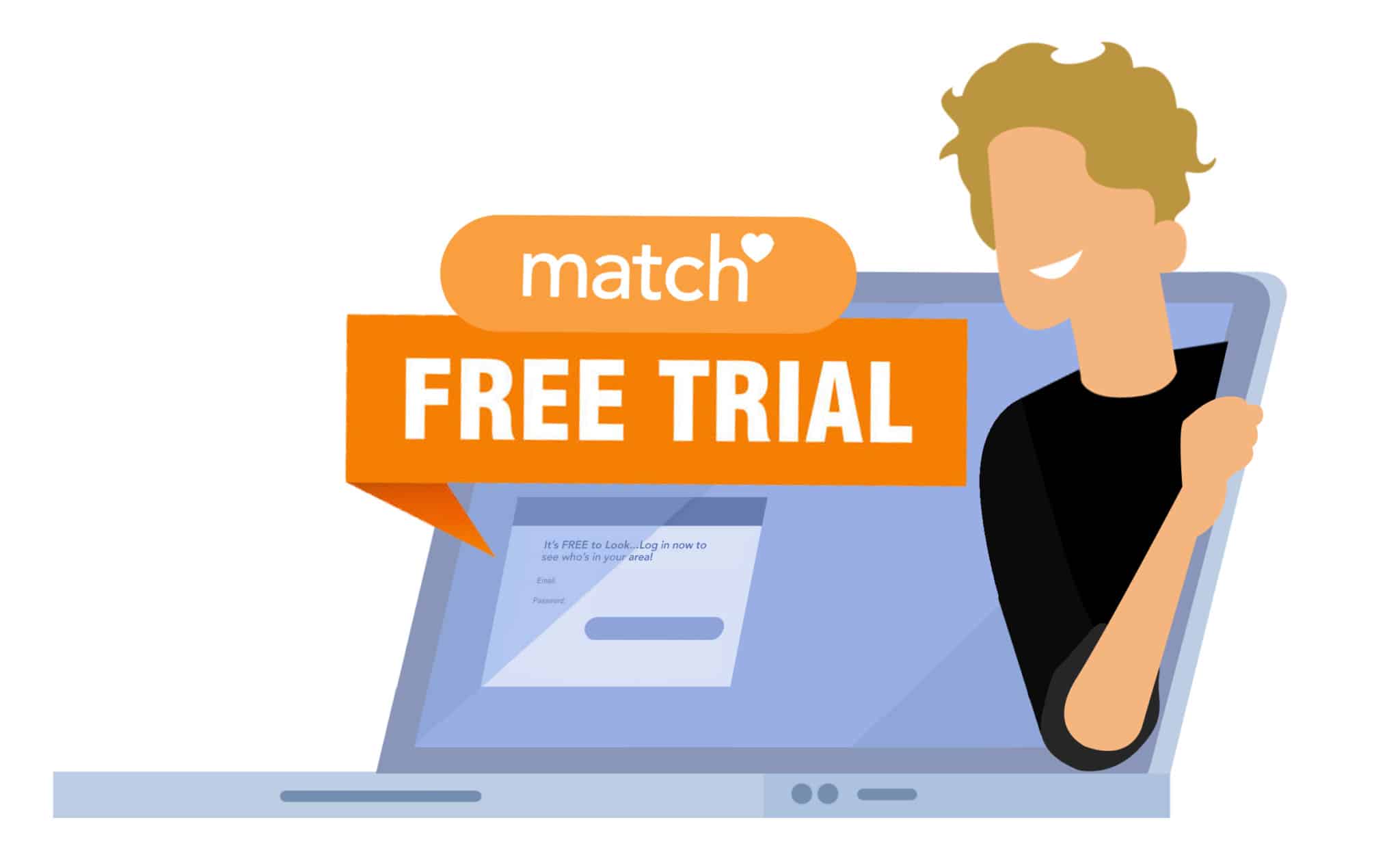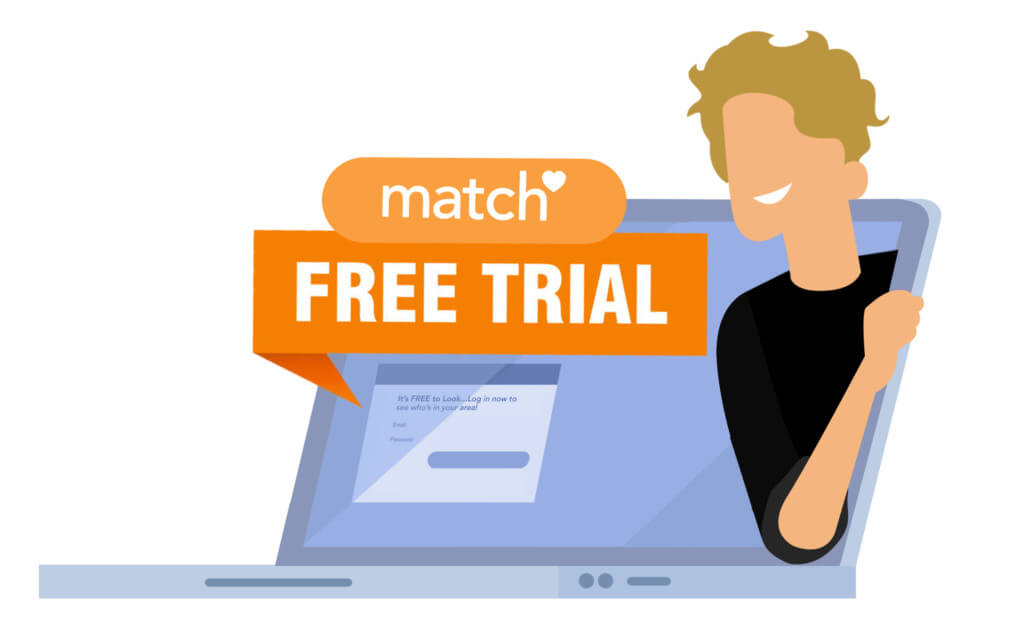 Are you interested in a three-day match free trial?
Jump to the three-day offer right away!
In this article, I will be providing the particular link so that you can access this deal!
But first, you should realize I have a special trick for you to be successful during your 72-hour free trial. This trick involves signing up for the free membership first!
I also suggest checking out the prices of Match.com and the cost of eHarmony. Another super trick that I have is to watch out for the free eHarmony weekend that they offer from time to time. If you prefer to watch the youtube video here it is even though the article has more detail overall and the special links.
Online dating sites have been able to help so many people; young and old, male and female, to find love over the years, since it all started in the 90s. The reason for the success hugely depends on the profile.
Waant to be ready when you finally find that date? Learn more with a complete guide on how to create an online dating profile. This is the key to your success.
Is your dating app giving you the best chance for success?
Make sure to take our online dating site/app quiz to find out.
It's a fact that people who follow our dating site suggestions have on average 2 extra dates per month.
Match.com Trial Video
Match.com Free Trial Benefits
Whereas Match.com offers a 3-day free trial, it is still a dating site that offers you love on a platter of gold. With its millions of members, getting a potential match within 72 hours is possible as you can enjoy additional perks such as the 6-month guarantee with as little as $11.99/month.
How to have success on the dating website in three days
Once you are signed up for the free trial, you will have 72 hours to communicate with potential matches.
This is why I recommend signing up for a free membership first, so you can browse potential matches that you would like to send messages during your free three days.
If you have a thin, unattractive profile without profile pictures, most of your potential matches will skip right over you as a possibility. Most of the people with bad profiles on dating sites online are usually spam or people looking to scam. Since you don't want to come across as either one of these two, you need to make yourself at least appear to be a real person. You are a real person, aren't you?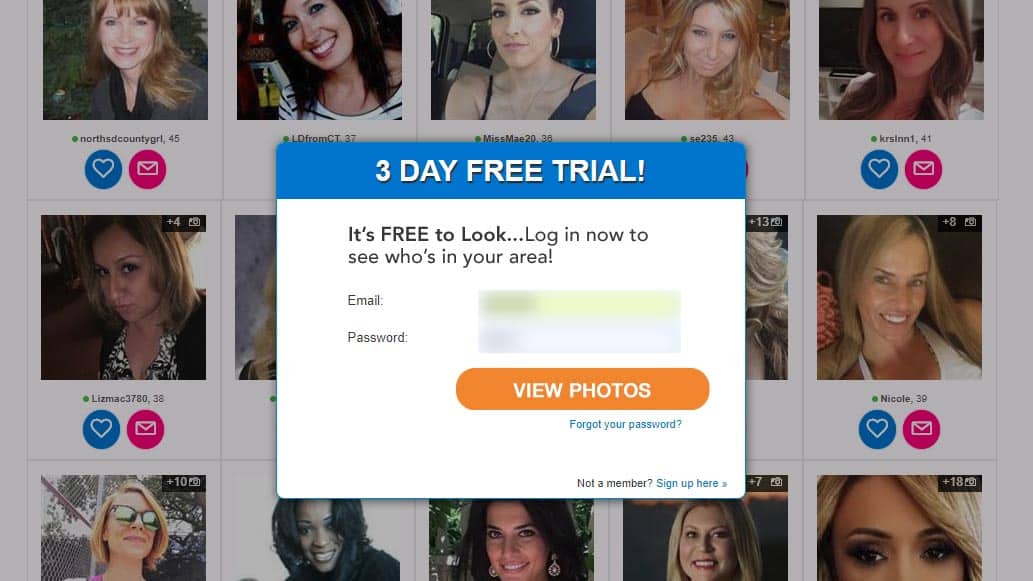 Build out your profile
This includes uploading at least a few high-quality photos of yourself. I have a full article here on how to make a fantastic profile that should be your go-to guide.
But in short, you should have a professional photo, a photo outdoors doing some sort of hobby and a picture up close of your face. At the bare minimum, those should be the three photos that you have. These serves as your profile pictures and it must be enticing.
Photos to avoid are ones with family members or friends, blurry photos, photos that don't show your features very well, or photos that are too sexual. Get more tips on what not to do on your profile pictures.
You should also put what type of relationship you are looking for whether it is a long-term or casual dating. If you are looking to meet someone specific such as Christian singles, Jewish singles or whatever else you are looking for.
Building out your profile will help significantly whether you are a man or a woman.
Build a list of potential matches
The best way that you can build a list of possible matches to talk with once you start your free trial is to send likes to the people that you're interested in. This will build a list for yourself that you can access once you start your three-day trial.
OFL Top Recommendations based on 100,000+ Survey

"Serious Relationships"
"Discreet Hookups"
"Best Course for Men"
"Quick Flings"
"Normal Hookups"
"Our Quiz"
This is why I recommend spending at least a few days building a list of potential members that you want to talk to.

Liking a user as well as adding them as a favorite will notify them that you did one of the other. I would not worry about this; the most important part is that you're building a list.
Communicate with other members
When you finally want to communicate with other members, you can then begin the free trial. I would not waste any time, and start bulk messaging all of the people on your list.
Try not to have a generic message to such as "hello, how are you today?". This will give you a very low response rate overall.
Instead what you should do is observe their profile pictures and notice something unique about them. You should be commenting on something you recognize and one of their photos. The first message should always contain a question as well. This increases the chance that you'll get a response.
This is what I call effective flirting!
A typical question could be "I notice that you went horseback riding at Laguna Lake, last time I went my horse completely knocked me off and ran away! did this happen to you as well?"
This type of beginning message is much more engaging than the simple hello.
After you have messaged all of the people in your list right after you sign up for the three-day trial, it's time to wait for responses.
Get access to the 3-day match trial
Here's the link to the three-day trial. Remember that you need to have a game plan going into the trial otherwise, you will fritter away all three days without having any success on the dating platform.
Make sure to keep reading so that you can take advantage of your 72 hours in the most efficient way. Let me show you how. But first things first, you need to sign up.
Here is what you will access during the three days compared to the free account:

How to sign up for the match.com 3 day free trial?
Skip this part if you already signed up for the free account that I talked about above.
After going through the link above, you will need to enter some necessary information about yourself and what you're looking for. Things such as your sex, the sex you are trying to meet, the age range you are looking for and the ZIP code.
The next thing that you need to enter is your e-mail address so that you can confirm your free membership account.
The last thing I recommend doing the bare minimum is to upload at least one good photo of yourself and enter a short description of who you are. Remember this is the bare minimum. Down below I will recommend all the online dating tips you need to know to have success with your search results within the three days.
Enter your card information
I know what you're saying, what!? To access this 3 days Match trial, you need to select one of their subscription plans and enter your card information.
If you realize that match.com is something you do not want to try out after the three days, you can quickly go to your account settings and cancel the subscription before you ever get charged. Just make sure to do this within 72 hours after you sign up and you will have no problems.
The only reason you need to enter your full credit card information is that you are receiving full access to a paid account for three days. I have never heard of anybody having trouble canceling their account.
Is match.com worth it after the free trial?
I think that match.com is worth it even after the trial membership is over. The truth of the matter is that most people will not meet their perfect match with only three days of being on the website.
Single men meet single women easily on this top online dating app with its over million members searching for a soul mate.
That is why I recommend people sign up for at least a 6-month subscription on the best dating sites. This is the sweet spot as we call it in the dating industry and the people that have the most success stick around for a while.
The chances that you'll find someone special in your life on one of these online dating sites is exceptionally high. But it does take some time to be able to sift through the members to find that one person.
It is merely a math equation and would require extreme luck to find the perfect person with only three days of being able to chat.
Luckily, the price of match.com is much lower than it was even a few years ago because they need to compete with mobile application prices. A few years back I remember that the monthly fees at match.com would cost approximately $50.
Now you can sign up for as little as $11.99 a month if you use my 25% off match.com discount link. This is almost 1/5 of the price that it used to cost. It's crazy how much cheaper it is now than when I first signed up years ago!
When you create a profile on a match.com account, one of the ways to save cost is to opt for a 6-month subscription, as if you don't find someone special by the end of it, you will enjoy a free 6-month guarantee package.
Here is what match.com cost with the 25% discount: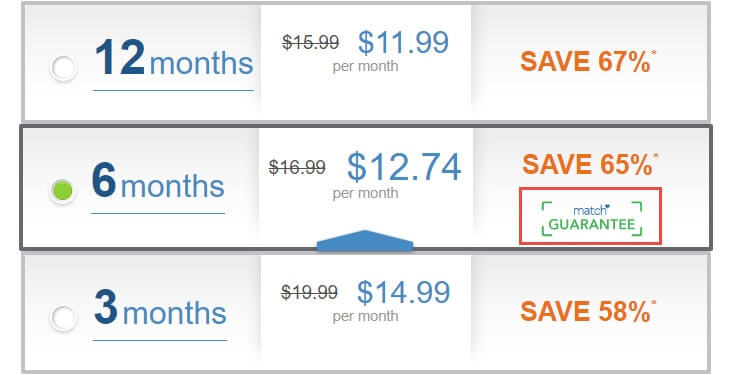 Conclusion
Well, that's about it ladies and gentlemen I hope you liked my article on the strategies I have to take full advantage of the match three-day free trial.
You can join match.com for the 3-day trial right off the bat. But if you take advantage of the strategies that I outlined above; you will have a much higher success rate of finding a significant connection within a few days
Honestly, the best way to take full advantage of the different link offers I have on this page would go something like this. Sign up for the free match.com membership and create a big list of potential people you would like to talk to.
Then sign up for the 3-day match.com trial and then message everyone that you can reach at the beginning. Right before the 72 hours expires, you need to cancel this free trial membership, so you don't get charged the full membership price for subscription plans.
After you have canceled, come back to my site and click through the 25% off discount link and sign up. This is only if you want to continue to use match.com's services. These are the best loopholes in the system that you can get.
If you choose to continue, all you need is to improve on the social skills and you will always a get a date per night.
Download the mobile app today to enjoy the 3-days match trial and let the matchmaker get you the perfect match as you start dating online.
Within the short period of trial, you can use a username that is very sexy if you are a woman, get contact details from the partners that responded to your messages, offer to take them out on a date and you work with that through that short window.
Let me know what you guys thought of my article. Have you guys tried out match.com? What did you guys think?
I recommend checking out some other articles of mine such as how much is eHarmony and the difference between eHarmony and match.
We've gathered the most incredible information and created the world's most comprehensive guide on how to date online by designing the perfect online dating profile. You'll find it on our homepage or click here!