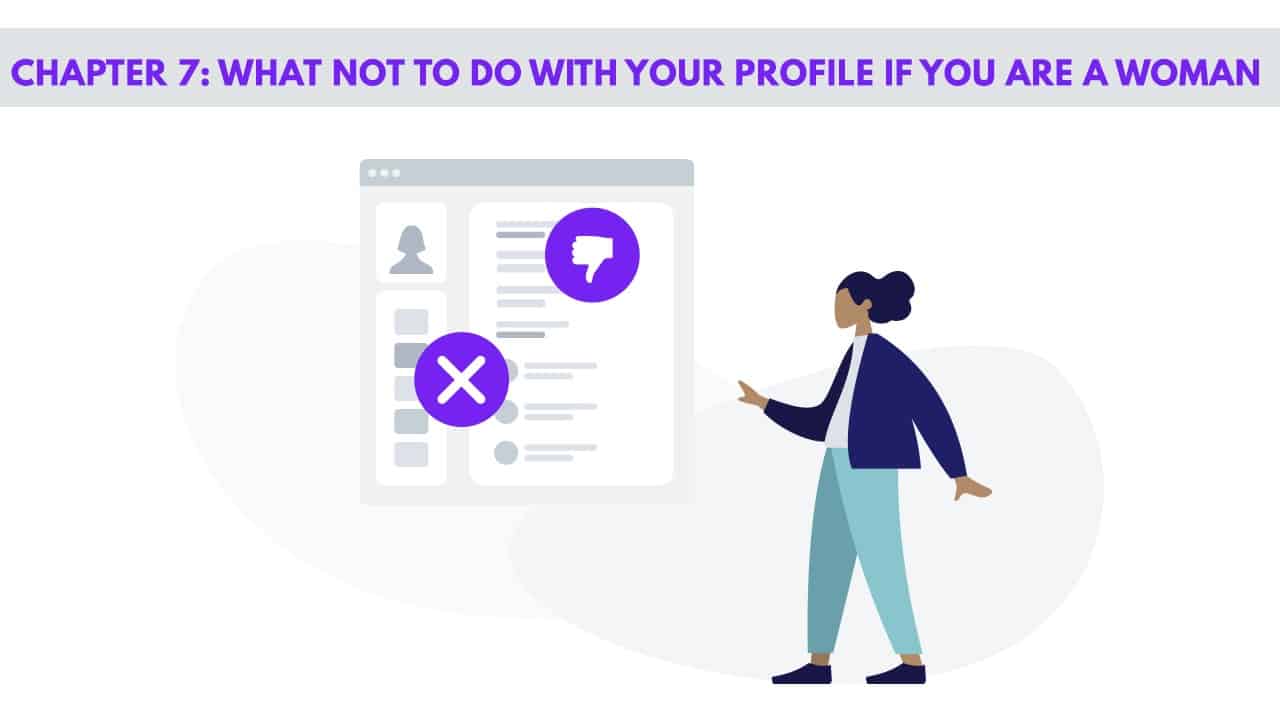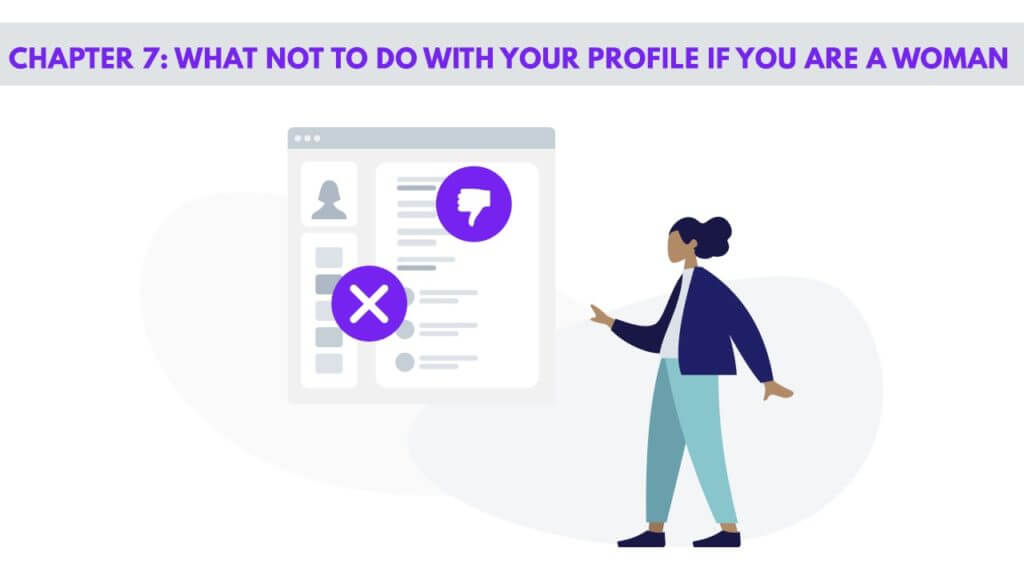 Ladies are gentler beings, tender at heart and of sharp minds. And they use this to their advantage any chance they get.
This trait of theirs is very important when we talk about how to make a dating profile.
On the other hand, these inherent qualities sometimes make things only worse.
Being oriented to details, ladies can sometimes go into way too many details that eventually nobody pays attention to. Anyhow, let us go step by step.
Is your dating app giving you the best chance for success?
Make sure to take our online dating site/app quiz to find out.
People who follow our dating site suggestions have on average 2 more dates per month.
1. Don't forget your profile picture
We have already established that physical appearance is sometimes a factor of key importance.
So, do not forget to upload your profile picture.
Tread carefully here, for you are treading down a dangerous path.
To help you out, here are some tips you should take into consideration when it comes to your profile photo.
Don't choose a photo that is not true to your current look. For example, if you are a red-head, do not post a picture from a few years back when you were a brunette.

Also, what if you currently have a few pounds more or less than before. Don't hide it, but don't flaunt it either. Show it, but yet don't make it the whole story about you.

Remember, this is the first impression. Nobody wants to feel like they were being lied to even before they get to know you.


Don't choose a photo which suggests you look younger or older than you really are. The reasons are the same as above.

You will discredit yourself as soon as you reveal your actual age.


Don't post a photo where your face is obscured. Whether it is hats, sunglasses (regular glasses are fine), scarves and headscarves they can be dispensed with in this case.

You want to show that face, there is no need to hide it. Because if you do, it can be interpreted as if you are hiding (from) something.


Don't choose a photo where your facial expression is either indifferent or perhaps angry. In a similar fashion, do not choose a photo of you grinning or laughing.

Additionally, do not post a photo of you making silly faces. Your aim is not to scare people away in the first case or look completely immature, as in the second example.


Don't use photos where it might look like you are already dating someone. No need to explain why this would be counter-effective.

Why would anyone bother talking to you when you apparently already have someone?


Don't use a photo that can make you look superficial, whether it's your outfit or the background.


Lastly, and maybe most importantly, do not out of any reason whatsoever use somebody else's picture and post it as your own.

Hopefully, we do not need to explain why. Briefly, to begin with, it is a breach of privacy rights of this other person. Secondly, it only shows how immature, dishonest and insecure you are.

The reasons go on, but we think you got the gist already.

If you are truly dissatisfied with your physical appearance, surely you know some little tricks to present yourself in the best light without the need to lie about it.
2. Don't "forge" your personal data
More or less, this is your ID.
If you do not speak the truth about these general details, your potential dates will eventually think that you must have bent the truth somewhere else since you were able to omit/falsify the details such as your current address.
To stay on the safe side, try some of the tips below.
Do not use a completely false name, or use somebody else's. The reasons why not to are the same as why it's wrong to use a false profile picture.


Do not give a false birth date. Ages might be a very important factor to your potential SO.

So if you say you were 30, while actually being 35, it might make a difference to someone younger who might find you interesting in some other aspects.


Do not give a false address. Eventually, you'll feel sorry you did. If you wonder why – here's one reason. For example, you get to like someone so much, and they like you back.

Apparently, you live in the same place. You arrange for an actual date, and then you have to admit how you live far across the country as a matter of fact.

Imagine the disappointment on the other side. (NOTE: Of course you don't need to provide the full address; just the right city is more than enough).


Don't exaggerate/undermine your education.

If you went to college, don't go straight to saying that you have a PhD. And if you actually do have one, why not say it? Intellect is appreciated, so use it to your benefit.
3. Don't skip your biography
Seriously, don't. Once you sit down to write a proper biography, have in mind the Not to Do things language-wise given further ahead.
And, here is something else for you not to do.
Don't overwrite it. Keep it simple, keep it relevant. Avoid irrelevant, empty details.


Don't copy sample texts and usual clichés you find on the internet. Try to be as original as possible.


Don't use too many emoticons, because you might be perceived as childish or inarticulate.


Don't just write dreary facts, but be funny, be creative, be optimistic instead. It will go a long way.
4. Personal questions
Since these bear larger significance and are something you only feel like sharing with someone you know, it is not uncommon for people to skip this part.
However, if you decide to answer them after all, here's a hint for you.
Don't lie. For example, you don't want children (and that's OK!). Don't write that you do, because sooner or later your date(s) will figure it out.


Don't make it too emotional. Emotions on abundant display are not appreciated. You don't need to be cold or detached, but don't leave an impression of an emotionally unstable person either.


Don't sound apologetic, justifying everything you say.
5. Likes and Dislikes
Here you are almost allowed to write whatever you want. But again, stay true to yourself. Accordingly,
Don't say you like something (a film, a TV series) just because everyone else likes it.


In a similar way, don't feel embarrassed to say that you really like something just because it's popular to hate it. As long as you are honest about it, everything will be more than fine.


Don't be cheesy. Stay off The Notebook clichés here. Such as, I like kissing in the rain. Oh, do you really?
6. Hobbies and interests
Similar to likes & dislikes, you can (almost) write whatever you want. Again, pay attention to the following:
Don't lead the other side into thinking how adventurous you are, when you're actually spending your weekends in cafés or reading at home.


Don't say you are interested in cars or football or other man stuff if you are not. Eventually, you will be asked about it, and most likely, you will not have the proper answer.
7. And finally, don't forget to Mind your language
Generally speaking, women talk more than men. The same goes for writing. So, here we go:
Don't use lengthy sentences and unnecessary explanations.

You might want to tell a story, but here it's all about getting attention and leaving a good impression with the fewest words possible.


Don't use vague expressions, but go for direct, precise meanings.


Don't use complicated language and descriptions, but always stay sharp and to the point.


Don't forget to proofread, correcting any typos or grammar and word choice.
Now that the ladies have properly been informed how not to scare off potential suitors, it is high time we dedicated some of our attention to men. So, here comes the ultimate list of what not to do