This is a collection of what several members of our team, by the name of the "eHarmony bunch," experienced while using eHarmony to date and meet other people successfully.
We've gone through the steps that may interest you as well as others regarding this app, providing tips for Android, iOS and desktop users.
Managing one's time effectively is key to getting the most out of any app, and with the right tips and tricks, such as setting reminders, creating to-do lists and breaking down tasks into manageable chunks, any man (and woman) can make the most of their time and get the most out of app users.
You'll get to explore a variety of settings and features to find your ideal match based on your lifestyle and location preferences.
Knowing how easy it is to find love on this dating platform (confirmed by 2 of our crew members who are now happily married), we decided to do a complete eHarmony review, complete with photos and images from the app experience! In order to provide you with a comprehensive opinion on the matter, we've included our team's firsthand experiences and insights.
By the end, you'll figure out if eHarmony is worth a try or a bust! In this review, the details you'll learn are listed on this page as follows:
Bonus tip: we have found that you can save a lot on eHarmony by signing up on the website (not the app) using this special link.
Is your dating app giving you the best chance for success?
Make sure to take our online dating site/app quiz to find out.
It's a fact that people who follow our dating site suggestions have on average 2 extra dates per month.
These are some of the things that our team liked and disliked most about eHarmony. You might notice that some of the so-called 'cons' on eHarmony aren't really cons, but rather just aspects that may not suit everyone's preferences or individual needs.
eHarmony is known as the most successful matchmaking dating service with impressive success stories. Even though it wasn't as extremely popular as Tinder or Bumble during the past few years, it managed to provide great recommendations and high-quality relationships for those seeking something more serious.
Since individuals don't have too many online dating options for a serious relationship, most of them opt for eHarmony, even though it may not be the most modern option out there or offer anything in terms of casual hookups.
Its primary mission is to connect people with potential matches they have the highest compatibility with. So, going through a thorough dating profile creation process before you are able to get started on the platform is required.
Pros and cons of eHarmony
To make eHarmony work, you will need to realize it's not a hookup app (like BeNaughty or Ashley Madison ). The key to getting plenty of matches is in updating your personal profile and sharing everything about yourself in these questionnaires and personality tests. Keep in mind that your profile photo plays a significant role in attracting potential matches.
Pros
Great success rate
Unique algorithm
Safe dating option
Effective compatibility matching system
Cons
Bad desktop version for the user
Some features are outdated
Great Connections & Success Rate
They are what makes the algorithm work. If you haven't completed any of the recommended tests and questionnaires, you can't expect the algorithms to match you daily with their compatibility scores.
OFL Top Recommendations based on 100,000+ Survey

"Serious Relationships"
"Discreet Hookups"
"Best Course for Men"
"Quick Flings"
"Normal Hookups"
"Our Quiz"
As we have already mentioned, how eHarmony works requires everyone to create a detailed dating profile during the signup process, and their dating profiles are unique in comparison to all other dating platforms.
Once your dating profile gets approved by the platform, you will need to fill out an extensive questionnaire about yourself, from your education, religion, personal preferences, and outlooks on life, to your ideal date location and reasons for seeking a relationship.
The main goal of these is to help the platform gather as much information as it can about you and help you connect to other subscribers who share similar stances and characteristics. The idea is to increase your dating pool by exposing yourself to the user base, giving you the chance to find someone special somewhere out there, in a myriad of ways.
There are many personality tests that appear on dating apps, but on eHarmony, they are created by a Clinical Psychologist, and they will measure the compatibility between you and other subscribers looking for commitment.
Unique Algorithm
The eHarmony algorithm is made to search for the highest success rate possible. As long as you keep filling out these questionnaires and tests, the more responses and "luck" you'll contract.
Since people on eHarmony dating are looking for committed relationships (and not just action), the algorithm will take into consideration all of their results on personality tests, and it will even explore different what-if scenarios.
The dating experience on eHarmony is a safe one. In fact, it's the safest dating service out there!
Before anyone gets accepted, they will need to connect their future dating profile to their phone number and then enter the verification code that gets sent to it.
However, this doesn't have to be the best sign for safety, but the thing that is definitely keeping all the scammers away from eHarmony is its crazy-expensive membership.
If you want to get the opportunity to reach out to anyone, you will need to spend 65 dollars per month on membership fees. These memberships deter scammers who won't invest in such a large amount.
Safe Dating Ratings
People who have a free dating profile on EHarmoy don't have permission to send you any messages as icebreakers. Therefore, you can be sure that even if someone creates a free profile with the intension of scamming, the feature will not allow them.
eHarmony also has fantastic support that will keep you protected in all situations. Customer support is available to you 24/7, so you can reach out the moment you realize there may be some sort of problem or scammer on the platform.
They will solve the problem within an hour or two, so in case there is something fishy on the website, make sure you reach out to them. They will do whatever it takes to protect all loyal customers and maintain their reputation..
eHarmony is Effective
It is known to be the online dating site with the highest success rate, and if you have researched a bit, then you would have seen how many eHarmony marriage stories there are.
Over 600 000 people have met through eHarmony and decided to get married, which is a large number, and research shows that the eHarmony divorce rate is much lower than the average US divorce rate.
While the divorce rate on eHarmony is around 3.6%, the national divorce rate is 50%, which shows that couples who meet through eHarmony stay together.
Bad Desktop Version
The eHarmony desktop version is very outdated and unfortunately, it can't provide you with access to some of the features and filters that are available to those who are using the app.
Even though it is easier to navigate through the desktop version, it has a lot of bugs, the site tends to go down frequently and you can even lose all your messages if you log out from it.
Some Dating Services & Features Are Outdated
Even though it is viral and it has some fantastic tools, eHarmony still has some features that are a bit outdated and don't bring too much to the quality of the dating process.
Our team of experts tested it for months (and we still do tests, exploring new features and updates of eHarmony algorithm), and we can confirm, with utter certainty that eHarmony is number 1. dating site for people looking for serious relationships.
We spent around 30mins, on average (each of our team member), for profile completeness, but that opened the doors to higher match rate.
It is worth buying credits, it's worth every penny of both your time & money.
There's a good reason for high success rates on eHarmony. Whereas 69% of men and 71% of women found a perfect match within a year of using eHarmony, as many as 4% of marriages in the USA started from the dating app and it creates as many as 15 million matches every single day. Average divorce rate on eHarmony is just below 4%.
We mentioned before that eHarmony is a paid online dating site, but what does this mean? Essentially because one has to pay to become an eHarmony member, you find that it attracts people who are genuinely searching for someone special and not just looking for the next best thing or a quick hookup.
If you are genuinely seeking to find Mr. or Mrs. Right, then eHarmony is the place you want to be. Filled with relevant online dating features, people who share your interest in finding someone special and tools that make communicating with your potential date safe and secure eHarmony shows you how a quality online dating site operates.
This is a site where you will meet people who have well-defined goals of building a future with the perfect partner.
eHarmony no. 1 goal is success rate, and they are killing it, so far!
Good for
People looking for spouses
Serious relationships and values
For those looking for security on the dating sites
Only serious people who are willing to pay a bit for the app
Those that seek for compatible ones (questionnaire quiz)
Bad for
Short flings
People not willing to spend a dime on the dating app
People who don't have time for a 20-minute sign up
Cheaters, adventurers. long distance relationships
Teens
This app offers a lot, and there is more than one reason why you should give it a try and see for yourself if you are keen to discover the love of your life and your perfect partner.
There is a long list of features you can look into, and here are some of the best ones that our team liked the most while using it.
Profile Completeness – Improved Matchmaking & Safety
How many times did you come across an account and notice that you either don't have enough photos, a mysterious bio, and in general – a lack of info about that person?
It's annoying and, in most cases, both men and women will simply move on if they see something like that.
On eHarmony, however, you will be required to complete 50% of your account's info data. This is also an extra precautionary method to keep existing profiles of only real accounts with real people behind them.
10 members of our team tested it, and on average, it took around 30 minutes to complete the sign-up section. But it's not a boring sign up process – on the contrary.
The point of joining this company app is to find real love and a steady relationship that can lead to marriage. It's absolutely necessary that users provide a lot of info and let the questionnaire and their bio do the magic in finding their ideal partner.
Free Communication Weekend Offer
If you still feel hesitant about a paid subscription option, you can easily check out the special perks of the free communication weekend offer and see for yourself why it is, in the end, a great choice to become a paying member of this dating app.
We played a bit with this offer, and during this time, you will be free to send a smile, a message, or ask a question completely free of charge and enjoy your interactions.
This is not only accessible to specific categories of users, but it is possible for all of the platform's members (in whatever community) to enjoy and take advantage of this free perk and allow people to connect even more.
You won't have the ability to view all the photos or use the video chatting option. However, this perk might encourage you to interact more and show you all the benefits of going for the paid membership option on eHarmony.
Integrated Video Platform & Live Conversation
f you are eager to know more about the people you are exchanging messages with and would like to see their faces directly and hear their voices, the paid membership will allow you to use the video chatting option.
The usual scenario on dating apps is that, aside from lacking an integrated video platform, many users will exchange numbers, social media nicknames, or emails.
Why?
The users tend to do this as they are not really sure whom they are talking to and would like to check if the person is who they present themselves to be. You don't want to waste your time, or even worse, getting caught up in a catfish scenario.
What we liked about this option is that you can see the person you are chatting with without the need to exchange any other personal info and contacts outside of the app itself. In fact, we value this feature and it's one of our favorites!
Call it an additional precautionary measure, but the creators of eHarmony have thought about it all and made sure you enjoy all of your conversations in a safe environment without having to worry about your privacy if you decide to take a break from the conversations.
An extra safety measure is never too much, and we should never turn our back on getting the option to feel even more secure about our data online.
Sure, all of your data on this app is safe, but in case you lose your device or something unexpected happens, you can always retrieve your access back based on your phone number.
The SMS verification setting is not a must, it is optional, but it is indeed great to have this option if it suits you.
Please have no hesitation in skipping this option, but our advice, if you join eHarmony, is to complete this specific step for a safer conscience and an even more relaxed approach to the dating site itself.
How Does It Compare To Other Dating Apps?
When it comes to other dating sites, having in mind its audience, eHarmony is top of the class.
Comparing it to Ashley Madison, for example, would not be justifiable because those are two different places with two different audience types.
eHarmony is a dating site for single people who are looking for someone, love, a relationship. Sure, short flings can happen, but when it comes to these, we'd recommend something like Tinder, or Match.
In terms of finding true love, not so many alternatives can compete. That's why our team of experts gave eHarmony the crown for being the #1 site for meeting true love.
With its balanced ratio of female and male accounts, there's nothing that beats eHarmony in this field.
When it comes to other fields of dating (cheaters , senior dating, those just looking for hookups), eHarmony is decent, but it's not designed for this area!
Let's give some examples:
Match is for people who are past their Tinder days
Hinge is for casual intentional dates
Adultfriendfinder is for adults whose interests are for ONE thing!
HER is for lesbians
OkCupid is best for liberals
So, you get the idea. There are sites specifically for a particular audience, and eHarmony is top for finding a spouse.
Cost And Pricing of Harmony
Here I break down the current prices for the eHarmony dating service created by Neil Clark for the United States/Canada/UK. The cheapest plans start at $17.95/£12.95 a month. Sign up here for the eHarmony free plan to see the current premium subscription prices.
Jump right to the eHarmony Pricing table for November 2023
Before you decide to join eHarmony fully, you will be able to explore a little through eHarmony's Free Membership.
The free membership offers you to complete your questionnaire and check some basic info about eHarmony members. You will be able to see only a little Info and a somewhat blurred profile picture.
Get in contact with a few messages in this limited but free trial.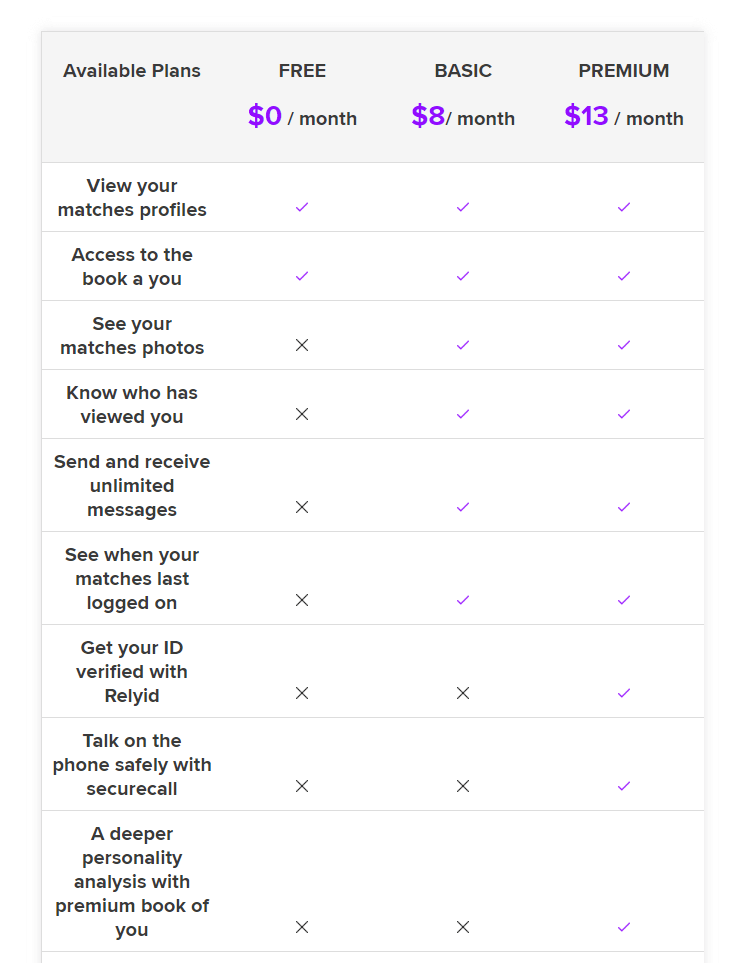 If you choose to join eHarmony, you can choose between three different Premium Membership packages. Premium members get to explore and enjoy more, so check this out:
The Premium Light represents a six-month-long plan, which will cost you a $65.90 per month subscription.
This package is followed by the Premium Plus package, which is compared to the first one, a twelve-month-long package that stands at $45.90 per month and is also currently the most popular package on eHarmony.
Lastly, you could also alternatively opt for the Premium Extra package option, which is the longest plan for 24 month-membership with a lower price of $35.90 per month.
You can complete your payments via PayPal or Credit Card.
Current eHarmony Subscription Prices in the United States/Canada
| Subscription Length* | Monthly Price | Percent Saving |
| --- | --- | --- |
| 12 months | $7.95 | 76% |
| 6 months | $13.95 | 58% |
| 3 months | $32.95 | 0% |
How much does the eHarmony Premium plan cost?
| Subscription Length* | Monthly Price | Percent Saving |
| --- | --- | --- |
| 12 Months | $12.95 | 64% |
| 6 Months | $18.95 | 47% |
| 3 Months | $35.95 | 0% |
How much does eHarmony cost in the UK?
| Subscription Length | Monthly Price | Percent Saving |
| --- | --- | --- |
| 24 months | £12.95 | 71% |
| 12 months | £27.95 | 38% |
| 6 months | £35.95 | 20% |
| 1 months | £44.95 | 0% |
There are already numerous dating apps on the internet in general, and there are new ones frequently being added to that list.
For the vast majority of these apps, we noted a larger number of men compared to the number of women who join.
Many women scare away from joining dating apps specifically because of this stigma and don't feel very comfortable because of this fact.
As much as it may sound like a downside to men having to pay for their membership at eHarmony, this really helps balance out the gender demographics, and the users who have joined this app notice this big time.
There are over 2 million users on Harmony, and when it comes down to the demographics, it's an even split, with 50.49% male users and 49.51% female users in general.
When it comes down to the age groups, the singles who join the app are mostly in the age group of 25-34, but there are also people who have joined eHarmony in their late 30s, 40s, 50s, and 60s.
There is a large number of people joining daily, so that also increases your chances of finding the perfect match for yourself.
Something that definitely sets eHarmony apart from some other dating apps is the fact that before you even get to enjoy conversations with your compatible matches – you have to complete the questionnaire.
Even though the sign-up process might seem somewhat longer, think about things from another perspective – only real people will take the necessary time and effort to complete this task and will be brought to their compatibility score.
Your personality profile says a lot about you, and honesty and being your true self are highly valued at eharmony.com.
The personality test is a big deal here, as you should know that the vast majority of eHarmony members you might come across are actually people who are looking for a real-deal kind of relationship and want partners for life. It can't be accentuated enough, so always keep it in mind, unlike Tinder, Zoosk, and other dating apps.
As mentioned before, the questionnaire is really something that can demand your full attention for 20–30 minutes, and this really doesn't leave any space for fake profiles to make their way to the app.
Even if someone were to randomly click their way through this questionnaire, which wouldn't really make a whole lot of sense, they would still have to go through the matching selection and would be shown to a specific audience of potential matches.
Your data itself is protected and kept safe, and there is no need for any kind of doubt when it comes down to joining this dating app.
Success Rate – Does eHarmony Work?
EHarmony is known for being a dating app (and we run a study that confirmed it) with the highest success rate out there, and even though many people still keep asking if eHarmony is worth it, its results are showing that it is.
Even though it was launched more than a decade ago, it still has millions of active users who decide to search EHarmony with a mission to find their soulmate.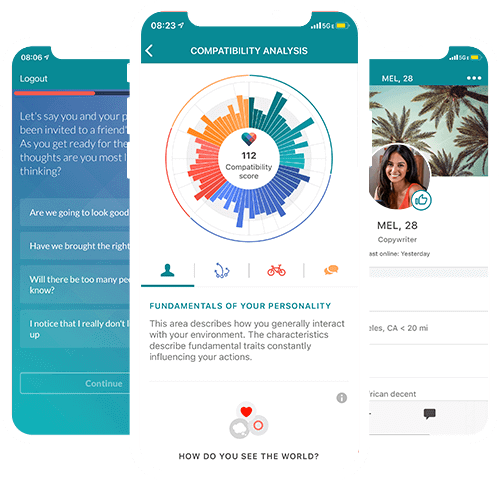 There are millions and millions of people on various dating websites around the world. And each one of these people is looking for something different.
Some people are looking for casual dating while others are looking for just a quick hook up .
eHarmony was designed for people that are looking for serious relationships. There is not too much "hooking up" going on with eHarmony for the most part.
If that is what you are looking for with eHarmony, you will not find much success. You are better off going with an application like Tinder or check out these naughty dating sites.
Is eHarmony good and successful is something that depends mostly on you, and if you keep using all of its features, completing questionnaires and personality tests, you will see a lot of success in a short time.
Let's look at some statistics
Research has shown that 71% of female eHarmony users were able to find their perfect match after just a few days on this platform and that those matches they went out on a date with turned into something bigger – whether that be a relationship or even marriage.
The experience is the same for 69% of men on eHarmony too, and it seems like everyone can schedule a date and find a potential boyfriend or girlfriend on this app.
The Wall Street Journal claims that eHarmony creates more than 15 million matches on its website every single day. It is not to say that all of these 15 million will be successful matches, but 15 million is a considerable number.
4% of marriages in the United States can thank eHarmony.
This statistic is posted right on the homepage of the eHarmony website. They are proud of this number because it is enormous. Although the number four does not sound like they right off the bat, it equates to 542 marriages every single day.
So if you are thinking this eHarmony work or not for serious relationships, think of the number 542! I bet you know a married couple that has met on eHarmony whether you realize it or not!
Over 600,000 (as of 2014) people have gotten married after meeting on eHarmony.
It is reported that out of the 600,000 marriages from eHarmony, approximately 4% end in divorce. That is staggeringly low compared to the national average of 50%.
This is a testament to how well the 29th features of compatibility works.
How is eHarmony working (and what we liked while using it) is that it always connects you with the most compatible people, which is definitely the reason why people were able to establish such meaningful relationships with other daters all of a sudden.
The success rate is very high, and all the people who put in the effort to create their eHarmoy profile, add profile photos, description and answer all of those questions will be rewarded and meet their significant other quickly.
When it comes to getting a general score for eHarmony, it would be most definitely a 9.5.
The app has a solid amount of good qualities, and you can definitely find the right kind of crowd on this app compared to many other dating sites.
The only and probably the biggest existing issue is that if you are not feeling like settling down and don't want to find a partner for life and a soulmate, then this app isn't for you.
The other possible downside to people might be the pricing fee the men must pay and women don't, but then again, it really helps balance out the attendance of men and women on this dating app.
Also, regarding the price point, you can tell it works by giving a look at the interface and the attentiveness of the customer service. You do pay – but the general service of the app is impeccable.
Overall rating of eHarmony
The App's Interface: 9.6
Pricing Point: 9.2
Customer Service Support: 9.4
The Daters and Matches: 9.5
Features: 9.5
Audio (podcast) form for those of you on the go
Right away, when it comes down to the signing up process on this dating app, there is one detail that can tell you that joining this app can secure a different kind of experience compared to other dating apps.
Before you are allowed to look through some potential matches, you will have to complete a compatibility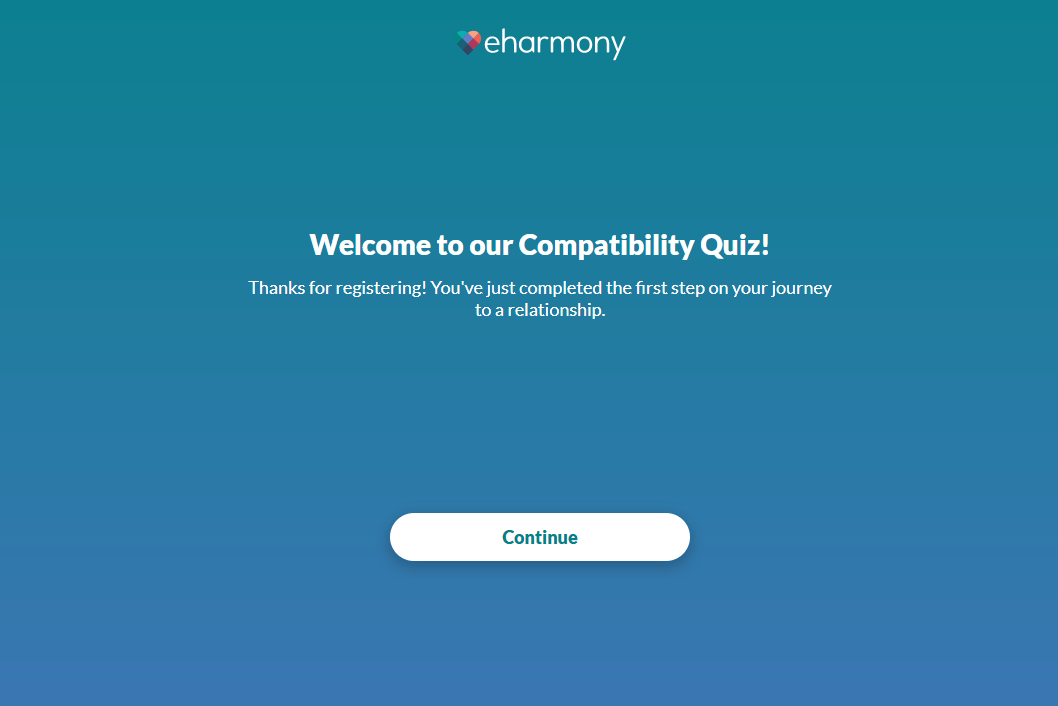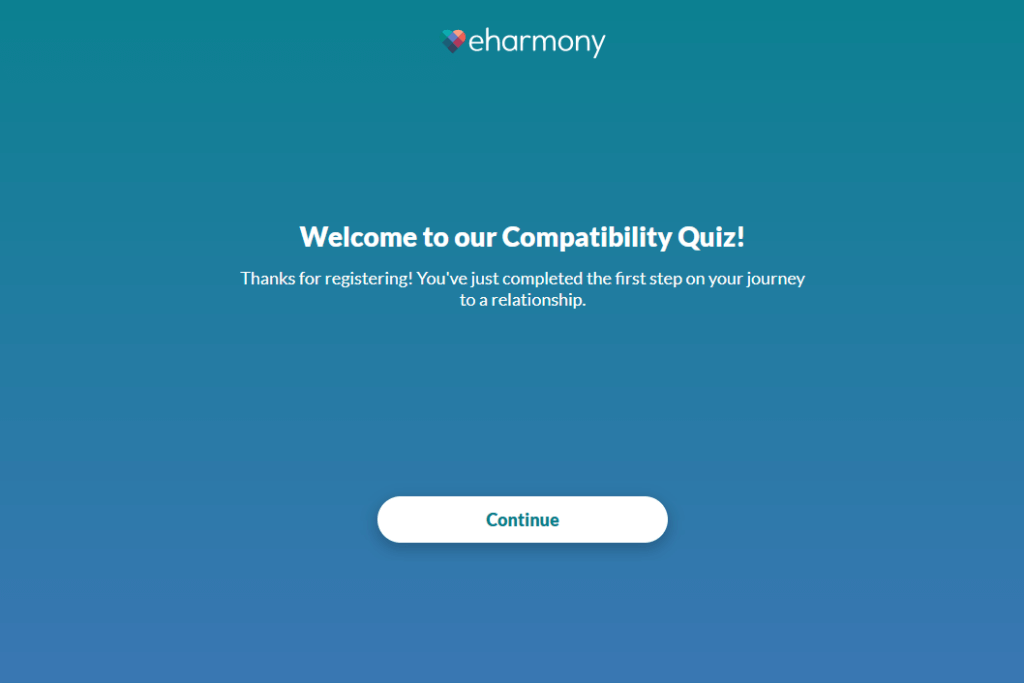 This implies that the matches you do see will be brought to you based on your given answers to the test and also that this leaves little to no space for a scam account to get in touch with you.
The founder Neil Clark Warren came up with the idea to create the perfect compatibility quiz to see what people could truly match your persona and could potentially be the love of your life.
This quiz goes in-depth and might take around 20 minutes or up to 30 minutes to be completed, but it really is a game changer in the world of dating apps.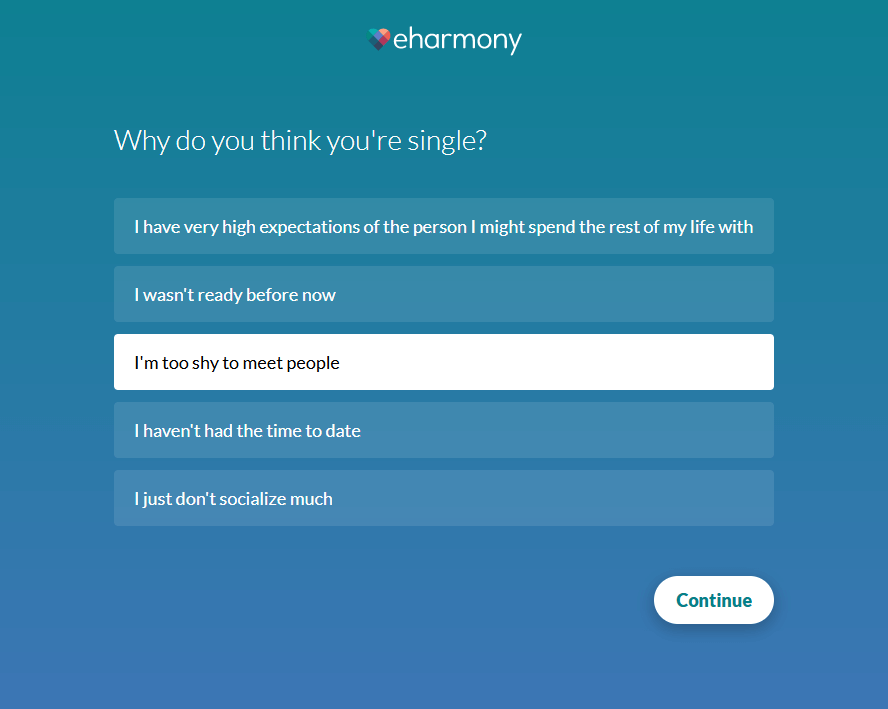 Something you might also notice is the nature of the questions: You are sometimes being asked about regular stuff you would be talking about on a date with a person, but there are also some random questions and pictures where you're simply asked about how you feel about them.
This is yet another indicator of how unique the questionnaire itself is, and you can tell how it is a great way to really create the ultimate matches on this dating app.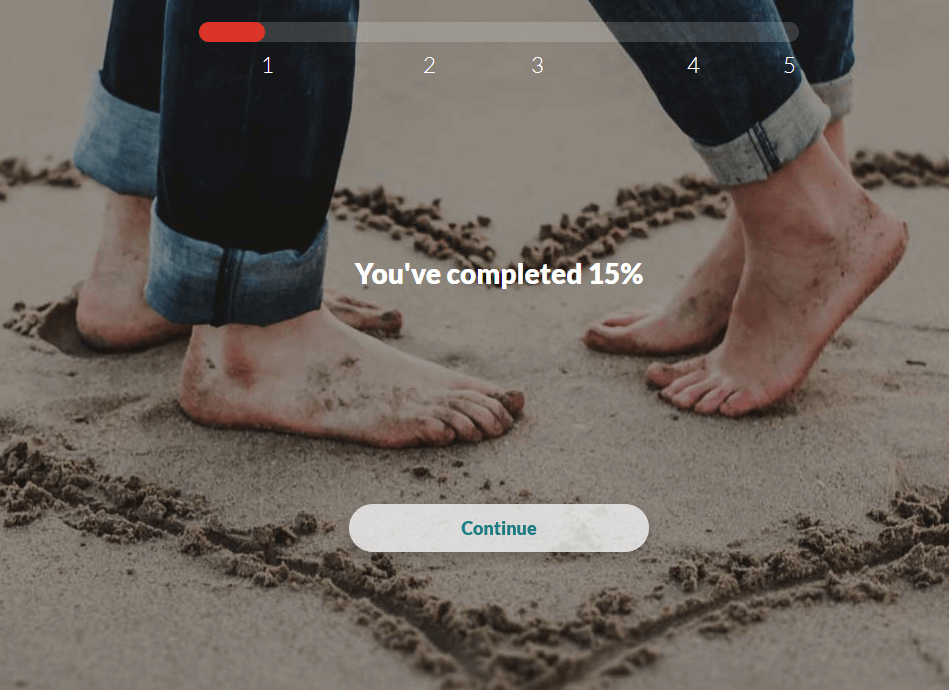 You could technically apply from Los Angeles, but you should know that the app isn't really available worldwide but only for a specific list of countries from where people can join.
In comparison to some other dating sites, eHarmony is the best dating app on the market for people who wish to find the real deal and look for a steady relationship.
This dating app has an absolutely unique approach when it comes down to finding the perfect matches for its users, and it puts in a lot of effort when it comes to keeping its users safe and sound.
Using the app initially for free has encouraged over 2 million people to go for the paid option, and maybe you should give it a try yourself and find exactly what you are looking for on eHarmony.
FAQ