This is a collection of what several members of our team experienced while using eHarmony to date and meet other people successfully. We've gone through every step that may interest you regarding the app, as well as how it compares to other dating sites.
Knowing how easy it is to find love on eHarmony (confirmed by 2 of our crew members who are now happily married), we decided to do a complete eHarmony review!
By the end, you'll figure out if eHarmony is worth a try for you. In this review, you'll learn:
Is your dating app giving you the best chance for success?
Make sure to take our online dating site/app quiz to find out.
People who follow our dating site suggestions have on average 2 more dates per month.
Pros and cons of eHarmony
These are some of the things that our team liked and disliked most about eHarmony. You might notice that some of the so-called 'cons' on eHarmony aren't really cons.
OFL exclusive offers - Check all of them

"Serious Relationships"
"Discreet Hookups"
"Best Course"
"Quick Flings"
"Normal Hookups"
"Our Quiz"
Pros
A long list of amazing verified accounts.
No fear of fake profiles and scammers, as the list is being updated, and only real people make it to the list; the questionnaire is very specific, and it takes around 30 minutes to complete it, which means only real people with the intent of finding their soulmate will go through the sign up process.
A great support system with moderators who keep track of all activities; they are available at all times and ready to resolve any existing issues and problems with a friendly and kind approach.
A high success rate in the matchmaking and dating experience.
An exceptional questionnaire and algorithm that helps you find the exact right person if you're looking for a serious relationship.
The content of the questions within the questionnaire is created in a way to make sure you get matched with only the right people for your needs and preferences.
A beginner-friendly interface and an integrated video date platform.
The dating app can be used both on android and ios devices.
SMS verification – even though this is optional, it is still a great way to ensure extra security for your own potential account and also excludes a great deal of potentially fake accounts.
Cons
It is not that convenient for you if you are looking for casual dating, as most people are using eHarmony daring to find a serious relationship.
Not all the users you see have an uploaded profile picture, as it is not mandatory, so some profiles can view your account, and you can view theirs without knowing who they are.
Compared to some other dating apps, the eHarmony dating app might take you a little longer to complete the sign-up process. Before you use the app for the first time, it might take a little until you complete your questionnaire, so you can find real love.
The pricing might seem a little higher than you might expect from a dating site, but once you notice all of the perks of having an eHarmony profile, you will realize that your eHarmony membership really is worth it.
There is a limitation to your initial free trial, but it will be just about enough for you to see if the compatibility matching system at eHarmony works for you and wait for the auto-renewal.
eHarmony is definitely an app worth your time.
Our team of experts tested it for months (and we still do tests, exploring new features and updates of eHarmony algorithm), and we can confirm, with utter certainty that eHarmony is number 1. dating site for people looking for serious relationships.
We spent around 30mins, on average (each of our team member), for profile completeness, but that opened the doors to higher match rate.
It is worth buying credits, it's worth every penny of both your time & money.
There's a good reason for high success rates on eHarmony. Did you know that 71% of women find their perfect match in the first year, and on the other side 69% of men do the same?
eHarmony no. 1 goal is success rate, and they are killing it, so far!
Good for
People looking for spouses
Serious relationships
For those looking for security on the dating sites
Only serious people who are willing to pay a bit for the app
Those that seek for compatible ones (questionnaire quiz)
Bad for
Short fling
People not willing to spend a dime on the dating app
People who don't have time for a 20 minute sign up
Cheaters, adventurers
Teens
This app really offers a lot, and there is more than one reason why you should give this app a try and see for yourself if you are keen to discover the love of your life and your perfect partner.
There is a long list of features you can look into, and here are some of the best ones that our team liked the most while using it.
Profile Completeness – Improved Matchmaking & Safety
How many times did you come across an account and notice that you either don't have enough photos, a mysterious bio, and in general – a lack of info about that person?
It can be very annoying and in most cases, both men and women will simply move on if they see something like that.
On eHarmony, however, you will be required to complete 50% of your account's info data. You and everyone else. This is also an extra precautionary method to keep the existing profiles of only real accounts with real people behind them.
10 members of our team tested it, and on average, it took around 30 minutes to complete a sign up. But it's not a boring sign up process – on contrary.
The point of joining this app is to find real love and a steady relationship that can lead to marriage eventually, so it is absolutely necessary that the users provide a lot of info and let the questionnaire and their bio do the magic in finding their ideal partner.
Free Communication Weekend Offer
If you still feel hesitant about a paid subscription option, you can easily check out the special perks of the free communication weekend offer and see for yourself why it is, in the end, a great choice to become a paying member of this dating app.
We played a bit with this offer, and during this time, you will be free to send a smile, a message, or ask a question completely free of charge and enjoy your interactions.
This is not only accessible to specific categories of users, but it is possible for all of the platform's members to enjoy this free perk and allow people to connect even more.
You will not be allowed to view all photos and use the video chatting option, but this perk might encourage you to interact more and show you all the benefits of going for the paid membership option on eHarmony.
Integrated Video Platform
If you are eager to know more about the people you are exchanging messages with and would like to see their faces directly and hear their voices, the paid membership will allow you to use the video chatting option.
The usual scenario on dating apps is that aside from lacking an integrated video platform, many users will exchange numbers, social media nicknames, or emails.
Why?
The users tend to do this as they are not really sure whom they are talking to and would like to check if the person they are chatting with is the person they present themselves to, as everyone wants to avoid getting caught up in a catfish scenario.
What we liked about it is that this option will allow you to see who the person you are chatting with is without the need to exchange any other personal info and contacts outside of the app itself.
Call it an additional precautionary measure, but the creators of eHarmony have really thought about it all and made sure you enjoy all of your conversations in a safe environment without having to worry about your privacy if you decide to take a break from the conversations.
An extra safety measure is never too much, and we should never turn our back on getting the option to feel even more secure about our data online.
Sure, all of your data on this app is safe, but in case you lose your device or something unexpected happens, you can always retrieve your access back based on your phone number.
The SMS verification setting is not a must, and you will not have to do it unless you choose to, as it is optional, but it is indeed great to have this option if it suits you.
Please have no hesitation in skipping this option, but it is advised that if you join eHarmony, you also complete this specific step for a safer conscience and an even more relaxed approach to the dating site itself.
How Does It Compare To Other Dating Apps
When it comes to other dating sites, having in mind its audience, eHarmony is top of the class.
Comparing it to Ashley Madison, for example, would not be justifiable because those are two different audiences.
eHarmony is a dating site for single people who are looking for someone, love, a relationship. Sure, there you can find a short fling, but when it comes to flings, we'd recommend something like Tinder, or Match. So in terms of flings, there are better sites.
In terms of finding a true love, not so many can compete. That's why our team of experts gave eHarmony a crown for being the number 1. site for meeting true love.
With its balanced ratio of female and male accounts, there's nothing that beat eHarmony in this field.
When it comes to other fields of dating (cheaters , senior dating, those just looking for hookups), eHarmony is decent, but there are some niche specific sites that are better.
Let's give some examples:
Match is for people who are past their Tinder days
Hinge is for casual intentional dates
Adultfriendfinder is for adults looking for ONE thing!
HER is for lesbians
OkCupid is best for liberals
So, you get the idea. There are sites specifically good for particular audience, and eHarmony is top 1. for finding a spouse.
Cost And Pricing of eHarmony
Before you decide to join eHarmony fully, you will be able to explore a little through eHarmony's Free Membership.
The free membership offers you to complete your questionnaire and check some basic info about eHarmony members. You will be able to see only a little Info and a somewhat blurred profile picture.
Get in contact with a few messages in this limited but free trial.
If you choose to join eHarmony, you can choose between three different Premium Membership packages. Premium members get to explore and enjoy more, so check this out:
The Premium Light represents a six-month-long plan, which will cost you a $65.90 per month subscription.
This package is followed by the Premium Plus package, which is compared to the first one, a twelve-month-long package that stands at $45.90 per month and is also currently the most popular package on eHarmony.
Lastly, you could also alternatively opt for the Premium Extra package option, which is the longest plan for 24 month-membership with a lower price of $35.90 per month.
You can complete your payments via PayPal or Credit Card.
There are already numerous dating apps on the internet in general, and there are new ones frequently being added to that list.
On the vast majority of these apps, we noted that there is a larger number of men on these apps compared to the number of women who join the apps.
Many women scare away from joining dating apps specifically because of this stigma and don't feel very comfortable because of this fact.
As much as it may sound like a downside to men having to pay for their membership at eHarmony, this really helps balance out the overall demographics in the big picture on this app, and the users who have joined this app notice this big time.
There are over 2 million users on Harmony, and when it comes down to the demographics, they are pretty balanced out, with 50.49% male users and 49.51% female users in general.
When it comes down to the age groups, the singles who join the app are mostly in the age group of 25-34, but there are also people who have joined eHarmony in their late 30s, 40s, 50s, and 60s.
The great thing about this app is that everyone who is looking for a stable and secure relationship has the chance to find their ideal match.
OFL exclusive offers - Check all of them

"Serious Relationships"
"Discreet Hookups"
"Best Course"
"Quick Flings"
"Normal Hookups"
"Our Quiz"
There is a large number of people joining daily, so that also increases your chances of finding the perfect match for yourself.
Something that definitely sets eHarmony apart from some other dating apps is the fact that before you even get to enjoy conversations with your compatible matches – you have to complete the questionnaire.
Even though the sign-up process might seem somewhat longer, think about things from another perspective – only real people will take the necessary time and effort to complete this task and will be brought to their compatibility score.
Your personality profile says a lot about you, and honesty and being your true self are highly valued at eharmony.com.
The personality test is a big deal here, as you should know that the vast majority of eHarmony members you might come across are actually people who are looking for a real-deal kind of relationship and want partners for life. It can't be accentuated enough, so always keep it in mind, unlike Tinder, Zoosk, and other dating apps.
As mentioned before, the questionnaire is really something that can demand your full attention for 20–30 minutes, and this really doesn't leave any space for fake profiles to make their way to the app.
Even if someone were to randomly click their way through this questionnaire, which wouldn't really make a whole lot of sense, they would still have to go through the matching selection and would be shown to a specific audience of potential matches.
Your data itself is protected and kept safe, and there is no need for any kind of doubt when it comes down to joining this dating app.
EHarmony is known for being a dating app (and we run a study that confirmed it) with the highest success rate out there, and even though many people still keep asking if eHarmony is worth it, its results are showing that it is.
Even though it was launched more than a decade ago, it still has millions of active users who decide to search EHarmony with a mission to find their soulmate.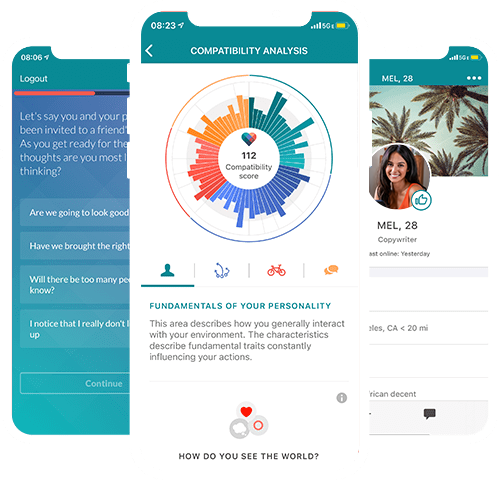 Is eHarmony good and successful is something that depends mostly on you, and if you keep using all of its features, completing questionnaires and personality tests, you will see a lot of success in a short time.
Research has shown that 71% of female eHarmony users were able to find their perfect match after just a few days on this platform and that those matches they went out on a date with turned into something bigger – whether that be a relationship or even marriage.
The experience is the same for 69% of men on eHarmony too, and it seems like everyone can schedule a date and find a potential boyfriend or girlfriend on this app.
How is eHarmony working (and what we liked while using it) is that it always connects you with the most compatible people, which is definitely the reason why people were able to establish such meaningful relationships with other daters all of a sudden.
The success rate is very high, and all the people who put in the effort to create their eHarmoy profile, add profile photos, description and answer all of those questions will be rewarded and meet their significant other quickly.
When it comes to getting a general score for eHarmony, it would be most definitely a 9,5.
The app has a solid amount of good qualities, and you can definitely find the right kind of crowd on this app compared to many other dating sites.
The only and probably the biggest existing issue is that if you are not feeling like settling down and don't want to find a partner for life and a soulmate, then this app isn't for you.
The other possible downside to people might be the pricing fee the men must pay and women don't, but then again, it really helps balance out the attendance of men and women on this dating app.
Also, regarding the price point, you can tell it works by giving a look at the interface and the attentiveness of the customer service. You do pay – but the general service of the app is impeccable.
Overall rating of eHarmony
The App's Interface: 9.6
Pricing Point: 9.2
Customer Service Support: 9.4
The Daters and Matches: 9.5
Features: 9.5
Audio (podcast) form for those of you on the go
Right away, when it comes down to the signing up process on this dating app, there is one detail that can tell you that joining this app can secure a different kind of experience compared to other dating apps.
Before you are allowed to look through some potential matches, you will have to complete a compatibility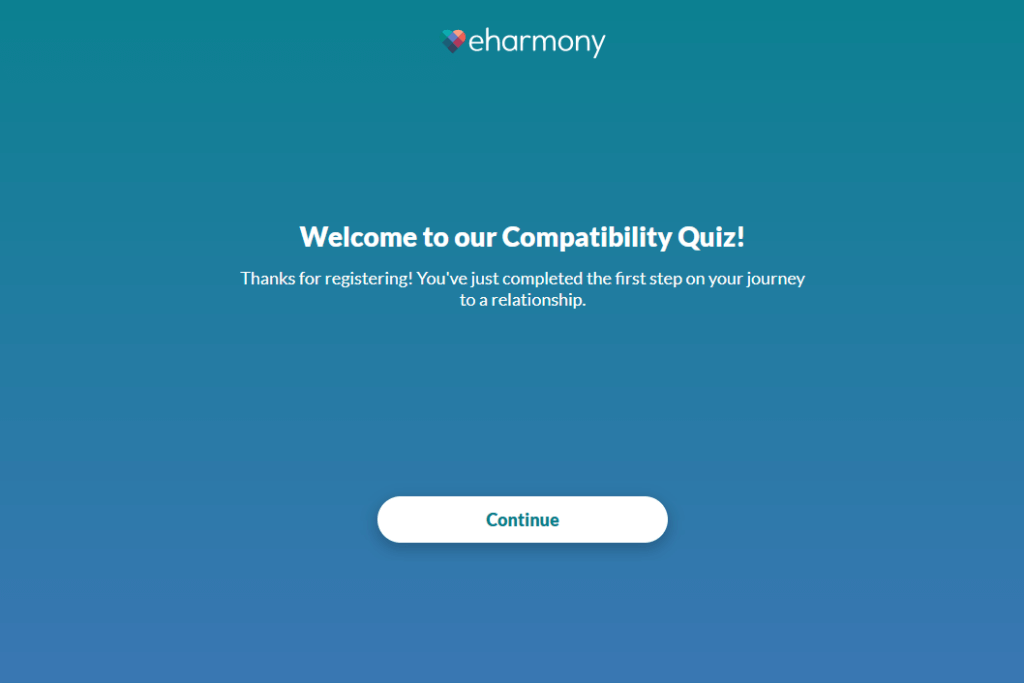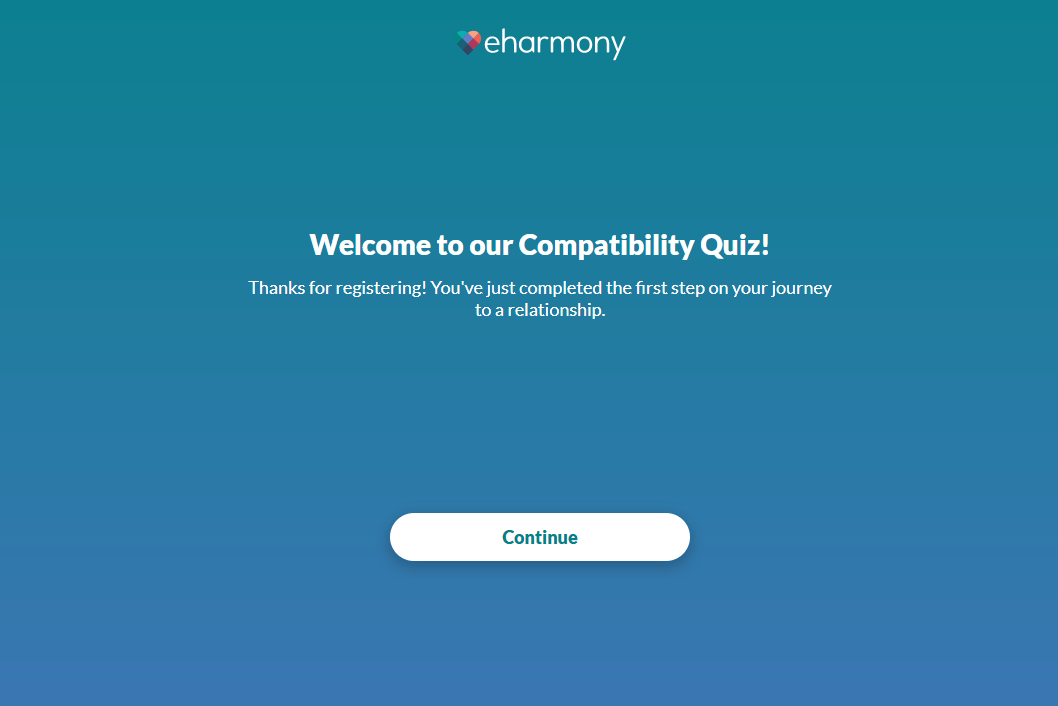 This implies that the matches you do see will be brought to you based on your given answers to the test and also that this leaves little to no space for a scam account to get in touch with you.
The founder Neil Clark Warren came up with the idea to create the perfect compatibility quiz to see what people could truly match your persona and could potentially be the love of your life.
This quiz goes in-depth and might take around 20 minutes or up to 30 minutes to be completed, but it really is a game changer in the world of dating apps.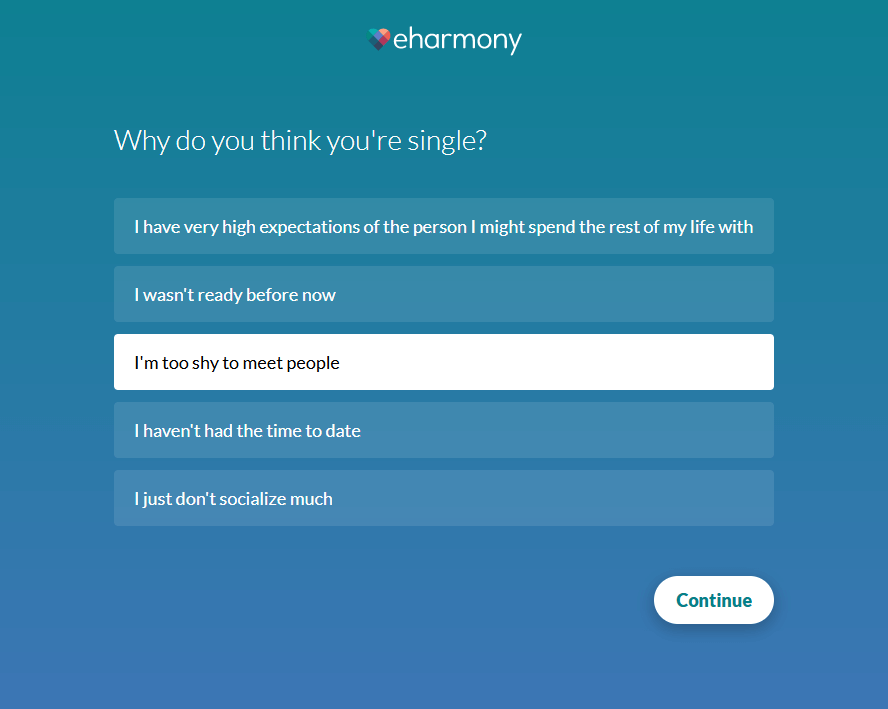 Something you might also notice is the nature of the questions: You are sometimes being asked about regular stuff you would be talking about on a date with a person, but there are also some random questions and pictures where you're simply asked about how you feel about them.
This is yet another indicator of how unique the questionnaire itself is, and you can tell how it is a great way to really create the ultimate matches on this dating app.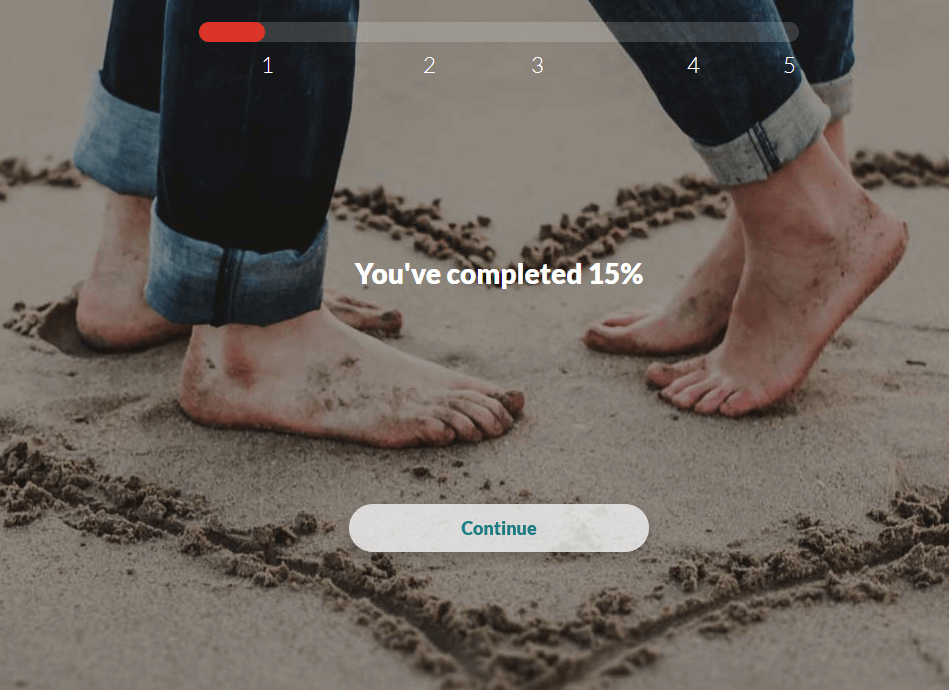 You could technically apply from Los Angeles, but you should know that the app isn't really available worldwide but only for a specific list of countries from where people can join.
In comparison to some other dating sites, eHarmony is the best dating app on the market for people who wish to find the real deal and look for a steady relationship.
This dating app has an absolutely unique approach when it comes down to finding the perfect matches for its users, and it puts in a lot of effort when it comes to keeping its users safe and sound.
Using the app initially for free has encouraged over 2 million people to go for the paid option, and maybe you should give it a try yourself and find exactly what you are looking for on eHarmony.
FAQ