There's much to be said for niche dating sites found online today.
BBW Cupid is one such site, and if you are interested in big beautiful women (BBW) or someone looking for love, then this comprehensive review of a website that's been around since 2003 is a must-read.
At the end of it, you will know:
OFL Top Recommendations based on 100,000+ Survey

"Serious Relationships"
"Discreet Hookups"
"Best Course for Men"
"Quick Flings"
"Normal Hookups"
"Our Quiz"
This in-depth review is going to give you all the information you could possibly need to decide if starting a profile on BBW Cupid is something you should do.
Let's get on the way!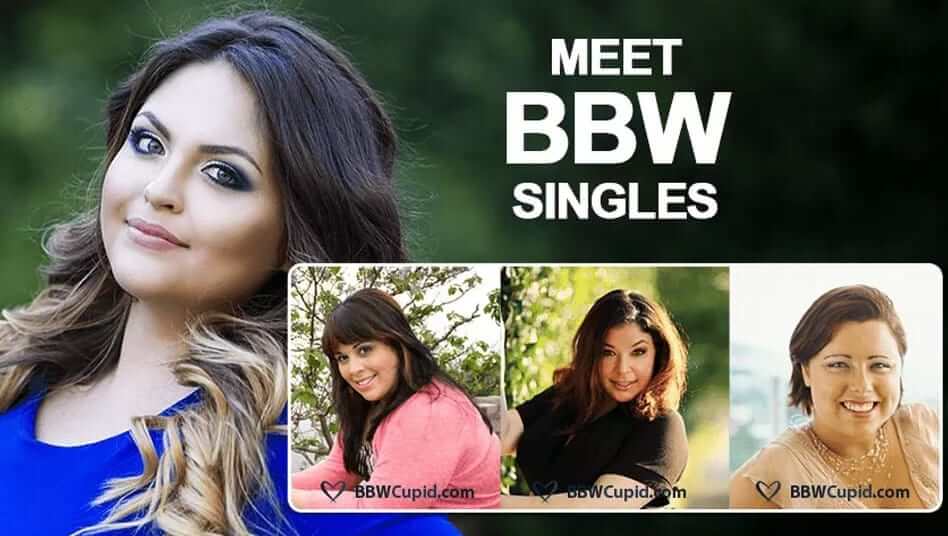 Is your dating app giving you the best chance for success?
Make sure to take our online dating site/app quiz to find out.
People who follow our dating site suggestions have on average 2 more dates per month.
BBW Cupid Review in Video Form
Audio (podcast) form for those of you on the go
Effectiveness – 4/5
Features – 4/5
Ease of use – 5/5
Pricing – 3/5
Without a doubt, BBW Cupid is one of the best sites online sites for meeting big beautiful women.
The website offers a slick, simple design and is easy to use
Compulsory photo verification means that there are very little scam profiles on BBW Cupid and if you do find one, they are quick and easy to report
The site is active and finding matches isn't too difficult
Plenty of added extras to help you find that perfect match, especially if you are a member
You can search for a potential match based on their personality traits, not only their looks
BBW includes an app that works for both Android and Apple phones.
While the pricing of the two membership options of BBW Cupid is in line with other niche dating sites, it's still pretty expensive, especially if you can only afford to pay for the per month option.
While the free membership option does give you some help in making contact with a potential match, eventually you are going to have to go the paid route to get any value.
Who is it for/Demographic Makeup?
BBW Cupid is not your "everyday" hookup sites like BeNaughty and Ashley Madison, nor is it like eHarmony which would be only ideal if you were seeking a serious relationship, but it is rather straight to the point when it highlights just who the online dating site caters to.
OFL Top Recommendations based on 100,000+ Survey

"Serious Relationships"
"Discreet Hookups"
"Best Course for Men"
"Quick Flings"
"Normal Hookups"
"Our Quiz"
Yes, it's for men who are searching for women with fuller figures as well as women with fuller figures who are searching for love.
To a smaller degree, it's also for BHMs or big handsome men or women searching for them as well.
But a niche site like this is only going to work if there are people to drive it, right?
So is that the case for BBW Cupid?
While finding the number of people who have signed up to make use of BBW Cupid proved difficult, there are other figures that help tell us just how busy the site is.
Remember, this is a niche site, so it's not going to generate the user numbers or people active per week like a regular dating site would.
That said, the numbers it does generate are promising and show that BBW Cupid is very active.
So what are they then?
Over 100,000 users are from the United States
Over 80,000 users are from the United Kingdom
Each week, the site has over 50,000 active users
Over 650,000 people visit the BBW Cupid site each month
Those are impressive figures for a niche dating service, that's for sure.
But what about a gender breakdown.
That too can make or break a website like this.
Well, BBW Cupid positions itself as a site for men who want to meet BBWs and BBWs themselves who want to use a niche site to meet those men.
Of course, you are never going to get a 50/50 split at all.
But what's the split for BBW Cupid?
65% of the users on site are female
35% of the users on site are male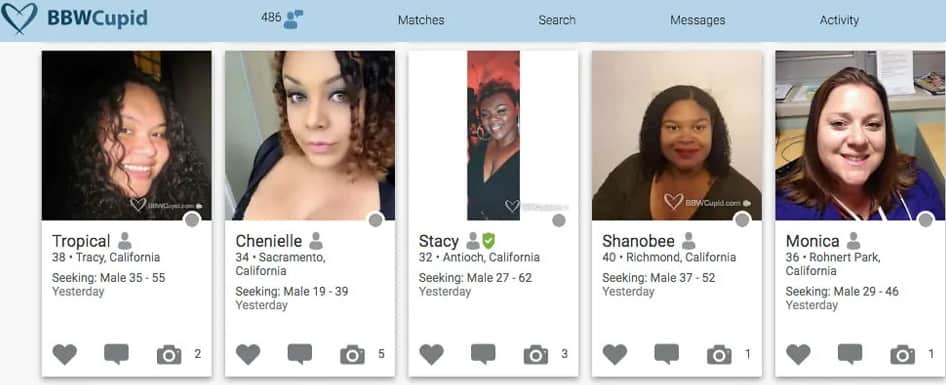 What's the age breakdown?
Finally, before we get onto your chances of finding that perfect match, let's look at a breakdown of the ages of registered users.
By far BBW Cupid is most popular with the 18-24 age group but here's a full breakdown in terms of popularity.
18 – 24 year olds
25 – 34 years olds
45 – 54 year olds
35 – 44 year olds
55 and older
What are the chances of you finding excellent potential matches when using BBW Cupid?
Well, the site is pretty effective in finding potential matches but if you are not prepared to pay a membership fee, communicating with them becomes extremely difficult.
Finding potential matches is all down to an effective search engine and here BBW won't let you down.
That's because you have the ability to refine your search based on a number of filters.
This means you can pick and choose what you would like to search for all based on your personal preferences and what you want in a potential match.
If your search isn't returning that many matches, refine it a little, perhaps lose one or two characteristics that you've included and you can be sure you will have more profiles to scan through.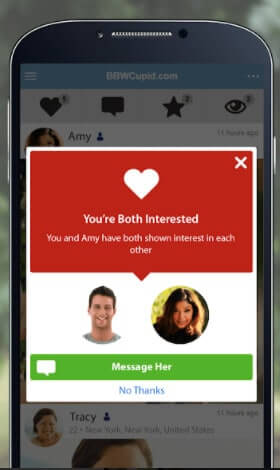 If you have a standard profile and you haven't paid any membership fee, you are able to send messages to paying members.
You cannot send a message to a non-paying member, however.
That is a privilege for paying members only.
If you've found someone you like, you an let them know that you are interested in them by clicking the "send interest" button.
This is another form of messaging and if they do the same back, you've got a decision to make in how to contact them further.
That's probably going to mean getting a membership to help to ensure easier communication.
Now let's look at the key features that BBW Cupid has to offer, particularly for those willing to pay for membership.
Before we get into a breakdown of the key features, I think it's important to first list what non-paying members will be able to do once their profile is active.
Here's a quick breakdown:
You can send messages but only to premium members
You can show your interest in a particular profile and they will be alerted to that interest
You can add profiles you like to your favorites list
You can use a number of search filters to refine your searches
You are able to see if anyone has declared an interest in your profile
You can view other profiles as well as their photo galleries
That's pretty substantial and a lot more options than found on other dating sites.
But to find the perfect profile, key features that are available to paying members certainly help.
Let's take a look at a few of these.
Other than firing off messages one by one to a potential matches inbox, another way to chat with someone is by using the instant message function.
This is effectively a real-time chat without having to wait for a reply to your inbox.
It allows for far quicker communication, that's for sure.
BBW Cupid allows members to chose to translate messages into their preferred language.
This effectively would allow you to speak to someone who doesn't have English as a first language
3. Increase your profile space
As a paying member, you are able to increase the size of your profile.
This can be useful as you can add more information for potential matches to see.
Paying Premium membership allows you to turn your profile into one that is afforded VIP status.
When activated, your profile will now feature at the top of searches (similar to the Tinder Boost feature) and expose you to far more people than a regular profile would.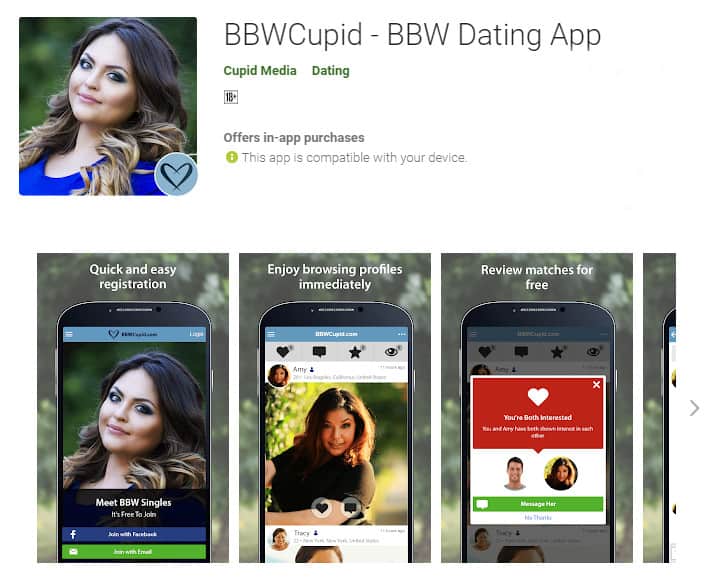 When you've made the decision to sign up to a specific dating site like BBW Cupid, you want the process to go as easy as it possibly can.
How easy is it to sign up?
BBW Cupid won't let you down in that regard although there are a few extras that you will have to complete before your profile will become active.
So what are these?
Well, for one, the photos that you upload, your profile picture for example, is going to have to be verified.
That means those that run BBW Cupid want to know that you really are you.
While it might be annoying for some, steps like these should be welcomed as it helps to stop the spread of fake profiles which are the scourge of any dating website.
There's something else that you will also need to complete before your profile goes active and that's a personality test.
This is an added extra that will help set you up with potential matches the moment your profile is active.
In fact, when you first log in, you will already have some potential matches to look through based on the information you've given in your profile along with that gained from the personality test.
Dating websites offer multiple ways to sign up for a profile and BBW Cupid is no different.
There are two ways available to you:
Picking a username and password and linking your profile to your email address
Using your Facebook account to sign in
No matter what route you take, there are the extra details that you are going to have to provide including gender, age, appearance, what you want in a partner, etc.
Again, all this information is critical, especially if you want the right kind of matches when you start searching through all the other users on site.
This is also streamlined even more in the fact that BBW Cupid asks you what you are looking for?
In other words, have you joined up to find your soul mate?
Are you looking for a little fun?
Or are you wanting to meet people and form new friendships?
To fill out your profile and help ensure greater matchmaking, you will be asked further questions in the following categories:
Basic
Appearance
Your lifestyle
Your background
Your cultural views
It's important to answer these as honestly as possible because, ultimately, they determine who the algorithm used by BBW Cupid matches you to.
Although BBW Cupid has been around since 2003, unlike some of it's older counterparts, it looks pretty modern by web design standards.
There are some horrendous looking dating sites out there but luckily, BBW Cupid is pleasing on the eye.
And yes, while the design isn't the most critical aspect of a dating site, if you are playing on spending a few hours each day using it, you at least want it to look okay, right.
Not only does it look great, but overall BBW Cupid also functions in an easy enough manner.
Upon signing in and filling in the relevant information that BBW Cupid requires from you to successfully register as a new user, you will be taken to your profile.
Now some of the information here will be already filled out from the signing on process but there is still more needed to flesh out your profile.
Again, add as much as you can and make your profile as complete as you can.
It only helps in the long run.
And remember, always add a photo as it will help generate more interest.
Even if you are reluctant, just ask yourself if you'd look at a profile of someone who doesn't have a profile pic.
Even if its the only pic you upload, remember to add it.
You will notice a few nifty features that your profile page has to offer.
The one that I really found useful showed how compatible you are with a potential match.
That's a great way to start your search potential match up.
Simply try to contact those who show a higher compatibility rating.
To find this feature, you need to click the "match criteria" tab.
Also, if you'd like to add further pictures, you have the option to do so in your profile gallery.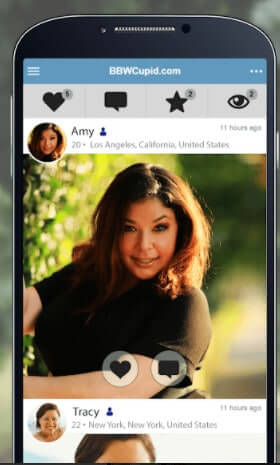 Is there a BBW Cupid app?
You can download the BBW Cupid app for both Android and Apple phones.
It's an excellent product with decent reviews on both platforms.
Dating apps to supplement the website can be a hit or miss affair but this one fits the bill and is well worth trying out, particularly if your phone barely ever leaves your hand.
The app includes all the same features that you can find on the site.
It also offers the ability to upload pictures straight to your profile from your phone, including any you may have just taken, a sexy new selfie, perhaps?
So we already know that BBW Cupid has a number of features that you can use from the moment you sign-up.
But if you choose to become a member, we also covered the extras that your membership will make available to you.
But just how much is that membership going to cost.
Well, it depends on what membership option you opt for because there are two to chose from (other than the free standard membership).
These are:
Gold membership
Platinum membership
Gold membership includes a host of extra features that you won't have as a standard member.
Platinum membership includes even more features with everything on the site available to you
I covered all of these in the Key Features section above.
You probably wondering just how much a Gold or Platinum membership is going to set you back?
Here's a breakdown, starting with Gold membership.
1-month membership – $24.99
3-month membership – $49.99 ($16.66 per month)
12-month membership – $99.99 ($8.33 per month)
Platinum is the most expensive option, but remember it gives you all the features.
1-month membership – $29.99
3-month membership – $59.99 ($20.00 per month)
12-month membership – $119.99 ($10.00 per month)
BBW Cupid isn't a cheap dating site.
Having said that, it is a niche site and when you compare it to other niche sites, you will find the pricing to be very similar.
Of course, if you are going to make use of the site regularly and over an extended period of time, it simply makes sense to opt for one of the expanded membership options than the month to month model.
As you can see above, there are huge savings to be made this way.
Of course, the downside is that you have to make a big lump sum payment as your initial outlay.
It's up to you to decide which of the Gold or Platinum membership is best for you and what package offers the most value for money in the long run.
Conclusion and Overall Rating
So is BBW worth it as a niche dating site?
Without a doubt, yes!
In fact, I will give it an overall score of 4 out of 5.
As with many other dating sites, to really stand the chance of finding that perfect match, at some point you are going to have to take out membership.
And while that is expensive – I marked the site down when it comes to pricing – it offers some brilliant features that you can make work for you.
Of those features, I think the VIP profile is best simply for the reason that it puts your profile in front of so many other people.
That exposure is one of the ways that your chances of finding someone that meets your criteria when it comes to a match are far better.
The translator feature also means that you don't only have to take the chance on English speakers.
Perhaps that perfect match doesn't speak a word of English.
The translator at least gives you a chance to communicate with them.
But let's move away from all the key features and speak about safety.
The team behind BBW Cupid certainly have the safety of their users in mind.
You can easily block someone who is harassing you or even report them if the need warrants it.
Over and above that, thanks to its picture verification system, BBW Cupid suffers from very little fake profiles.
Have you had any experience with BBW Cupid?
Let us know in the comments below.
Frequently Asked Questions