In this day and age, dating sites are becoming the new craze over the entire world.
You might be looking for a partner, a casual fling, or something more? We got you covered.
We'll take a close look at MeetMe including:
Without further ado, let me introduce you to:
OFL Top Recommendations based on 100,000+ Survey

"Serious Relationships"
"Discreet Hookups"
"Best Course for Men"
"Quick Flings"
"Normal Hookups"
"Our Quiz"

Is your dating app giving you the best chance for success?
Make sure to take our online dating site/app quiz to find out.
People who follow our dating site suggestions have on average 2 more dates per month.
MeetMe Review in Video Form
Audio (podcast) form for those of you on the go
Effectiveness – 2/5
Features- 4/5
Ease of –use- 4/5
Price- 3/5
Integrates and functions as both a social network and a dating app
Free to join
Encourages socialization and connection based on interests and contacts
Long history: the userbase is quite large as the dating network started in 2005
High traffic
Quick and easy access throughout the platform
It includes the option of playing games with other users
Excellent mobile application
Free subscription enables contract with other uses through chat without adding additional costs for the service
Cross-platform optimized
Low security
Ease of registration can allow for scammers to get into the network
The customer services leave a lot to be desired
Due to a large number of fake accounts, you should take special care to avoid phishing
Low profile information requirements
Theft of account data is not uncommon (usually by scammers who create new accounts using those pictures and data)
The app is prone to crashing if it is overburdened by users
Ads…. you know what I mean by this
Who is it For/Demographic Make-up
Being one of the oldest and most popular dating websites has many perks, especially when it comes to the diversity of people that join the massive community which has over 40 million users each month, MeetMe is a renowned company with a long tradition of connecting people together.
It is not only for hookups (like BeNaughty or Ashley Madison) or only for serious relationships (like eHarmony).
With a member base of over 100 million, there is something for everyone here.
From acquiring friends that you can talk to and interact with to one night stands and forming relationships, this platform's doors are open for the entire world to connect and meet up.
The user base mainly consists of people that originate from the United States.
OFL Top Recommendations based on 100,000+ Survey

"Serious Relationships"
"Discreet Hookups"
"Best Course for Men"
"Quick Flings"
"Normal Hookups"
"Our Quiz"
The extensive amount of options can be further filtered down based on ethnicity and religion.
A popular saying, originating from the previous iteration called "MyYearbook", is that "the reason you see teens so much is that they are the only ones who spend so much money on "lunch money" for priority matches" and the saying holds true today as well – a large part of the digital lifeblood of the dating website consists of youngsters!
Headquartered in Pennsylvania and originally made for the US audience, the company has acquired popular dating apps such as Lovoo, Skout, and if(we) which further expanded the widespread use of the platform.
The diversity of the platform mostly extends towards the younger population (13-40) while the Senior MeetMe (or SMMS) is designed to accommodate people 40 or older.
Your first look at this platform will probably be overwhelming as you might ask yourself "Where do I start looking for people?"
With so many options available, the general question of "how well it works" rights from the moment you join the instance you connect with your first match.
The impact each member influences the complex algorithm and plays out intricate scenarios that accommodate as many members as possible while still keeping the secrets of the game.
As 80% of the traffic goes through the mobile app, this is quite the treat for younger generations.
Your profile is available for everyone's eyes unless you choose to take a stealthy route and buy the stealth browsing addition.
The main idea behind Meetme was based around the social media model and implementing dating features with the ultimate end-goal of pairing you up with a stranger.
You can identify which people are closest to you (based on miles) and you can do a do a plethora of activities: From video chats to sending emails, the website is optimized for both direct approaches and a unique feature of "Cat and mouse play"- through games and the "secret admirer" features, blind matches can lead you to all sorts of surprises if you take part in this fun system.
1. How can I be sure this works?
Ah this is the first and last question that pops in everyone's head when checking out a new service, does Meetme really work?
The universal principle of dating services is, after all, to provide you with a partner rather than a friend, and the legitimacy is often better showcased by evidence rather than words. Take a look at the following examples:

For some, it provided a fantastic long-term experience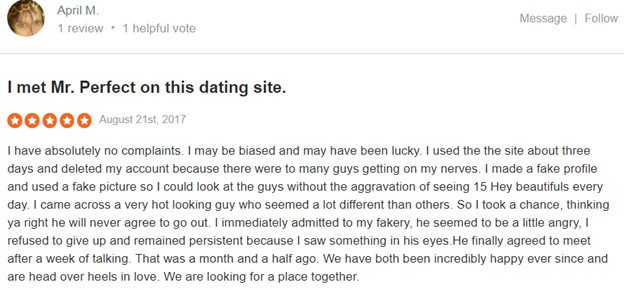 For others, it was the reason for finding a partner for marriage.
While the requirements of creating an account are limited down to email confirmation, every account is susceptible to an investigation of authenticity.
If you suspect a user account could be fake or is using someone else's information, you can always report them. In most cases, careful consideration is taken during these investigations.
Regional searches are based on accurate information of another user's location and the high volume of activity assures that suspicious accounts will be apprehended in a short amount of time.
2. How to connect with people
The innate design expresses the intent to connect people with strangers through a multitude of interactions.
It includes a very specific modus operandi that you should be made aware of before delving deeper.
As activity skyrockets the platform daily, it is encouraged to stay that way and grow by the numerous features that have only grown over the years.
One of the most prominent ones is the large collection of games.
By indulging in daily activities (which are further enhanced if you decide to buy or earn some credit or "lunch money") the possibilities of encountering a large number of people are high and this is just one of the ways initial connections are made.
The more you engage in the app's features, the more popular your profile can become, thus frequent usage is encouraged extensively.
Meetme endorses an "open door" policy towards its members – everyone can see the information you post about yourself and has the options to contact you.
Text chat, mail, games, video chats – whatever strikes your fancy, it is a viable option on Meetme.
An intricate feature of the service is the ability to connect with "secret admirers" which once again puts importance on connecting with strangers.
When it comes to delivering a truly unique user experience (especially for a dating platform) picking this option for dating/meeting purposes will provide you with different ways to reach out to the world.
The main advantage MeetMe has over its competitors lies within the many ways it can keep it's users interested – from games to direct interactions, it scores higher than most dating sites due to its innovative approach at keeping activity levels high.
Both the application and the browser counterpart give an extensive toolset from which communication can be established in an approachable manner.
Don't know where to get started or are you feeling adventurous?
The 'Match' function does exactly as it sounds – it matches you with random strangers based on your affirmation or negation of their profile (the Yes and No click).
This is a great way to spice up your dating pool with a fresh batch of new faces from all the corners of the world.
Figuring out how to see how many people are from your local area?
This option has you covered!
This feature focuses on people in your immediate area from where you can engage in further communication and dating if they manage to strike your fancy.
Got some time on your hands and the desire to pick out a potentially amiable conversationalist or something more delicate? The live feature is ideal for such purposes.
Within this option, you are given a set of filters from where you can discern the characteristics of people currently online- are they new, are they popular or are they among the top when users on the platform?
This is a great way to amass a following and get your name spread across the board, so this remains an all-time favorite among the user base.
This section came into existence based on the idea of two complete strangers meeting up and connecting.
In more recent installments, this option will be replaced by a brand-new system of "mystery" dating which will spice-up the community by adding even more ways to for members to extend their range of potential contacts without limits!
Compared to the previous versions, this area is a top-priority for MeetMe to expand upon.
One of the most prominent distinctions between MeetMe compared to the alternatives is the ease of use that is exemplified throughout the platform- from the sign-up process to finding your ideal mate.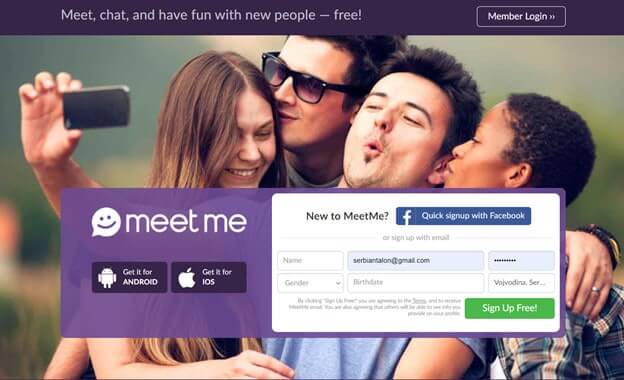 The process you need to complete to gain access to the site so fast it can be done under a minute.
This is a double-edged sword as it is basically an open door for scammers to get in with a brand-new email address and fake details yet it is also a hassle-free option for people who want to get down to the game in a matter of moments.
One of the best parts about this platform is that you don't have to give any personal information- if you don't want to.
The dating experience is both free and informational-facultative, so if initial discretion is your fancy- this is an exceptional example of a dating site formulated to suit the needs of both extroverted and introverted approaches alike.
Login in can also be done through your Facebook account, further simplifying the process to a few clicks before entering.
Navigating is super easy and convenient – everything can be done within the span of a few clicks.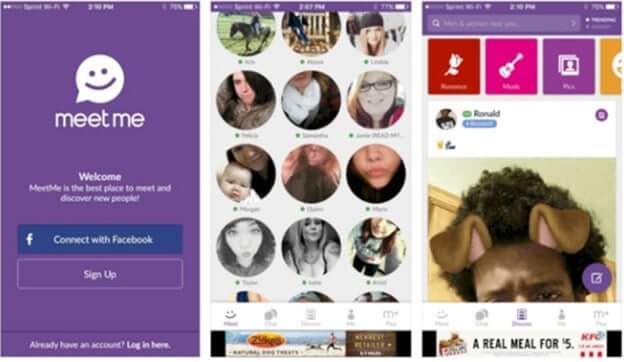 Profiles are organized neatly and give you all the information a person is ready to share – sometimes less, sometimes more.
Editing your profile allows you to increase your chances of being picked out of the masses.
You can see how many views, friends you have, as well as the profiles you have favorited.
With a MeetMe+ you have the option to add profile themes, all photo views, and stealth browsing, but more on that will be explained later on during the review.
This is pretty much the "heart" of most of the platform activities (about 70%).
The app is both lightweight and efficient, offering all the benefits of the browser version of the app.
It is compatible with both Android and IOS systems.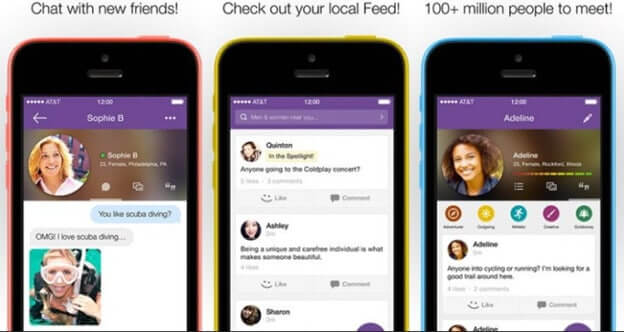 The app is fast and discreet, allowing for flexible timing and instant chatting without the buggy interface nor long load times, in most cases even if the platform is overloaded.
With everything said so far, it is fair to say that the basic functionality comes free of charge and is an overall a very satisfying experience to use the plethora of options that come packed with both the mobile app and the desktop version.
However, certain parts of the user experience are reserved for those who are willing to invest some money for the best results you can get out of the online dating experience.
Before we go any further, it is important to note that "Lunch money" (this is the digital currency that circulates throughout the website) can also be earned by proving that you are both active and dedicated to this website.
Common examples include the following activities:
Everyday logins
Daily participation in games
Chatting with other members
Upholding a model profile (with all the necessary information)
Refraining from suspicious activities (this includes all the activities that are classified as unwanted or illegal)
One of the most prominent paid features is exemplified in the option to "gift" other users with a virtual presence. This essentially boils down to
The big craze around MeetMe revolves around this digital currency.
Thousands of feeds are started daily for the chance to earn some good money (yep, you can convert gifts that you receive for REAL money) and the website is even used for some high-profile members to earn a solid wage.
Here's the conversion rate for the US market:
Price of 250 credits = $4.99
The price of 625 units =$9.99
2000 credits go for = $14.99
3700 credits = $24.99
There are many more deals that are subject to change while the general idea is that the more you buy the cheaper the price of the purchased amount will be.
With everything said so far, this is the "menu" from where the credits come into play:
This will allow you to put your profile at the very top of the pecking order for a limited amount of time – 100 credits
Want to get attention to yourself or to spark a discussion?
This upgrade places your content right at the top for everyone to see.
It, as you can expect, lasts for a limited amount of time – can also be bought with credits
Ideal for checking out your crush without them noticing – 1 week= 100 credits
This option is like a package that contains all the tools and resources that will allow you to access everything there is on this platform.
It is subscription-based and it auto-renews unless disabled. It brings plenty of benefits:
No ads whatsoever
You get free credits each month to do with them as you please
Stealth browsing and email privileges
Premium filtering options are unlocked (additional categories such as body types are unlocked)
Enhanced profile aesthetic options
The price list is based on 1-6 months at a time, with pricing adequate to complement your choice.
The most unique aspects that are both a currency and a social status are the Diamonds:
They are given by other users
They can be withdrawn for real money through Paypal
Also a sign of your popularity on MeetMe
The rate of conversion is as follows:
80,000 of the aforementioned diamonds translates to $200
200,000 to $500
400,000 to $1000
You can already see it is a potentially profitable business, as it is commonplace to see members showering each other with gifts (which also explains a large number of streamers).
The diamonds are basically the jack-of-all-trades currency within the MeetME community as they can also be converted to credits.
Overall rating- 3.5/5
Been a long time since an interesting dating platform like has pooped up and it deserves credit for presenting itself as really unique, considering the competition usually follows a simple formula.
MeetMe has a long history and an even longer list of improvements it has made ever since its creation so you can expect to have a great time with not just people from the US but anywhere else in the world, making it perfect if you are looking for some fun while on a trip outside the borders of your country.
The prices are acceptable and yet entirely optional so the biggest issue is a large number of scammers and fake profile account users (which have always been a major issue within the online dating world).
Now you are all set for wild nights and extravagant parties that are ripe for the taking. With everything said so far, we wish you the best of luck in your future endeavors!
Now for the extras:
The most commonly asked questions right in front of you!
Even with so much information crammed into the review itself, a tidbit of general information that is always asked about websites such as these is always welcome. Let's take a quick rundown through the most important parts:
Running over a couple of safety inquires and info about the company is the prime concern for most newcomers.
The basic rundown of everything you need to know about starting with MeetMe's account usage and policy.
And last but not least, here are the most common inquires regarding account usage.