In today's dating app review, we are taking a look at Koko, a dating service that wants users to stop swiping and get to meeting up instead.
It's all about finding that perfect match using Koko's matchmaking features, setting up a date using their GetReal tool.
Is it the best dating site out there?
Well, we are going to assess Koko by conducting a full test of the app and identifying just what it offers users.
OFL Top Recommendations based on 100,000+ Survey

"Serious Relationships"
"Discreet Hookups"
"Best Course for Men"
"Quick Flings"
"Normal Hookups"
"Our Quiz"
In other words, we will look at its strengths and weaknesses as we evaluate this dating platform.
In particular, we will gather information on:
Rest assured, this Koko app review confirms everything you need to know about this app and whether you can find a hookup (like BeNaughty or Ashley Madison) or perhaps even a soulmate here (like on eHarmony or Tinder).
Is your dating app giving you the best chance for success?
Make sure to take our online dating site/app quiz to find out.
It's a fact that people who follow our dating site suggestions have on average 2 extra dates per month.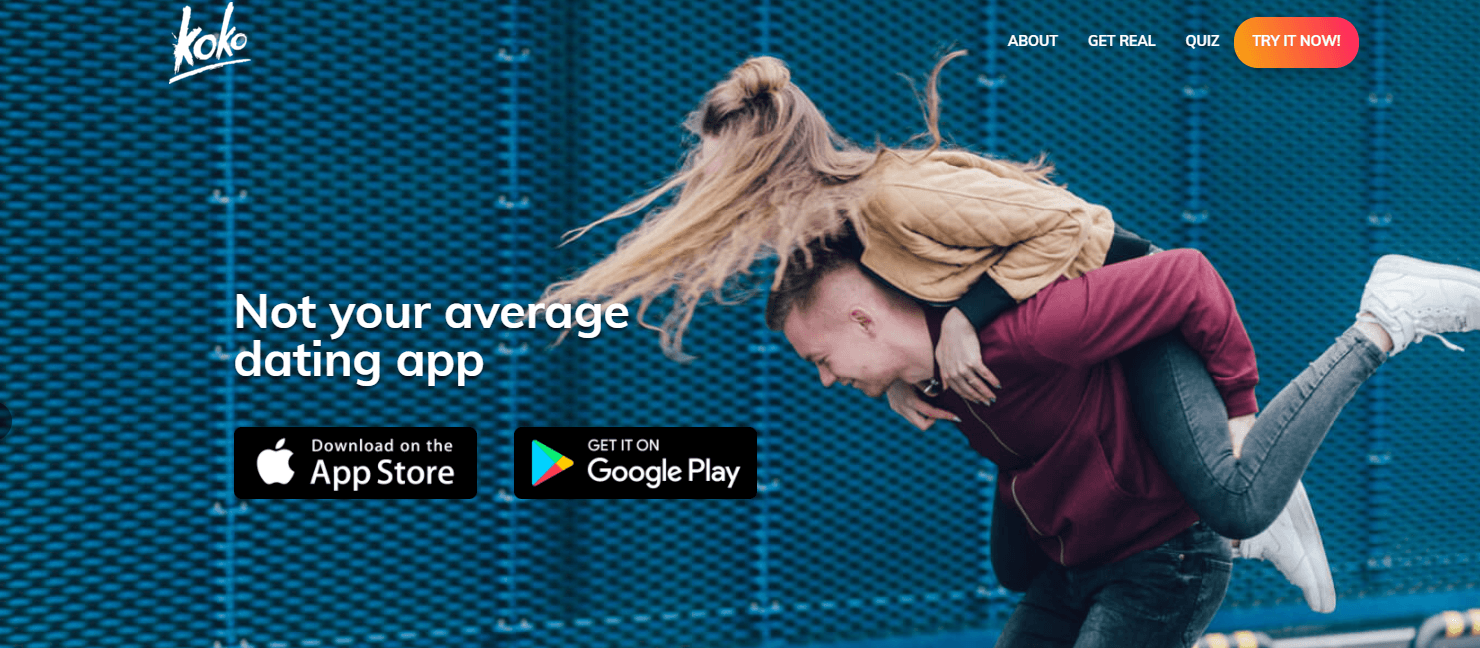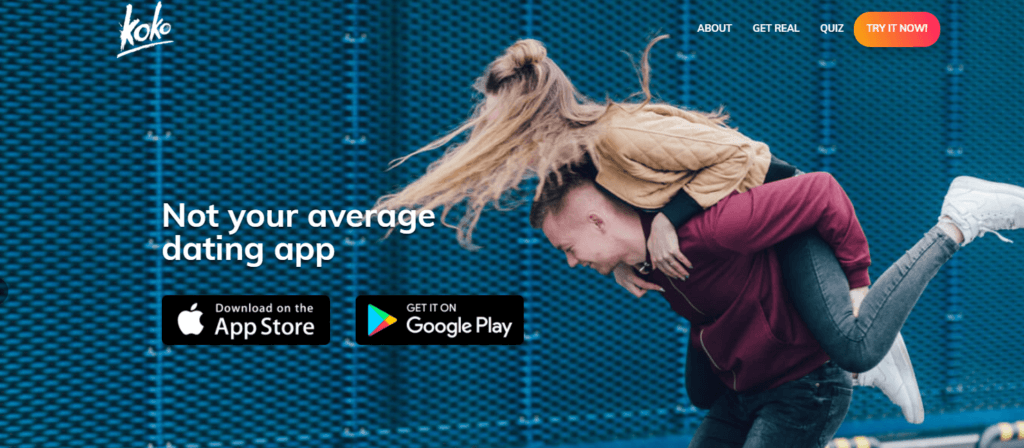 Ease of use – 4.5/5
Success rate – 3.5/5
Key features –3.5/5
Price – 4/5
A superfast sign-up process has you online in a matter of seconds
A unique design that while different from other dating apps is easy to get to grips with
25 unique personality quizzes that help find the best potential matchups
Well priced membership, especially the three-month option
A small, but growing user base which means matchups might be limited if you don't live in large metropolitan areas
The app crashed from time to time


Who's It For/Demographics?
As we learned in the introduction, Koko is a dating application that wants people to meet online but more so in real life.
Most dating websites couldn't really care if you meet up with someone, but Koko is different.
So much so that they include tools to help you meet face-to-face.
While it's a fairly new app, it already has 500000 users worldwide.
OFL Top Recommendations based on 100,000+ Survey

"Serious Relationships"
"Discreet Hookups"
"Best Course for Men"
"Quick Flings"
"Normal Hookups"
"Our Quiz"
Here's a few more facts and figures about Koko:
Around 75000 users are from the United States
Every day around 5000 unique users log in to this dating app
Many are young professionals
The Koko Android app has been downloaded around 500000 times off the Google Playstore
It has a rating of 4.4 on the App Store and is available for iPhone and other Apple devices
Most users on Koko are between the ages of 20 and 30.
Unfortunately, I wasn't able to clarify the current gender ratio balance on the app or a full breakdown of user age ranges.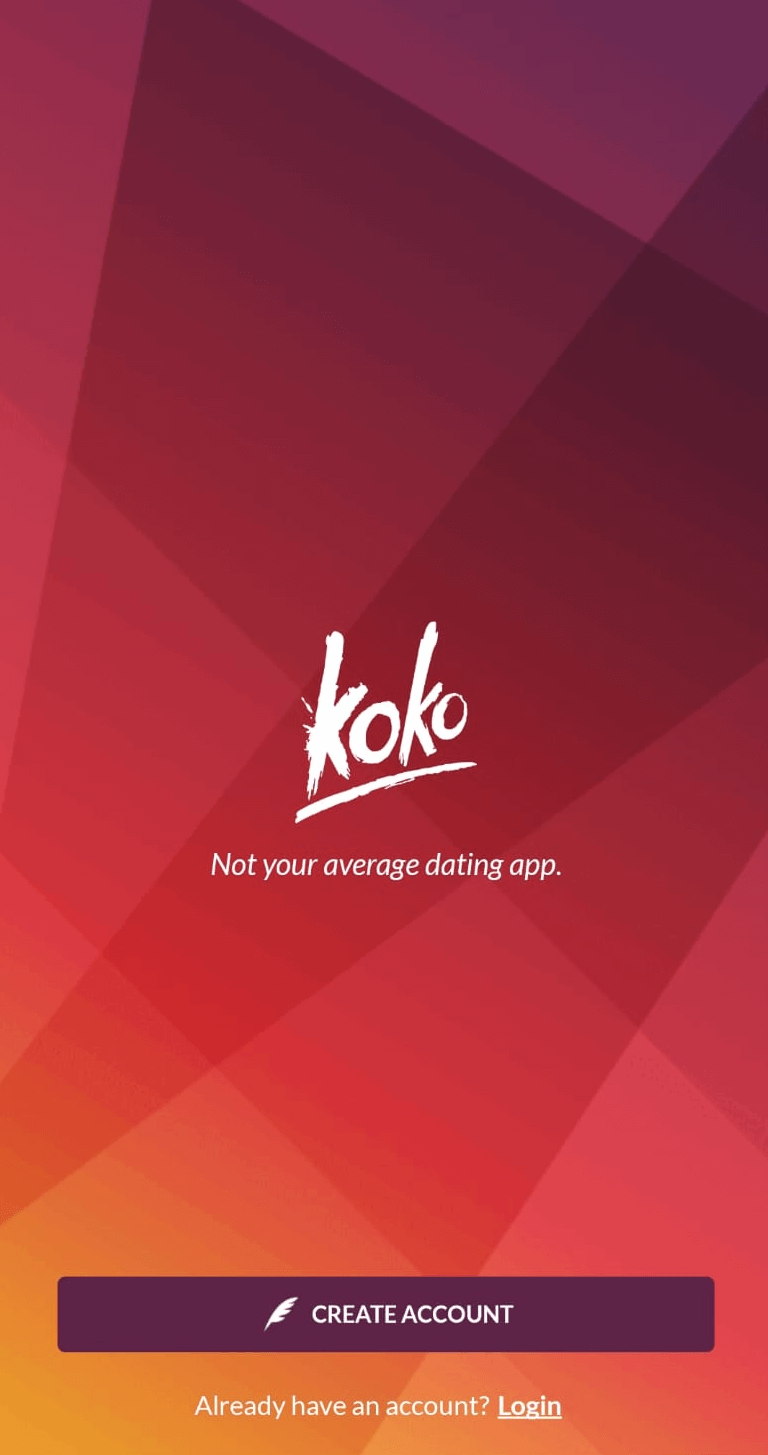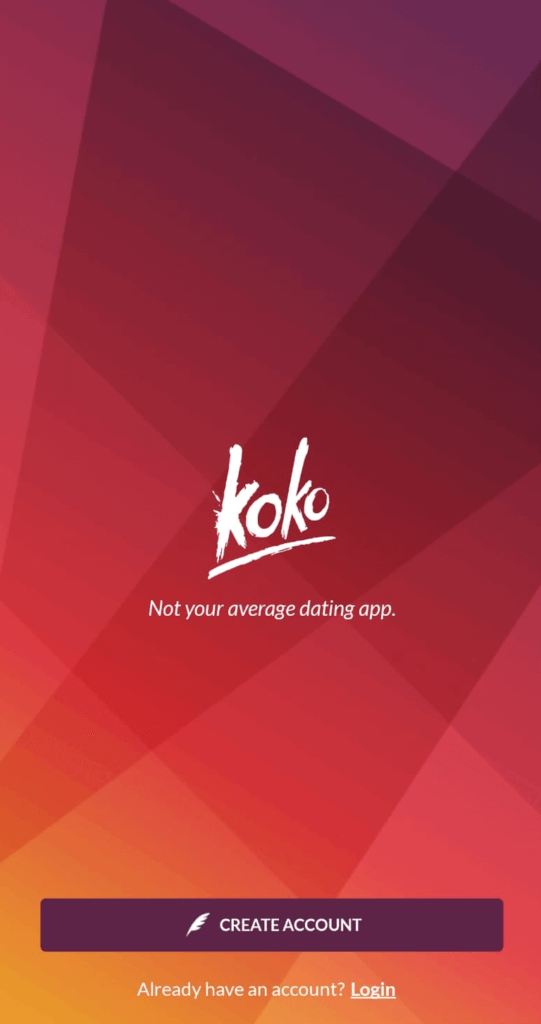 Once you've downloaded the app for your mobile phone, you have a few ways of starting your profile.
You can either register using a valid email address or by the user-friendly route of using a social media account.
With Koko, it's Google and Facebook that are your choices.
I always tend to use the email route as many people prefer not to associate their social media accounts with dating apps.
That means you need to provide the following information:
Your gender (male, female and non-binary)
The gender you would like to hookup with (men, women and non-binary)
Your username on this dating platform
Your email address
Your password
Although you can access the app straight away you will need to validate your email address before you can use it to its full capacity.
If you've used a dating app before, and I am sure you have, you aren't going to have much trouble finding your way around Koko at all.
All of them are much the same and you'll soon get used to the unique layout of this app.
Profiles are front and center here you will have four per screen.
So with today's modern mobile phones, that means large profile pictures to look which, from my perspective is how it should be.
Let's look at the menu system that you are going to use to navigate the site.
The bulk of it is found at the bottom of the screen.
These are:
Tribe: This is the basic matchup screen and will show potential matchups near your location.
Quiz: Here you can partake in various personality quizzes to help refine the quality of the matchups the site sends your way. I will talk a little more about these later in the review.
Activity: Here you can see who has visited your profile, who has voted for your pictures as well as who you have voted for, your soul friends (which come from the quizzes mentioned above) and more.
Vote: Here you can vote for other users
My Chats: Find all your messages here
If you are on the Tribe menu (which effectively is the main page of the app) you will notice two more menus at the top of the screen.
The one on the left links to your profile as well as account settings, while the one on the right allows you to change various parameters that will affect the matchups you receive.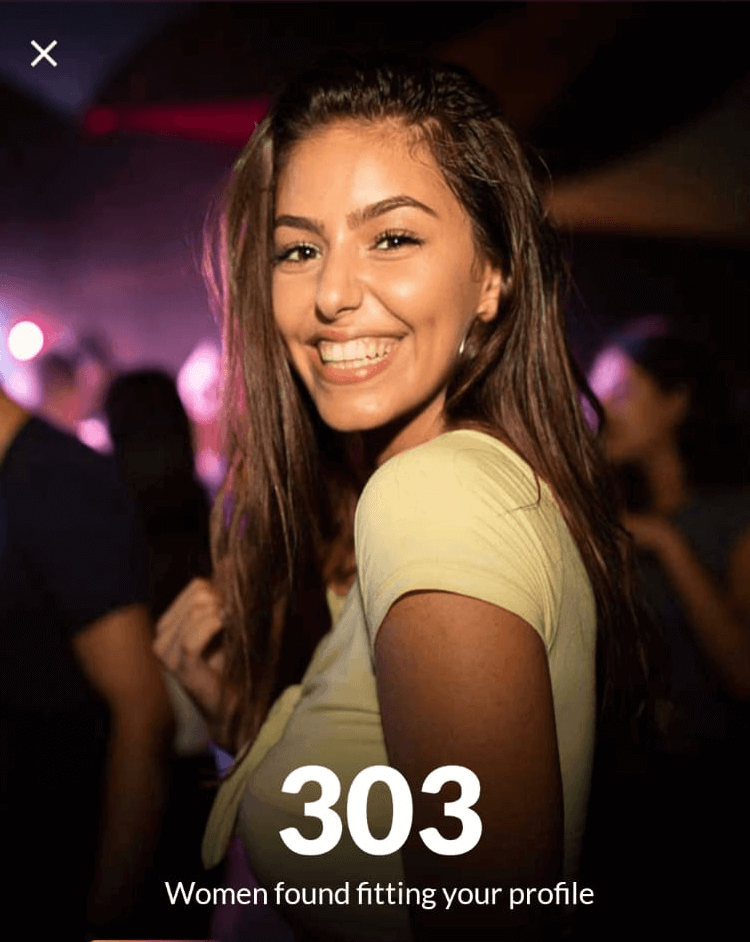 When you first log onto Koko, your profile is only 30% complete.
So it's best to make sure you get stuck into that to have it filled out in full.
And it won't take too much time either.
To start editing it, click the Profile menu at the top-right of the screen and then click on the edit profile button.
Here's what you can add to your Koko profile:
Height
Body type
Smoking habits
Hometown
Current location
Activity (this basically covers your profession)
What you are looking for (new friends, dates, friends with benefits, exclusive relationships or one-night stands)
You can also add social media hashtags to show your interests.
And then Koko also includes an interview which is one of the things I really like about the app.
Here you get to answer a range of different questions.
For example, "What are the four most important things in your life" or "If you could be anything without failing, what would you be".
It's such a fresh approach on dating profiles and it's really one of the things they got right on the app that makes it different from its competition.
In total, there are five questions to answer.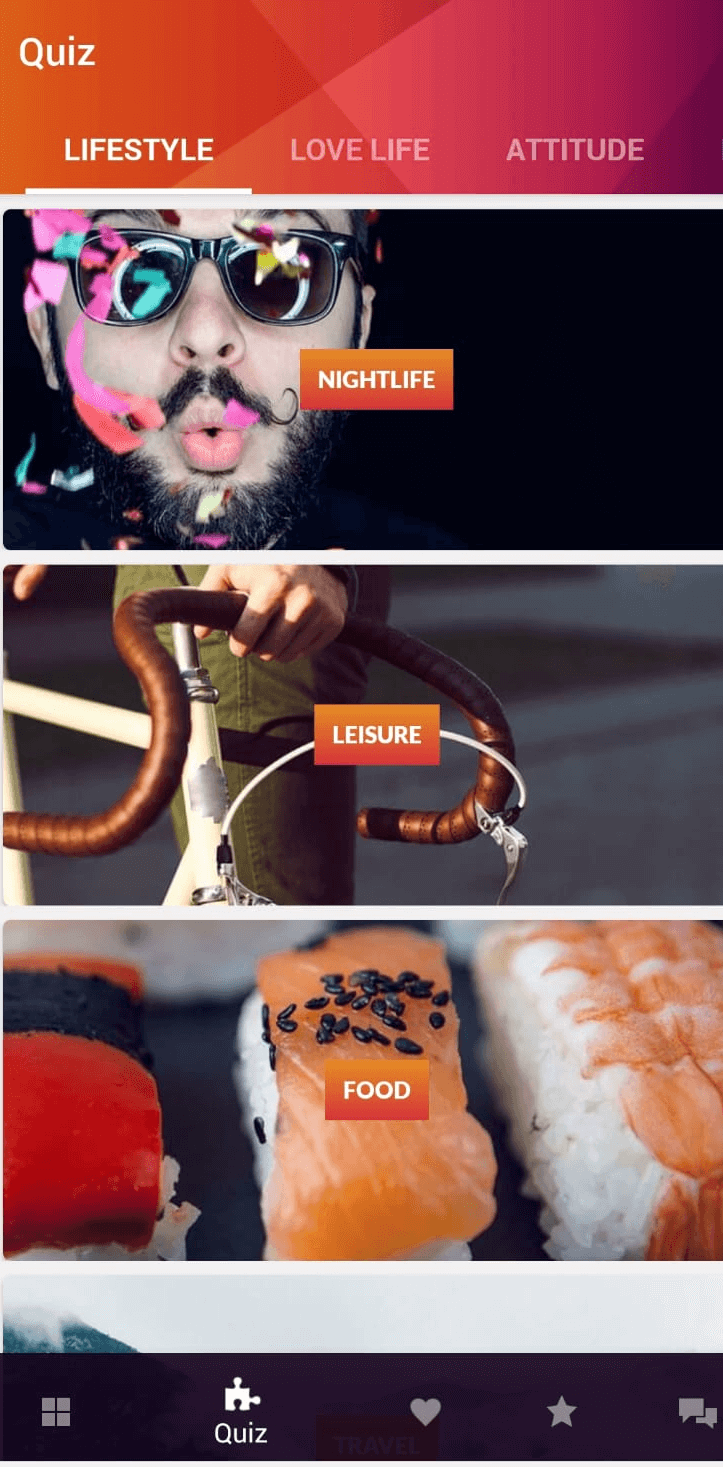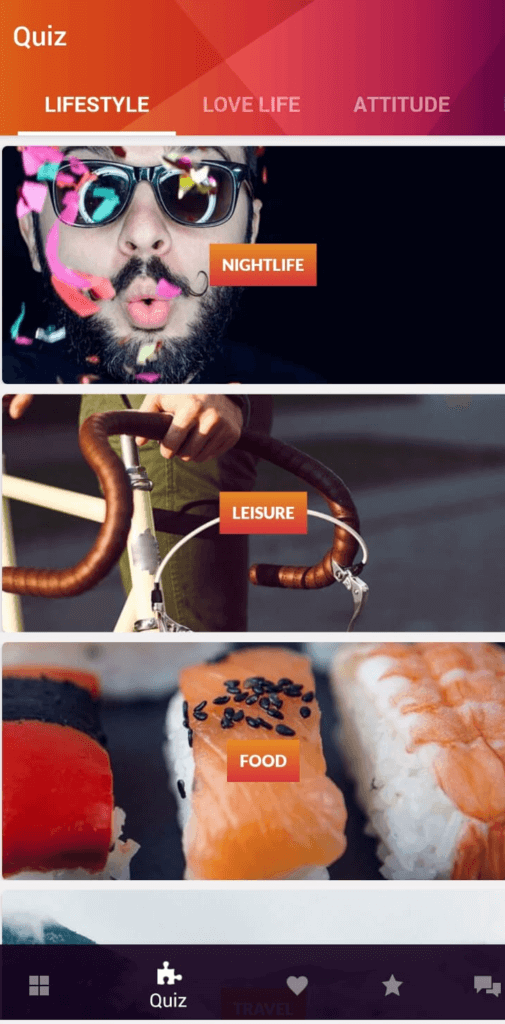 I just want to get back to the personality quizzes on the app because this is really one of the strengths of Koko.
They are quite comprehensive and will take some time to complete but you certainly don't have to finish them all in one go.
They are split into four categories and each category has various quizzes.
Here's what you can expect:
Lifestyle (Nightlife, Leisure, Food, Travel, Personality, Fashion)
Love Life (Dating, Preferences, Sex, Relationships, Family and Future, Attractiveness)
Attitude (Philosophy, Religion, Politics, Movies, Music, Animals)
Brains (Career, Money, Technology, Psyche, Intellect, Arts and Culture)
There are 25 quizzes in total and they vary in the number of questions they have but it's 10 or more for each of them.
Fill them in, however.
It just helps with matchups as well as giving people more of an insight into what you are about.
I just love this part of the app, I really do.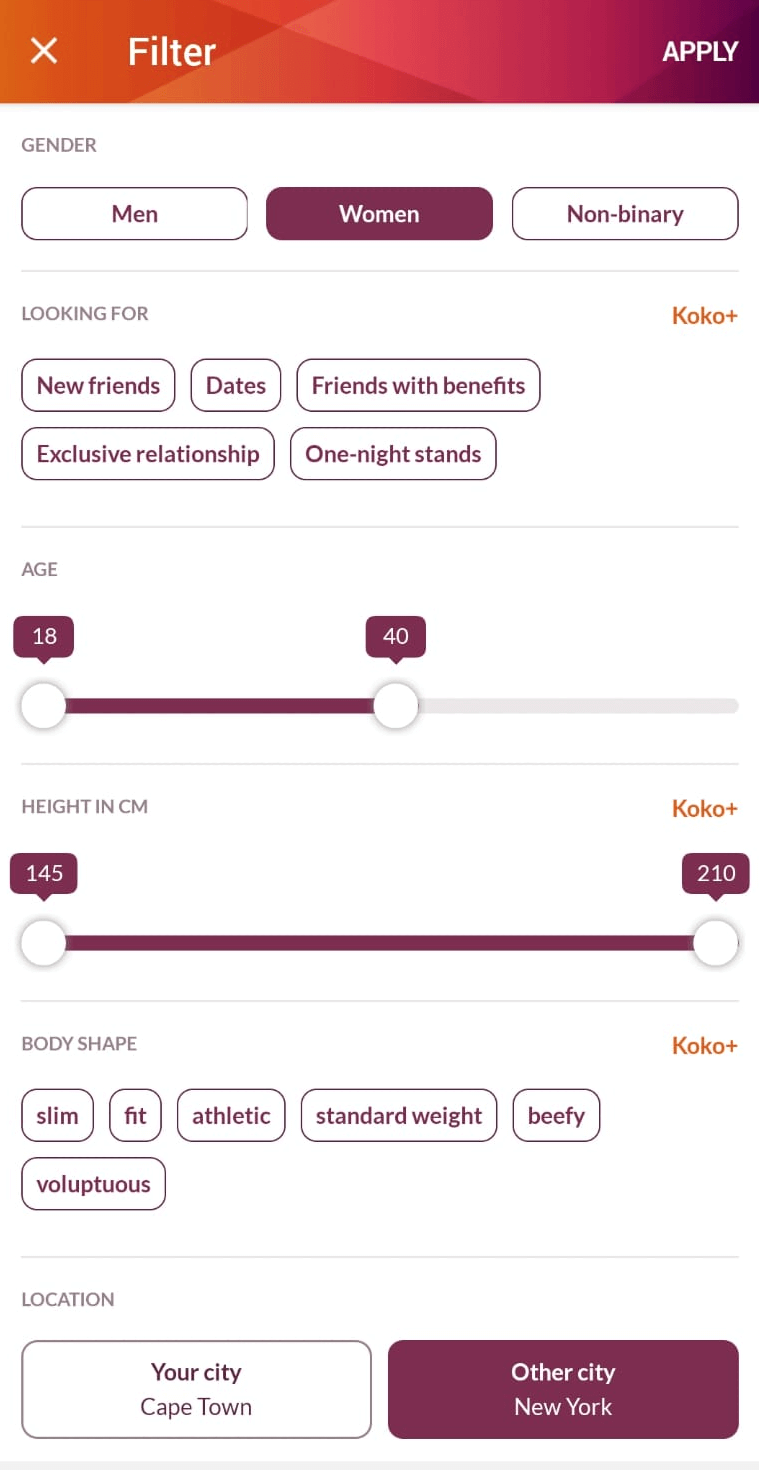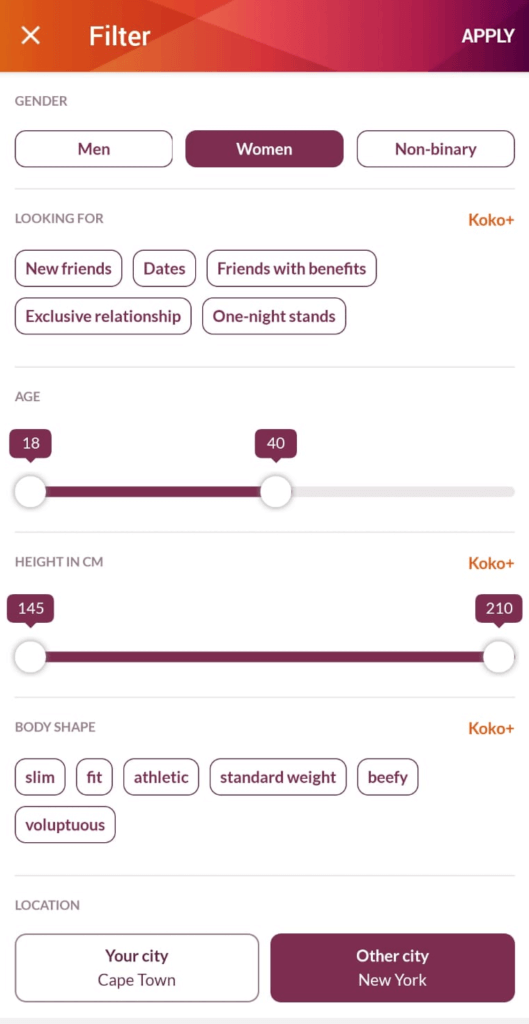 Right, so this is a dating app and if you've used one before, you know generally it's about swiping and trying to get matches to communicate with people.
The great thing about Koko is that regular users get one free message a day which can be sent to anyone.
So yes, that is limited but at least you can send a message.
Also, instead of swiping, however, Koko uses voting.
If you vote for someone and they vote for you, well that's a matchup and you are then free to message them.
Each day the app will provide you with a match of the day that you can use your free message on.
Ultimately though, if you want to fire off messages at anyone, you are going to need to sign up for membership.
You can even send selfies to other users via messaging with the Realshot feature.
Searching for potential matchups
Koko will present you with matchups near your location.
You can influence various parameters in what is presented by clicking on the slider bar while in the Tribe menu.
Here you can change the following:
Gender
What you are looking for
The age range you'd prefer
The preferred height matchups should be
Their body shape
Your location and maximum distances matchups can be from you
Their personality (for members only)
You can also sort the returns by their lost login and distance from your location.
The last thing I would like to talk about is The Toplist.
You will notice this at the top of the Tribe page.
If you are willing to pay $0.99 you can part of it.
This means:
You will appear in the Toplist of other users
That means your profile reached is far superior to a regular user
You will also receive access to other Toplist users and that means more votes and more matchups
While I think it's more than possible to use Koko without membership (although it's going to require patience), paying a monthly fee obviously includes some key features that are worth looking into.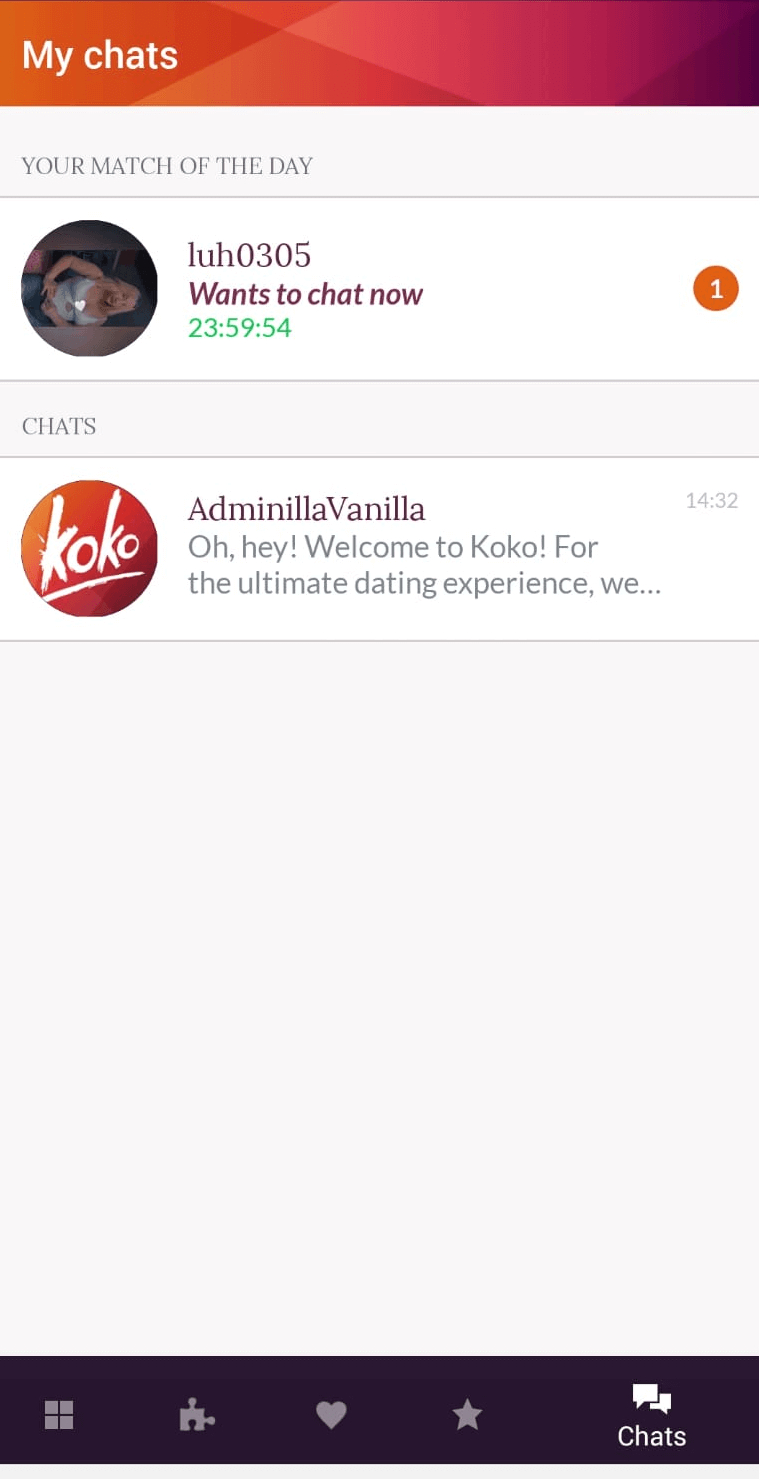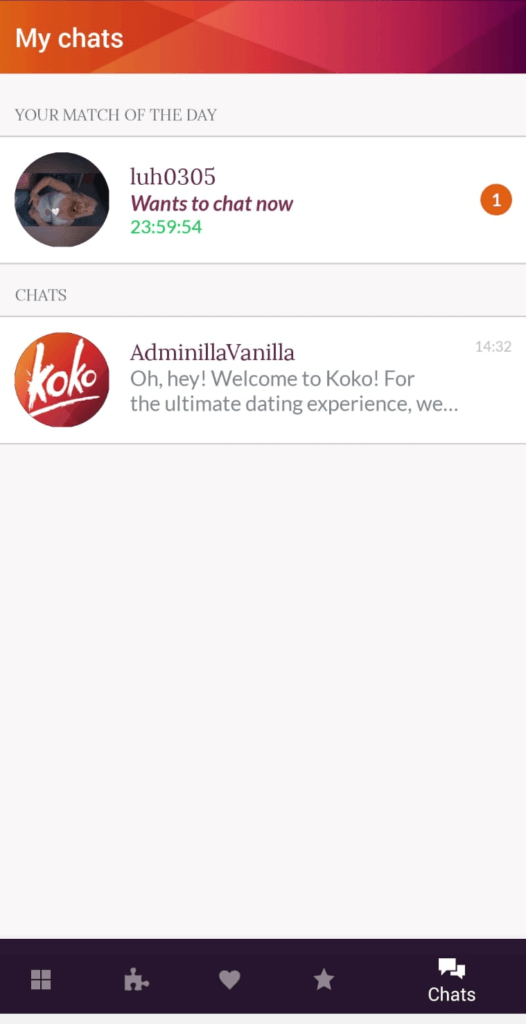 Now that you know more about the Koko app in general, let's take about the key features that become available to you if you sign up as a member.
But before we do that, let's quickly indicate what a regular user can do on the app without buying a membership.
They can:
Send one message per day
Like other users profiles
Take part in Koko voting
While it's nice to be able to send one message a day and I am sure people can make it work for them, here's what membership offers.
The ability to send messages to anyone is invaluable on any dating platform.
For me, this is the key feature of Koko.
Find someone you like and you can easily reach out to them.
There's no need to worry about keeping your one message for the day and hoping you send it to someone that is going to respond to you.
Voting is the equivalent of swiping on other apps.
If you vote for someone and they vote for you, then that's effectively a matchup.
Of course, it's far easier to facilitate a matchup if you can see who has voted for you, right?
If you find even a few bits of advertising annoying, as a member of Koko, you don't have to worry about it ever again.
4. See who visited your profile
You'll always see this as a key feature on dating apps, that's for sure.
The ability to see who has visited your profile can lead to potential matchups, that's for sure.
Use it correctly and it can really help you find the kind of matchup you are looking for.
With Realshot, you can send unfiltered selfies to other users in real-time.
It's a cool little extra that you can use while messaging others that's for sure.
Koko is all for users taking things offline and going on a real date.
That's what the GetReal tool is all about.
With it, you and another user can set a time, date and venue to meet each other in the real world.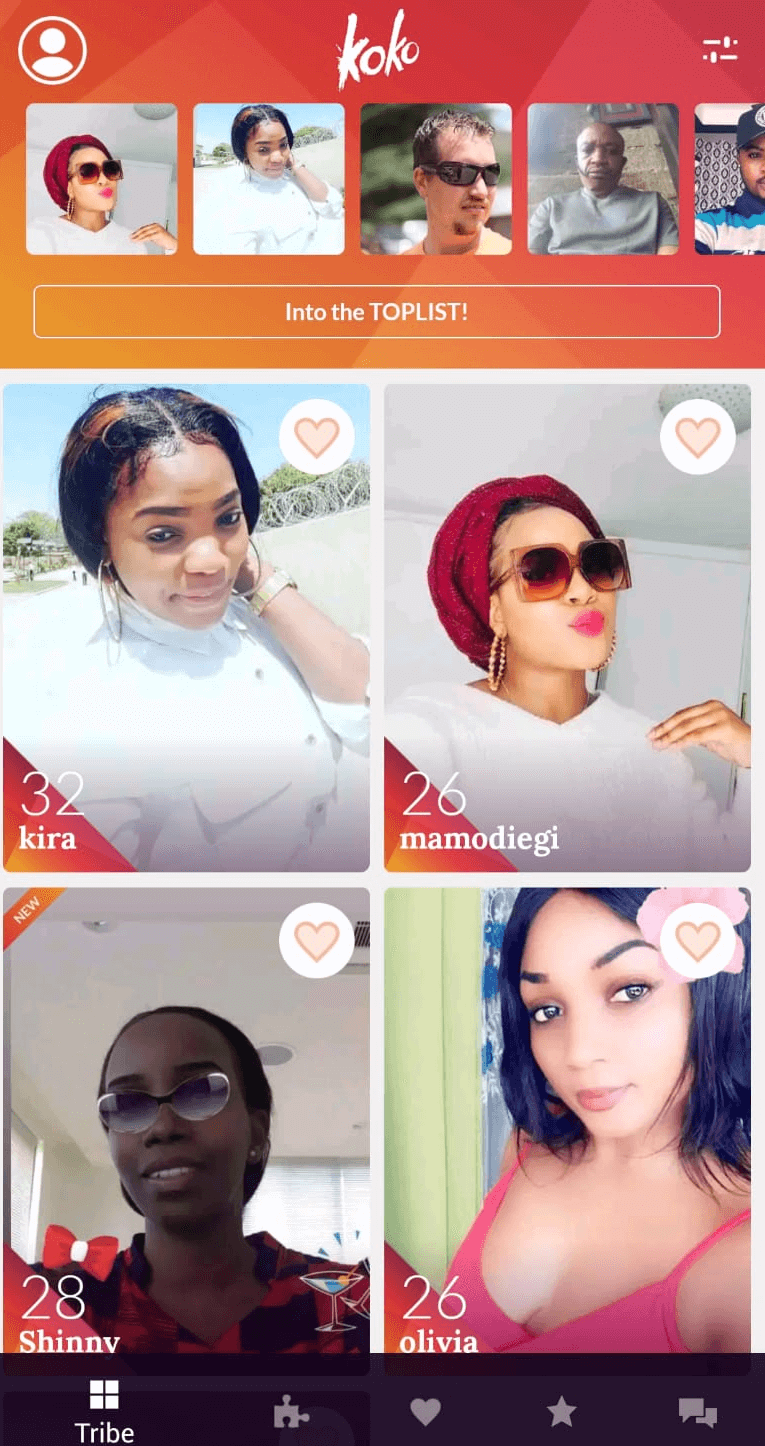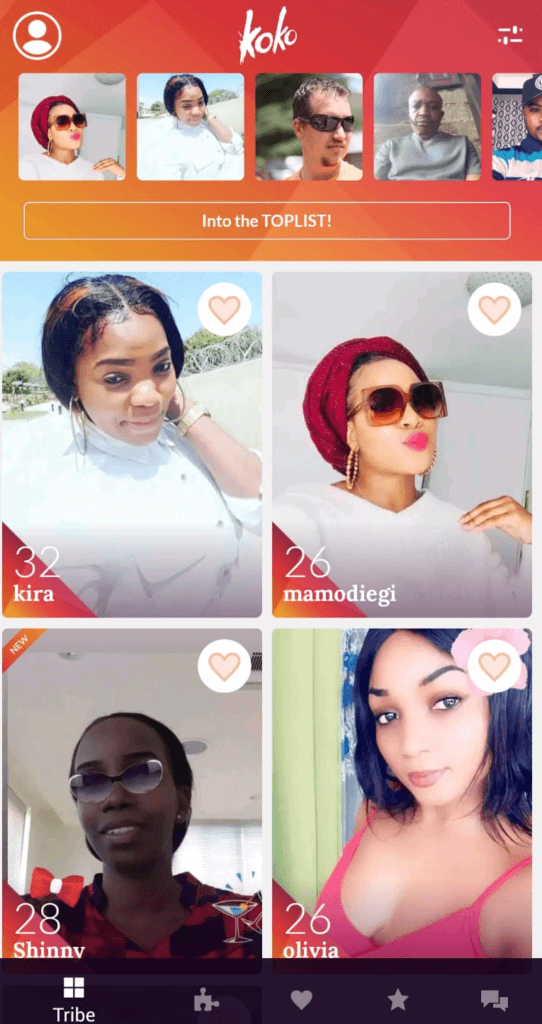 We've already established that this is not a free dating app.
So what is a membership going to cost you then?
Well, from my research, I've always found that dating apps are never as expensive as dating websites.
And if you compare Koko to other sites online, you'll find that as well.
Koko has four membership options: one week, one month, three months and twelve months.
Here's what they cost:
1-week: $7.49
1-month: $18.99
3-months: $21.99
12-months: $107
Signing up for a dating site for a year is something I am always skeptical about.
What happens if you find the love of your life a month in?
While the one-month option here is on par when compared against Koko's competitors, it's the three-month option that I would choose.
It's only $3 than a month-to-month membership and you get two extra months.
It effectively works out to $7.33 per month which a savings of over 50%.
Membership can be paid by using your credit card or using your mobile phone.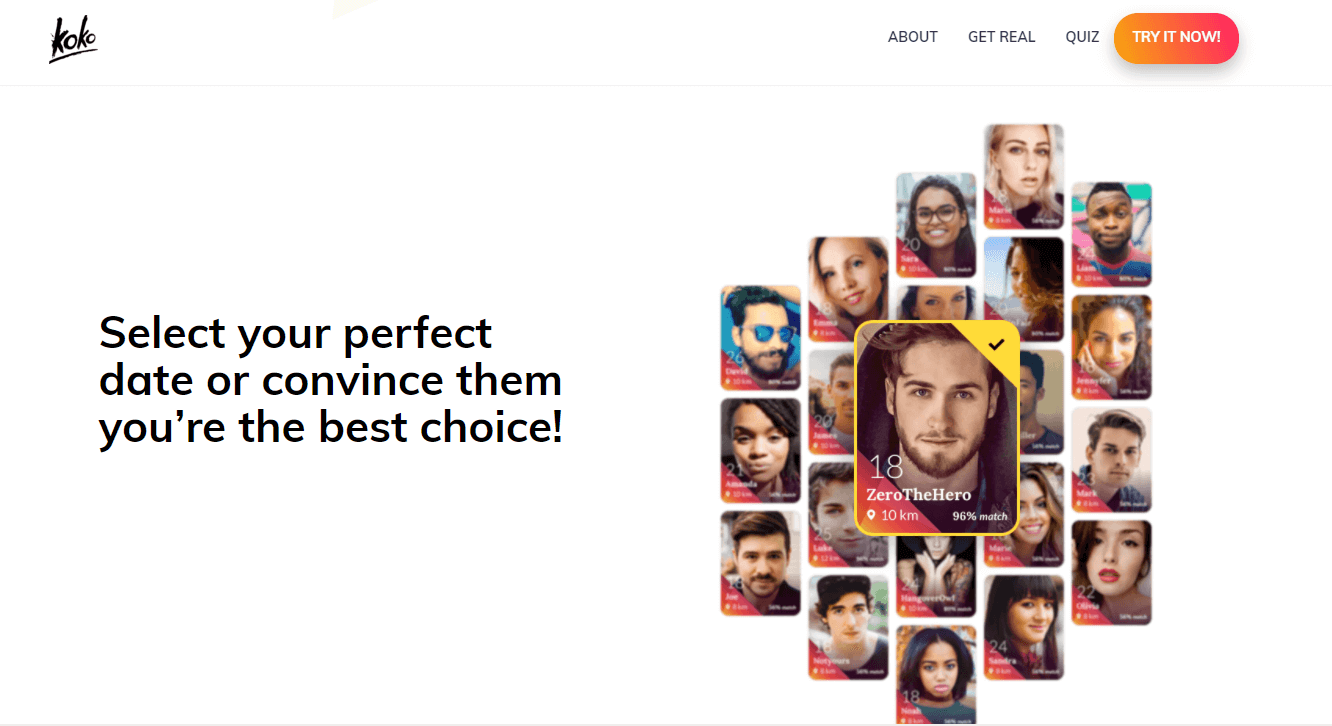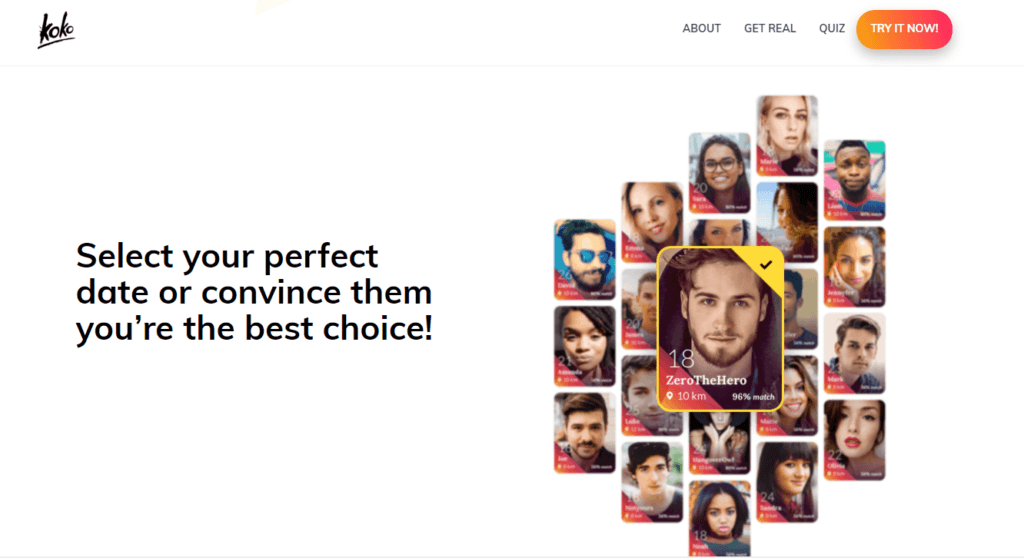 Conclusion and Overall Rating
Thanks for taking the time to read our review of the Koko app.
To summarize, I'd like to start by saying it really has massive potential
It's not your run-of-the-mill dating application, that's for sure.
If you are an app veteran, you would have seen much of what it offers users.
But there are some incredible added extras that I think help it stand above its competitors.
For me, the thing that really stands out is the personality quizzes that form part of Koko.
They are primarily there to help the app find you the best potential matchups and as the app grows, this will be something that will really come into play more and more
The only problem that I can see is that it will take some time to fill in all of these quizzes as there are 25 of them.
But tackle them if you sign up for Koko, even if you only complete those that you feel are the most important for you.
It will be worth your while, especially as this is really what separates Koko from other dating apps.
As for a score, today Koko gets a very solid 3.8 out of 5.
It's well worth trying out and is only held back by the fact that the user base isn't as large as many of its competitors
But that's going to improve over time for sure a more and more people find out just what Koko has to offer.
The Koko dating app was tested by the Onlineforlove team over a period of weeks
Following testing, we concluded Koko is an excellent dating app for young people that offers something a little different when evaluated against its competitors.
Our review approach saw us give a star rating for critical criteria that we rank dating apps by.
And our final evaluation of Koko was based on many factors.
Some of these included membership cost, ease of use across all stages of using the app, the features it offers, how large the user base is and how easy it is to find matchups.