Have you been seeking serious relationships for a long time on the east coast of Australia or further?
Have you been struggling to find some new friends in your area using online dating sites and apps?
If your answer is affirmative, and you are among the young adults coming from the NSW, continue reading this Oasis Active online dating review, and find out more:
Is your dating app giving you the best chance for success?
Make sure to take our online dating site/app quiz to find out.
It's a fact that people who follow our dating site suggestions have on average 2 extra dates per month.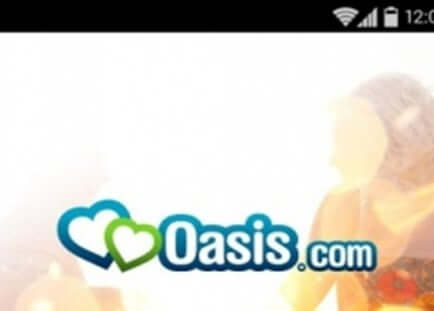 Effectiveness – 4/5
Features – 4/5
Ease-of-use – 4/5
Price – 4/5
Overall Rating – 4/5
Free to use
Mobile app
Many active members
Simple interface
Quick registration
Available only in Australia
Too many ads
Who is it for/Demographic make up
This online dating site has been based in Australia, Sydney, since 2008, and it gathers Australian men and women on this big continent.
It is part of the 3H Group Pty Ltd company, founded in 2003, that is specialized in online dating, and that counts more than four hundred new members every month.
The Oasis Active online dating site is for young adults who are looking for friendships, casual hookups, sex adventures (like BeNaughty or Ashley Madison), long-term relationships (like Tinder or eHarmony), or even marriage.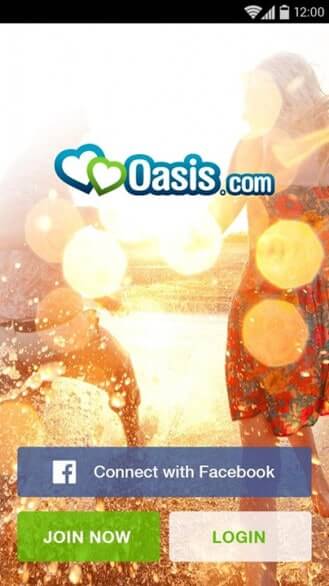 This online dating platform counts over 3 million members all around Australia, and there are more than 90 thousand members who log in to this dating website every day.
The biggest percentage of Oasis Active members are from 18 to 35 years old, and mostly, they are men.
Just 30% of its member structure are women, and they are rarely those who are older than 35.
The Oasis Active online website isn't for those whose age range is over mentioned.
If you are aware of the fact that you are not among young adults, then it's time to move on, and find a more appropriate dating site for you.
OFL Top Recommendations based on 100,000+ Survey

"Serious Relationships"
"Discreet Hookups"
"Best Course for Men"
"Quick Flings"
"Normal Hookups"
"Our Quiz"
Oasis Active Design and Functionality
​​​​Its design is very simple and it is approachable to young Australian people.
You will recognize its modern design in two attractive colors, blue and green.
The Oasis Active logo is made of a modest heart in these two colors.
Its functionality is satisfied, too. There is a toolbar that offers you all the main features and questions you might have before you start using the site.
This online dating site uses its special navigation system based on detailed profiles and locations.
Its drop-down menu looks pretty organized, and it is easy to navigate through.
In two words, this design is functional and practical.
Simple to use, the Oasis Active dating site is available in two versions, as a desktop version, and as a mobile app for Android and iPhone devices.
Both versions are easy to use.
The registration process is fast, and it lasts a few minutes. The signing up process requires some basic personal information about a new member. The process is quicker if you decide to sign in using your Facebook account.
All necessary information can be easily matched from your social media account, and there is no need to complete the registration questionnaire.
Although the registration questionnaire is optional, and you can skip it during your registration process, it would be great to answer some basic questions that it offers because it can help your matching.
There are a few questions, and you won't lose too much time completing them.
After the signing up process, you have to create Oasis Active profile. When you finish creating it, you can dig the site a little bit to meet with its structure and usability.
The site is very well organized, and it is really simple to navigate.
There is the main toolbar where you can see all the site's features and suggested profiles.
One huge plus for Oasis Active online dating site is that it starts matching you instantly.
There is no need to wait a certain time for the system to start its match-making algorithm.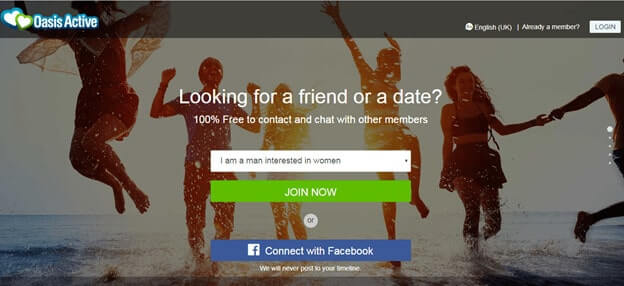 Its algorithm is pretty much based on algorithms similar to other online dating sites and apps.
Oasis Active features are also easy to use. You can find all its features on your profile, and they are similar to social media features.
How to become a member of the Oasis Active online dating site?
The very first step is to go to the Oasis Active official website or to download the Oasis Active mobile app from the store.
In both cases, you can expect to use the site's free services and to create a free membership.
During the registration process, the site will ask for some basic information. You will need the date of birth, a valid email address, username, and password.
Based on a matching navigation system, the Oasis Active needs your real location, to match you with other potential users that you might like.
The next step is creating your Oasis Active profile. Never skip the profile creation step because it is one of the main things on online dating platforms.
Like on many other online dating sites, your profile has to be flawless because it leaves the first impression on other active members, and your profile can sometimes say a lot about you, before even making the next step.
It is very important to convince other users that your profile isn't just another work of a scam and that you are not a fraud.
If you are interested in creating a great Oasis Active profile, continue reading the section below, and find out more about how to create your perfect profile.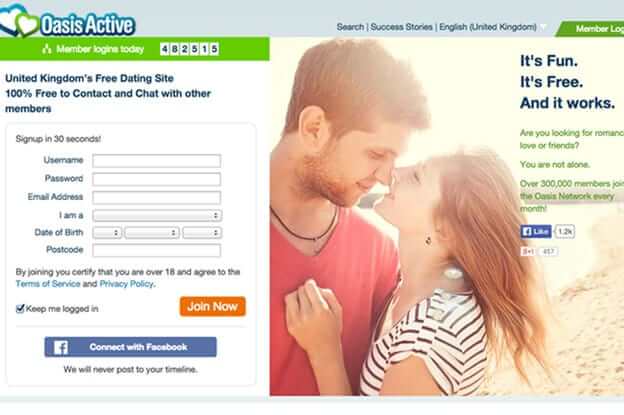 How to create an Oasis Active profile?
If thinking about how to make a perfect profile really bothers you, link your Oasis Active profile to your Facebook account, and all the information will be automatically matched.
However, if you want to make a huge impression on other members, follow these instructions, and you won't fail, it's sure.
It's all about details.
Choose a picture from your computer or from your Facebook account that represents the best of you.
Choose the picture where you are alone, and where you are smiling. Happiness has always been attractive and desirable.
Make sure that your profile picture isn't blurred, or too photoshopped.
If you decide not to put your real name, choose the one that will be short and funny, to make more attention to your next big step, a profile creation.
Your profile description mustn't be boring at all!
Reveal your fun side. Write who you are looking for and what are you expecting. Add also what the other users can expect from you, too. It's all in the reciprocity.
Write your short description that will sound casual, and that also makes you feel that way.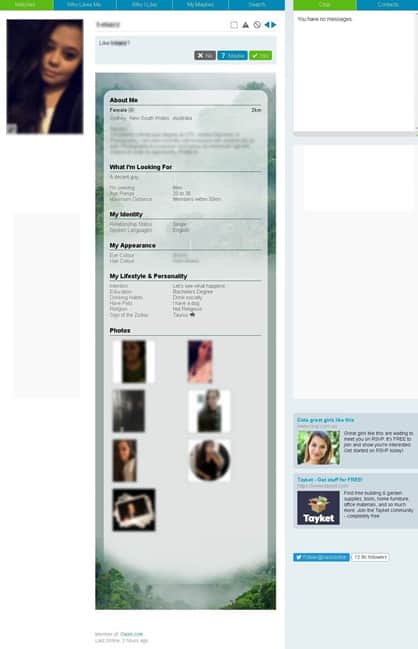 In the section My Profile, you can find a toolbar with seeking criteria that you can fill in to find the best match.
Those criteria will assure you to have a full inbox of desirable and less desirable messages, but that's the way how it works.
Speaking more about the Oasis Active profiles, they can be visible to other users, or they can be private. You can determine your profile at any time, and this choice is up to you.
Be aware of scammers and many fake profiles because the registration process doesn't have to be verified.
How to make Oasis Active contact?
The easiest way for making contacts on Oasis Active is to use the chat room.
To be able to message the other users, you have to like them, and they have to like you. It calls a match.
This online dating site is based on liking and swiping. Similar to Tinder, you can swipe to see active members who have something familiar to you.
Liking is an additional option that shows who are you interested in, and that shows if someone likes you, too.
Oasis dating gives you all the freedom to start chatting with your matches.
Messaging is free, and you can chitchat as long as you want.
Reply rate is very high that you sometimes have a feeling that you kick this app.
However, if there are no signs of potential matches, or you don't like any of your matches, there are many filters that can help you to make the first move.
You choose those filters by your gender, interests, age, and location.
The ultimate option, available for all Oasis Active members, is to start active chat rooms.
Active chat rooms can be created privately or in groups. It depends on your necessities.
Only those members who are in the active chat room can participate in the conversation.
You can make audio messages, video messages or you can share any other content you want.
Many Oasis Active features are free to use, and they are often enough for finding online love romance.
That's one of the main reasons why Oasis Active is proclaimed as the best dating site in NSW.
Check out the list of its special features that can help you to find matches in your area in no time.
Oasis Active Special Features
My Maybes is a great feature if you are not quite sure about your first choice.
Using this feature you can create a My Maybes list where you can place all those matches who you aren't interested in at the moment.
Sometimes you just need to think a little bit more before making the final decision.
On this list, you can place all those members with whom you want to make a contact, but not right away.
The list is private, and you can always check the list later one more time if you change your mind.
This contact list is visible only to your eyes.
The Oasis Active matching system works by swiping and liking other active users.
When you want to match someone, you can click yes on the user's profile, or no if that user isn't what you have expected.
Who likes me feature is a list of members who have already liked you, and who want to take the next step.
It looks like a notification bar where you can see all the members who liked you and when they liked you.
You can see their profiles, and like them back. Or not.
If you like them back, then, it is a match, and you can start your virtual online dating.
Some Oasis Active features come with perks, while others don't.
This feature definitely comes with many advantage perks.
It isn't just about a regular chat room. In a regular chat room, you exchange messages with other users by typing and sending emojis.
In this special active chat room, you can make audio and video calls. Plus, you can share them with your matches from your contact list, or you can make them private as well.
Many choices to make, and many more to choose from, right?
This is one of the most used Oasis Active features, but at the same time, it is one of two features that is available for premium members only.
Shoutouts feature can place you on the top of the list all among the members who are the most popular on the platform.
The Oasis Active matching system serves you a thousand users who are based on your personal criteria right on your plate.
Among that big number of matches, you will surely find your perfect match.
Those thousand members are selected by your criteria and desires.
This feature is for paid members, but what are a few bucks comparing to a thousand potential matches.
This feature is also available for those with a paid membership. It can be very functional because it removes all the unnecessary ads out of your sight.
We all know how ads can be annoying and boring, and sometimes, because of ads, we give up on many goods and useful apps and sites.
Ads that pop up each time when we enter sites, can simply destroy our will to continue using them, and finding something new.
If you are lazy to press on x each time when you see an ad, or you just don't want to struggle with it, use this feature for less than six dollars a month.
This mobile app is one of the dating apps that is available for all Android and iPhone users.
Its dating service is free to download and free to use as well. It can easily be found in the store, and you can download it in less than a minute.
The design is the same. It is simple, well-known for its green and blue shades, and its features are as same as on the website.
The Oasis Active mobile app allows you to find love on the go.
The main and only difference between the site and the mobile app is that the main page of the app is much easier to use than on the website.
Scrolling down and swiping is funnier, and it represents a real pleasure to use the app.
​​​​Theoretically speaking, Oasis Active is a free dating site.
As a free service, it allows free registration, profile creation, matchmaking system, free match searching, free messaging, and many free profile themes.
This free online dating site has everything you already need to look for your perfect match.
As a paid service, it only offers you to get rid of boring ads and it offers you one extra feature, Shoutouts.
Ads that constantly pop up can sometimes be a real pain in the ear, and a paid membership is worth it.
These two extra options have the same price, and your debit is 5.45 AUD for each option per month.
Considering payment options, you can pay via your credit cards or your Paypal account.
We hope that this detailed review about Oasis Active online dating site and its mobile app helped you to clear some doubts you've probably had.
To help you more with questions that could bother you, we suggest you read the section below.
Maybe you will find some answers to the most frequently asked questions.