Hitwe is a dating website that has been around for quite some time now but somehow it didn't manage to become as famous as apps like Tinder or Badoo.
This dating service has plenty of different features and it is considered to be one of the safest dating platforms on the market these days, which has made many people join it.
In case you are tired of regular dating platforms and want to try out something new, then Hitwe is definitely the best online dating site for you!
Our evaluation of this site will look at the following key aspects:
OFL Top Recommendations based on 100,000+ Survey

"Serious Relationships"
"Discreet Hookups"
"Best Course for Men"
"Quick Flings"
"Normal Hookups"
"Our Quiz"
Is your dating app giving you the best chance for success?
Make sure to take our online dating site/app quiz to find out.
It's a fact that people who follow our dating site suggestions have on average 2 extra dates per month.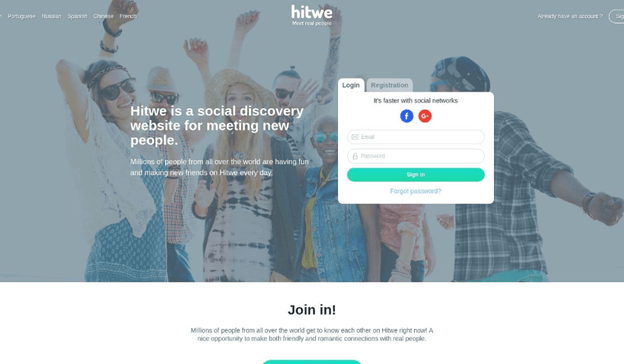 Effectiveness 4/5
Features 3/5
Ease of use 4/5
Pricing 5/5
Most features can be used for free
Can be used in six different languages
Great design and algorithm
Has a great mobile app
Useful for different types of relationships
Tends to have a lot of fake profiles
Way too many pop-up ads
Hitwe is a dating service that has been launched in 2015 and since then it has managed to gather almost 250 million users which is a pretty significant number for a dating app.
Even though it was made for people living in the USA, it didn't take them a long time to expand the platform and make it an accessible dating service for people in more than 100 countries.
Nowadays, you can use the Hitwe app if you are living in European countries like Germany, Sweden, Portugal, or France, but also in China, Latin America, and Africa which is pretty rare on the dating market these days.
This dating app has only 12 million users living in the USA so it is really a great option no matter where you are living at the moment.
You can also use this dating app in several different languages and choose between English, French, Spanish, Portuguese, German, and many more.
Since it is pretty modern and its design is very sophisticated, it usually gathers members of the younger audience.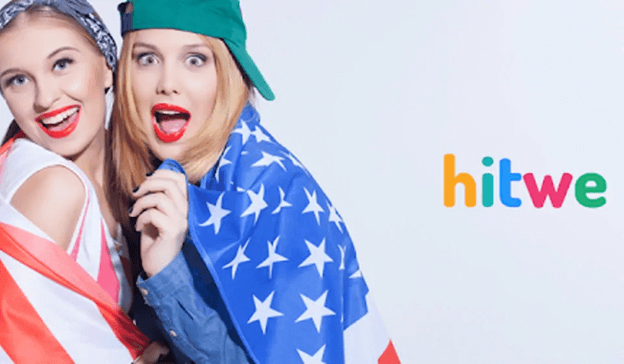 Over 80% of Hitwe users are younger than 35 and most of their active users are somewhere between 18 and 30 years old.
OFL Top Recommendations based on 100,000+ Survey

"Serious Relationships"
"Discreet Hookups"
"Best Course for Men"
"Quick Flings"
"Normal Hookups"
"Our Quiz"
However, that doesn't mean this is a hookups-only app (like BeNaughty or Ashley Madison), because there are people looking for different types of relationships and you will for sure be able to find someone who is seeking the same thing as you (like Tinder or eHarmony).
Still, I would not recommend it for a bit older audience that is looking for a serious long-term relationship because it can be very hard to find a like-minded individual, especially if you are living in a smaller city.
The number of men and women on this platform is pretty much the same, so you shouldn't worry about that.
You should also know that this dating platform is LGBTQ friendly and it welcomes people of all sexual orientations, helping them connect with people who have similar preferences.
The design of the Hitwe app is very contemporary and up to the latest trends in the tech world so it is definitely something tech-savvy people would like.
Your whole homepage and profile page will be graced with very bright shades of pink, green, and yellow which is something that made it so popular among the younger audience.
However, it can be quite hard for someone who has never used a dating app before to navigate through it and figure out where all the settings and features are, so it is probably not the best option for a bit older audience.
It is very interactive and provides you with a variety of interesting features and games, so I believe it is a really good dating app for members of the younger audience and it is able to provide them with a very fun and enjoyable experience.
This way, connecting with other people is also a lot easier and a lot more interesting and you are able to establish better relationships with them.
Ease of Use (Mobile and Desktop version)
As we have already mentioned, this is a pretty sophisticated and modern app so it can be quite tough for some individuals to manage to navigate through it.
For that reason, we have decided to briefly explain all the processes you may encounter while creating and using your Hitwe dating profile.
The signup process both on the Hitwe.com and the Hitwe app is basically the same and requires less than 5 minutes of your attention.
All you have to do is visit the main Hitwe page, choose your preferred country and language, and then click on the "Register" option.
A new pop-up form will appear at the center of your desktop and you will need to fill out all the brackets in order to sign up.
The data you will have to leave in order to create a Hitwe profile is your email address, a unique password, gender, and age.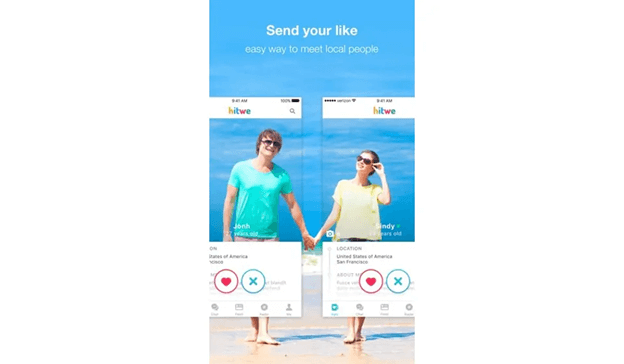 You should also be aware that underage people are not welcome on the Hitwe website so if you are under 18 or 21 years old, depending on your home country, you shouldn't even try creating a profile because you will be declined immediately.
After you have filled out your form, you will have to click on the "I am not a robot" button and then on the "Create account" option.
I recommend reading through the Terms and conditions of this website before you decide to create a profile because you should know how your information will be used and who will have access to them.
After you have done all of this, you should receive a letter from Hitwe on your email account and you will have to confirm your new account through it.
Once you have confirmed your profile, it will be created on the platform and you will be able to start meeting other people on the platform and uploading photos and information to it.
You can also choose to create your profile through your Facebook or Google account which is also a good option and it can save you quite some time, but most people don't like playing with their information this way.
Even though this is a great dating app, the dating profiles on this one are not really detailed and don't really provide you with too much information about the user.
They usually include basic information like their name, age, location, and a few photos so it can be really hard to differentiate a real person from a potential scammer.
All users also have the option to upload their religion, ethnicity, horoscope sign, relationships preferences, and overall interests in life so you can find something about them through these points.
However, I recommend using the search feature because it will definitely make the search for a potential partner a lot easier and it will show you only people with who you have things in common.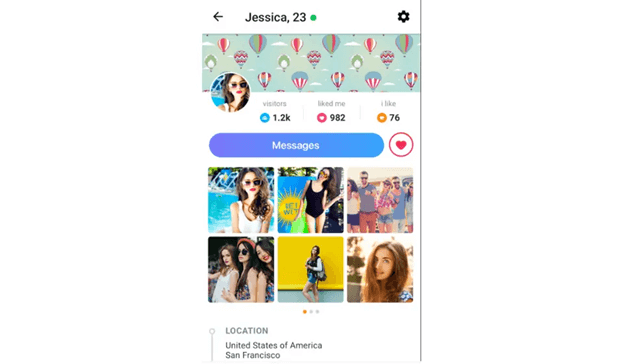 The algorithm is pretty bad so you will receive random suggestions on your homepage and you will often get recommended people whose profiles are maybe not even real, so please stay safe and learn how to use the search filter to make your experience safe and enjoyable.
For those reasons, I recommend skipping accounts that you believe are suspicious and those who have 0 photos on their profiles.
You should also know that you don't need to match with someone with or like them back in order to send them a message because every Hitwe user is allowed to start social networking with anyone on the platform.
Connecting with other users
How you will be able to connect with other users pretty much depends on your Hitwe membership, so free members will not have the access to same messaging features as premium ones.
All users will get access to instant messaging that also allows them to send emojis, and this is the most basic form of communication on this platform.
Free members will also be allowed to send photos and exchange video links with other users while messaging, but their messages will not appear at the top of other people's inbox boxes.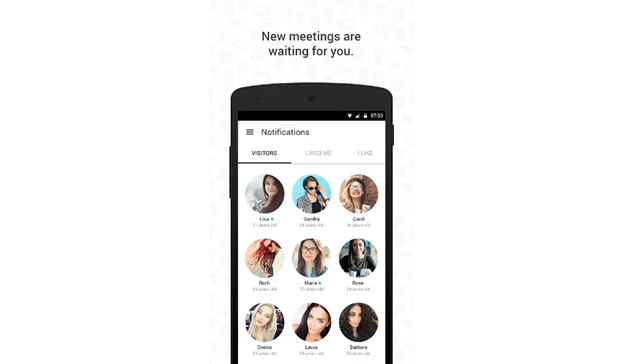 Premium members are the ones that have priority and their messages will be the first ones to appear in your inbox box, no matter how much time has passed.
They will also get access to all chatrooms that are active on this platform and they will be able to engage in a conversation with everyone, but also to send them private messages.
Once you have received a message, you will get a notification sent to your email address, but you will also receive a push notification if you have the Hitwe dating app.
In case someone keeps on sending you messages even after you were clear that you don't want to engage in any type of conversation or relationship with them, you can always report them and add them to the blacklist you don't receive their messages anymore.
Sending messages and replying to them is even faster through the app so I really recommend installing it to your device if you have enough free space.
Even though Hitwe doesn't have any sort of extravagant special features that will help you enhance your dating performance, it still has quite a few useful ones that will make navigating through the app and connecting with others a lot easier.
1. Profile interaction counter
This feature allows you to see how many people have visited your profile recently and it is available both to free and premium members.
You will also see the total number of likes you have received and the number of messages, but you will not be allowed to get in touch with people from this list.
2. See who has visited your profile
Premium members will not only get the opportunity to see how many people have visited their profile but also to see who are the users that took time to check them out during the past month.
3. See who liked your profile
Premium members will also get access to the list of all people who have liked their profile since they have made it.
They will also be allowed to contact them, but in this case, they will be allowed to send the message to only 5 people on their list.
Pet evolution is a game that was made exclusively for the Hitwe app and it actually encourages people to stay active and visit the platform every single day.
You will get to choose your pet and then bring it up yourself by caring for him, washing him, and providing him with food.
This will earn you some badges and XP points that actually stimulate users to use the app every day in order to care for their imaginary pet.
It also allows you to connect with other users who have their pets and exchange food and different things you need for them.
The Hitwe dating platform is available both through a desktop website and through a mobile app that can be installed both on Android and iOS devices.
You can install the app free of any charge through your App store and it is even more user-friendly than the original website.
The Pet Evolution game is available only on the mobile app so if this seems like an interesting addition to you, I always recommend installing the app.
It also allows you to access the chatbox with just one click and become a part of different chat rooms in an instant.
Unfortunately, the app tends to have a lot of pop-up ads which can be quite exhausting if you are trying to establish communication with someone.
When it comes to the price, Hitwe is definitely one of the most affordable dating websites and it also allows free members to meet new people without paying for a membership.
Even if you are not paying for a premium subscription, you will get access to plenty of features and these are some of them:
Engaging in instant chats with other users
Upload up to 20 photos to their profile
See how many people have viewed their profile
Play the Pet Evolution game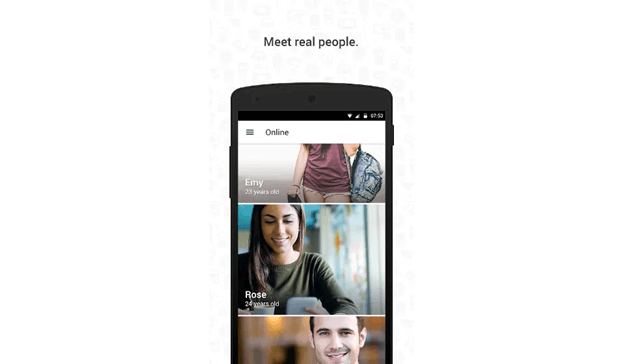 On the other hand, when you purchase a premium membership, you get access to many more features that will help you enhance your dating performance and meet plenty of friends and potential partners.
Premium users will be able to:
See who are the people that have liked and visited their profile
Be the ones whose messages will always appear at the top of other peoples inboxes
Become a "Top user"
Disable ads both on the website and on the app
Get to see if their messages were "read" by another user
Send an unlimited number of likes
Send an unlimited number of messages
As you can see, even though the changes between a free account and a premium one are not that drastic, many people still decide to invest in a premium membership in order to enhance possibilities for changing their relationship status.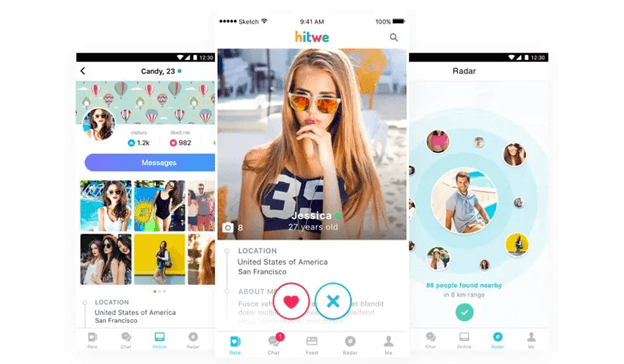 In case you decide to go premium user, you will have to invest 8 dollars per month for a membership, which is pretty cheap in comparison to most other dating apps and platforms.
You can also save some money by paying for a membership for 3 or 6 months upfront, which means you will then have to spend 6, or just 4 dollars per month for a Hitwe subscription.
This is really not that big of an investment and in case you are really eager to find new friends and a potential life partner, I believe you should spend that money on a Hitwe membership.
You can pay for it through your credit card or phone number, which makes purchasing the subscription pretty easy.
In case you change your mind you can always cancel your membership within the first 3 days and get a refund, but otherwise, chances for getting a refund are very small and that is a matter you should be discussing with Hitwe customer support.
Even though it is not that popular as most other dating platforms and you have probably never heard of it on social media, I believe Hitwe is a really good dating app and it will be useful for people living in many different countries across the world.
The registration process is very simple and you will be able to meet other users with ease, so I believe this app is a great option for both members of the younger and a bit older audience.
In case you were looking for something a bit more different that will still allow you to meet new people, then I believe you should read our Hitwe review and start using the platform today!
We hope you have enjoyed our Hitwe review and that you have managed to find all the relevant information about this dating platform.
Follow our guide carefully and set up your Hitwe dating account right now and start meeting new people and establishing valuable relationships!