Online dating has been harder for gays because of the lack of dating websites dedicated to LGBTQ members.
Regular dating websites had a small percentage of gay members, so finding someone with similar interests was difficult.
Then, in 2009, Grindr was created – the dating website dedicated to gays that are looking for love.
This Grindr review will tell you:
OFL Top Recommendations based on 100,000+ Survey

"Serious Relationships"
"Discreet Hookups"
"Best Course for Men"
"Quick Flings"
"Normal Hookups"
"Our Quiz"
Without any further ado, let's start!
Is your dating app giving you the best chance for success?
Make sure to take our online dating site/app quiz to find out.
People who follow our dating site suggestions have on average 2 more dates per month.
Grindr Review in Video Form
Audio (podcast) form for those of you on the go
Effectiveness – 3.5/5
Features – 3.5/5
Ease-of-use – 4/5
Price – 3/5
Available in almost 200 countries, so you can join wherever you are
Different ways to initiate a contact
Allows sending texts, images and audio messages
Favorite button allows bookmarking good profiles
The modern and simple design of an app, easy to navigate
You can create a profile using Facebook or email, no email verification is required
You can change the app's icon as you wish
Chatting with people outside your city and country is fee-based
There aren't many women on the app (lesbian, trans, or straight)
Live chat is fee-based
Who is it for/Demographic make-up
As mentioned, Grindr is a dating website made to bring together members of the LGBTQ community.
It is a place to find love, someone to just casually chat with or a next hookup.
In the last six months, the website had almost 3 million logins each day, so the members are quite active, which significantly increases the chances of getting a match.
When it comes to the number of members, there are almost 27 million users on the website.
The exact men to women ratio is unknown, but the men are dominating on this app.
Also, women on Grindr are mostly trans or straight women hoping to meet trans women.
OFL Top Recommendations based on 100,000+ Survey

"Serious Relationships"
"Discreet Hookups"
"Best Course for Men"
"Quick Flings"
"Normal Hookups"
"Our Quiz"
Since it is available in over 190 countries, there are no limits – no matter where you are from, you can find someone to match with.
About 25% of users are from the USA, so if you are from one of the states in the US, you have a slight advantage over other users.
Grindr is also quite popular in Brazil (8.37% of users are Brazilian), and it is becoming more popular in France – currently, almost 8% of members are French, and the number of French members has increased by 65.93% in the last six months.
If you are from Mexico or Germany, you won't have any trouble finding matches.
Speaking of age distribution, most are in their late twenties and early thirties. People between 18 and 24 years old and those above 35 years are also present, just in a slightly smaller percentage.
The interests of members are quite similar – the website is mostly used for finding hookups, casual dating and one night stands.
Of course, serious relationships can start on Grindr, but for many members, this isn't the main goal.
From the previous section, you can decide whether this website is the right fit for you.
If you think that this demographic makeup will work well for you, then let's talk about the effectiveness.
Most potential members are worried about one thing – is Grindr worth it?
Well, answering this question is not as easy as you may think.
Firstly, it does depend on your expectations.
Many users join thinking that they will find love (like eHarmony offers), but only manage to find a few one-night stands (like you will find on BeNaughty or Ashley Madison).
On other hand, others are hoping to find a bunch of new lovers, and can't wait to start jumping from one bed to another but end up with a low number of matches.
Secondly, it will depend on your location.
As said, most members are from the USA – these users have the most options.
If Grindr isn't so popular in your country (or maybe just your city), you might not be as satisfied with the results.
In the following sections of this Grindr review, we will talk about the effectiveness of the website in detail.
Here is everything you need to know!
1. Does it work for the target group?
For starters, we should clarify who is the target group of Grindr.
This is a website exclusive for LGBTQ+ members, so lesbians, gays, trans and others are all welcomed to join.
If you are straight, you should probably go to Tinder – it is similar to Grindr but with more straight users.
To start matching with other members of the LGBTQ+ community, you need to install the Grindr app and create a profile.
During the registration process, you will be asked to allow the app to determine your location.
Once your location is determined, you will be able to start scrolling through profiles.
Grindr doesn't use many filters for searching and only profiles near you are displayed on your feed.
Of course, these profiles can be somewhat filtered – you can set the desired age bracket or some preferences. Also, you can set to see profiles that are online at that moment.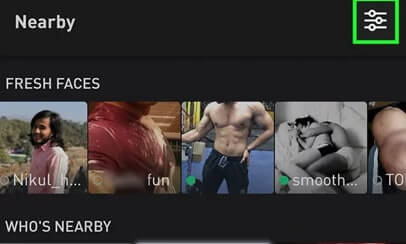 Keep in mind that you can't see members that are from another country.
Only profiles from your area are displayed, and if you want to see anyone outside this region, you will have to go to another city and reset the location.
At least, if you find someone interesting, you will know that they are near you, and arranging a meet-up won't be difficult.
2. How to contact other members?
Since Grindr has millions of logins every day, making contact isn't difficult.
Members are quite active and great design helps with making the first step.
When you see a desirable profile on your feed, with just one tap you can show interest. There is even a button to express whether you want to just hook up with that user.
Most members just tap on a flame button and wait for the same response before they start texting.
The one thing you should be aware of is that sometimes showing interest won't lead to anything more.
Because the website has so many members, just matching with someone doesn't mean much – members prefer to have a pool of potential hookups, so they are just tapping on that flame button, without doing anything else after.
On the other hand, the "hook up" button has a higher success rate. Since this is an app for casual dating and hookups, there is no need to pretend or lie to get what you want.
If you see someone you would like to have sex with, without it turning into anything serious, just click that devil icon.
Some members are quite brave and do not have a problem with texting someone immediately.
Grindr allows you to send messages, photos and audio messages as well.
Whether you will find plenty of people to hook up with or not, depends on your profile quality and honesty when making contact.
The more detailed profiles that include a lot of personal preferences and some general health information have the highest chances of success.
This is because these profiles seem more honest and authentic.
Also, honesty when making contact is equally important.
Remember this is a hookup app, so there is no shame in telling someone that you are only interested in sleeping with them. Many members want just that as well!
If you are a bit shier, you can start with just tapping on that flame button and allow another person to take the lead, while still being clear about your intentions.
In the end, staying true to yourself will get you the most matches and dates.
If you have already tried out Tinder or some other famous hook-up app, you are familiar with some basic features.
When it comes to initiating contact or other features, dating websites and getting more and more similar, and Grindr is no exception.
Of course, they do have a few special options, you probably won't find on other dating apps, so let's dig deeper into what Grindr has to offer.
As said, the easiest way to show interest and initiate contact is by clicking on the "Tap" button.
You will notice that there are three different tap buttons. With a Hi button, you can show that you are interested and wait for their response.
The flame button and devil icon are more popular options.
By clicking on the flame button, you are telling the other person that you think they are hot. This button will get you more matches than the "Hi" button because the other side can already assume you want to hook-up.
If you don't want to hide your intentions at all, then go for the Devil icon – this is a hook-up button and the other user will know you are ready for a one-night-stand.
Since Grindr is only showing you profiles in your area, you might run out of new people to meet.
When there are no new people around you, try out the explore option.
This feature allows you to look at profiles outside your area and see who else is out there.
Keep in mind that with a free membership, you can only view these profiles. To make contact with people outside your city and country, you will have to purchase the membership.
Still, even just scrolling through new profiles can be fun, especially if you plan on visiting the country in near future and want to know what it has to offer.
Emojis are slowly becoming a part of everyday communication. More and more text messages are ending with emojis and sometimes an emoji is the only response you get to a text.
That is why Grindr created their own emojis called Gaymojis – over 500 different emoticons available only on this dating app.
With Gaymojis, you can send fun and witty response to any message, or show some of your preferences, and share your thoughts.
A good profile can accidentally get lost in the pool of bad ones, and you might take a while until you stumble upon it again.
Favorite button can help you save all of the good profiles in one place – with just one click, the profile will be added to favorites and you can find it whenever you want.
Do not worry – other users do not know who is on your list of favorite profiles.
If you do not want people around you to know that you are on Grindr, you can change the look of the app's icon.
DAI allows you to customize the icon to your preferences, so you don't feel like anyone is invading your privacy when going through your phone.
Now that you know all the special features, are you excited about trying them out?
Let's see how to join Grindr and start meeting sexy and single gays and trans.
Creating an account on Grindr is super easy and it will only take a few minutes. If you want to create a more detailed profile, it will take a bit longer, but adding only basic information and uploading a photo demands no more than five minutes of your time.
Firstly, you will need to install the app on your smartphone or tablet.
The app is free and available for both Android and iPhone.
To sign-up, you can use either an email or a Facebook account.
Doing it via Facebook is faster because you won't need to upload a photo or add certain information – these are automatically added to your Grinder profile.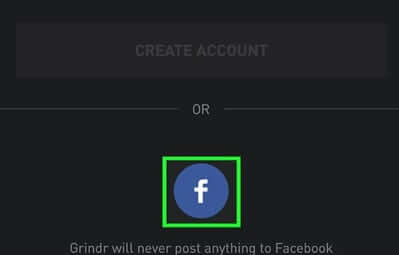 When it comes to signing up via email, the verification isn't needed. However, when you upload a profile photo, it has to get approval from the team at Grindr.
Also, basic info such as age and gender have to be put in manually, which is more time consuming, but won't take longer than a few minutes.
In the end, the Grindr will ask you for permission to access your location, so make sure that your GPS is turned on.
After giving some basic information, you can choose whether you want to add anything else.
Keep in mind that the more detailed profiles have better chances of matching so the time spent creating a profile will be worth it in the end.
Also, creating a fake profile on Grindr is easy, especially when users are using Facebook for signing up.
By adding more information, about health status, preferences in bed and others, the profile looks more authentic and has more success when matching.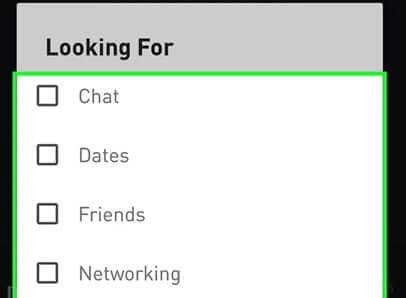 Grindr has a modern, yet straightforward design. It is appealing to both young adults and seniors, and both age groups are equally active on the app.
Also, simple design makes navigating quite easy.
For Grindr, it is all about time – they want their members to find someone new as soon as possible (and then find their next hook-up just as fast).
Profiles of people near you are displayed on your feed, and with just one click a connection is made.
On the feed, only a few basic information is displayed – you can see how far away is the user, how old they are and whether they are online or not.
Also, the profile picture is always displayed on the feed.
If you want to see a detailed profile of another user, all you have to do is tap on their profile picture.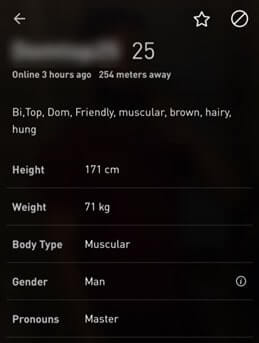 By using filters, you can adjust who appears on your feed, which makes finding people with similar interests even easier.
As said, Grindr exists as an app.
There is a website as well, but it is not as popular as the mobile application.
It is available for iOS and Android, and entirely free to download. There are some in-app purchases, but we will talk more about them in the next part.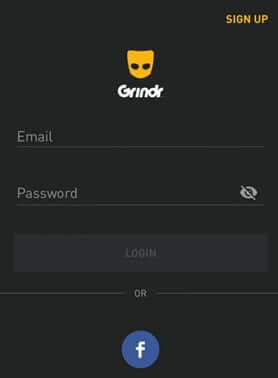 By creating a great mobile app, the creators made sure that all of their users can stay on track with what is going on in their profiles.
You will get a notification for every tap and message, so you don't miss out on a great opportunity.
One of the best features of the Grindr app is the security features called DAI.
With DAI, you can customize how the icon appears on your phone, so it can blend well with other apps on your homepage.
Finally, we should talk about Grindr cost.
As we already mentioned, Grindr won't cost you a dime to download – the mobile app itself is free.
However, there are in-app purchases, so some users do spend some money while using Grindr.
Upgrading an account from free to premium has many benefits and can help with online dating.
A subscription will get rid of all ads, allow you to turn on notifications and join tribes. Also, you will be able to expand your favorite list and access more profiles daily.
Compared to some Grindr alternatives, Grindr's membership is a bit pricier, yet still affordable.
You can even try the seven-day trial, before definitely purchasing one of the plans.
The plans are:

1 month – $13
3 months – $28.20
12 months – $5.20
1 month – $41.11
3 months – $61.17
12 months – $176.46
When you choose the plan that suits you best, you can purchase it via smartphone.
Overall rating – 3.5/5
We hope that this Grindr review helped you with understanding better how this app works and what it has to offer.
Is Grindr worth it? The simple design, Gaymojis and DAI are some of the advantages of Grindr and features you won't find on any other dating app.
If you are looking only for fun, you will find it here, as there are so many gays on Grindr looking for just that.
Share your Grindr experience with us in the comments!