Welcome to today's review where we analyze a dating site for swingers and threesome dating.
These hookup apps (like BeNaughty or Ashley Madison), are for open-minded people and couples who live the swinger lifestyle or whose sexual preferences often include the introduction of a third person for an exciting threesome. People looking for serious relationships should visit Tinder or eHarmony.
We conduct this review with the following questions in mind to help to determine if this swinger app can help bring about your threesome fantasy.
So is this a good app to help you meet up with people wanting a Ménage à Trois?
OFL Top Recommendations based on 100,000+ Survey

"Serious Relationships"
"Discreet Hookups"
"Best Course for Men"
"Quick Flings"
"Normal Hookups"
"Our Quiz"
Let's jump straight in and see.
Is your dating app giving you the best chance for success?
Make sure to take our online dating site/app quiz to find out.
It's a fact that people who follow our dating site suggestions have on average 2 extra dates per month.


Ease of use – 4/5
Success rate – 3/5
Key features – 3.5/5
Price – 3.5/5
A dating app aimed at swingers and other parties interested in having a threesome
Includes voice chatting options
Membership is not too expensive
Male users dominate the app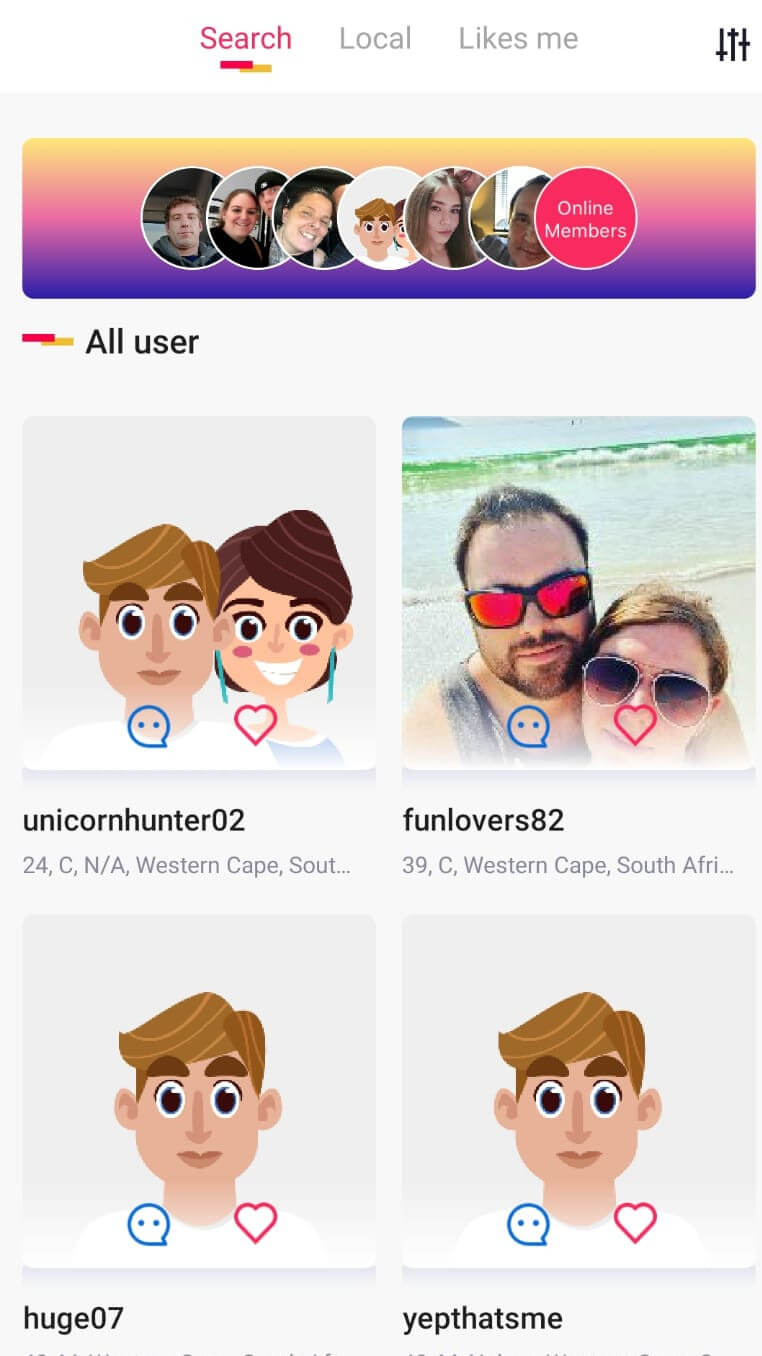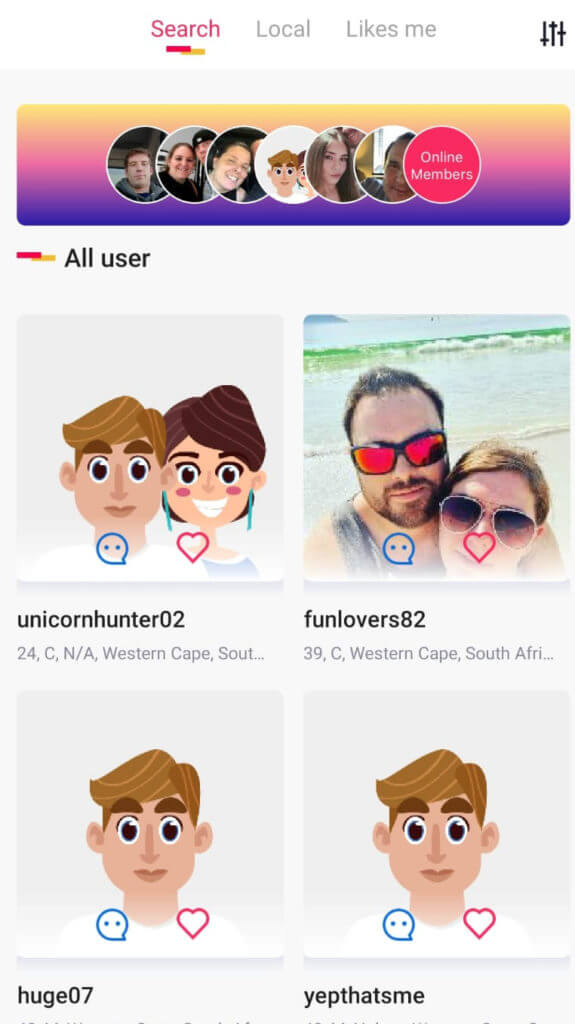 Who Is It For/Demographics?
If you and your significant other want to spice up your love life, get kinky and try to introduce another person into your relationship, then perhaps 3somer: Threesome for Swingers could be what you are looking for.
Unlike some of its competition, 3somer doesn't provide an idea as to just how many users the app has.
But I still managed to collect data that can provide us with some insight into whether this is an app that people have bought into.
Here are a few facts and figures for you to explore:
3somer has a 4.6-star rating on Google Play after well over 1000 ratings
3somer has a 4.5-star rating on the App store after well over 5600 ratings
It has been downloaded for Android devices well over 100000 times
Analysis shows that over 200000 people have registered for a profile on the app
Around 30000 users are based in the United States
5000 users are active weekly
That's around 20000 a month
It's easy to observe from those figures that 3somer is still making its way in the online dating scene.
But it certainly has more than a decent foundation to build on.
OFL Top Recommendations based on 100,000+ Survey

"Serious Relationships"
"Discreet Hookups"
"Best Course for Men"
"Quick Flings"
"Normal Hookups"
"Our Quiz"
Gender ratio and age ranges
Comparing data when it comes to gender ratios on a dating app could be a crucial part of confirming your decision whether to use it or not.
That's especially true when the ratio indicates a huge disparity between male and female profiles.
And on 3somer that disparity is highlighted with males making up the majority of users.
In fact, it's a ratio of 4:1.
79% of profiles on the app are male
21% of the profiles on the app are female
That could certainly be a deal-breaker for some potential users.
As for the age ranges, well it appears that it's the younger crowd that likes to get their kink on.
By far the two biggest groups of users on the site are aged between 18 and 24 and 25 and 34 years old.
Let's demonstrate the full breakdown including the ratio of men to women in each group.
25-34 year-olds: 53% of users of which 42% are male and 11% female
18-24 year-olds: 29% of users of which 23% are male and 6% female
35-44 year-olds: 13% of users of which 10% are male and 3% female
45-54 year-olds: 5% of users of which 3% are male and 2% female
55 and older: 2% of users of which 1% are male and 1% female
Just like the gender ratio might play a massive part in your decision to use this app or not, I feel that so will the age ranges of users.
What the figures above highlight are the fact that not many people above the age of 45 are making use of 3somer currently.
And if you are specifically looking to hookup with people that age, you may have to look elsewhere.
Despite the fact that a small percentage of users are aged 45 and above, as we can see from the figures above, over half the users who have registered profiles on 3somer are between 25 and 34 years old.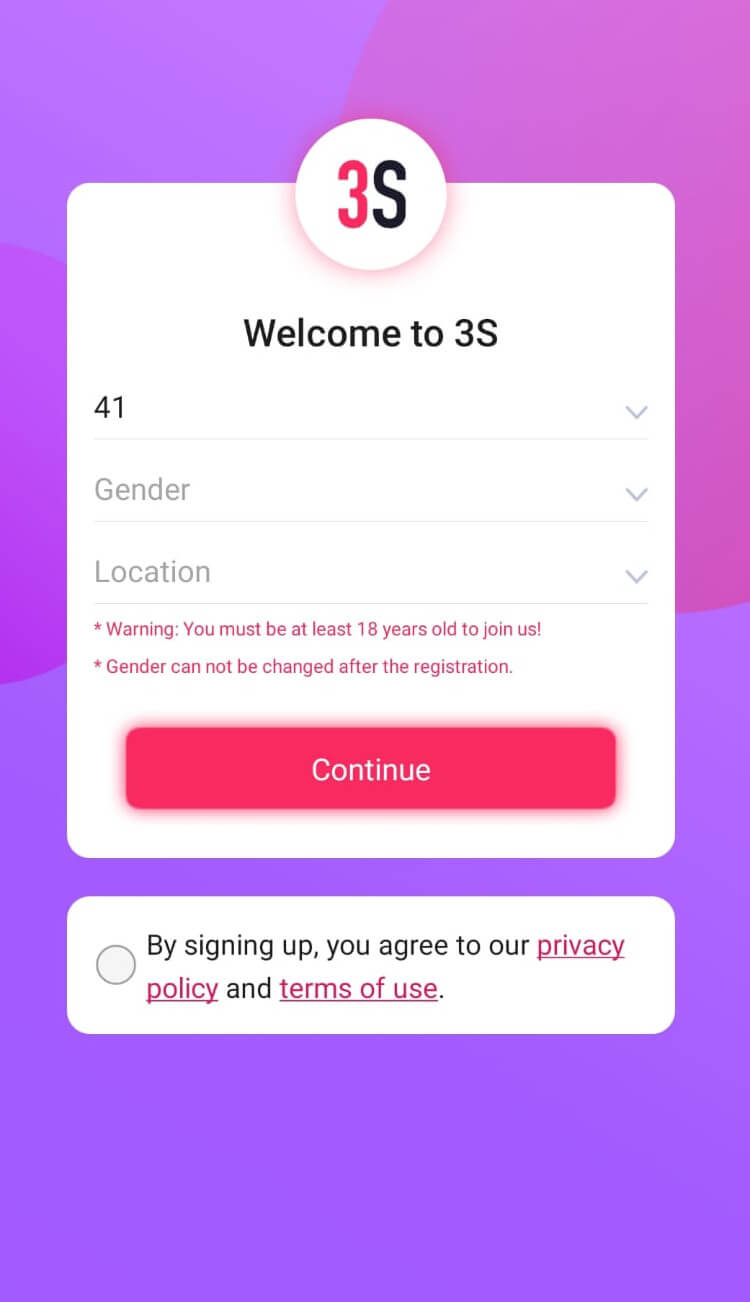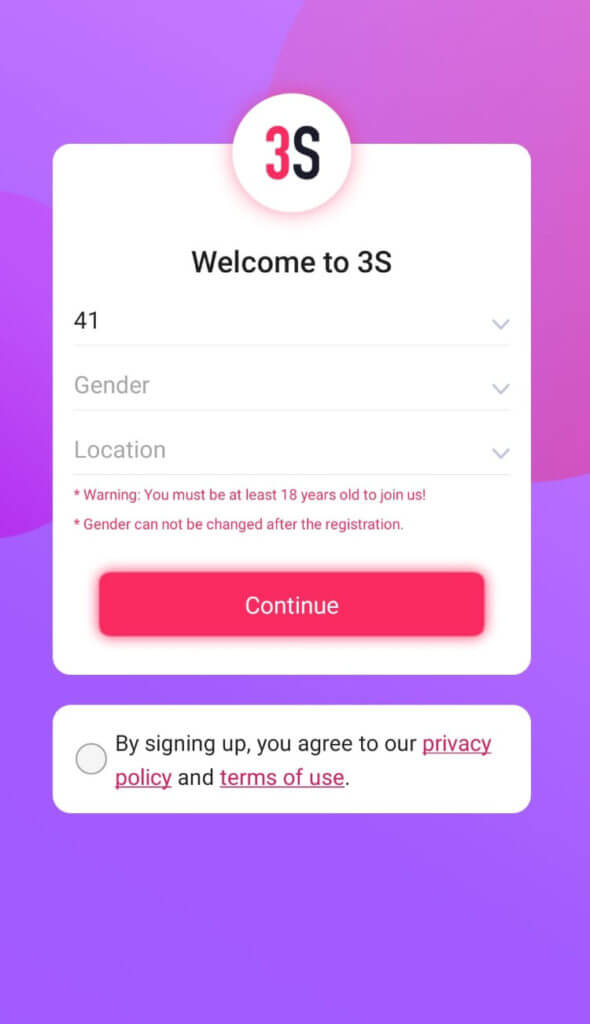 Now let's explore the process of starting a profile on 3somer.
First, download the app from your respective IOS or Android device as there is no website registration at all.
The process to become a user on this threesome dating app isn't lengthy at all and you don't even need to verify your email.
At first, the app would not let me register as a user and kept on saying that a problem had occurred.
I solved that problem by testing the registration with my VPN turned off which worked.
So bear that in mind if you do run a VPN on your handset and you struggled to register as well.
Registration starts with just three pieces of information:
Username
Email address
Password
That's followed by the second step which needs:
Your age
Your gender
Your location
Lastly, you will have to provide a profile picture.
This cannot be skipped.
You can either upload one or take a selfie using the app itself.
And that's all the information the app needs to register you as a user.
You won't even have to verify your email address.
I'd prefer if you did because that's at least an added layer of security.
Overall appearance and finding your way around
There's nothing that's different about this app than say Tinder or other dating apps that you may have used.
So you really shouldn't have any issues in familiarizing yourself with 3somer.
The first thing I want to talk about is the overall appearance.
There's nothing that immediately jumps out at you in that regard.
3somer is just a straight-up app like most others.
It's the target audiences of swingers and those looking for a threesome or other kinky hookups that differentiate it from mainstream dating apps.
Often apps can be boring, almost clinical in their overall look but at least this has a little color thanks to the addition of some red and pink to the dominating white.
The app is well-designed with a row of menus at the bottom of the screen where you are going to find your way around.
Let's talk a little about what those are and what they do:
Search (heart with wings icon): This is the menu that will provide you details of other users near your location. You can see local matches as well as those users you have matched with.
Reversed search (heart with a banner icon): This is the reverse search menu. These are users that are looking for profiles similar to yours. You can also see which profiles you have liked from this menu.
Find (Bow and arrow icon): This is the roulette-style matchup game on 3somer. You can swipe left if you dislike someone, swipe right if you like them or pass to the next profile.
Chat (Arrow through a heart icon): This is where you can chat with others as well as see any mutual likes that you have.
Profile and settings: With the last menu, you can access your profile as well as change various settings on the app.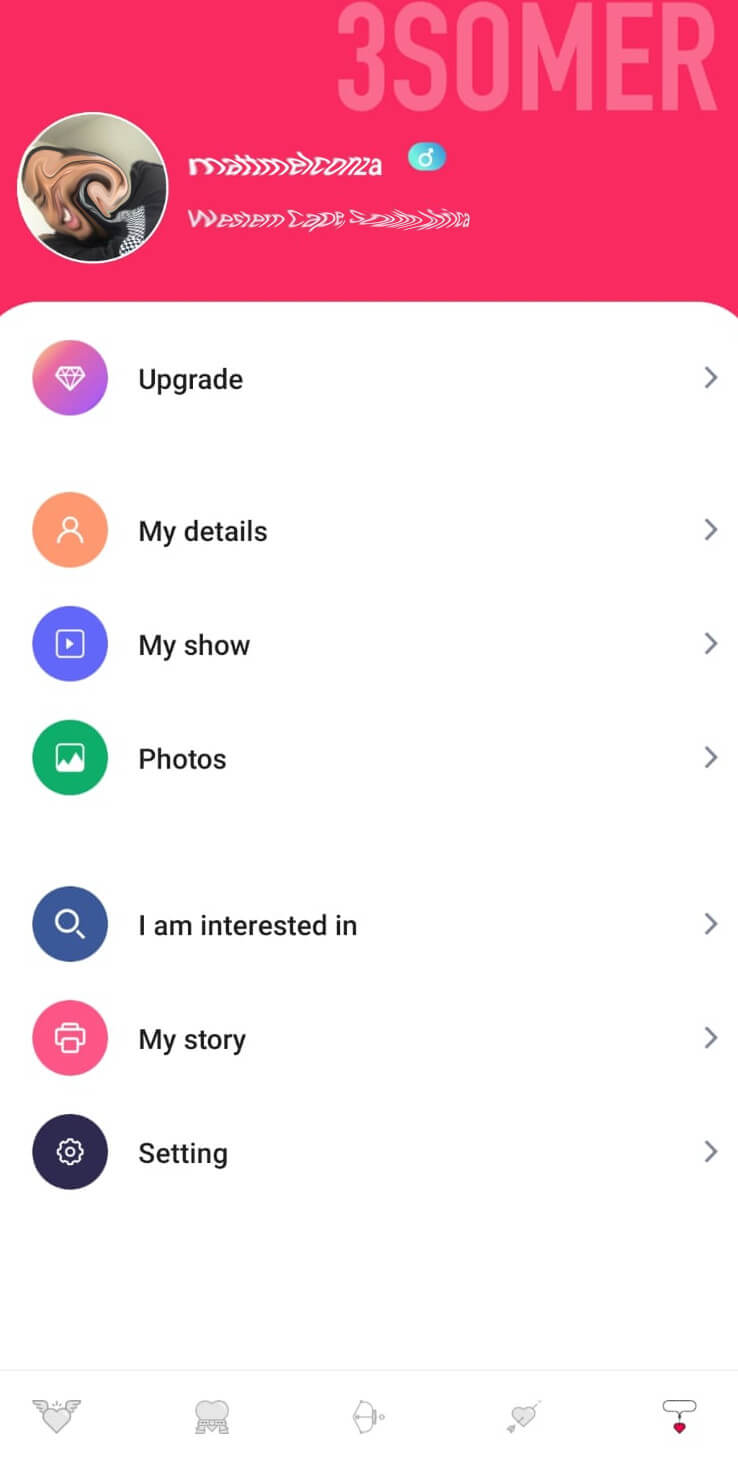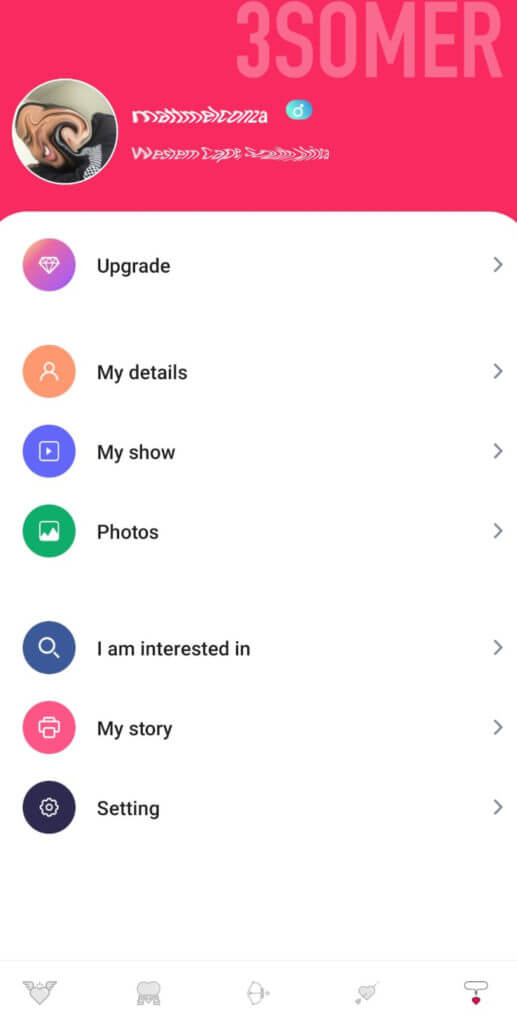 Nothing on your 3somer profile is filled in during the short registration process.
While profiles aren't that much of a big deal on a hook up app, you should still fill yours in.
To access it, click on the final menu on the right-hand side of the screen and select "My Details".
The profile parameters you can add are:
Age
Height
Weight
If you drink or smoke
Your sexual orientation
If you have had a threesome before
You can add more information by click on "My Story".
This is an "About Me" section essentially.
If you'd like to see this information on other users' profiles, simply click on their picture while browsing them.
You can also swipe right at that point to view any more pictures they may have uploaded.
Sadly, it seems that despite the fact that profiles don't contain that much information, many users have just skipped filling theirs in.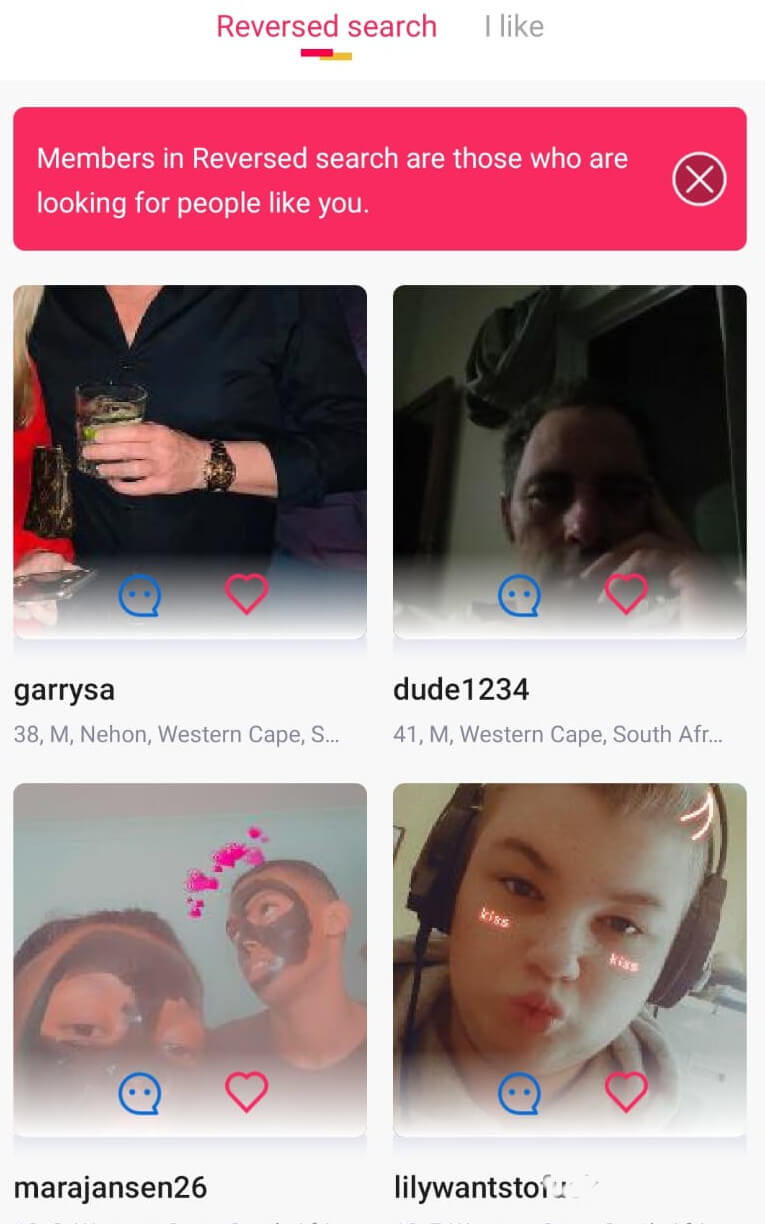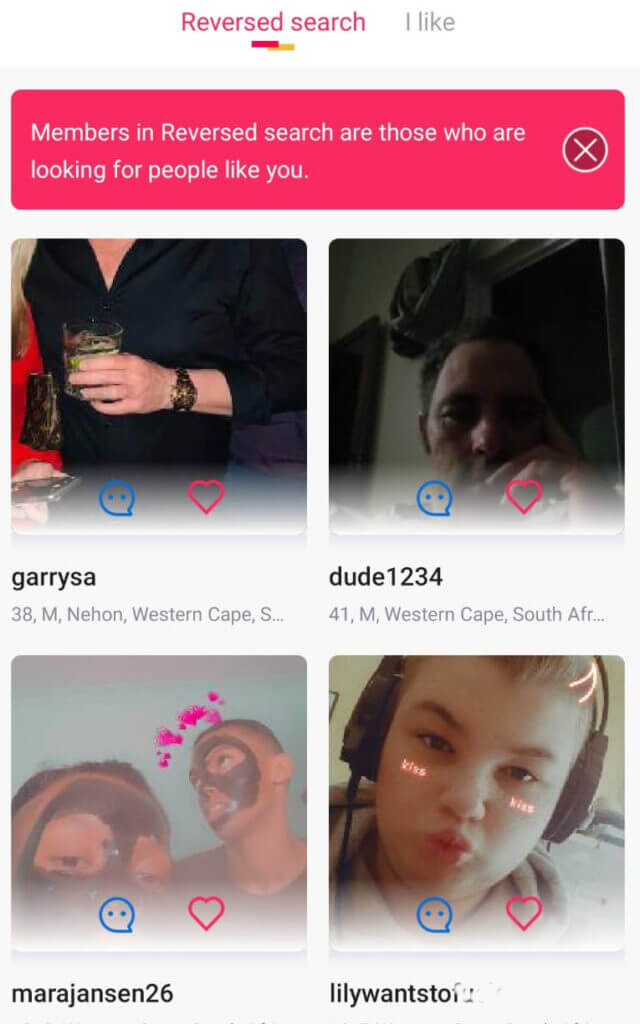 From the moment you have completed your registration on 3somer, the app takes you right into the action.
It does that by providing you with profiles near to your location.
These profiles are based on the 18-99 age range and if you want to adjust that, it's simple enough to make a change.
Click on the search menu and at the top of the screen, on the right-hand side, you will see a slider icon.
If you click on that, you can make adjusts as to the matchups you would prefer to see.
Sadly, for regular users, the only parameters that can be adjusted here are:
The gender you are looking for (including couples)
Age range
If they should have a photo
Location
But what about profile parameters?
Can you adjust your matchup returns as to whether someone smokes for example?
Well, yes you can but strangely enough, you have to return to the settings menu to do so.
Click on the "I Am Interested In" menu to set those parameters.
I believe these should rather be all grouped together and not in two separate menus.
Searching for matchups of your own
Just like most dating apps, on 3somer you can't really search for your own matchups.
That not how apps like this work.
You have to rely on the matchup returns you will receive from the app based on a few set parameters we have already covered.
Of course, you do have choices.
For example, on the search menu, by clicking on the "Local" menu at the top of the screen, I received far more profile returns than the main search option showed me.
I am not sure why but I suspect this was all the users registered on the app in my location.
They may not all have fitted my particular search parameters.
I say this because there wasn't a button for me to adjust any filters on.
If you'd like to see if someone has liked you, you'd have to be a member.
Regular users can't see who has matched with them at all.
Those aren't the only search options available to you.
Don't forget to check the reversed search option to see people who are looking for someone like you.
The "Find" matchup game is also an excellent way to go through potential matchups, just swipe right on those you like.
If they swipe right on your profile, a matchup has taken place.
If it does, you can communicate with that person for free.
But as we discussed earlier regular users can't see who has liked their profile, so a matchup like that is a bit lucky at the end of the day.
That's why to truly make use of an app like this membership is critical.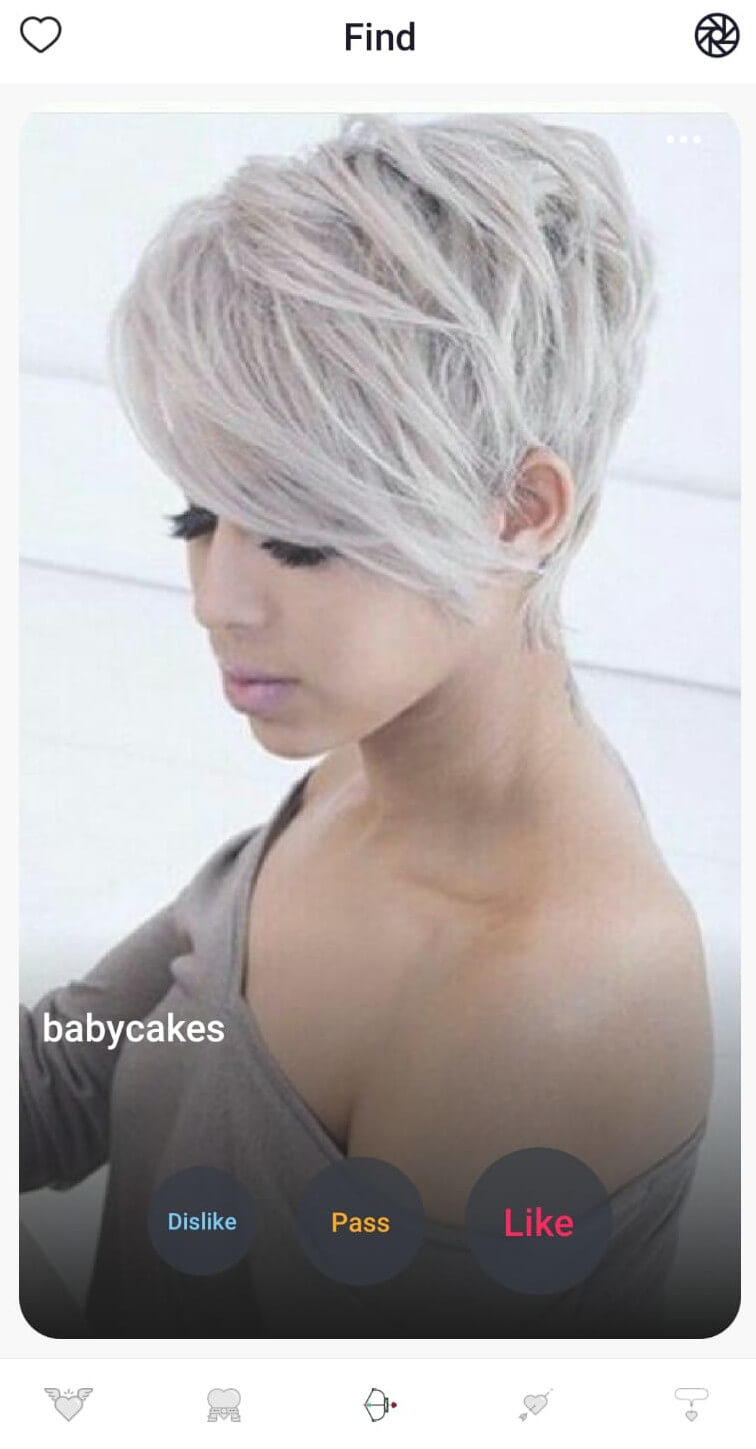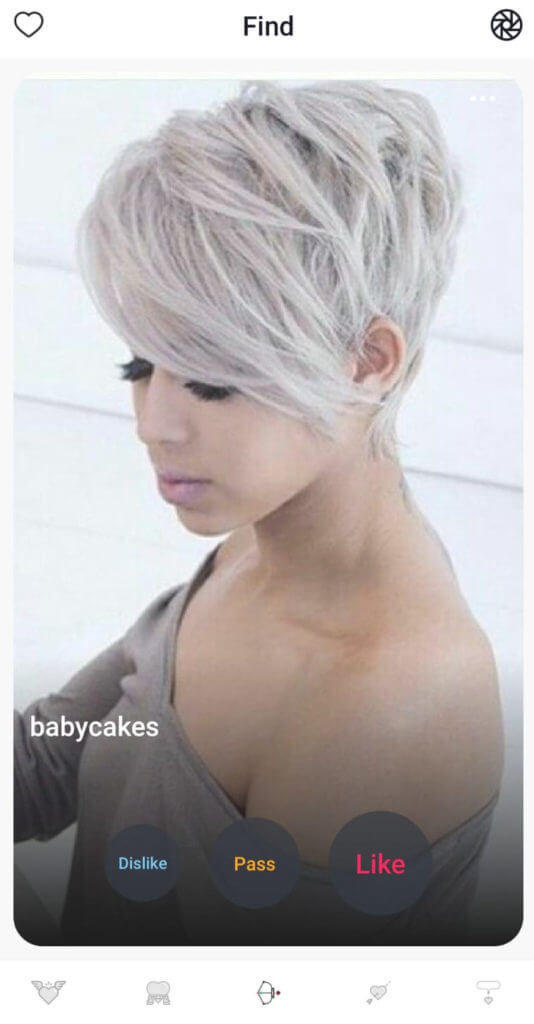 Membership to 3somer brings with it a few extras that could help you find the perfect threesome partner.
Here's what you can expect if you opt to buy into it.
1. See who liked your profile
One of the undoubted strengths of membership on 3somer is the ability to see who has liked your profile.
Even if they aren't a member, if you like them back, then communication can take place.
People who run apps like this know just how much of an advantage this is and so it's always placed behind a paywall.
For free users, sometimes a way around trying to get a matchup with someone is to like as many profiles as you possibly can before the limit kicks in.
While some dating apps allow that, 3somer doesn't, unless you are a member.
Yes, should you choose premium membership, you can like as many user profiles as you want.
3. Sending voice messages
While regular types of messages are a form of communicating with a matchup on 3somer, if you'd prefer, you can send voice messages instead.
And these are not limited at all.
4. Chatting with other members
All members are allowed to chat with others through an instant chat system.
This is a great way to get to know people quickly and to see if you'd like to meet them in real life.
This is not like the message system and operates in real time.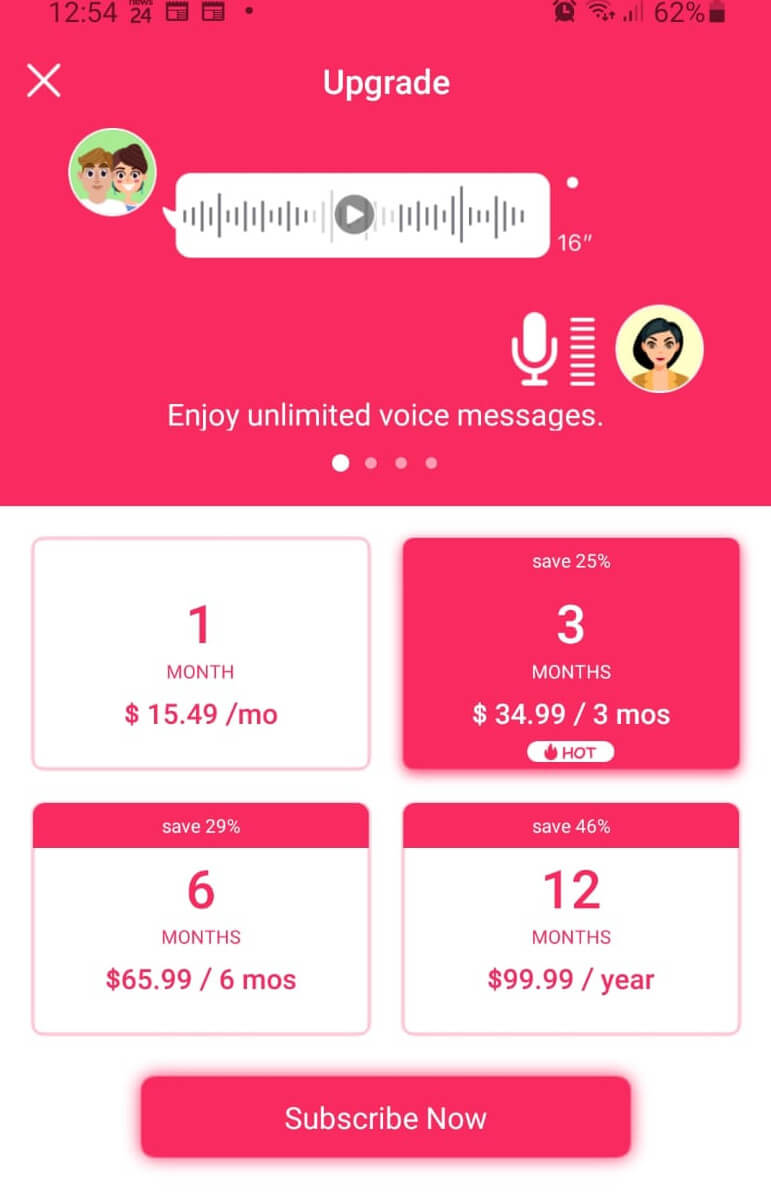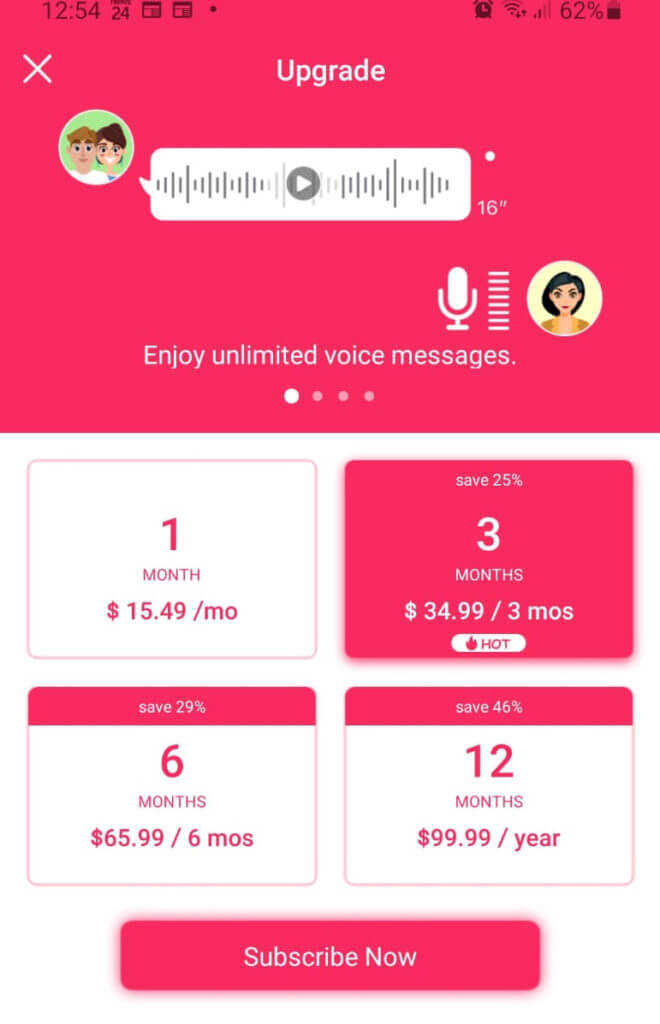 So what are those key features associated with premium membership going to cost you?
Well, in analyzing 3somer's membership options, you can see that the team behind the app has thought about their price points.
You can choose from four different membership plans.
They are:
1-month membership: $15.49
3-month membership: $34.99 ($11.66 per month)
6-month membership: $65.99 ($11.00 per month)
12-month membership: $99.99 ($8.33 per month)
While you can save almost 50% by opting for a 12-month membership, that is a long time to commit to 3somer.
A positive, however, is the fact that this is not a dating app but a hook up one.
So if you find one suitable partner or a couple for a threesome, you might still look for others if you do commit over a 12 month period.
That's unlike a dating app where you find someone in the first month and then never use the app again because you are now in a committed relationship.
For the most part, however, I think most people will try the app out by using the one-month premium membership option first up and seeing what's on offer.
From my perspective, the more membership options you offer, and in doing so providing more choice for a potential user, the better.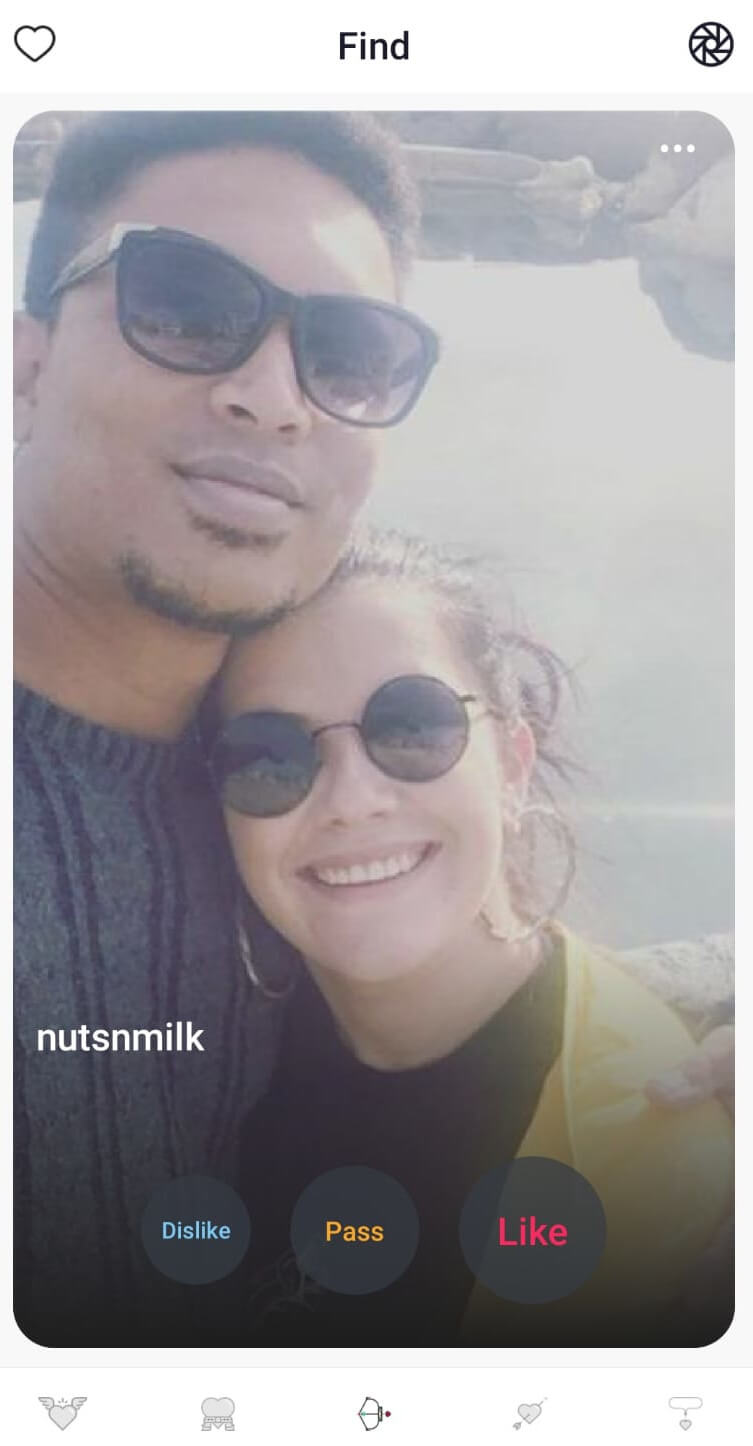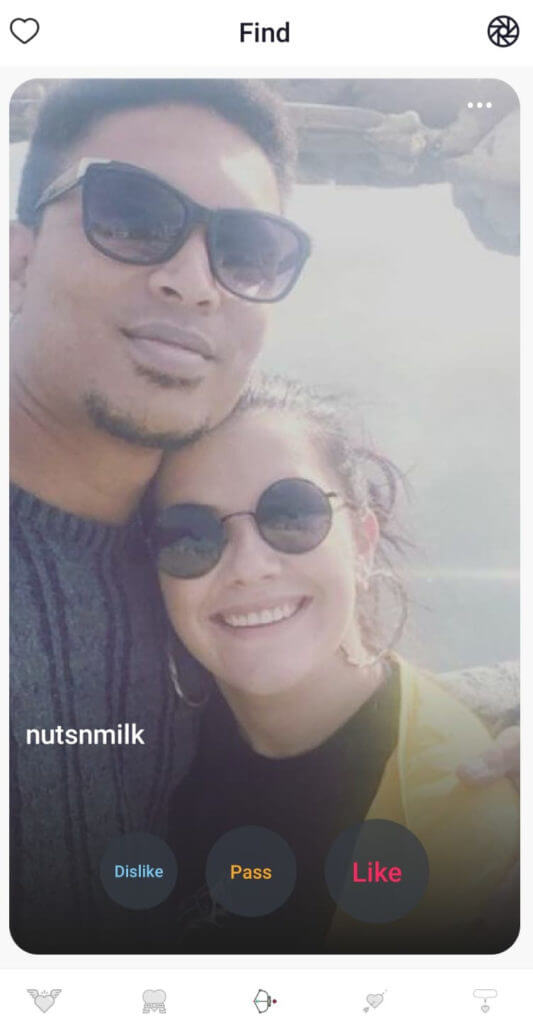 Conclusion And Overall Rating
Thanks for taking the time to read this 3somer app review.
In it, we thoroughly evaluated just what it has to offer by researching and gathering all the information that you as a potential user should know.
With this information, you can decide if this is the best app to help you find a potential three-way.
My assessment of the app during this comprehensive 3somer review is that it's well worth checking out if you are aged between 18 and 34 or want to meet people in that age group.
The major drawback is that you won't find many users above 40.
Although 3somer's user base is still growing, I found a range of potential matchups that were located in my city which isn't the biggest.
In conclusion, I think that 3somer has a very well-priced membership and is super simple to use.
It should be part of your consideration if you are looking for a swinger app to fulfill your threesome fantasy needs.
3somer gets a rating of 3.6 out of 5.
For the purposes of this comprehensive review, the team at Onlineforlive studied 3somer: Threesome for Swingers in great detail.
In that time we concluded that this is a niche app for couples and single users who want to meet like-minded users to hook up for a threesome.
Our review approach saw us provide a star rating for the most important criteria of the app as we tested every aspect of it.
In the end, our overall evaluation of 3somer took the following factors into account: the price of membership, how easy (or not) it was to use, success rate when it comes to matchups, amount of users and features for members.