Welcome to today's review of SexSearch.com.
Don't confuse it with Sex-Search, that's another online dating site entirely.
As you can probably tell from the name alone, this is an adult dating site where casual sex, one-night stands and casual dating are the order of the day (like BeNaughty or Ashley Madison).
No one here is looking for a real-life serious relationship first up (like Tinder or eHarmony), that's for sure.
OFL Top Recommendations based on 100,000+ Survey

"Serious Relationships"
"Discreet Hookups"
"Best Course for Men"
"Quick Flings"
"Normal Hookups"
"Our Quiz"
In this article we will evaluate and assess the site in full, exploring the following:
Despite Sex Search seemingly being very popular, just a quick search online will tell you that the site gets very mixed reviews.
So let's see what it's all about and then make our own decision.
Is your dating app giving you the best chance for success?
Make sure to take our online dating site/app quiz to find out.
It's a fact that people who follow our dating site suggestions have on average 2 extra dates per month.
Sex Search Review in Video Form
Audio (podcast) form for those of you on the go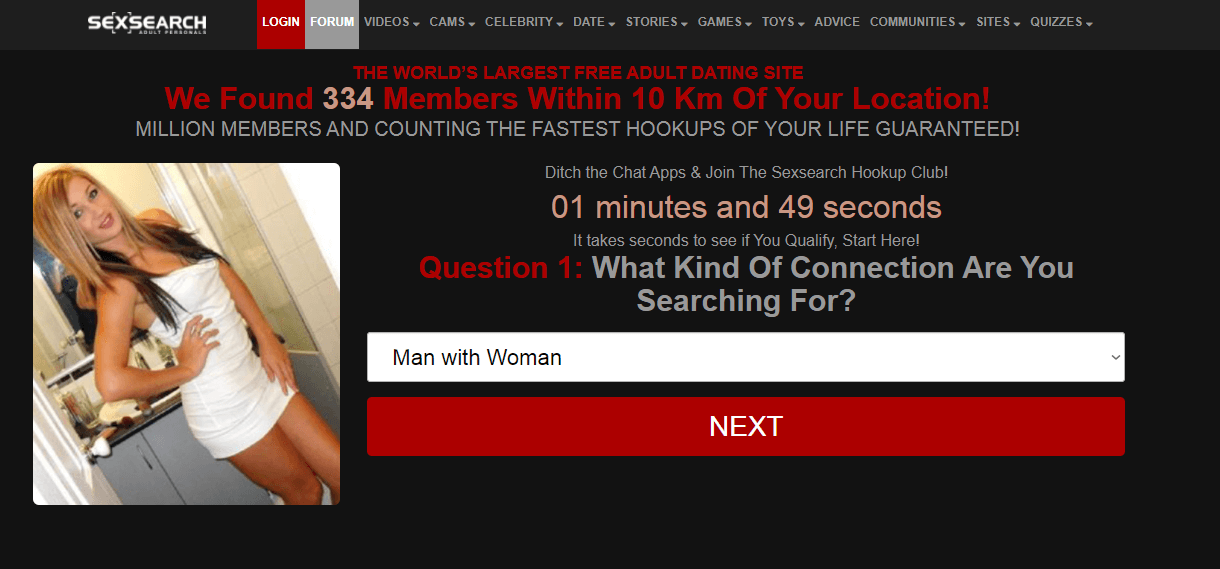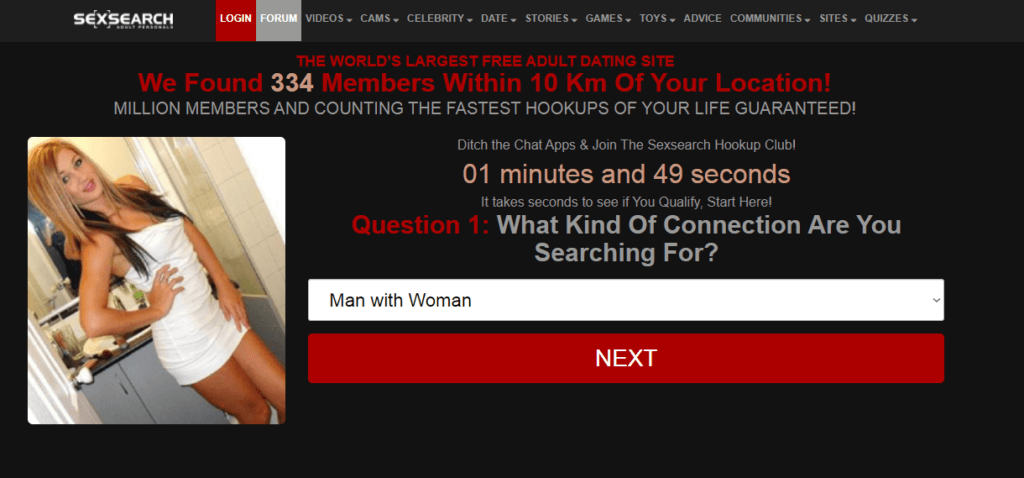 Ease of Use – 5/5
Effectiveness – 1/5
Key Features – 3/5
Pricing – 2.5/5
Large user base
Excellent usability and functionality
Some underhanded tactics to get you to sign up for membership
The company running the site uses their own fake profiles on it
Who's It For/Demographics?
This is a dating platform for those of us into hookups, plain and simple.
And on their homepage, it promises millions of users that are looking for the same.
In fact, the claim is that over 64 million users have signed up for the site, which I am sure is just a fair amount of marketing spin.
I have no doubt, however, that the user base is well into the millions.
OFL Top Recommendations based on 100,000+ Survey

"Serious Relationships"
"Discreet Hookups"
"Best Course for Men"
"Quick Flings"
"Normal Hookups"
"Our Quiz"
A large portion of these are from the United States with others coming from Canada and the United Kingdom.
SexSearch isn't global, however.
To see if you can start a profile, go to the homepage.
If you can't, you will be told that the service is unavailable in your country.
As for just how active the site is each day, SexSearch claims up to around 400000 users on-site at any one time.
Again, that might be a bit of a marketing ploy, but during my time on the site, I can confirm that there were tons of users online and near my location.
Are they all real, though?
Well, we will get into that a bit later in this review.
As for gender ratio, as with most other dating sites like this, there are more male profiles than female profiles.
The ratio is about 3:1.
72% of profiles are men
28% of profiles are women
The most popular are groups are between 25 and 44 years old.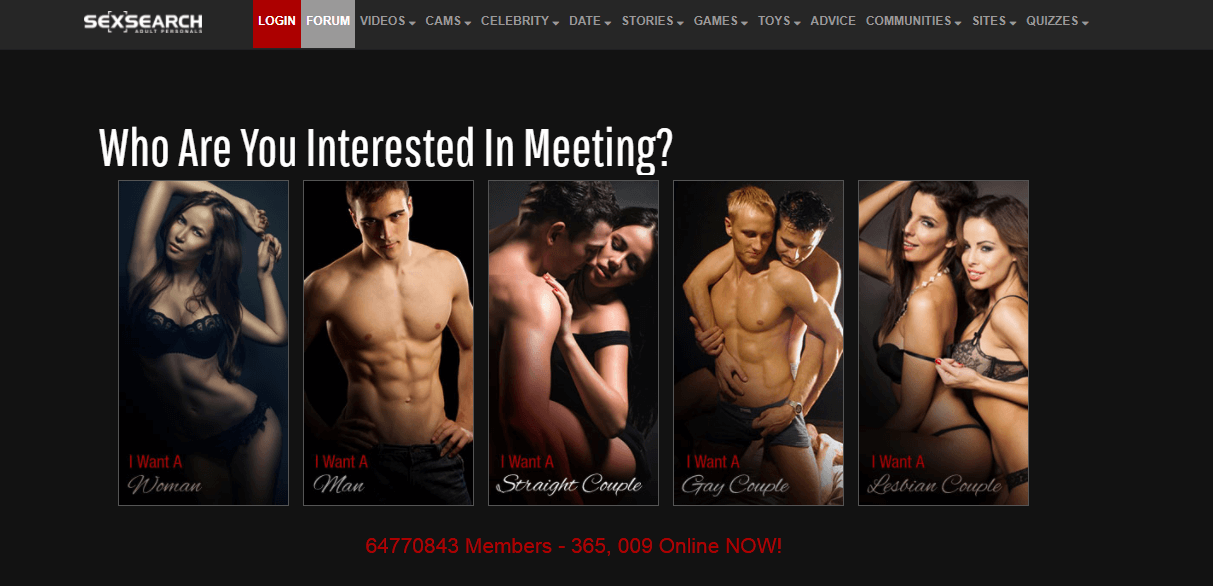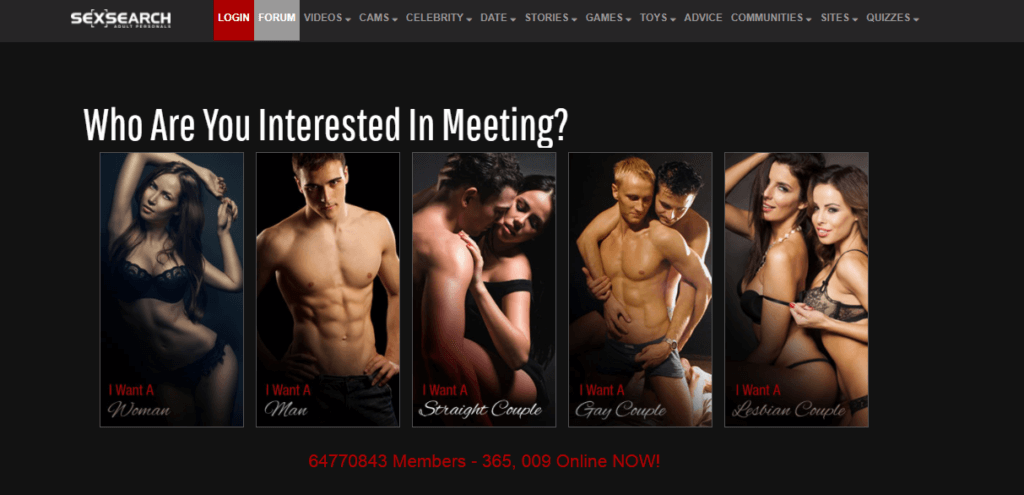 If you wondered if SexSearch has a mobile app, you are going to be disappointed.
At this point, even though the team behind the site claims millions and millions of users, they haven't reached the point where they think a mobile application is necessary.
If you want to view the site on your phone, there is a mobile version of the site you can use.
To register for your profile, you will first need to answer a few questions.
I am not going to lie, the landing page is very busy with a few areas where it appears you can enter your details to register.
I took the option of using the registration area at the top of the SexSearch site and had to answer a few questions to start the process off.
These were:
What you are looking for (gender)?
What is your preferred ethnicity?
What is your preferred body type?
What kind of sex are you looking for? The options were one-night stand, casual hookup, fuckbuddy, affair or sugar relationship.
After that, you will need to provide:
Your location (country, state, city)
Username
Password
That's it.
There is no need to fill in any of your profile as of yet or to upload a profile photo at this point.
You don't even have to put down your sexual orientation during the registration for a SexSearch account.
That's all something to worry about later.
For now, you need to try to access the site for the first time.
And while I am pleased that there is some measure of security on a site that claims millions and millions of users, it became very annoying waiting for my email address to be verified.
But first, membership.
SexSearch will take you to a membership screen when you are encouraged to sign up for free membership that costs $0.
All you need to do to get that is to verify that you are over 18 by inputting your credit card details.
Just make sure you read the fine print.
Because, yes the VIP add-on might indeed be free but that's just for ONE day.
From then, if you don't cancel it, it charges you $29.95 per month.
Now if you read just about any SexSearchcom review online, this will get mentioned as a bit of an underhanded way of sucking people in.
And it really is.
Nowhere do they say one-day free membership in bold type, it's just classified as a free membership.
It really is a little sneaky, don't you think?
Ultimately, you could sign up for a day for free, check the site out, and cancel but how many people aren't going to read the fine print and get caught out.
That's why on dating sites as in life, always read the fine print, otherwise, you will be contacting customer support more often than you'd want.
You can opt to skip this, but then, perhaps like me, you will have to wait a very long time for your email address to be authorized.
Mine was eventually approved after about eight hours.
Finding your way around SexSearch
SexSearch uses two modular panels as part of its design.
The first panel on the left contains all the menus and takes up around a fifth of the screen.
The large panel is where you will view everything you've selected from a specific menu.
Overall, I was impressed with how the site looks.
It uses blue, white, and grey as the main colors and it's a neat and tidy website overall.
But as you probably can expect, you are going to be spammed with advertising and most of that includes nudity.
Some users also will include nudity in their profile pictures.
That's just the nature of these types of sites.
Some of them let you activate nudity filters but I couldn't find anywhere under the settings during the time I used www.sexsearch.com.
So let's talk about the various menus you are going to find.
The first section covers your profile:
My Profile: Click here to view how your profile looks to others
Edit My Profile: If you want to make changes to your profile you can do it here
My Settings: Access various site settings here
Logout: If you want to log out from the site, click here.
The second section includes all the menus you will use to navigate the site.
These include:
Home: This takes you back to the home page which shows you a breakdown of all the other menus which I will talk about below. It's essentially quick access to displayed user profiles.
Local matches: This provides you with matchups that are near your location and based on your preferences indicated while registering.
Who's on cam: Yes, SexSearch has a webcam feature where you can see users who are live on cam.
Members Videos: Here you can watch videos posted by other members
Hottest members: View the hottest members of SexSearch here.
My Friends: SexSearch includes some social networking aspects such as the ability to make friends.
There is still one more menu system that I would like to highlight.
This is called My Activity and shows you:
Your newsfeed: Here you can see when friends have uploaded new pictures, for example.
Profile views: See who has viewed your profile
Messages: If you receive any messages, they will appear here
Date requests: If you receive a date request, it will appear here
Friend requests: Friend requests from other users will appear under this menu.
While I generally don't like dating sites that have lots of menus like this, SexSearch goes about it the right way.
And that's by placing menus in groups and under easy-to-identify menu headers, so you can quickly work out where everything is.
From an overall design and ease of use point of view, SexSearch is brilliant considering that it's just a hook-up site.
Your profile on SexSearch
Filling in your profile is not part of the registration process on SexSearch as we have already seen.
Even though this is a casual dating site, your profile will still play an important part in helping you find the right kind of matchups.
So you better make sure that you at least load a profile picture.
But also take a few minutes to just fill in the various sections of your profile.
I am not going to get into that in-depth because it's something you can look into when you have the time.
And really won't take that long at all.
It seems that most users on SexSearch have at least filled in parts of their profile.
For me, a profile that's completed will improve reply rates.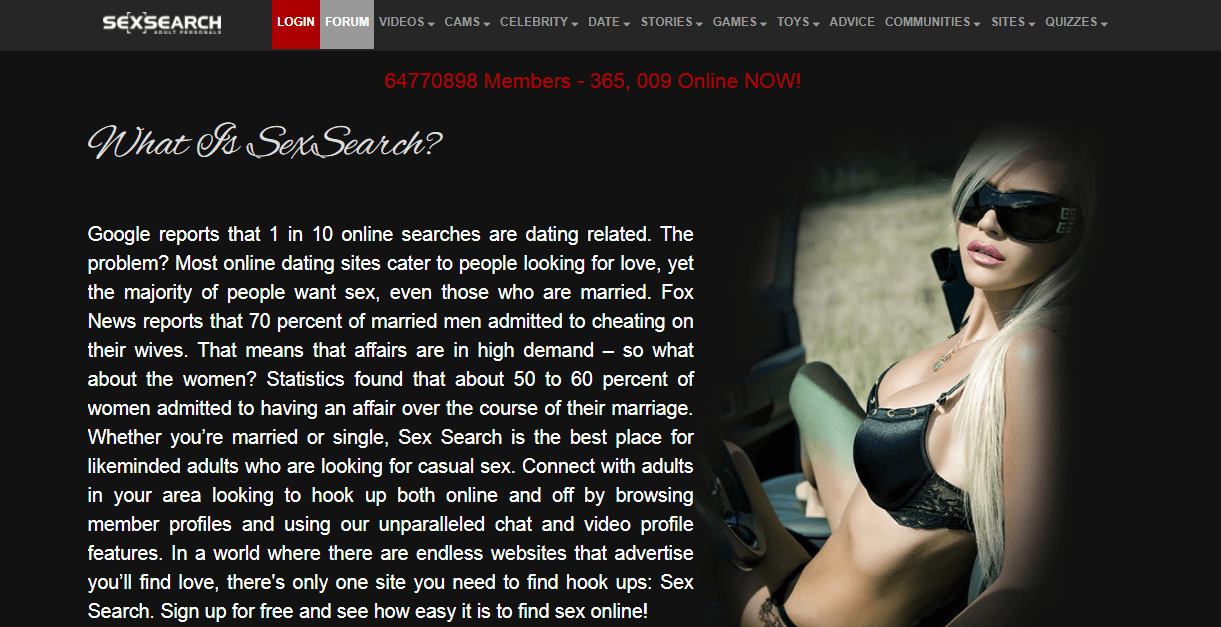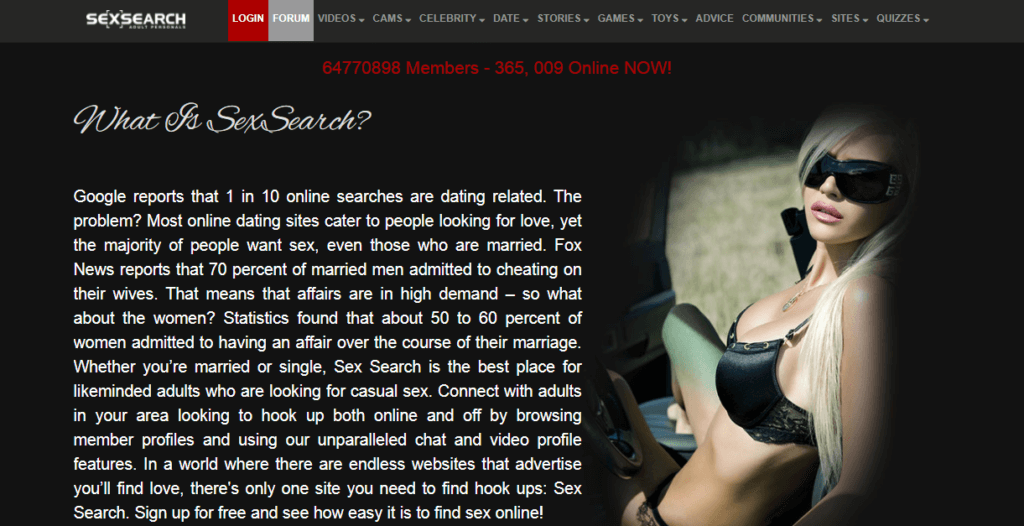 Let's talk about the ways that you can go about finding a potential matchup on SexSearch.
There are going to be three main ways that I think are best.
One of these stands out more than the others, but I will get to that last.
To start, you can look at the hottest members on the site and start with that.
This is perfect if you don't mind linking up with someone for cybersex but it's a bit more hit and miss when you are trying to find someone close to your location.
But there's certainly no harm in going to look through what's on offer here from time to time.
The same stands for the second way of trying to find a potential matchup – new members.
Anyone that joins the site will feature under the new member section and again, you are more than welcome to go through these profiles.
The major problem with these options is that you can see user names and profile pictures but not locations.
So ultimately, you are going to have to go into each profile and after a while, if you are looking for someone local specifically, that's going to be a bit of a pain.
And that's where Local Matches, your best way of finding potential matchups comes in.
This will show you potential matchups that meet the requirements you stipulated when you registered.
Again, just like the other matchups, all you can see is a username and a profile.
So to find out more, you will need to click on their profile picture.
You will find what SexSearch calls "emissaries" amongst these search returns and they will reach out to you and other users.
Essentially, these are either bots or people working for SexSearch who are apparently there to enhance your online experience.
But how?
Talking about what effectively is a fake profile is not going to enhance anything in my book.
If you are on a hookup site, you are wanting to meet other people to hook up with, right?
While the team behind SexSearch does mention these "emissaries" in their terms and conditions, it's still easy to catch someone who is a little naive.
They could think these "emissaries" are real people who are reaching out to them and quickly sign up for membership to be able to communicate back.
Again, it's a little underhanded in my book.
Another thing that's lacking for me is a search engine.
It's all good and well looking at matchups that the site presents to you and that are near your location, but why not have a search engine too.
Especially on a site that says they have millions and millions of users.
If you'd like to message someone that you've found on the site, you will need to consider membership.
That's because messaging is a member-only feature on the site.
You can also make friends as I mentioned earlier.
That allows you to see their status updates and any pictures or videos they post on which you can comment.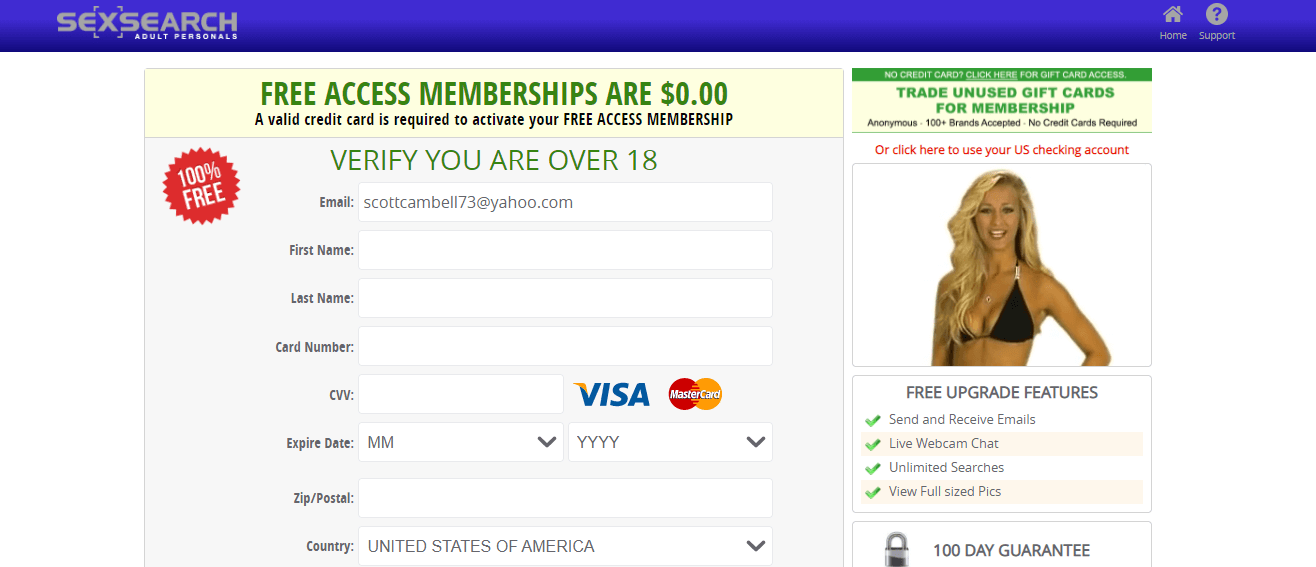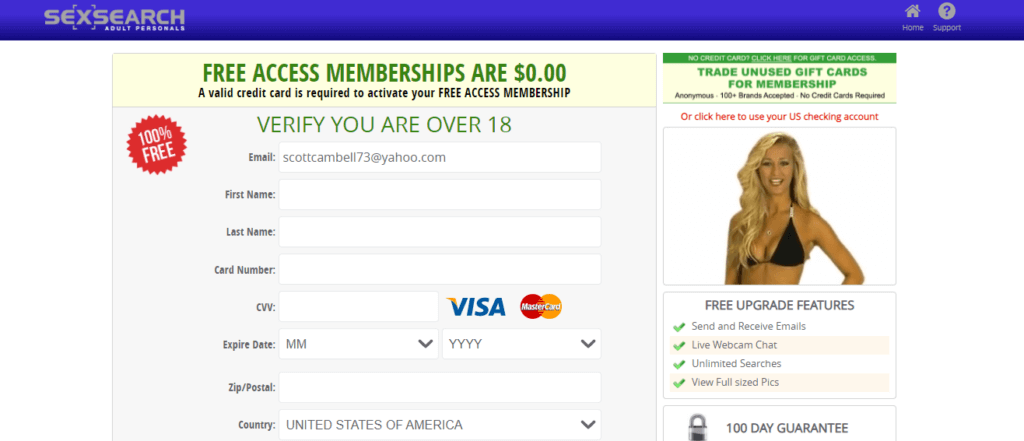 When you opt to become a member of SexSearch, you will receive access to the following features.
SexSearch is no different from any other dating site when it comes to reaching out to others.
The best way to achieve that is to use the messaging system the site employs.
Some use instant messaging and others, like SexSearch use an email format of sending and receiving messages.
It's a little slower than instant messaging but still pretty effective.
If you become a member of the site, you can reply to any messages that you receive as well as send unlimited messages to all other users on SexSearch.
If you want a more instant form of chatting to someone and you don't mind appearing on camera, as a member you can try out the live webcam chatting options.
This allows users to use their webcams to chat face-to-face in real-time.
Obviously, that can lead to other things and I am sure that most members use this functionality for cybersex sessions.
3. View full-sized pictures
The visual aspect of dating sites like these can never be underestimated.
There is no denying that on a hookup site, people are first and foremost attracted to each other's looks.
After all, it's going to probably end in casual sex, right?
And we do that with others we are naturally attracted to first and foremost.
Therefore, the ability to see the full-sized photos posted by other users is more than useful.
And believe me, there are many of them to look through as most users don't only post a profile picture.
After taking out membership on the site, I did find out that there is a search engine that members can use to fine-tune the matchups the site suggests under the local matchups menu.
While there are a few other minor extras for members, those above are the four that I think are the most critical on this hookup site.
​But just how much is membership going to cost and what types of packages are there?
Well, earlier, we saw that you can sign up for one day free to check the site out but remember to cancel that otherwise you will be charged $29.99 per month from then on in.
SexSearch offers two membership packages: Silver and Gold.
Here's a breakdown of their costs:
Silver subscription
1-month: $22.94
3-months: $39.94
12-months: $99.94
Gold subscription
1-month: $34.94
3-months: $59.94
6-months: $139.94
On the whole, membership is not that expensive for the membership features you get and the fact that this is a hookup site (which can be expensive).
It's on par with most of its rivals in fact.
To make a membership payment, you can use your credit card.
Conclusion And Overall Rating
That's it for our SexSearch review.
While regular folks are using the site, it's one that I would rather steer clear of.
In fact, I would rather use a more established site like Adult Friend Finder if I were looking for a hookup dating website to find a hottie for some casual sex.
There is just too much underhandedness on SexSearch, from fake profiles to the fact that they try to dupe you with "free" membership.
​The site is super easy to use and actually far better than many of its rivals in that regard but at the end of the day, you want safety and security first and foremost.
I am not sure that SexSearch delivers in that regard.
As for a rating, SexSearch gets 2.8 out of 5 and it's only that high thanks to the easy-to-use nature of the site itself.