AfroIntroducutions is a niche dating site that is aimed at black singles all around the world.
It's a site that's for people looking not for a casual hook up but more for those who want to date others or look for long-term love, perhaps even a marriage partner.
And it's popular the world over.
As a user of the site, what can you expect if you are looking for that perfect matchup?
OFL Top Recommendations based on 100,000+ Survey

"Serious Relationships"
"Discreet Hookups"
"Best Course for Men"
"Quick Flings"
"Normal Hookups"
"Our Quiz"
Well, this review will cover AfroIntroductions comprehensively including the following key points:
After you've taken the time to read through our thorough review, you will have all the information you need to make the decision as to whether you'd want to start a profile on AfroIntroductions to search for love.
Let's get started!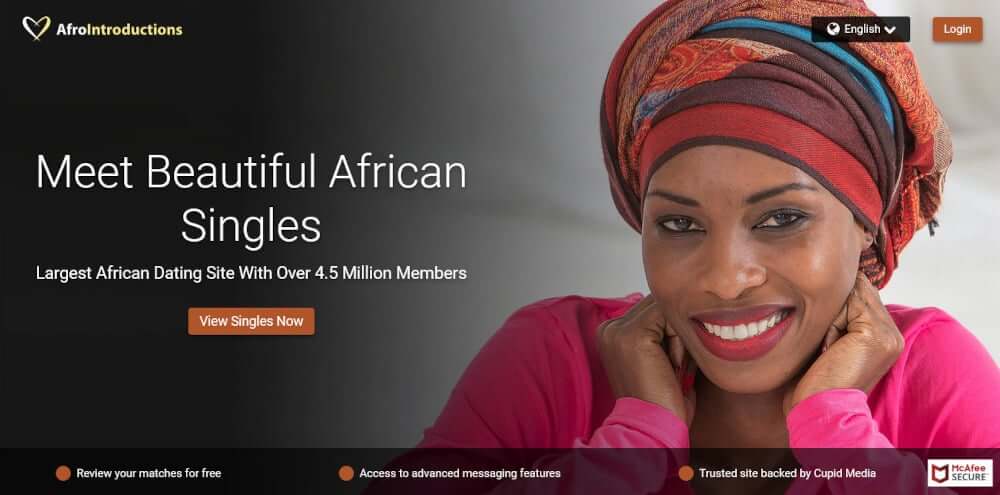 Is your dating app giving you the best chance for success?
Make sure to take our online dating site/app quiz to find out.
People who follow our dating site suggestions have on average 2 more dates per month.
Ease of Use – 4/5
Effectiveness – 4/5
Key Features – 4/5
Pricing – 4/5
AfroIntroductions has over 4.5 million users
A well-designed website that is easy to navigate
Registering an account takes very little time
AfroIntroductions also has an app
Two membership options are available
Lots of key features
Membership is necessary to communicate with regular users
It's not that cheap
The app is for Android phones only

Who Is It For/Demographics?
AfroIntroductions is a dating site for African singles around the world.
With over 4.5 million users, it claims to be the largest African dating site on the planet.
And that's certainly true if the user numbers are accurate.
AfroIntroducutions is definitely not a hookup site (like BeNaughty or Ashley Madison), it offers services to those seeking serious relationships (like eHarmony is known for).
In fact, this niche dating site boasts the kind of numbers a regular site that allows all types of users would be proud of.
But now that we know who the site is aimed at, let's dig a little more into those numbers which are extremely promising if you are looking into setting up a profile on the site in your search for love.
4.5 million users!
There's bound to be the perfect matchup among them, right?
Of course, only a small proportion of those 4.5 million users are going to match what you are looking for.
But before we get onto the ins and outs of how AfroIntroductions works, let's look at a few more facts about the site.
While it's a site with users from all over the globe, around 350 000 Americans have profiles on AfroIntroductions
Around 80 000 users are found online each week
That's over 10 000 users per day, on average that frequent the site
You'd think that with 4.5 million users, the weekly and daily numbers would be a little higher, but then having said that, they aren't that bad.
Gender ratio and age breakdown
It doesn't help, however, if the users online each week don't fit into the gender you are searching for or the age ranges you'd prefer your matches to be, right?
So what's the breakdown like on AfroIntroductions then?
The site has more male profiles than female profiles and that's not really unusual with niche dating sites.
The ratio isn't too different either:
45% of the profiles on the site are female
55% of the profiles on the site are male
When it comes to age ranges, by far the biggest age group using the site is 25-34-year-olds.
Here's a full breakdown, however:
25-34-year-olds
35-44-year-olds
45-54-year-olds
18-24-year-olds
55+
Looking at those age ranges, I think for a site like this, the fact that it's popular with people between 25 to 54 before the 18-24-year-old group is to be expected.
If you think about it, it's a dating site and people between the ages of 18-24 are all about having fun before things get a little more serious in their relationship.
That said, if that's the age range you are looking at, there are many users in that group, it's just not the most popular age group on site.
So in summing up this section, the user base is certainly available and they are active as well, so no matter your specifics when searching for matchups, you should get more than enough returns.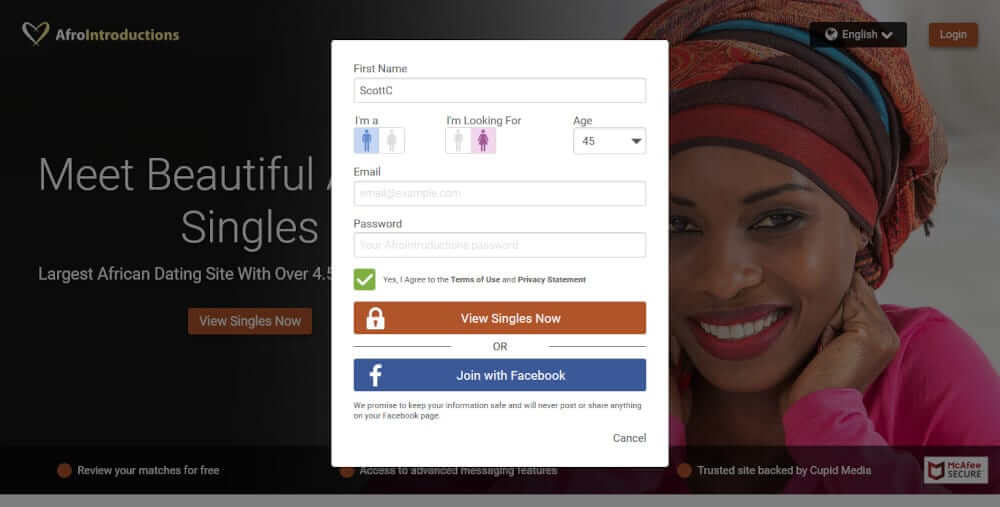 If you've been on a Cupid Media website before in your search for love, you'd already know that they are some of the easiest dating sites on the web to use.
Using your Facebook account is the simplest way to get your profile up and running in a few clicks but the more traditional method is also available if you wish.
That means you would need to come up with a username, have a password ready as well as a valid email address to complete the sign-up process.
Other than answering three questions, you are ready to begin your search on AfroIntroductions.
Those questions simply are:
Your gender
The gender you'd like to look for
Your age
AfroIntroductions uses your answers to those three questions to build the first batch of matchups on the site for you.
These you will see once you've logged into AfroIntroductions for the first time and completed your profile.
Yes, it's important to do that first, otherwise you going to appear in other people's search returns but won't be that appealing.
The first step to completing your profile is to upload a suitable profile picture.
From there, simply fill in all the information that's needed.
It's going to a little bit of time to complete fully but get it out of the way rather and then you know it's done.
Finding your way around the site is a breeze.
You will immediately notice the prominent menus across the top of the screen by which you navigate the site.
These are Matches, Search, Messages and Activity.
The first three are pretty self-explanatory.
The last one, Activity has a number of sub-menus.
Here you can track:
Profiles you've viewed
Profiles you've liked
Profiles you've favorites
Other users who viewed your profile
Other users who liked your profile
Other users who added you as a favorite
There's tons of information for you to sift through here, particularly when it comes to what other users have done regarding your profile.
It's also worth coming back to every now and again to find potential matchups that you may have missed in your searches.
So AfroIntroductions offers an easy setup when it comes to making a profile and it's a dream to navigate.
Will it find you what you are looking for, however?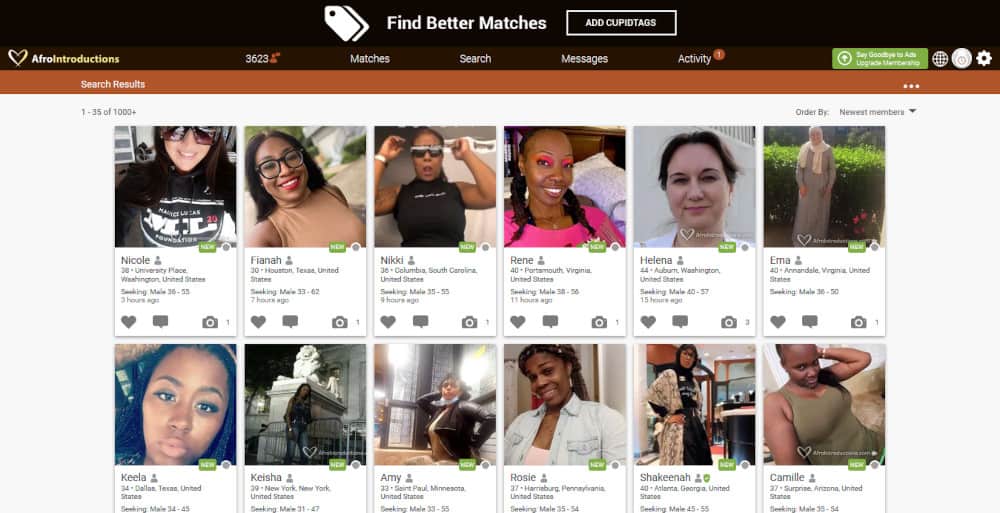 Effectiveness of AfroIntroductions
So before I get onto the overall effectiveness of AfroIntroductions, I'd like to point out the fact that during my time on the site, the number of people online never dropped below 3 000.
And you can track that while you search thanks to a number counter at the top of the screen.
So how effective is AfroIntroductions in helping you meet those thousands of others that will be online with you at the same time?
Well, it provides everything you need to make a good go at it, that's for sure.
While you probably are going to start looking through the matchups the site provides you with when you first log on, I prefer to launch my own parameter-based searches from the start.
That's because you can control so many different aspects of the search.
For me, the most important is location.
When I am looking for a potential matchup, they need to be near me, not on the other side of the world.
There are numerous ways to search for them as well.
Of course, AfroIntroductions first offers a search engine where you can tweak parameters until you are totally happy.
Other than their location, these include:
Appearance parameters
Lifestyle parameters
Background/Cultural value parameters
What they are searching for (penpal, friendship, romance, long-term love)
That's just a small example of what you can tweak.
Within each of those categories, there's even more.
Another way to search is by using Cupid Tags.
These are terms you and other users can associate with their profiles.
The terms include things like "fun-loving", "shy", "outgoing", "sexy".
If you can think of a word to describe you, you can probably find it as a Cupid Tag.
While it might seem a little gimmicky, Cupid Tags add a refreshing way to search for your perfect match.
You can also search in other ways:
By using keywords
By member number
By their first name
If you'd like to, you can save your search parameters as well so you can conduct the same kind of search the next time you are on-site to see what it turns up.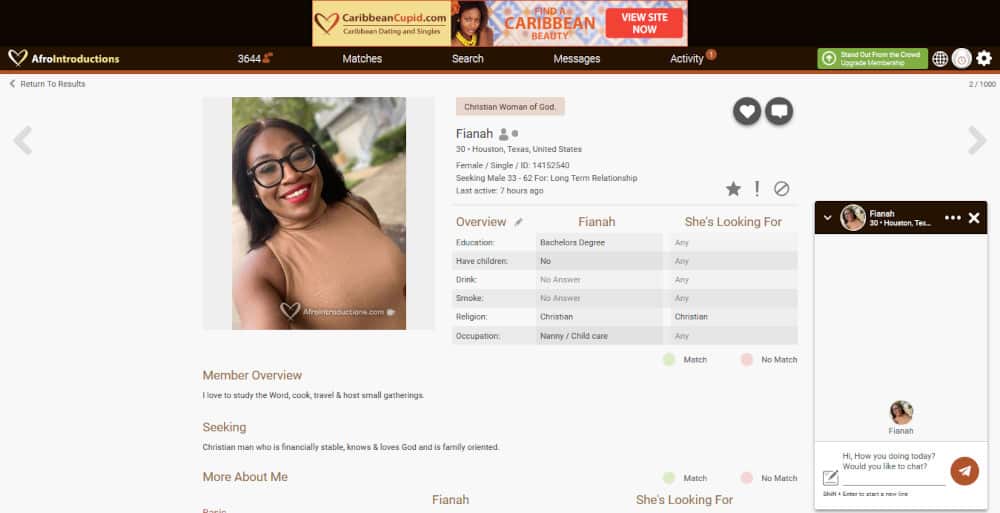 Sending messages.
That's where your problem's going to start on AfroIntroductions.
As a regular user, you can send messages to members but not to anyone else.
So if you've found the perfect match and they are a regular user just like you, you cannot communicate with them.
In other words, you will be forced to look into a membership at one point or another.
AfroIntroductions has two membership types: Gold and Platinum.
The ability to message people is not the only key feature you get when you sign up for membership.
Let's look at a few of the others.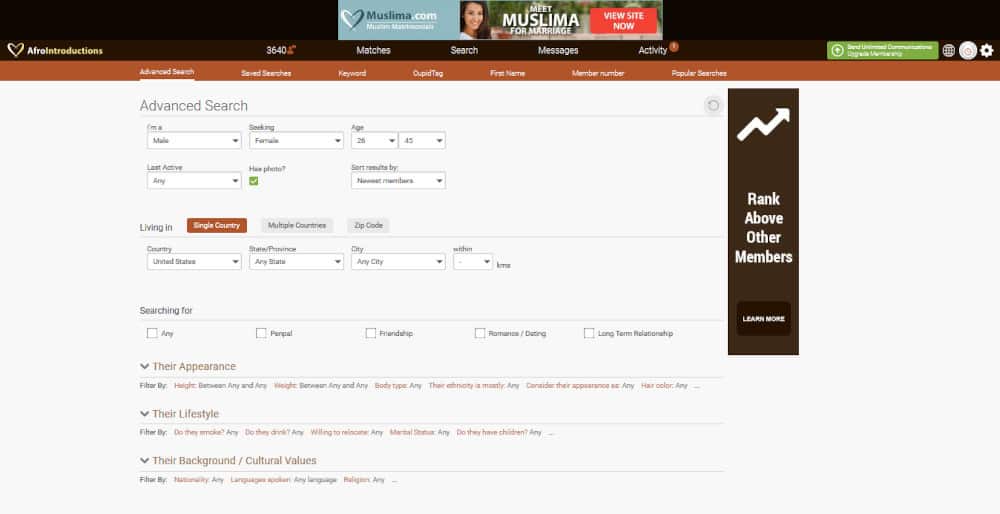 If you are a Platinum member (the most expensive option), other than all the search options I have highlighted above, you also have access to other exclusive matchups.
These are:
Mutual matches
Reverse matches
While reverse matches show you other users who are looking for profiles similar to yours, its mutual matches that are the most exciting.
That's because not only do you have what they are looking for in a potential matchup but they match what you are looking for as well.
So it goes with saying that mutual matches are a brilliant way to find what should be almost the perfect matchup for both parties.
Both Gold and Platinum members have the ability to use an immediate messaging system when speaking to other members.
3. Platinum member profiles
As a Platinum member, your profile will appear at the forefront of every other user search (providing you match some of their parameters).
Although advertising on AfroIntroductions is not as intrusive as other dating sites, it's nice to have it removed.
As a Gold and Platinum member, that's the case and you won't see any advertising while on the site at all.
If you'd prefer to leave no trace that you've visited someone's profile, you can turn on the option to browse incognito.
This is available to both Gold and Platinum members.
6. Increased profile space
As both a Gold and Platinum member on AfroIntroductions, the size of your profile is increased and you can expand it even further.
That allows you to give even more information about yourself to a prospective matchup.
So there you have all the key features available to you if you choose one of the membership options.
But how much can you expect to pay for the privilege of using them?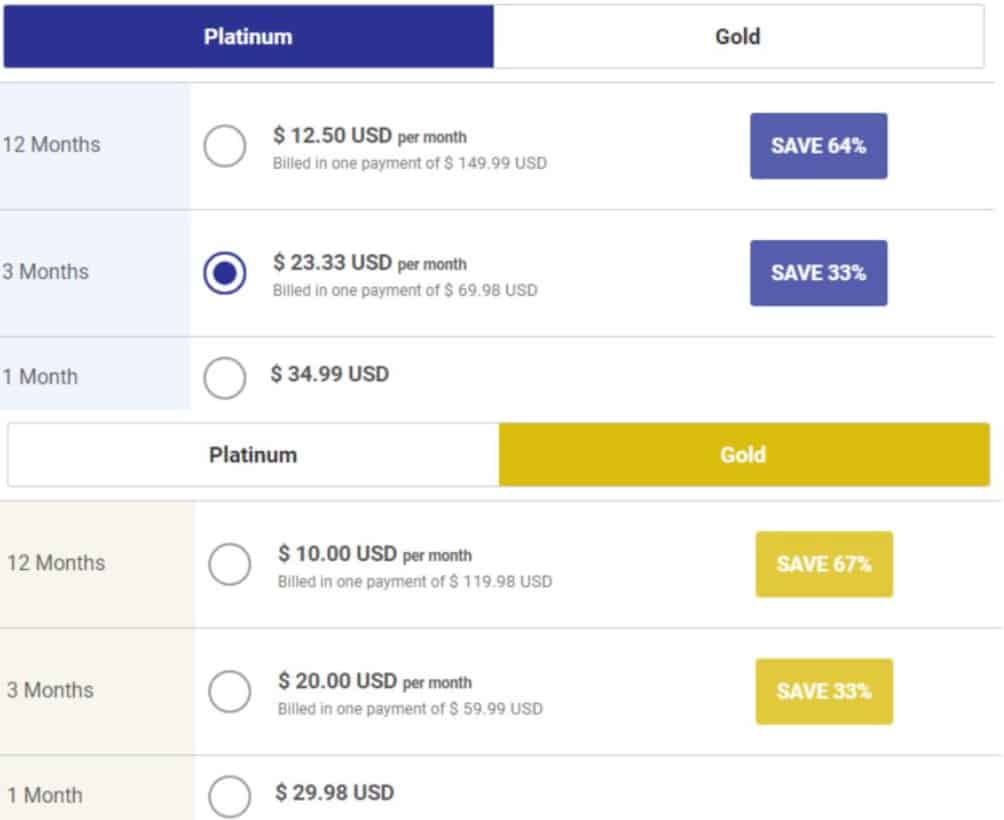 As I mentioned earlier, AfroIntroductions, like all other Cupid Media sites, has two membership options that will unlock the key features above.
That's Gold and Platinum membership.
Within that, you have the following contract:
1-month membership
3-months membership
12-months membership
So what are Gold and Platinum membership going to set you back?
Here's a quick breakdown of the cost of each package for both membership types.
Gold membership:
1-month membership – $29.99
3-month membership – $59.99 ($20.00 per month)
12-month membership – $119.99 ($10.00 per month)
Platinum membership:
1-month membership – $34.99
3-month membership – $69.99 ($23.33 per month)
12-month membership – $149.99 ($12.50 per month)
These prices are not only standard with other niche sites run by Cupid Media but also other popular online dating platforms.
Of course, you can score massive discounts if you opt for the longer packages but you'd have to pay a fairly large amount upfront to do so.
I think that like other Cupid Media sites, AfroIntroductions is missing a trick by not having a one-week membership option, where you can try the site out and see if it's going to work for you or not.
If you want to do that, the only option you have is either Gold or Platinum one-month membership at $29.99 or $34.99.
Then, once you've tried it out for that month, you can decide if a longer membership plan with added discounts is worth it or not.
For me, I would choose the Platinum membership as it includes reverse and mutual matching, something that could just help you find the perfect match.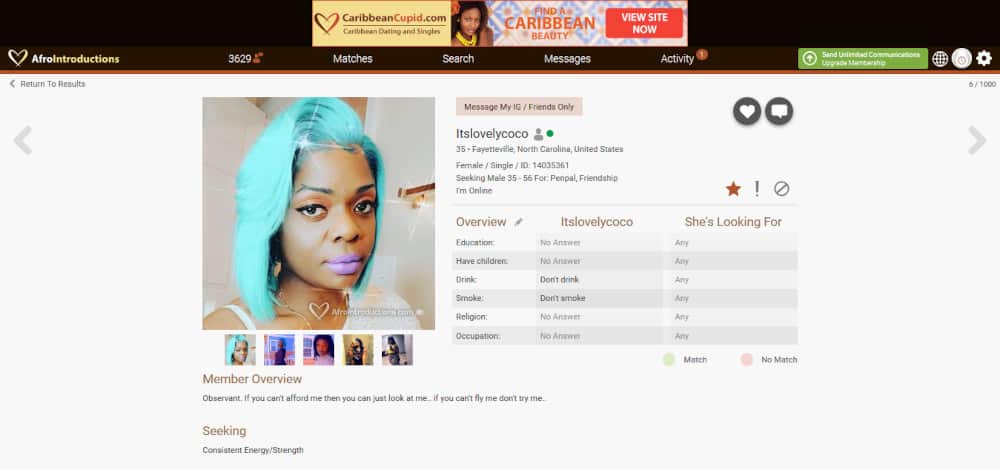 Conclusion and Overall Rating
So there you have it.
Now you know what AfroIntroductions is all about but more importantly, what it can provide in a search for love.
This is a niche site that's not like many others out there at all.
It's all about linking African singles around the world and is popular across the globe, not just in Africa.
And we've seen just how popular it is with over 4.5 million people signing up for the site since it was first introduced in 2002.
Using the tried and trusted Cupid Media format, AfroIntroductions delivers, that's for sure.
Not only is it an easy site to navigate and find your way around but it provides you with so many different tools to help you find that perfect match.
Its pricing might seem pretty steep but just go and look back on the key features I mentioned above and just see what you get when signing up as a member.
One word of advice, however.
If you are going to sign up as a member, consider the Platinium package.
For me, the fact that it provides two unique searches in reverse and mutual matches is invaluable.
Use those wisely and you should easily be able to find matchups that are more than worth looking into.
So let's get to the scoring.
I am going to give AfroIntroductions a 4 out of 5.
If it's African singles that you want to meet up with, this is the site to use to do so.
What are your thoughts on AfroIntroductions?
Would you consider signing up for it after reading this review?
Let us know in the comments below.
Frequently Asked Questions