In the world of online dating, there's a site for just about any niche you can think of.
Latin American Cupid is a dating site that's part of a very popular niche market.
And that's Latino/Hispanic dating.
So is this in-depth review, we are going to take a look at just what Latin American Cupid promises to both its regular non-paying customers as well as members.
OFL Top Recommendations based on 100,000+ Survey

"Serious Relationships"
"Discreet Hookups"
"Best Course for Men"
"Quick Flings"
"Normal Hookups"
"Our Quiz"
We will compare that against what it delivers and seeing just:
By the time you've finished reading this insightful review, you will know all you need to know about Latin American Cupid.
So let's get started.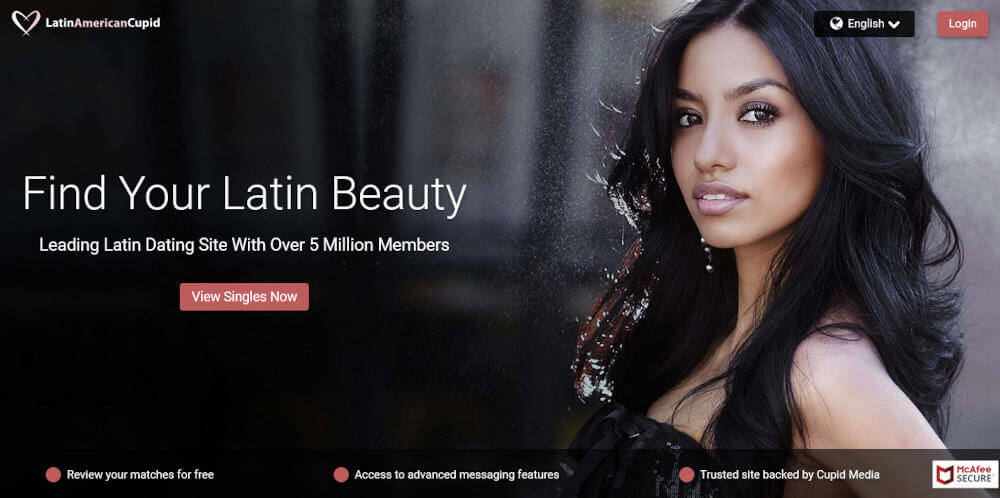 Is your dating app giving you the best chance for success?
Make sure to take our online dating site/app quiz to find out.
People who follow our dating site suggestions have on average 2 more dates per month.
Latin American Cupid Review in Video Form
Audio (podcast) form for those of you on the go
Effectiveness – 4/5
Features – 4/5
Ease of use – 5/5
Pricing – 3/5
A simply signing on process will have you online in a couple of minutes
The site is very well designed and so easy to navigate
You can send messages to members even though you don't have membership yourself
An Android app is available should you prefer to go mobile
You can see just how many users are online at any one time
To become a member of Latin American Cupid isn't cheap
To communicate successfully in the long run, you are going to have to buy a membership

Well, it's obvious who will be making use of this site, right?
It's targeted at Latino/Hispanic people looking for love but also for other ethnic groups who would like to date them.
Members come from all over Latin America including:
Mexico
Argentina
Brazil
Cuba
Colombia
Chile and more
As I mentioned in the introduction of this review, it's very much a niche site, that's for sure.
It is not only for hookups (like BeNaughty or Ashley Madison) or only for serious relationships (like eHarmony).
The thing is, niche sites can be a little hit and miss, that's because in theory, they probably shouldn't produce the same numbers of users as a more general dating site would, right?
Is that the case with Latin American Cupid?
Well, let's take a look.
So just how many users have signed up for Latin American Cupid since its inception in 2003?
Well, according to the blurb when downloading the app, this dating site boasts over 5 million users.
Whether that's true or not, or just a little marketing bluster is debatable, but we can see how busy (or not) the site is by delving a little deeper.
And yes, I think that it's plausible that over the years, over 5 million people have signed up for the site.
That's just because of the length of time it's been in operation and it's backed up in my book by the following:
700 000 users of Latin American Cupid are from the United States
The site reportedly gets close to 100,000 new users each month.
Those are some stellar figures, that's for sure and yes, during my time on the site, I was never struggling to find potential matchups at all.

What about a gender breakdown?
That's also important, right?
Yes, it is and it's here that Latin American Cupid seems a little different to most other dating sites that I've reviewed.
According to my research, you are going to find a lot more men on the site than women.
It's a ratio of 4 to 1, in fact.
That's not necessarily a bad thing, it all depends on what type of matchup you are looking for.
But again, although men outnumber women by a large margin, I found plenty of people that I wanted to chat with.
Of course, just like any other dating site, if you live in a large city you are better off in finding potential matches than if you live in a tiny town.
But that's to be expected.
What's the age breakdown of users?
The last thing we need to look into in this section of the review is a breakdown of the ages of the users on the site.
Here they are from most to least popular age groups found on Latin American Cupid.
18-24 years old
25-34 years old
35-44 years old
45-54 years old
55 and older
So now that you have all the figures when it comes to just who frequents the site, let's see how effective Latin American Cupid is finding potential matchups.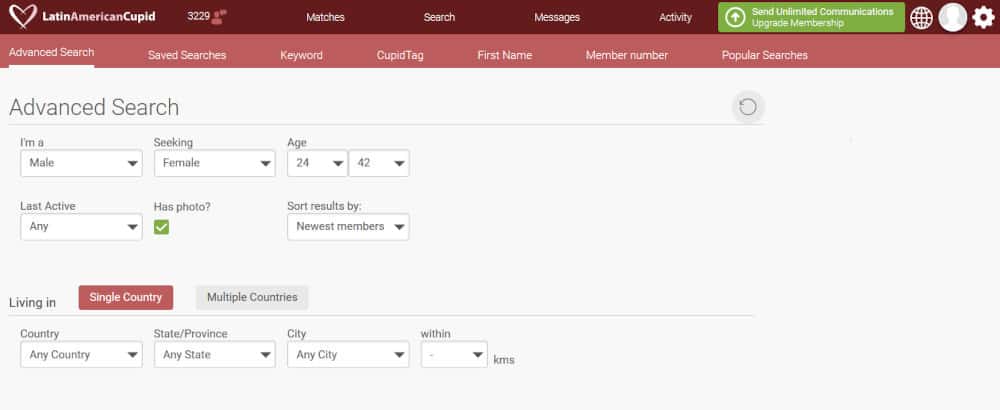 So before you use a dating site like this, it's worthwhile having an idea of just how effective it can be in hooking you up with the right kind of matchup, right?
Overall, I think that Latin American Cupid is pretty effective in that regard.
Getting into contact with them, isn't always the easiest, however.
One thing I will say is that at least Latin American Cupid does let you send messages to those users with member profiles.
Many other niche dating sites don't allow any form of communication at all.
But it's still not perfect, that's for sure and to communicate effectively you are going to have to look at membership down the line.
Should a user not have a membership, there is another way to have some form of communication with them.
If you go to their profile, you can click on the big red heart you find there and that tells them that you have "liked" them.
Other than that, there is no way to communicate with a regular user of the site.
So there are a couple of ways in which you can try to find your ideal match.
The one that you'd probably use first up is a regular parameter search
Here you enter your gender, what you are looking for and age range.
You can also adjust other parameters here including
When the user was last active
If they have a photo or not
Their location
Appearance (height, weight, body type, ethnicity)
LIfestyle (do they smoke or drink, will they relocate, marital status, do they have children)
Background/Cultural values (nationality, languages, religion)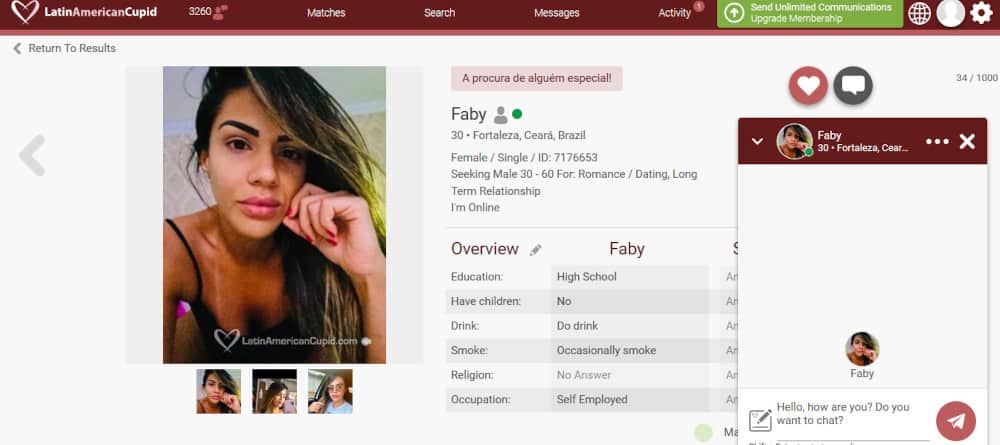 There are lots of options to play with here and the awesome thing is that you can change various things and then save the searches to use them later.
But there are even more search options.
For example, using Cupid Tags.
A Cupid Tag is a tag a user has assigned to their profile.
There are many to choose from, for example:
Sense of humor
Candid
Relationship
Affectionate
Caring
The list goes on and on.
But for a bit of difference when searching you can use Cupid Tags instead of a normal search.
Lastly, Latin American Cupid gives you matches from the site itself that you can go through.
These include:
Mutual matches
Reverse matches
I will cover these in greater detail under Key Features as they are a members-only option.
There are lots here to work with if you are serious about finding that perfect matchup and if you are going to take the time to look through the returns you get on searches.
But with membership, not only can you communicate with everyone, but you can also make use of specialized searches to help narrow down the field of matches you receive.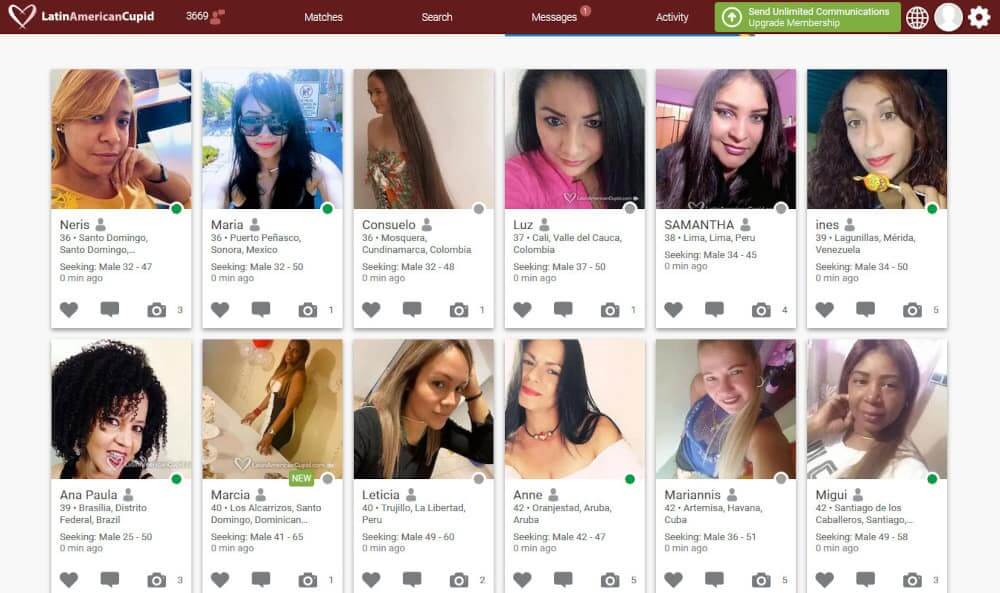 There's nothing difficult about starting a profile on Latin American Cupid.
Go to the website and set up a username and password, enter your email and you are up and running with ease.
Of course, to ensure you are a catch for other users, you've got to take the time to upload a profile picture and other photos and fill in your profile fully.
There's lots of information you put in here.
I like to fill in as much as I can to give a potential matchup all the information they need to know about me should I appear in one of their searches.
Over and above the normal things like weight, height, body type, age, eye color and more, other parameters you can populate on our profile include:
Ethnicity
Facial hair
My best feature
Body art
Lifestyle (do you smoke or drink, will you relocate, your marital status, do you have children)
Background/Cultural values (nationality, languages, religion)
Occupation
Living situation
Type of relationship you are looking for
And more
When it comes to the overall design, like all Cupid Media sites, Latin American Cupid is well designed and so simple to navigate.
Across the top of the page, you will find various buttons such as matches, search, messages, profile and settings.
Below that, you will already be presented with matches from your basic search requirements you entered while signing up.
There is also a quick search bar where you can change parameters easily to conduct a new search with ease.
You can also see how many members are online, a useful addition that other dating sites could learn from.

Does Latin American Cupid have an app?
Latin American Cupid does have an app, but it's only available on the Google Play Store for Android devices.
The app is much like the website, but obviously more compact.
Everything you need is here to search for a potential matchup and reach out to those that you would like to chat with.
Currently, it has a rating of close to 4 our of 5 and has been downloaded over 500 000 times.
If you'd prefer using the app over sitting at a computer browsing through profiles, it's well worth the download.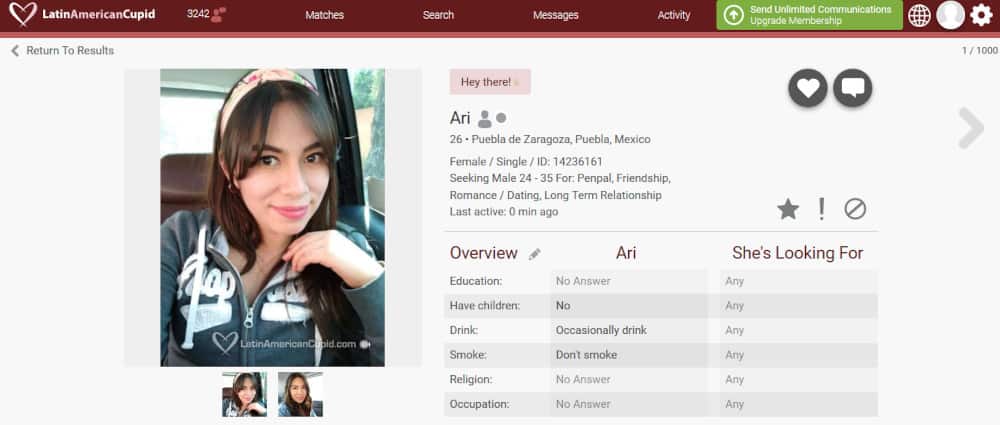 Many of the best features of Latin American Cupid are only available to members.
Before we look at them and the features they include, let's just take a look at what a regular user can do when their profile is active.
Send messages to paying members only
Like other profiles to which they will receive an alert that you have done so
Favorite profiles to add to your favorites list
Search for matchups using a number of extra parameters than a regular search
See who has viewed your profile
See who has favorited your profile
See who has liked your profile
There's a lot you can do as a regular user of the site.
In fact, there is much more on offer here compared to other dating sites.
But again, messaging is limited.
And that's were paying for membership comes in.
Latin American Cupid has two membership options.
These are:
Gold membership
Platinum membership
So what can you expect other than the ability to message everyone when you pay for membership?
Over and above using the more traditional message system that sort of acts like email, as a Gold or Platinium member of Latin American Cupid, you can also chat with people using an instant message system.
It's the perfect way to get to know someone without having to wait for a message to arrive in your inbox and allows for infinitely quicker communication.
Neither Gold nor Platinum members will have any sort of advertising shown on site after they have signed up.
While this is nice, it's not such a massive deal in my book as thankfully, even for non-paying users, Latin American Cupid is not filled with that many adverts anyway, unlike some of its competitors.
If you are a Gold or Platinum member, you can choose to make your profile hidden so it won't come up in searches.
That also allows you to browse other user profiles anonymously and they will not be alerted to the fact that you did so.
4. Increase your profile space and VIP profiles
Platinum members are able to increase the size of their profiles.
This means you can add even more information that will appear in the searches of other users.
If you want to stand out even more, you can give your profile VIP status.
Earlier I mentioned some exclusive search options that can provide you with matchups aligned specifically to your profile.
These were mutual matches and reverse matches.
But what are they?
A mutual match is when you and another user both match each other's criteria
A reverse match is when you match exactly with the criteria someone else is looking for but they don't necessarily match what you are looking for.
Both these features are part of the Platinum membership option.
They are a brilliant way to find potential matchups that are close to what you are looking for without having to go through tons of profiles that might not be absolutely what you are looking for.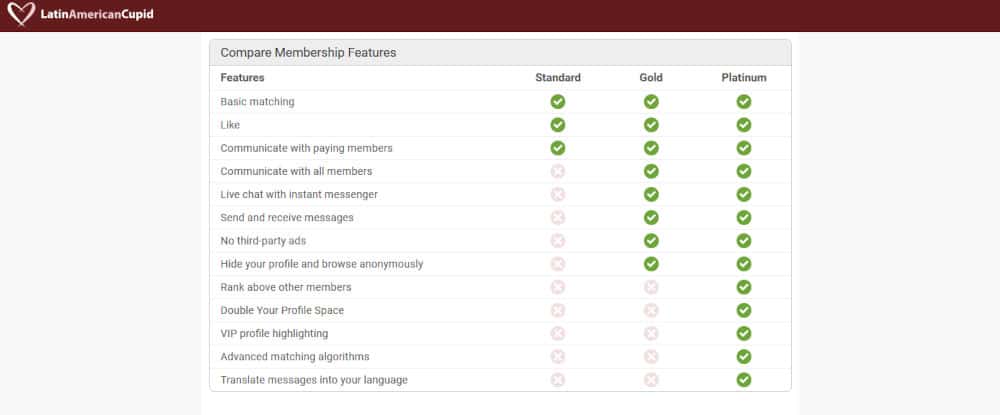 So now that we've covered all the extra features that you can expect if you want to sign up for membership of Latin American Cupid, let's breakdown what you can expect to pay for that membership.
We've already learned that there are two membership options, Gold and Platinum for this site.
Now let's look at the cost of each.
Gold membership is your cheapest option of the two and includes many of the key features we've already spoken about.
Platinum membership is the most expensive option you can choose and has all the features you would get as a Gold member but with even more added extras.
Gold and platinum.
Sound's expensive, right?
If you think you would want to become a member of Latin American Cupid, let's take a look at the prices for each.
Gold membership:
1-month membership – $29.99
3-month membership – $59.99 ($20.00 per month)
12-month membership – $119.99 ($10.00 per month)
Platinum is the most expensive option, but remember it gives you all the features.
1-month membership – $34.99
3-month membership – $69.99 ($23.33 per month)
12-month membership – $149.99 ($12.50 per month)
Looking at those prices, Latin American Cupid is somewhat more expensive than your average dating site.
But Cupid Media know what they are doing in terms of pricing and I think they've got it spot on.
That's because this is not a normal kind of dating site, but a niche site and for that reason, they are always going to charge that little bit more.
Plus, if you enjoy your time on the site and think you would use it for an extended period, you can always get it at a cheaper rate by either buying the three or six month option.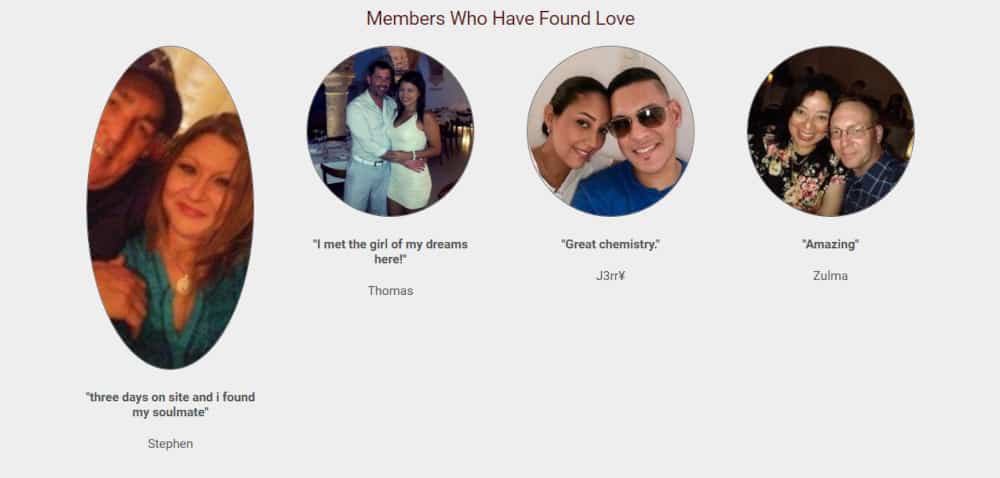 Conclusion and Overall Rating
So that's it for this review of Latin American Cupid.
Would I recommend it as a niche site to meet people of Latin/Hispanic descent?
Without a doubt!
Like the other Cupid Media sites, Latin American Cupid gives you all the tools you need to find potential matchups.
Reaching out to them, however, is probably going to see you buying a membership at some point to communicate more effectively, especially if you see some potential for romance.
But if you do put some money into membership, there are plenty of excellent features for you to take advantage of to enhance your experience even further.
Of these, I think the mutual and reverse matches have huge potential in helping you find decent matchups.
On the negative front, Latin Amerian Cupid isn't cheap but it has the features to back up the member pricing structure that's in place.
So I will give Latin American Cupid a very solid 4 out of 5 as my rating.
Have you had any experience with this niche dating site?
How did it turn out for you?
Or if you haven't is it one you see yourself trying out in the future?
Comment below and let us know.
Frequently Asked Questions