In today's review, we researched LayMatures, a dating site whose name gives a massive clue as to what it is.
Yes, this is one of the long lines of hookup sites that you will find in online dating.
But it's one with certain target markets in mind – older women.
And then there's anyone else who wants to date these mature women.
OFL Top Recommendations based on 100,000+ Survey

"Serious Relationships"
"Discreet Hookups"
"Best Course for Men"
"Quick Flings"
"Normal Hookups"
"Our Quiz"
We will assess the site in full to find out if it's legit or just another scam site filled with fake profiles.
This process includes:
So if you are someone who likes the thought of hooking up with a mature woman, let's see if a LayMatures account is something that you need in your life.
Is your dating app giving you the best chance for success?
Make sure to take our online dating site/app quiz to find out.
It's a fact that people who follow our dating site suggestions have on average 2 extra dates per month.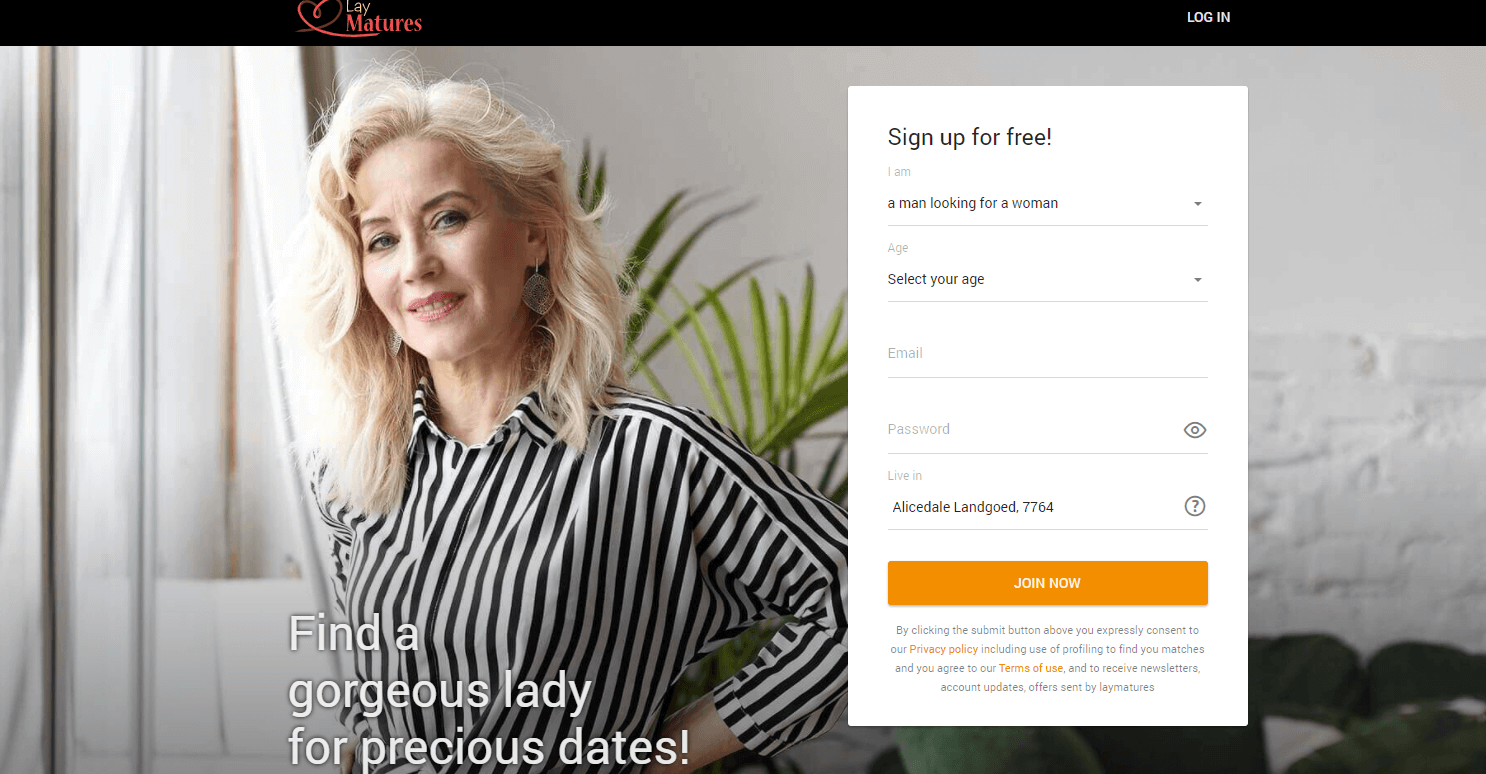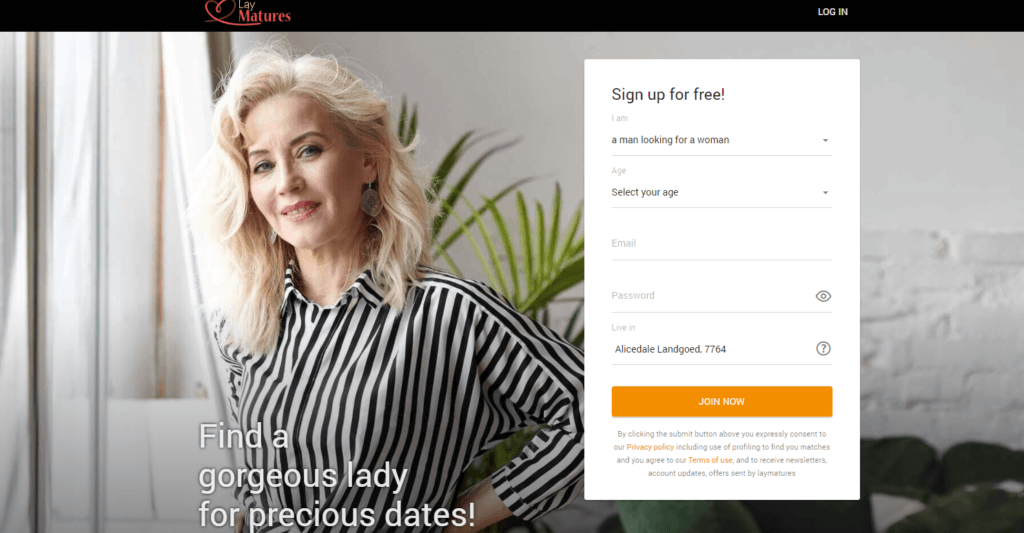 Ease of Use 3.5/5
Effectiveness – 2.5/5
Key Features – 3/5
Pricing – 3/5
Simple user registration procedure
Such a simple site to use and overall very well-designed
Five free messages for new users to send to others
Offers a three-day trial membership
Shares profiles with other dating sites (as stipulated in the terms and conditions)
There seem to be auto-generated messages to get you to buy into membership and reply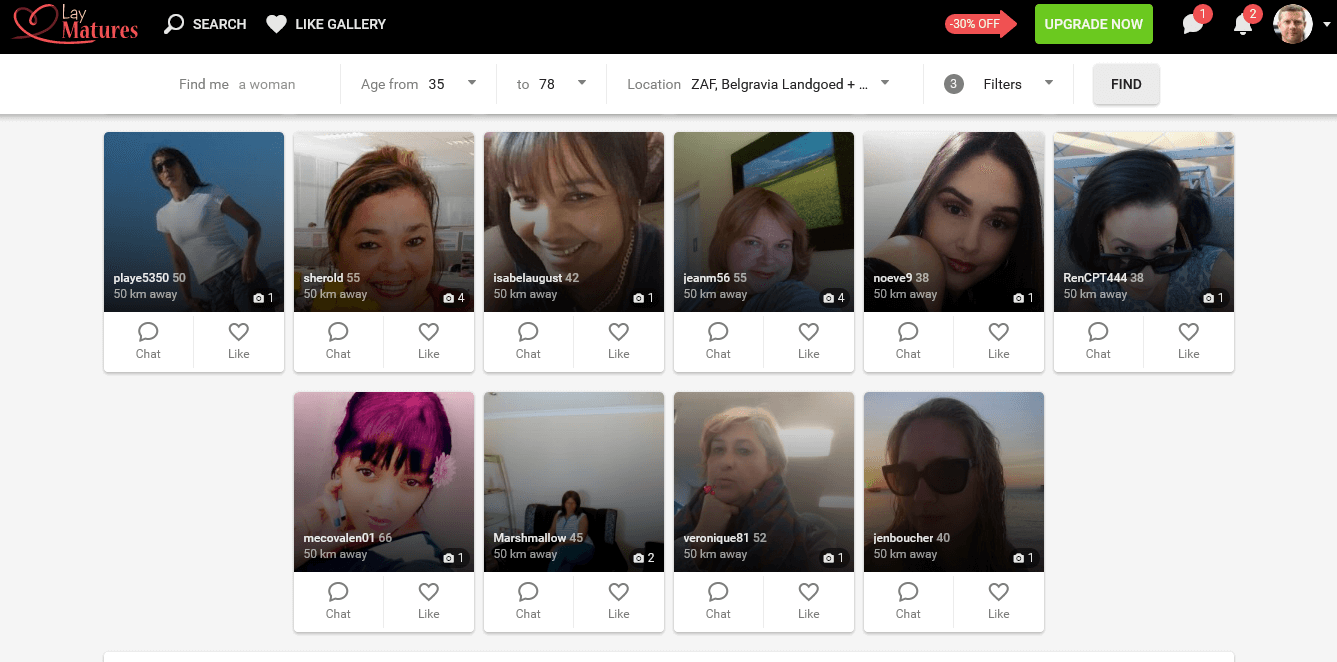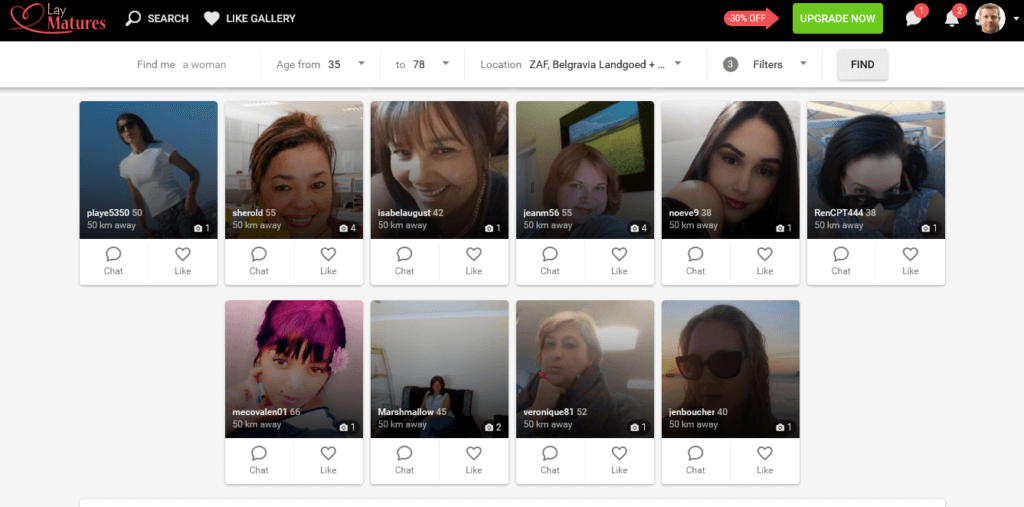 Who's It For/Demographics?
If you want to meet local mature women and hook up with them, this is the kind of dating site that makes sense trying out, I am sure you agree, right?
We've already discussed how LayMatures is one of many niche hookup sites like this (like BeNaughty or Ashley Madison) and of course, if you are looking for someone for a serious relationship you should move one to another site (like Tinder or eHarmony)
But let's look into the demographics and study more information in that area of the site.
Well, I can tell you finding user numbers was extremely difficult.
OFL Top Recommendations based on 100,000+ Survey

"Serious Relationships"
"Discreet Hookups"
"Best Course for Men"
"Quick Flings"
"Normal Hookups"
"Our Quiz"
In fact, if you look on the LayMatures home page, you won't find any indication at all.
And for me, that's often an early warning sign.
Why?
Well, many legit dating sites clarify their user numbers on the home page, especially if they promise "thousands of stunning users" as the LayMatures does.
Thousands could be anything.
There's no app either to see just how many times it's been downloaded because that can give a clearer indication as well.
Despite that, the facts and figures I did find out indicated a few things, however:
LayMatures has users from the United Kingdom, United States and other parts of Europe
Around 30000 users are from the United States
Around 20000 users are on the site weekly
That's around 3000 per day and 80000 each month
65% of the users on the site are male
35% of the users on the site are female
Around 30% of the users on this site are between 25 and 34 years of age
If you evaluate that against other hookup sites like AdultFriendFinder, for example, LayMatures isn't exactly smashing it out the park in terms of demographics.


There's only one way that you can sign up for a profile on the site and that's by using the website.
As we observed earlier, there is no app for this dating site.
There's no social media login here either to speed up the process.
But in reality, it's not needed as you will be online super quickly anyway as the registration process won't take long at all.
Here's what you will have to provide:
Your gender and the gender you'd like to meet (there are LGBT options)
Your age
Your email address
A password
Your location
Verify your email and you have access to the site straight away.
It's important to note that your profile is very far from complete.
It's a major critique I have of dating sites that operate in this manner.
It's one thing getting people online quickly but all that ever leads to is incomplete profiles.
But that's something I will highlight later in the review.
I certainly would suggest that if you aren't going to attend to your profile just yet, that you at least upload a profile picture, so other users know what you look like.
That's a start at least.
Finding your way around the site
At LayMatures, presenting potential matchups to other users is the primary goal.
And you will notice that from the moment you access the site for the first time.
Right from the get-go, you will have a range of matchups to look through.
These matches are obviously based on your preferred gender but will be a variety of ages.
And while some hookup sites are filled with tons of information and often advertising that can be a little vulgar, that's not the case here at all.
I like the fact that matchups can be adjusted using the following quick menus:
All members
Those that are online now
Or new members
Whichever you choose, you can further sort them by
Popularity
Last activity
Distance from your location
Age
So there's plenty for you to look through from the moment you start using the site.
But at some point, you are going to want to navigate around using the main menu system.
These menus are:
Search: The standard search menu. Here you can structure your own search for matchups by inputting various parameters
Like Gallery: If you prefer to see profiles one at a time, then use the Like Gallery to look through them in a roulette-style matchup game. Here you can either like or pass each profile you see.
Messages (Icon of a speech bubble): All messages you receive as well as those you send to other users can be tracked here
Notifications (Icon of a bell): Important notifications will be indicated here. Click on the icon to read what they are about.
Profile: If you want to view your profile or edit anything about it, this is the menu to use.
And that's it.
It's a simple menu system but one that shows you don't need hundreds of different menus on a dating site.
Below that, you will notice a quick search bar from where you can launch searches for potential matchups.
We will talk a little more about this later.
But now, let's demonstrate what you need to do to complete your profile.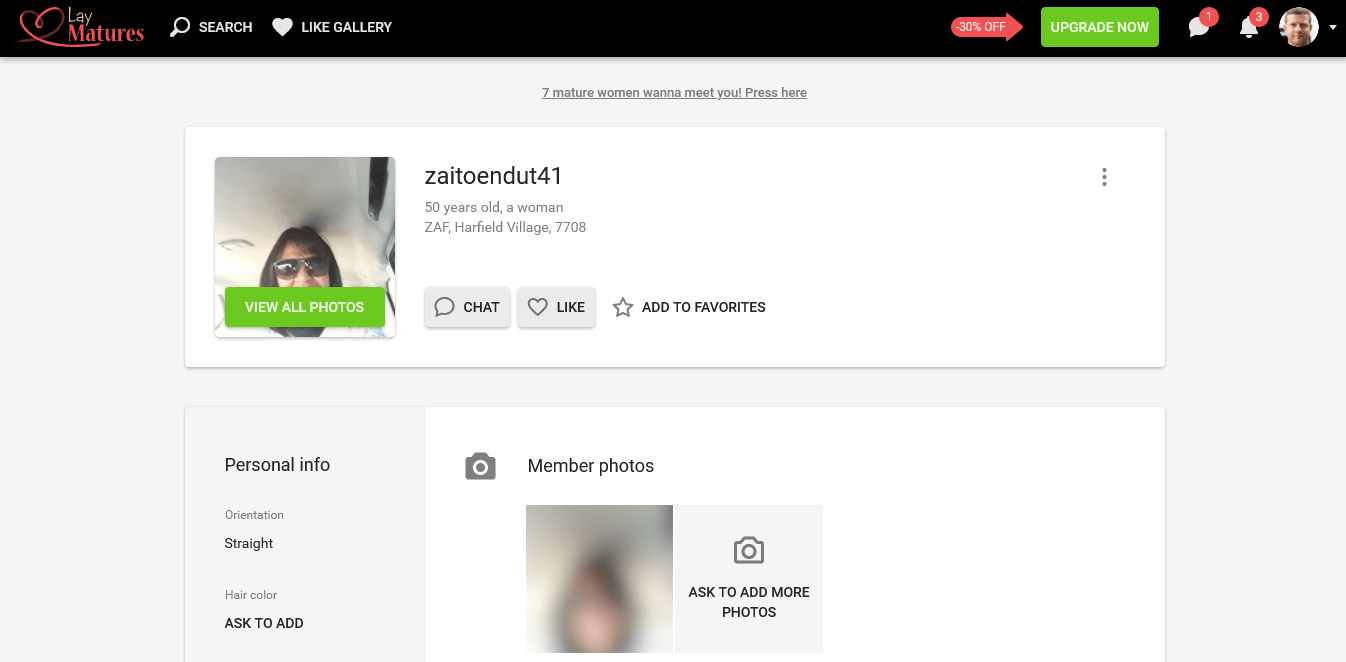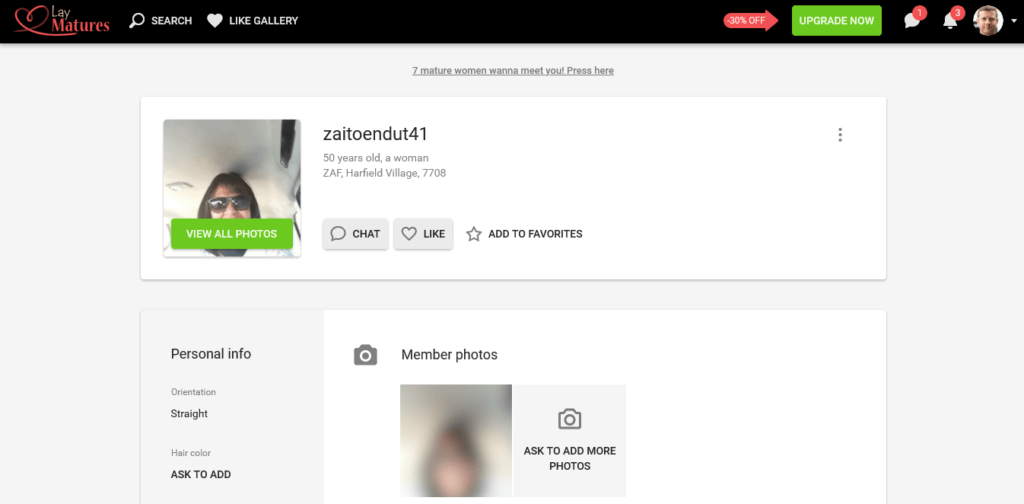 Completing your

LayMatures

profile
Earlier, we established that your profile isn't even close to completion.
In fact, all you really have is a user name (assigned by the site), your age, your location and your sexual orientation.
There is still so much for you to fill in here and before you really get involved in looking for matchups, I advise take the 15 minutes you are going to need to complete it.
Even though this is a hook up site, where people are attracted to others because of their looks primarily, users will still take the time to look at each other's profiles.
So what do you need to to complete it?
Well, it's pretty standard and there's nothing you wouldn't have seen before if you are a dating site veteran.
But it's packed with information, which I like.
If you haven't added your profile picture, then start there.
You can even add a profile video if you'd like.
Here's all the other information your profile contains:
Appearance parameters (hair color, body type, eye color, height and weight)
Your ethnicity
If you have tattoos or piercings
If you drink or smoke
Your income
Your education
If you have children
Where you are currently living
Your religion
You can even give your profile a status message.
This is up to you, but I would use it to let people know just what I am looking for.
Speaking of that, there is a "looking for: section in your profile as well where you can adjust the age range, location and gender of your preferred matchups.
I feel that the team behind Laymatures has got information in the profiles just right.
There is not too much going on here but enough to learn more about a potential matchup.
That's of course if they fill their profiles in.
Sadly, if 10% of the profiles I viewed on the site did, it was a lot.
That's the problem when you aim to get users on the site as quickly as possible without worrying about populating profiles.
People just never go back to do it.
And that's a major weakness of this site.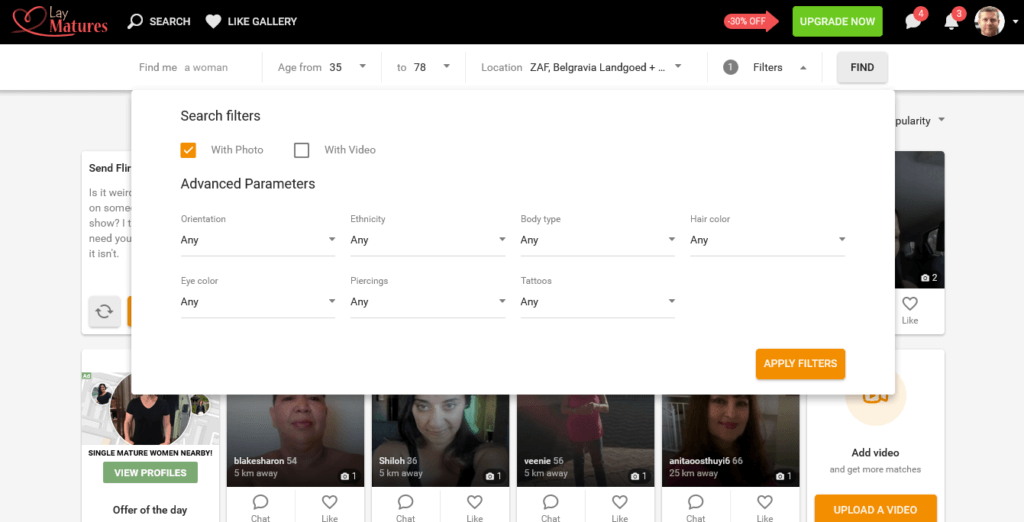 A Laymatures review wouldn't be complete if we didn't talk about how you would use the site in real life to help find matchups, now would it?
And that's what we are going to tackle now.
We've already seen that from the moment you enter the site, you are presented with matchups near your location.
Of course, most people will dive in straight there and begin to scan through them and why wouldn't you.
Again, these can be broken down into those that are new users, those that are online or all users that meet your criteria.
I often start with those who are online first but don't forget to scan all users too.
You might just miss a potential matchup that's not online currently if you only look at those that are active now.
Searching for a hook up on the site
Once you are done looking through site matchups, if you are anything like me, you are going to want to search for your own.
Perhaps you want to see profiles with a certain hair color or body type?
Or maybe you really are into tattoos and want to hookup with someone that loves them too.
Well, that's where the site search engine comes in.
Because it's here that you can adjust the parameters from users' profiles to help you find specific matchups.
Well, that's the general idea anyway… if only people had completed their profiles.
Obviously some have done so, so it's a least worth trying out.
But there is another major problem here.
LayMatures shares profiles with other dating sites.
I have seen the same profiles of certain users in the city where I love both on LayMatures as well as other dating sites that operate with the same layout.
Now my major question is, if someone signed up for a profile on another site, do they know that they are appearing on LayMatures as well?
If you read the terms and conditions of the site, it does say your profile may be used on another site.
I still think, however, that people think they are signing up for a certain kind of site and then they also appear on others.
Generally, however, these sites are all hookup sites it seems.
But it's not something I necessarily agree with.
I also noticed that as soon as you browsed someone's profile, around a minute later you received a message from them.
It's always something like "Enjoyed my photos? Would you like to play a game?" or something general.
Are those messages sent by those users, or are they bot messages made to look like the user is sending them?
I do not doubt that most of the profiles seem legit, I just think there are automated messages.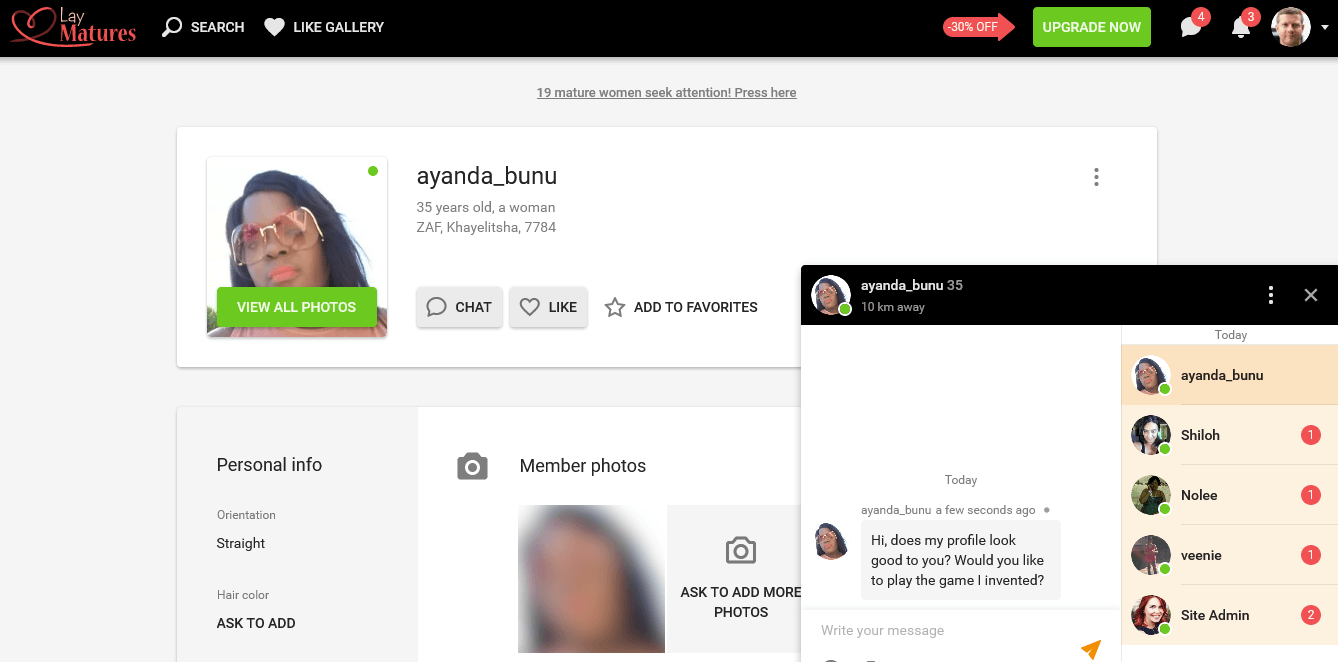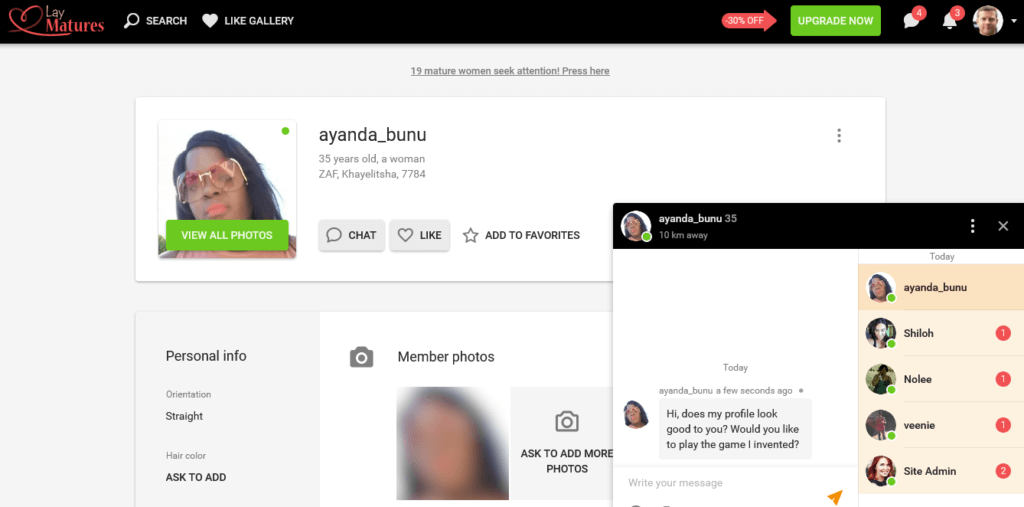 Although on LayMatures' landing page it says new users can send five messages to others.
Those five messages only count when you find someone who hasn't messaged you and you message them first.
Once those five messages are done, however, you are going to need a membership to send any further messages..
You also have the chance at a broadcast message.
This can be sent to all the matchups near your location.
These are pre-generated messages but are a good way to introduce yourself to other users, especially when you first sign up.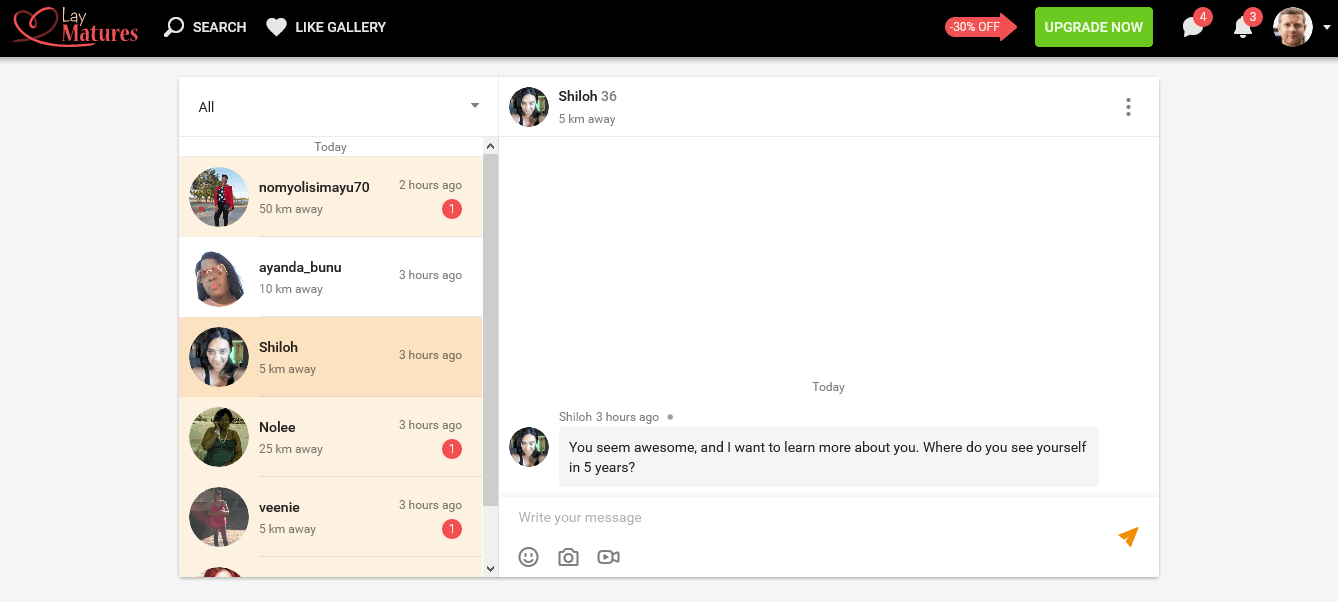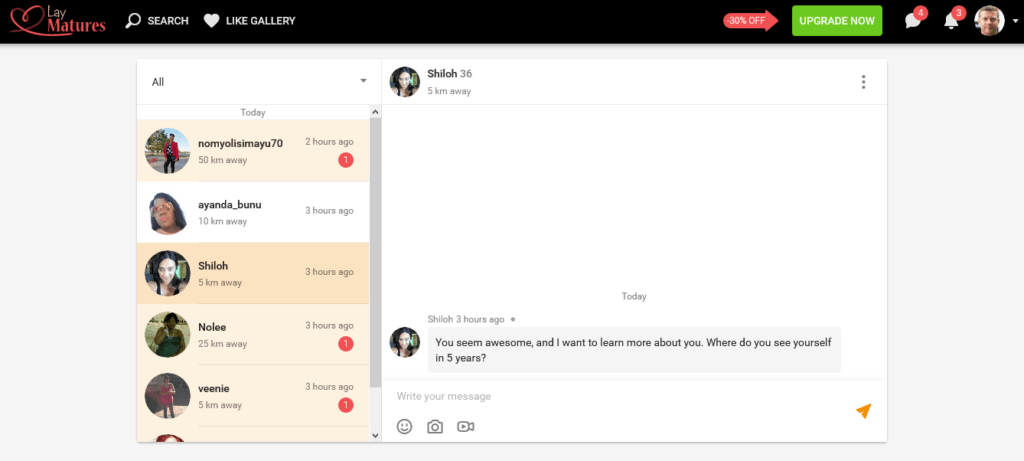 As a member of LayMatures, there are several key features that you can expect from the site.
Let's look through those that I feel are most critical.
Without messaging, your time on a dating site is going to be wasted, that's for sure.
Not only do you want to reach out to someone that catches your eye but if they send you a message, you want to reply as well, right?
So yes, for me this one of the most critical aspects that membership to the site brings.
And messaging is unlimited, both sending and receiving.
As long as you pay for a membership you can send as many as you like.
Remember that broadcast message I spoke about earlier.
Well, members can send more than just one.
It's a powerful tool because it allows you to reach out to so many people in one go.
But it would be even more powerful if you could write your own message.
I guess people would abuse that privilege and that's why it's scripted.
As a member of the site, you get extra customer support.
That means it's available 24/7 which is useful, for sure.
Not all of us do our surfing for hookups during office hours, right?
I love looking at profile pictures of someone that I might want to contact.
For a hookup site, you have to be attracted to someone, I am sure you would agree.
But on LayMatures, as a regular user, you can see someone's profile picture, you just can't enlarge it at all.
And ofter it will have a "View All Photos" link posted over the person's face depending on how they cropped their picture.
As a member, you can view all the photos uploaded by others in their full-sized glory.
While chatting with someone on the site, members are allowed to share photos within the chat.
If you want to send them a video, you can do that too.
6. See what they are looking for
If you want to know exactly what another user wants from a hookup or just what they are looking for, as a member, this information is available to you.
That's of course if they filled it in on their profile.
There are some more than useful key features on the site and others that you might use once in a while.
But how much are they going to hit you in the wallet?
Well, the good news is that if you want to "try before you buy" so to speak, LayMatures offers a three-day trial.
This is something I believe all dating sites should do and I am always happy when I come across those who do.
It also has one-week, one-month and three-month membership plans.
Here's a breakdown for you:
3-day trial: $2.97
One-week membership: $6.00
One-month membership: $25.00
Three-month membership: $41.40
I must just say that during my time on the site, they were running significant specials, so be aware of that.
I would advise everybody interested in the site to first trial it before they commit to anything longer.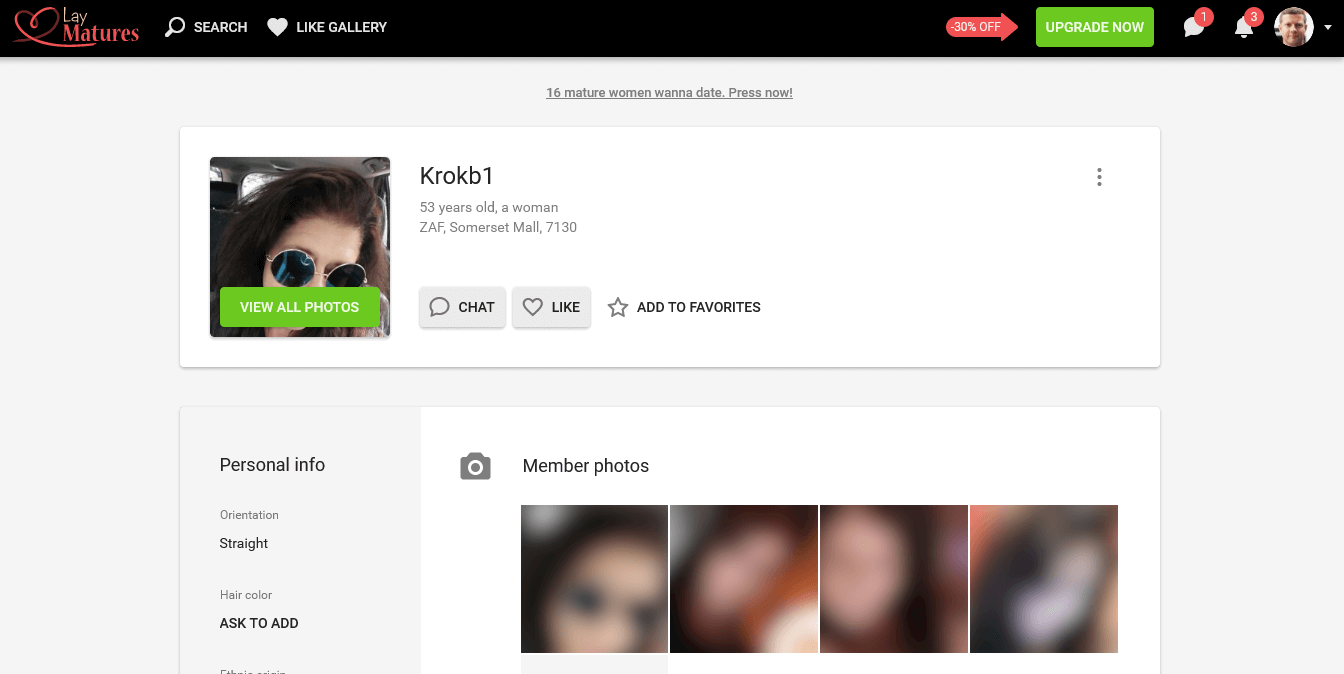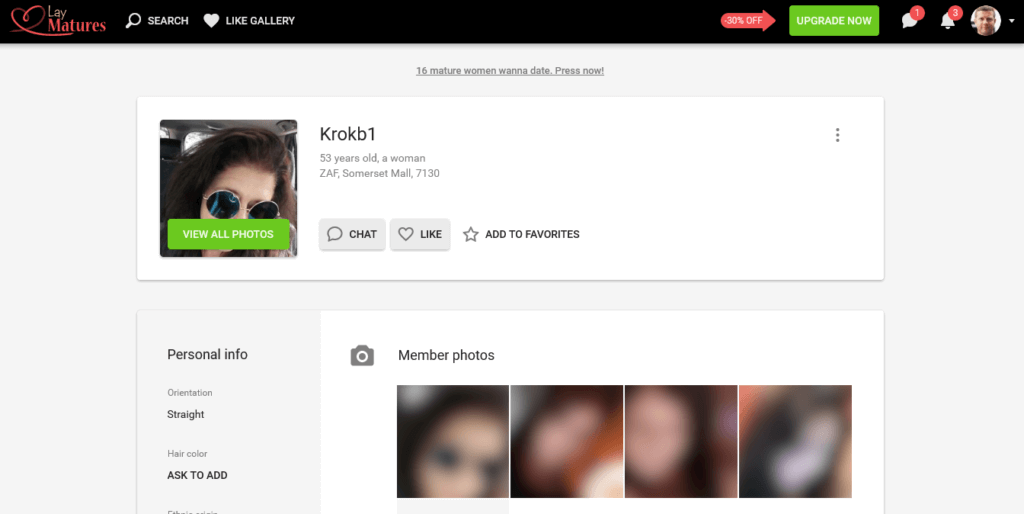 Conclusion and Overall Rating
Thanks for taking the time to read through this LayMatures.com review.
To summarize, this site definitely shares profiles with other hookup sites, without a doubt.
And I am sure that bot scripts are run to entice you to buy into membership so as to message other users back.
You do get five free messages to try the site but you cannot use them to reply to these messages and that raises my suspicion levels.
While I am sure you will find fake profiles here, I certainly did chat to some real people that live in and around my location.
But the sharing of profiles between sites really does put a downer on the whole site for me.
As for a rating, LayMatures gets 2.8 out of 5.
Our comprehensive review of LayMatures was put together by the team at Onlineforlove who spent weeks studying what it has to offer.
In that time, we concluded LayMatures is not only a hookup site to meet older women but that it does share profiles with other dating sites.
Our approach during the review was to identify key criteria by which to score the site overall.
These key criteria took into account, user registration, how user-friendly the site is and how it operates, the quality of the profiles, and how effective the search engine is.
Our overall evaluation also focuses on membership pricing, the success rate in matchups, how many users it has, and the features it offers.