Thousands of different online dating websites on the market offer unique types of dating, and Orchid Romance is one of them too.
If you are looking to meet Asian women and start dating ladies of this descent only, then it is the perfect place to meet your Asian bride.
For those who want to know whether this dating app is trustworthy and reliable, we have prepared a thorough guide on the platform.
This Orchid Romance Review will tackle:
OFL Top Recommendations based on 100,000+ Survey

"Serious Relationships"
"Discreet Hookups"
"Best Course for Men"
"Quick Flings"
"Normal Hookups"
"Our Quiz"
Is your dating app giving you the best chance for success?
Make sure to take our online dating site/app quiz to find out.
It's a fact that people who follow our dating site suggestions have on average 2 extra dates per month.
Signing up: 5/5
Making Contact: 3/5
Profile Quality: 3/5
Overall Quality: 3/5
Easy registration
Great messaging feature
Easy to use
Worldwide users
Expensive messaging
Not trustworthy
Too many bot accounts
While OrchidRomance.com is made for people looking for Asian women willing to change their marital status for them, it has a lot more male than female users.
Over 70% of users on the platform are male population interested in Asian dating, so there may be a few obstacles to meeting your perfect woman because there are so many guys to choose from.
Most registered users who are male are from the United States, Canada, or the United Kingdom, and if you visit the site, you will see those are men interested in international dating who want to meet a fun and different woman to enrich their life.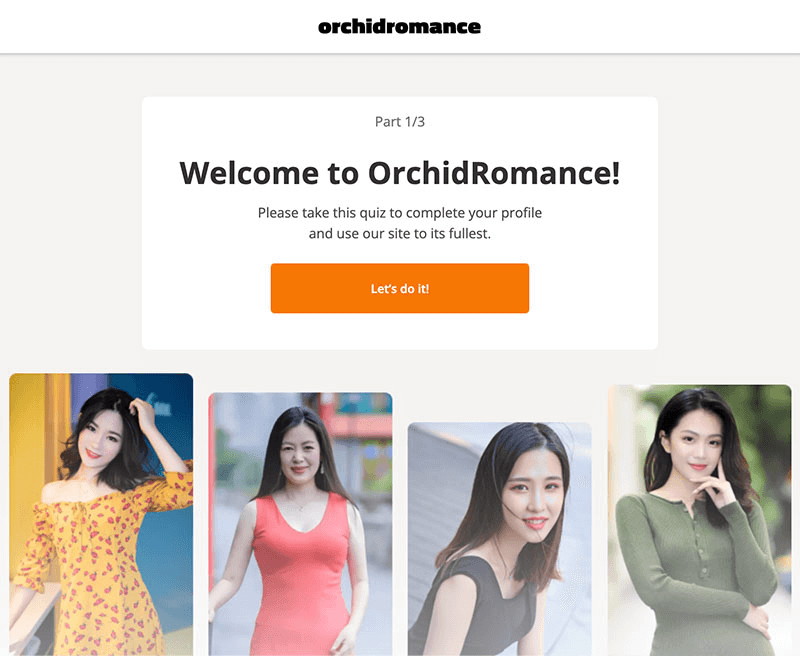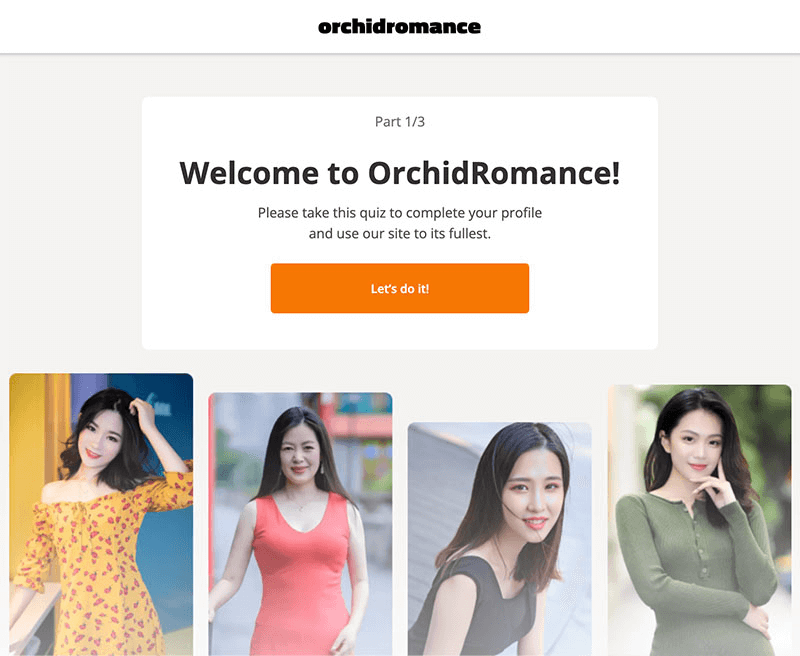 On this online dating platform, most registered women are Asian but live in the United States or in Europe, so your online relationship doesn't necessarily need to be way too long distance because she could be living pretty close to you.
A significant number of women live in China, Vietnam, and Japan.
Even though it is a good dating site, you need to keep in mind that there are not too many women, so you will need to stand out in order to impress them.
Orchid Romance website is made for people looking for a serious relationship (like eHarmony or Tinder) with an Asian woman, and there is not too much space for casual dating and hookups (like BeNaughty or Ashley Madison) because people don't want to waste their time and money on it.
It is also made for guys who are sincerely interested in Asia and Asian women and are not trying to bag one of them so they can show off or see how it is living with Asian people.
Most people don't perceive Asian women from this platform as people they will meet in real life, and sometimes they want to experiment, which is definitely not the way to go.
If you want to keep the functionality of the website and maintain its success rate, then join it only if you are 100% serious about Asian dating.
Orchid Romance In Numbers
Orchid Romance claims to have more than a million registered users worldwide, which can be debatable because most users feel like there are not that many users on the platform.
This is also one of the dating services that doesn't require a subscription but rather forces you to buy tokens for messaging, and you will need to pay at least 20 dollars if you want to send around 50 messages.
Their success rate seems to be more than 70%, but that is also sketchy because we don't have too many reviews or experiences of people who got married this way or have entered a long-term relationship.
The online dating experience on Orchid Romance is quite simple, and you will be able to use it without too much effort because it is designed like most other dating apps.
The registration form and verification procedure are very simple, and once you fill out all the blanks, you will be able to proceed and create your dating profile.
You will need to add information like date of birth, name, surname, occupation, and education, but also answer some short questions about your love life, which will pave your way to Asian girls.
However, you will need to fill out a short questionnaire, and the answers from this one will be used to modify search filters and look for your perfect match on the platform.
The user experience is smooth because all the options and features are available at your hand, and the website offers a simple guide that will allow you to navigate through it easily.
Online communication and connecting with other daters on this online dating site is very simple, and the algorithms will start connecting you with people who seem to be the most interesting and who fit your questionnaire answers the best.
Their instant messaging feature will allow you to chat with users just like you would on Instagram or Facebook, so you don't have to worry about the quality of it.
However, there are not too many free features, so keep that in mind before you decide to join.
All of the communication tools are great, and the platform seems to work pretty well, so Orchid dating is a great option if you are looking for an easy way to meet Asian women.
Quality Of Dating Profiles
The quality of dating profiles on the Orchid dating site is decent, but it certainly doesn't provide you with enough information about a potential partner.
You will see a few public photos, their name, surname, and what they do for a living, but you will not be able to hear too much about them until you send them a message, so even when you view profiles, you will not be able to realize what kind of person you are dealing with.
Overall, it is okay, but it can be easy for scammers to get verified, too, so you must be careful when talking to people, especially when setting up real-life dates.
Keep your eye out on fake profiles, and make sure you talk and perform an extended search before you opt for something serious, whether you are a man or a woman using this platform.
Orchid Romance doesn't have a mobile version, and there is no Orchid romance app, which may make things a bit tough if you want to connect with Asian ladies.
You can only use it through the browser, so don't download any mobile app options you see because they are not the real platform.
The OrchidRomance dating site claims its success rate is over 70% and that they have connected plenty of new users with its perfect matches, but there is not too much evidence for it.
If you have read the Orchidromance dating site review or two, you have seen these people are not that satisfied with the overall performance of the platform and haven't been able to find anyone to match.
Some of them even claim the whole platform is a scam and that there aren't even women from different countries but bots.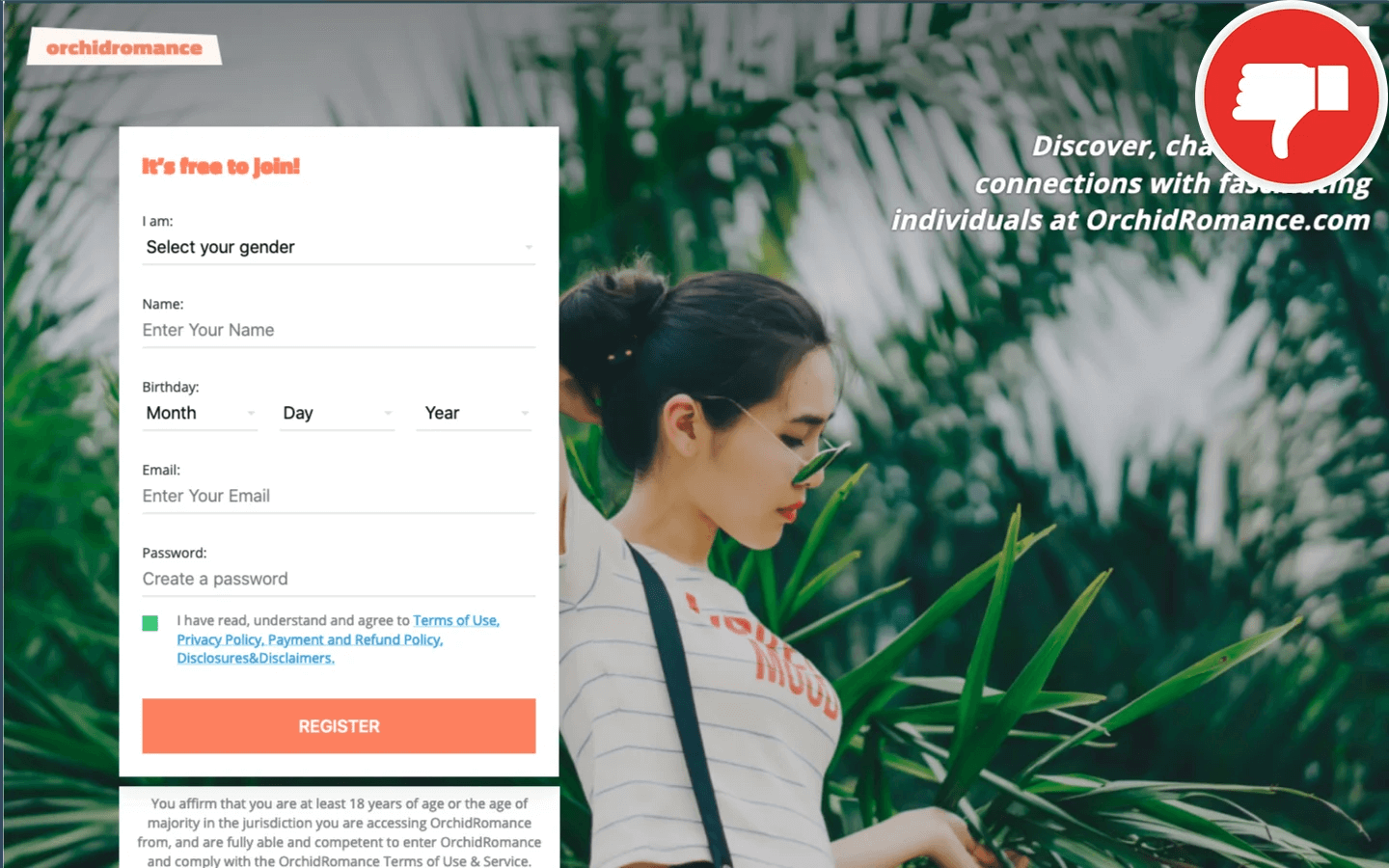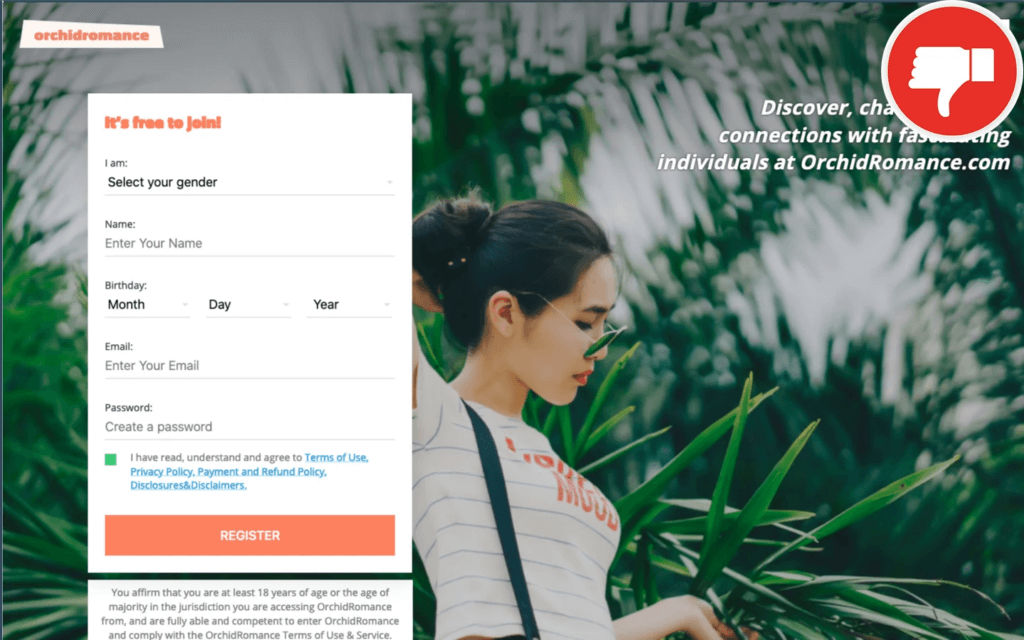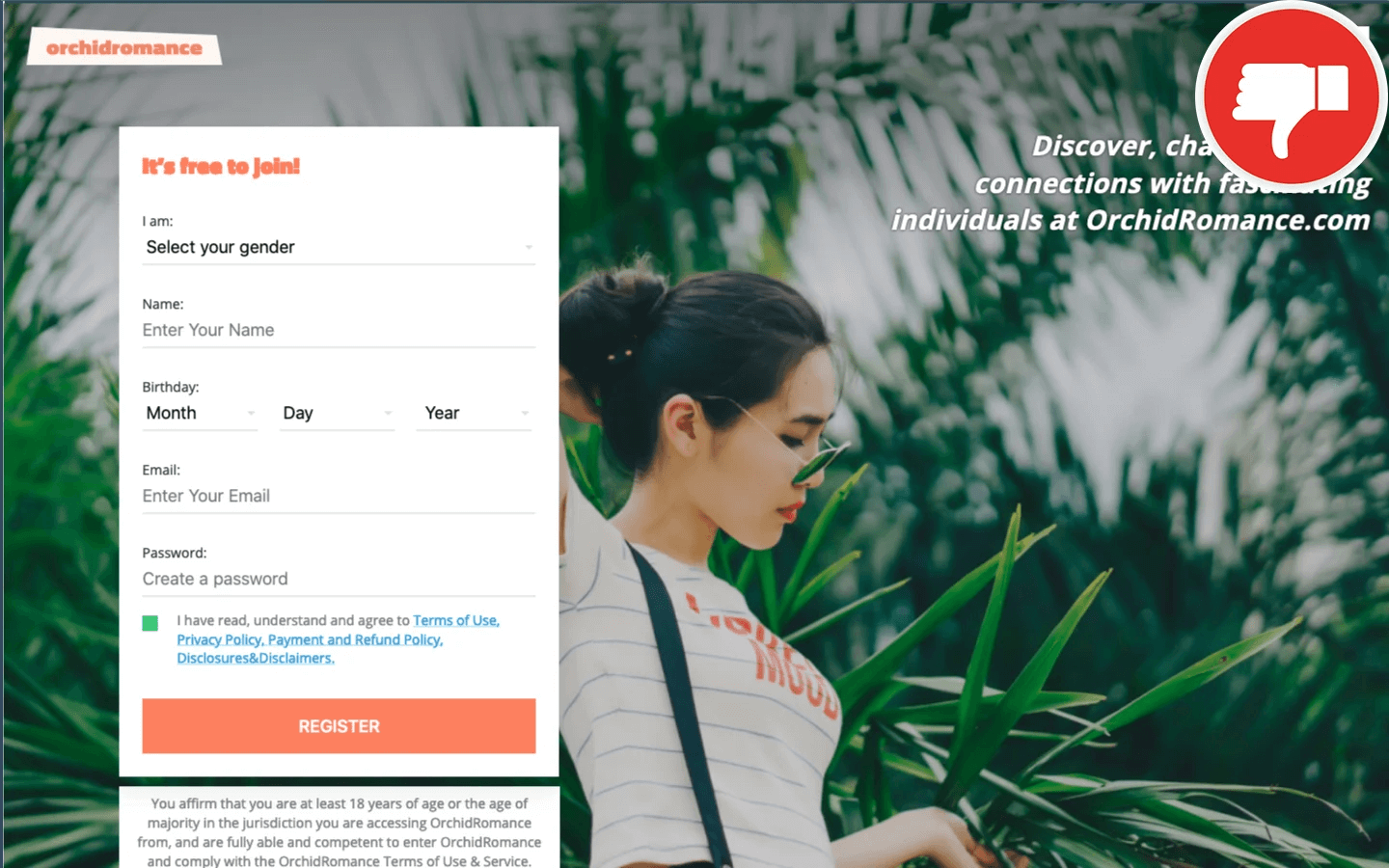 However, there are some positive reviews, too, so you will need to try it out for yourself to see how things go.
How To Search For Matches
Searching for matches on Orchid Romance is very easy, and all you need to do is fill out the questionnaire at the beginning and let the algorithm search for people who fit the description.
All interesting people will appear on the main page so you won't need to spend hours looking for them because all the best matches will appear immediately.
How To Reach Out To Others
Reaching out to other users on Orchid romance is also easy, but you must keep in mind that you must purchase credits if you want to message anyone.
There are no free credits for messaging, and you will need to purchase credit packages to send any messages to interesting people.
If you want to exchange 50 messages, you will need to pay 20 dollars for it, which is extremely expensive compared to other more popular dating platforms.
All messages need to be paid for, so it isn't the cheapest way to start meeting people.
There are not too many features offered by Orchid Romance, especially not free services, because the platform is very simple.
You can send virtual gifts, which start at 100 dollars, and the users even claim this isn't sent to people you talk to but rather given to the platform without any reimbursement.
They offer you to find out the e-mail address of the person you are looking for, but this will cost you 8 dollars, and every e-mail you send to them will be additional 2 dollars, so it is just a stupid way to take more of your money.
There is also an additional live chat feature which is paid 0.2 dollars per message and is pretty much the same as instant messaging, so it is a complete waste of money.
As we have already mentioned, you are not paying for a subscription on Orchid Romance but instead purchasing credits for messaging, which can be very expensive in the end.
Fifty messages will cost you 20 dollars, while 120 messages will cost you 50 dollars.
If you are really interested in connecting with other users and exchanging experiences with them, this won't be enough, and you will need to spend hundreds of dollars to connect with Asian women.
The platform is very expensive, and it is not even that efficient, so it is a complete waste of money.
Is Orchid Romance A Scam?
Plenty of users complain that Orchid romance is a scam and that they never established real contact with someone.
Some men claim that they were talking with bots all the time and the behavior of so-called females on the platform was nowhere near normal because all messages sounded too generic.
The Orchid romance scam suspicions were also sparked when people started connecting and realizing none of them had met these women in real life, which has caused a lot of controversies.
Although people were messaging the Customer support team to tell them why their matches are not responding or why their profiles have suddenly changed information, they didn't receive a response, so we can say that some Orchidromance scam is happening at the moment.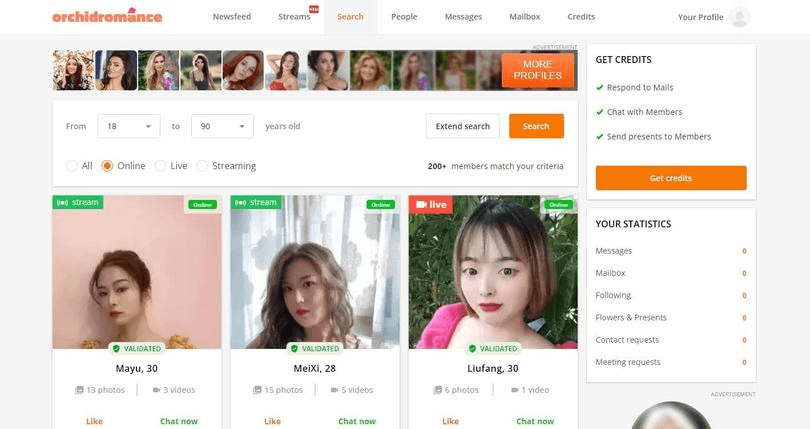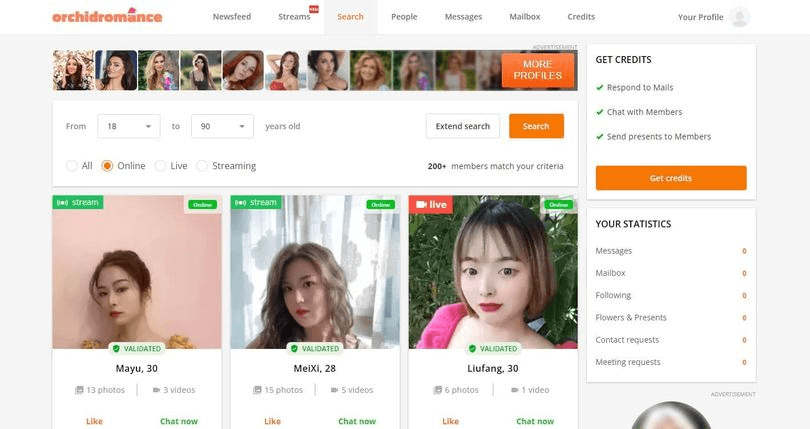 If you decide to use this platform, I recommend you to be very careful and not spend money on any of the features until you are sure the platform is working.
As you can see, Orchid Romance is not that bad of a dating site, but it is not very trustworthy, and the reviews on it differ a lot, so you can never be sure whether it is legit or not.
If you are looking to date Asian women and you want to be sure you are using the right place for it, then you should probably skip Orchid Romance and go for something with a lot more users and positive experiences.