Welcome to today's dating site review where we assess and analyze IWantHotties.com.
This online dating service provides a platform for men and women to meet hotties!
And yes, there are some beautiful women and handsome men to be found here.
Mostly, the dating website is filled with people who just want to hook up or those more into flirty casual dating.
OFL Top Recommendations based on 100,000+ Survey

"Serious Relationships"
"Discreet Hookups"
"Best Course for Men"
"Quick Flings"
"Normal Hookups"
"Our Quiz"
During our evaluation of this adult dating site, we will specifically look into:
So what are you waiting for?
Let's get going on this review of IWantHotties.com.
Is your dating app giving you the best chance for success?
Make sure to take our online dating site/app quiz to find out.
It's a fact that people who follow our dating site suggestions have on average 2 extra dates per month.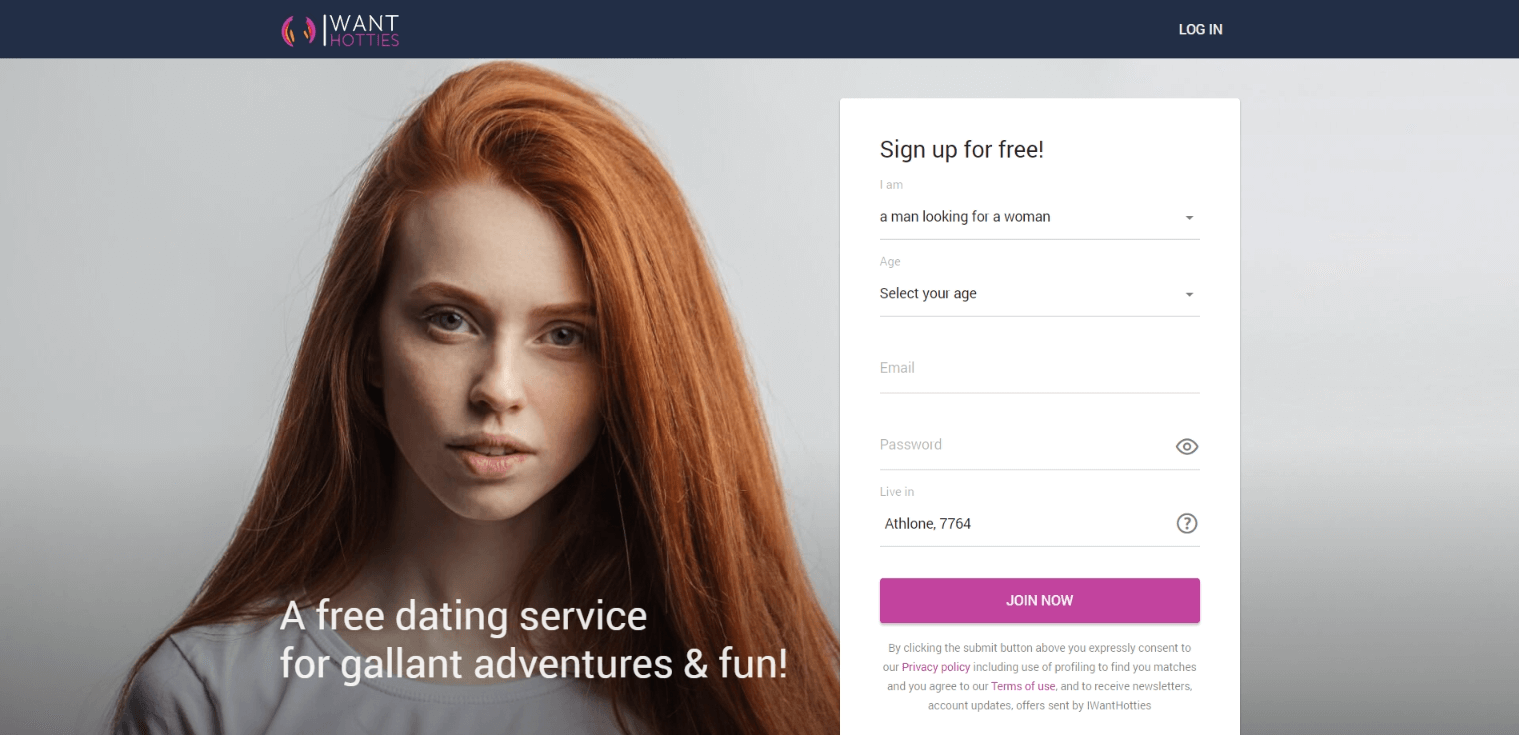 Ease of Use 4/5
Effectiveness 4/5
Key Features 4/5
Price 4/5
LGBT friendly
You can sign up and have your profile up and running in minutes
Well-designed and easy to use
Active member base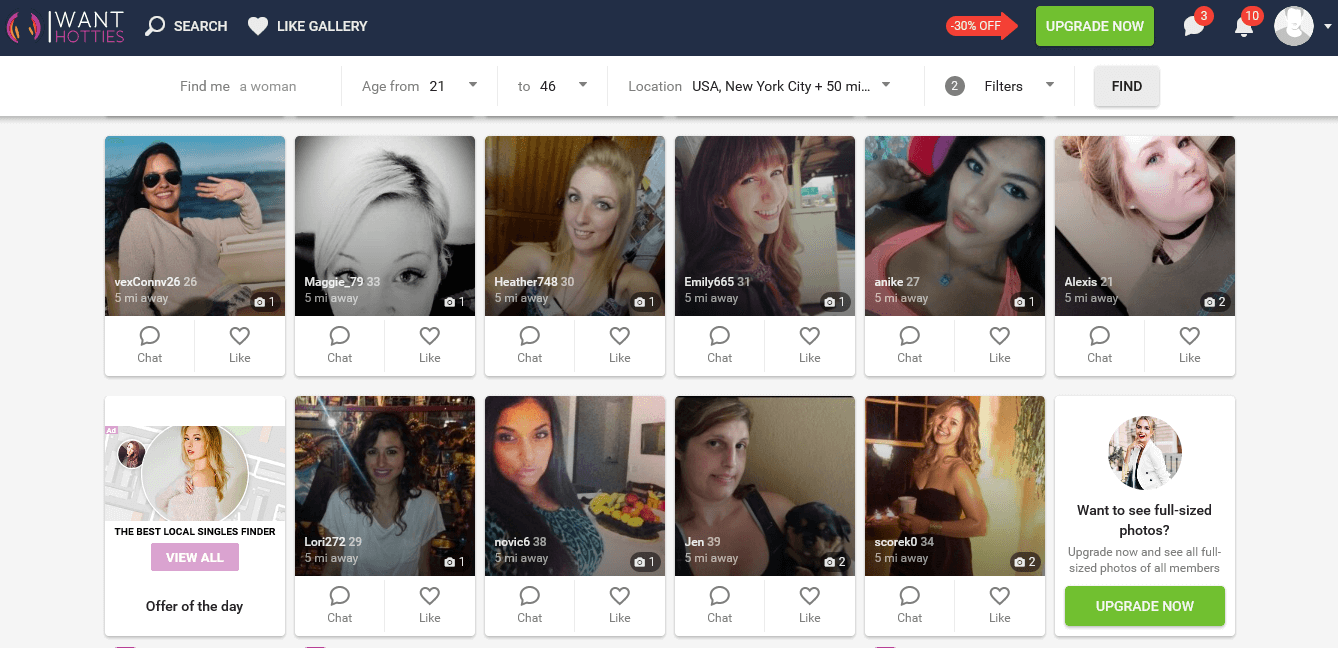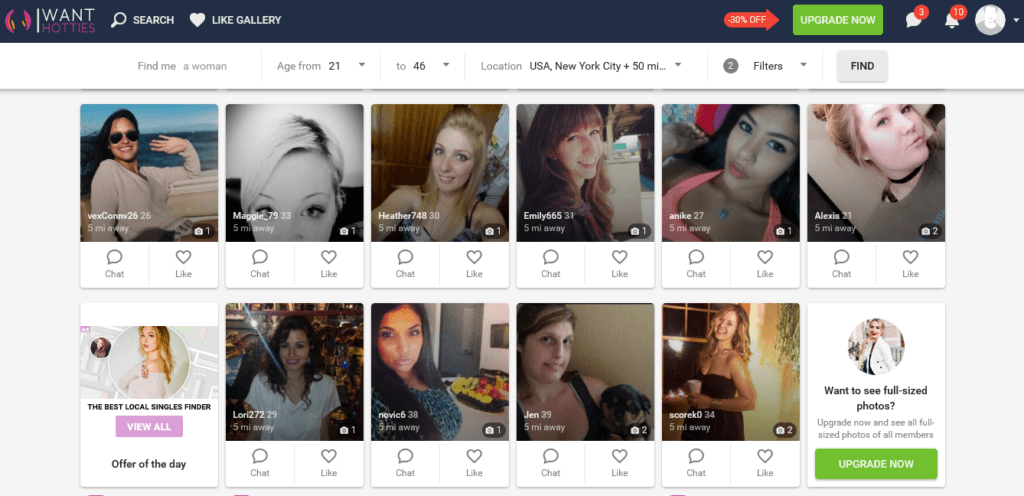 Who's It For/Demographics
This is a real-life dating site for people who want to meet and hookup (like BeNaughty or Ashley Madison).
Of course, that can lead to a long-term relationship (like Tinder or eHarmony), but that's not the primary aim of the site at all.
Here it's all about flirty flings and as the website says "gallant adventures and fun!"
Unlike many other dating sites, you won't find user numbers for the site on their landing page.
OFL Top Recommendations based on 100,000+ Survey

"Serious Relationships"
"Discreet Hookups"
"Best Course for Men"
"Quick Flings"
"Normal Hookups"
"Our Quiz"
Despite my research, I could not find any reference to just how many people might have joined up to the site at all.
I can report that there were hundreds and hundreds of profiles to look through for the city I live in.
And because signing up for an account is a quick process, anyone that wants to try the site out can easily see what their situation is in terms of the number of other users near them.
As mentioned above, registering for this site takes mere minutes.
You can do so from their landing page as you won't find an official app for IWantHotties at all.
Registration requires all the regular information you would expect including:
Your gender and the gender you want to match up with
Your age
Your location
Your email address
A password
It must be a valid email address because the admin team from IWantHotties will send you a confirmation email with a link that you need to click on to enter the site.
Once you've done that, you will start filling in your profile, or you could skip it and come back to it at some point down the line.
I always believe in getting this done as soon as possible and it won't take much of your time.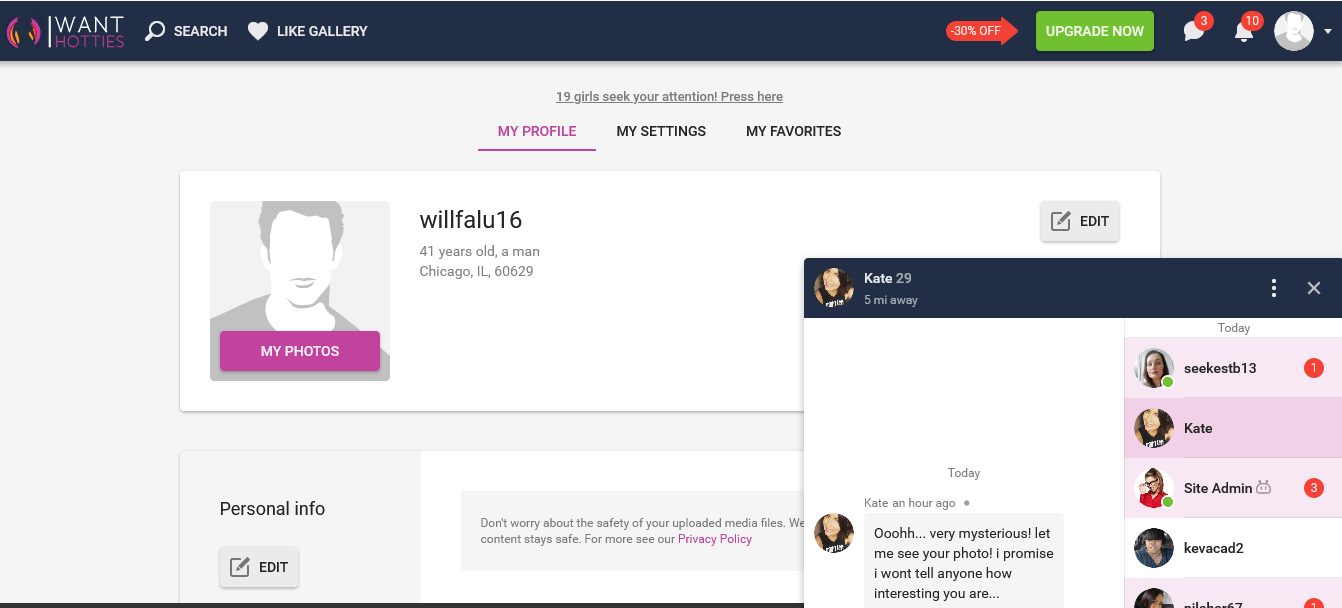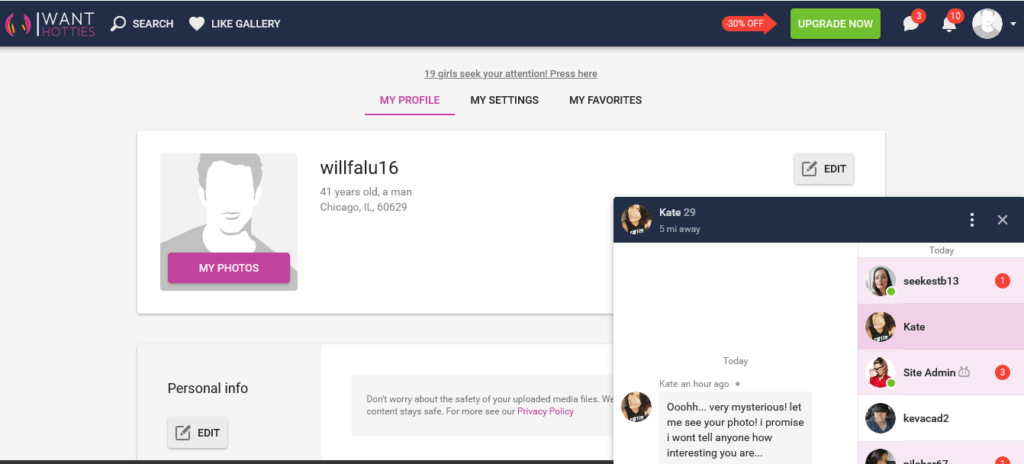 It's important to note that filling in your IWantHotties profile takes place in two stages.
First up, when you register you have to upload a profile picture.
Make sure you follow the photo guidelines which are posted at the bottom of the page otherwise you stand the chance of not having your photo approved.
Just go with a good old selfie, that always works as it will show your face.
That's exactly the kind of photo the admins want.
Just don't leave it out because according to IWantHotties, your profile picture will lead to higher search positions, more likes and up to twice the number of messages received.
Next up you are required to add the following information:
Username (the site does autogenerate you one but it's better to add your own)
Profile status (always come up with something that makes you stand out from the crowd if you can)
Body type
Hair color
Ethnic origin
Eye color
If you have a tattoo
If you have piercings
That's it for the first part.
To complete the rest of your profile, you need to click on your profile picture and select the My Profile menu.
Now can also add:
Your personal habits (do you drink or smoke)
Your level of education
Your height and weight
If you have children
If you want children
Your current living circumstances
Your religion
Your income level
From what I saw during my time on the site, it's all a bit hit and miss when it comes to profiles.
Some people have filled theirs in while others couldn't seem to be bothered.
I really don't get why people aren't concerned with completing profiles.
Of course, your picture attracts people to you, but profiles play a critical role too.
That's why they are there.
And that's your profile done.
It should only take you 10 minutes max to complete it, probably even less.
If you are serious about making any dating site work, you've got to get your profile done.
Now it's time to explore the rest of the site.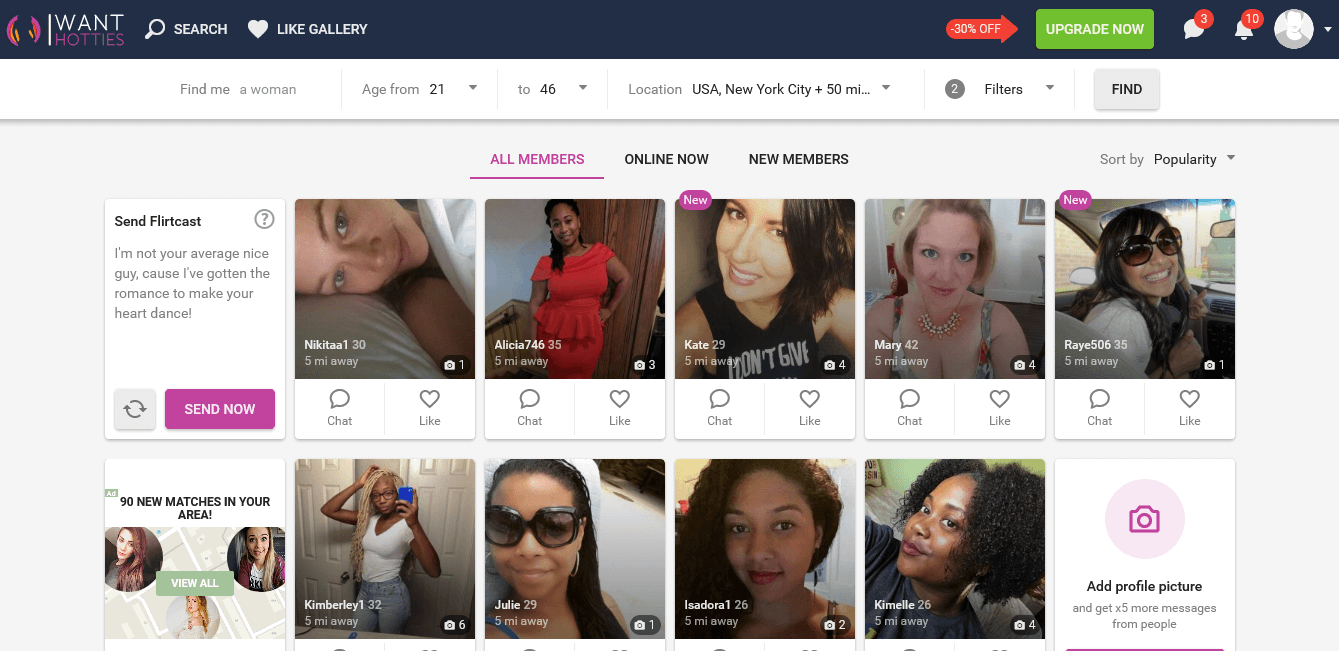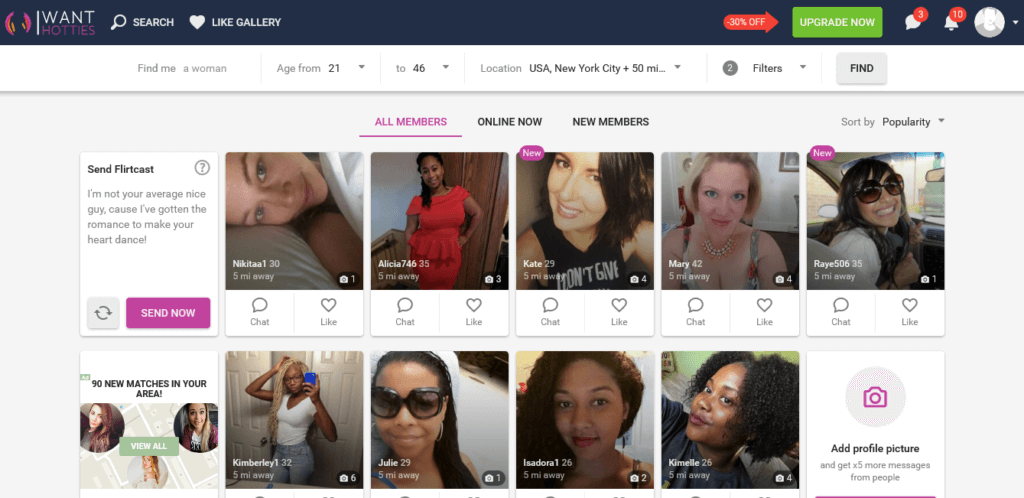 The home page is where you will spend most of your time on this online dating site, that's for sure.
Why?
Well, this is where all the profiles are presented to you, but that's something we will get to later in the review.
When you move away from the home page, you will be using the menu system to navigate the site.
This is uncomplicated and simple to use.
Nothing is hidden away here either, unlike on some dating sites where critical components of the site are an afterthought under a main menu or themselves just a secondary menu tucked away somewhere.
Here there are just five main menus to worry about and they are:
Search: This is the menu that takes you back to the home page and the matchups the site has selected for you.
Like Gallery: Instead of viewing multiple profiles, with the Like Gallery, you can view them one at a time and with larger pictures.
Messages: This takes the form of a chat bubble icon. Clicking here will show you all the messages others have sent you on the site.
Notifications: This takes the form of a bell icon. If someone has liked your profile or viewed it, you will be notified here.
Profile Picture: Clicking here will allow you to edit your profile, access various site settings, see your messages, get support, log out and even change the language of the site.
That's it.
I did say it was a very simple menu system.
Lastly, you will also see the Upgrade option.
That will remain on the site until you opt to sign up for membership, something we will cover later in this review.
Before we put this site to the test, I want to quickly talk about site settings.
You can access these by clicking on your profile picture.
Particularly, I want to focus on "Safe Mode"
This allows you to set parameters if you are scared of scammers or fake profiles.
There are three settings here: off, basic and full.
Off: This means anyone on the site can contact you
Basic: Profiles that have been flagged as suspicious by other users or the admin team cannot send you messages.
Full: The only people that can send you messages are those who have verified their profiles.
This is a neat feature that does provide some extra security to the site and you are in full control of how you would like to use it.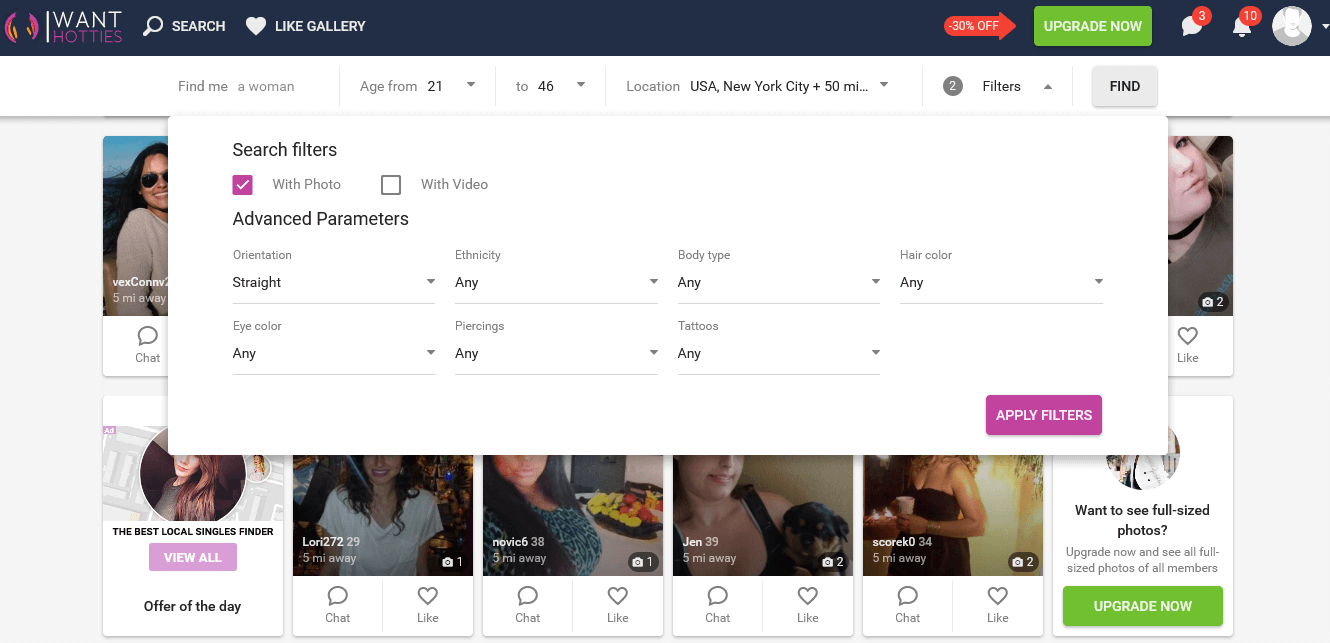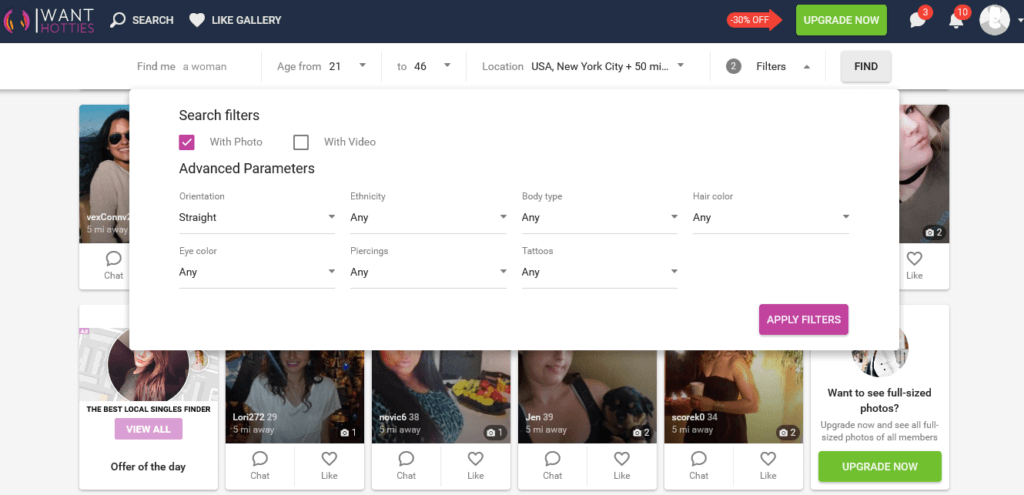 When using the site, I think most people will spend their time on the home page looking for potential matchups.
There are several reasons for this.
First up, you can see rows of profiles at a time.
The default for most screens would be two rows of five, so that's 10 profiles where the profile pictures are pretty big, which I do like.
Also, you can easily scroll down if you'd like to look at a new batch.
Secondly, under each profile, you will find a message icon and a like icon.
So if you see someone that immediately stands out to you, you can quickly like them and carry on looking at others, adding more to your likes as you go along.
Or, you can get the ball rolling and message them straight away.
You will also notice that there are three ways in which these profiles are displayed:
All users (default)
Online now
New members
I think it's best to keep this on all users.
You can still then easily send messages to people or add them to your likes to contact later.
New members are something to keep your eye on as well.
Remember, people are joining the site every day, so once in a while be sure to check the New Members tab for potential matchups instead of going through the regulars over and over.
The last thing I want to talk about is the way you can sort profiles.
You have four options:
Age
Distance
Popularity
Last activity
I set this to distance as I want matchups to be as near to my location as possible.
Also, take note of the search bar at the top.
Here you can change various filters in including age range, location, appearance parameters, and more.
These are all based on profile information, so it can be a bit hit and miss if people haven't gone through the trouble to complete theirs.
Lastly, don't forget the Like Gallery if you prefer to see bigger profile pictures and users shown one by one.
From the Like Gallery, you can either like or skip on profiles as well as seeing the other pictures someone has uploaded to the site.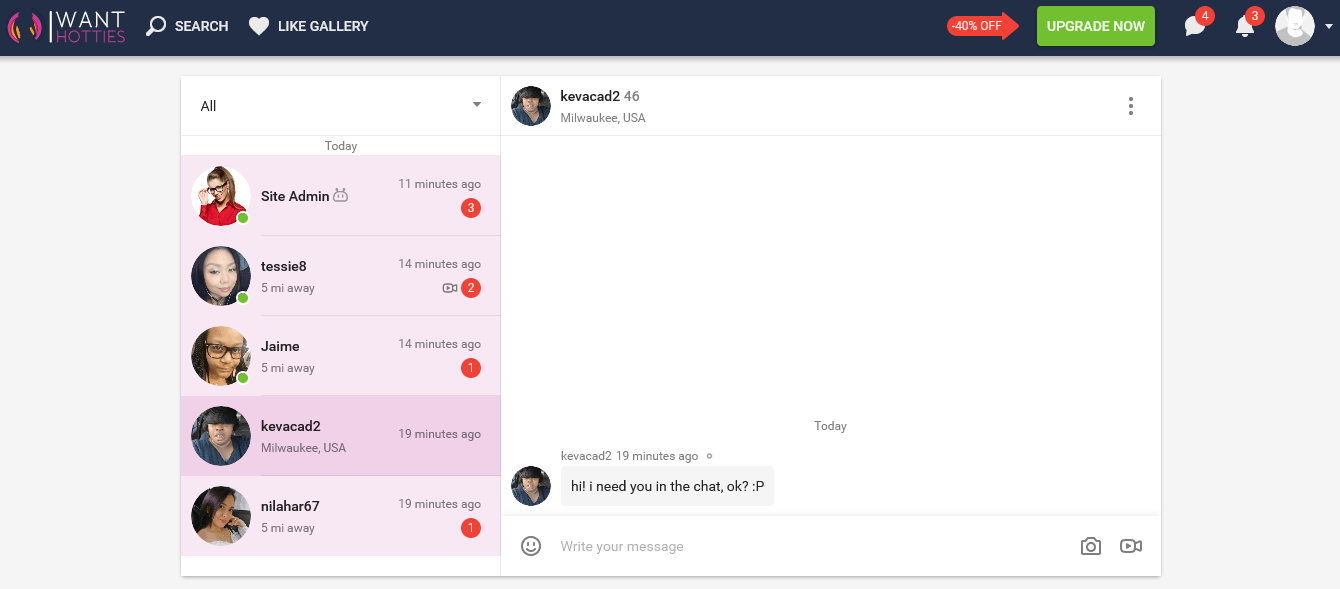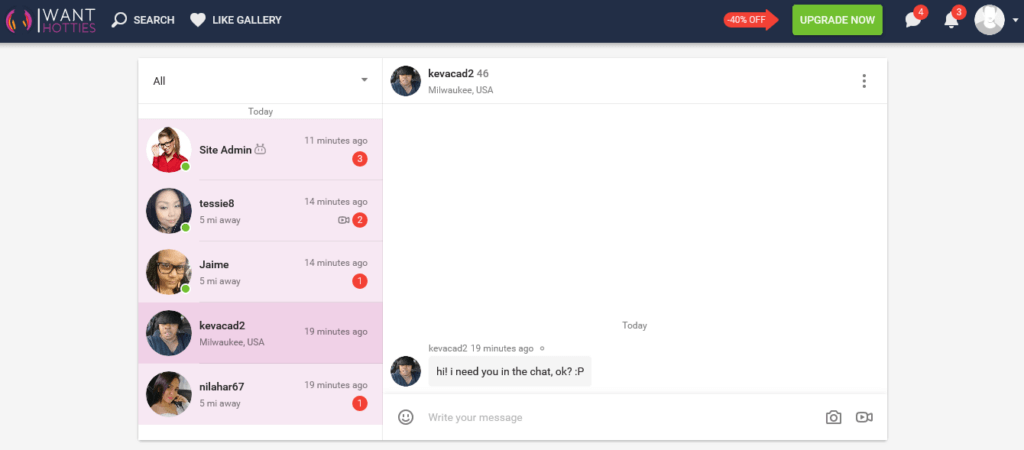 Messaging someone on IWantHotties
So how do you reach out to someone on the site?
Well, you are going to have to be a member.
While all free users do get five messages when they first log into the site, these are quickly used up as you can imagine.
Messaging on the site takes the form of an instant message system.
So if you do message someone, it will open a chat window between the pair of you.
As soon as you type and send, your message will then appear in that chat window for the other users to see and reply to.
Their replies will also appear straight away.
It's a quick and efficient system.
There are no other ways to communicate with someone other than liking their profile.
They will receive a notification that you have done so.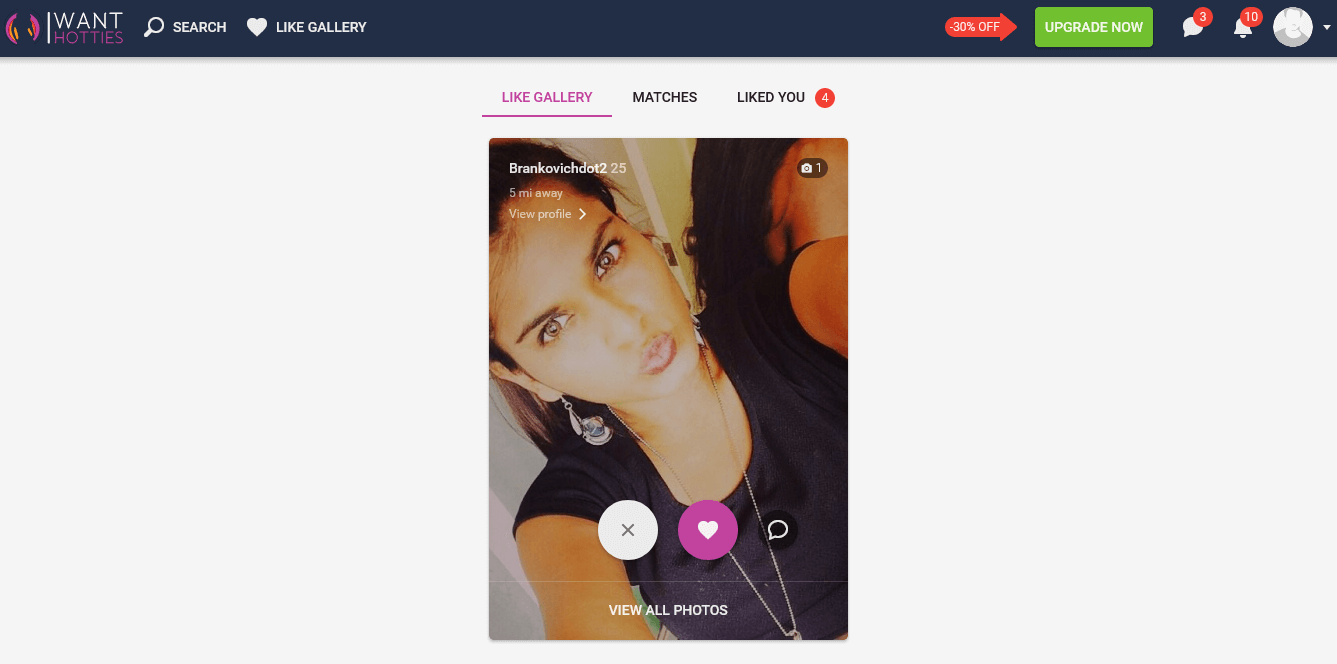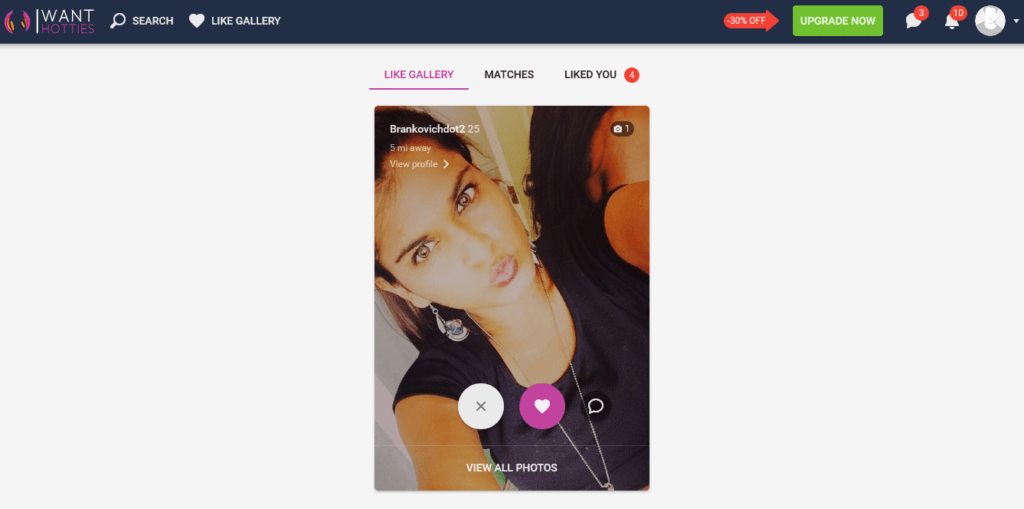 If you opt to sign up for paid membership, there are a few key features that this brings to your disposal.
I am going to highlight them now.
There is just no other way to get into contact with other users on the site.
So if you want to use IWantHotties effectively you are going to have to be able to send messages.
This is the most critical of all the member extras.
The good news is that while some sites still put a restriction on the number of messages a member can send, that's not the case here.
You can send a million messages a day if you wanted.
You also have unlimited replies to any messages you might receive.
When you view profiles on the site as a regular user, you would have noticed that other than the users' profile picture, any others that they have uploaded are blurred out.
That's because it's only members who are allowed to view other photo galleries.
They are also the ones that are allowed to view these pictures in full size.
Also, a new feature on the site lets users upload videos to their profiles as well.
These cannot be watched by free users but only those paying membership.
Although the site has an excellent support portal, if you opt for membership, you can rely on support right round the clock.
Got a question on blocking someone? Or perhaps you want to cancel your subscription and don't know how to.
You can easily access the support team from the settings menu.
4. See what others are looking for in a relationship
This one's pretty useful I think.
It allows you to see the type of relationship a user is looking for.
That quickly helps you eliminate someone as a potential matchup if they aren't wanting the same thing that you are.
Paying members are guaranteed even more search returns than regular users.
These extra matchups will be based on your preferred parameters and will appear in the search returns on the home page.
While chatting with other users, you can instantly share any photos or videos that you want with them.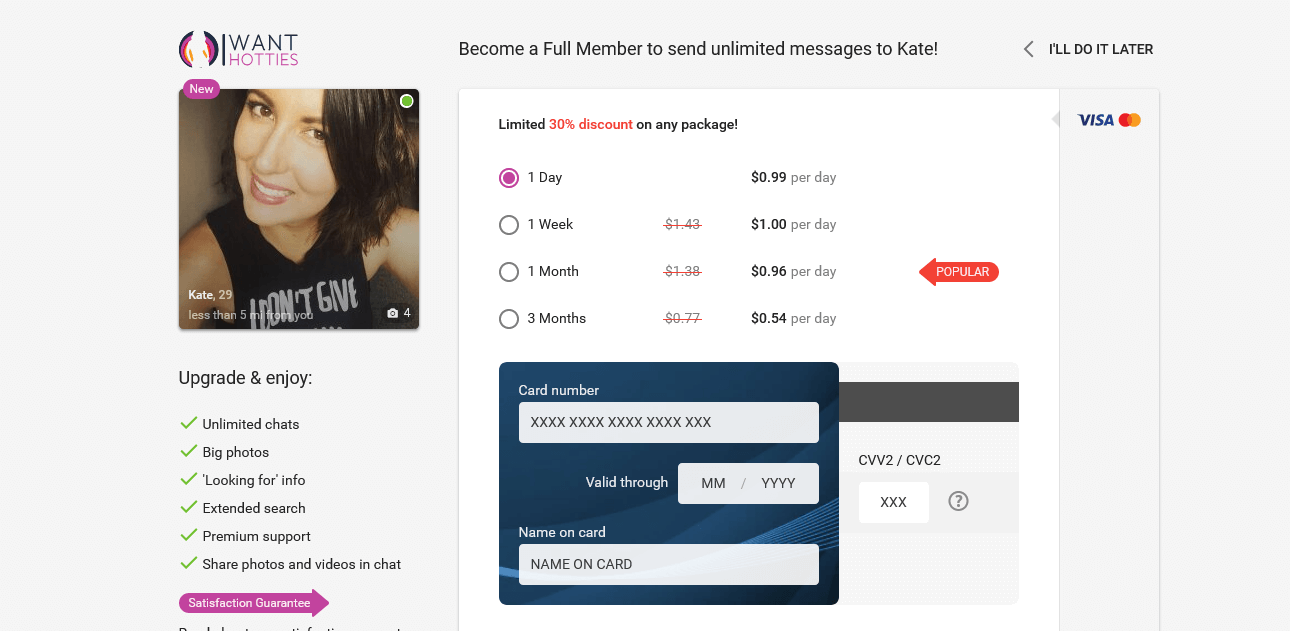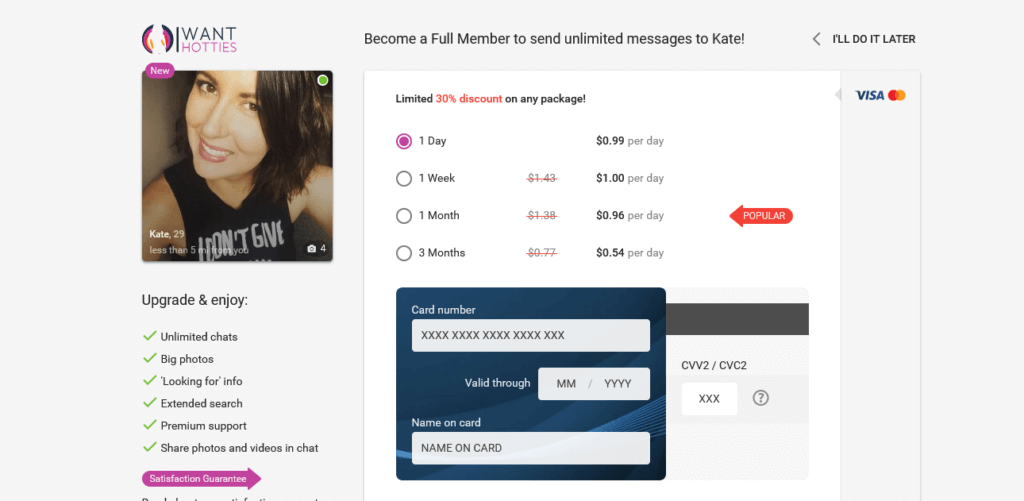 While I like some of these key features, especially extra search returns and the ability to see all photos, many other dating sites offer more.
So how much are you going to have to pay to sign up for membership and what options do you have at your disposal.
Well, quite a few actually.
Here's a full breakdown:
1-day trial: $0.99
1-week membership: $7
1-month membership: $29.99
3-months membership: $49.99
While you are on the site, you will notice that there are many extra specials that IWantHotties runs.
For example, you can pick up an extra day on the one-day membership and still pay just 99 cents.
There are also 40% off certain packages from time to time and these will just pop up on your screen while you navigate the site.
Overall, the pricing here is very competitive.
I am always happy when I see one-month membership priced below $30.
Anything above that and with the key features offered, I think the site would have been a little bit on the expensive side.
But for me, as it is, it is priced perfectly.
As for payment, the only option is to use your credit card.
Conclusion and Overall Rating
That's it for our IWantHotties review.
Let's summarize what we have learned about this dating site.
Although I couldn't find out much information about demographics, it's a dating site that to me seems pretty busy.
Certainly, in my city, I had hundreds of potential matchups to scroll through.
If you'd like, you can even search further afield too.
If you want to find that perfect matchup, you will need to buy a membership because that's the only way you can send messages.
There are a few other useful key features but perhaps most importantly, IWantHotties gives you a few different membership packages at various affordable price points.
You can even join for a day or a week and try the site out.
Always remember to cancel those subscriptions however even if you are going to sign up for a different package.
This is a dating site where it is easy to start a profile and see just how many potential matchups are near your location.
In fact, you can sign-up, complete your profile and make that judgment in under 15 minutes.
So what are you waiting for?
Today, IWantHotties scores 4 out of 5.