No doubt you've heard about websites like MatchTruly.
It's on international dating websites like this that you can meet gorgeous women of a particular region for a serious relationship (like Tinder or eHarmony) or, rarely, for hookups (like BeNaughty or Ashley Madison).
For example, you will find sites that are dedicated to Asians or Latinas.
On this dating platform, however, the women you will find are Russian, Ukrainian, and from other Slavic countries.
OFL Top Recommendations based on 100,000+ Survey

"Serious Relationships"
"Discreet Hookups"
"Best Course for Men"
"Quick Flings"
"Normal Hookups"
"Our Quiz"
But does the Match Truly site deliver on what it promises?
Well, that's what we aim to analyze and research in full in this review.
That means evaluating the following:
So if the Match Truly dating site has been on your radar for a while but you still aren't sure if it can provide you with the perfect matches you are looking for, explore this review to help you make up your mind.
Is your dating app giving you the best chance for success?
Make sure to take our online dating site/app quiz to find out.
It's a fact that people who follow our dating site suggestions have on average 2 extra dates per month.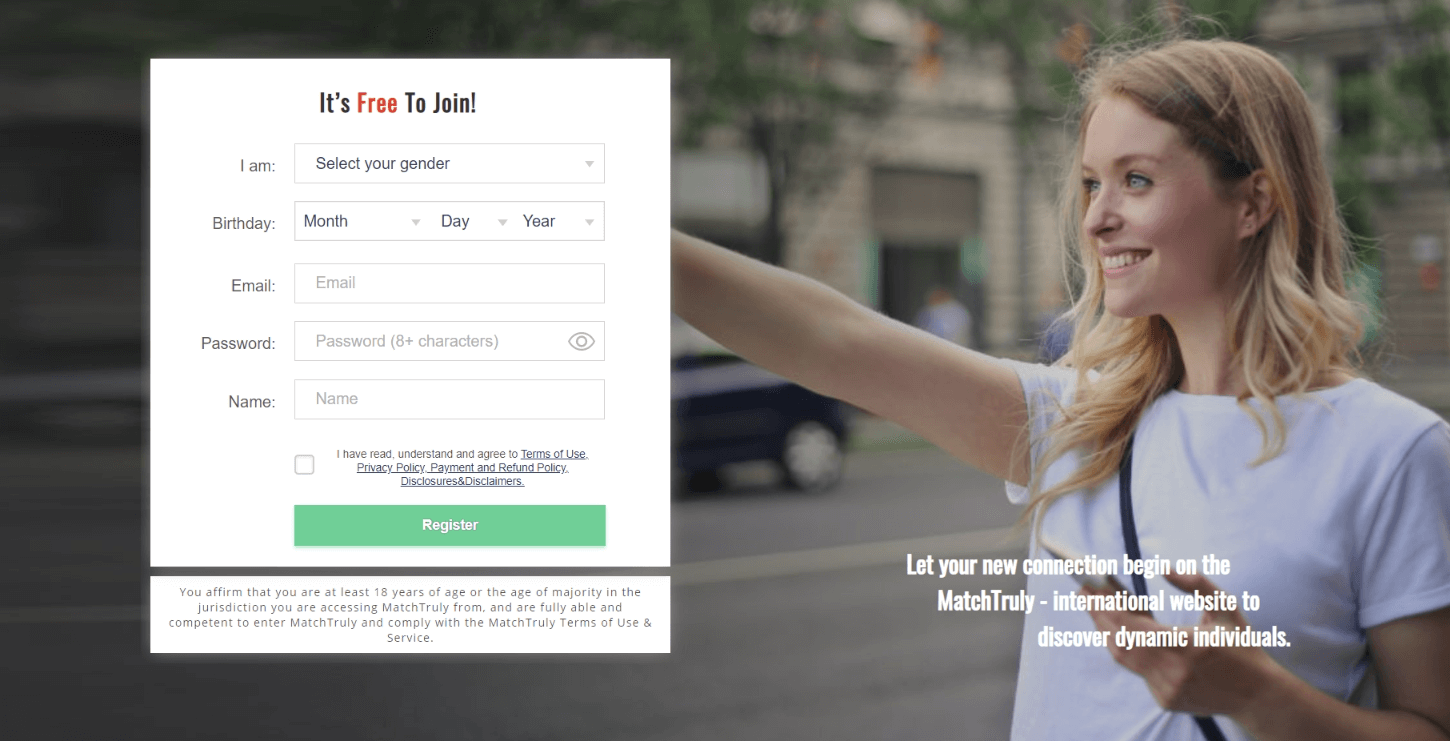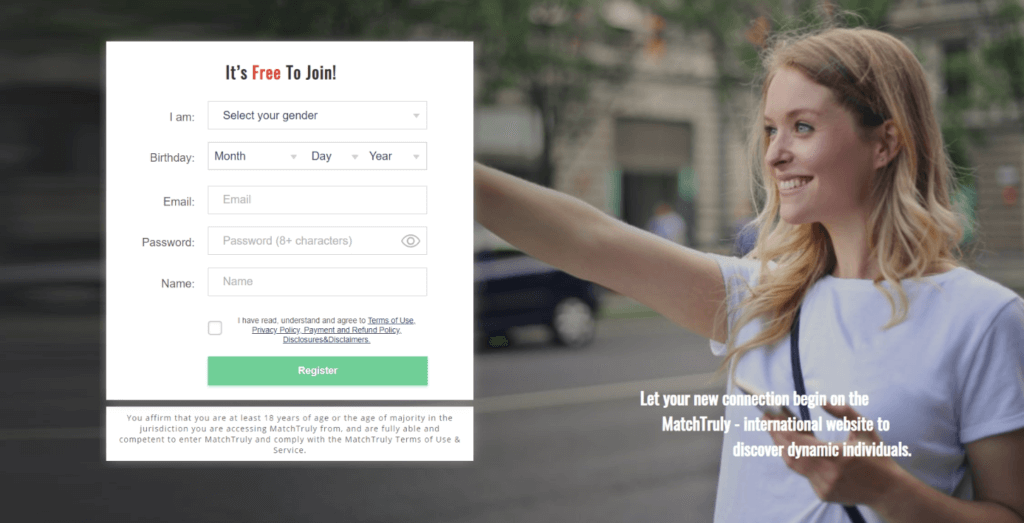 Ease of use – 5/5
Success rate – 3/5
Key features – 3/5
Price – 2/5
Over 600000 users
Close to two-thirds are females
Well-designed and easy to use website
Verified profiles


Who's It For/Demographics
On this online dating site, you will find only two groups of users.
These are men from all over the world, but mostly in Western countries like the United States and then the women they want to meet.
These women, as we discussed in the introduction are from countries like Russia and Ukraine.
OFL Top Recommendations based on 100,000+ Survey

"Serious Relationships"
"Discreet Hookups"
"Best Course for Men"
"Quick Flings"
"Normal Hookups"
"Our Quiz"
Despite the fact that the site has only been around since 2018, it's built up an impressive user base in that time.
Let's highlight some statistics behind it:
Around 600000 users have registered on the site
Over 5000 users are active on the site each day
1000 new users sign up for the site each day
More than 90% of the women on the site have a profile with pictures
Most users on the site are aged between 35 and 44 years old
64% of the user base is female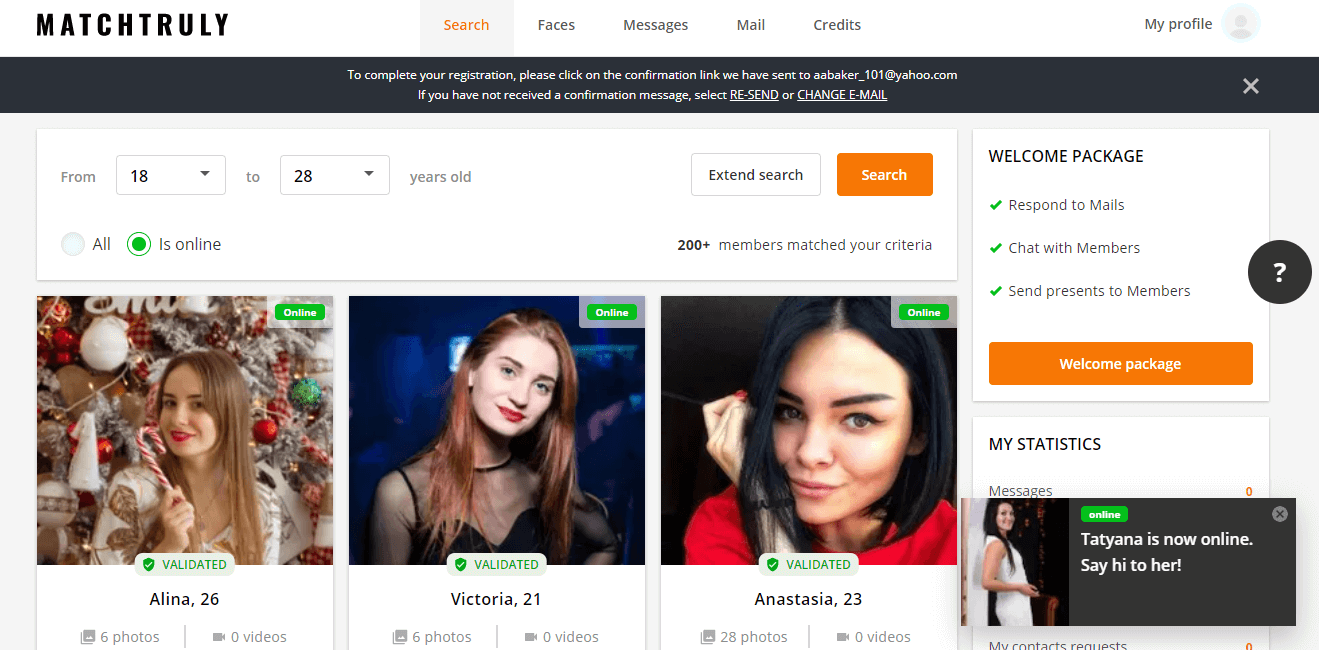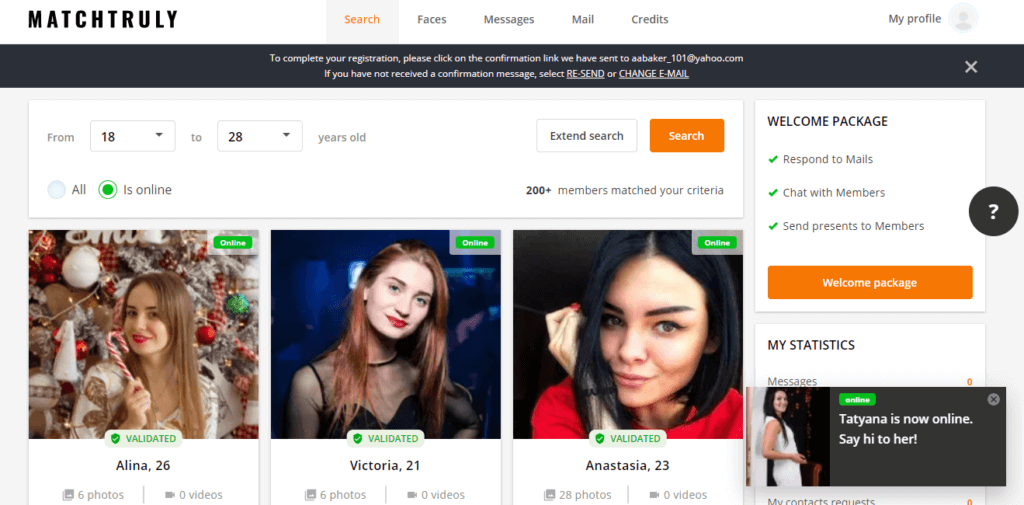 When registering as a new user on MatchTruly, you will need to take a few moments extra.
While the registration process starts with the site wanting some basic information like a user name, password, email address, gender and date of birth, there is a questionnaire for you to fill in too.
And while an impatient user might just want to get online to start viewing profiles, it's critical to take the time to complete it.
There are two reasons for that.
Firstly, part of the questionnaire includes information about you that will go on your profile.
The other part includes questions that help to determine what it is you are looking for in a potential matchup.
By completing this accurately, you are helping the site to provide you with potential matchups that hit the mark from the moment you start your journey on MatchTruly.
And that's only going to benefit you in the long run, isn't it?
The questions are split into sections and they won't take very long to complete.
Put 10 minutes aside and you will get it done easily.
But what kind of questions can you expect?
Well, I won't get into those that help fill your profile but in terms of finding out what you want in a matchup, the questions include things like:
Do you favor beauty over brains?
What kind of person out of these do you prefer? (Answers include, fitness freak, music lover, bookworm, etc).
While a set of questions can't find you a 100% perfect matchup (there would have to be 1000s of them answered for that), it does go a long way in helping to narrow down the field so to speak.
And that's a good thing on a site like this.
I can confirm that navigating the site is super simple and fun to do as well.
MatchTruly let's profile pictures do all the talking and that's a good thing, right.
On some sites, you can barely see the profile pictures when matchups are presented to you.
That's not the case here.
From the moment you hit the site, you will see matchups presented in blocks of three.
This dominates the page and it's easy to pick out women you are immediately attracted to.
You will also notice a handy statistics bar where you can see if you have any new messages, contact requests, your favorites and more.
MatchTruly uses a basic menu system for navigation.
I hate dating websites that have tons of menus, but that's not the case here.
The menus you will use to find your way around the site are:
Search: This acts as your homepage. When you click on this menu, you can find the search engine but also profiles the site has picked out for you
Faces: If you'd prefer to view profiles one by one you can with this roulette-style matchup game.
Messages: Keep track of sent and received messages here
Mail: Here you will find longer email style messages that you've received from others
Credits: Credits are the currency on the site and you need them to send messages, etc.
My profile: If you'd like to change your profile, click this button to edit it.
New users to the site receive a Welcome Pack which includes 20 free credits.
To redeem yours, click on the link you will find on the Search page.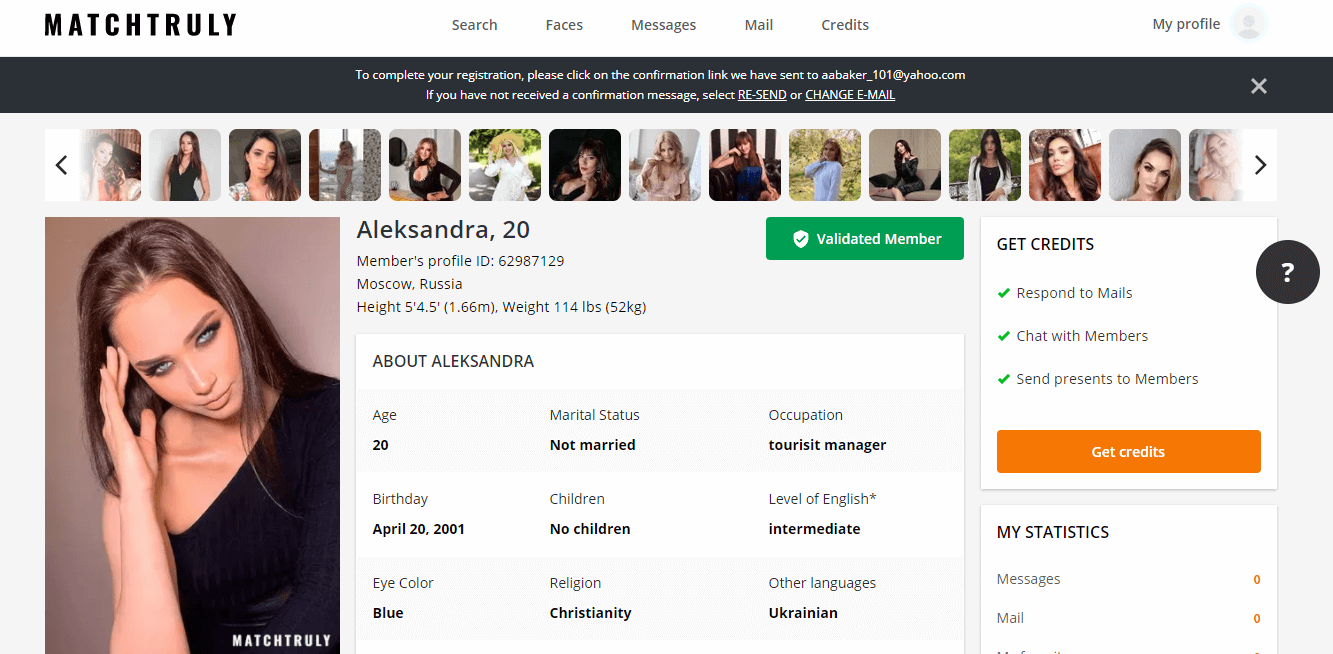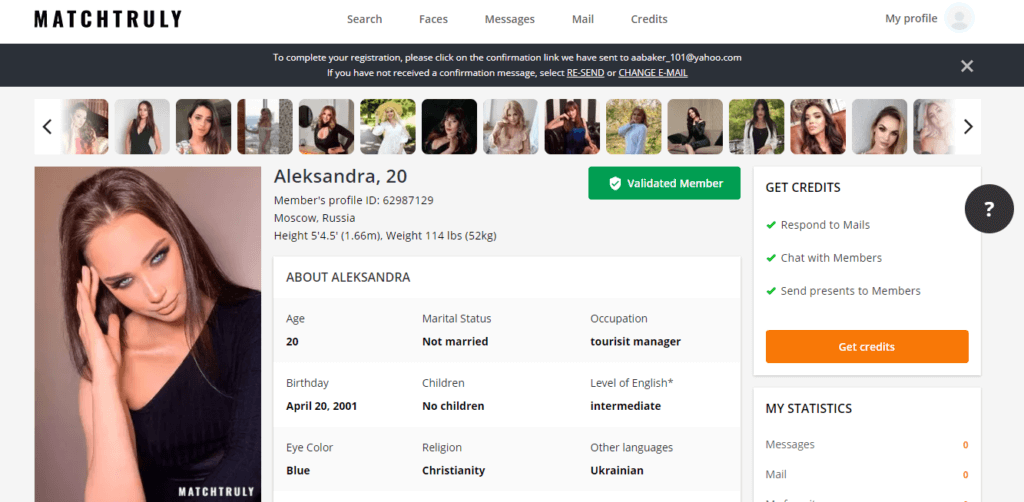 Speaking of profiles, don't forget to take around five minutes in between looking for your perfect match to finish yours.
Yes, most of it was completed during the registration process but there are a few parameters left to add.
It's nothing major at all and includes appearance parameters (like your height and your body type preference), your education level, your habits and if you have or want children.
The good news is that the beautiful women you will find on this site take their profiles seriously.
I guess that's because of the competition (close to two-thirds of the profiles here are female).
Mostly all the profiles I viewed were fully complete.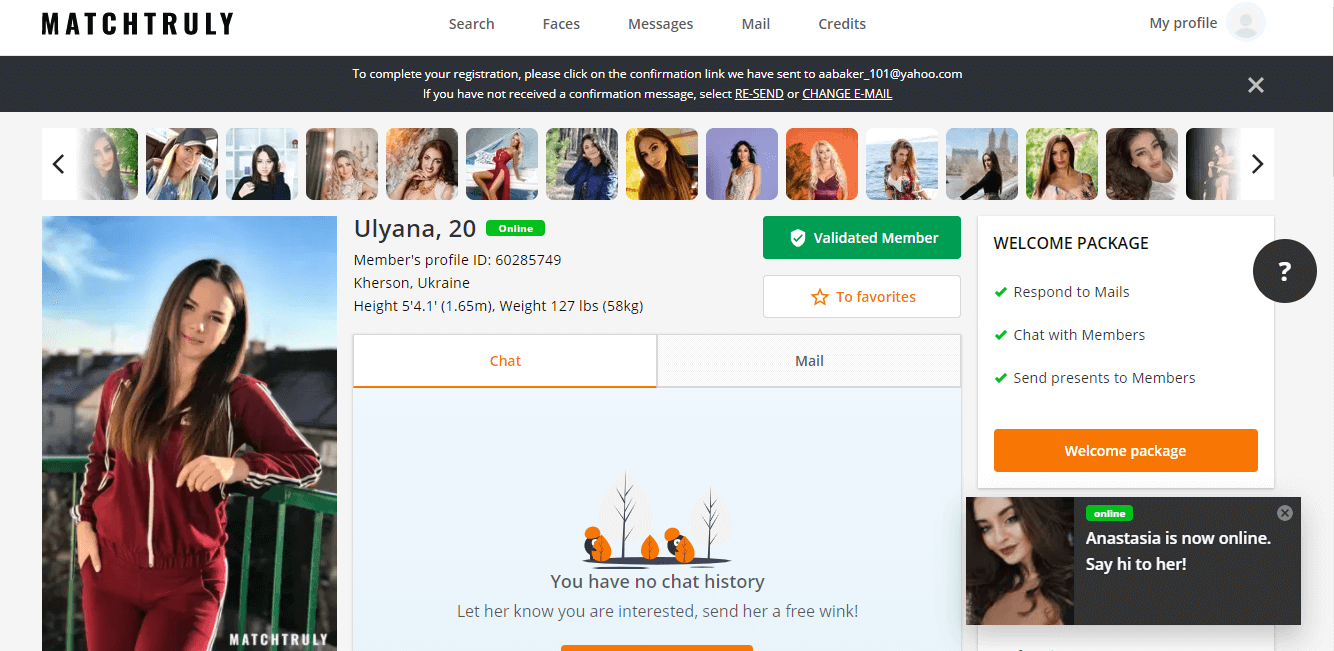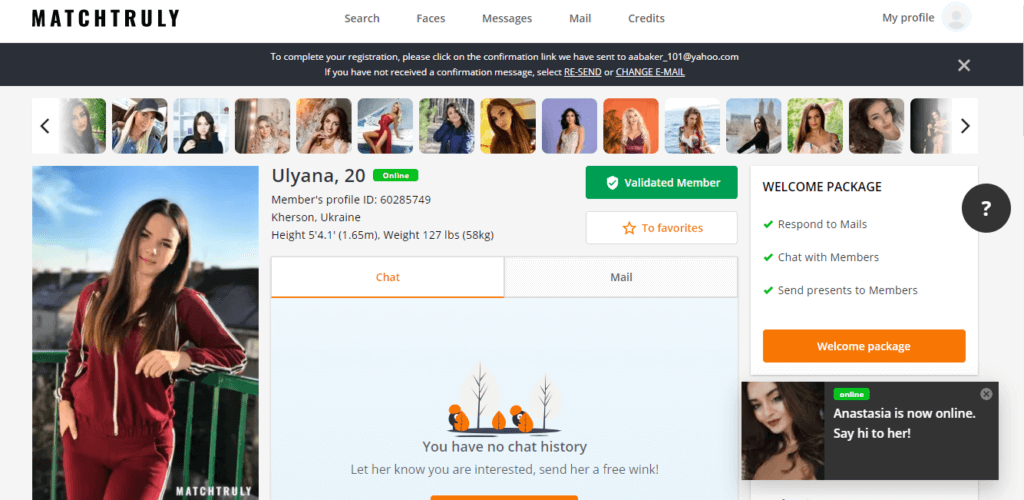 MatchTruly presents several ways for you to look for potential matchups.
Right from the start, the site will give you profiles to look through that have been picked by the matching algorithm.
This is based on the answers you gave during the registration process.
So that's a good starting point, that's for sure.
It's important to note, however, that the default view for these profiles is just for users that are currently online.
With a simple toggle switch, you can change this to all users, even those currently offline.
Of course, this will bring up many more profiles to scan.
And it's a useful undertaking.
Remember, if you are in the United States, the time difference between you and the women on the site is pretty significant.
So many of them might not be online when you are.
You will also notice that now and again the site will highlight a user that has come online.
An alert will appear at the bottom right of the screen when this happens and you can then click on their profile to view them.
But what about searching for your own matches?

Well, of course you can!
MatchTruly has a high-quality search tool at your disposal.
There is a basic search engine where you can change:
Age ranges
Whether the user must be online or not
But it's the extended search that's the most powerful.
It adds the following:
Country
City
Marital status
If they have children
Their religion
Education level
Lifestyle habits (do they drink or smoke)
You can also search for specific member identification numbers if you have them.
Viewing a users' profile immediately provides you with plenty of information about them.
Other than various appearance and lifestyle parameters, you can see their name, age, location, height and weight.
There are also photo galleries to look through.
You will notice that many profiles include a green validates sticker on them.
These users are who they say they are and have been validated by MatchTruly.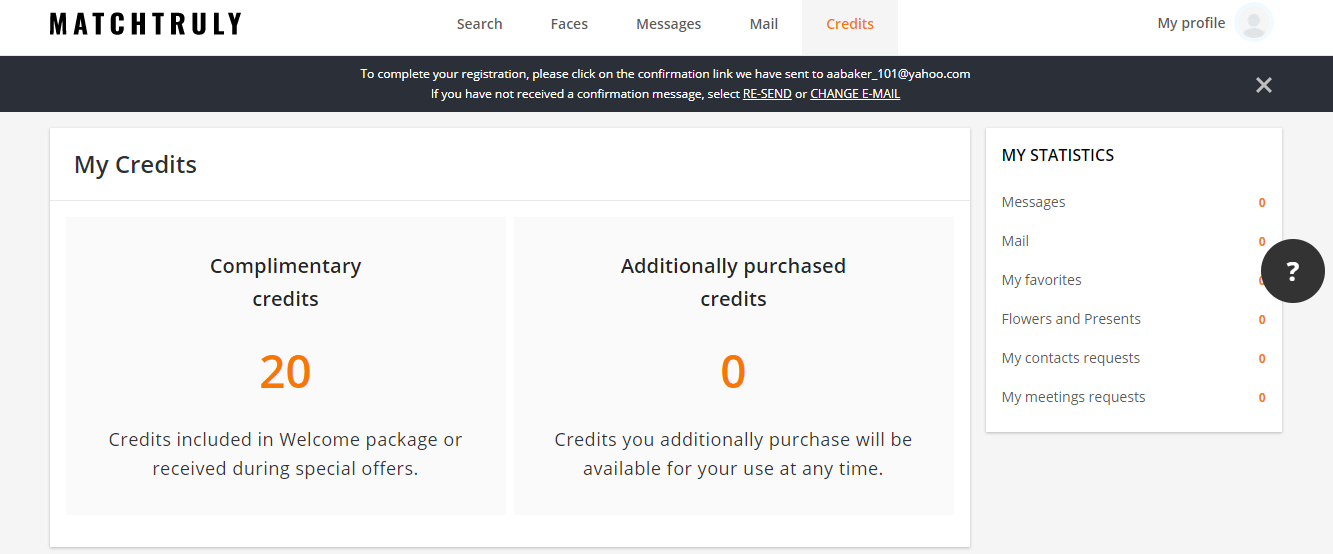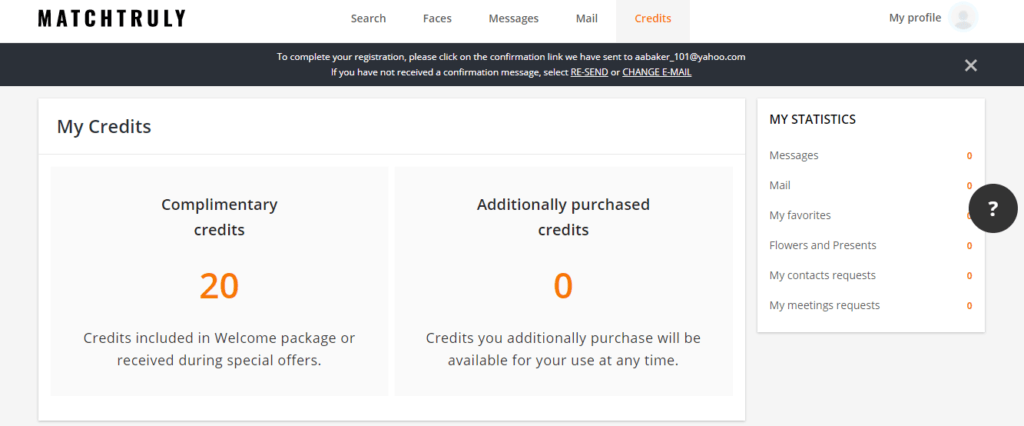 This site operates on credits only.
If you want to do anything, including messaging others, you will need credits.
Luckily, you are given 20 for free to try the site out and my suggestion would be to instant message or live chat with a few women you've picked out.
In total, you can do that for about 10 minutes before your credits run out.
But you will need credit for other aspects of the site as well.
Here's a breakdown of what they are used for:
Using the live chat/instant messaging feature – 2 credits per 60 seconds
Sending a chat sticker – 5 credits
Sending a photo in live chat/instant messaging – 10 credits
Sending a video in live chat/instant messaging – 50 credits
Longform emails – 10 credits for the first. 30 credits for replies.
To open mails – 10 credits
Opening a photo in a mail – 10 credits per photo
Viewing a video – 50 credits
Gift sending – 100 credits for the admin fee and then add on the price of the gift
Making an in-person meeting request – 625 credits
That's a lot of credits for some of the services, right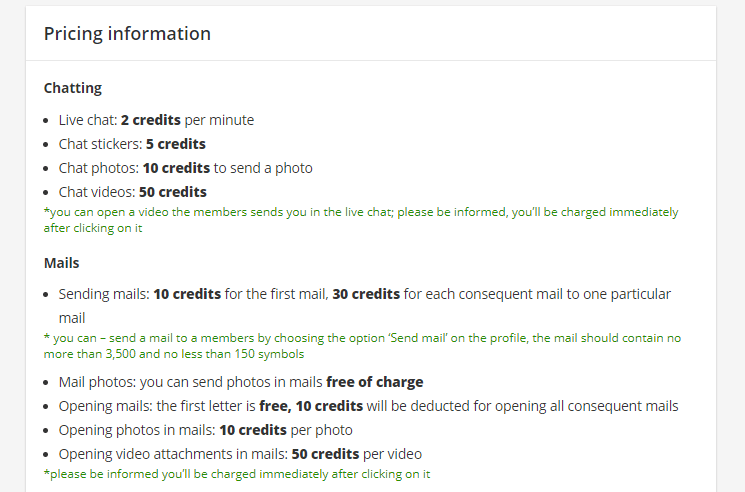 I've already talked about that, unlike regular dating sites that have some form of paid membership, MatchTruly doesn't compare in that regard.
Instead, they use credits, the site currency for everything on the site, from messaging to sending gifts.
Usually, membership brings with it some extra key features that give members extra options over a regular user.
And while that's not what you will find on MatchTruly, I'd like to point out a few key features that you could consider using your credits on.
Gifts are nothing new on dating sites and I can reveal that on MatchTruly, there are many to choose from.
These gifts come at various price ranges but be warned, they are not cheap at all.
For example, a bunch of roses can be anything between 400 to 500 credits and perfume around 800 credits.
If you truly want to impress someone, you could even send the latest Samsung Galaxy phone with the price approaching 10000 credits.
There are even toys if the woman you are speaking to has children.
Take note that you will need to add a delivery fee to the price of the gift to ensure that it gets to the person you are sending it to.
And yes, that means paying even more credits but we will cover that under the pricing section of this review.
Anyone using a dating site aims to either meet someone or to try to get their contact information so you can take your conversations offline, especially if the relationship is over long distances.
Well, MatchTruly does afford you that opportunity.
But it's not easy to come by.
In order to get the contact information (an email address or phone number) of the person you are in contact with, you would have had to spend over 3000 credits communicating with them first.
Now that's going to cost you a few dollars, believe me.
There is no doubt about it, many of the women that you meet on a site like MatchTruly are looking to have a relationship that could ultimately lead to marriage.
It's been like that before online dating and since the time of mail order brides.
But to help facilitate the relationship reaching a new level, you've got to meet the person, right?
MatchTruly will help with that.
Of course, you will have to get yourself to Ukraine, for example, and pay a fee for the meeting to be set up but it's a feature that's available to all users who are willing to pay for it.
This is something you will often see on apps although more and more online dating services have them too.
Here, you view matchups one-by-one and you can either pass or like their profiles.
MatchTruly does things a little differently though because you can also do the following while viewing someone:
Look through their picture gallery
Chat with them
Send them a wink
Add them to your favorites
Send them gifts
For a change of pace, it's a nice option to have when searching through tons of beautiful women.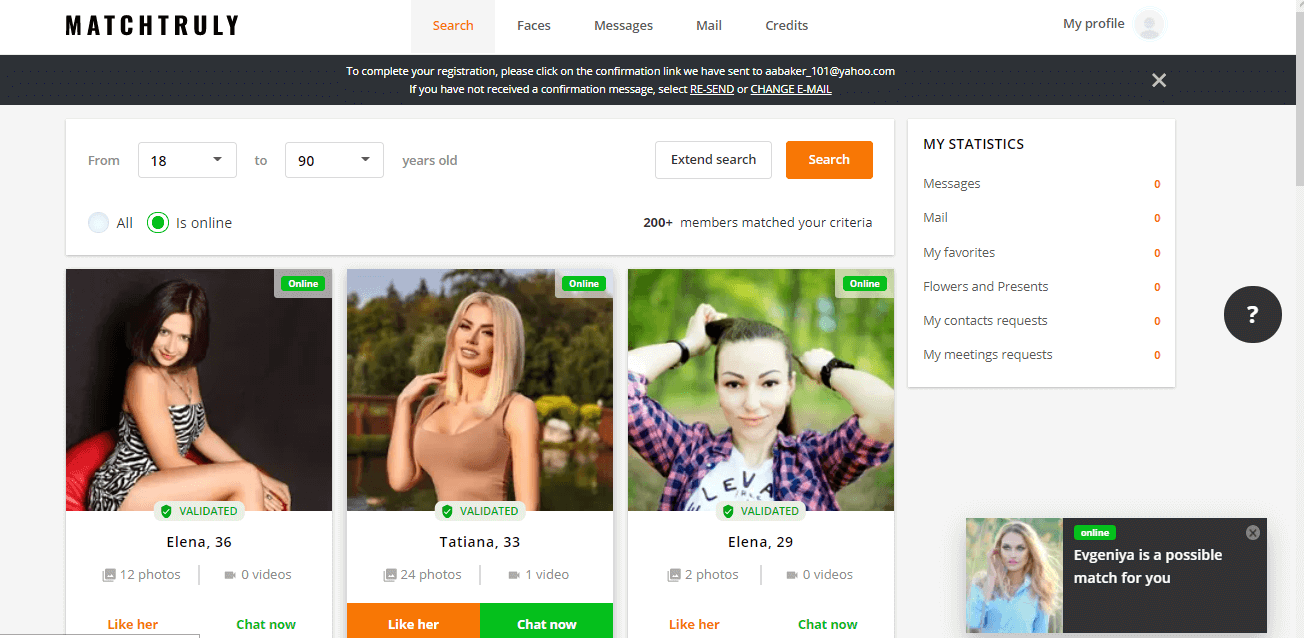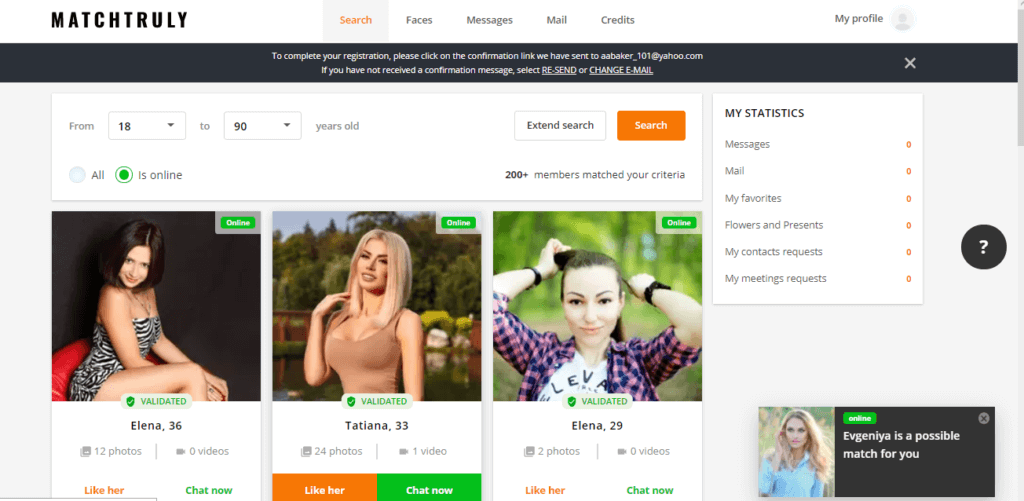 So just how much are credits going to cost?
Well, once you've burned through the 20 that you would have received for free, you can initially buy another 20 for $2.99.
The next time you buy, however, that jumps to $9.99.
But who wants to buy 20 credits at a time?
Well, eventually, you will get access to large credit packages.
Here's a breakdown of what those will cost you:
$19.99 – 50 credits
$44.99 – 125 credits
$69.99 – 250 credits
$149.99 – 750 credits
It's often the case that sites that use credits do charge pretty exorbitant prices.
And that's the same here.
For me, the prices are extremely high, especially considering that you are going to burn through credits pretty quickly.
So if you want someone's real-life contact details, you will need to spend around $600 (and that's buying the 750 credits package a the cheapest rate per credit) on communication with them.
That's a lot of money.
If you do choose to buy credits, you can pay with your credit card.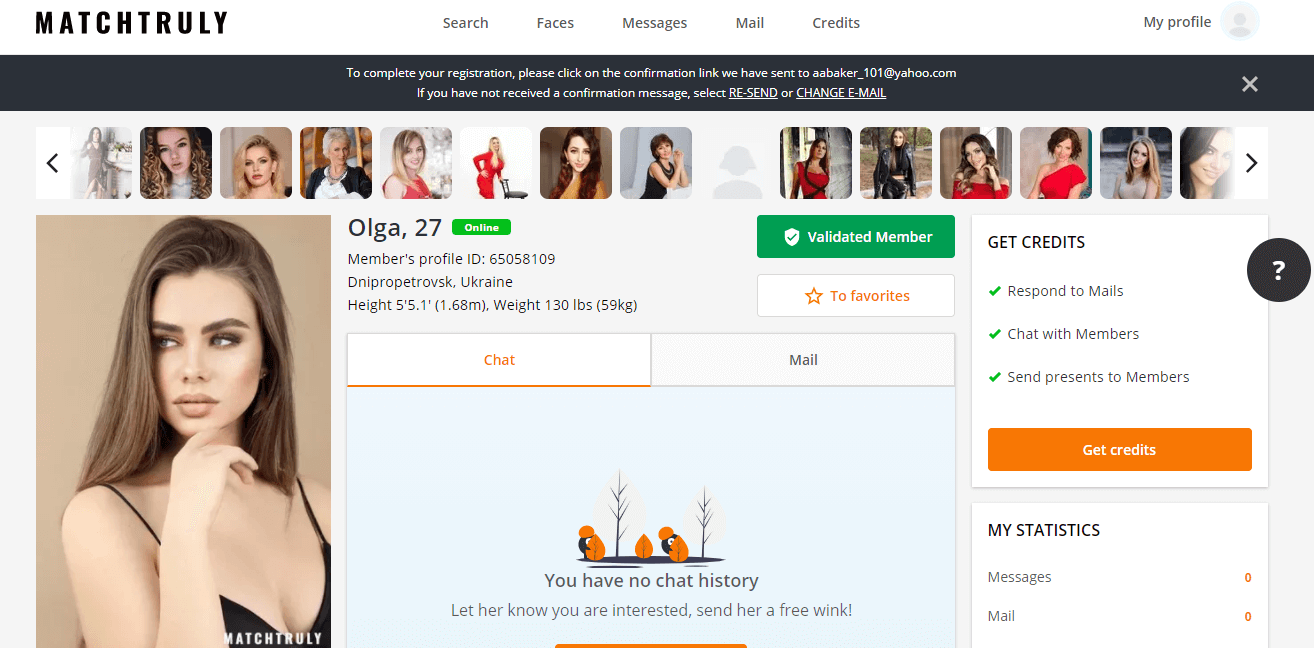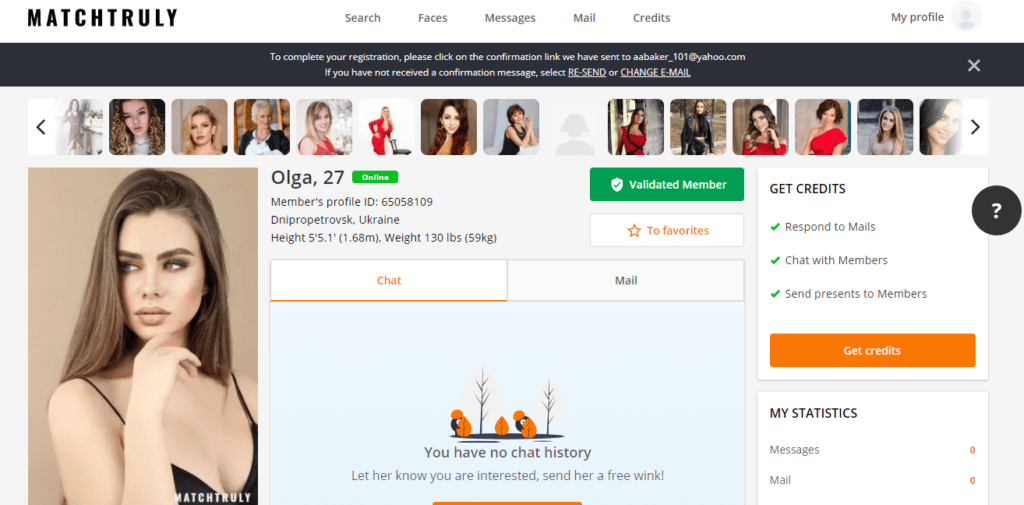 Conclusion and Overall Rating
That's it for our MatchTruly.com review, thanks for taking the time to read it.
For me, this is a great site if you want to meet women from Russia, Ukraine and other Slavic countries.
But it is expensive, that's for sure.
While there are reports that people have been scammed here, is this a scam site?
I don't think it is.
Of course, all dating sites have fake profiles on them but at least if you wanted to, you can only deal with validated profiles here.
And just use your intelligence.
People asking for money are likely trying to scam you.
While this site is easy to use and has a strong user base, it is overpriced in my book.
And that affects the overall rating we've given it.
It scores 3.25 out of 5.
Our team of dating experts at Onlineforlove took a period of a month to study and test MatchTruly.
The site received an overall star rating that was based on critical criteria that are applied to all site reviews.
The final evaluation of MatchTruly is based on criteria such as:
Membership cost
Overall ease of use
The key features it offers members
How effective it is in helping users find matchups
The size of the user base