At Onelineforlove, we look at dating services from around the world and review them so that you can find the right one for you.
But today, we've prepared something that's a little different.
And that's because we are looking not at a dating site specifically, but a matchmaking service that operates in the United States.
Many of us looking for love are sick and tired of going on blind dates organized by our friends or swiping through profiles on a dating app, looking for our soul mate.
OFL Top Recommendations based on 100,000+ Survey

"Serious Relationships"
"Discreet Hookups"
"Best Course for Men"
"Quick Flings"
"Normal Hookups"
"Our Quiz"
That's where matchmaking services can play a massive part in turning your luck around.
In this assessment of Caliber Match Matchmaking Service, we are going to look at:
So today, we are going to assess and evaluate everything you need to know in our Caliber Match review.
Is this the type of service you should be looking to use to help you find true love?
Is your dating app giving you the best chance for success?
Make sure to take our online dating site/app quiz to find out.
It's a fact that people who follow our dating site suggestions have on average 2 extra dates per month.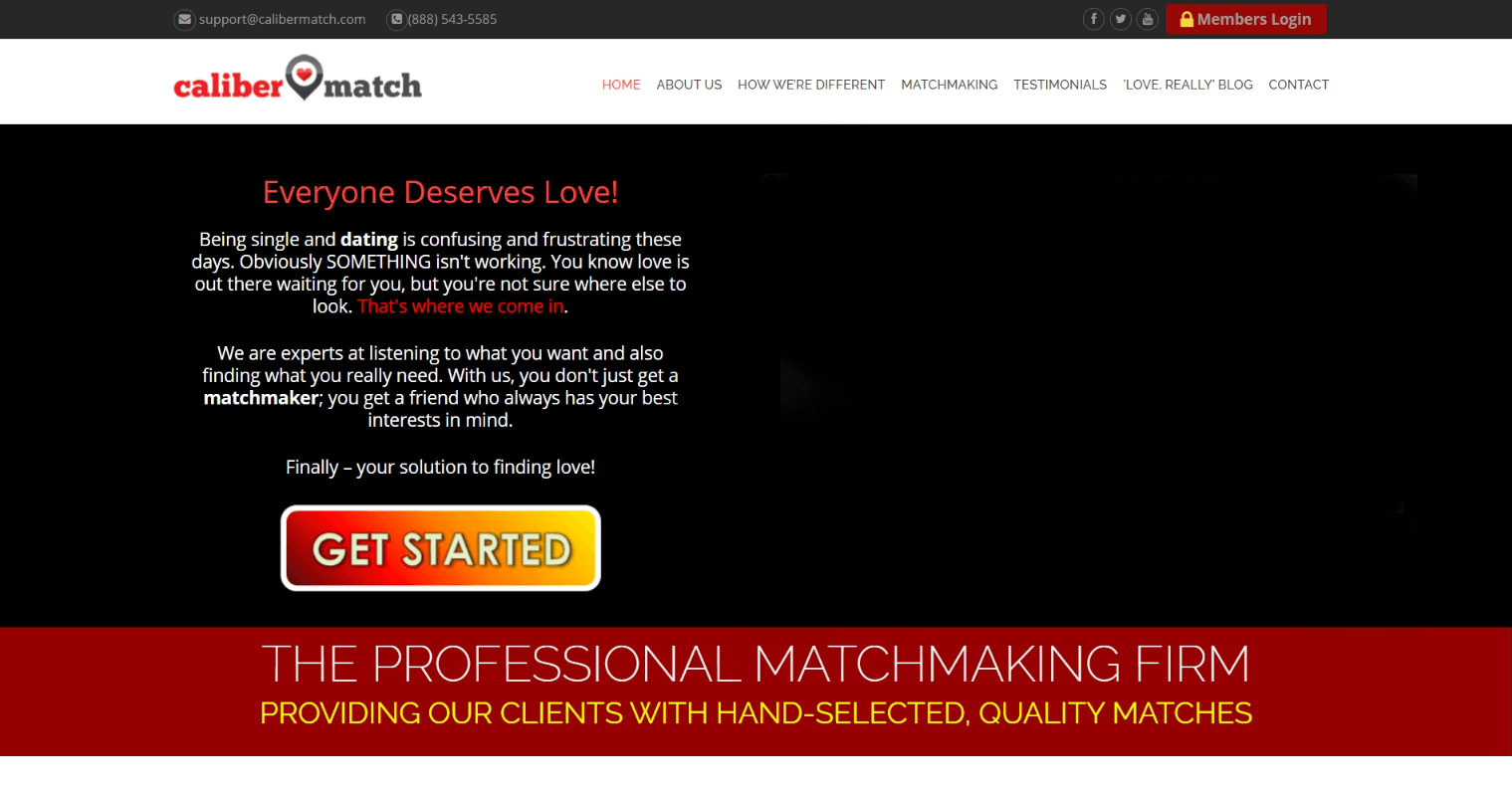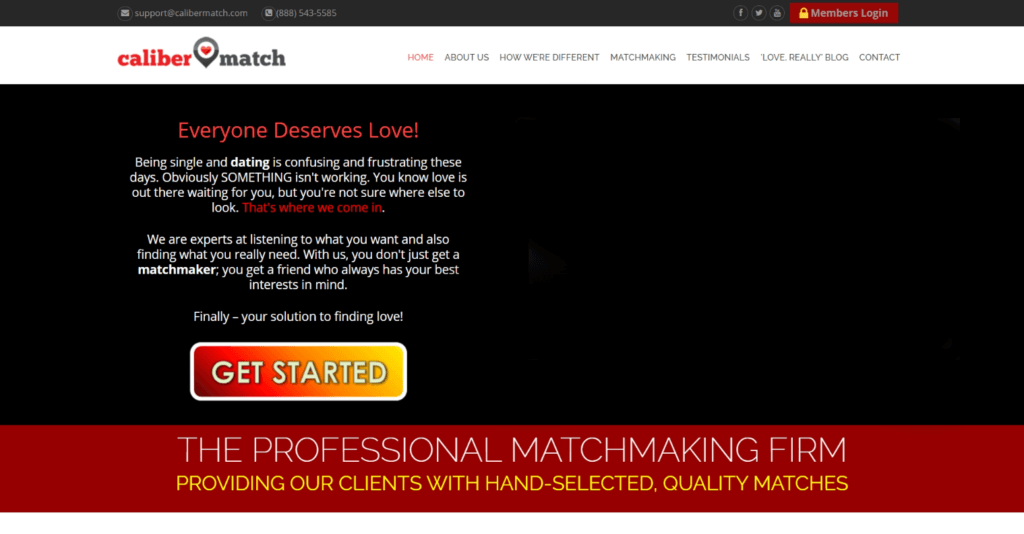 Ease of use – 5/5
Effectiveness – 4/5
Key features – 4/5
Price – 3/5
Matchmakers with over a decade of experiences
Three ways to find you a potential match
Tailor-made packages for each individual
You have to pay a lot more money than you would when using a dating site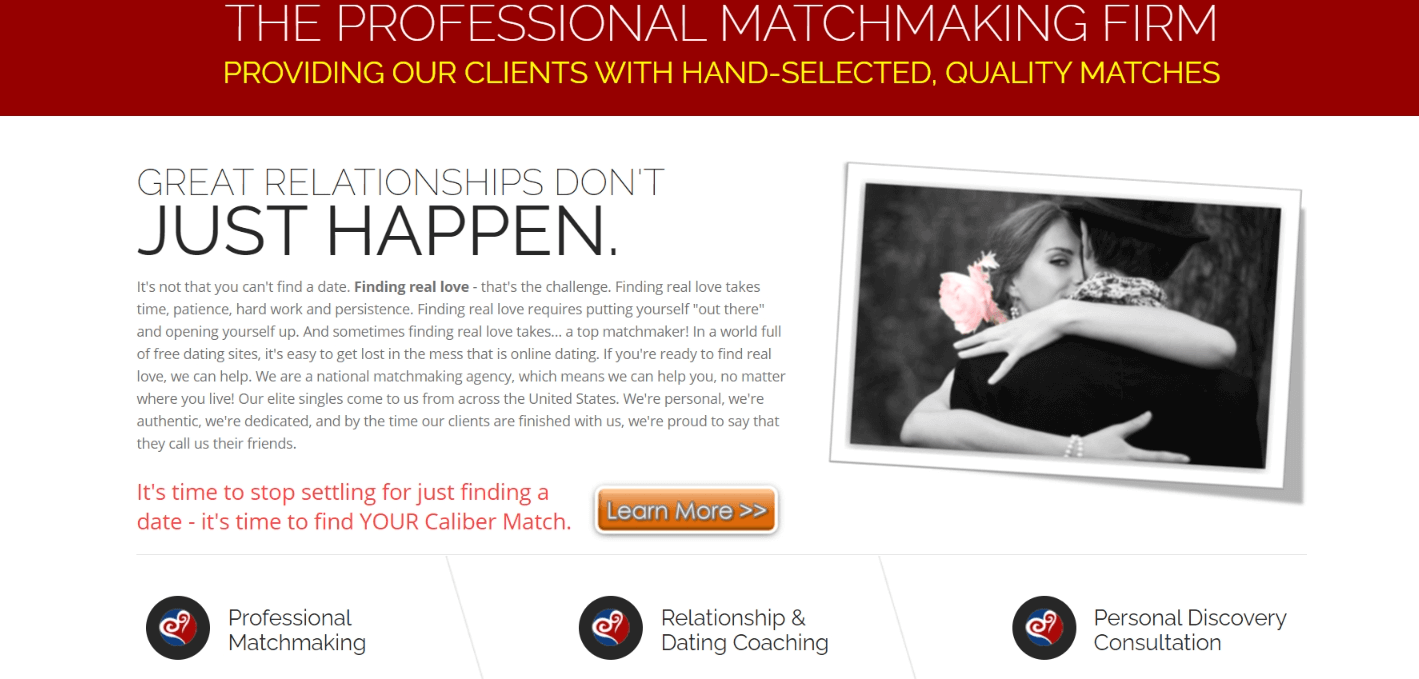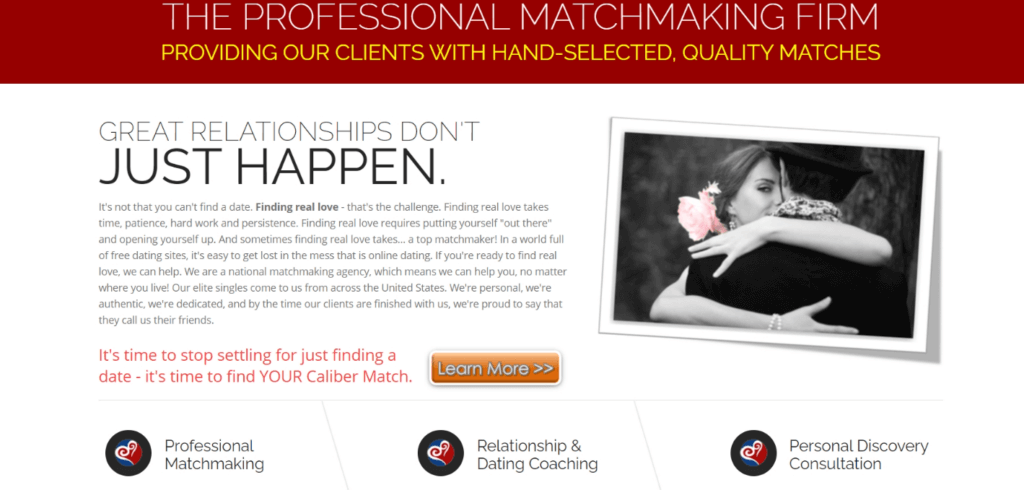 Who's It For/Demographics?
Caliber Match isn't the oldest matchmaking service around at present, but it's not wet behind the ears either.
In fact, the service has been in operating since 2010 when Emily Hellman started the business and began to look for prospective clients to help find love.
But who uses a matchmaking service?
OFL Top Recommendations based on 100,000+ Survey

"Serious Relationships"
"Discreet Hookups"
"Best Course for Men"
"Quick Flings"
"Normal Hookups"
"Our Quiz"
Well, generally, they are far more expensive than a regular dating site, so it's certainly aimed more at those with a little extra money floating around.
And here I am talking about businessmen and women, or those that often don't have the time to find love on their own.
Instead, they use a service like this to help them find a mutual match, someone that's looking for what they offer and vice versa.
Of course, there aren't millions of users here like you'd find on a dating site.
And you'd know too that there aren't hundreds of thousands either.
That's not how these matchmaking services operate.
Instead, you probably looking at hundreds of clients on their books but that will change all the time as more people join or current clients find their match.
As for other demographics like men to women gender ratio or the ages of those looking to use the services, well that's impossible to gauge.
In terms of ages, however, you can bet that you'll find people more people aged 35 and up using a service like this than younger groups.


So how does it work?
Well, while most people who are using online dating sites are looking for something that's instant, a connection that can take place immediately, matchmaking is very different.
I am not saying it's going to take years to find a matchup, but you can rest assured that very few people that sign up for services like this will be matched within the first month.
If they were, the matchmaking service probably has paid due diligence to what they need to be doing.
Also, the people that they matched you with will certainly be less than perfect.
And yes, I get that no match is ever going to be perfect, but you want someone as close as can be, right?
As Caliber Match says on their website, "finding real love takes time, patience, hard work, and persistence."
And that's very true!
So how does the process work?
Finding out more about each individual
A matchmaking service can only be effective if those running it get to know each of their clients on a personal level.
And not superficially at all either.
To do this, it takes several sessions where you and the matchmaking team from Caliber Match meet face to face.
If you can't meet face to face, then luckily, technology can help and virtual meetings take place.
These sessions aren't superficial at all.
It's about finding out not only what makes you tick as a person but learning your character, what you like and don't like, and just about everything you can think, really.
This is critical to help the matchmaking team work out what types of matchups would work for you.
But the onus isn't only on them.
No, anyone that wants to work with a matchmaker is going to have to lay themselves bare, so to speak.
The more you get into the process, the more they can learn about you.
And that will benefit you later on when you start to receive potential matchups.
If you aren't prepared to provide the kind of information they need so they can learn more about you, you simply cannot complain if you receive a match that's nothing like you are looking for.
It is always a two-way street, that's for sure and while it can be very difficult divulging information that is personal to a stranger, the better you are able to, the better matchmaking will work.
Also, if you do want to speed the process up a little more, you should be willing to provide the matchmaking team with the information they are looking for.
They might ask for more personal sessions if they don't feel like they have all the information they need to provide you with the right kind of matchups.
Seeking out the perfect matchups
Once a client has provided all the information that they need to, it's time for the next critical step in the journey.
This step doesn't see a client involved that much as the matchmaking team take the information that they have learned about you and use it to find the best matchups.
And this is where they earn their keep, that's for sure.
But how exactly do they go about this?
Well, first up, they look at other clients on their books that might just be a match for you.
Obviously, it is the best place to start because like you, they know every individual inside and out.
If there are suitable matches in their client database, you can rest assured that even while they were getting to know you more and more, they were narrowing down who could be a potential match.
But what happens when there isn't a suitable match?
Is that the end of the road with Caliber Match?
No.
Not at all.
That's because there is a well-throughout backup system in place.
That system works all over the United States as well and involves independent recruiters or scouts that are trained by Caliber Match to look for a potential matchup for you in their local community.
These aren't ordinary people in the street, however.
No, these people have networks of contacts that they can use to help find a potential match for each individual.
If they do find someone that has potential as a match for a Caliber client, that person is then thoroughly checked out (and obviously, they want to be part of the process).
But there is a third method in play here as well.
Caliber Match will use its personal network of independent matchmakers all across the United States.
All of these matchmakers have their own matching-making services and are an excellent place to look for potential matches for Caliber clients.
With these three processes in place, Caliber Match has what they need to make the best possible attempt at finding the perfect match for anyone who walks through their door.


Once a suitable matchup is found, it's not simply a case of putting the two parties together and sending them off on a blind date.
That's a process that is going to fail, more often than not.
Instead, both parties will be brought up to speed on each potential match and from there, they have the opportunity of going ahead with meeting up or saying no to the potential matchup.
At all times, the decision is in the hands of both parties, the way it should be.
When they do go ahead and meet that's not the end of the show either.
After each meeting, full debriefs take place to as Caliber Match puts it, "align with our clients wants and needs".
This certainly isn't an exact science and not all matches are going to be perfect.
But that's just the nature of the matchmaking game.


Overall, the three-pronged matchmaking formula employed by Caliber Match is what helps to provide success for their clients.
Remember it's a case of finding matches using:
Their own client base
Scouts with huge networking databases throughout the United States
Other matchmakers from all over
It's important to note, however, Caliber will only operate in America and unlike some of their rivals, do not look for matchups outside of the country.
What I do think also helps with their matchmaking success is that it's a mutual process.
Both people in that process are treated as clients, even if one of them is drawn outside of Caliber's matchmaking pool, for example, if they are a match provided by a scout or another service.
Much of the overall effectiveness of Caliber Match comes from the fact that everything is done thoroughly.
That starts at the very beginning with the interviews with clients that approach Caliber to help them find love.
That hands-on approach really is everything.
Also, the three-way approach to finding matches that I mentioned above is very different from more traditional matchmaking services.
What it does do is to help provide more chances of finding a matchup for a client.
Yes, while they do have a database of 1000s of clients, what happens if the perfect match cannot be found there?
It makes sense to have other avenues to explore, doesn't it?
The two extra ways to find matchups that Caliber Match users are also a critical part of their overall success.
And successful they are, having received A+ rankings from the Better Business Bureau.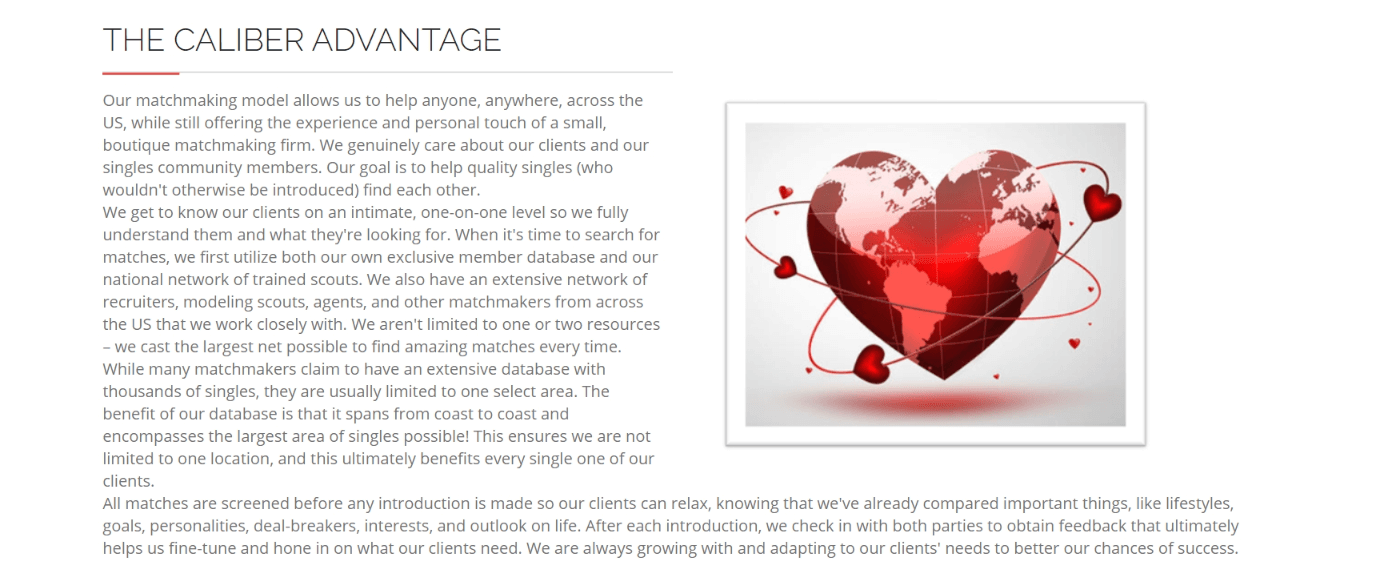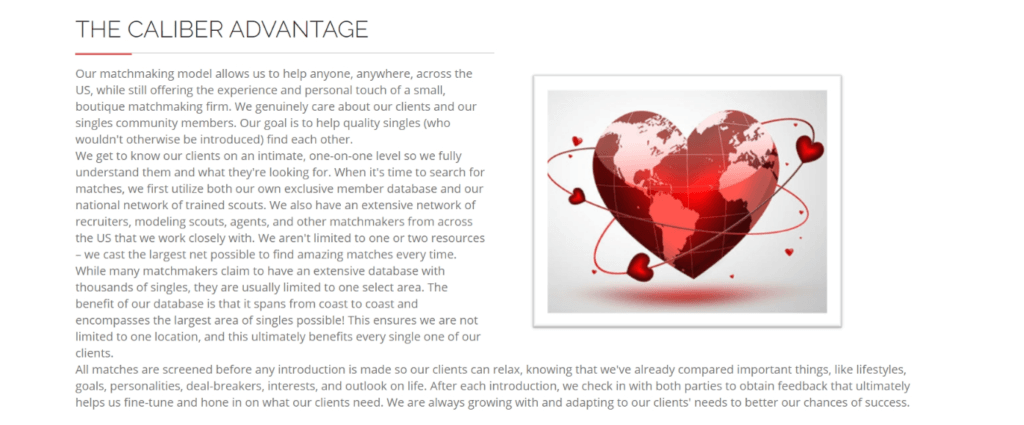 The key features that are provided by Caliber Match are very different from those that you would find on a dating site, but there are some things that I would like to point out.
These I feel, play a huge part in the overall success of Caliber.
1. Focus on each individual
From the client that walks in the door looking for a potential matchup to that potential match themselves, at all times, Caliber makes sure they focus on the individuals.
Because while the end game is creating a pair that are focused on each other and hopefully find true love, to reach that point, you start with the individual.
As I mentioned above, that focus starts from the minute a Caliber client walks through the door.
Matchmaking is a two-way street.
It's fine if you see potential in someone but what happens if they don't quite see you as the perfect fit.
Rejection hurts, even in a situation like this.
But Caliber cuts out rejection by only showing you a potential match that has said yes to meeting you.
That means each potential match you are shown is genuinely interested in what you have to offer and isn't there to make up the numbers.
3. Tailor-made membership
Each of us is different and so are our matchmaking needs.
It's for that reason that Caliber offers tailor-made membership for each client.
Once Caliber knows what it is you are looking for and whether they can help you find that, your customer match-making membership is created for you.
This process is followed through for each individual.
4. You are never sent on a blind date
There are matchmaking services out that will send clients to meet potential matchups without ever showing them a picture of who they are meeting.
Blind dates are something Caliber doesn't do.
And let's be honest, that's a good thing because attraction to someone is where any potential relationship starts, right?
5. More matchmaking options
I've already mentioned this a few times but it certainly is a key feature for Caliber Match.
And that's the fact they don't only rely on their database to find matches for clients.
For me, the idea of scouts with excellent networks is a very clever one but then again, so is linking with other smaller matchmakers around the country.


While Caliber will make a tailor-made package for their clients, it's important to get an idea of what this may cost.
As you probably are well aware, matchmaking services don't come cheap.
This isn't a $30 per month dating site operation. that's for sure.
So what kind of cost are we looking at?
Well here's an idea of the cost of two packages offered by Caliber: six months and a year.
Six months: $8500
12 months: $15000
Remember, this is an idea of the pricing.
It is tailor-made for each client.
Say you sign up for a six-month contract, the general rule of thumb is that the first month is the prep month.
That's spent making sure they know all they need to know about you and starting to line up some potential matches.
After that, Caliber will send you a match a month.
So should you sign up for a six-month contract, you should get five matches.
A year contract will see you get 11 matches.
When it comes to payment, there are many options, including credit cards.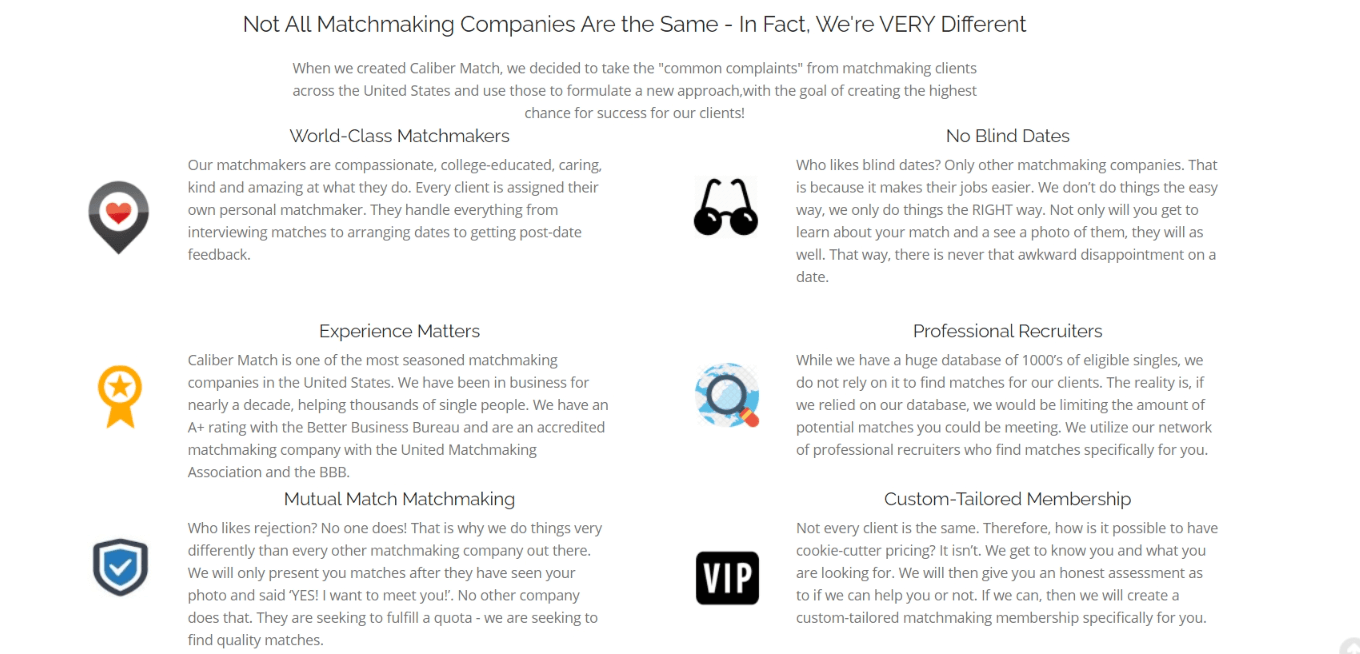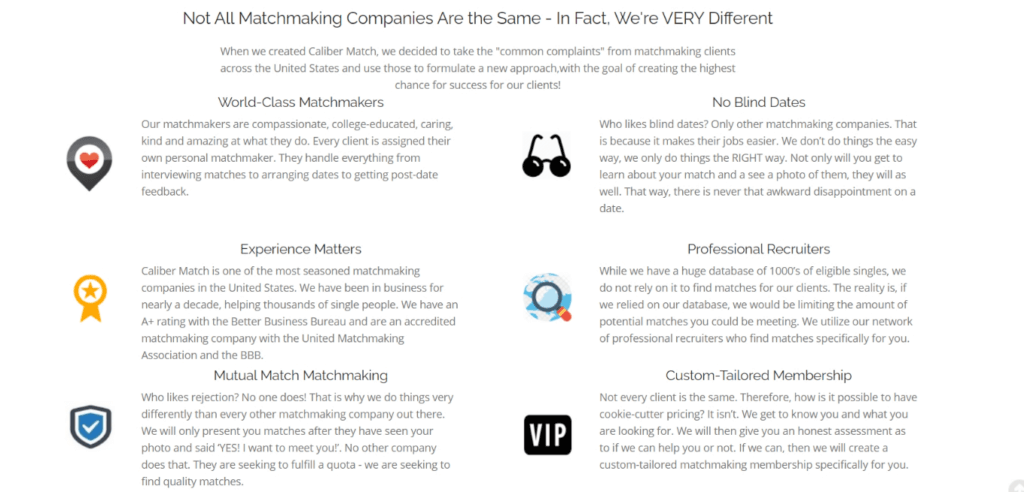 Conclusion and Overall Rating
To summarize our Caliber Match review, it's critical to remember that a matchmaking service can never be treated as an online dating site.
The clientele it aims – for example, a businessman with little time to look for love – are very different too.
As a result of that, and the way they go about things, employing the services of a matchmaker is not cheap, that's for sure.
But when compared to others, for example, Kelleher International, Caliber Match is far less expensive.
For me, one of the biggest strong points of Caliber is that they don't only rely on their own database to find client matchups.
They have two other systems in place that they can utilize as well.
But let's get to the rating for this matchmaking service.
It scores an excellent 4 out of 5.