If you are a Christian and you are looking to find that someone special, or maybe just to make new friends, then there are several dating sites on the web that you should consider.
Christian Cupid is one of those sites and it's pretty popular.
Backed by the Cupid Network, in this all-encompassing review of Christian Cupid, we are going to look at several important factors about this niche dating site.
And after you've finished going through our review, you will know:
OFL Top Recommendations based on 100,000+ Survey

"Serious Relationships"
"Discreet Hookups"
"Best Course for Men"
"Quick Flings"
"Normal Hookups"
"Our Quiz"
No doubt, we have all the answers regarding Christian Cupid and when you are done with this review, you will be in a better position to decide if it is the site for you or not.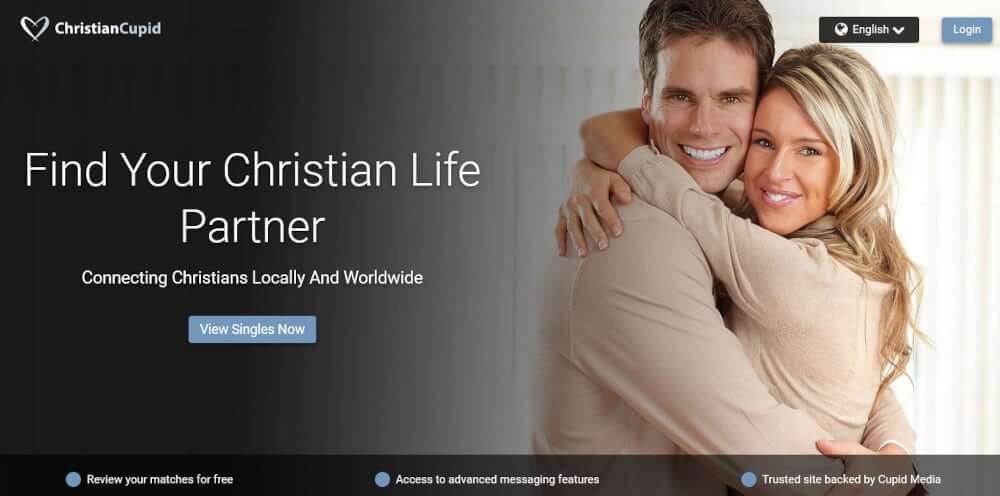 Is your dating app giving you the best chance for success?
Make sure to take our online dating site/app quiz to find out.
People who follow our dating site suggestions have on average 2 more dates per month.
Christian Cupid Review in Video Form
Audio (podcast) form for those of you on the go
Ease of Use – 5/5
Effectiveness – 2/5
Key Features – 4/5
Pricing – 4/5
OFL Top Recommendations based on 100,000+ Survey

"Serious Relationships"
"Discreet Hookups"
"Best Course for Men"
"Quick Flings"
"Normal Hookups"
"Our Quiz"
Sign up with Facebook, through the app or through the website
More than one way to search for matchups
Many key features for members
Small user base
If you are an Apple user, there is no app for your phone

Who Is It For/Demographics?
It's pretty obvious that this dating site is pitched at Christians.
It is definitely not for those seeking hookups (like BeNaughty or Ashley Madison).
But it's also not only for those looking for love (like eHarmony), or perhaps a life partner.
It's also for Christians who want to make new friends all over the world.
People that share their religious views and who they can speak to about their faith.
Let's just start by saying that although there are over 2 billion Christians in the world today, it seems that those who are looking to date or find someone special hasn't really discovered Christian Cupid yet.
The user numbers for the site are pretty low so that's the first thing you have to bear in mind if you want to start a profile here.
Let's break them down to get a better insight.
Around 70 000 users in total have signed up for Christian Cupid
16 000 of these are from the United States (close to 25% of the total users)
Around 1 000 users log into the site each day
Now I think you'd agree with me that while this is a niche site, the numbers are low.
That said, there's always room for growth.
The thing is, if you are living in a smaller city and outside of the United States and you are seriously looking for love, you may not actually find anyone that's within a reasonable distance of you.
If that doesn't bother you, it's not a problem but it's important to bear that in mind.
Having said that, starting a profile and looking to see if you get any matchups near you doesn't cost a cent, so it's worthwhile trying.
But now we need to look into the gender breakdown of those 60 000 users.
Gender ratio and age ranges of Christian Cupid users
The user ratio when it comes to gender sees more women making use of Christian Cupid than men.
But it's not that far apart actually.
Here's the breakdown:
60% of the 60 000 users on Christian Cupid are women
40% of the 60 000 users on Christian Cupid are men
So that's 36 000 profiles for women and then 24 000 for men.
While it's not 50/50 at least if you are a woman looking for love while there's competition, it's not on a scale often seen on other dating sites where sometimes the gender split is even greater.
As far as user ages are concerned, the biggest group of users of Christian Cupid are found in the 35-44 age group.
Here's a full breakdown of user age groups in order of popularity:
35 to 44 years old
25 to 34 years old
45 to 54 years old
18 to 24 years old
55 +
I'm not too surprised by the fact that the two biggest groups are 35 to 44 years old (35% of all users) and 25 to 34 years old (25% of users).
Together, they make up 60% of all users on the site.
The reason why I am not surprised is that they are the two biggest groups is that are prime-age ranges for people to look to start settling down, find their life partner and get married.
It makes complete sense, right?
So with all that insight regarding demographics, let's look at Christian Cupid from an ease of use point of view.

I've already mentioned earlier that Christian Cupid is part of the Cupid Media network of sites.
They administer around 30 different dating sites and when it comes to online dating, there is no doubt about it, they know their stuff.
If you've ever used one of their sites before, then Christian Cupid will have a look and feel that you would be used to.
But if you've never used a Cupid Media site before, let's get into the process of how you would go about signing up and registering for the site.
Registering as a user on Christian Cupid
To start, you can point your browser to the Christian Cupid website.
From there, you will be online and completing your profile in a mere matter of minutes.
First, you will need to register.
That's simple enough as you can use your Facebook account for a one-click registration or by providing your:
Name
Email
Secure password
Location
Potential matchups age ranges
If you are more likely to use Christian Cupid from your cellphone, you can download the app.
It's Android only but you can also sign up for an account using it instead of going to the website.
Signing up using the app will see you have to provide all the same information as you above.
Once you've done the necessary, Christian Cupid will take your right to the site and even provide you with your first matchups based on your location, the age ranges you looking for as well as either male or female based on your preference.
Before we get into that, however, let's first explain how you can navigate your way around Christian Cupid.
Completing your profile and navigating the site
For me, the most critical thing to do when you first get online for any dating site is to take the time to complete your profile.
A completed profile does two things.
It says that you are serious about using the dating site
It attracts other users to you as they rather deal with someone who has taken the time to complete their profile over someone who hasn't.
And it really doesn't take that long to do.
So set aside 10 minutes, upload your best profile picture and do the necessary.
It really is worth it.
Now let's get onto finding your way around Christian Cupid.
Well, in terms of design, Cupid Media sites are so easy to use.
Your navigation around the site is achieved through the menu bar at the top of the screen.
Here you will find four menus.
Matches: These are matches that Christian Cupid has come up with based on your location as well as the gender and age ranges you are looking for.
Search: If you want to launch a search of your own, you can do it here
Messages: This is your inbox effectively and you will find any messages you have received from other users right here
Activity: A very useful menu that shows you the users that have viewed your profile, liked your profile or even added you a favorite. It also keeps track of the same metrics for you regarding other users.
You will use these four menu items all the time to get around the Christian Cupid site.
Another useful little tool is found to the left of these menus.
Here you will see a number and it indicates the number of users on the site.
Why is this useful?
Well, with a site with smaller user numbers like Christian Cupid, you can track this and find the times when the site is at its busiest.
And that's when you'd want to be online because it's just far easier to interact with people when they are online than trying to do so when they aren't.
Now that you can find your way around Christian Cupid, let's see how you would go about looking for someone that you might like to contact as well as how to do that.
While a dating site needs users, it's only as effective as its search capabilities in helping find you the right person and then letting you get into contact with them.
And as you probably can guess, to try to get into contact with someone on Christian Cupid isn't that easy if you are a regular user and not a member.
But before we get into that, let's first take a look at how the search options on the site work.
Search for that perfect match
When it comes to conduction searches, Cupid Media sites like Christian Cupid have so many different options.
Even when you logged into the site for the first time, you would have been presented with matches based on your location, the gender you are looking for as well as the age range.
You can access these again by clicking on the "Matches" menu item.
Over and above that, there are other ways for you to search for love.
Search using the advanced search engine
Search using keywords
Search using Cupid Tags
Search using first names
Search using member numbers
Search using popular searches used by other users
Most of the time, you are going to be searching using an advanced search engine.
Over and above the basic parameters of gender, age and location, you can select a number of others that a profile related.
For example, you might only want to return profiles where the people don't have children.
Other parameter examples include:
When last they were online
If they have a profile pic or not
Appearance parameters (hair and eye color, height, body type and more)
Lifestyle parameters (Do they smoke or drink, will they relocate if need be, marital status and if they have children)
Cultural values
So if you have very specific requirements for potential matchups, they can be fine-tuned here.
Just a word of warning, however.
By fine-tuning too much, you narrow down the possible matchups that are returned.
That can become a real problem on a website with a small user base like Christian Cupid.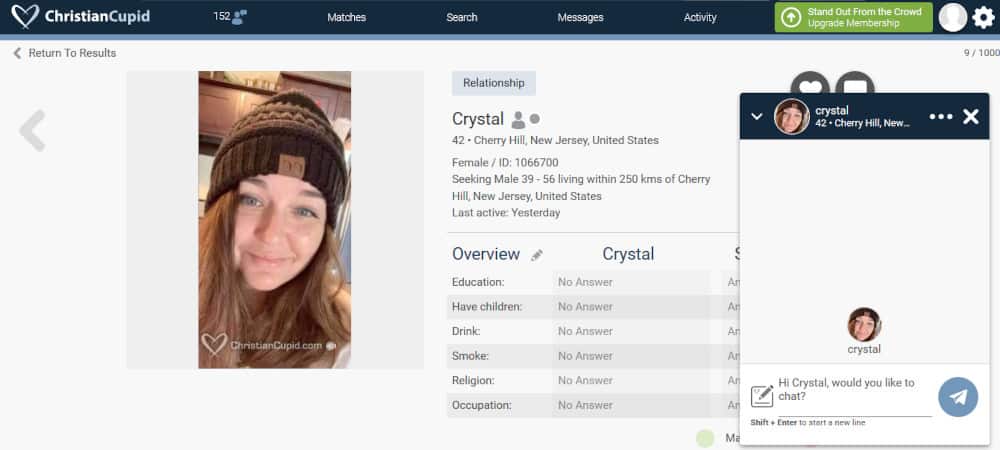 If Christian Cupid has returned a matchup that you'd like to contact, well it gets a little more difficult from here.
That's because as a normal user, you can send messages but it's very limited in the fact that you can only interact with members of the site.
That's why most people end up buying into the membership options so they aren't held back in terms of messaging.
If you've come across a user who doesn't have a membership and you'd like to show them your interest, the only way that you can do this is by giving them a "like" on their profile.
But that's about all you can do without opting to buy a membership.
Then, when you have it, you can speak to them and they can reply to you because remember, regular users can only send messages to members.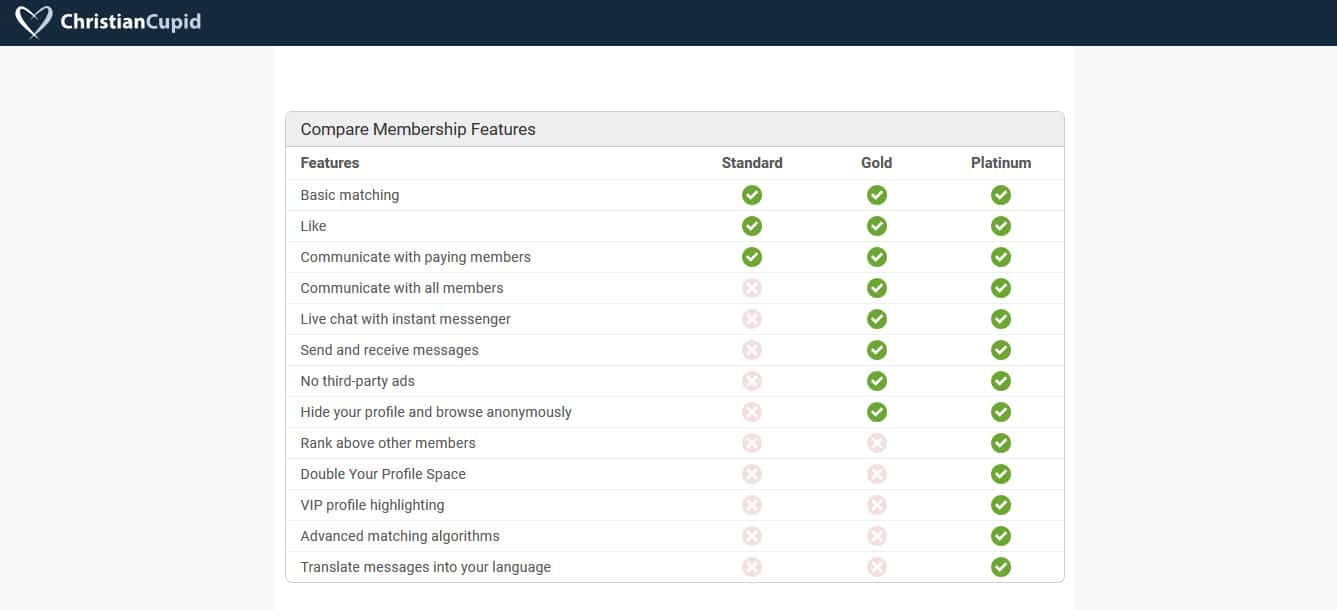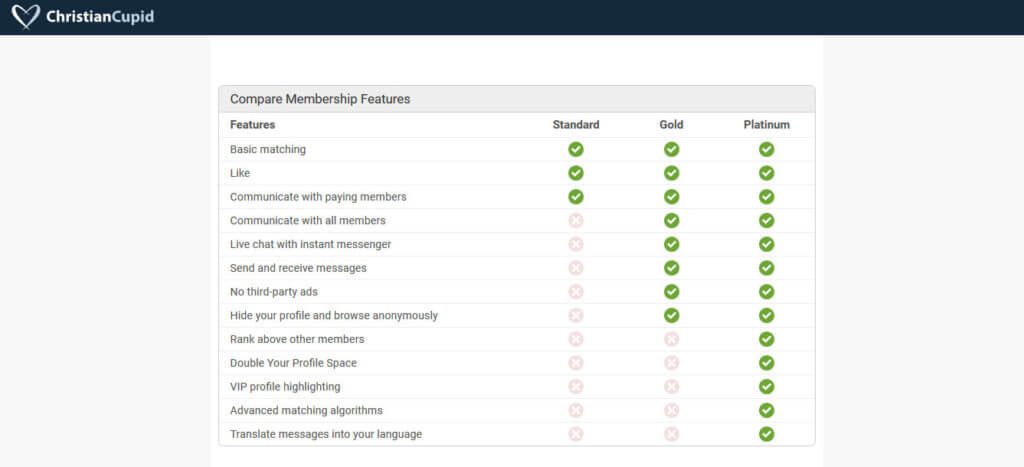 The great thing about buying a membership to a site run by Cupid Media is that you get tons of key features along with the ability to message anyone.
There are two membership options for Christian Cupid: Gold and Platinum membership.
Some features are for both, while others are only for Platinum members.
So let's look at the best ones now.
Yes, it's worth mentioning again because, without an effective way to message someone, you are not going to get that far on a dating site.
So as soon as you sign up for a membership on Christian Cupid, you can message anyone.
Not only that, but you can also instant message other users which make for far faster communication.
Both Gold and Platinum members are able to send messages.
2. Go private/Browse in private
As a Gold or Platinum members, you can make the decision to be totally private.
That means that you can browse other profiles but your profile will never be returned as a matchup in another user's search.
Also, if you view someone's profile while this privacy is in effect, you won't show up in their activity tab at all as having looked at their profile.
If you want to get your profile out there instead of going for the privacy option, Platinum membership allows for VIP status.
This means that if you meet the search parameters of other users when they get their return matchups, your profile will feature right at the top with other Platinum members before other users.
So if you are doing your own searching for matchups but also want to be noticed in other people's searches, then this ideal.
4. Exclusive matchup options
As a Platinum member, you will have other matchup options that you can make use of on Christian Cupid.
These are:
Mutual matchups
Reverse matchups
A mutual match is when both you and another user match each other in terms of what each is seeking in a matchup
A reverse match means that you match with what a certain user wants but they don't match with any of your specific wants.
Both of these are well worth exploring, however, especially mutual matchups.
Now let's move onto pricing to see just how much a Gold or Platinum membership is going to cost.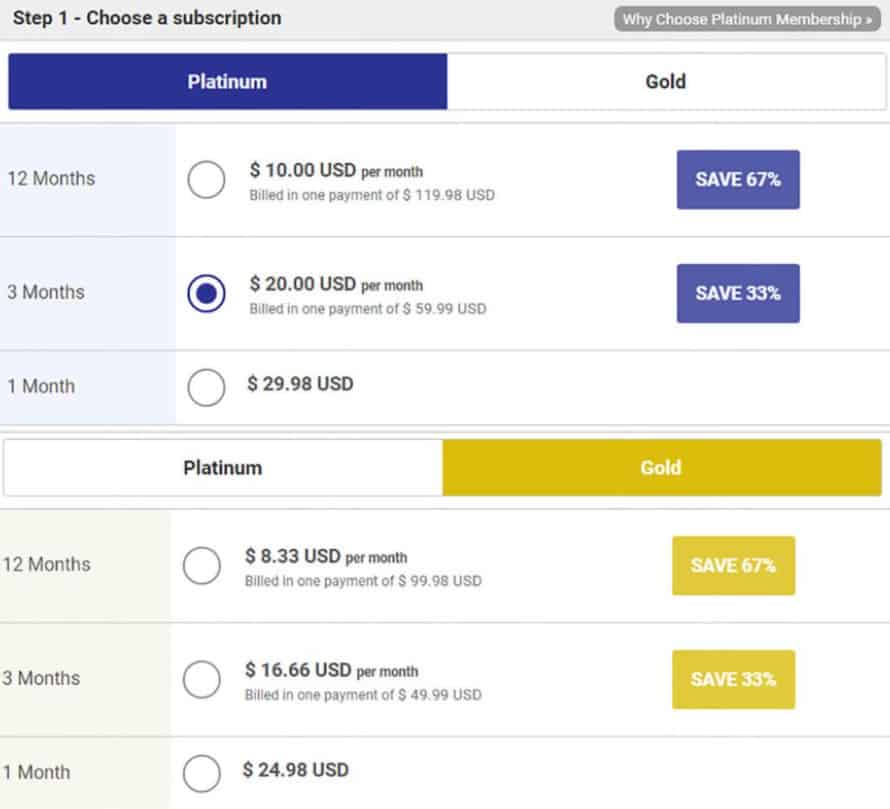 Here's a breakdown as to what the membership packages offered by Christian Cupid are going to cost.
Remember, there is two types of membership, Gold and Platinum.
Each of those comes with three different package options: one-month, three-month and 12-month membership.
If you opt for Gold membership, this is what you will pay:
1-month membership – $24.99
3-month membership – $49.99 ($16.66per month)
12-month membership – $99.99 ($8.33 per month)
And here are the Platinum membership prices:
1-month membership – $29.98
3-month membership – $59.99 ($20.00 per month)
12-month membership – $119.99 ($10.00 per month)
For the features offered by Christian Cupid, these prices are reasonable I feel.
The only real problem for me is are you going to pay this amount with Christian Cupid having such a small user base.
Luckily, at least you can try the site out for free and see what kind of matchups you can find before you have to jump into trying out a membership option.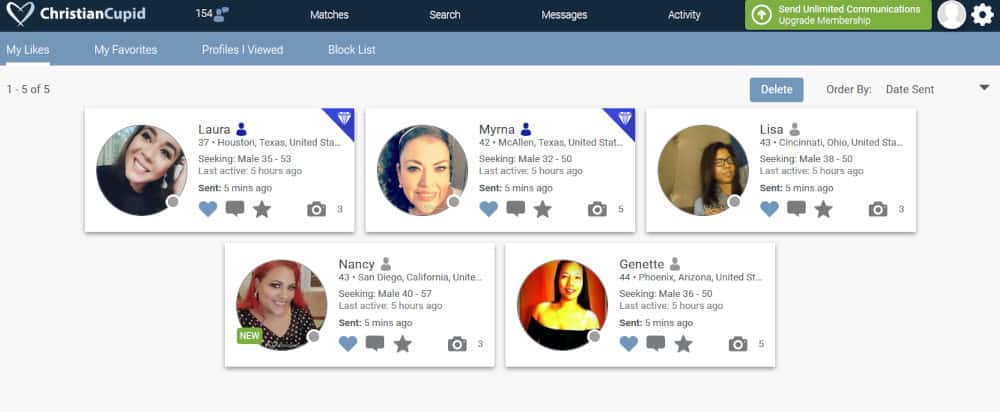 Conclusion and Overall Rating
So let's jump straight into my rating for Christian Cupid.
I'm giving it 3.75 out of 5.
It would have an excellent 4 out of 5 but there is no denying that the overall effectiveness of the site is let down by the fact that it has such a small user base.
Don't let that hold you back if you want to try it out, however.
Take your time to set up a profile and do some searches of your own to find out if there are indeed matches that you can follow up on.
And if you do, then you can consider one of the membership options.
Just like any other Cupid Media site, Christian Cupid has excellent features that are available for members.
Other than messaging, there's so much for you to try out as a member and the options available to you are well priced as well.
So would you consider giving Christian Cupid a try?
Let us know in the comments below.
Frequently Asked Questions