Back before you had online dating sites for all kinds of population groups, the original were those that featured women from Russia.
It gave females living in this country a chance to break free from their surroundings and meet up with men in the West that were interested in having relationships with them.
And as you know, many of these relationships became marriages.
While some were for convenience, no doubt, others were based on true love, that's for sure.
OFL Top Recommendations based on 100,000+ Survey

"Serious Relationships"
"Discreet Hookups"
"Best Course for Men"
"Quick Flings"
"Normal Hookups"
"Our Quiz"
Russian Bride is a similar kind of concept that's operating today.
Of course, many of these types of sites don't have the best of names and many users accuse them of being scams.
So what of Russian Brides?
Well, this thorough review of the site will take a deep search into:
Is your dating app giving you the best chance for success?
Make sure to take our online dating site/app quiz to find out.
It's a fact that people who follow our dating site suggestions have on average 2 extra dates per month.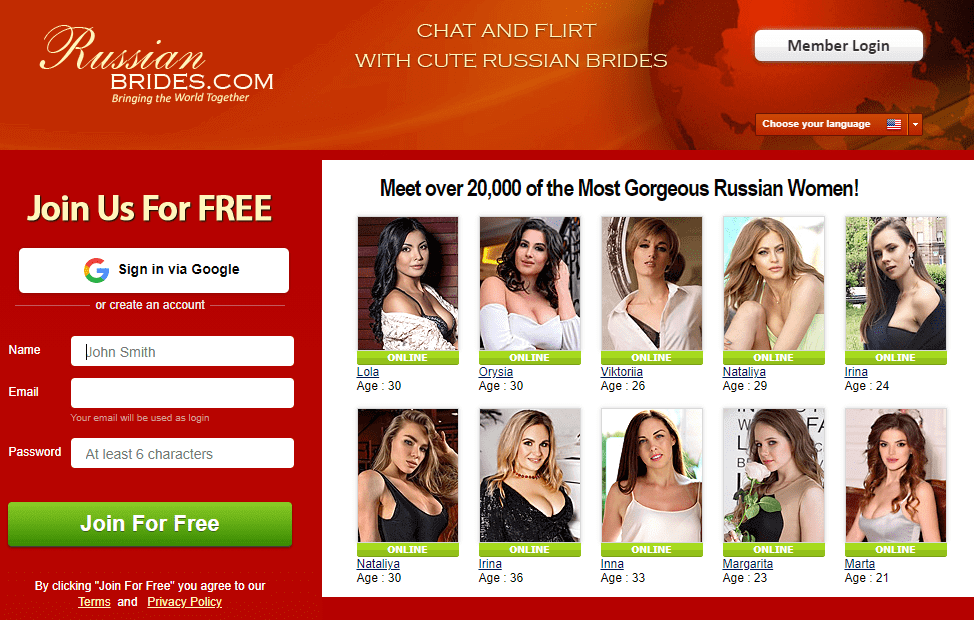 Extensive anti-scam system to try and stop fake profiles
Over 25 000 females users who want long-term relationships, even marriage
You can try some of the services for free
You need to consider the time distance when chatting to female users of the site if you are from the United States.
Not the greatest website design
Lots of irritating messages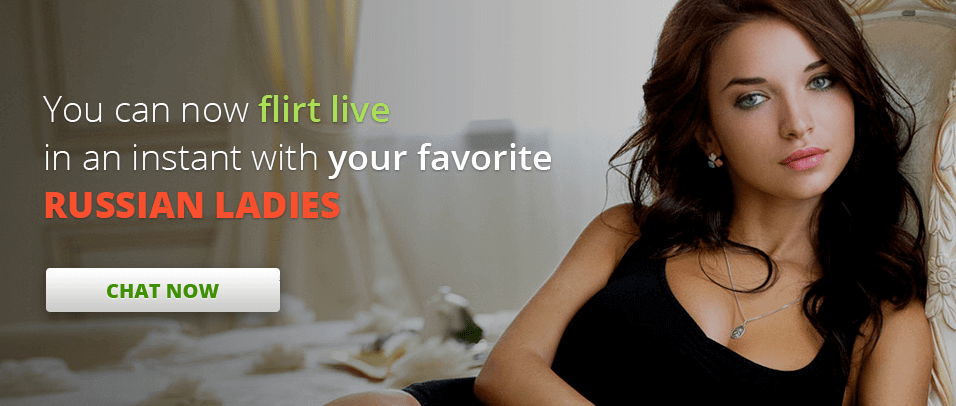 Who Is It For/Demographics?
Russian brides.
There is no hidden message in the name at all.
Do you want to meet Russian women and possibly marry them?
OFL Top Recommendations based on 100,000+ Survey

"Serious Relationships"
"Discreet Hookups"
"Best Course for Men"
"Quick Flings"
"Normal Hookups"
"Our Quiz"
Well then, use this website.
That's the simple pretense here, right?
So on the one hand you have a selected audience, the female side of the site.
And on the other hand, you have the targeted audience, males, (most from the West) who want to have a long-distance relationship with Russian women that could possibly lead to something far more significant, i.e. marriage (like eHarmony or Tinder). Most of these women on Russian Brides are not interested in casual hookups (like BeNaughty or Ashley Madison).
The site is part of the SOL Networks Limited network of dating site which specialize in helping men from the Western find long-term love with various women population types, like Russians, Ukrainian and those of Latin American origin.
Russian Brides | By the numbers
So now that you know exactly who this site targets as its primary users, it's time to see just how successful it is in terms of user numbers.
Well, those weren't that easy to source, but some detective work on my part found out the following interesting facts and figures:
Around 25 000 Russian and Ukrainian women have profiles on the site
The user ratio sees men make up 70% of all users on the site and females 30%
If the 30% of females roughly equate to 25 000 users, then the 70% male component would be around 62 000
That means that Russian Brides has an estimate of around 100 000 users
Around 12 000 unique visitors are on-site daily
Now while 100 000 users may not seem a lot, remember that this is ultimately a site where the female users are looking for a long-term relationship and even marriage and relocation as an end point.
A breakdown of user age ranges on Russian Brides
Younger female users and older male users.
That's normally how user age ranges on-site like turn out.
While Russian Bride does show some of those trends, it's interesting to note that the biggest male user group is actually found between the ages of 35-44 years old.
I suppose those are men that are looking for someone to settle down with and why not a Russian bride, right?
33% of users come from this group with males making up 31% and females 2% of the user base.
The smallest group of users on Russian Brides are the 45-54-year-olds which I found strange if I am honest.
They made up 13% of all users with an 11% to 2% male to female split.
The only group where females contribute more users than males is the 18-24 year-olds, but I guess that is to be expected.
But here's the full breakdown of user age ranges of Russian Brides.
35-44 year-olds (33% of all users. Males contribute 31% to this group and females the remaining 2%)
25-34 year-olds (26% of all users. Males contribute 15% to this group and females the remaining 11%)
18-24 year-olds (15% of all users. Males contribute 2% to this group and females the remaining 13%)
55 and older (14% of all users. Males contribute 12% to this group and females the remaining 2%)
45-54 year-olds (13% of all users. Males contribute 11% to this group and females the remaining 2%)
Certainly, those age ranges make for interesting reading.
And from them, we can deduce that it's not only older Western men that are looking for Russian brides.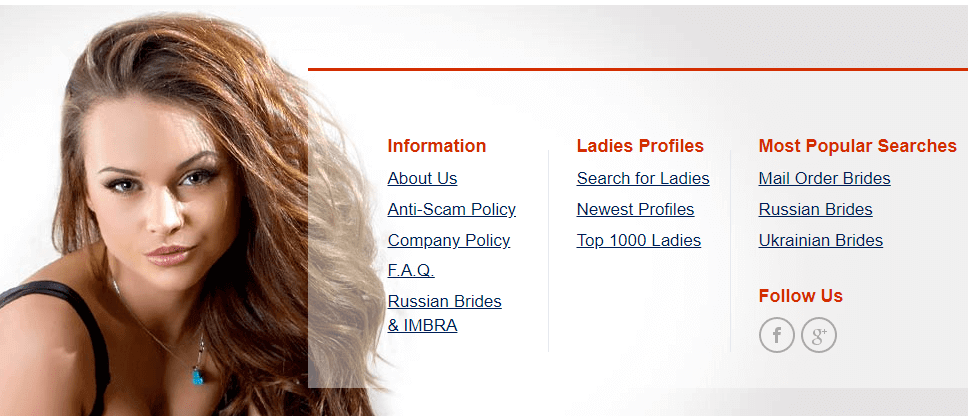 While Russian Brides does have a mobile app, it doesn't seem that popular.
In fact, it has only been downloaded around 5 000 times off the Google Play Store.
So for the purposes of this review, I am going to talk about registering a profile on the site using a laptop or desktop computer.
Interestingly, the landing page for Russian Brides allows you to change the language it appears in.
There are three options: English, Swedish and Spanish.
So clearly it's not just men from the United States and the United Kingdom that are looking to find their Russian or Ukrainian bride, right?
Registering your profile on Russian Brides
If you'd like to, you can use your Google account to register on Russian Brides.
I went the more traditional route by providing my name, a valid email address and a password.
And 20 seconds is all it took for me to have access to the site.
You can't use it properly, however, until you validate your email address.
This is part of the anti-scam system Russian Brides has put in place in an attempt to stop fake profiles on the site.
Well, it's any different from what I have seen on other dating sites.
I can only talk from the male perspective, however.
Perhaps if you are a Russian or Ukrainian woman wanting to start a profile, the checks are more extensive.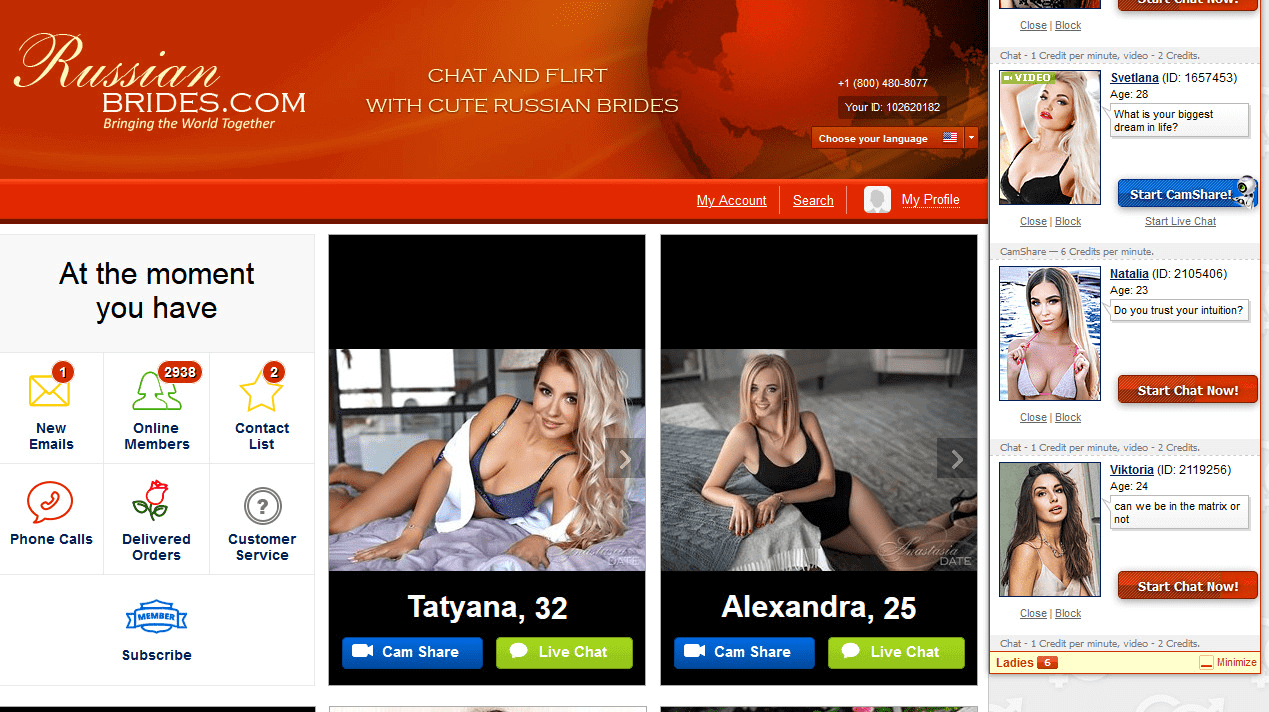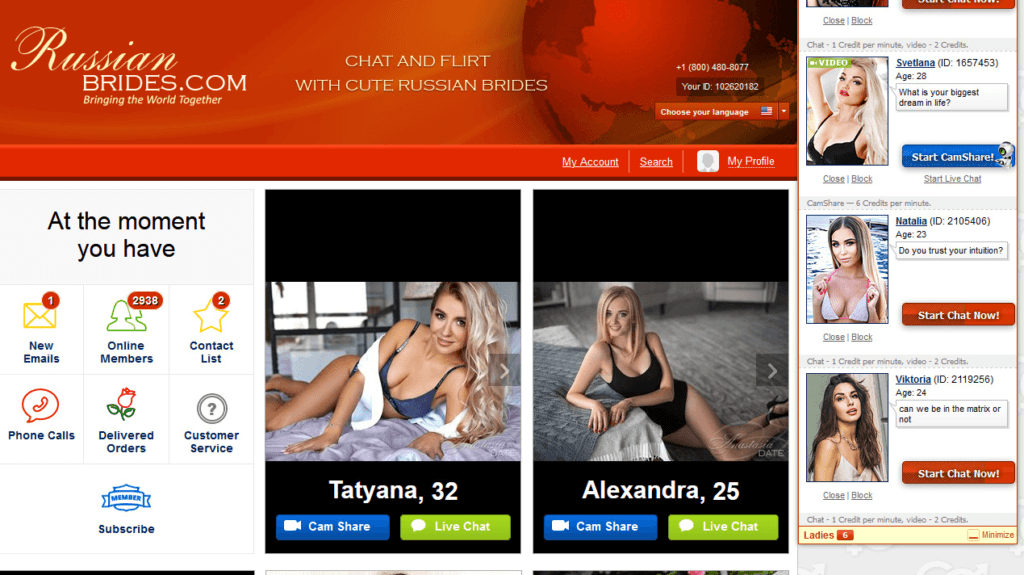 Finding your way around the website
Before we get into how the site operates, I just want to mention something.
Always with sites like these, it seems that from the moment you log in, you are inundated with messages from female users.
And that was true for Russian Brides.
I had not even finished my profile when messages started flooding in on the screen.
Well, it could just be an automated system to show you profiles with pre-generated messages, but I am not going to lie, it is very annoying.
I have to question if these are real or fake profiles as well.
Even with the anti-scam protection on the site, there are still many people who complain about the number of fake profiles on the site.
I will talk a little more about these later.
But now let's talk about the site.
It takes a different design approach to most other dating sites.
If I had to describe it, I would say it's cluttered but functional.
The constant messages on the side of the screen of users trying to get your attention do get very annoying that's for sure.
Other than user profiles which are prominently displayed there are a few menus that you can access.
The first three, found at the top of the screen, are:
My account: You can change various account settings here
Search: If you'd like to conduct your own searches, do it here.
My profile: Access your profile here
There is another menu system that you will find to the left-hand side of the screen and this includes:
New emails: Find any messages you receive here
Online members: This will tell you how many people are online. Click on it and you can view them
Contact list: See who you have been in contact with
Phone calls: You can place phone calls to other users here
Delivered orders: See if the gifts you send to other users have arrived
Customer service: Click here to have any questions you have answered
And that's it really.
If you click on the search or profile button, you can also access your inbox, see your sent mail, access live chat, send flowers and presents and more.
It's not a tough site to navigate but some aspects are hidden behind other menus.

Your Russian Bride profile
I am not sure a profile is important on Russian Bride seeing that you are bombarded with messages from the start of your journey on the site.
Just kidding, of course, it is.
You should always fill in your profile no matter what site you are using.
Your profile on Russian Bride is quite extensive considering the type of site it is.
You can fill in the following:
Appearance parameters
Marital status
Your education level
The languages you speak
What you are interested in
Provide a description or a few words about yourself
If you have children
If you drink or smoke
What you are looking for in a partner (including appearance parameters and more)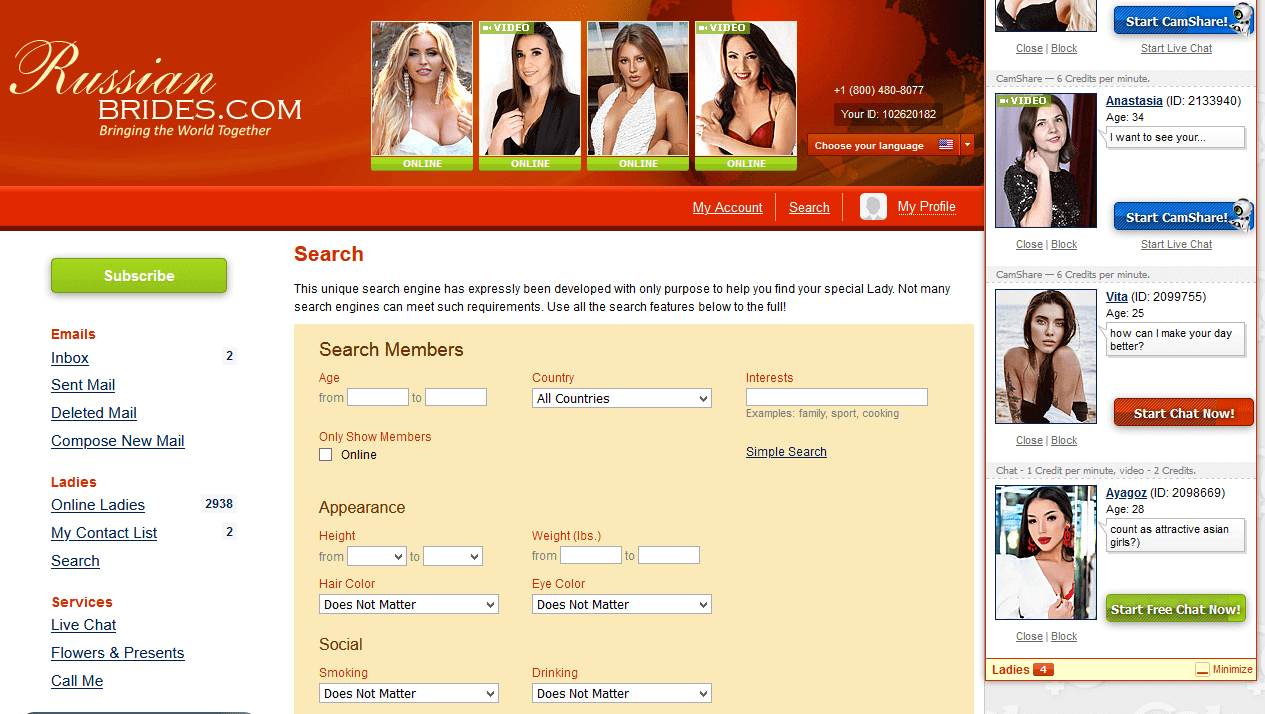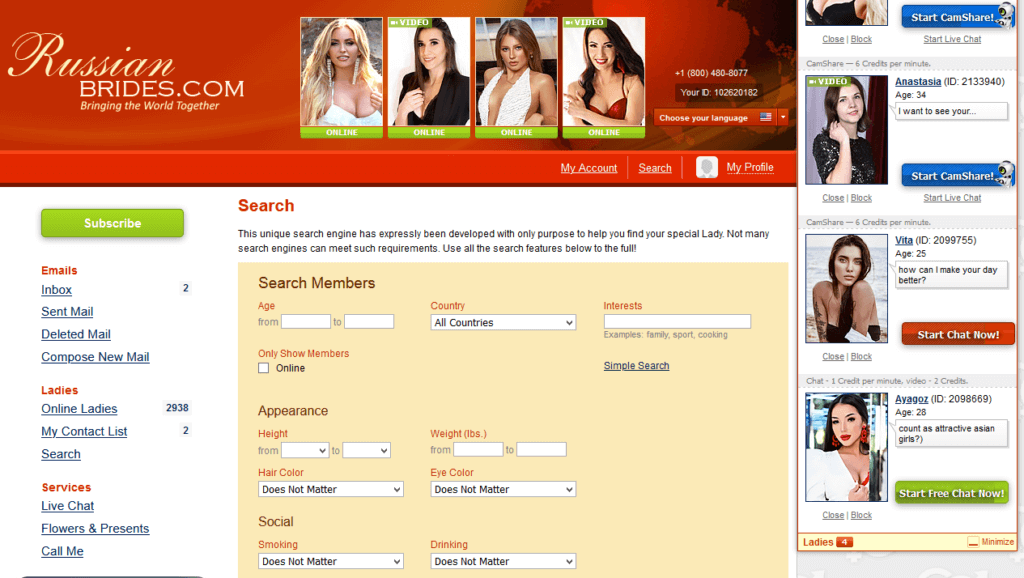 I mentioned all the messages that constantly appear from other users on the site from the moment I logged in.
Some of them you can chat to for free (they are clearly marked).
After three minutes, however, you have to start paying for the conversation.
Are these real users?
From my interaction with a few of them, I would say yes.
But are they just there to get you to buy credits?
My guess there is a yes, as well.
So how then can you go about finding genuine Russian Brides on the site?
Searching for your Russian Bride
Other than going through all the profiles the site presents on the home page, you can make searches of your own.
The basic search engine only has a few parameters.
They are:
Age range
Country
Interests
If they are online
There is an advanced search engine as well.
That adds:
Appearance parameters
Social parameters
If they speak English
If they have children
It's not impressive like other advanced search engines that you will find on other sites, but I feel it's got enough parameters to turn up the matchups you are looking for.
Yes, you can speak to people for free on the site as I have already explained.
These are only selected profiles and then it's only for a period of three minutes.
I am still not sure if these were real members or not.
You can also click on the live chat feature which will bring up tons of users to chat with.
Again, this is only for the first three minutes, but at least it is a start, right?
If you'd like to chat with someone with video, then you can use the CamShare feature.
This allows both users to see each other and that's a great way for you to try and determine if they are legit or not.
Or you can send a letter, which is basically an email.
Here's a breakdown of what these different forms of communication will cost you:
Partaking in a live chat – 1 credit per minute
Using CamShare – 6 credits per minute
Sending a letter/email – 10 credits
Booked phone call – 100 credit deposit and 10 credits per minute
We will talk about these in a little more detail under key features.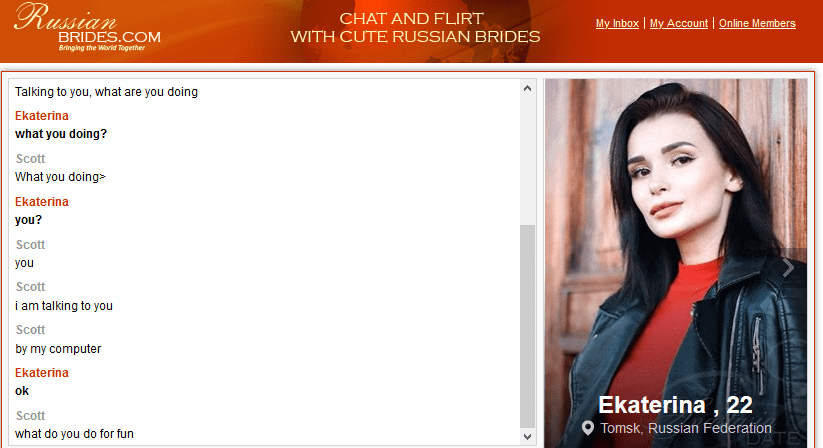 So let's talk about some of the key features that Russian Bride has to offer
Live chatting is available for all users and is power by credits.
Your first three minutes are free, so that's useful to help you gauge if you are chatting to someone that could be worth pursuing further.
After the three minutes are over, each minute will take one credit off your balance.
CamShare does not include any free minutes.
If you initiate one with someone, you will be using credits from the start.
What CamShare does is make use of the webcam on each users' laptop to allow them to chat in real-time with visuals.
If you really are hitting it off with someone, a CamShare chat can help you to verify who they say they are is true.
Users on Russian Bride are able to send one Let's Mingle every 24 hours.
It's basically a broadcast message that you send to a defined target audience.
You can determine the message yourself and send it to women from 25 to 45 as an example.
It's a great way to reach large groups of users.
So not all users on Russian Brides have webcams.
Instead, you can book a call with them which includes a translator, if need be.
These must be booked 24 hours in advance
If you'd like to, you can send gifts and flowers to other users.
Russian Date will ensure these are delivered to them.
You can even send a webcam to those who don't have one or perhaps kid's toys to those who have children.
And no, I am not kidding!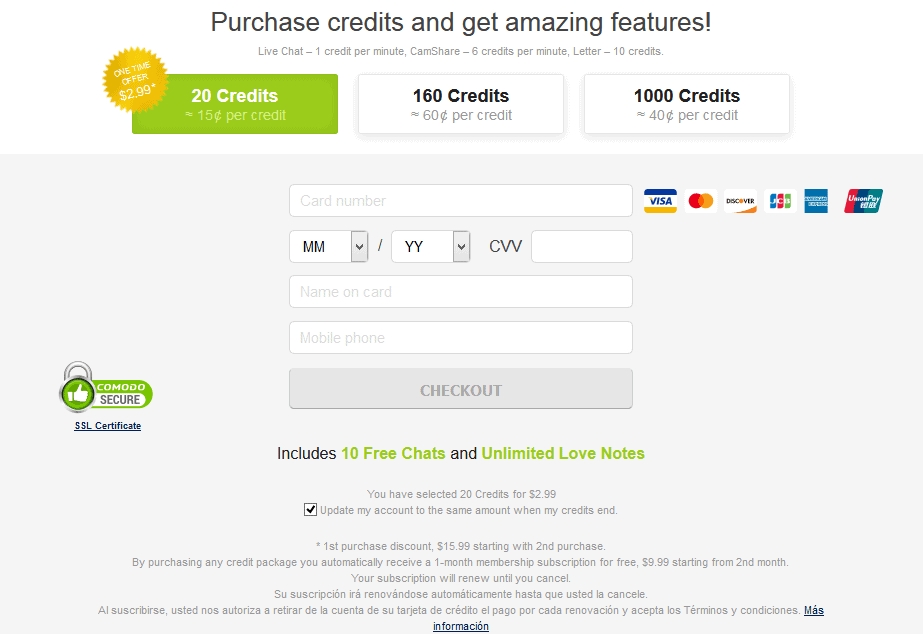 So you have two options when it comes to using all the above features on the site.
One of these is credits, which we have already talked about.
The other option is by paying a monthly membership fee.
Concerning credits, before we get into just how much they are going to cost you, it's important to recap what they are used for and how much each of those specific events costs.
Having live chat with another user – 1 credit per minute (first three minutes are free)
Taking part in a CamShare session with another user – 6 credits per minute
Sending a user an email or letter – 10 credits
Booking a phone call session with another user – 100 credit deposit and 10 credits per minute
So how much do credits cost?
Well, there is an introductory price for all new members which gives the best value for money and that $2.99 for 20 credits.
That's what I would go with to try the site out before committing to anything else.
But there is a membership package too.
Well, there is actually only one monthly option.
And that will cost you $15.99 per month.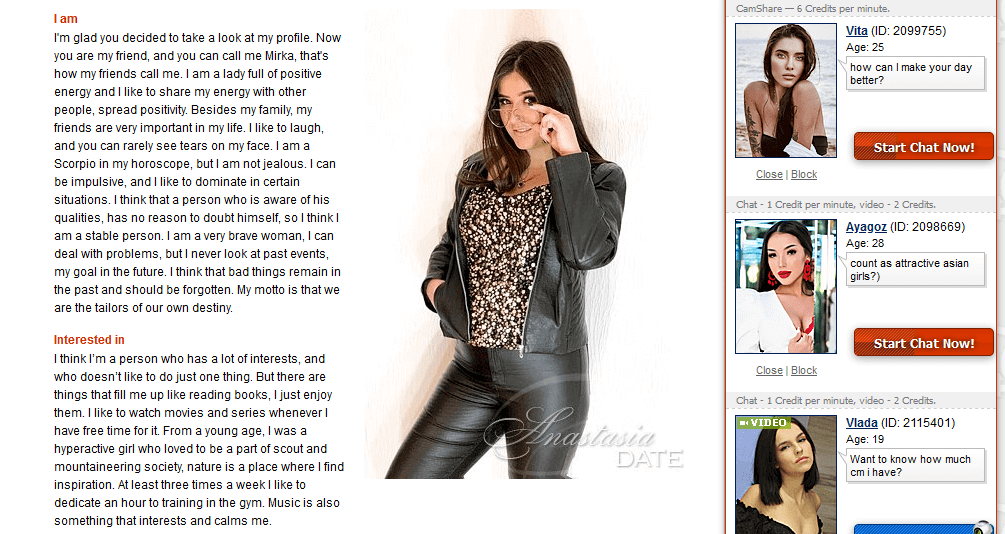 Conclusion and Overall Rating
Is this a legit site?
Yes, I do believe that it is.
But I won't lie in that the constant bombardment with messages when I first signed up really was extremely off-putting.
I have no doubt that there are legit users here, ladies from Russian and Ukraine that are genuinely looking to meet men from the West.
But the feeling that even though Russian Brides has gone through a lot to help stop scams, there are still fake profiles.
The good news is that is there is a way around this.
Simply don't deal with anyone who doesn't have a verified profile.
And it's easy enough to see if someone is verified as they will have a green verified badge near their profile picture.
On the whole, the site has lots of ways to chat with other users, from regular messaging, instant live chat, phone calls and even video chats.
I do like that about it because it allows you to choose what's best for you.
Yes, it's trying to get you to spend your money by sending gifts but you can ignore that, it's just an added extra.
This is a very different site to what you might be used to and it will take a little bit of time to find your way around.
But once you do you should have no troubles in launching searches for your own Russian Bride.
Just get ready to be bombarded with messages!
So let's get to the rating for Russian Brides.
It gets 3 out of 5.
Would you consider using it?
Let us know in the comments below.
Frequently Asked Questions