Gay dating has many niches.
From fetish sites to those that cater for chubs, bears or even mature men looking for younger men for casual sex, hookups (like BeNaughty or Ashley Madison), or perhaps even something more long-term in a gay partner (like eHarmony or Tinder).
Often, these are called sugar daddy dating apps or websites and SilverDaddies is one of these.
Today, we assess and evaluate all that this dating site has to offer in this comprehensive SilverDaddies review.
OFL Top Recommendations based on 100,000+ Survey

"Serious Relationships"
"Discreet Hookups"
"Best Course for Men"
"Quick Flings"
"Normal Hookups"
"Our Quiz"
So if you are an older guy that's done dating older men, perhaps this is the kind of site that can provide what you are looking for.
As we analyze this gay dating site we will look at the following:
So let's jump straight in and see what the SilverDaddies website has to offer.
And yes, it's certainly different from other gay dating apps like Adam4Adam or Grindr.
Is your dating app giving you the best chance for success?
Make sure to take our online dating site/app quiz to find out.
It's a fact that people who follow our dating site suggestions have on average 2 extra dates per month.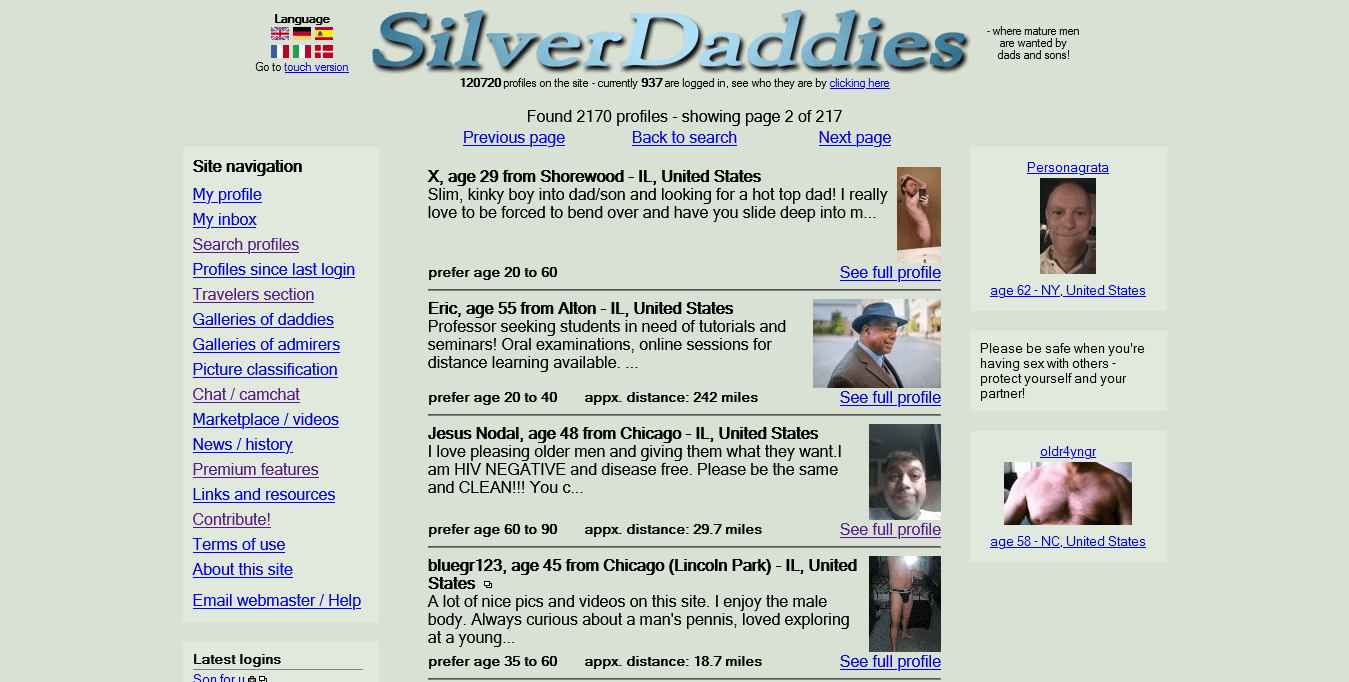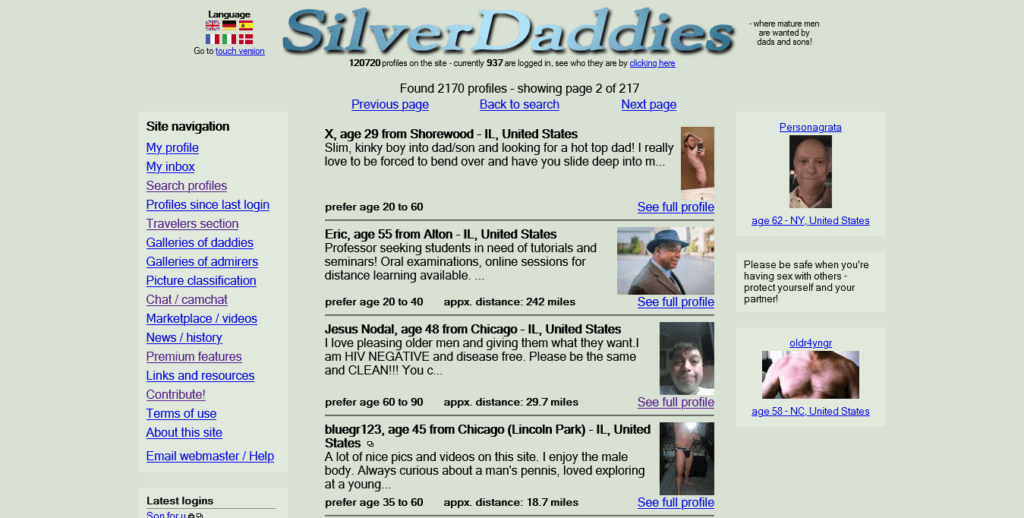 Ease of Use 4/5
Effectiveness – 3.5/5
Key Features – 3.5/5
Pricing – 5/5
There is a Silverdaddies app for iPhones
Extensive galleries
Hands on ownership
A small user base
Very dated desing
Who's It For/Demographics
Silverdaddies users come in two main groups of users: silver foxes or mature gay men and younger gay men.
Trying to establish how many users have signed up for the site over the past two decades proved to be pretty difficult.
I've seen numbers over a million, under a million and anything in between.
OFL Top Recommendations based on 100,000+ Survey

"Serious Relationships"
"Discreet Hookups"
"Best Course for Men"
"Quick Flings"
"Normal Hookups"
"Our Quiz"
But then I notice that Silverdaddies has a profile counter on their homepage and that puts the count at around 127000 users.
But I do think that's active users and not the total amount of people that may have started a profile over the past 20 years.
This site also includes a useful counter for users online and that sat at well over 2000 users when I started my profile registration process.
As for the age ranges of users, well we do know the two basic groups on the site, starting with Silverdaddies.
So that's going to be gay men who are generally 45 and above.
But we also know that this is not a site for Silverdaddies only and the younger users on the site are going to be aged between 20 and 30.
Those are the two age ranges that dominate the site.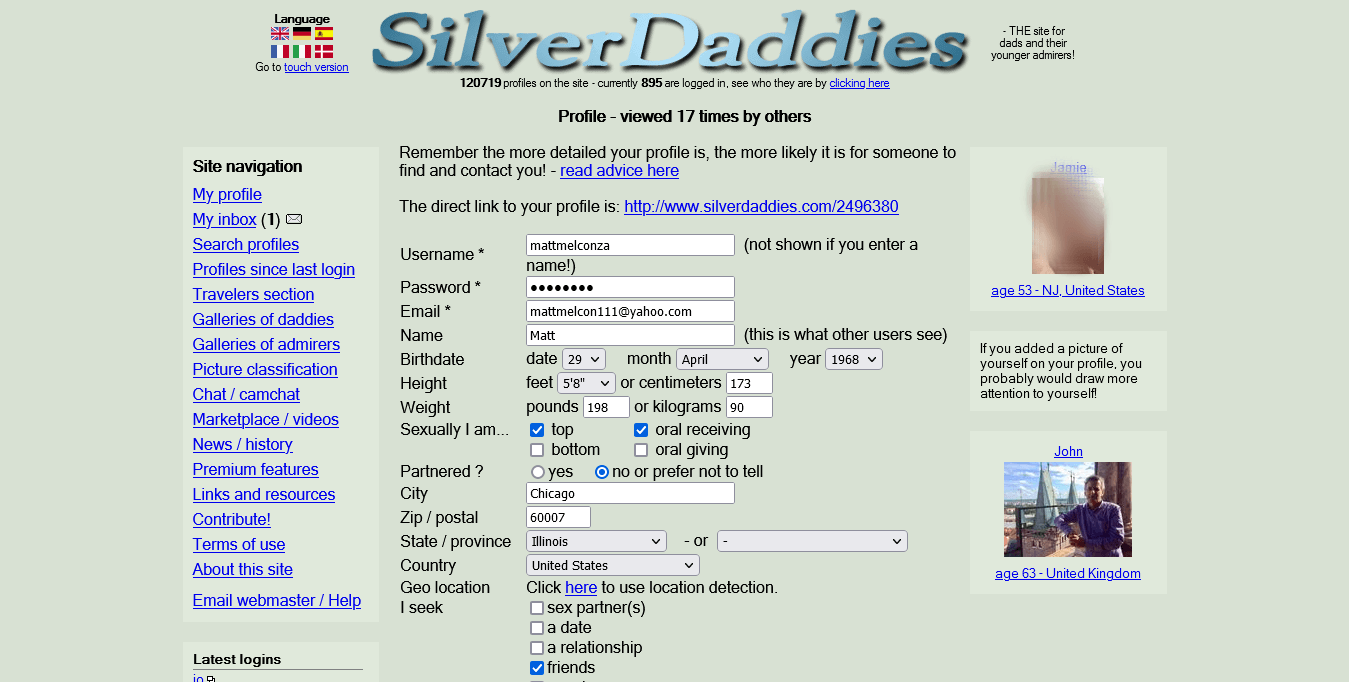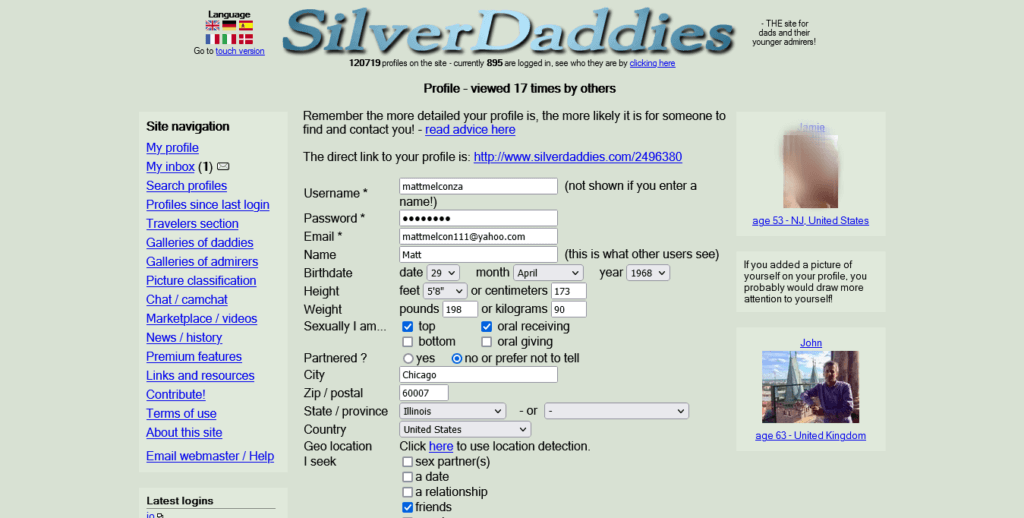 Silverdaddies does have an app but it's only available on the App Store which doesn't help Android users.
So for this review, I will set up my SilverDaddies account through the website.
And the first thing you will notice is just how dated the website design is.
It's like the site has never been updated from the early 2000s (and I seriously doubt it has).
The Silver Daddies sign-in process starts with a captcha check first and foremost.
Usually, if these are used on dating sites, they come right at the end.
That's followed by filling in the following details:
Username
Password
Email address
Name
Birthday
Height and weight
Your sexual preferences
If you have a partner or not
Where you live
Zipcodes
Country
The kind of relationship you are after (sex partner, dating, relationship, friends, couples)
The age range of preferred matchups
Profile text
Profile picture
Profile video (if you want to add one)
And that's it.
Once a user has gone through this process, they have not only registered for the site but effectively filled in their profile as well.
Talking about profiles, there is quite a bit of information contained in them, which is good to see.
And while browsing the site, it seems like the majority of users take their profiles pretty seriously, because they all seem to have taken time on the Profile text section.
For some, it's almost like they used them as a bit of a personal ad as well, filling in all the information you need to know and what they are prepared to do, nor not to do in a relationship.
One other thing to note is that while the site is outdated, you will be able to upload more than just a profile picture.
Yes, you can have your own gallery as well as making some of those pictures private.
Some users don't seem to care about that however, with their profile pictures leaving little to the imagination and making SilverDaddies look like a porn site at times.
In fact, originally this site, started by a man named Dennis Anderson, was just a gallery site that became a dating site after many users asked for that option to be added.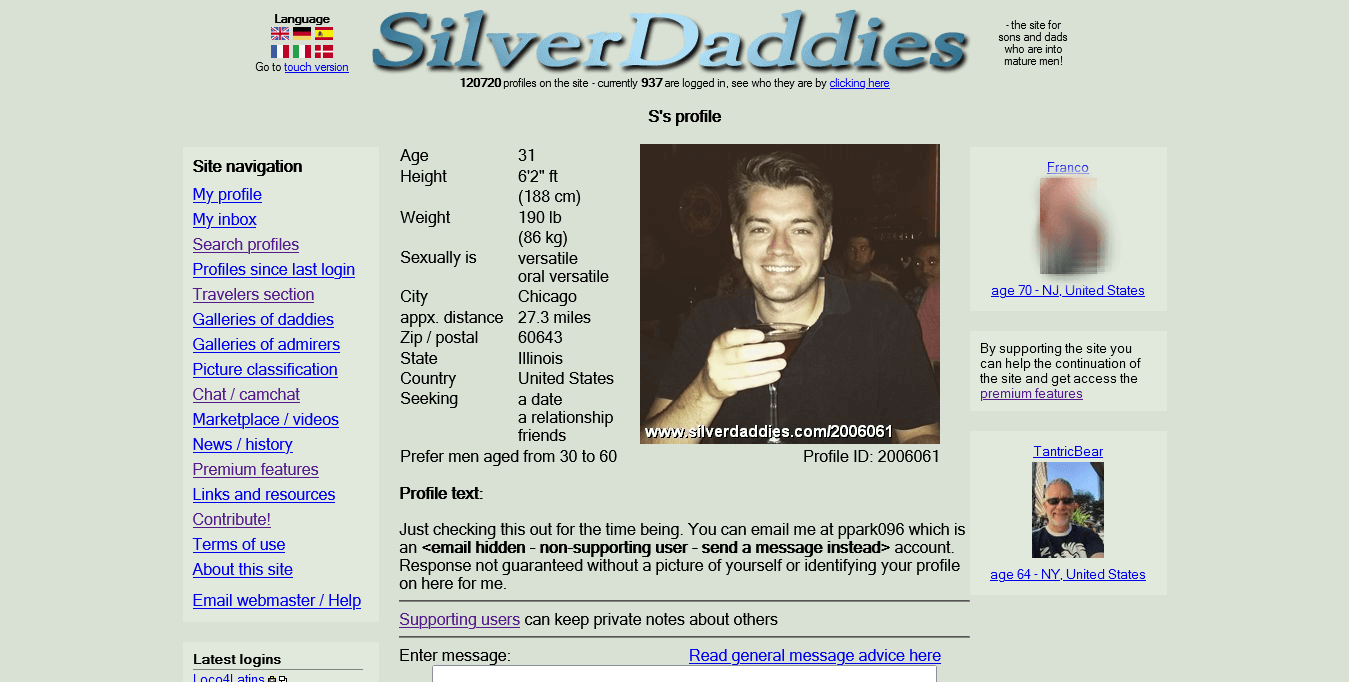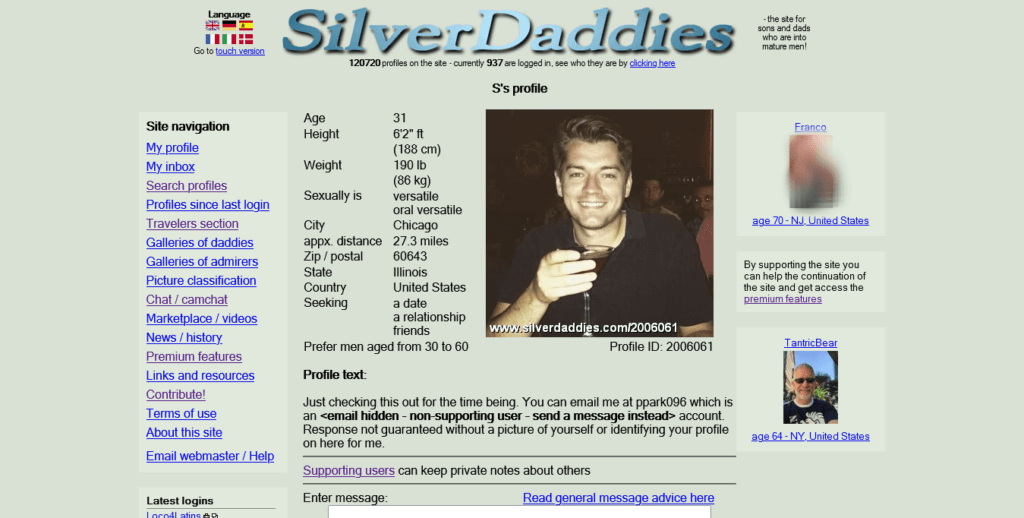 Finding your way around the site
Ok, so without a doubt, the site looks pretty horrible.
I can't lie.
It's just so dated, it really is.
But that's not going to matter at the end of the day if it can provide you with what you are looking for in terms of matchups and the usability is spot on, right?
When you are taken to the site for the first time, your profile page acts as the homepage.
That's right, you won't see potential matchups the site suggests, just your profile where you can add photos or edit entries as you see fit.
On the left-hand side is the site navigation panel.
This effectively, is the menu system and this is what you find there:
My profile: Edit your profile here.
My inbox: All your messages can be found under this menu. Messages that are older than a month get automatically deleted by the system.
Search profiles: This is where you can launch your search for potential matchups
Profiles since last login: This shows you people that have sign-up for the site since the last time you logged in
Travelers section: Here you can see a list of countries where users are traveling to. If you live in that country, you can see their profiles and when they will be visiting. Of course, you can set up your own travel itinerary as well.
Galleries of daddies: Here you can look through pictures of the older users on the site
Galleries of admirers: Here you can look through pictures of the younger users on the site
Chat room/Camchat: Here you can chat with other users as well video chat with them via webcam.
Marketplace/Videos: Here you can find links to gay porn and other providers
News: Access any updates and other news about the site here
Premium Features: This lists all the extra features you can expect if you choose to support the site financially.
Links and resources: This contains links to a video site affiliated with Silverdaddies, erotic stories and BearFront, the sister site to Silverdaddies specifically for bears.
Contribute: Here you can find out how much membership packages cost if you want to contribute financially to the site
Terms of use
About the site
Help
That's a lot of menus, that's for sure.
And while each of them has its own place, some could have been secondary menus under one of the main menus.
But then again, the ancient site design would simply not allow that, I guess.
At the top left of the screen, you will notice two things.
First up, the site isn't just available in English.
No, there are five other language versions available.
These are German, Spanish, French, Italian and Danish.
Also, there is a touch version of the site.
Yes, I've never heard of that before either.
So what is it then?
Well, essentially, it's a condensed version of the site that includes fewer menus.
In fact, the only ones you will find are:
My inbox
My profile
Search profiles
Find users near me
Online users
Premium features
While the design is still a little outdated, it became my preferred way to use the site, although I can clarify that the rest of this review is about the full site.
Is there a Silverdaddies app?
If you'd prefer to browse Silverdaddies using your phone, then you are in luck if you have an IOS device.
Like the site, the app design is very basic but it's there for you to use if you'd like to.
While there was an Android version at one point, that's no longer available on the Google Play Store although there seems to be APK versions available.
I would steer well clear of those if I were you, however, as they haven't been approved by Google and you just don't know what you are downloading at the end of the day.
The APK version isn't even promoted by the site.
Actually, neither is the IOS version but it is designed by Dennis Anderson and clearly legit.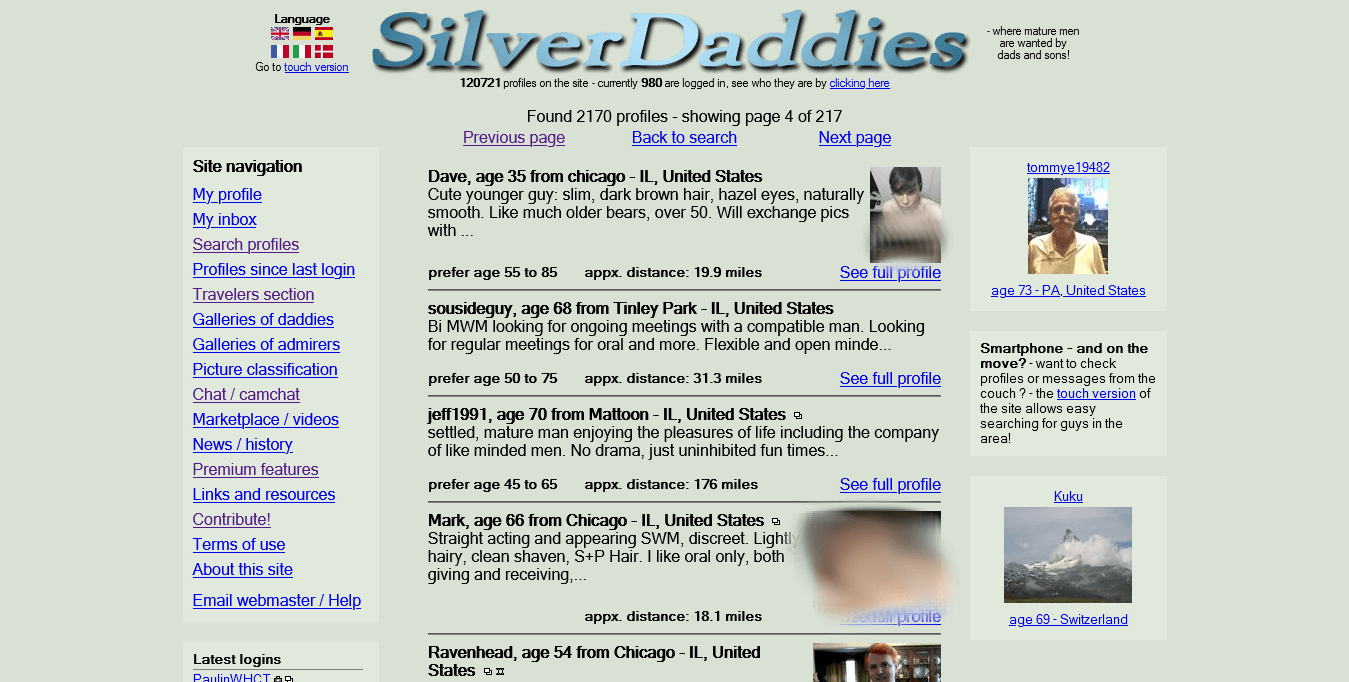 No matter how outdated a site is, as a user, you won't really mind that as long as it's effective.
And that means having the tools in place to help you find matchups that have potential.
That's what we are going to aim to determine in this section of the review.
There are a few ways in which you can browse profiles on the site.
For example, you can start with the various galleries.
There you will find as part of the main menu system of the site and they are split into:
Galleries of daddies
Galleries of admirers
So both groups of users of Silverdaddies are represented here.
Again, just a warning.
If you aren't into seeing nudity, you might want to steer clear.
The users of Silverdaddies certainly aren't scared of getting out their private parts and making them the center of attention, that's for sure.
Another way to meet new people is in the chat room.
As a new user, you cannot access it straight away and have to wait for 24-hours before permission is granted.
Silverdaddies presents users with the opportunity to view those who have joined the site since your last log in.
Just click on the Profiles Since Last Login to view them.
Again, much like the galleries, unless you are looking for a long-distance relationship or don't mind cybersex, you are going to want to be able to find those closest to your location.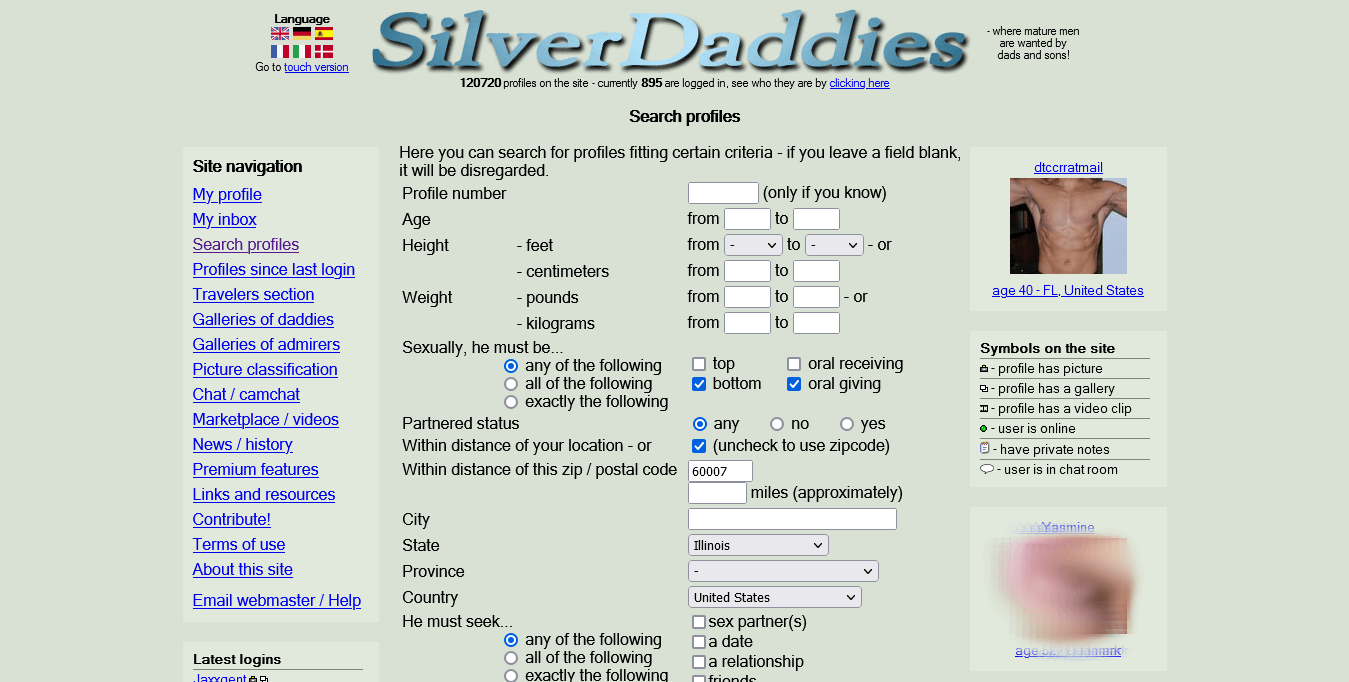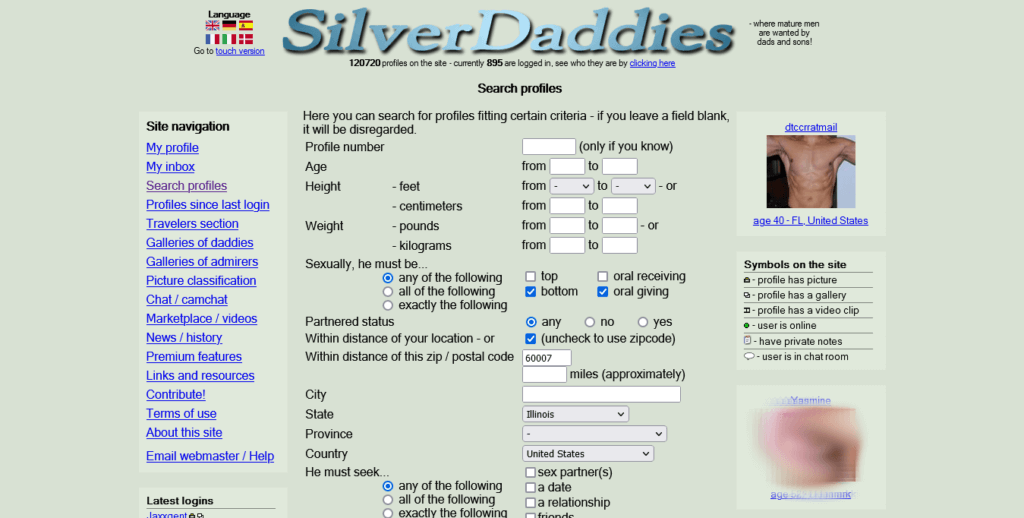 Searcing for love on Silverdaddies
As we've seen, Silverdaddies doesn't have the tools a modern dating site has in terms of finding you potential matchups and presenting them for you to look through.
To do that, you are going to have to use the site search engine located under the Search Profiles menu.
The good news is that the Silverdaddies search engine works superbly.
It presents users with a wide range of parameters to work with.
Of course, you can use as many or as little as you want.
If you don't need a certain parameter, simply leave it blank and it won't be included in your search.
So what are the search parameters then?
Well, let me list them for you:
Appearance (height and weight)
Sexual preferences
Partnered status
Within distance of your location/zipcode
Zipcode
City
State
Province
Country
What they are looking for in a relationship (friendship, sex partner, date, long-term, friends, couples)
Keywords found in the profile
Only profiles with profile text filled in
Only profiles with an image
Only men who are online
Only profiles of men who prefer users my age
Show travelers
Show future travelers
Show only travelers
Sort by (latest login, newest profiles, lastest updated, age increasing or decreasing, name, height, weight, city, zip/postal, state, country)
It really is a pretty powerful tool, that's for sure.
With these parameters, you can make very refined searches to hopefully turn up exactly what you are looking for.
Bear in mind, however, that can be hampered by the smaller user base, so if searches are turning up too few profiles, rather drop some of the search parameters.
There are a few ways to chat with others on the site.
The chat room is an obvious meeting point for people.
You can message other users too as a free member but you are restricted in the number of messages you can send.
If you want unlimited messaging, you should consider signing up for the premium features offered by taking out membership on the site.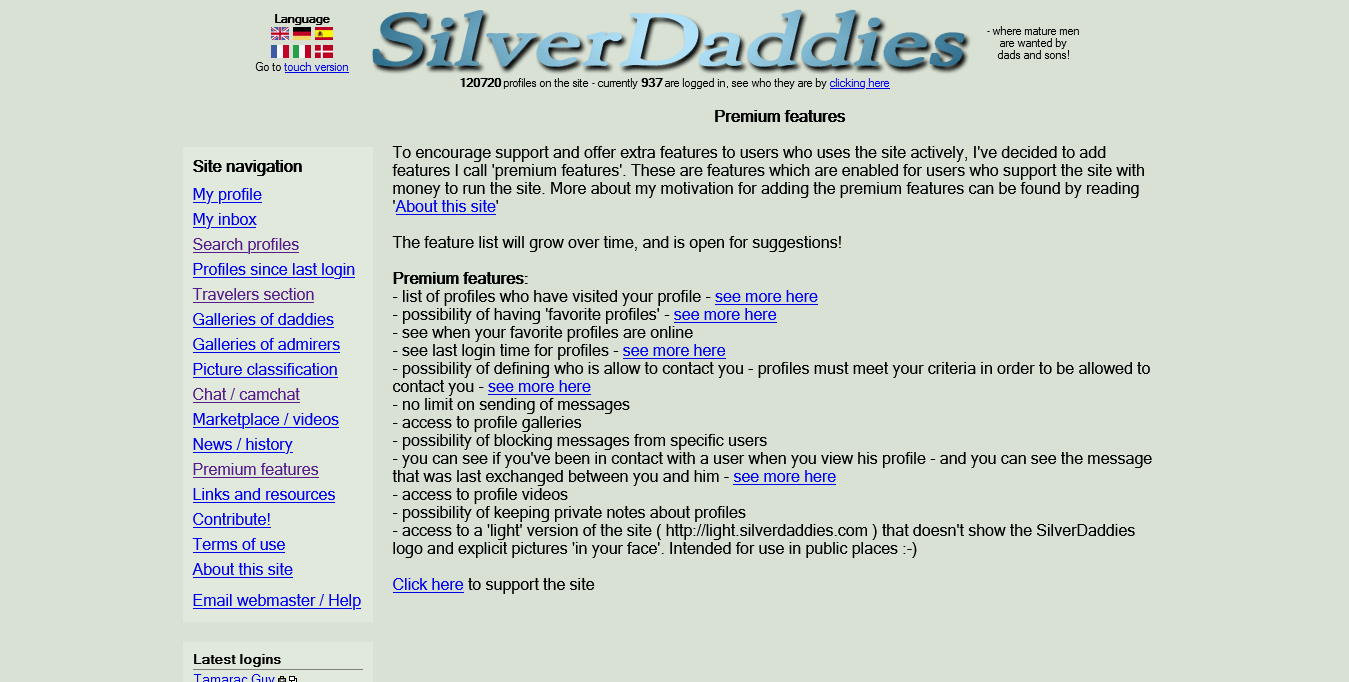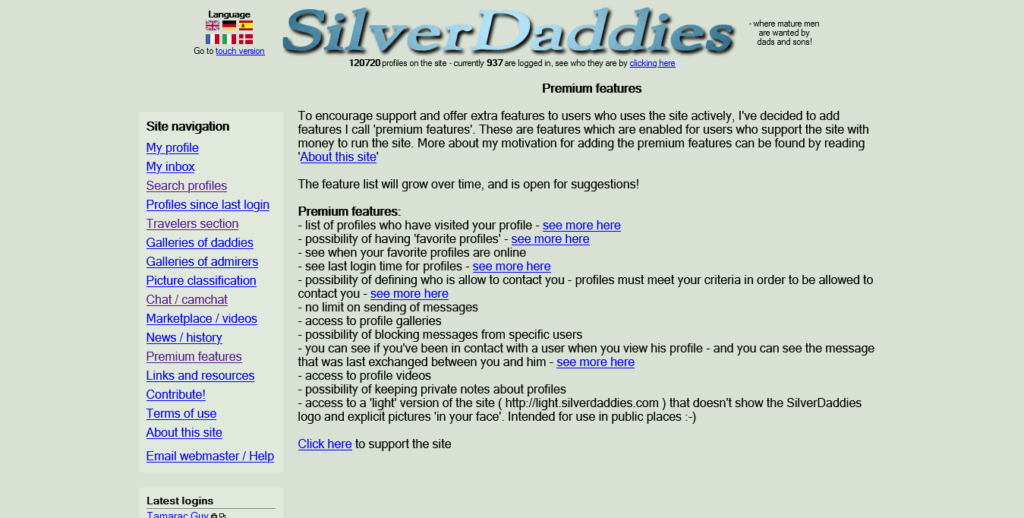 Before we look into the pricing of membership on Silverdaddies, let's look at the features that bring.
Members can send as many messages as they like, there is no limit.
It's one of the primary reasons why users take out membership on dating sites, and that's true here as well.
Other dating sites allow you to favorite profiles but Silverdaddies handles this a little differently.
If you favorite another users' profile, whenever they come online, you will receive a notification.
It's more useful than it sounds, believe me.
3. See when last someone logged in
This is always an excellent feature.
It helps you see if a user is active and worth chasing up.
This helps you stop wasting time sending messages to someone who hasn't used the site for a long period of time.
Extra privacy options allow you to determine exactly who can reach out to you to contact you.
5. Access to profile videos
As a member of the site, you can view the profile videos other users have uploaded.
Members can make private notes about profiles they've viewed or other information that they think important and would like to take down.
7. See contact information
If you view a profile and you've been in contact with that user before, you will receive a notification.
The site will also show you the last message exchanged between the two of you.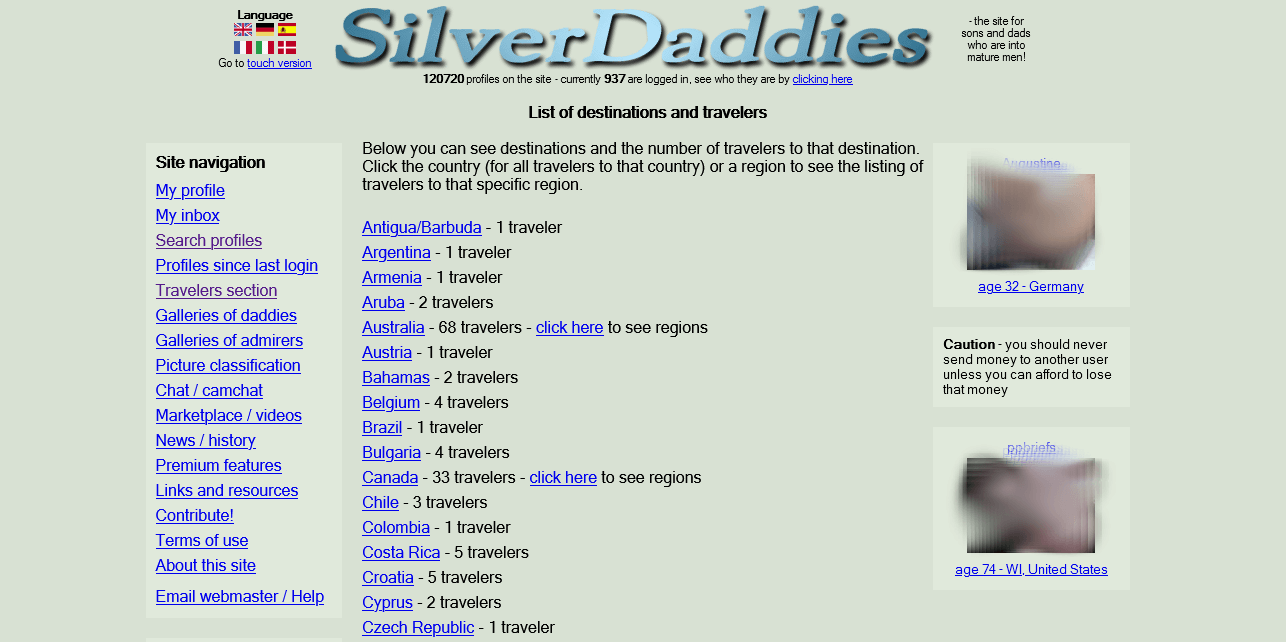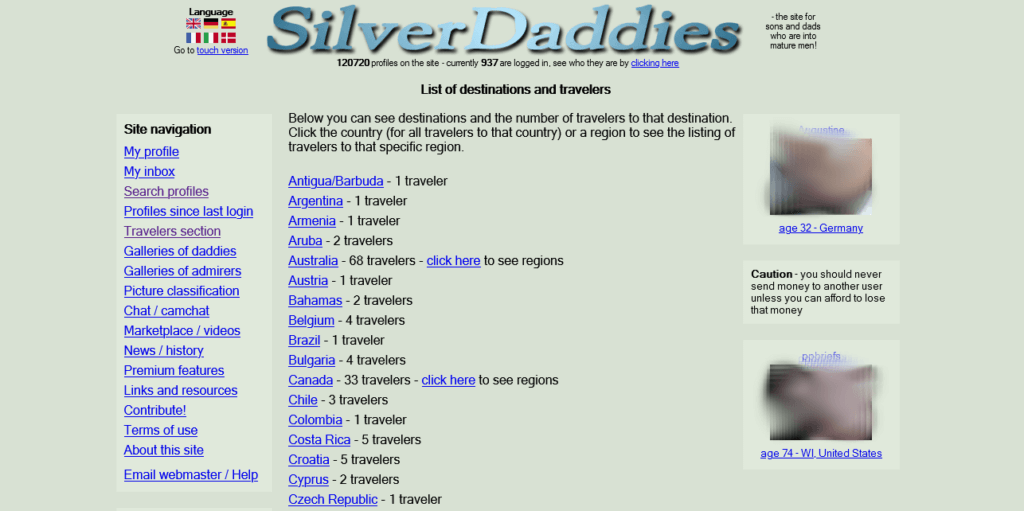 When it comes to membership packages, SilverDaddies doesn't have a one-month option.
The packages offered are three months, six months, nine months and year.
Here's what they will cost:
3-months: $15
6-months: $30
9-months: $40
1-year: $50
I think most would agree that this site, despite the fact that it's outdated in terms of looks, is superbly priced when it comes to membership.
While I would like a one-month option, paying just $15 for three months is a no-brainer in my book.
That's just $5 per month.
Payments are by credit card only and there is no auto-renewal.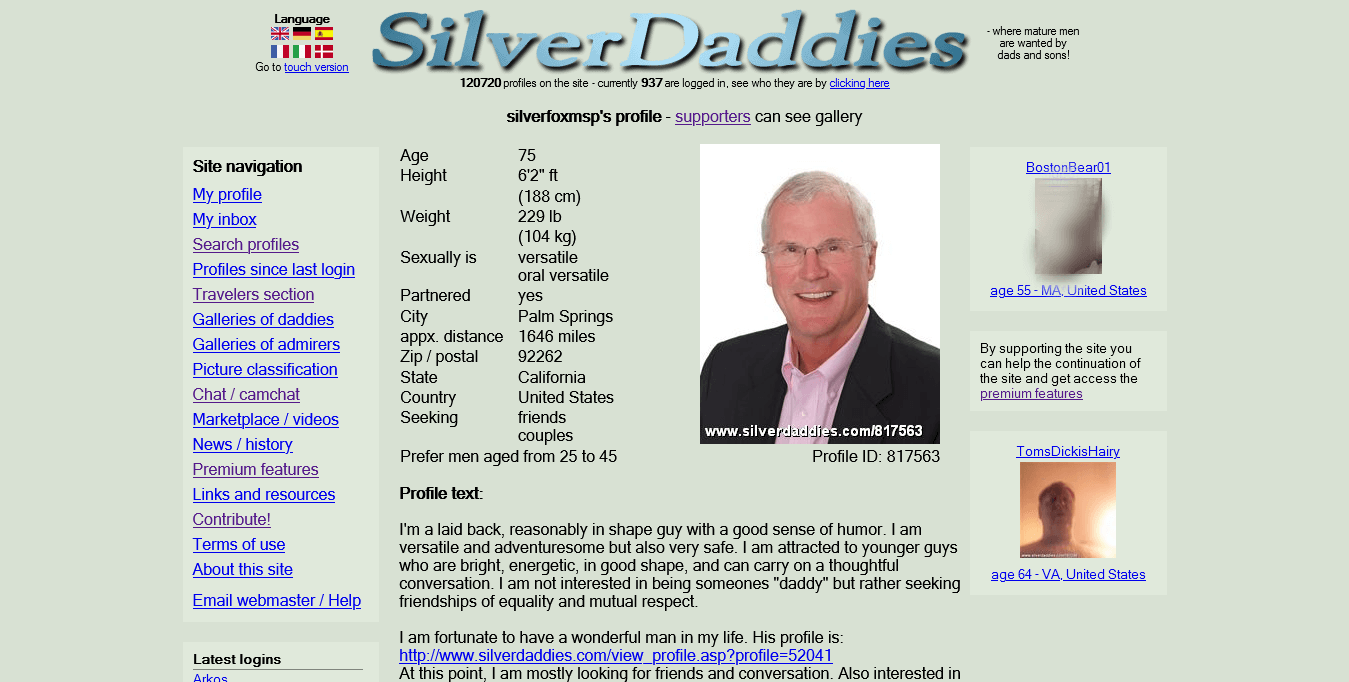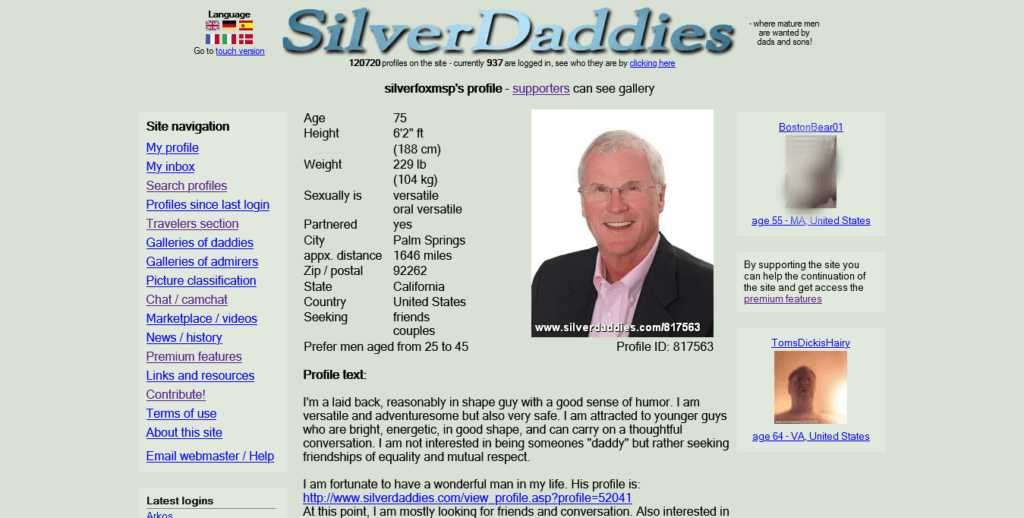 Conclusion and Overall Rating
​​​​That's it for our review of Silverdaddies.com.
​It's a site that many might not like because of its not very modern design.
But just forget that for a while.
This is a site that delivers, especially if you are in the United States.
While the smaller user base might hold it back, it's easy to understand why it is small.
This is niche dating and only a small portion of gay men are looking for older or younger partners for hookups or serious relationships.
Look, if you live in a large metropolitan area, no doubt you will find people to reach out to on the site, so it's worth trying out.
I was surprised by the number of key features members receive once they sign up but I was even more taken aback by the pricing of that membership.
It's super cheap and clearly Dennis Anderson, the man behind the site is passionate about providing a platform like this to the gay community.
So let's get onto the rating then.
Today, SilverDaddies gets 4 out of 5.
If you are a gay Silverfox or you are looking to find one, you should at least give it a try.
Dating review experts at OnlineForLove have used SilverDaddies for a long period so as to assess what it offers.
The site was scored via a star rating system.
This is based on various criteria that all dating sites we review are judged by.
Those criteria are pricing, the matchmaking algorithm, ease of use, member features and the size of the user base.