If you've used online dating sites before, no doubt you've heard of sugar daddy or sugar baby sites, like Seeking Arrangement, for example.
Sugar Daddy Dating involves older men and younger women
Older men get the benefit of a young, beautiful woman on their arm (and often more) while the young woman gets to live a lifestyle of extravagance.
But, are there gay dating sites where these daddy relationships play out between gay men?
OFL Top Recommendations based on 100,000+ Survey

"Serious Relationships"
"Discreet Hookups"
"Best Course for Men"
"Quick Flings"
"Normal Hookups"
"Our Quiz"
Of course, there are.
I can confirm that there is a range of sugar daddy sites where you can sign up as either a daddy or sugar boy, depending on your age and the role you want to play.
One of these sites is GayArrangement.com and we will explore much about it including the strengths and weaknesses it has along with:
So if you've been looking for a gay sugar daddy site, perhaps GayArrangement is the perfect dating app to help you set up that first date.
Let's take a look.
Everyone, Seeking.com, and What's your price are running a deal right now where girls can sign up completely free. We suggest you sign up for both to see which one you like the best. They are the biggest SD/SB sites online. Sign up for free on seeking here and for free on What's your price here.
Is your dating app giving you the best chance for success?
Make sure to take our online dating site/app quiz to find out.
It's a fact that people who follow our dating site suggestions have on average 2 extra dates per month.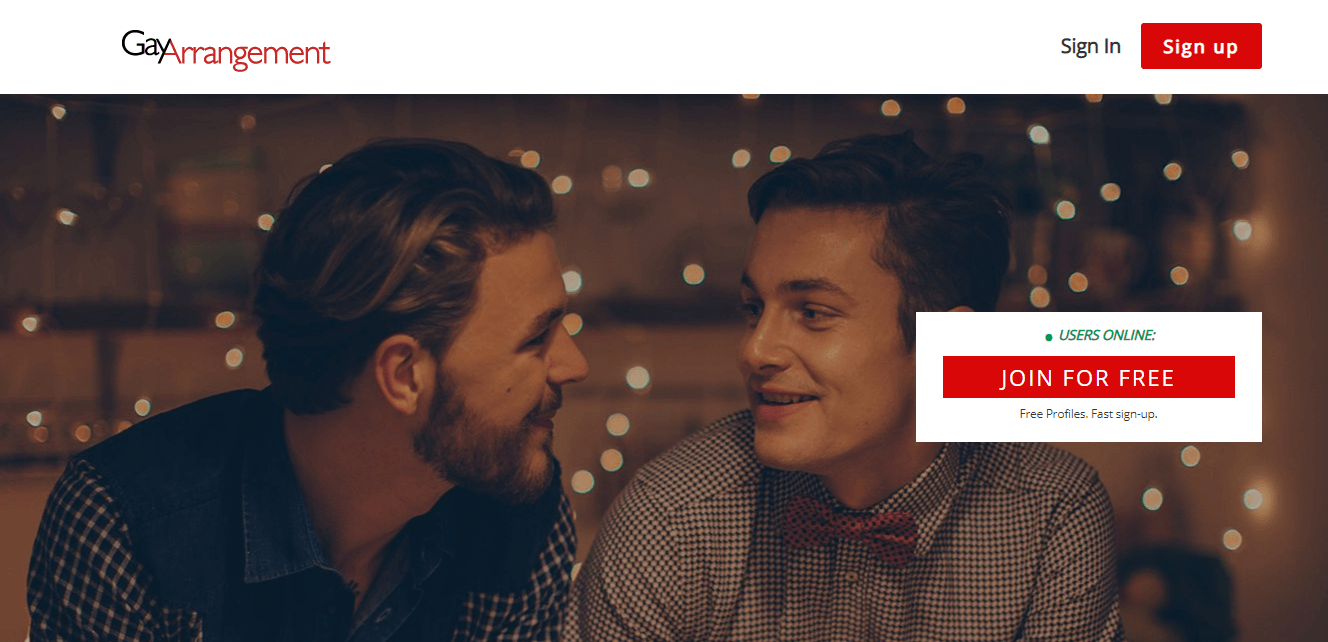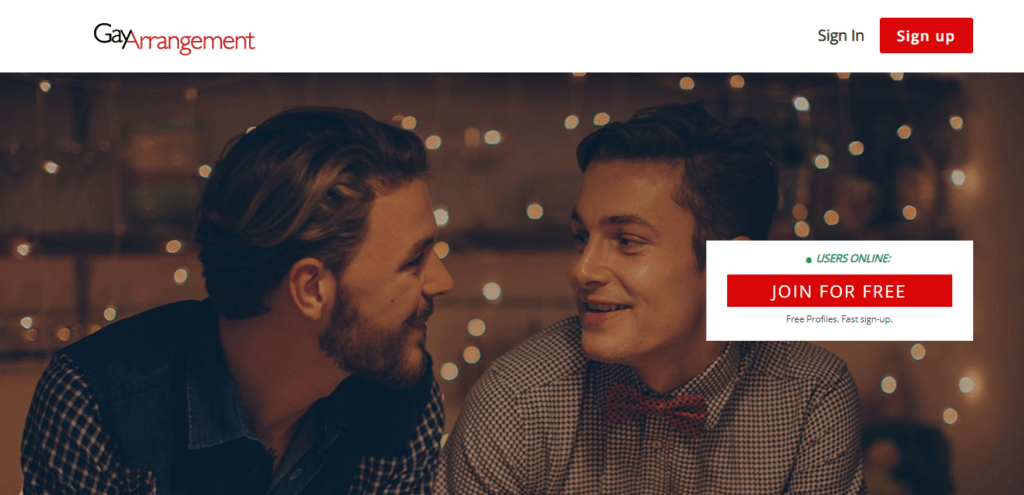 Ease of Use 4.5/5
Effectiveness – 3.5/5
Key Features – 3.5/5
Pricing – 4.5/5
A niche dating site with a particular purpose and an audience to match it
Beautifully designed
A strict registration process and with validation
Only 100000 strong user base
No mobile app
Who Is It For/Demographics?
If you aren't a gay sugar daddy or a sugar boy, there's no reason for your to sign up for a profile on this dating site.
OFL Top Recommendations based on 100,000+ Survey

"Serious Relationships"
"Discreet Hookups"
"Best Course for Men"
"Quick Flings"
"Normal Hookups"
"Our Quiz"
That's the niche it covers.
And people who sign up for this site are generally looking for a more long-term association (like eHarmony or Tinder) than a one-off casual date or hookup (like BeNaughty or Ashley Madison), although some might want the latter as well.
As the GayArrangment site says: " Our mission is to bring men of all experiences closer together and help young and old men alike be paired with a partner they trust and understand. We're the first website designed exclusively for gay men who want an arrangement, a mutually beneficial relationship which cuts to the chase and enable both men to be free and honest about themselves and their relationship."
Let's look a little more into the demographics behind the site.
It's important to note that GayArrangement is one of the first gay daddy finder websites online.
And as with most niche dating sites, you are going to find lower user numbers than a commercial online dating portal.
During my research, the information that I gathered indicated that GayArrangement had around 100000 users.
Now that might not be that much, and it isn't really, but you have to remember, in terms of niche dating sites, this is as niche as it can get in many ways.
Think about it this way.
There aren't users here that are going to look for an attractive man of any age and reach out to message them as you'd find on a regular gay dating site.
No, as we already indicated, there are only two specific target groups looking to reach out to each other.
But at the end of the day, I don't feel that 100000 users is that small, especially if you live in a major city like New York, for instance.
Those who live in a major metropolitan area are going to have more upfront success than someone who comes from a small town.
In terms of user age ranges, sugar boys on the site are typically aged between 21 and 28 while the average age of sugar daddies is 39-51.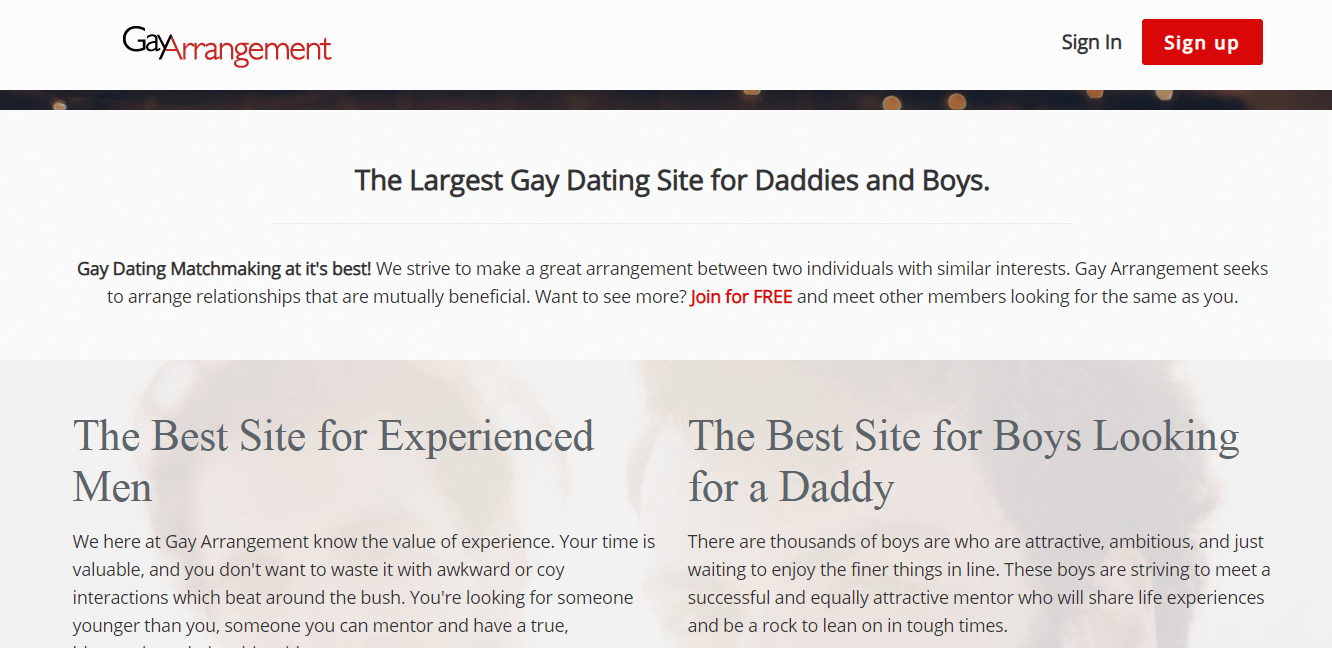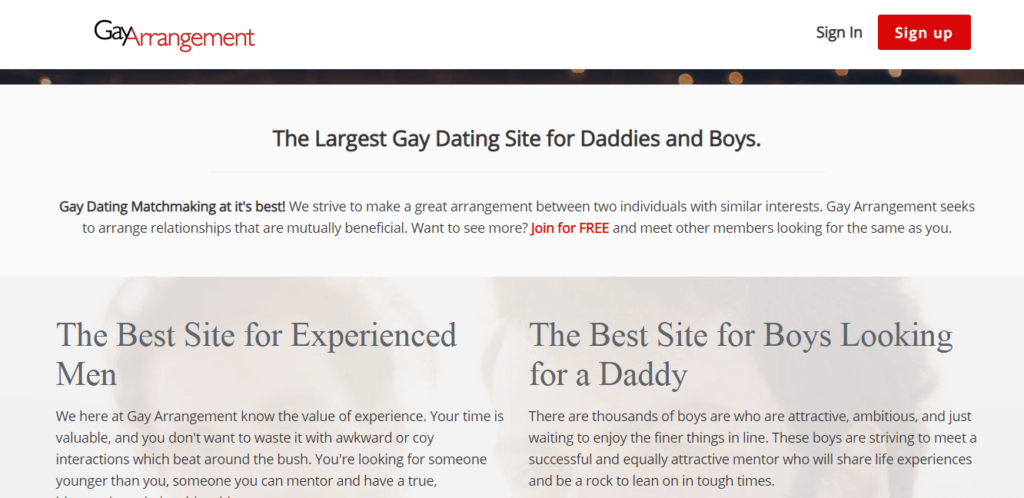 While most dating sites have a landing page with a small amount of background information, GayArrangment provides lots for you to learn about the site before you start the registration process.
And from that already, you get the overall feeling that this is a well-designed, professional dating site.
Speaking of registration, while you can use your mobile phone, there isn't a dating app for GayArrangement yet.
That said, the registration process itself is a simple enough one starts with the following information:
Your valid email address
A secure password
Your preferred username
Your role: Are you a sugar daddy or a sugar boy.
What you are looking for: A sugar daddy, a sugar boy or even both, if you'd prefer
Your date of birth
Your lifestyle expectations of matches: As a sugar boy, you can select how much money your sugar daddy should spend on you per month. You can also leave it blank if you wish.
Your location
It might seem like a lot of information to have to fill in, but it takes only a few moments.
If I have one critique it comes when you choose what you are looking for.
Why can you select both options?
Surely, if you are a sugar boy, you don't want to hookup with another sugar boy.
They can't fund your lifestyle.
It makes no sense, to be honest.
Before we get into navigating GayArrangement, I want to talk about the overall design.
The site looks incredible, that's for sure.
From my perspective, this is an example of a dating site design done right.
The use of white space here helps the design overall, but profiles remain prominent.
The critical thing for me is that it is not too cluttered which is something you often see on dating sites.
Everything has its own space and you'll love finding your way around.
I know I did.
GayArrangement also has a bit of a social networking feel to it as you can see changes other users have made to their profiles, for example, if they uploaded a new photo.
It's not the first dating site to do that, but let me clarify that it's not something I think is important.
I guess sites do it due to the rise of social media and trying to find another way to entice people to join up.
But let's rather focus on the dating side of things.
To find your way around you will navigate the site with the main menu system.
These are:
Dashboard: This will take you back to the homepage of GayArrangment.
Upload Photos: Here you can upload more photos as well as see those uploaded by others
Search: If you want to search for your own matchups, this is the menu to do it from
Become featured: If you want to become a featured user on the site, click here
Messages: When you receive a message, you will find it here. Also, any messages you send can be found under this menu too
Notification: GayArrangement notifications, for example if someone messages you, will appear here.
Your profile: Click on your picture to access your profile as well as general site and account settings.
Your

GayArrangement

Profile
So let me highlight to you that during the registration process, you only filled in a few pieces of information that will form part of your profile.
For example, you uploaded a profile picture, entered that you were looking for a sugar daddy or sugar boy, your date of birth, and your location amongst others.
But there's still much more for you to add.
I don't want to go into too much detail here because even if this is the first dating site you've ever used, completing your profile is super simple.
Just make sure you do it.
Yes, your profile picture is critical, because that's always the initial attraction but many users do take the time to scan through the profile of someone that they are interested in.
And setting 10 minutes aside is all you are going to need to finish the job.
Here's a quick idea of the information that you can add:
Overall interests (there are many to choose from)
Relationship interests (for example, long-term, casual dating, friends, hanging out and more)
How religious you are
Where you live
Who you live with
Your spending habits
Your marital status
There are a few more areas of your profile that you need to flesh out, but I am sure this gives you more of an idea of what to expect.
You can also add more pictures for others to see.
In fact, all the pictures you upload are available to view for all users.
You will notice the social networking aspect of the site will come through on your profile as well.
For example, if you add other users as friends, then you will see them listed on your profile and you then have easy access to their profiles.
Again, while this is a fun feature, it's not really going to influence the dating side of things or meeting a sugar daddy or sugar boy.
Does

GayArrangement

have an app?
At this point, no it does not.
Whether there will be one in the future, well I think that depends on the user base growing.
It's not often that extreme niche dating sites like this have an app.
Just think about it.
Does it warrant developing an app for a site with around 100000 users currently?
Probably not.
The website's design, however, is mobile-friendly, so you can still view it on your cell phone if that's how you prefer to spend your time on dating sites.


So there are a few ways that you can go about finding a matchup on GayArrangement that we can analyze.
The first is looking through boosted profiles.
When you explore the site, you will see just how this concept is pushed at you all the time as you are encouraged to sign up to become a featured member.
On the flip side of that, you can obviously view these boosted profiles as well.
But let me just clarify that anyone can boost their profile, so they are not going to necessarily be near your geographic location.
It's an area I would start with, however, especially as a way to get a feel for other users' profiles.
Searching for potential matchups
It's so simple to search for your own matchups as well.
Simply click on the Search menu which will provide you with a few extra options.
Other than the boosted profiles you will also a few ways to display more profiles:
Featured members: These are randomly chosen by the site
Online users: These users are currently online right now
Search: Click here to use GayArrangement's search engine
For regular users, you can search with a few basic parameters, for example, age range or location.
But there are advanced search options for paying members too.
This allows you to fine-tune your searches, even more, using the details from other users' profiles.
I am not going to get into this in too much depth because it's really self-explanatory when you use it.
A word of warning, however.
While advanced searches can help turn up the right type of matchup, you shouldn't get carried away when using them, especially on a website that has a smaller user base.
By adding too many parameters, your search returns might end up providing you with limited profiles, perhaps even none.
If something is non-negotiable, by all means, use a parameter to rule out search returns you know that you would never reach out to.
But just don't add too many parameters.
Of course, you can search as many times as you like, so through trial and error, you will find out what works best for you.
Reaching out to others on the site
So what happens once you've found someone that you'd like to get to know a little better?
Well, you have a few options.
From the social networking side of things, you can follow them and ask to be friends.
To message other users, however, you will need to consider signing up for membership.
And that brings a range of other perks as well.
As with most dating sites, when you sign up for a membership on GayArrangement, there are a few key features that you can expect.
Here are the ones I feel are most critical.
The most effective way to communicate with anyone on a dating site is through messaging.
It's here that you can get to know them a little better and ask them Sugar Dating FAQs that you feel are important to help build a connection.
Of course, they are going to do the same and with a GayArrangement membership, you are free to send and reply to as many messages as you like.
We've already spoken in-depth about advanced searches and how, on a niche site with a smaller user base, you have to use them intelligently.
But with the ability to launch as many searches as you want and with varying parameters, if you have the time, you should be able to narrow down your matchups to what you are looking for.
Certainly more so than you could with a regular search.
Just remember, don't add too many parameters to narrow down the returns too much.
If you are someone that's a little intimidated by firing off a message to a stranger, then perhaps leaving a comment on their photo is a better option.
This is part of the social networking aspect that GayArrangement offers and on the home page, you will see updates made by other users, for example when they upload a photo.
You are welcome to comment on these at any time.

Niche dating sites can be pricey, that's for sure.
Luckily, the team behind GayArrangement realizes that to grow the site and get regular users signing up as paying customers, prices should be kept competitive.
And they are.
Here's a full breakdown of what you can expect:
1-month membership: $19.99
3-month membership: $44.97 ($14.99 per month|
6-month membership: $59.94 ($9.99 per month)
Pricing is certainly one area of the site that they have got right, that's for sure.
I would have no problem paying $19.99 per month to use GayArrangement.
Of course, if you want to make a big saving, go for the six-month option, which works out to 50% saving when compared to the month-to-month package.
You can easily pay by credit card should you wish to become a member.


Conclusion and Overall Rating
Without a doubt, the sugar daddy website reviews for gay men have shown they aren't a massive niche in the online dating market.
But for those sites that there are, it's easy to see why GayArrangement stands out.
It has everything you need to meet others discreetly and privately and puts all the checks and balances in place to ensure there are no fake profiles or scams on the site.
It's also so well presented and super easy to navigate.
Once you've registered and completed your profile, you will soon be searching for your sugar daddy or sugar baby with all the tools you need to find them easily.
And membership pricing isn't expensive either.
Even the month-to-month package is lower than you will find on most dating sites.
To summarize, if you are looking for a gay sugar baby or daddy relationship, starting a profile on GayArrangement just makes complete sense.
And if you love social networking, well the site has another string to its bow that you are going to enjoy exploring.
For a rating, today GayArrangement.com gets 4 out of 5.
GayArrangement was tried and tested by the Onlineforlove team.
Following that testing period, we have concluded that this is an excellent website for gay sugar dating.
We came to that conclusion using a review approach that saw us give a star rating for critical criteria that we rank dating sites by.
The final evaluation of GayArrangement was therefore based on many factors.
Some of these include membership pricing, how easy the site was to use, the key features it offers, how large the user base is and how easy it is to find matchups.