To our dear sugar babies and sugar daddies,
Welcome to this lengthy and detailed sugardaddy.com website review that will offer more insight into the world of rich and sophisticated men and beautiful girls who wish to connect and enjoy their time together.
We'll be reviewing:
Let's get some sugar, guys!
OFL exclusive offers - Check all of them

"Serious Relationships"
"Discreet Hookups"
"Best Course"
"Quick Flings"
"Normal Hookups"
"Our Quiz"

What's your price is running a deal right now where girls can sign up completely free. We suggest you don't miss out on this limited offer. It's the biggest SD/SB site online.
Is your dating app giving you the best chance for success?
Make sure to take our online dating site/app quiz to find out.
People who follow our dating site suggestions have on average 2 more dates per month.
Sugar Daddy Review in Video Form
Audio (podcast) form for those of you on the go
Ready or not, here we go!
Effectiveness: 3.5/5.0
Ease of use: 4.5/5.0
Features: 2.0/5.0
Price: 3.0/5.0
High-quality niche dating site for men and women with specific wishes and needs
Very quick sign up process
You can opt for another kind of relationship, not just "sugar-daddy-sugar-baby" one
A free version is available and lets you search for members
Very dedicated customer service
The free version isn't fully functional and doesn't allow initiating contact
Relationships tend to be very superficial
Geographical restriction – you need to be from the UK, US, Canada, or Australia
Income verification doesn't exist
There aren't too many men who offer a monthly allowance
Who is it for / Demographic Make up
When it comes to geography, this website is a niche one, since it is present in only several countries – the United States, the United Kingdom, Australia, and Canada.
Interestingly, it is not just a site for hookups (like BeNaughty or Ashley Madison) or only for serious relationships (like eHarmony), it is strictly a platform for those seeking "Sugardaddies".
Creators have plans to expand to more countries as well, however, some will always be on "the blacklist" due to political and economic crises.
Even though one might say: "what, only 4 countries?", we mustn't forget that they all combined have more than 450 million inhabitants!
As per demographics, sugardaddy.com is a web service that connects wealthy men, often millionaires, and beautiful women.
Also, it is possible for women to apply as sugar mommas and look for handsome male sugar babies.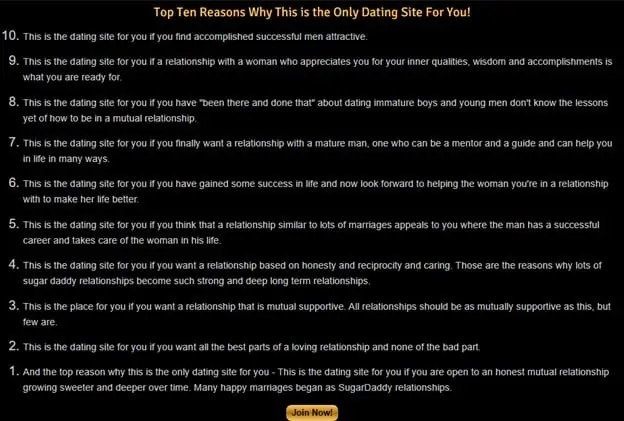 Men mostly want to have a gorgeous woman by their side, who will either be their "trophy girlfriend" and whom they will spoil rotten, but also get affection and sometimes even love.
On the other side, women look for successful, mature, and sophisticated gentlemen who will offer them a luxurious lifestyle in exchange for their time, commitment, attention, and also, sometimes love.
Even though many people who hear about sugar daddies and sugar babies think about very superficial relationships, and even though that is what is often looked for, that isn't always the case.
Among all the rich men many look for real love and affection and prefer not to buy them but deserve them with other traits.
Also, another "myth" is that all men prefer to have sugar babes to whom they will give an allowance for their time and effort, but that isn't the case.
Some male users wish to have a "casual girlfriend" experience and meet with women only sometimes, without having to have a more serious arrangement.
On average, men are between 35 and 50 years old, while women are between 18 and 30 years old.
As expected, wealthy men are a tad older, mature, and know what they want, while women are younger and very attracted to those traits and their financial stability.
Also, it is important to know that even though there is a necessity that men earn at least $100.000 annually, there isn't an income verification, which means that anyone could lie as well. This may be a tad inconvenient.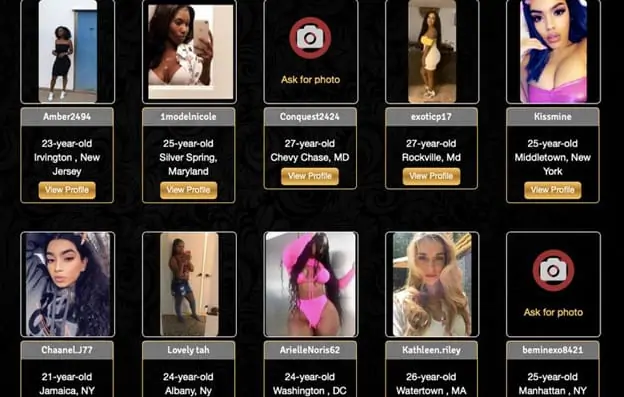 When it comes to effectiveness, this is a tricky question, since even though most of the users look for similar things, there are nuances in their needs and wishes.
Men and women who are on this network but look for real love aren't really on the best dating website and can do much better since most users tend to be superficial and not likely to build very profound relationships.
On the other hand, for all those who look for sugar babies and daddies who will complement their lives and enjoy each other's company, fancy restaurants, clubs, expensive clothes, and maybe even luxurious trips, we must say they are on the right network.
However, women should be more grounded and understand that none of these things will fall from the sky just like that.
There are different ways to earn all the sugar baby benefits and they may not be open to each and every one of them.
By that we mean that there are different kinds of arrangements – some girls get their allowances and are in exchange supposed to meet with their sugar daddies several times a month, which sounds pretty easy, but there are those who are expected to offer sexual services as well, which can be pretty uncomfortable and not every girl can stomach that kind of "relationship".
On this website, it is important to know what you are looking for and where your limit is since it is easy to cross it, especially if you are a girl who likes financial stability and nice gifts.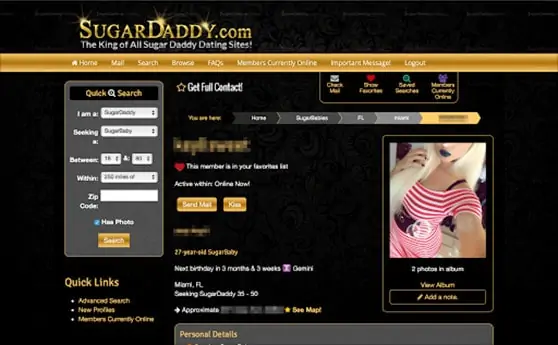 During our review of this online dating platform, we paid much attention to its features and what they offer, however, we weren't as near as satisfied with them, as they seem pretty outdated.
Listen to this.
You probably didn't know, but Sugardaddy.com was first created way back in 1998, which makes it 22 years old, and was initially a website for finding escorts.
However, it was completely rebranded in 2017 and its purpose switched to helping women find a sugar daddy relationship and men to find their sugar babies.
However, when we look at the features they offer and compare them to other popular dating sites, we must say that it seems that present features are the same as they used to be in 1998 – that is how outdated they seem.
As you will read on, there are several of them and they are included in two premium memberships, but in our opinion, they just aren't enough.
For example, you can have your profile highlighted and more attention brought to it by other users, or have your name shown on top of searches.
Other features are the ability to chat and send e-mails.
Now, between 2 premium memberships, the only difference in sending e-mails is that one gives you limited storage and the other unlimited one.
Also, another feature is to have your profile approved faster or to receive emails via the "smart match detection emails" feature.
You can also like profiles, add them to your list of favorites and search for members based on basic and more advanced criteria, which are functional.
However, all of the features are pretty old and far from creative and inspiring.
There aren't virtual coins, video calls, virtual gifts, swiping, a matching system, or anything else present on other dating sites that comes to mind and that would improve user experience.
But the good news is that this website functions well and enables thousands of users to fulfill their wishes and needs and we suppose that that suffices.
If this website has awakened your curiosity and you wish to give it a try and see who is present on there, we are happy to say that the registration process is very fast and doesn't take more than a minute!
Once you visit the home page on the top right corner you can click on the "Register for free" button or initiate a search in the middle of your screen and then activate your account to see the results.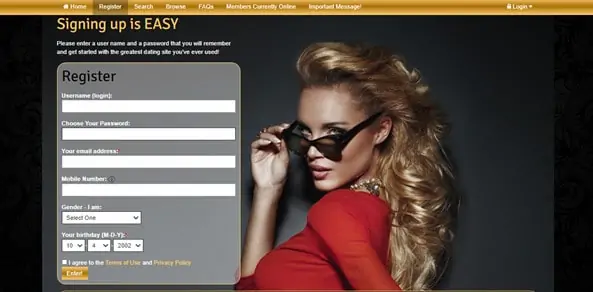 As you can see you will have to add your username, password, e-mail address, phone number, gender, and date of birth.
What's interesting is that under gender you aren't asked if you are male or female but whether you are SugarDaddy, SugarMomma, SugarBaby, SugarBaby-Male, Gay SugarBaby, Woman for ExtraMarital, or Man for ExtraMarital.
After this basic info step, you will be asked for more details about yourself, such as your location and zip, body features, race, income, marital status, etc.
The last thing to do is to add a photo if you wish and submit your profile for approval.
This step is done manually by the members of the customer support team and they make sure that all of the rules and guidelines are enforced.
Any profile that doesn't meet certain criteria or violates the terms and conditions will be deleted or blocked permanently, such as using profanity, marketing messages, incomplete profiles, etc.
Even before your profile is approved you are free to look for sugar babies/sugar daddies/sugar mommas and have some fun.
The search function lets you narrow all the profiles down based on username, member ID, age, gender, online status, country/city, distance from your location (5 to 250 miles), or zip code.
In case you wish to see even more precise results you may use advanced search criteria, such as body type, marital status, ethnicity, etc.
However, if you find someone interesting, to contact them and look at their gallery, you must purchase a premium membership.
There is an exception to this rule, and it is a "full contact" feature, that members purchase and that lets them receive messages and e-mails from the non-paying members.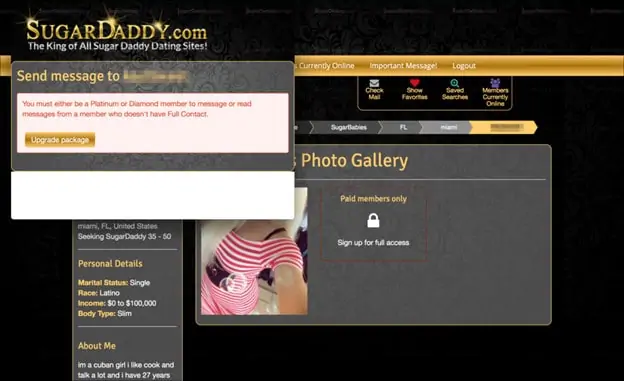 When it comes to design, as you saw on the images, everything is colored in black and gold, probably because the creators wanted to keep things sophisticated and classy, but we didn't get that impression.
OFL exclusive offers - Check all of them

"Serious Relationships"
"Discreet Hookups"
"Best Course"
"Quick Flings"
"Normal Hookups"
"Our Quiz"
On the contrary, the whole website seems outdated, along with the profile design and its features.
Another minus is the fact that there isn't a mobile app which is pretty strange and almost unacceptable these days.
Sugar babies are pretty young and they love to chat on the go, as well as sugar daddies and mommas who belong to newer generations and who will continue to become more tech-savvy.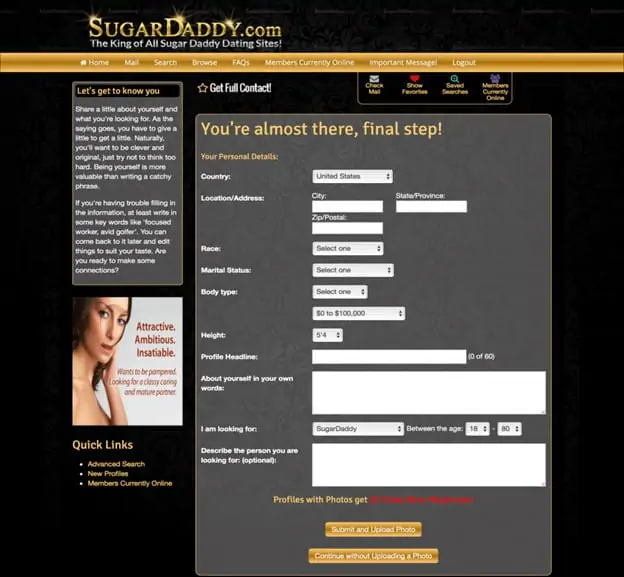 When it comes to pricing, it's good to know that the registration is free, as well as browsing through other members' profiles, but that is about it.
As you can see it is pretty limiting and doesn't offer enough options so non-paying members can't enjoy a quality experience.
The two packages are: Platinum and Diamond membership and prices are the following:
One month Platinum $39.95/mo
One month Platinum plus Full Contact $55/mo
One month Diamond $44.95/mo
One month Diamond plus Full Contact $60/mo
Here are the differences between the packages:
Platinum membership will let you add as many photos as you please, send and receive e-mails, but you will have limited storage for this and will be able to chat but without saving the chat history.
On the other hand, diamond membership will unlock all the features, such as highlighting your profile, approving your profile faster, placing your profile on the top in searches, and unlocking the "smart match detection email" feature.
When it comes to the "full contact" feature, as mentioned above if you activate it free-version users will be able to contact you and reply to your e-mails even though that isn't included in the non-paying version.
As you can see, this website is pretty pricy compared to the quality and features that it offers.
Also, platinum premium membership isn't worth a penny with just three boring features and on top of that, there is just a slight difference between the platinum and diamond membership.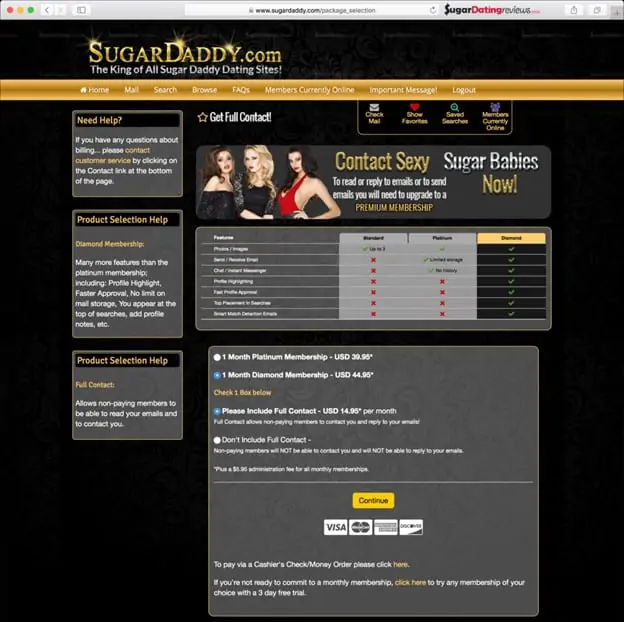 Conclusion and overall rating
After a thorough analysis, SugarDaddy.com received an overall grade of 3.25/5. The highest individual grade was 4.5/5 for the ease of use since there isn't anything complicated about this service and it is 100% functional.
All options and links are clearly labeled, features are simple, the registration process is fast and search options are also functional.
On the other hand, the lowest individual grade is 2/5 for the features that are very uncreative and outdated.
In our opinion, such a dating site that caters to very modern needs, and by that we mean the whole sugar daddy-sugar baby arrangement, that also has pretty high prices should invest much more effort into offering more fun and interesting features.
Overall, if you would like to try and experience such an arrangement, we encourage you to give it a try, since there is nothing to lose except a few bucks, however, don't get your hopes too high, since getting a sugar daddy isn't that easy.
Frequently Asked Questions
If you are among individuals who believe in love but don't think it is enough for a successful relationship, especially when financial hardships appear, don't worry since you are not alone.
Many women and men find financial stability and safety crucial and have every right to do so since the number one cause of serious arguments, break up and divorces are monetary problems.
Thus, if you wish to not worry about it and find someone who will remove that problem from your lives, then SugarDaddy.com might be your deal.
Have fun and a very sweet experience!