Do you remember chatting online with your friends back in the day using a chat room?
Well, that's going strong still today and it's a way to meet people in our modern age of dating apps.
Chat Avenue is one such site where many people flock to chat and that may lead to more in terms of hooking up with someone.
This review of the platform will cover:
OFL Top Recommendations based on 100,000+ Survey

"Serious Relationships"
"Discreet Hookups"
"Best Course for Men"
"Quick Flings"
"Normal Hookups"
"Our Quiz"
So if you'd like to give a chat site a chance at finding you your perfect match, then be sure you read my comprehensive review of Chat Avenue and it's going to be worth your while.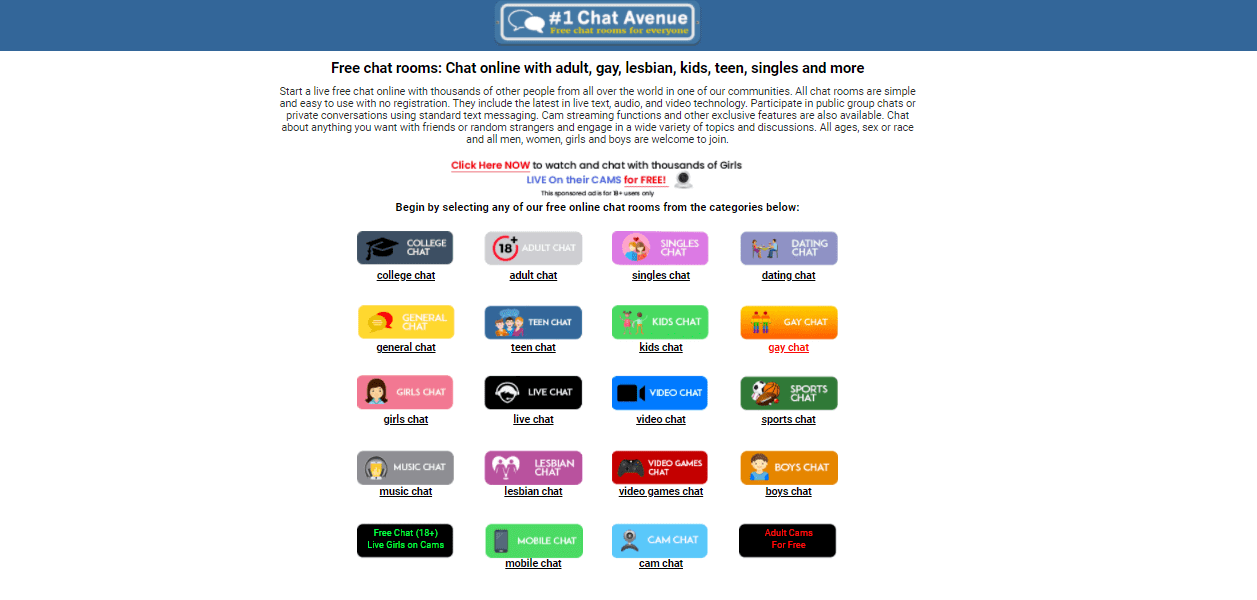 Is your dating app giving you the best chance for success?
Make sure to take our online dating site/app quiz to find out.
People who follow our dating site suggestions have on average 2 more dates per month.
Chat Avenue Review in Video Form
Audio (podcast) form for those of you on the go
Effectiveness 2/5
Features 2/5
Ease of use 4/5
Price (it's free)
Customized chat rooms based on age as well as topics
Chat rooms are moderated
Video chat is available in some chat rooms
A friend's list lets you see who is online with you
Because signing up is so easy, Chat Avenue is filled with scammers
You are only allowed one picture on your profile
The gender ratio of users is heavily balanced towards males
No mobile app
Who Is It For/Demographic Makeup
While chat rooms have been around since the dawn of the internet as we know it in the early 1990s, Chat Avenue is proof that they remain extremely popular.
I mean, if people weren't using it, it wouldn't exist right.
As one of the oldest chat rooms still available online – Chat Avenue was established in 2000 – it remains just as popular today as it was all those years ago in a world where apps like Tinder simply didn't exist.
While Chat Avenue might be popular, is it going to be popular enough in the ways that you want to make use of it?
And that's for meeting new people for potential hookups (just like BeNaughty or Ashley Madison) or even long-term romance (just like eHarmony).
Well, the thing is, the platform offers varying chat rooms.
Some of them are going to be more interesting than others, based on your personal preferences.
And for that reason, I think it's best to list the chat rooms to see exactly what it is that Chat Avenue provides with meeting people in mind.
There are 19 chat rooms in total:
Adult chat
Boys chat
Cam chat
College chat
Dating chat
Gay chat
General chat
Girls chat
Kids chat
Lesbian chat
Live chat
Mobile chat
Music chat
Sex chat
Singles chat
Sports chat
Teen chat
Video chat
Video games chat
From a dating or hookup point of view, it's pretty easy to see which of these chat channels may be beneficial to you.
While I couldn't find numbers for total users on the platform those that I did find are lower than what you would find on a dating site.
But that's expected because this is a different platform altogether, although you can meet people through it.
So here's some information on the numbers that I could find:
Most of the users on Chat Avenue are from the United States, around 100,000.
You will find others, however, particularly from European countries
The site features 40,000 weekly active users
Each month, around 5,000 new users join Chat Avenue
Looking at the demographics of users on the site, you will see that it is male dominated.
30% are female
70% are male
But what about the age ranges, that's important, right?
Well, by far the dominant group is 25-34 year-olds but here's a full breakdown of Chat Avenue's popularity based on age (ranked from most to least users).
25-34 year-olds
18-24 year-olds
45-54 year-olds
35- 44 year-olds
55 and up
From those numbers, there are a few interesting things to note.
For the most part, 18-24 year-olds still appear to like using chat rooms.
I find that interesting in a day in which social media has taken over our lives.
What's also stands out is that Chat Avenue is popular with 45-54 year-olds.
This could be for two reasons.
First, they would have been in their early 20's when the chat room popularity exploded online back late 1990s.
Secondly, they are more likely to use a chat room to try and meet people before using more modern methods such as a dating app.
So while we've established that Chat Avenue doesn't have the popularity of a dating app, there are active users making use of the platform each week.
And that's promising when you looking for a date.
But just how effective is Chat Avenue in helping you meet people?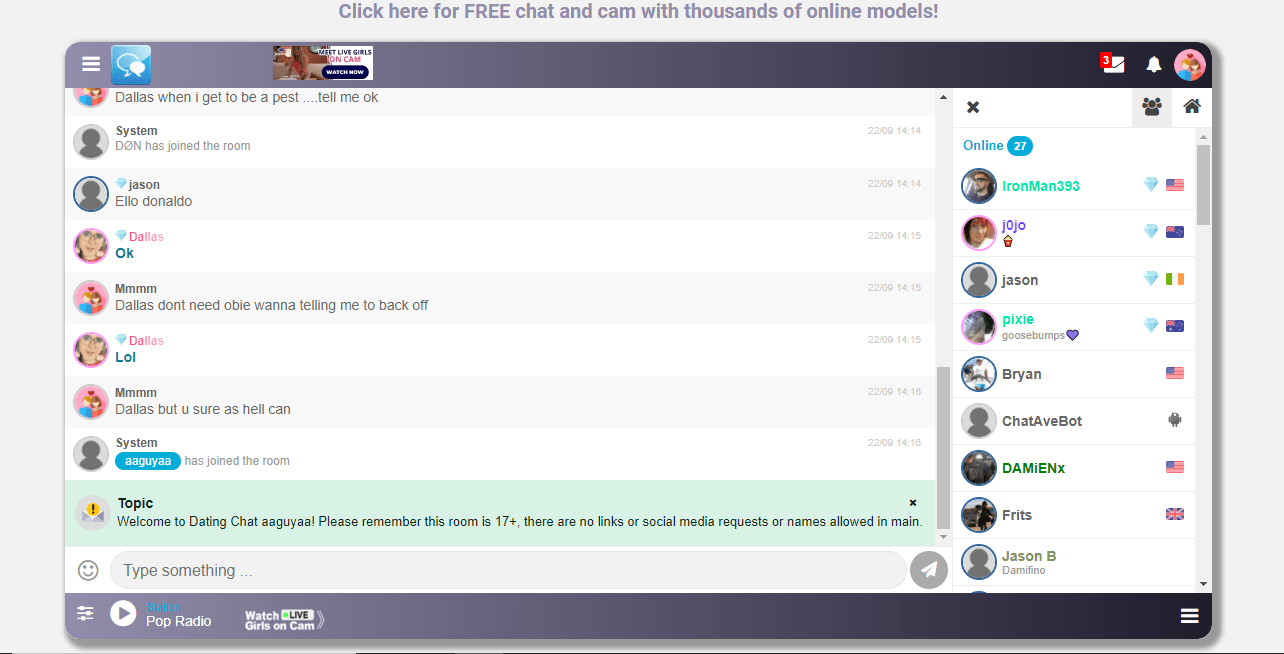 Again, I have to re-emphasize, Chat Avenue is not a dating site.
You can't search for potential matches based on criteria (like Tinder) and then go from there in trying to meet someone for a date.
That means if you using the site to try and meet someone, you are going to have to put in all the hard work yourself.
And that takes time because you have to sit in chat rooms that you think would help you meet like-minded people and chat with them.
Yes, you are helped by the fact that you can see a profile pic but with many users, these pics are often not of them, although that can be a problem on dating sites too.
So how do you meet people?
If you want to meet people, get to know them online a bit better and then try to hook up with them at some point, the only real way to do so is by hanging out in your preferred chat room and interacting with the users in it.
Sounds simple enough, right.
And technically, it is.
Just take some time to shoot the breeze with others, identify someone you want to chat more with and then send them a private message.
Yes, if you sign up to use Chat Avenue you can send private messages to other users but there is a catch.
You first need to become a friend of theirs on the platform.
While that might seem slightly annoying, I understand why the powers that be behind Chat Avenue have done this.
It just adds another level of security for users.
It puts the power in their hands as far as to who they want to be friends with.
Also, imagine a messaging system in which everyone could private message everyone else.
It just would become a free-for-all, especially on a platform like Chat Avenue that doesn't charge for membership.
But there is another way to speak to people directly in the chat room without others seeing what you are saying and without sending a private message.
And that's using the whisper function.
That allows you to speak to multiple users in the chat room without having to leave it.
It's an old feature found in most chat rooms in the past but I think it's the perfect way to make initial contact with someone and ask them if you could become their friend so you can private message them at some point.
Once you become friends with another user, they immediately go into your friends list.
When you come online, you can browse that list and see which friends are online and where they are chatting if you'd like to join them.
Or you could simply chat with them in a private room.
For me, the ability to make friends with someone and then chat with them privately means that you can use Chat Avenue as a way to hook up with someone.
Again, as mentioned earlier, it's going to take a little more time than a normal dating site or app would, but it's certainly doable.
As this is a chat site and not a dating site, it doesn't offer what I would call key features.
Also, because Chat Avenue is free, there are no membership perks or features either.
So then what are the features that Chat Avenue includes?
Well, I've covered the best of them already in this article but let just take a recap as to what they are:
Guest profiles to have a look around at first
Easy to sign up to use the sight
The ability to private whisper people in chatrooms
The ability to add other users as your friend
The friend list shows who is online
The private messaging system allows you to send messages to your friends
There is something that I haven't touched on yet and that's web cam chat.
The following rooms offer this feature:
Adult chat
Cam chat
College chat
Dating chat
Gay chat
Lesbian chat
Live chat
Sex chat
Singles chat
A word of caution, however.
No nudity is allowed!
To be honest, I am not sure I would use the webcams until I had got to know someone a bit better.
Having the ability to use the webcam is a great way to see if someone you've met is genuine or not before you actually hook up with them.
There's plenty of catfish out there so if you suggest to someone that you chat private but using your webcam and they continually turn you down, well that should be a warning flag.
Finally, some rooms also allow voice chat.
Make sure you turn your headphones down because there are often shouting matches on the go!
There is no need to register at all if you just want to shoot the breeze and check out what Chat Avenue has to offer.
Simply go to the site, enter a user name and you can chat away under that name which is then seen as a guest profile.
For something more permanent, however, you have to create an account.
That's easily done as well.
Simply enter a username, your email address and your password and you will be chatting in a minute or two.
There is no need to wait for a verification email either.
If you'd like, you can upload a single pic for your Avatar.
That, however, is the only uploading of photo's the site offers.
Of course, you are allowed to change it but there are no other options for having photos on your profile.
Your profile is very limited in that way.
But that's because this ultimately is a chat site and not a dating site.
Because this is a chat site and not a dating site, you've got to make sure to play things safe at all times.
I'm not going to lie.
There were a few strange people online during the times that I used the various chat rooms.
Having said that, even it was a dating site, always use your common sense when chatting to people.
Rooms are moderated but from what I saw, the moderators can be a little lackadaisical at times.
From a security perspective, the fact that signing in is not strict and that there are guest accounts makes me worry a little.
I was told by a moderator, however, that IP addresses are tracked, so there is at least that.
And the looks and design?
Let just say that Chat Avenue is around 20 years old and it's certainly showing it's age.
But then again, it's just a chat service, it doesn't need to look good, does it.
From a functionality point of view, it will take you just a couple of minutes to work out where everything is and how everything works.
It's dated but it as a chatting platform, it works perfectly.
You are allowed to make some changes to the way you view Chat Avenue.
For example, you can change the fonts, the scroll speeds within the chat room and more.
Chat Avenue is free to use.
The ability to whisper people in the chat room, make friends and private message people will cost you nothing.
You can use the site without paying a dime.
Those behind Chat Avenue do offer a VIP service.
It's not something that would use, but let me outline it for you in terms of the pricing and what it has to offer.
VIP pricing:
1 month – $5
3 months – $10
1 year – $15
Lifetime membership – $20
And what does that get you?
You can create and then moderate your own rooms
You can post videos from YouTube into any chat room
You can upload animated backgrounds for your cover image
You can check back on your messaging history
You can change the colors of messages, your name, etc.
A diamond is added to your username to indicate you are a VIP member
You can upload images into any chat room
VIP members appear at the top of the chat room user list
You can leave voice memos for other users
I will say the ability to create your own chatroom seems pretty cool but all in all, from a dating perspective and trying to meet someone, there's nothing that VIP offers that you need to help you do so.
Conclusion and Overall Rating
So let's get to our rating first before I deliver my conclusion about Chat Avenue.
I would score it 2.5/5.
That's mostly because this isn't a dating site but a chatting one.
That doesn't mean you can't try to use it to meet people, it gives you the tools to do so and for free too.
You've got the ability to private message people in the chat room through the whisper feature and become friends with them.
That then allows you to enter into private chats with them.
So yes, all in all, you could hook up with people this way.
That said, chat rooms can be crowded which can be a little annoying.
Also, there are hundreds of fake users and you'll get spammed with whispers in chat all the time from these people.
It can be a little annoying and in that regard, a chat room doesn't offer the protection that a dating site would.
But all in all, it is what it is.
You never know just who you might meet if you don't give it a try, right?
So let us know if you do in the comments below and whether you managed to meet anyone to hook up with.
Also, why not share this post with your friends who might be interested in checking out Chat Avenue.
Frequently Asked Questions