Tinder is synonymous with swiping!
But what is swiping, and how can users swipe right effectively?
In this article, we shall look into:
OFL Top Recommendations based on 100,000+ Survey

"Serious Relationships"
"Discreet Hookups"
"Best Course for Men"
"Quick Flings"
"Normal Hookups"
"Our Quiz"
By the end of this article, your "swiping game" would've improved significantly.
Come with me!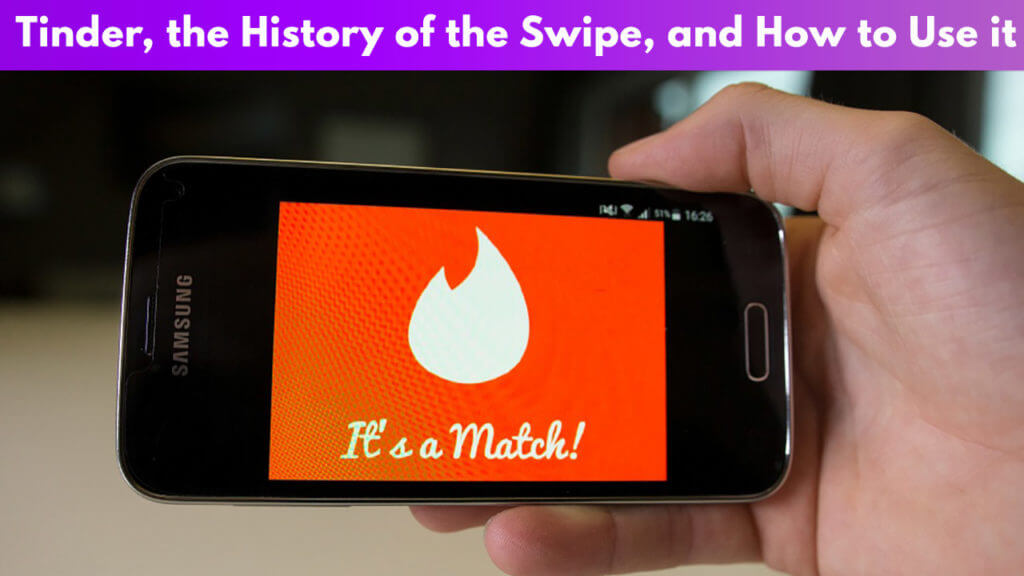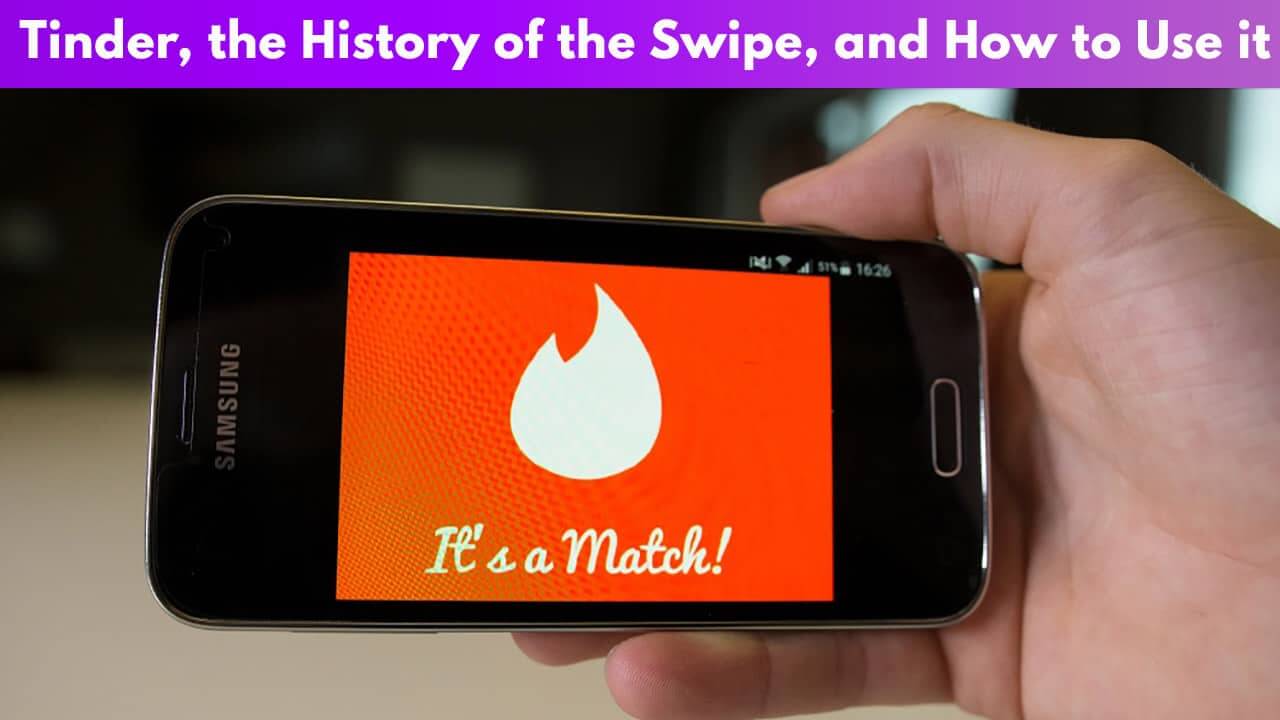 Tinder and The History of The Swipe in Video Form
Audio (podcast) form for those of you on the go
The very first-time online dating as we know it today was introduced to us was 25 years ago, in 1995, with the creation of Match.com, which has completely changed the way people perceive meeting new potential partners.
After it, many other dating sites came along, some of which were tailored for specific niche groups – such as members of various religious communities, homosexual people, and others.
All of these new dating services, such as Badoo, Coffee meets Bagel, Bumble, OkCupid, and dozens of others have various ways of matching people in the best way possible.
For example, when you first sign up for OkCupid, you are supposed to fill out a giant questionnaire so the algorithm would get as much information about you as possible.
Another example is the eHarmony service, which gave many personality quizzes and based on the scores people got matched to each other.
It is quite obvious that much effort was put into trying to connect people with similar interests, beliefs, values, tastes, and other factors.
Many times, these algorithms did match the right people, becoming responsible for thousands of marriages, and not only did they connect men and women of the same nationality, but they helped increase the number of international and interracial relationships.
According to a survey conducted on adults in the US by the School of Humanities and Sciences at Stanford University, 22% of heterosexual couples met their other halves online in 2009, and even more so, 39% in 2017!
OFL Top Recommendations based on 100,000+ Survey

"Serious Relationships"
"Discreet Hookups"
"Best Course for Men"
"Quick Flings"
"Normal Hookups"
"Our Quiz"

In 2012 no one could imagine that a new online dating app "Tinder" would arise and disrupt the whole online dating industry, by setting a new, incredibly worldwide popular trend – swiping.
This is what Tinder's "swipe" managed to do, becoming the leading online dating service and encouraging other "swipe left or right" dating apps.
Tinder not only managed to become the most popular online dating service, but it also ranges from people looking for a quick fling to Serious relationships making it a great competition for sites tailored mostly for hookups (like BeNaughty or Ashley Madison) or only for serious relationships (like eHarmony).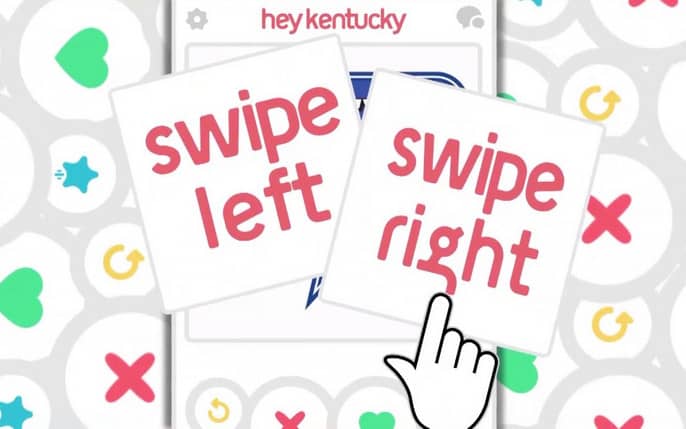 Tinder was surely the trending all-in-one package.
As you probably already know, the whole logic in this and similar apps is to use your finger and swipe left or right on the profile you are shown.
By swiping right, you are saying "yes" and giving a "like" to someone, and by swiping left, you are saying "no".
Today, over almost a decade later, we have come to the number of 1.6 billion swipes per day!
Can you even imagine how many people there are who are swiping left or right? it sounds crazy!
After Tinder introduced this bit hit, many other dating services evolved around this trend – Badoo, Bumble, OkCupid, JSwipe, Tastebuds, and several others.
But…
Where did the "swipe" come from?
2012 was a long time ago and many people don't even remember the initial version of Tinder that didn't have the swiping part.
It was just a regular dating service that had a goal to bring as many people as possible together since many of them wouldn't ever get a chance to meet each other.
Its founders – Sean Rad, Jonathan Badeen, Justin Mateen, and several other members spent days discussing how to improve Tinder and what are some of the additions they could introduce, however, it wasn't until an idea came to Badeen that swiping was created.
He kept thinking about the best way to organize the photos and move through the app, and one morning as he was getting out of the shower, he swiped the mirror to see his face.
It was in that instant that the idea occurred – swiping in Tinder would be the perfect addition because it feels very natural, especially when you are using one hand to hold your phone.
He practically created the addition all by himself, because his team wasn't that impressed, and well, the rest is history!
As you may have already heard or tried it yourself – all apps with this feature let you swipe right or left while going through people's profiles, the same way you go through your family photo album, for example.
This is why the Tinder swipe feature became instantly popular.
Thus, if you've been wondering which way is swipe right or what does swiping right mean, or which way do you swipe on Tinder in general, the answer is easy – towards one of your sides, by making a horizontal move over your touchscreen.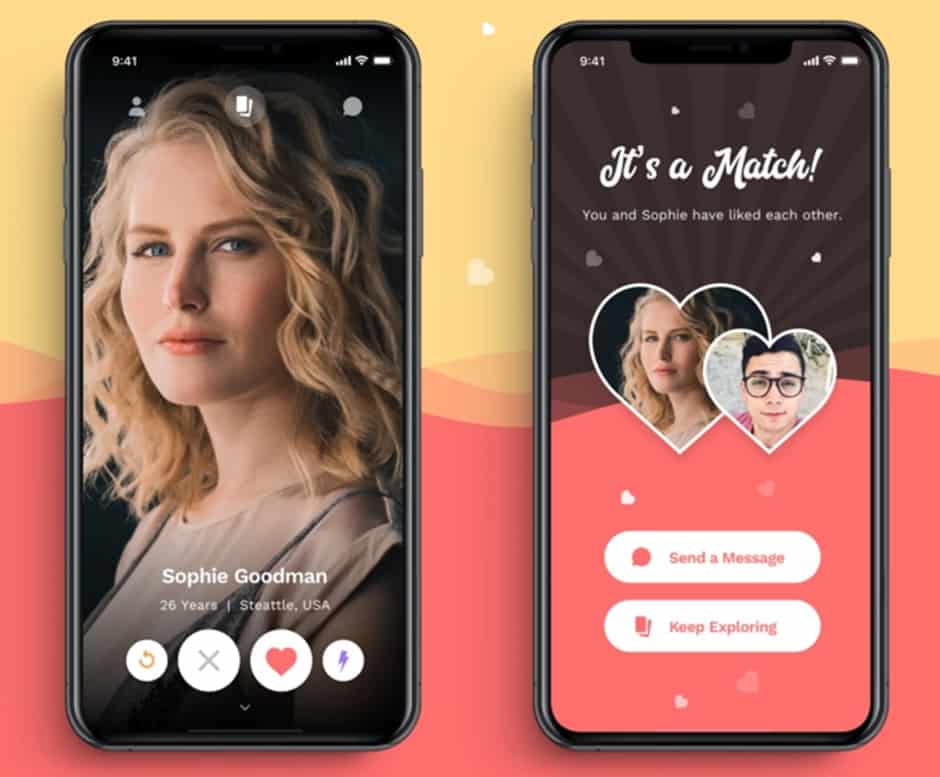 Swipe left meaning…
The left swipe means that you aren't attracted to the dating profile shown to you, for any possible reason, and you don't wish to get "matched" with them.
Swiping right on Tinder…
The Tinder swipe right means that you like the person on your screen and would like to get matched and eventually start a contact.
Understanding swipes on Tinder is crucial because the last thing you want to do is like or reject the wrong person.
You really don't want to ruin your chances or hurt someone if they like you back, and you only liked them by accident.
What Does Swipe Right Mean?
Well, what happens when you swipe right on Tinder?
We have already covered the fact that the Tinder swipe right means that you are giving a thumb up to the profile displayed on your screen.
However, what happens when you like a certain person?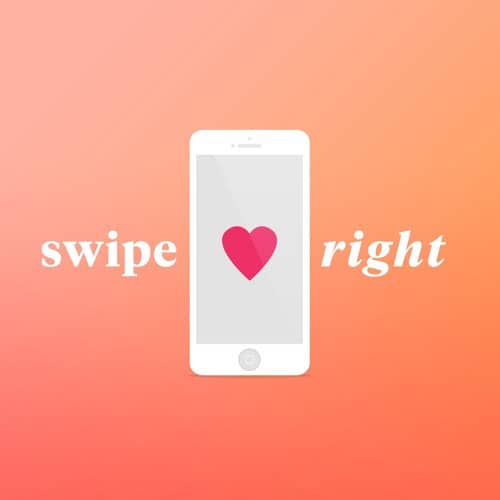 Many people who are new to this dating app wonder if the other party gets notified when they have been liked.
Well, the answer is no, and the only thing you can do, unfortunately, is to wait for them to see your profile among many others they are offered and like you back, creating "a match" of your profiles.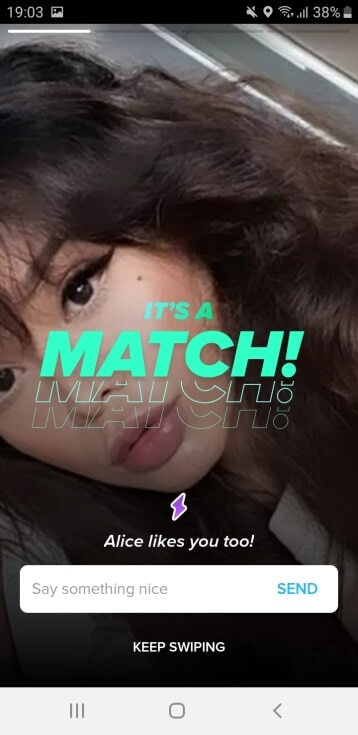 On the other hand, this is quite exciting, because you never know if the person you swiped right has already swiped you right and if the notification "a match has been made" will pop up!
It can almost feel ecstatic to see that you were liked by the same person that just made you say: "Oh wow, look at this guy/girl"
Matching has become so interesting, that 30 billion matches have been made since the launch of Tinder!
30 billion – that is more than 4 times Earth's population!
When converted to the daily number of matches – we get the number of 26 million mutual likes every single day, which results in around a million dates each week!

When you wish to like someone, you should, just as the word says, move your finger to the right side, and the word "like" will appear, notifying you that you liked the person.
What makes all these apps amazing is that you can swipe on so many people of different ages, nationalities, religions, habits, incomes, etc.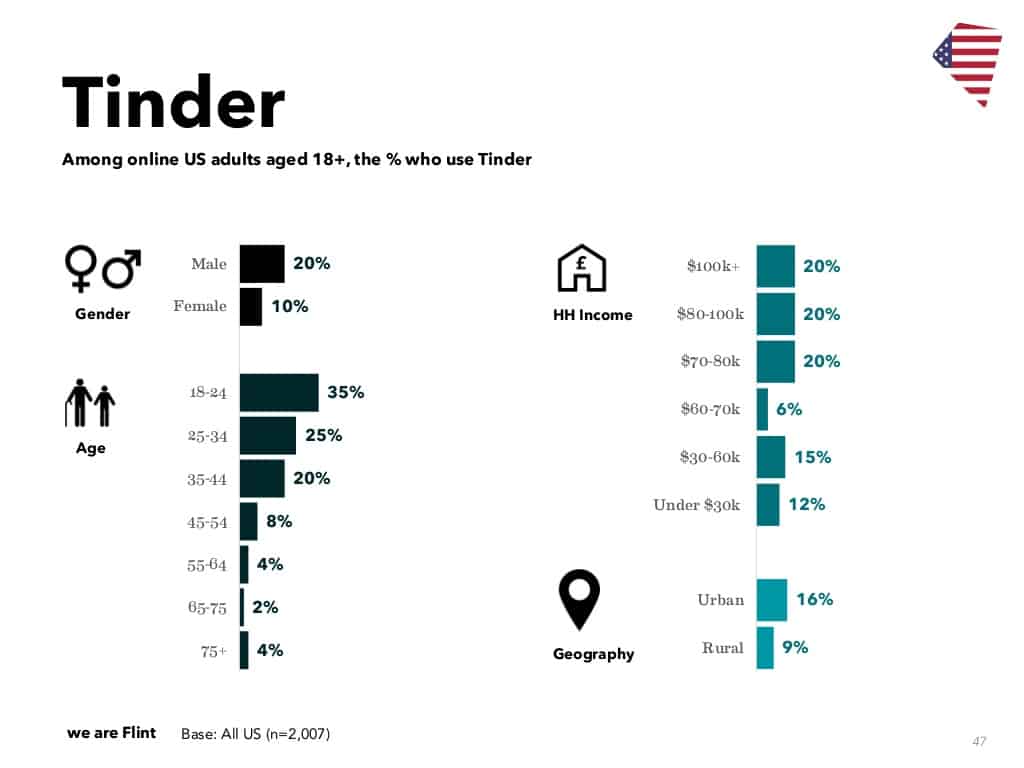 Is Someone Worth the Right Swipe?
This could be a million-dollar question, and let us see why.
Tinder swipe direction is quite important if you are taking this online dating opportunity seriously because every single action counts and is "seen" by the algorithm of this app.
This means that every swipe shows your taste, and the more your swipe, the more the app learns about you and suggests people who are similar to "your preferred type".
The last thing you should do is to swipe right on just anyone because you will confuse the algorithm and will get many suggestions that don't fit your preference.
Also, swiping right on anyone means that you're probably playing around, and there are much bigger chances that you will play with someone's feelings.
Most people swipe right at you because they like your profile picture, any other pic, or your bio, and you both get matched, but soon they realize you were just messing around.
That is not a nice thing to do.
You swiped right by mistake -what now?
Which way to swipe on Tinder is a common question if you are new to this popular dating app, and you might get confused while thinking – swipe right vs left, and it is okay!
There is time to learn, and of course, make mistakes.
One of them that even I made was to swipe right by mistake and like someone.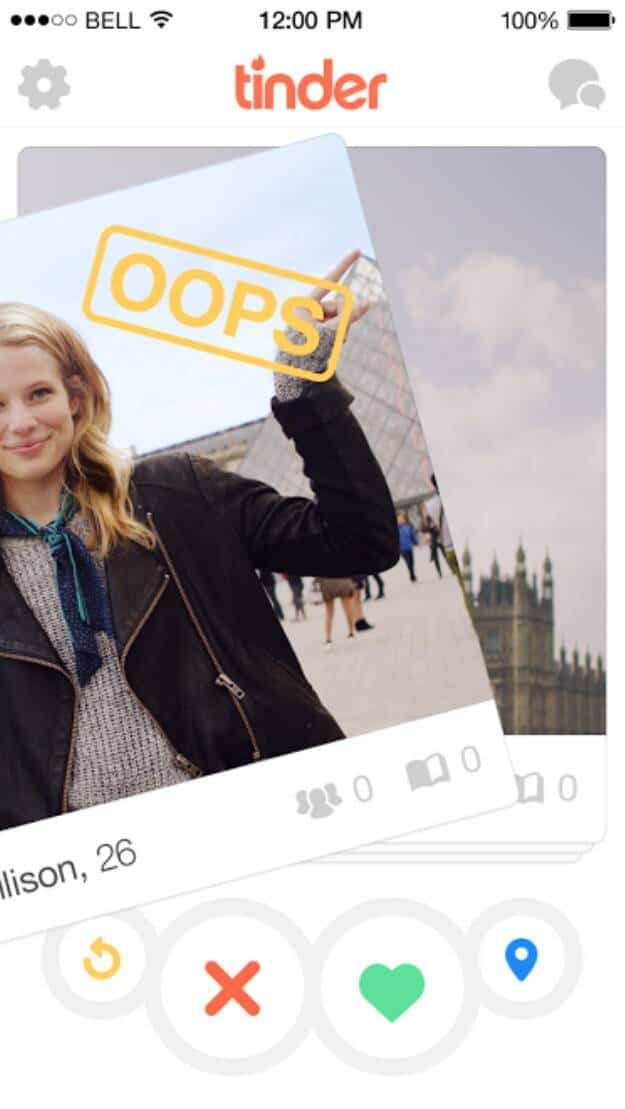 Now, it got even more uncomfortable because a match was made instantly, meaning that he had already liked me before I made it mutual!
Yikes…
If this happens, you should play it cool and explain how things are, because, with the free Tinder version, you cannot "unswipe" someone.
I suggest that you say nicely what happened and make sure they don't take it wrong and get offended.
(Messages like "oh sorry, I don't find you attractive, my bad" are not cool and polite, nor is ignoring someone.)
In case you would like to have this option and correct your "mistakes", there are two paid versions – Tinder Plus and Tinder Gold that offer various helpful and interesting features.
One of them is called rewind – which helps you see the last profile you accidentally swiped either left or right.
This is done by clicking a yellow arrow on the main screen.
Be aware, only the last profile can be seen again, and no other before it, so if you realized the girl you disliked three profiles ago is cute after all, well, the best thing you can hope for is to stumble upon her profile again.
Contrary to Tinder, Bumble does it a bit differently – you don't have to have a paid membership to "backtrack" and see someone's profile again.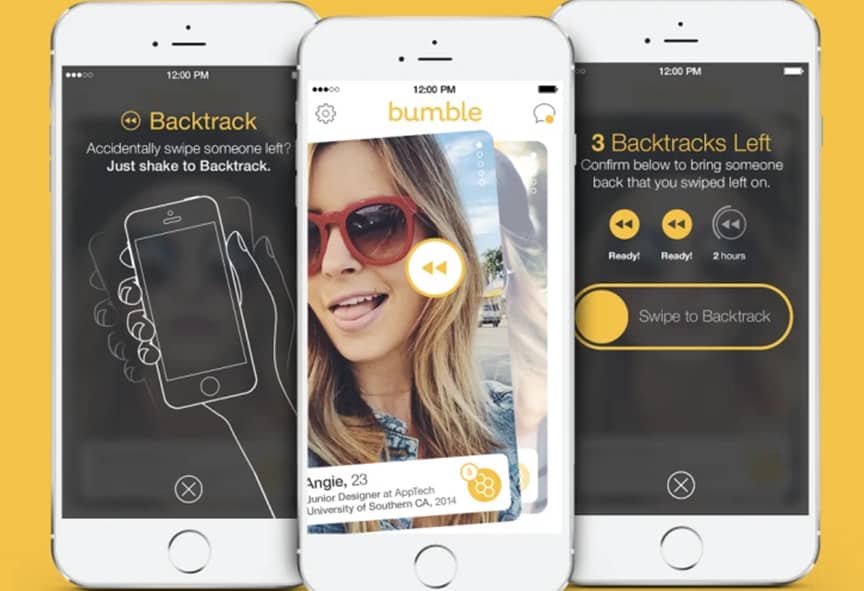 However, there is another trick, you can only go back if you've swiped left and "disliked" someone if you wish to give them a second chance.
They don't let you "hurt someone's feelings" by taking back your right swipe.
How to Swipe Right the Right Way
Men and women show much different behavior patterns when it comes to swiping right, and many studies have been conducted to prove this phenomenon.
According to a study from the Queen Mary University of London in the U.K, men tend to swipe right much more often and more randomly, with fewer standards compared to women.
To be precise, women swipe right only 14% of the time, while men do it 46%, resulting in a smaller success rate for men.
Men have a swipe match success rate of 0.6%, compared to women with a 10% success rate.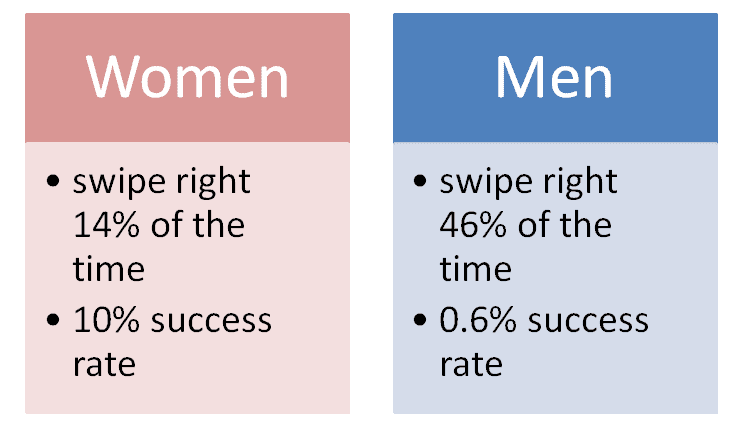 If we use data that says that an average user makes 140 swipes per day, we could conclude that women like around 19 men, while men try to match around 64 women, which does sound a bit crazy, right?
Have you heard about the "score"?
The reason I am saying all of this is that Tinder has a special algorithm that used to be called ELO Score, or better known as the infamous "Desirability Score" which is, fortunately, not used anymore.
What ELO score used to do was rank people based on their attractiveness through the number of likes (swipes) they got.
Based on those likes, they got a certain score, and all the people with a high desirability score were mostly shown to other attractive individuals who were unfair towards others, even a bit less physically attractive individuals.
However, this ELO score was switched up with another algorithm that works differently, meaning it identifies the profiles you like.
So, for example, if you like one hot guy, and another woman does so as well, it could mean that the two of you have a similar taste.
That is why, after 24 hours, when your possible matches are reordered by the algorithm based on your previous actions, you might be shown a profile of someone else she liked and whom you haven't seen yet.
The algorithm thinks you will like the second guy, as well, because you have "a similar taste".
Because of this, you should refrain from swiping right like crazy because the app will see your choices as your preferences and standards, and the last thing you wish to cause is for it to get them wrong.
Photos and Swipe Right vs Swipe Left
One thing you should always keep in mind is that pictures can be quite far from real-life appearance and are a perfect means to warp reality.
If a girl/guy has caught your attention, make sure to analyze his/her photos a little bit before you swipe right.
Today, when there are hundreds of filters and photo editing apps, it is quite easy to trap someone's attention with a false face/body image.
Here are several things to keep in mind when analyzing photos.
But just before we go into these tips, this is a special tip for you – avoid selfies!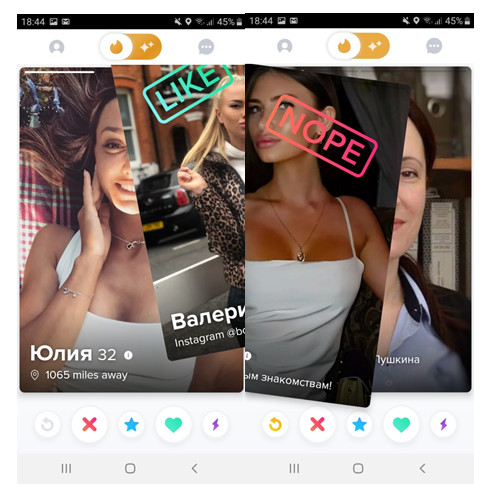 TIP 1:
If the person is using any of the so popular face filters, such as dog ears and nose, face smoothers, glasses, fake makeup, you can rest assured that they're trying to mask or are quite unconfident.
No confident person will ever try to hide their pretty face or a good-looking body.
TIP 2:
If there is only one photo of an extremely attractive man/woman, the person may be hiding behind a fake image.
Every individual who is trying to meet someone new, no matter for what reason, will try to show their image and personality through at least 2-4 photos.
TIP 3:
If all the photos are almost identical, for example, the face or body is always at a certain angle, the pose has certainly been practiced a lot to show the best version possible.
TIP 4:
Good old overexposure.
So many of us have mistakenly taken photos that end up having overexposure due to strong light, where parts of our faces, such as our nose are not even visible.
Well, let's say that some people love doing this on purpose because it makes them look better and hides blemishes.
Now that you know this, make sure you have at least 2-3 photos that show who you are and give the right impression to the person viewing them.
Having the right pictures, and at least 3 of them can increase male matches 5 times and 37% for women!
People don't even understand what a huge impact quality, bright, true photos make.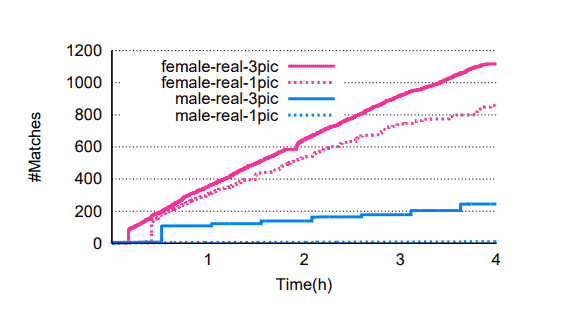 If a person has passed this quick check, then you should press the swipe right Tinder button.
As we are talking about other people's photos, also double-check yours to see if there are any "common mistakes".
If you take a look at the chart below, you will see what factors on profile photos are major turnoffs!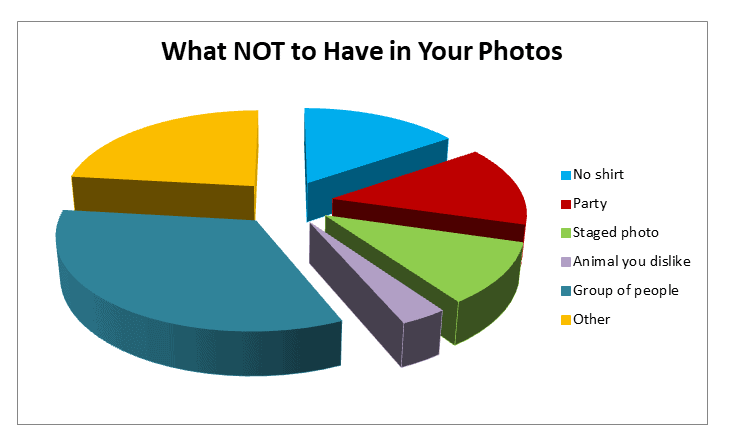 Can You Swipe Right Forever?
No.
And I hope that, even if you've been extremely good at doing this, you will stop after reading this article.
Because one thing is for sure: it should never be about quantity, but quality.
Let's face it – you won't say hi to all those 56 women, nor will you chat with them all they long and turn into a message sending machine.
We all have lives outside of Tinder and other "swipe right swipe left" apps (hopefully) and most of the time end up getting to know just those people we find quite interesting.
The daily limit is around 100 right swipes, but I suggest you stick more to swiping left on Tinder, Bumble, and all other similar apps.
Always keep in mind that you are not playing the game "try to collect as many matches and never say hi to any of them" because you are supposed to initiate contact and potentially deepen it further.
Thus, if you have any doubts like: "Hmm, swipe left swipe right, what should I do", it is better to swipe left.
Compared to the right swipe and the way the algorithm sees it, swiping to the left doesn't have any effect, and you don't have to worry if you do it quite often.
Do you Know if Someone Swiped Right on You?
Can someone see if you swiped right on Tinder?
This is the question that many newbies ask, and it is normal to be curious about it.
However, the answer depends on the type of app version you have.
For example, the free Tinder version doesn't let you see this.
The only way to know that someone swiped right on your profile, is for you to swipe on theirs and create a match.
On the contrary, the paid version – Tinder Gold offers a "See who likes you" feature, which gives you insight on who liked you before showing their profile in a stack.
However, you are still free to click the swipe left Tinder button if you are not attracted to the person.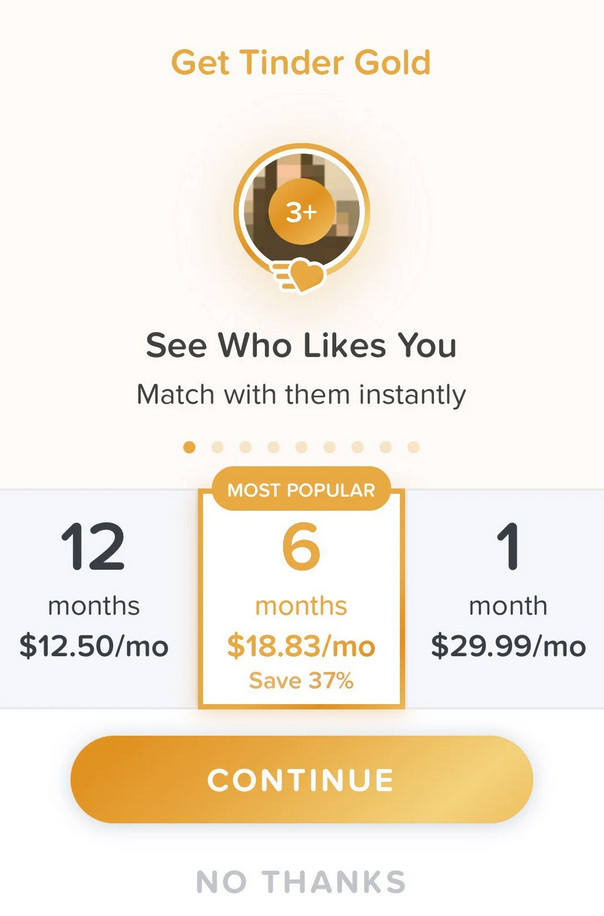 This is a normal thing to do, and you shouldn't feel bad about it, because the Tinder swipe left means you don't wish for the person to show much effort and waste their time on you in vain.
This is also the case with Bumble and its paid version Bumble Boost, which offers a list of people who swiped right on you.
In case you are using OkCupid, this feature is available within its paid version – A-list.
Many apps that resemble the "Tinder swipe left or right" method offer a feature best known as SuperLike.
This feature means that you can let someone know you like them a lot.
Let me explain.
Clicking the swipe right means that you fancy someone and are hoping to have a match, but clicking the Super Like button means you would love to meet the person and you like them the most from all other options you have been given that day.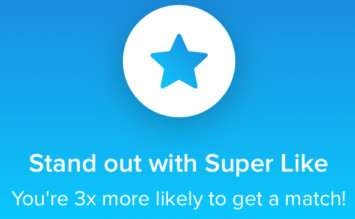 For example, in the free Tinder version, you get only one Super Like per day, so everyone needs to be careful when using it, while they both paid versions, Tinder Plus and Tinder Gold offer 5 Super Likes daily.
Believe it or not, around 100 million Super Likes are made every single day, what a number!
The same feature called SuperSwipe is present in the Bumble app, however, not in its premium version, Bumble Boost like Tinder does, but through the purchase of their coins.
Bumble coins cost $2 each and 1 is needed for a SuperSwipe.
No matter what the name of the option or the app is, the goal is the same – use it only when you like someone and wish to make sure they know that.
How Do I Know Someone Super Liked/Swiped Me?
Unlike the regular swipe right meaning – someone likes you, but you don't know who, and when they swiped your profile, Super Like works a bit differently.
For example, if you receive one on Tinder, you get a notification that you have been super-liked, but again, there is no name of the person who had done it.
However, when you start going through profiles, you should be able to see that person quite soon, and they will have a bright blue star beside their name.
So, again, you need to look for them, but you will know for sure, once you see the sign.
SuperSwipe in Bumble is a bit different because you get to know right away who likes you and decide whether you will initiate the contact.
Bumble does things a bit differently because only women can send a message first, so men use this option to let them know they are highly interested and encourage them to talk to them.
Match Has Been Made! – What Now?
This, my friend, is where the real fun begins or ends.
It all depends on how you go about sending the first message and the things you say.
This goes for both men and women, but let's be honest, women can pass by saying much more boring things or even with simple "hellos".
Men rarely can.
Men are the ones who need really good ice breakers – she needs to remember your name, possibly among many other matches!
Remember, men swipe right like crazy, and if women play their game only a bit as they do, well, she will be left with dozens of options to choose from.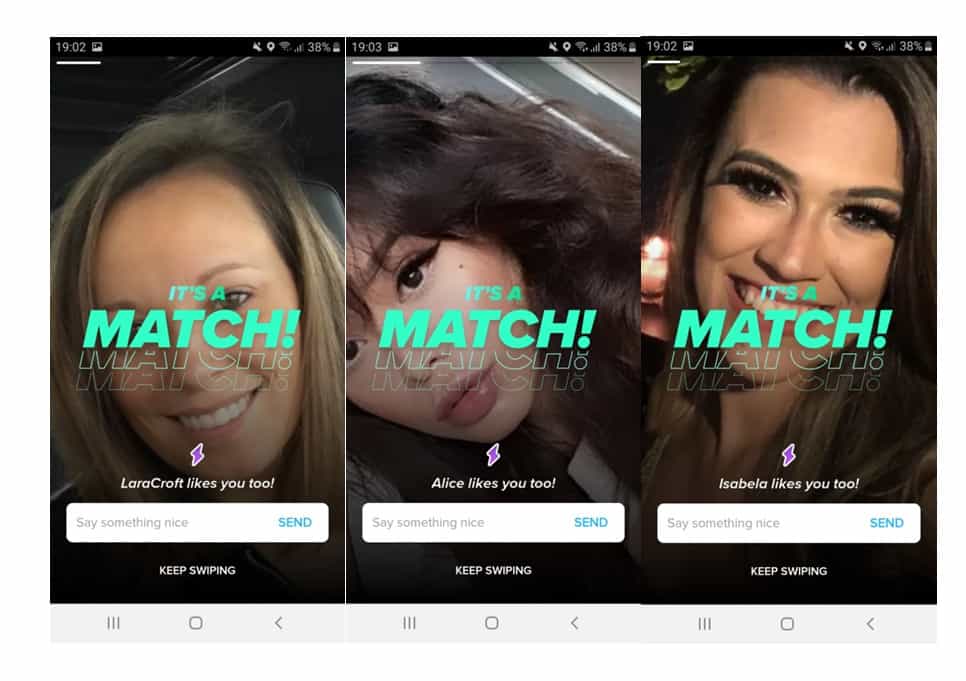 Make sure to say something funny when you start messaging or make a reference to her bio – that is always a good idea, especially if there is something funny there.
If you don't believe that having a good sense of humor matters the most, then look at the data below.
And not only that being funny matters to youth – it is universal to any age group who rate it the highest!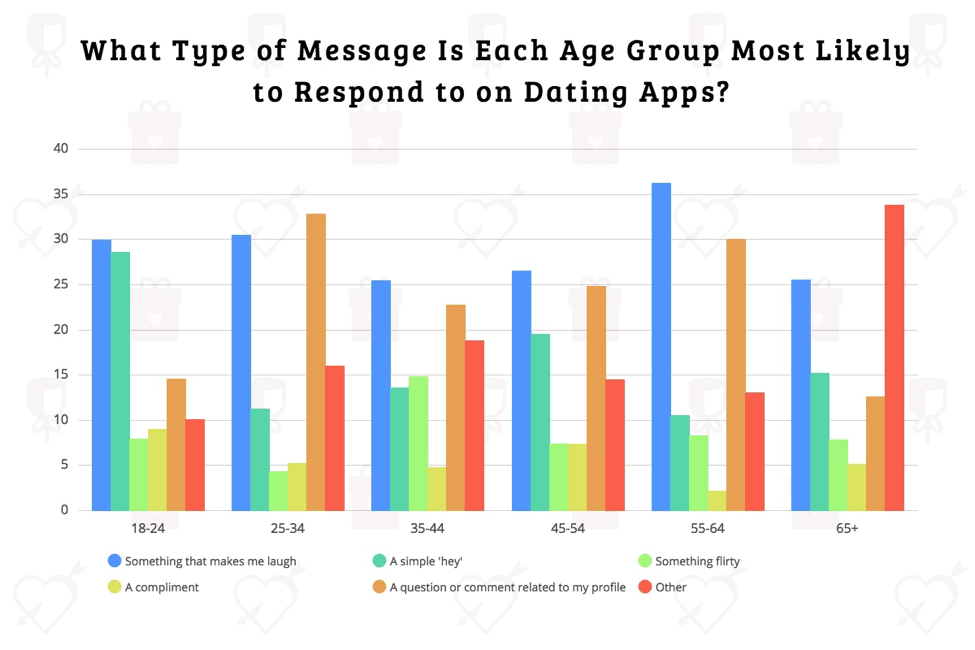 TIP 1:
Ask a question!
But not just any, but make her think about it like: "What was the best place you visited", "What are your favorite 3 movies", "Name 3 plans for the next year", etc.
You can rest assured that she doesn't get many of these and will respond and the conversation can go on from there!
If you lack inspiration, go for the most popular topics on Tinder and compare them to her profiles – you get several ideas for sure by doing so!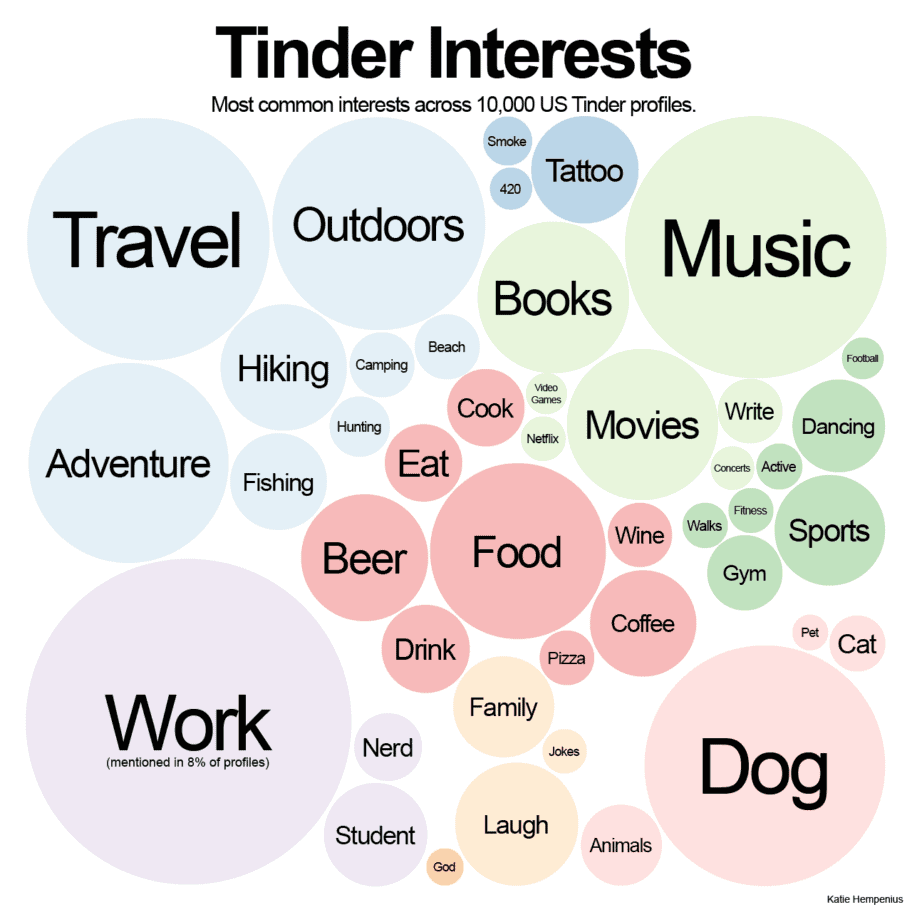 TIP 2:
Please, whatever you do, do not, I repeat, do not go for safe questions, such as: "Where are you from", "What do you study", "Do you have siblings", etc.
They are so boring and serve as a reminder that you have no clue about each other.
By being silly and even weird, you break the ice and change the mood.
TIP 3:
Do not spare your words!
First of all, women are wordier and appreciate when men put effort into their messages.
A study shows that on average men send 12-character messages, compared to women whose messages average 122 characters.
Do you see the difference?!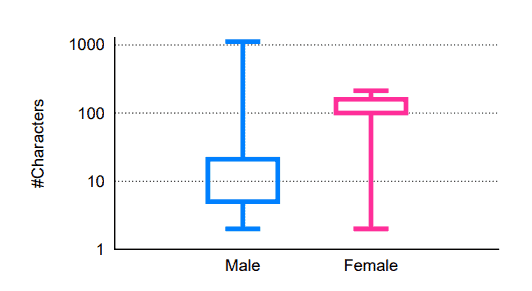 When Do you Swipe Left or Right on Tinder?
You might have not been aware, but there is a whole statistic on when to do your swiping, and it does help!
There is a peak time – when most people log onto their account, and it is between 6 pm and 10 pm, but to be precise, 9 pm is the time with the highest number of active users.
Almost a quarter of daily usage occurs during these hours, which is between 7 pm and 8 pm.
All data show that this is the time to be active, just like 50% of all active tinder users are!
It makes a lot of sense when you think about it, because people get off work, come home and chill on their phones, looking for the "right ones".
However, if you are not into chatting with strangers at night, matching can also happen in the morning between 9 am and 11 am, times that coincide with rush hours.
Commuting and matching?
Sounds good to me!

In case you wish to dig deeper into what days and hours are most popular, take a look at this photo.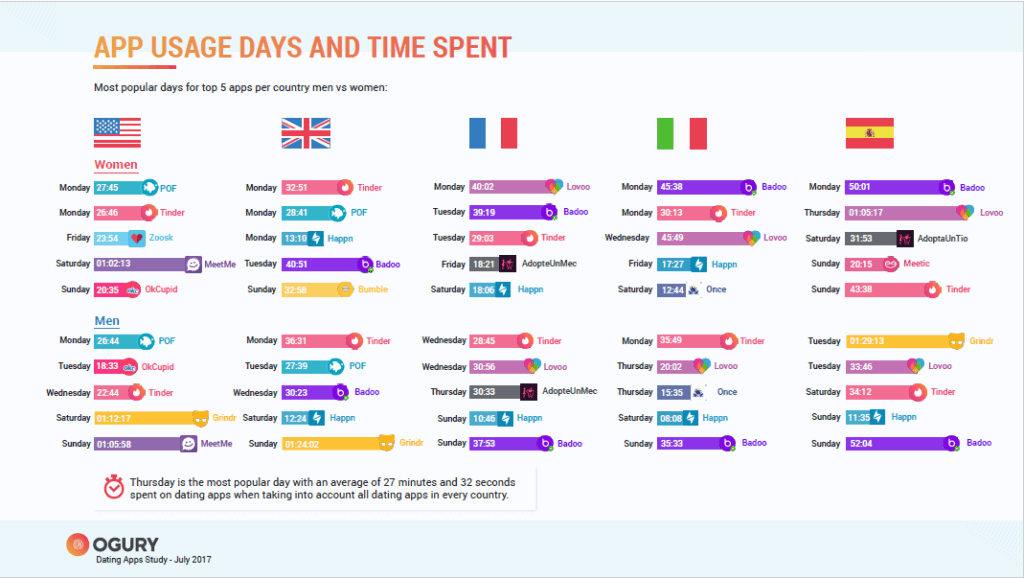 Now, swiping during these hours might be a bit overwhelming because you will experience a bigger "applicant" pool and possibly more SuperLikes/swipes, and this is the perfect time to practice having standards and use the Tinder swipe left button.
Where to Do Your Swiping?
In case you are open to all kinds of acquaintances, and their distance doesn't matter as much, then staying home is okay, no matter where your home is.
However, if you wish to have a bigger pool of potential candidates, and you live in the countryside, then meeting someone interesting can be a bit harder.
This is why you should hit the road and go to the nearest downtown area in the afternoon or evening and see who will pop up on your screen!
Also, if there are certain places you love and spend lots of time there, you could adjust the preferable distance from you and set it to the minimum.
That way you might find someone who shares the same love.
"Top Picks" for Ultimate Swiping Game
One of the most recent additions to the Tinder app is the "Top Pics" feature offered to all Tinder Gold membership holders.
It analyzes your swiping pattern, and based on recent choices, offers a set of profiles that are the best potential matches.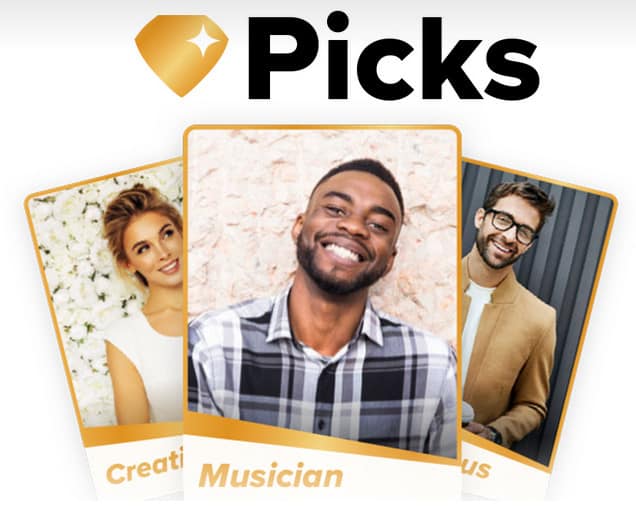 Free version users get one top pick per day and can purchase more in sets of 10,20, and 30, while Tinder Gold members get a free set each day.
Now, why I am mentioning this is that it's connected to your swiping pattern and is more reason to refrain from non-stop right-swiping!
In case you wish to or already have purchased a Gold membership, the last thing you want to do is to confuse the algorithm and get all these random recommendations that have nothing to do with your real taste.
Think about it.
Now let's take a look at some Tinder FAQs that pertain to swiping direction.
Frequently Asked Questions