There have been a lot of desperate Tinder users complaining that they can't sign into Tinder.
Supposedly, many people have gotten a message which says: Tinder error code 5000.
Today, we will address the following in this article:
OFL Top Recommendations based on 100,000+ Survey

"Serious Relationships"
"Discreet Hookups"
"Best Course for Men"
"Quick Flings"
"Normal Hookups"
"Our Quiz"
So, without further ado, let's find out why you are having trouble logging into Tinder.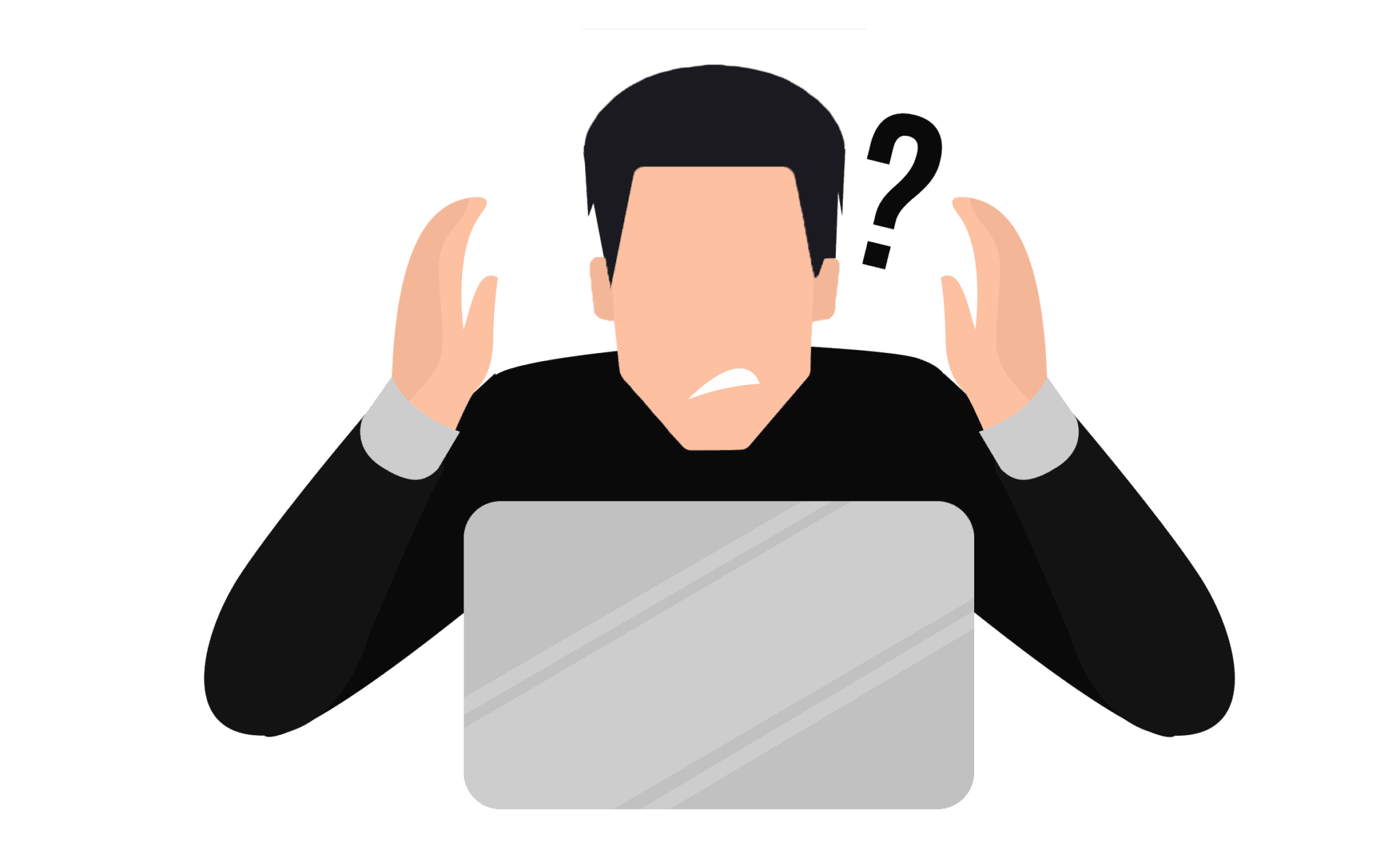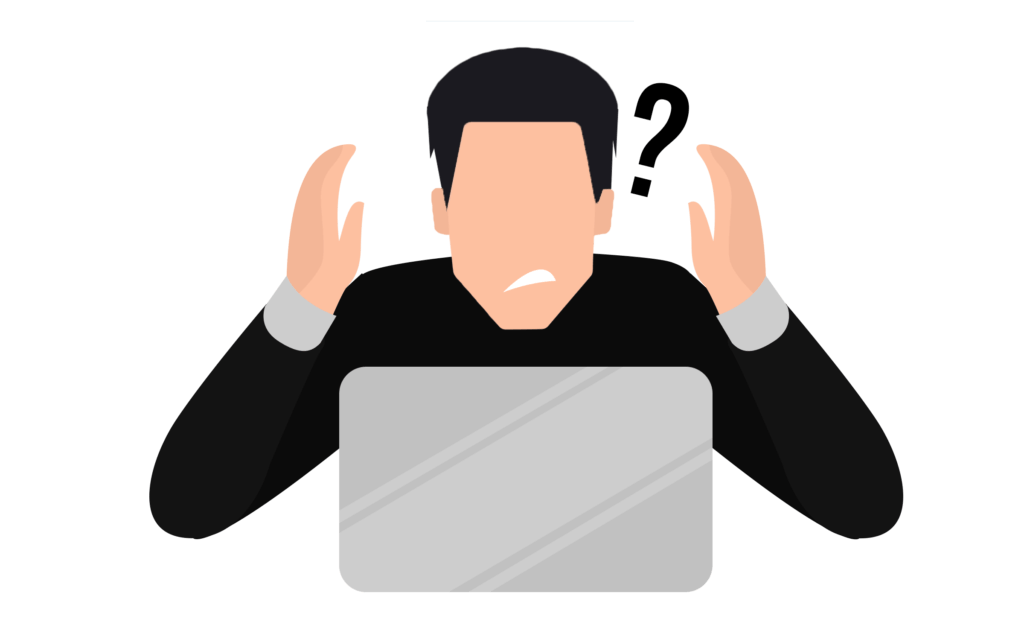 If you've tried to log into your Tinder account and you've gotten the Tinder code text below, you don't need to panic right away.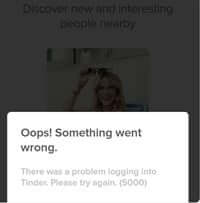 Tinder is the biggest dating website out there.
They range from people looking for a quick fling to Serious relationships and are not only for hookups (like BeNaughty or Ashley Madison) or only for serious relationships (like eHarmony).
So you might experience Tinder logging you out automatically and when you try to log in, you get this same message.
But you don't have to panic right away.
It doesn't mean that you've swiped 5000 times and that now you're banned, nor does it mean that there are no matches for you in a 5000-mile radius.
If you were banned from Tinder, you would see a Tinder code with the number 40403, after which your account is unusable.
The message is just stating that:
Tinder is down.
There's been a lot of logins and the system is overloaded.
The problem is that sometimes you can get the error code 5000 and it will say on Tinder "something went wrong" but you'll not be displayed the login menu.
OFL Top Recommendations based on 100,000+ Survey

"Serious Relationships"
"Discreet Hookups"
"Best Course for Men"
"Quick Flings"
"Normal Hookups"
"Our Quiz"
In that case, you won't even be able to try and change your password.
However, this problem is often linked to the Tinder server not working so you don't have to worry.
So now that you know that this error isn't your fault, let's see what you can do to fix all the issues connecting to Tinder.
Check to see if Tinder is down
To ensure that you're not the only one seeing the Tinder server error, you should check to see if other people have the same problem and can't sign into Tinder.
You can ask your friends who use Tinder and see if they're getting the same error, or you can check on the Down Detector.
Just open up the site and search for Tinder.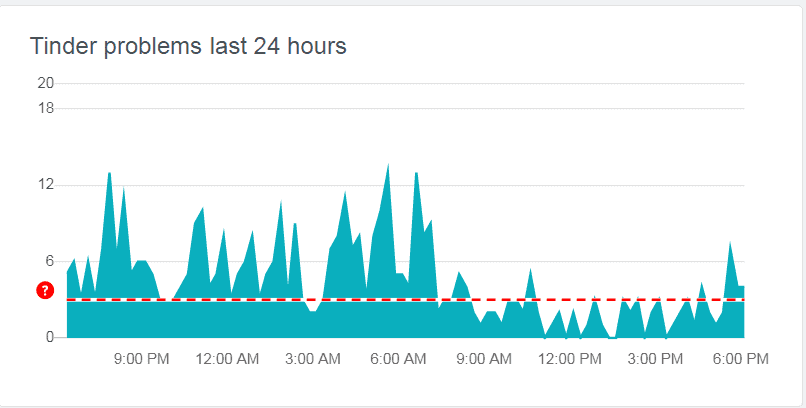 If you see that the graph was spiking recently, it means that many people reported the Tinder app not working, probably due to an overload or is under update.
If Tinder is working fine for everyone else and you are still having Tinder login issues, then you have to use some of the 6 methods that I recommend below.
However, if they don't work, don't blame me, but rather contact Tinder and explain your situation.
6 Methods you can try to Fix Tinder Error 5000
The chances of fixing the error code 5000 by yourself aren't that high but you still want to try.
These 6 methods should, in theory, solve your problem, but if they fail and the Tinder server isn't down, then you need to contact Tinder to resolve your issue.
In most cases, some of the problems you might be faced while using Tinder are linked to turning on your VPN.
I know that it's tempting to turn on your VPN and change your location to maybe get better matches, but this can lead to getting Tinder server error codes (not just the 5000 one) or even getting banned.
So save yourself the trouble and turn off the VPN.
If you're using an Android, this is how to turn off the VPN:
And this is how to turn off the VPN on an iPhone: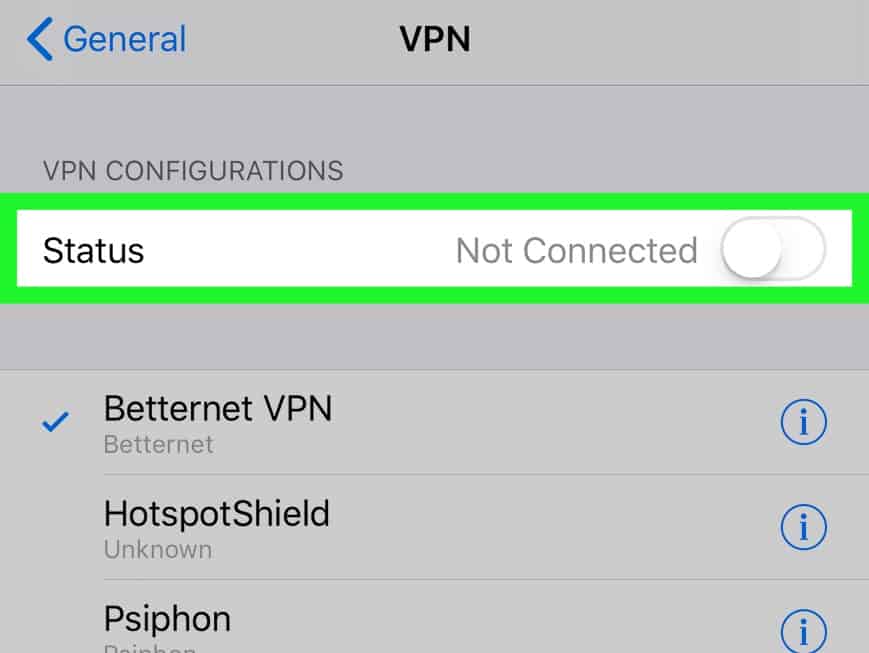 2. Check your Internet Connection
A lot of times a bad internet connection might even require you to log out from Tinder so you end up with a message saying "Tinder error".
See if you have a stable connection to your Wi-Fi or mobile data to see if the Tinder login error is linked to a poor Internet connection.
If this doesn't work, then try method 3.
Check to see if your Tinder app needs an update.
Tinder doesn't update the app so frequently but when it does, if you're using an old version, you might experience a lot of glitches and error codes.
So go to either Google Play or, if Tinder not working on iPhone, then go to the App Store and see if Tinder is updated to the latest version.
Often the newer version of the app has resolved some issues from the older version and it's always great to see what features the newer version has.
Just like when your computer is acting funny and you restart it, you can also try doing that with the Tinder app.
So while you're already in the app store checking if there is an update, you can go along and delete and re-install Tinder to see if that will solve the problem.
If you've had the issue of getting a message saying "Tinder can't log in", then by re-downloading Tinder you might fix this as once you start Tinder again, you'll be in the Login menu.
5. Clear Tinder App Cache Data
Often the Tinder app might start to glitch especially if you have an older phone so you'll constantly experience your Tinder app not working.
That's why it's not a bad idea to clear the cache data of the Tinder app.
Although this method only works if you experience Tinder not working on android, if you are an android user, this might help.
You first go to the "Settings" and select the "Apps" section and find the Tinder app there.
Then you just clear out the cache data and it also won't be bad to restart your phone just to freshen it up a bit.
Just be careful not to delete the app data as your account data will be deleted and you'll have to log in again.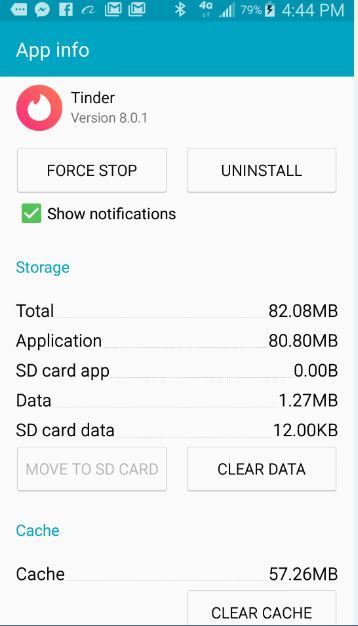 If that doesn't help, then you'll only be left with one more option before it's time to contact Tinder and resolve the issue.
The last thing you should try if you're still getting the Tinder "something went wrong to try again later" message is to try and reset your password.
Just click the "Reset password" button on the login menu and you'll be asked to provide your e-mail address as the picture shows: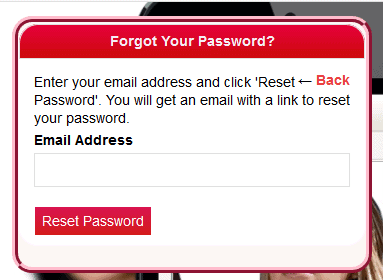 Often when you have a problem logging in to any account not just your Tinder one, once you reset the password you'll be able to log in with no problem.
Now, the error 5000 code is a bit unpredictable and this issue might not be resolved by simply resetting your password but you should still try.
Also, you may not be able to reset your password in the first place as you might not be even getting the login menu.
If this is the case, try using your mobile web browser and see if you get the same situation.
What if Everything Fails?
If even this method doesn't work, it means that the Tinder server is down or that Tinder messed up something on your account and then you have 2 options:
1. Contact Tinder and see if they can resolve the issue
Contacting Tinder is your last option but don't expect the customer service to resolve your issue.
You will be redirected to a menu asking you to submit your request by asking you to choose a topic.
You then select the "A Tinder feature isn't working" and then you'll be asked to explain your matter.
Most of the time you'll get an automated reply back but this depends on your explanation.
This is why most people who have problems logging in first try everything they can to fix it by themselves, and then only later contact the customer service.
If you don't want to hassle with Tinder customer service, you should then go to the Tinder FAQ section and see if you can find some answers.
I've done the job for you and by following this link you'll be redirected to Tinder's suggestions of fixing the problem of logging in (spoiler alert, same as mine) and inviting you to contact Tinder.
2. Wait for the Tinder server to get back up and running again
God only knows when the server will be fixed, but in most cases, the issue is resolved within 24 hours.
Some major issues might need even 48 hours to be solved but this doesn't mean that you must end your swiping.
While you wait for the server to start working again, you can explore other dating apps to kill time.
Who knows, maybe you end up liking one of them and switching over.
Now that you know that you're not the only one thinking "Why is my Tinder not working?" or "why can't I log into Tinder" and that your problem isn't unsolvable (it just takes some time) you don't need to panic.
Just try to resolve the issue using the methods I've suggested and if it works, it works, but if it doesn't – Badoo is also a good dating app.
If you have any comments or suggestions, feel free to share them with us in the comments below.
Good luck!
Frequently Asked Questions