There are so many hot and sexy girls on Tinder – why haven't you had one for yourself???
Do they ditch you after your first couple of messages? I've got you, man!
In this article, I'll enlighten you on:
OFL Top Recommendations based on 100,000+ Survey

"Serious Relationships"
"Discreet Hookups"
"Best Course for Men"
"Quick Flings"
"Normal Hookups"
"Our Quiz"
Well, the hot chicks are waiting. Let's get busy!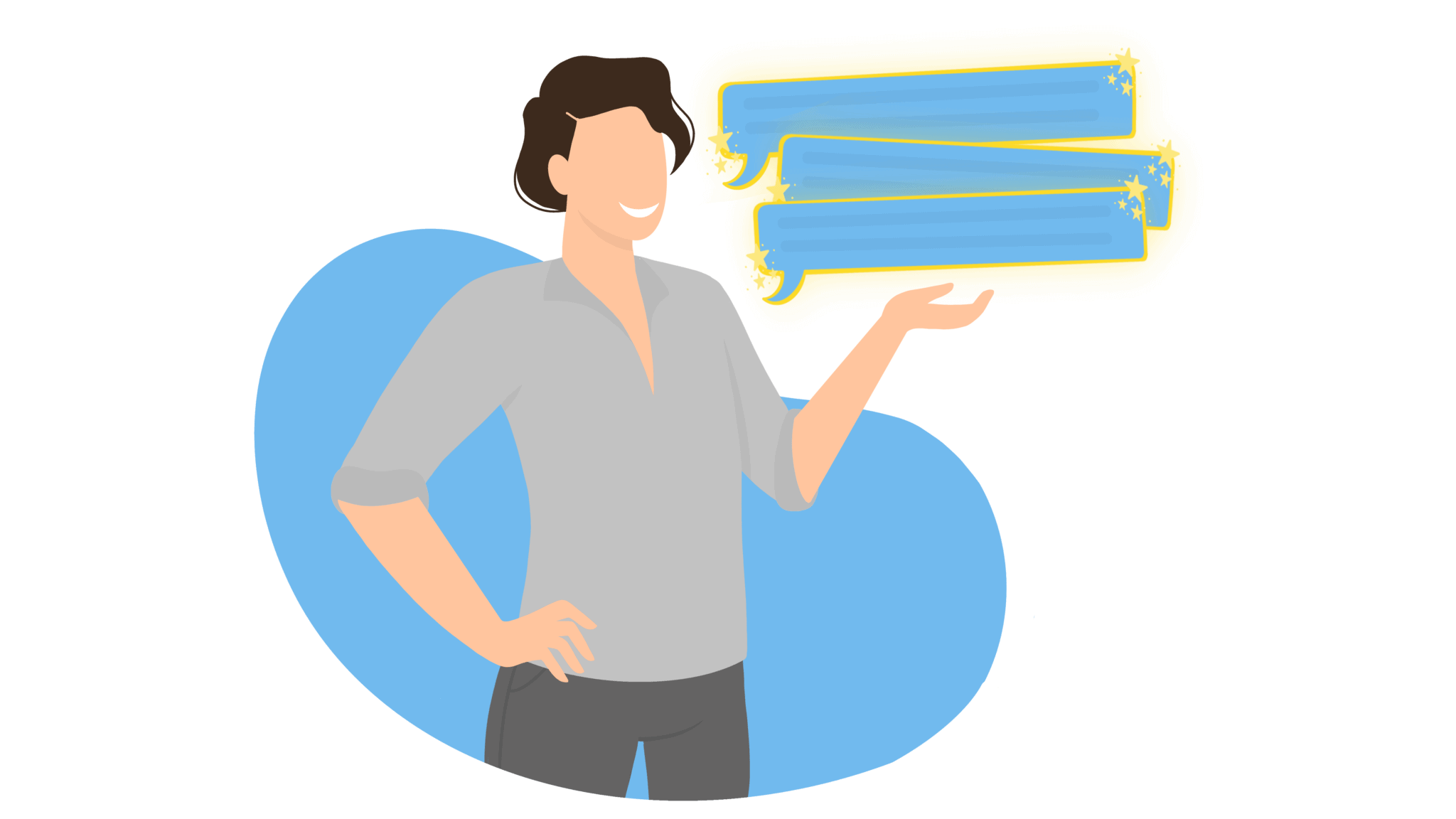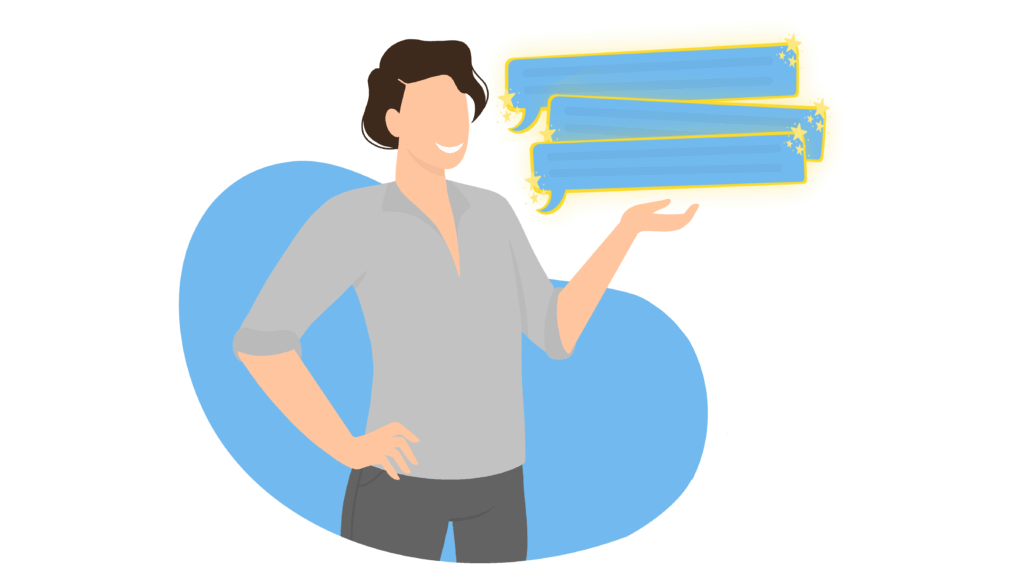 Tinder is a great platform for everyone seeking any type of connection – quick flings and serious relationships alike.
Tinder may be seen as just a hookup site (like BeNaughty or Ashley Madison) by many people, but many others also use it to find serious relationships (like eHarmony).
I won't lie to you, things here might be even harder than picking up girls in real life.
You need to know what Tinder openers to use to make them interested.
Before you decide to use some cheesy pick-up lines such as "Is your dad a terrorist…" let me stop you there.
Spare yourself the embarrassment and don't use this or anything similar.
Before I give you all the best Tinder pick-up lines, you need to know that not all the lines will work on all the girls.
This is why I am going to give you the pick-up lines for Tinder according to the diverse girl types you'll find on Tinder.
Per girl type.
Why so?
Well, did you know that the best Tinder openers to use on a girl are those that show your appreciation of her most prominent characteristics (positive, of course)?
I presume how anxious you are already, so I won't delay any further – it's time to send that cutie of yours some good Tinder openers that may woo her to your place tonight.
1. Girls with very few Profile Pictures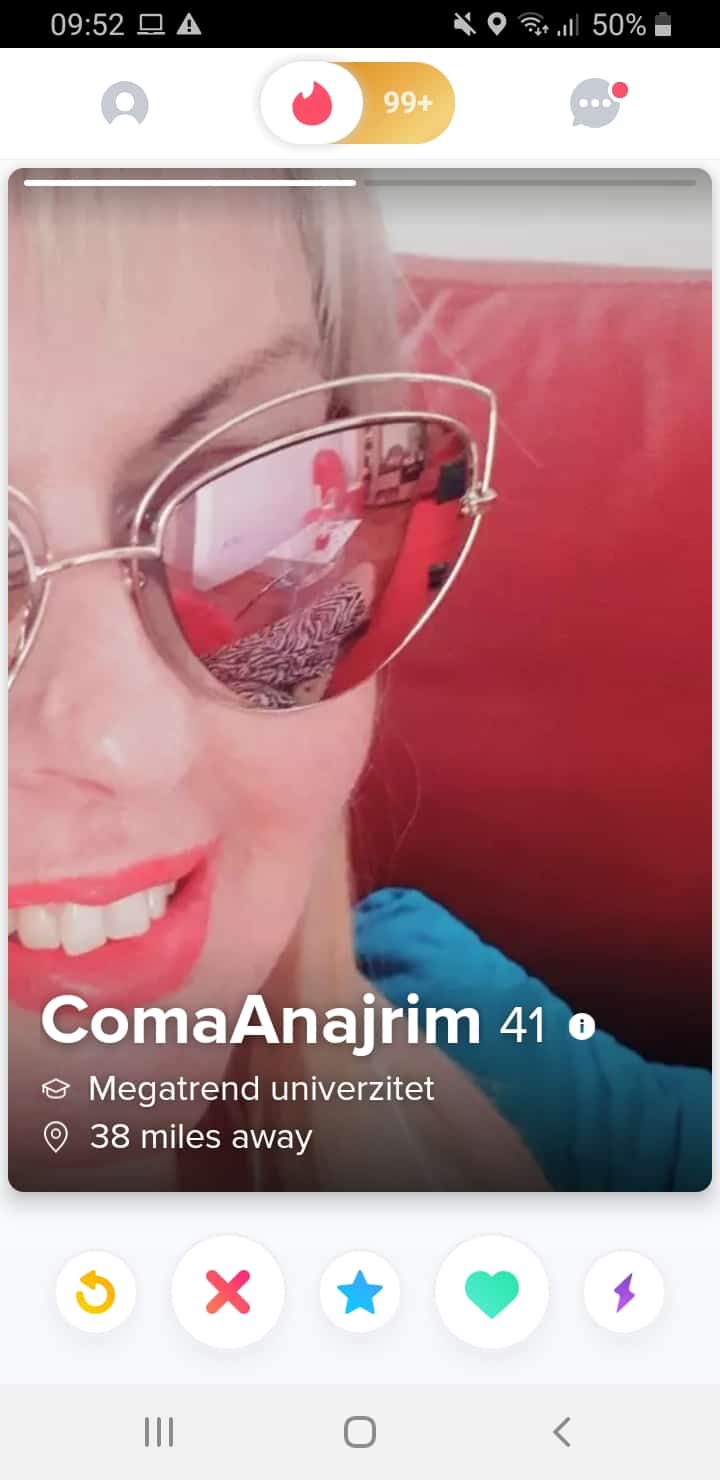 Or, no pics at all.
How to spot them?
These girls upload only a photo or two just to tickle your imagination.
Sometimes, they come across as the hottest single on your deck, but the problem is that you won't be fully assured of the authenticity of the photos or even the overall profile.
Maybe they are lazy, maybe they are shy, so be extra careful because the first impression you create in their mind is all that will matter in the end.
Whichever the case, when picking up these girls on dating sites, try some of the funny Tinder lines listed here.
1. Truth or dare?
If I lose, you gotta tell me if you are a dude pretending to be a chick?
Don't be offended, I could do guys too…but, I'd rather not.
Oops, I shouldn't have said that.
This one's a bit longish but cringe-worthy, and it will bring a smile to her face.
She won't resist asking if you are bi which then gives you a chance to ask her out and prove you're not.
2. What does Keanu Reeves use to dry his tears when Keanu grieves?
These lame and obvious jokes are awesome icebreakers for one simple reason.
Girls love them.
A girl with very few photos will sooner reply to one of these Tinder pick-up lines than those asking about the lack of photos.
Let her guess the answer (it's Keanu Sleeves) and move on from there.
3. Bot check coming up.
Retype as follows – I wanna Netflix and Chill.
Funny, simple, doesn't focus on the flaw in her profile.
2. Girls in Groups (Who is Who?)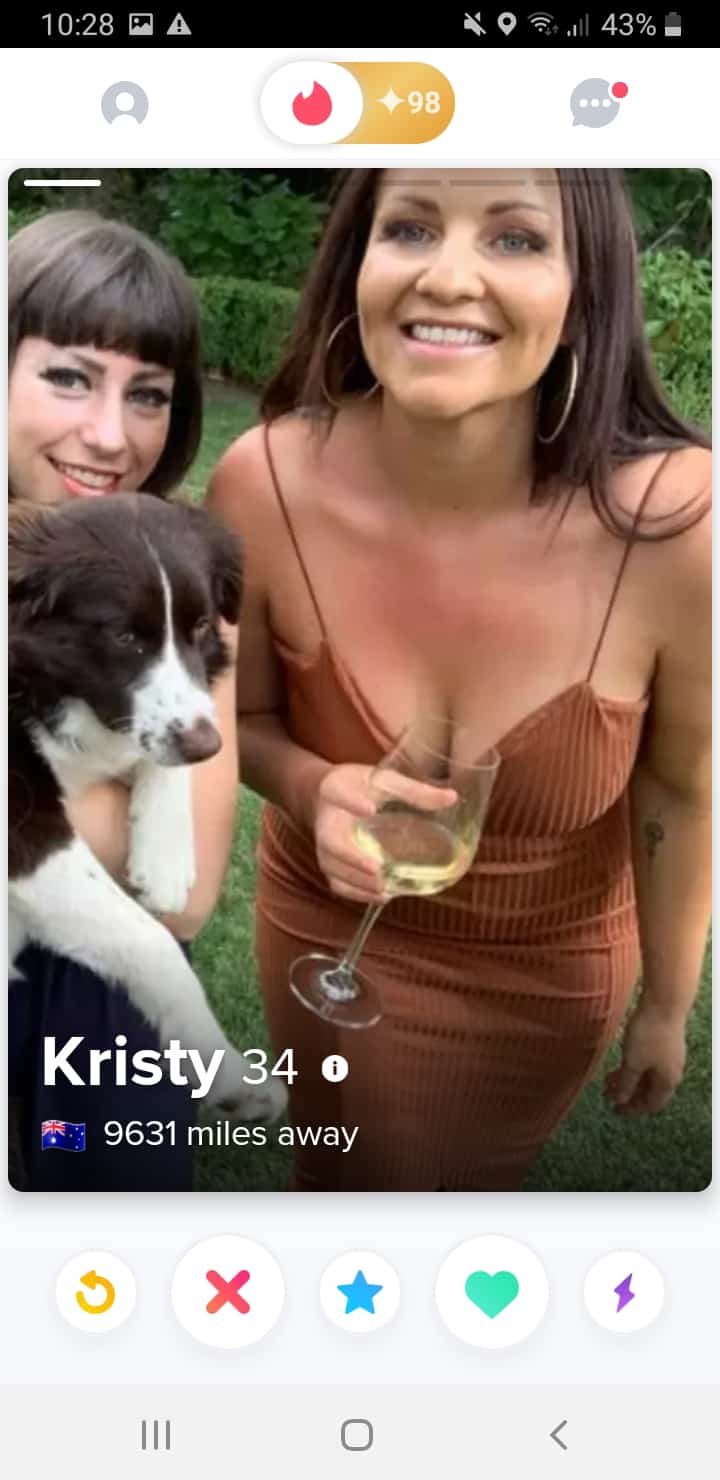 How to spot them?
In this case, you will see a bunch of group photos where you don't know who you are talking to.
You might just give up immediately, but let's make the match count.
Try picking her up like this.
1. You must be the sexy stud on the left.
Before you send this, screenshot one of her group photos and draw a circle around some random dude you find there.
She'll know it's a joke, and she won't resist proving you wrong.
2. The best line on Tinder you ever got?
When she replies (and, she will), send it back to her.
3. I'll let you play with my balls if you tell me which one here is you.
Send a photo of two (foot/basket)balls after this one.
A bit straightforward, but funny at the same time.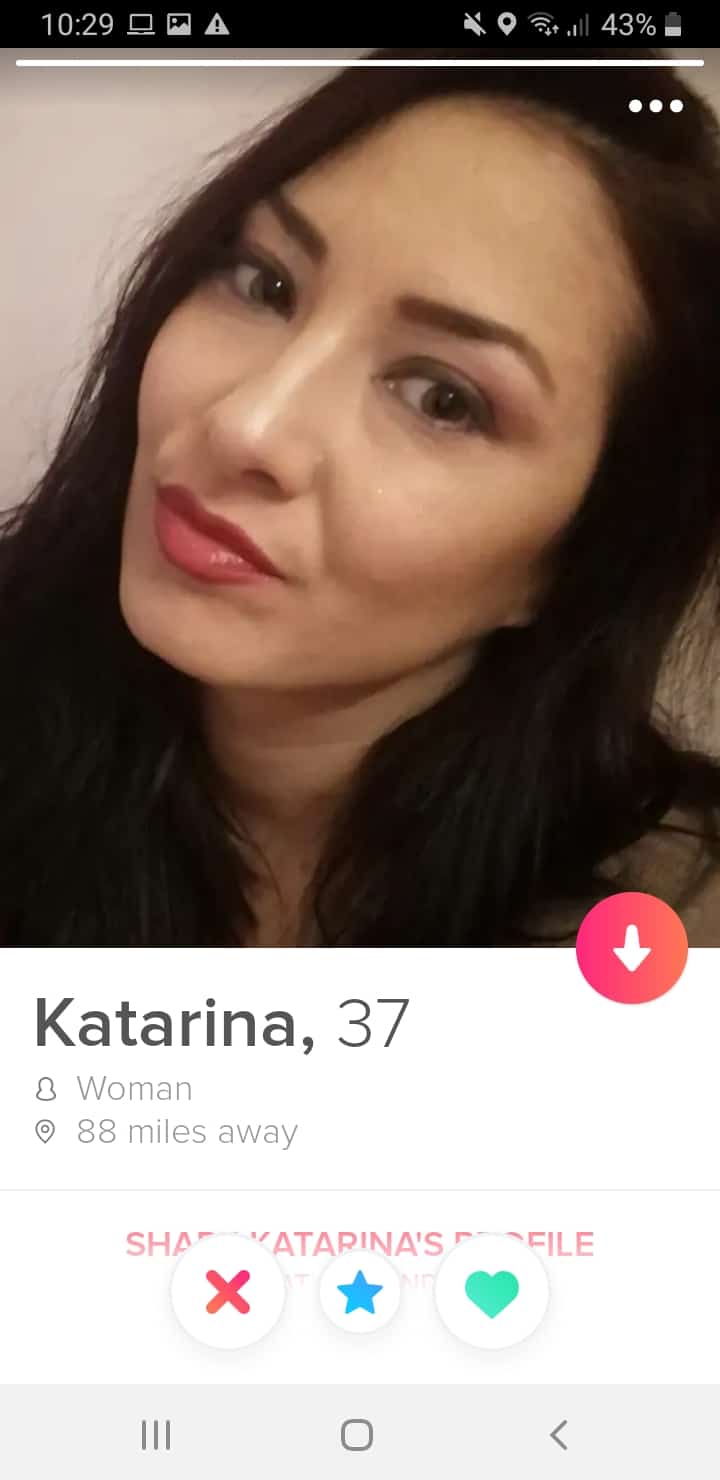 Damn, girl, add the bio.
How to spot them?
Well, there is no bio at all or it's rather short/uninformative.
You can try both Tinder jokes or something more serious even.
But with these, you won't miss your shot.
1. I really wanted to know how much you love your pussycat!
And your bio doesn't say anything.
Then send her a photo of a cat and say that's yours.
She'll know you're messing around but she won't leave you without feedback – at the very least, she'll send a smiley or an emoji.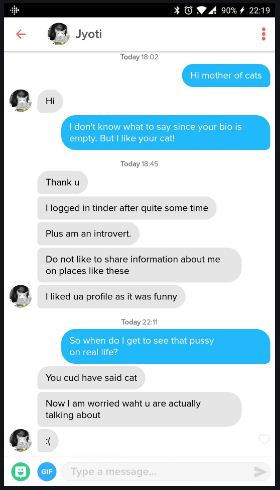 2. If I guess your favorite activity, will you let me join you in doing it?
This will show her that you are interested in more than just her looks.
Get creative in guessing after this.
3. She didn't have a bio,
but I wanted to have a try-o,
So I sent her a text-o,
and she decided to say No.
Rate my poem.
Just wrote it now, J.
Silly, funny, and effective.
4. Damn, girl, an impressive bio you got there 😀
A bit sarcastic, but works all the time.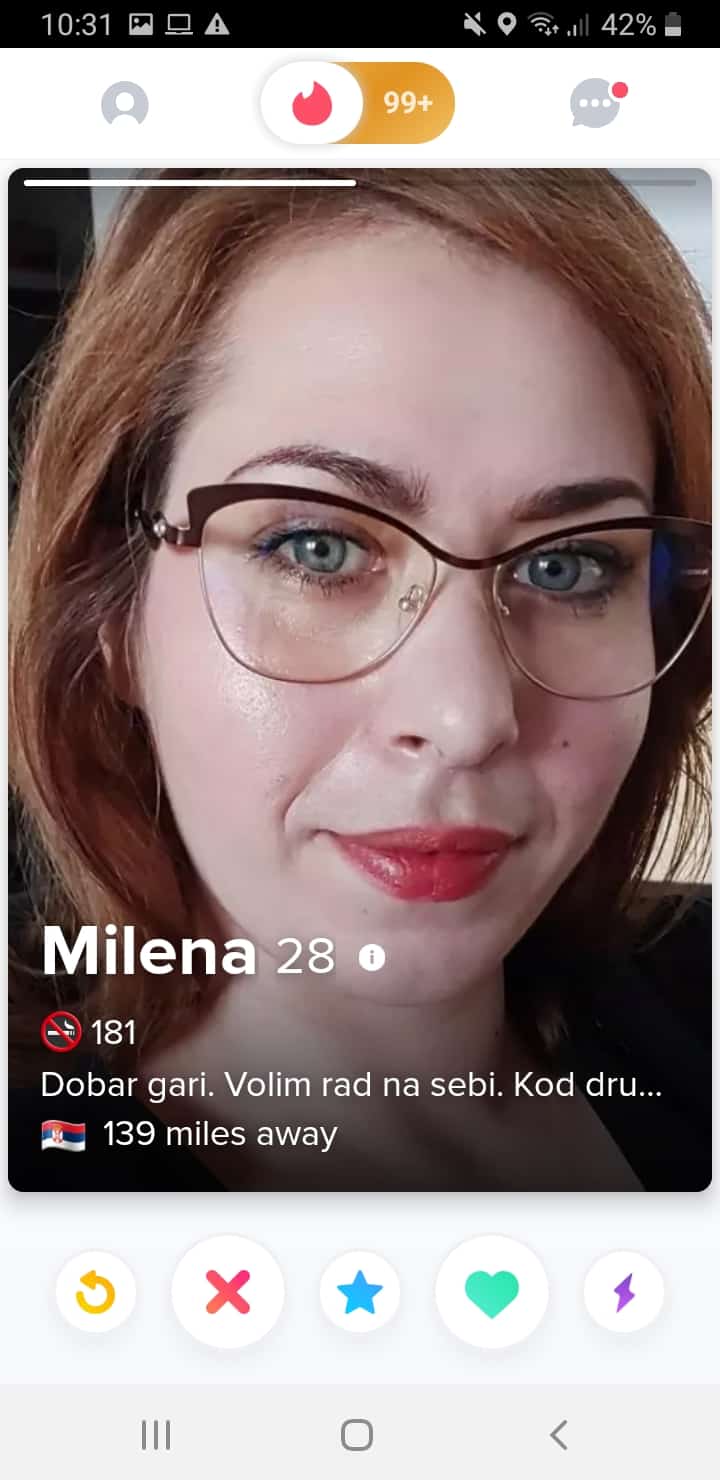 How to spot them?
No brainer here.
As soon as you see a girl with bangs, short hair, and old-fashioned glasses, that's a geek all right.
It is a cliche, but it's true.
Should you decide to pick up some of these girls, you need to go with some real good pick-up lines for Tinder.
These are just some of the suggestions.
1. How do you write zero in Roman numerals?
Rhetorical questions are great conversation starters and are definitely among the best Tinder openers.
2. I would really like to convert my potential energy into kinetic energy with you.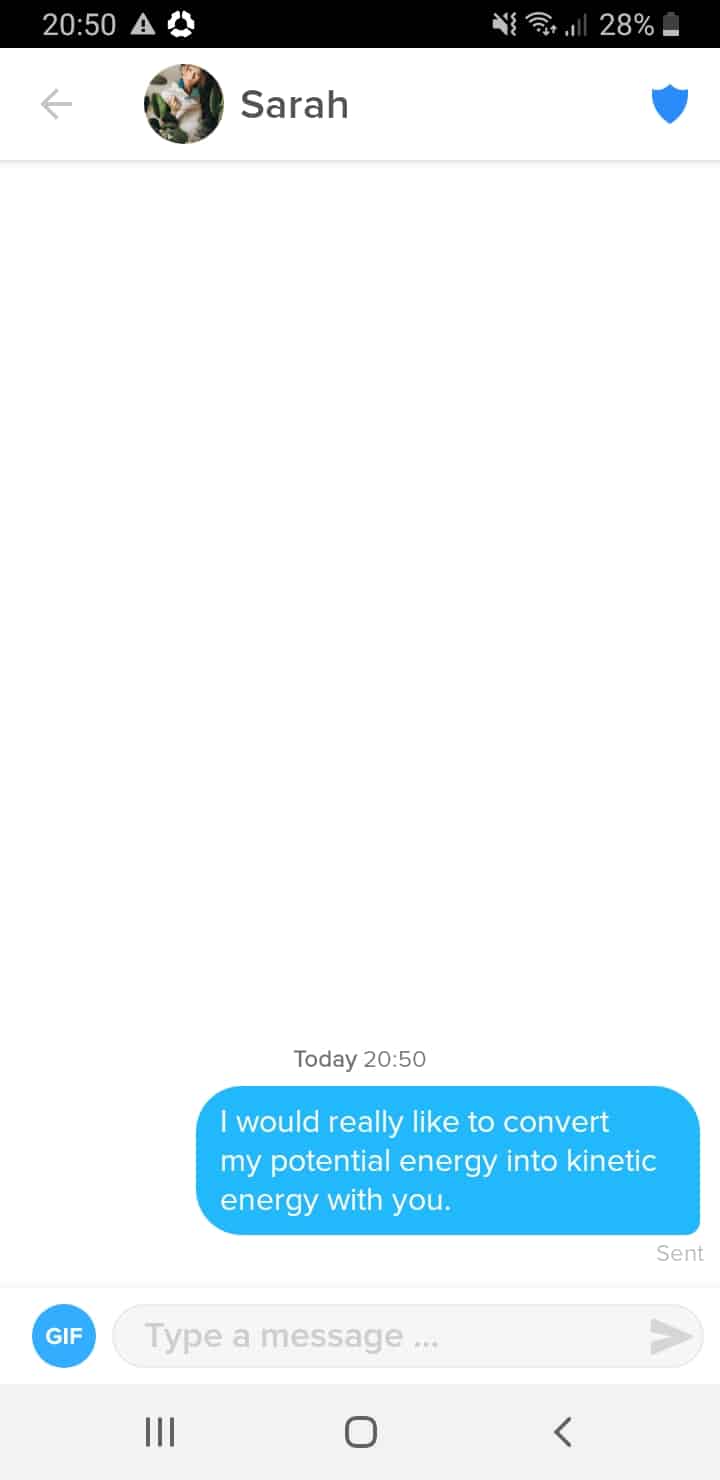 Clever pick up lines like this one will make you seem smart, knowledgeable, and sharing the same interests.
3. Oh, babe, your Bosons are so giving me a Hadron.
A wordplay, and a well-played one!
4. A female body has 209 bones.
Could I interest you in lending you another one?
Subtle and not subtle.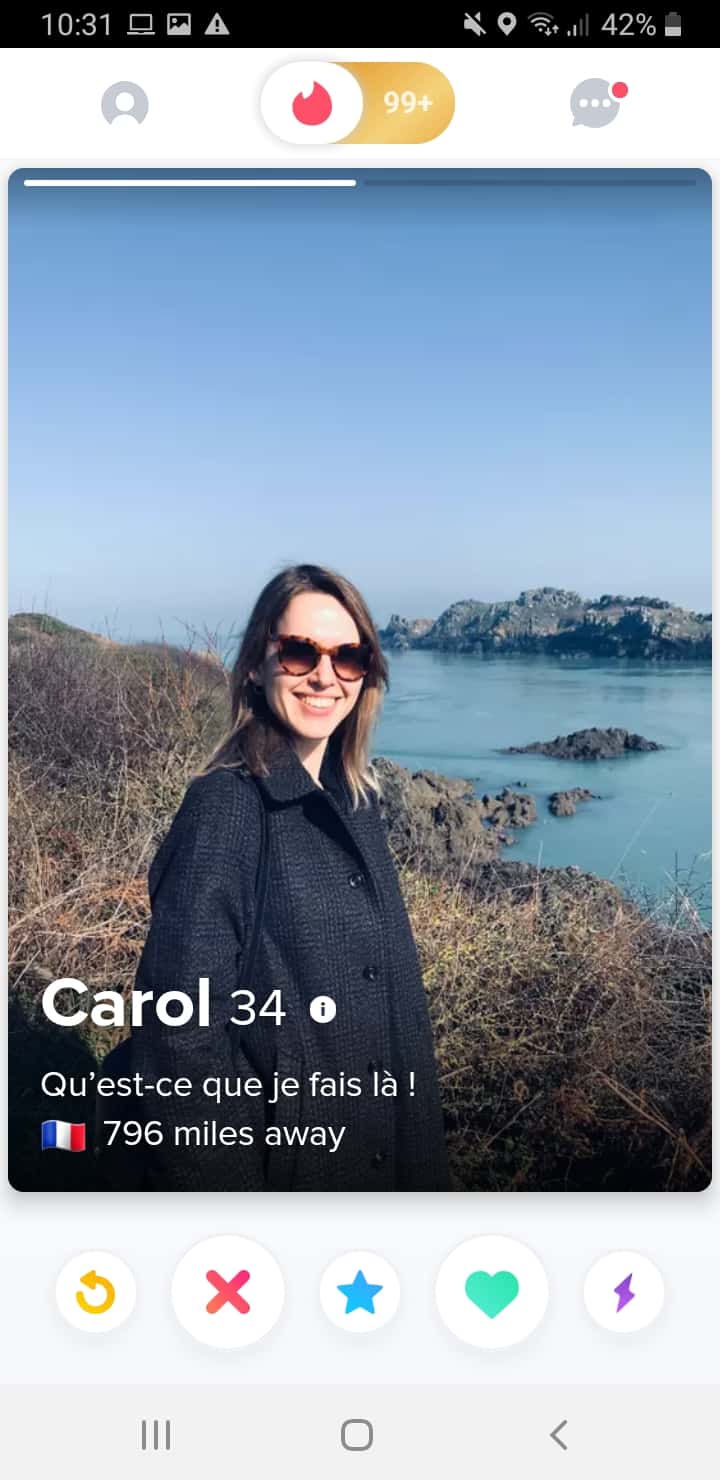 How to spot smart girls on Tinder?
Check their bio section, this is where you'll find precise, but witty and interesting language.
Your hints are the immaculate grammar and punctuation rules applied.
This doesn't mean they are stuck-up or anything.
They just like to use the language properly.
And as for opening lines for Tinder to use on smart girls, this is something you can give a shot to.
1. Hi, there. Can you help me out with research? What is the worst Tinder pick-up line you've heard?
a. I'll take you to the candy shop, I'll let you lick the lollipop
b. Is your dad a terrorist, cause you got a killer booty
c. Hi, there. Can you help me out with research? What is the worst Tinder pick-up line you've heard?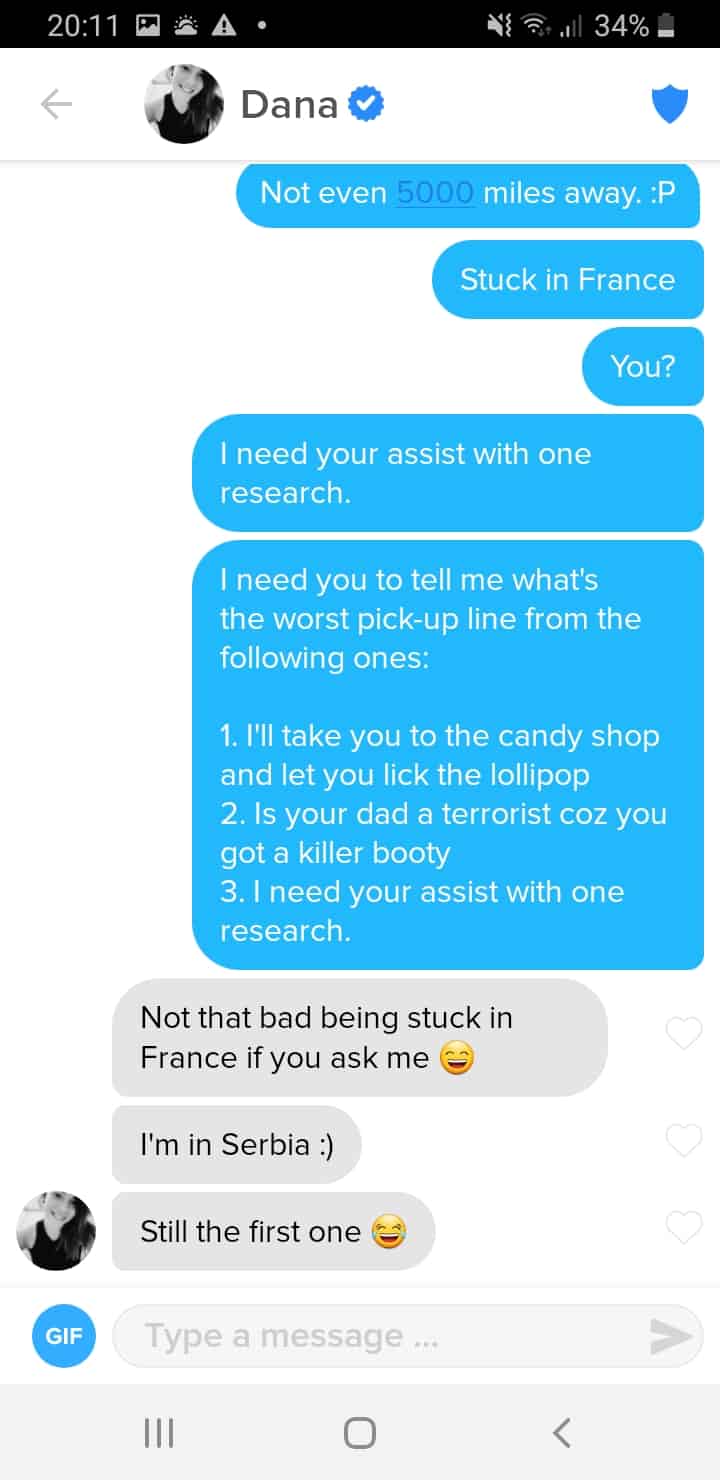 Clever and engaging.
What you need, exactly!
2. My fair lady, a humble Gentleman such as myself wishes to speak to you and extend an invitation to a regular night of wining and dining and our bodies intertwining.
Or, whatever pleases your ladyship.
Language on point, and humorous.
What more do you need?
3. If you could choose a famous writer to write a book about you, who would you choose?
Again, engaging and lets her know that she is of more value to you than just to take to bed and be done with her.
4. Would you rather lose the ability to speak or lose the ability to read? Elaborate.
These witty pick-up lines are great conversation starters.
Use them bountifully.
Or, you can try this one.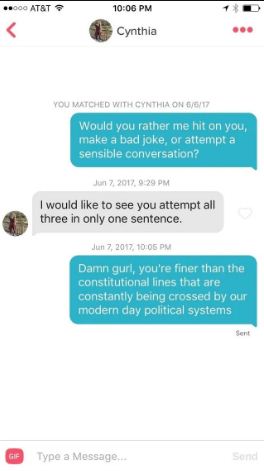 How to spot them?
Just like with geek girls, Goth girls are easy to recognize by their distinctive looks.
You will not be able to pick up these girls with cheesy lines, but you will have to make an extra effort. Try these.
1. A lovely neck you got there. Mind if I bite it? Or pull your necklace a bit tighter?
You just complimented her looks and hinted at the things you'd do when alone with her.
2. I used to think Evanescence's Bring Me to Life was a genuine goth song. Actually, I still do.
Prove me right/wrong.
A more subtle one than the previous, but will raise her interest.
3. You look like a girl I'd let tie me and do stuff to me.
Would you?
No place for misinterpretation here.
4. Is your body a grave?
Cause, I'd bury myself so deep inside it.
So dark.
How to spot shy girls on Tinder?
Such girls will upload highly non-provocative photos, those where they are fully clothed, etc.
Also, if you are shrewd enough, you'll see that their bios are kinda left unsaid.
In this case, your pick-up lines must be considerate.
Take a look at this.
1. Did you know that as a kid, I use to hide behind a sofa every time we had guests?
With this, you tell her that you understand how she feels and you don't mind.
2. How about we get together and hide under some blankets?
Hinting at it, but still being appreciative.
3. I hate interacting with people, but I wouldn't mind interacting with you if you'll have me?
Stating the obvious, and not being assertive at the same time.
4. I kept waiting for you to write, but then I mustered the little courage I had.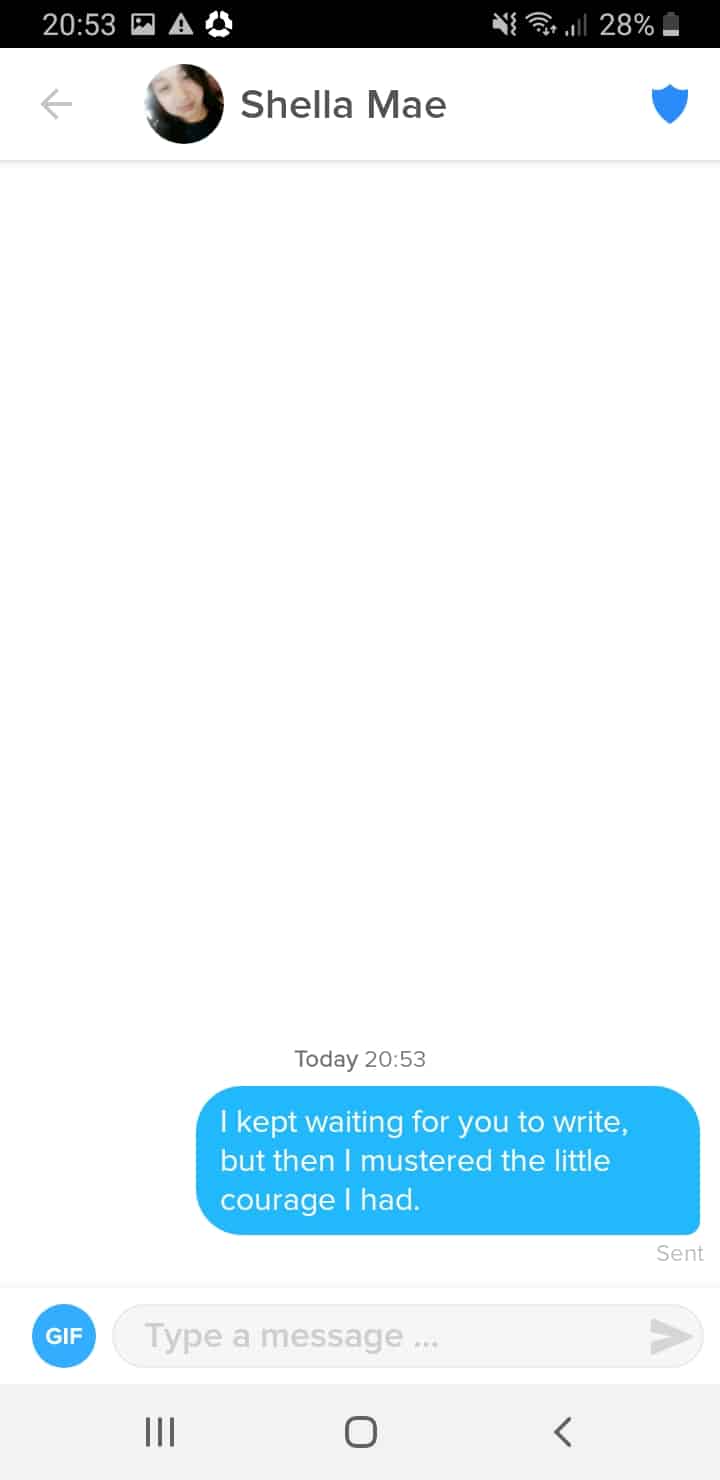 Turning the tables.
Works all the time.
How to spot them?
You will recognize these by their bio – which is all about their pets or their favorite books, etc.
Once you text them, they will rarely draw the sexual connotation from your words.
Should you still decide to pick up an innocent girl on Tinder, you can try some of these lines.
1. You're so cute and beautiful that I forgot my pick-up line
Awww, thanks <3 will be the answer.
2. Do you believe in love at first sight, or should we match again?
Old but gold, and I'm sure you've used it already.
3. I see that you like Francis S. Fitzgerald. Wanna come with me and see The Great Gatsby?
Subtle, engaging, and effective.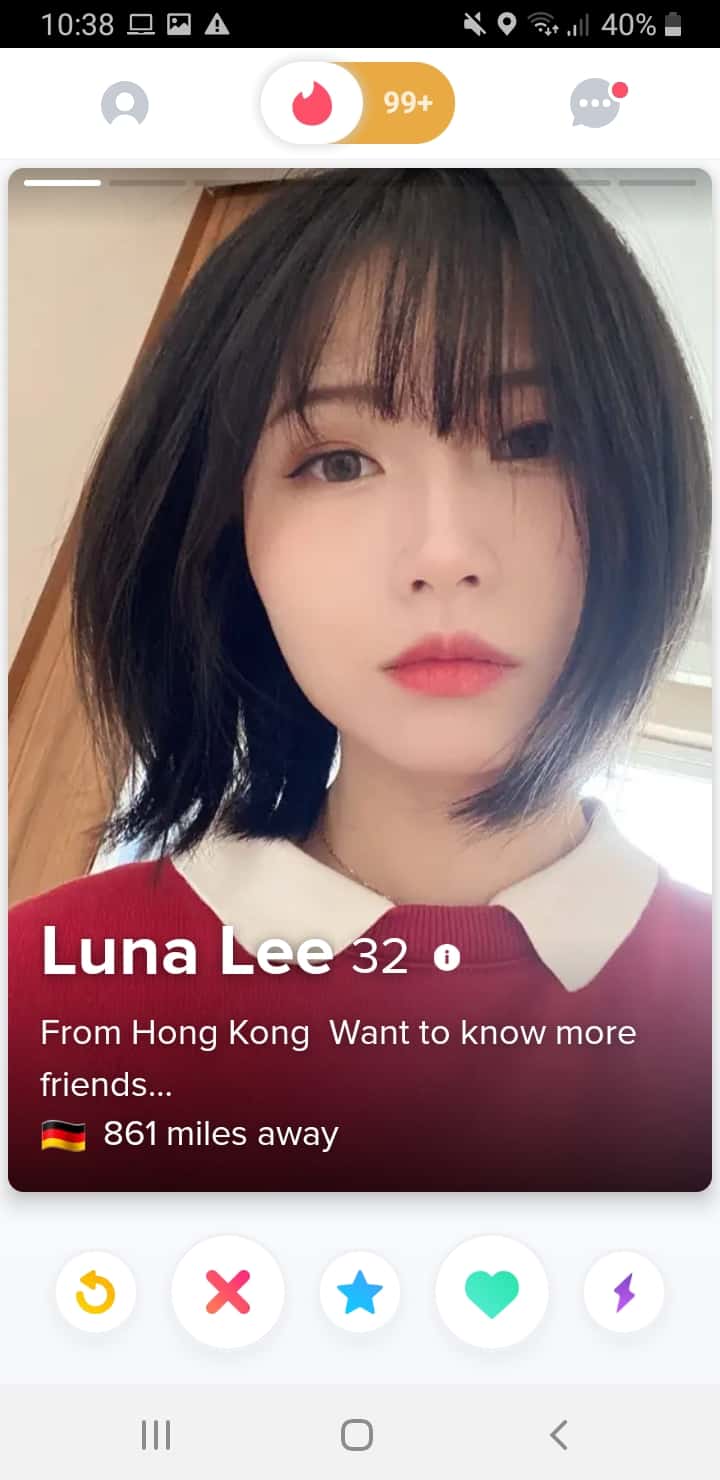 How to spot them?
The photos are what give these girls away.
Yes, they will make an effort to look confident in their photos (everything looks perfect, every strand of hair is in place), but you can see right through these.
So, don't be a d*ck in your pick-up lines to target to the insecurities she might have. Instead, try these.
1. My friend has the same dress, and she looks nowhere near as good as you in it 😉
She'll thrive!
2. I guess that you kiss the way you look (and that's sexy and awesome!), so I simply have to insist on taking you out.
You've said it all with this one – quite flirty.
3. Send a cute sticker or a funny and cute GIF.
Not joking, but am dead serious. Haven't you noticed that chicks use this way more than dudes?
4. I noticed you have a dog, but can I pls be your next cuddler No. 1?
Inviting and cute.
10. Outgoing and Adventurous Girls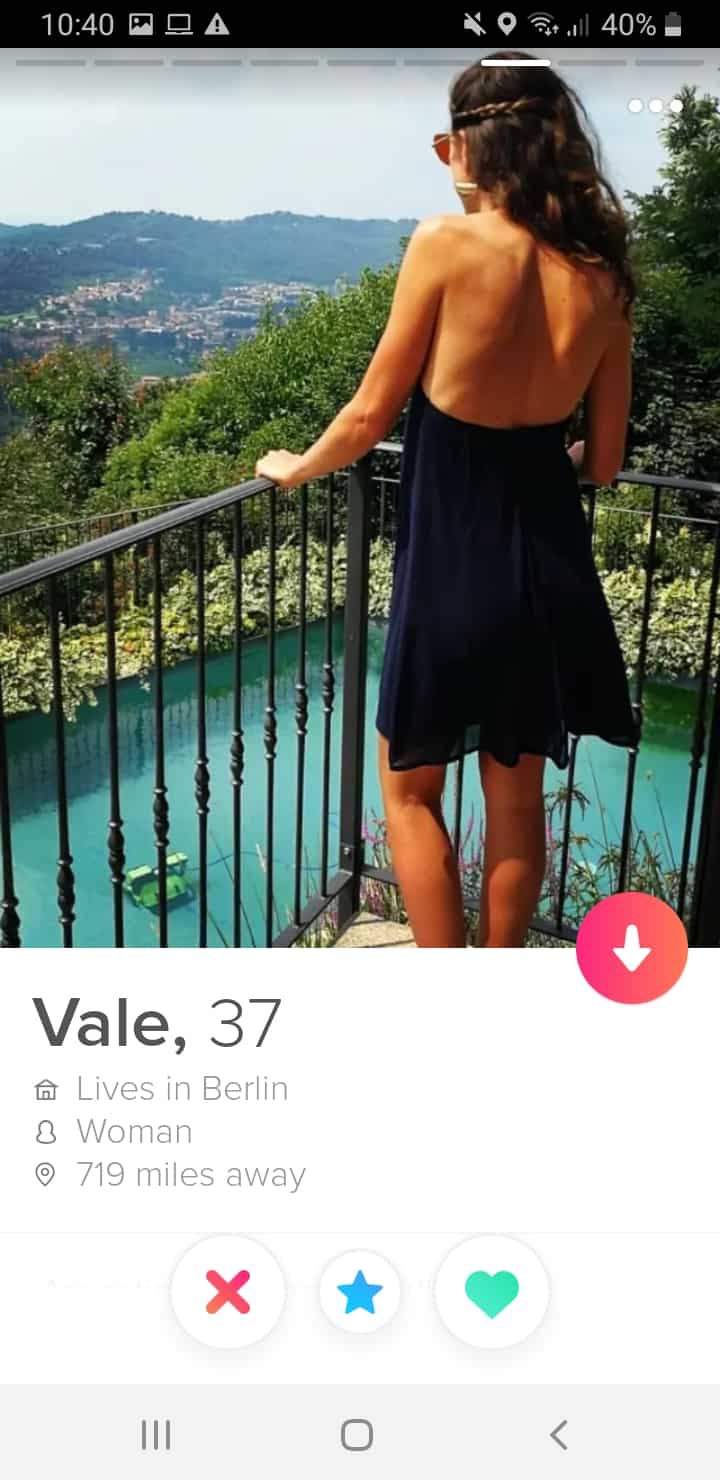 How to spot outgoing/adventurous girls on Tinder?
This is a piece of cake.
They will upload photos of swimming with dolphins, hitchhiking in the middle of nowhere, leaning over a chasm.
You get the gist.
With them, you can try some of these unusual Tinder lines that work every time.
1. Tried hiking once.
Didn't work out.
Will you take me with you the next time?
Just leave me behind if I pass out.
Funny, honest, considered her interests.
2. I can see you are a true adventurer.
But, are you so adventurous as to give marmite a try?
She'll laugh hard at this one.
And she'll reply.
3. I'd let you climb my Mount Dick any day of the week.
Except for Tuesdays, Thursdays, and Saturdays 'cause that's when I go down to King Dick's Hole.
This one focuses on her adventurousness and free spirit.
And, besides, you informed her how not selfish you are.
4. Hitchhiking across the state just you and me?
Nice one!
How to spot these girls?
This will be easy.
You will spot them by the big dreams and big words in their biographies and yet modest settings on the photos.
These girls mostly upload photos in public spaces, rarely in a domestic environment.
Even if they do, only a short portion of the setting behind is visible and the photo is cropped.
Once you see these signs, tread carefully if you're meaning to pick up a girl like this.
1. a. Cats or dogs?
b. coffee or tea?
c. peanut or regular butter?
Correct answers:
dogs, tea, both. Congrats, you have successfully applied to go on a date with me.
Keeping it simple, but funny. And here's a variation I used.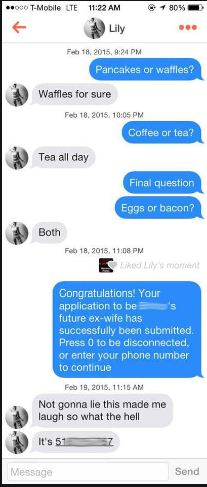 2. What would be your superpower, if you could choose one?
Daydreaming is always good.
It helps you let go of some of the things that you are struggling with daily.
3. I'm sitting here making my best effort not to picture you naked, so please distract me!
What is your perfect evening?
Ok, you're hinting at the fact that you want to see her naked, but you're not being pushy about it.
And that's cool with any type of girl.
4. Bike or walk?
Appealing to the romantic side and still asking about her interests.
How to spot rich girls here?
Well, she'll have some latest car models by her side or her photos show only the top class destinations.
So, when picking them up, you can resort to all sorts of great Tinder pick-up lines. However, pay attention to this selection.
1. I always dreamed of marrying rich.
Will you have me as a trophy husband?
Or, at least a trophy date. (The previous is intended as exclusively humorous and the recipient is more than welcome to see me as a complete idiot who just wants to take a pretty lady out).
This one is quite funny and honest.
She will see you like an idiot, indeed, but if she laughs (no reason why not to), she'll want you to take her out.
2. I can't buy you an island, but I'd sure go with you to Boning Island.
Ok, here you acknowledge that you are no match to her material wealth, but you certainly have other qualities to offer.
3. I'd like to see that dress on you when meeting me for our first date this Friday.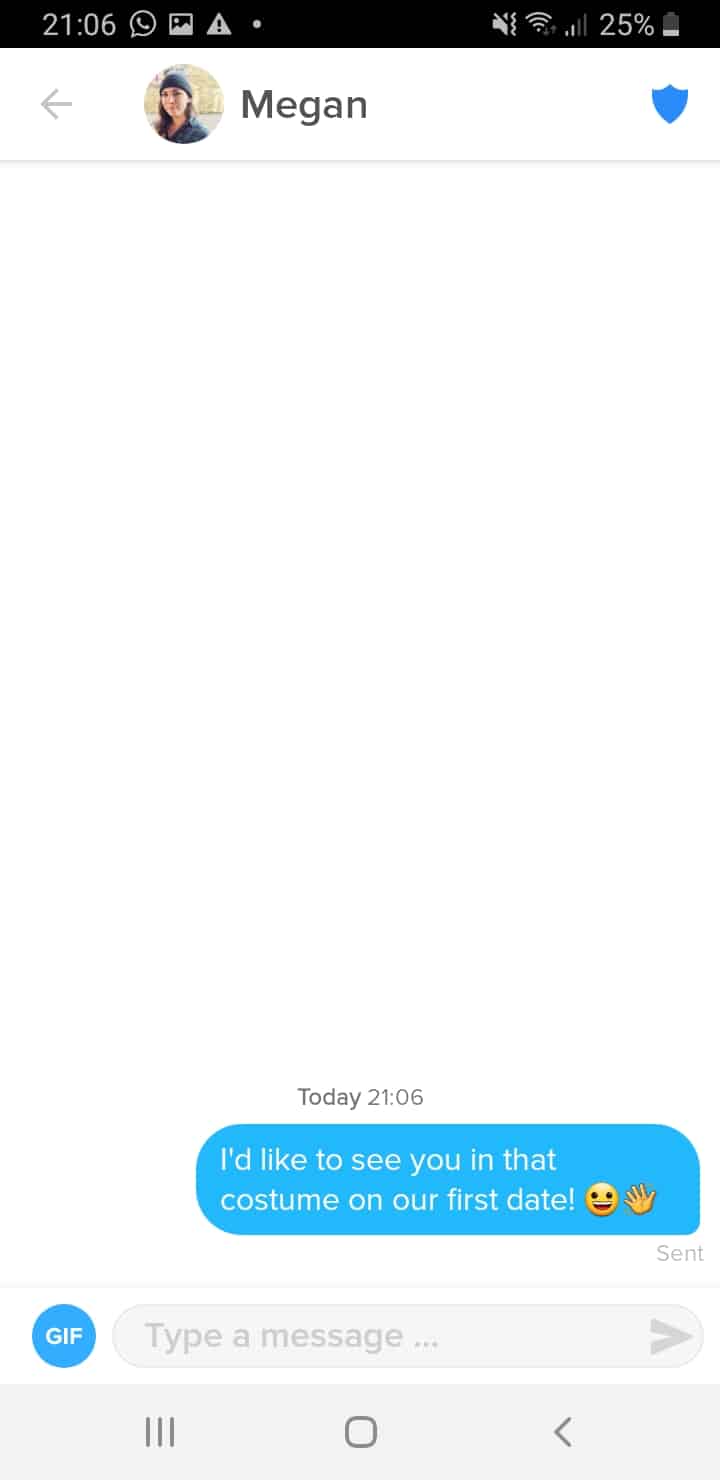 The first two here were funny Tinder pick-up lines.
This one is more subtle.
This is where you took a detour and treated her not as a rich girl, but as a girl.
13. Recently Single Girls
The way to spot them
Such girls are typically recognized by a recently updated bio that hints at either heartbreak or desire to have all men extinct.
In most of the cases, they are new on Tinder and have clearly indicated that they are open to hook-ups.
To pick them up, you can test some of the lines below and see if they work.
And I already know that they do.
1. OK, you seem to be busy.
Any chance that you can add me to your to-do list this Saturday?
It's witty but direct and effective.
2. Candles and jazz?
Tonight or tomorrow?
It can be interpreted as either dinner or sex.
Or, probably both.
3. Netflix and chill.
Your place or mine?
Direct, cheeky, but, why pretend?
14. Girls with a Boyfriend
How to spot them?
Why, of course, they won't upload a photo with their boyfriend on Tinder.
But, they usually write stuff like "looking for some extra fun" in their bios or they indicate they are open for hookups.
1. Oh Scotty doesn't know oh, So don't tell Scotty, Scotty doesn't know, Scotty doesn't know, (So I won't tell Scotty!)…seriously, I won't tell your boyfriend J
Humorous, entertaining, worked every time!
2. Do you have a nickname or can I call you tonight?
See what I did there?
3. I just moved in. Could you help me out with the directions to some important places?
Such as your apartment.
Not wasting time.
4. I presume you already have a B…but I'd give you the D anyway
Old, but gold.
How to spot them?
These girls are easily spotted on Tinder primarily by the provocative photos they upload.
Each and every one of their photos shows cleavage, half-naked butt, or they are lying in bed ready for action.
Picking up these girls sometimes isn't as easy as it seems.
But, have a go with these.
For me, they work every time.
1. Seems to me you're into yoga.
Wanna come over and show me how flexible you are?
Kinda subtle, but still straightforwardly inviting to sex.
2. Damn girl, that top on you would look even hotter when you're taking it off in my bedroom.
Praising her looks and hinting a night well-spent.
3. I'd kiss those lips all day long.
And, the ones up there too.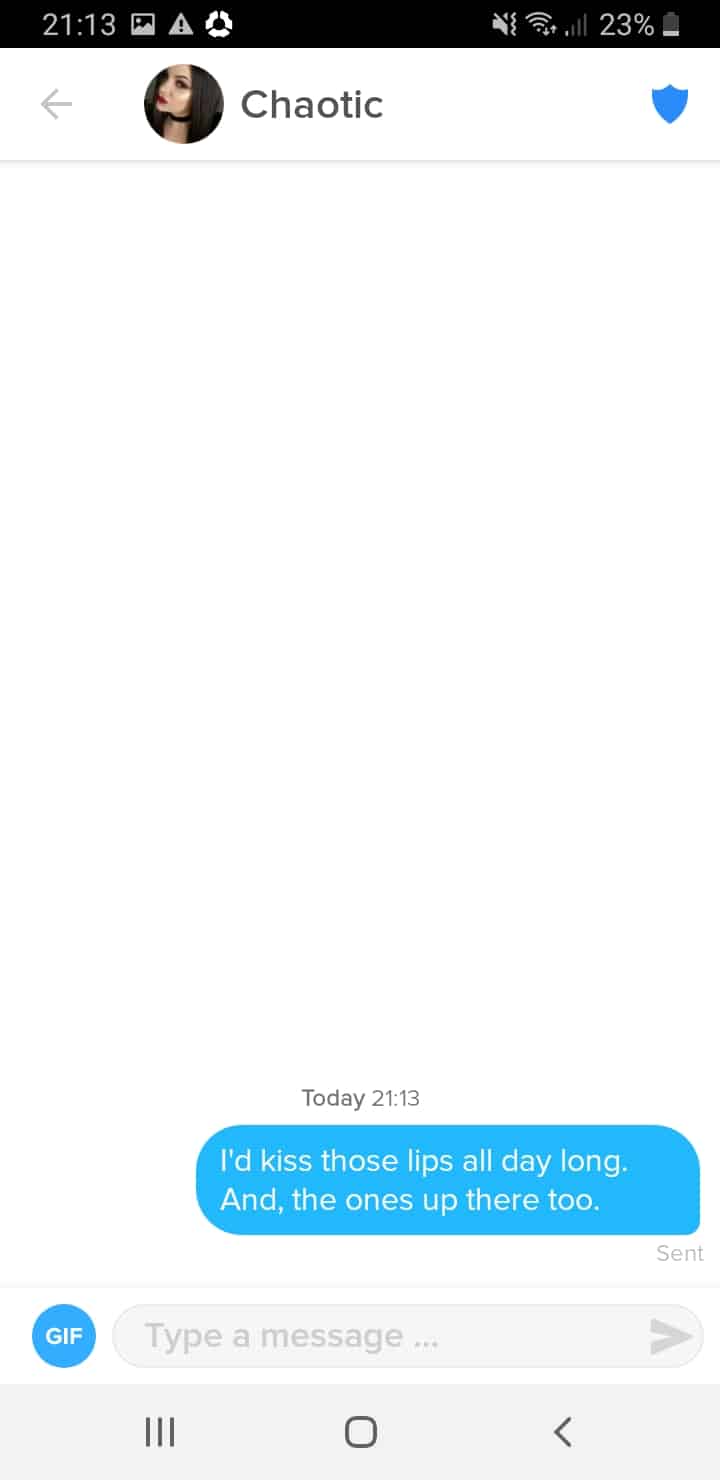 Straight away erotic.
And not selfish at all.
4. I so look like your next booty call.
Make it all about you.
How to spot good girls on Tinder?
Thee good girls can be figured out by their broad and honest smiles on photos. Such photos will be full of simplicity.
No expensive settings, no pretence.
It is maybe with these girls that you can go to the widest range of openers, either the dirty or romantic and nerdy ones.
Still, these are the ones that brought the most success (3/5 women replied).
1. Does this mean we're married now?
Or, we still need to go out on a date?
This is the good guy vibe and is silly and direct at the same time.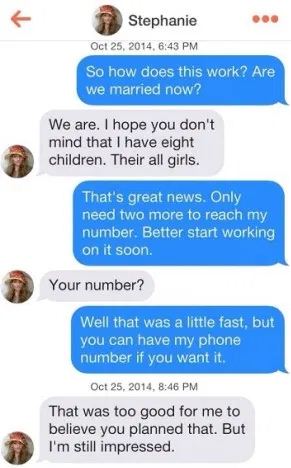 2. Is there a way for this humble guy to impress someone that gorgeous such as yourself?
This shows that you really like her and care about establishing something bigger than a superficial contact.
3. Why is it so hard for people to believe that us guys sometimes just want someone to cuddle with and do nothing else?
Believe it or not, with this one, the two of you will be cuddling before you know it.
4. Would you make an honest man out of me? Or, at least an honest date?
Aww, how cute.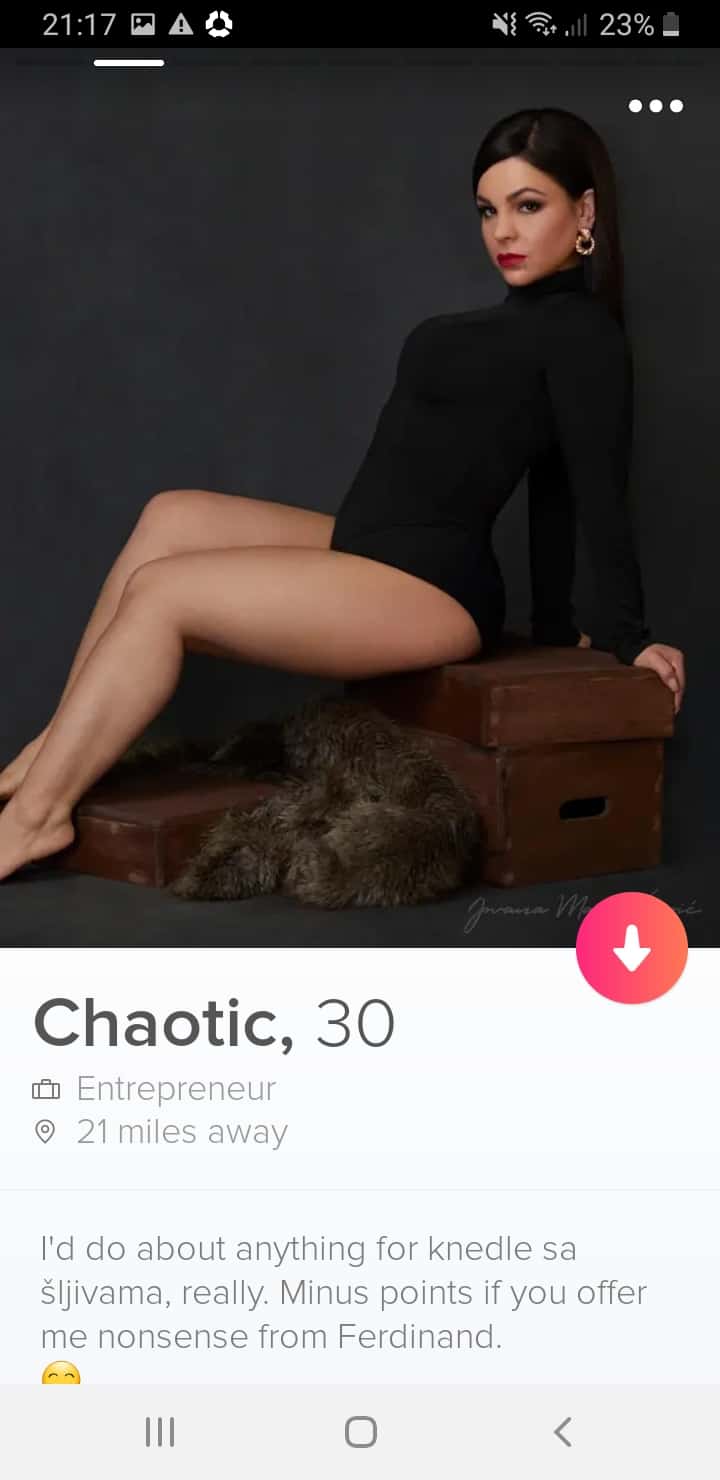 How to spot them
High fashion girls are typically wearing clothes and shoes from famous brands in their photos.
So, this is your hint.
Also, their bio, in the majority of cases, includes a line or two about their favourite brand or the lifestyle these girls choose.
1. I'd take that Prada dress off you, fold it nicely and then show you my new Balenciaga boxers.
Ok, here you show off some fashion knowledge, the way to maintain these clothes, and the willingness to get naked together.
2. They say Chanel No. 5 is the best, but here among us, I prefer No. 69
Coco Chanel and Kama Sutra together.
Enjoy!
3. Are those Guess jeans?
Because guess who wants to see them on you when we go out on Friday.
Amusing, witty, and seals the deal.
4. Could I borrow that jacket sometimes?
Hilarious!
How to spot feminists on Tinder?
You will not spot them by a bio describing how they want all men to die. No, that's not the idea of feminism.
You will spot them by their obviously stating they are feminists.
As for picking up a feminist chick, or more of them, give a chance to these clever Tinder lines.
1. Not a feminist myself, but I still think Margaret Atwood is the greatest feminist author.
And, not just because of The Handmaid's Tale.
It shows that you're learned, that you know the ways of feminists, and that you are interested to engage in a serious conversation.
2. Chances are you're earning more than I do, but I'd still take you out for drinks.
This one shows you are not constricted by the imposed gender roles and she will like it.
3. How about we go out for drinks and then you let me make little feminists with you?
This one is direct and funny, this is why she will hardly say no.
19. Fitness Obsessed Girls
Ah, fitness!
How to spot girls into fitness on Tinder?
Very easy.
Their bio says so.
Not to mention the obvious in the photos.
If you decide to hook up on Tinder with a girl who likes fitness, try some of these lines.
1. Would you dare to try an enchanting walk on a treadmill?
And then maybe shower together?
Ok, you've mixed the nice guy and the direct guy approach.
This works most of the times. At least it does for me.
2. Hey, how about I spot you while doing those squirt…squats?
This one's like, "I'm all clumsy and I like you so!".
And will cause the right reaction.
3. Which one burns the most calories – push-ups, squats, or sex?
Inquisitive, engaging, definitely goes in the right direction.
4. How bendy are you from 1 to Phoebe Buffay?
This one is a blast!!!
How to spot athlete girls on Tinder?
Just like with girls obsessed with fitness, the athlete girls will openly write about sports they play.
Once you decide to pick up an athlete girl, these are the good pick-up lines for Tinder.
1. Tried figure skating once.
Broke a leg.
Tried again.
Broke my arm.
Will you practice with me, please?
I'll take you out to dinner later, I promise.
Or directly to bed.
Whichever you feel like.
This one is adaptable to any kind of sport that she plays and will inevitably make her laugh.
Not to mention that you offered invitations to a night well spent.
2. You know, I'd never be jealous when you go away on a tour with the team.
This one does wonders since athletes often face problems with their partners who do not have the required understanding that the team must often come first.
Speaking of coming first…
3. I know that your team always comes first, but in the team of two of us, you'll always be coming first.
I think you said it all.
4. Could you come over and blow my whistle? Can't reach it myself…
You dirty little…
21. Vegan/Vegetarian Girls
How to spot Vegan/Vegetarian girls?
From the bio. She won't resist including this in her bio.
And to pick up some of these girls, here is a list of Tinder one liners for you to try.
1. Send her this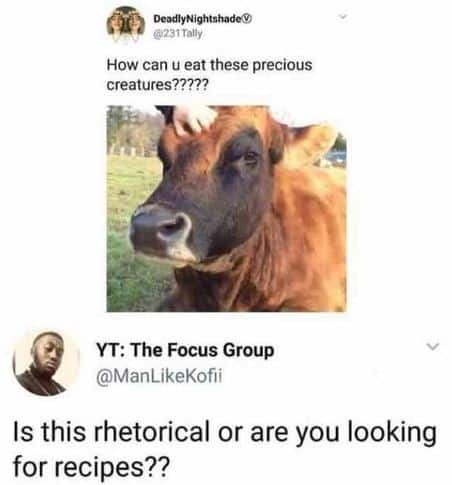 And then say, "I can't believe this guy!
He's f*cking savage?"
She won't be able to calm her tits about such a post which will keep the conversation going.
2. Obviously, meat is not your thing, but I have quite a sausage and 2 meatballs I'd like you to taste.
Cheeky, provocative, on point.
Never fails.
3. Finally, I found a vegan here.
Could I interest you in TOFUck?
Witty and silly at the same time.
It will bring a smile to her face and a silly text back.
How to spot them?
Typically, these girls write such bios where they clearly indicated that
"Once you're mine, you're always mine" or "I ain't sharing what's mine".
If you really need to pick up a girl like this, try some pick-up lines Tinder users such as myself found to be useful.
1. I'd let you possess me all night long.
And then all day.
And all night again.
And again.
Ok, so you've got the stamina and you are there only for her.
2. How about you lock me in your chambers and let me do things to your liking?
Similar to the above, but with just a tad of BDSM.
Cannot hurt, right?
3. Boys called me out this Friday, but I'd rather be worshipping you instead.
Congratulations, you have successfully finished the game.
23. The Hopelessly Romantic Girls
How to spot them?
Spotting these girls is a no brainer.
Her bio includes some highly romantic contents from movies or literature that you won't miss the hints.
In case you decide to have a go with hopelessly romantic girls, take my word for it and try some of these pick-up lines.
1. I know it sounds cheesy…but you and I, a riverbank, Swiss chocolate, and a bottle of wine?
Tonight or tomorrow?
Ah, definitely a cliché, but there's no chance that she won't fall for it.
2. Dunno about you, but I still think that the most romantic movie ever is Pretty Woman.
Change my mind.
This is a great way to start no matter if she agrees or disagrees with you.
3. My fairest lady, thou who bringest the smile upon my face, wilt thou honour this wretched soul and allow me to romance thee?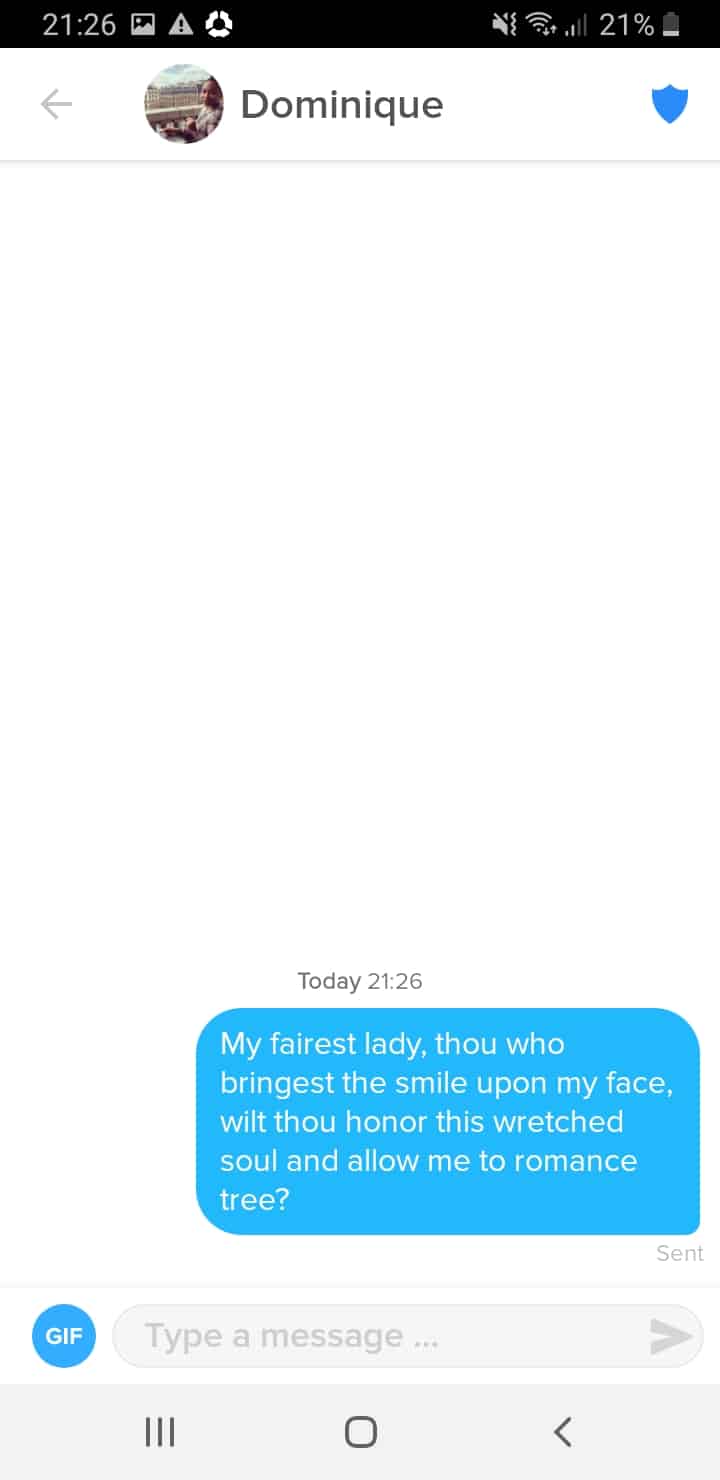 We had a similar suggestion in the Smart Girls section.
This one is different since here you are evoking the "romantic" times of gentlemen courting their ladies which are seemingly not so eager to fall for them immediately.
How to spot them?
You can spot a cynic girl from a mile away.
Don't be surprised if her bio says a subtle f*uck off all of you.
Still, cynic and sarcastic girls are different level of fun and are not for everybody's taste.
Those who can match their wit are in for a real treat.
As for picking them up, try these lines since they work every time.
1. Do I get bonus points if I act like I care about what's good for you too?
Seems highly selfish and rude, but that's kinda the point.
2. "Everyone is awful in their own special way."
Wanna be awful together?
Awwww, how cute! And cynical!
3. If Tinder were a person it would be a real slut.
Has had so many people inside.
This one is damn straight offensive.
And humorous in an odd way.
A true cynic will know to appreciate a joke like this.
How to spot them?
Single moms don't waste their time.
Of course, she won't upload photos with her kid(s) but her bio will clearly state so.
Here you have two directions you can go in because these ladies will be all about either a casual hook-up or some serious deal.
So, my man, if you are the MILF type, these are some of the best pick-up lines.
1. Babysitter ad.
A caring, trustworthy, and reliable male babysitter.
Great at putting kids to bed. Moms too.
Funny and amusing.
Just what a single mom wants.
2. How about I come over, put those kids to nap, and then put you out of your clothes?
Considerate (in a way) and straightforward at the same time.
Or, do vice versa.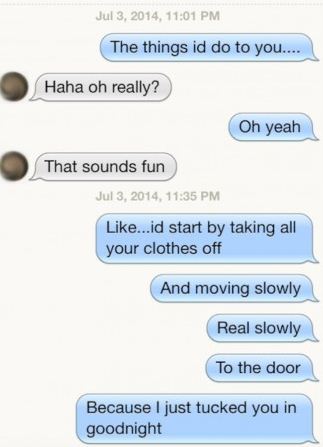 3. Would your kids mind having me as your next date?
Ha-ha. Great one.
26. The Arty Hipster Girls
How to spot them?
Black/blue jeans, hats, sunglasses, oversized shirts/sweaters. And her bio will say so too.
To pick-up a hipster girl, try using these lines.
1. Girl, what I feel for you is way more complicated than making perfect guacamole.
Guacamole is hipster food, right?
2. Wanna come to Ikea with me later today?
I would really love to see you undressing in this new PS VÅGÖ chair.
You're the man who knows his sh*t.
3. I've been meaning to last.
Maybe not as long as student loans, but I'll last longer than you.
See what I did here?
How to Spot Them?
Desperate girls mostly upload such suggestive photos where they are seemingly or really drunk.
It's just like they want you to know she will accept anything.
Still, you need to know your boundaries before trying anything.
Try these lines once you decide to give a chance to desperate girls.
Or, make them give one to you.
1. Name a movie that depicts your current mood/situation.
Mine is Home Alone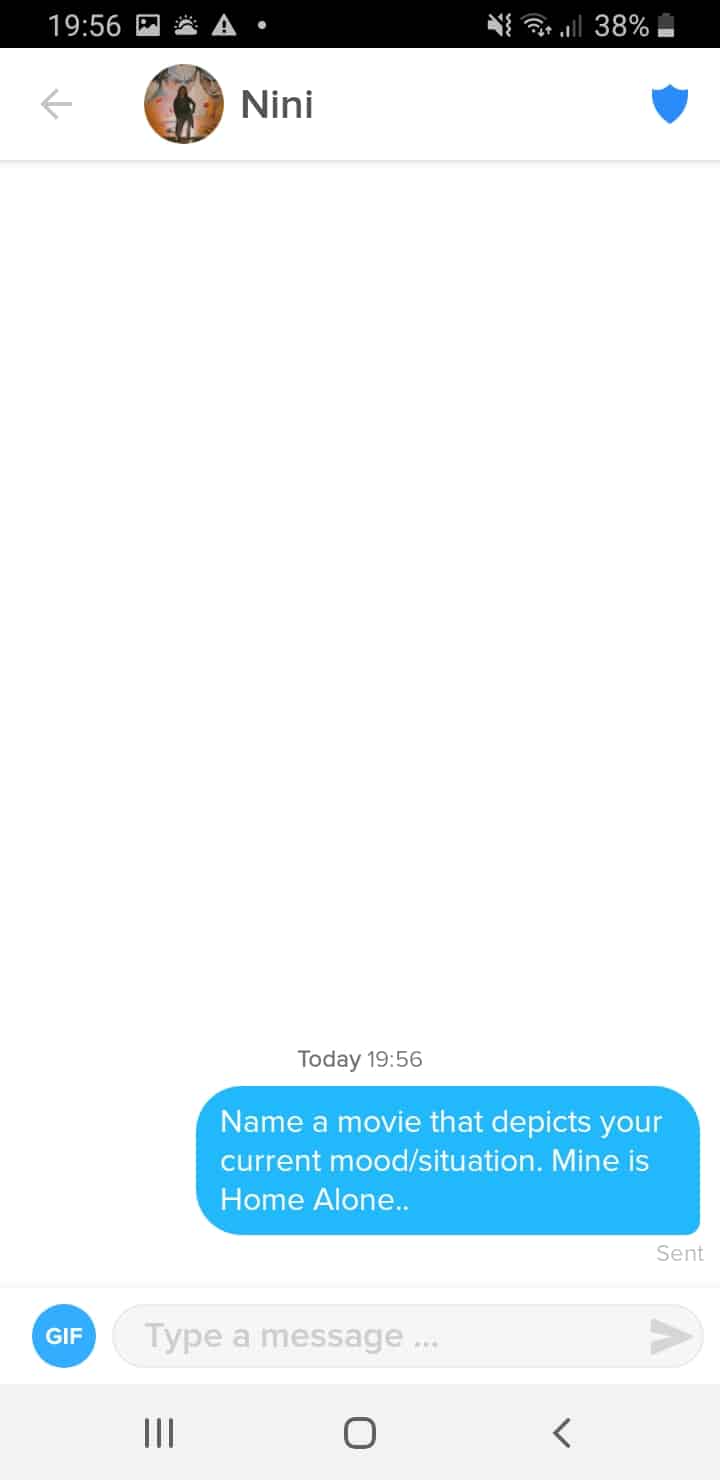 Ha. Nicely done!
2. What should I say to get your phone number?
Damn straightforward!
3. I am so desperate for someone to Netflix and Chill with right now.
Be the one to put me out of my misery.
Shifting the focus to make it seem like you crave for her attention.
How to spot them?
Mm, how can you not?
This was a totally non-PC joke.
Sorry, chubbies, I meant no offence; I think you're all really cute!
If you wonder how to pick them up, I tried these lines on them, and they served me well.
Before I give you the list, know that fat-shaming is wrong!!!
You never know what one may struggle with so steer clear of any shaming comments.
Also, obese girls on Tinder are way more confident than any other girl you may find there.
So, if you hope for an easy score, hmm, think again!
1. With your booty looking like that, Kardashians don't stand a chance with this man.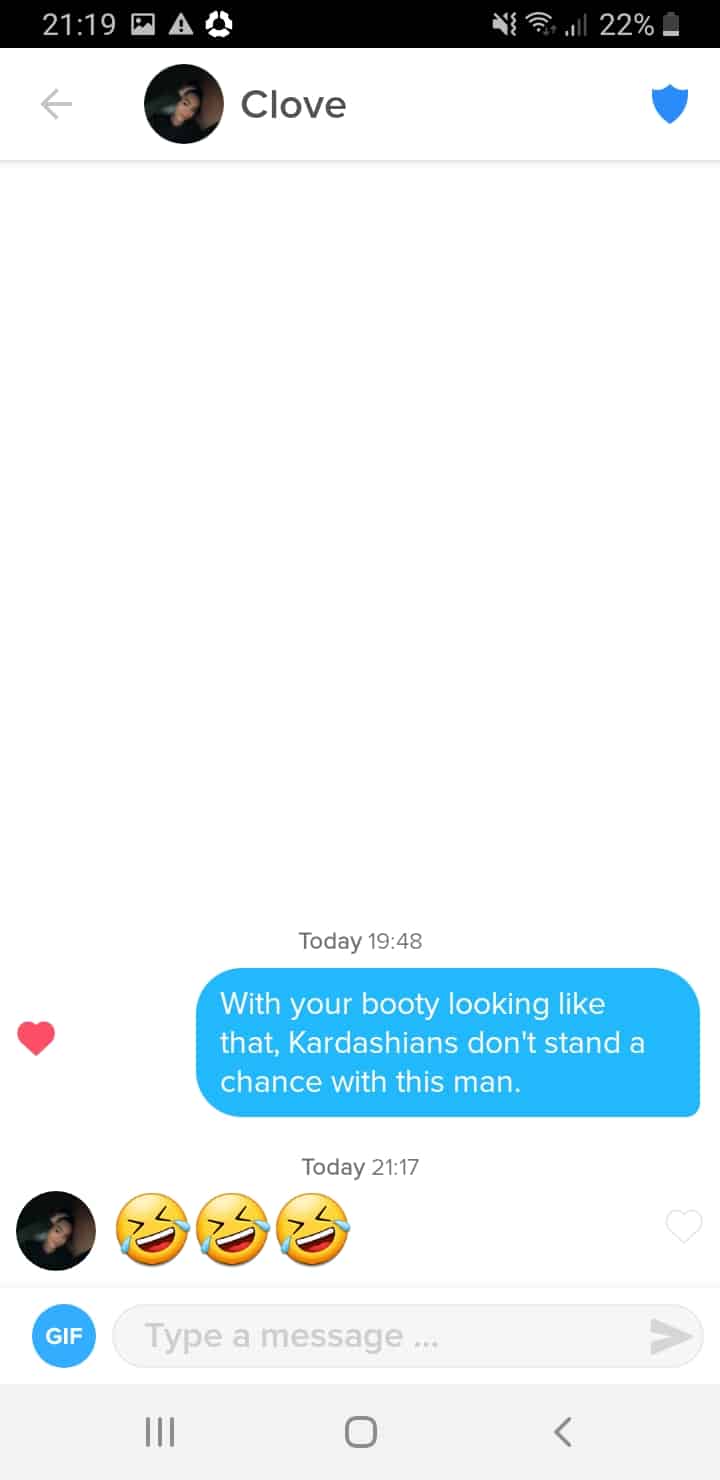 Way to go, man!
2. Darling, I'd stuck my head between your thighs and never take it out of there.
Sexy in a weird way, but works every time.
3. I really love those cute and sexy eyes on you!
They will be even sexier in my bedroom tonight.
Distraction from all those weight-related comments she gets.
And, you just went to the next level with her.
These were only some of the good and funny pick-up lines Tinder has inspired us to come up with.
Even though they are grouped under various girl types, sometimes you can even mix and match depending on your judgement.
Whichever the case, have fun picking up girls and give your best to make them enjoy the experience.
It should go both ways, you know?
Frequently Asked Questions