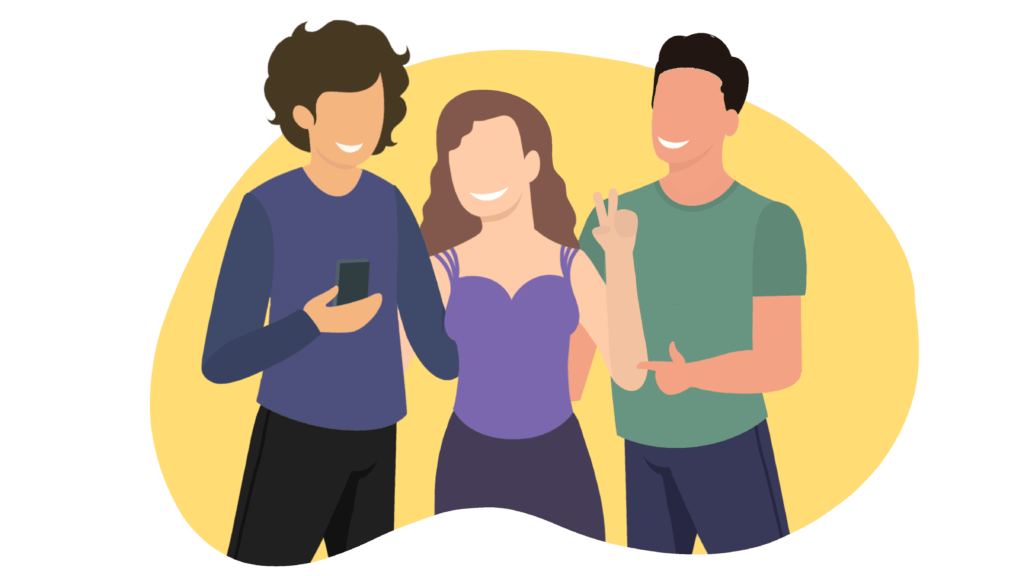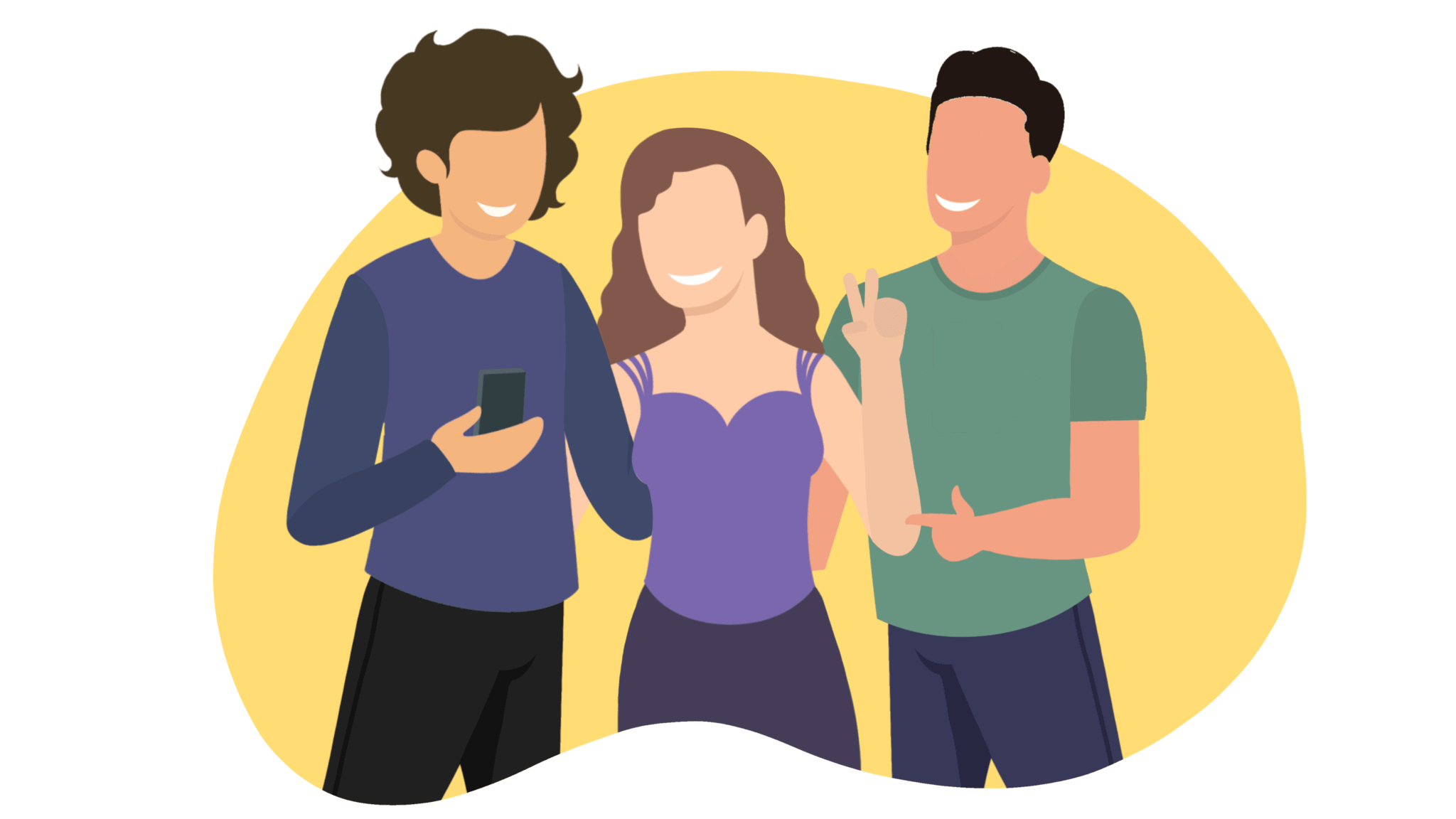 Never heard of "Tinder for Friends"? – well, now You have.
In this article, I will show you how exactly you can use Tinder to find genuine friends by answering the following:
At the end of this article, You should be well equipped to find your next friend on Tinder.
Let's go make some friends!
Is tinder giving you the best chance of success with online dating?
Take our dating app quiz to find out.
People who follow our app recommendations have an average of 2 more dates/casual meetups per month.
Post 8 of 8 in the Tinder Tricks Series
We all know Tinder as that one dating app that people either love or hate. Truthfully, we get it, it's not for everyone.
This is probably because the app doesn't get a lot of good press when it comes to finding meaningful relationships – like eHarmony does.
Still, there's a clear division between those who think that Tinder is exclusively for hookups (like BeNaughty or Ashley Madison) and those who don't think it's any different from other dating apps.
Proof of this can be found in a survey conducted from 2015 to 2017 on college students, where 40% of them said that Tinder is the app for hookups.
In that same survey, people were also asked what they use Tinder for, but to everyone's surprise, the first place wasn't taken by hookups.
Differing from expectations, it turned out that most college Tinder users, a whopping 44%, uses Tinder just as a way to boost their confidence and have some fun.
After them, we have the 29% that use it for other reasons (including making friends among other things), the unexpectedly low 23% that uses it for hookups, and only the 4% that is looking for a meaningful relationship.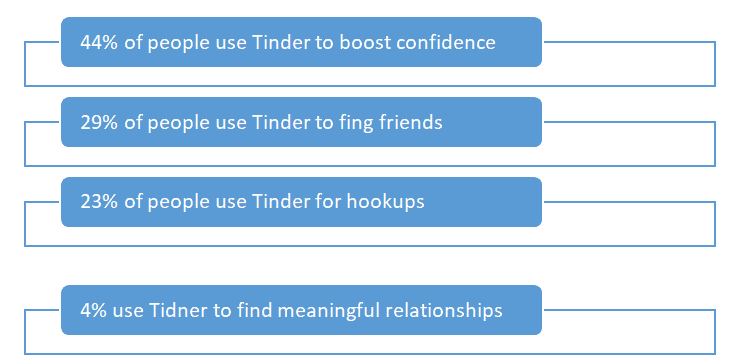 In addition to that, even though a lot of people think that everyone on Tinder just wants to hook up, studies have shown that around 52% of people have never actually had a one night stand with someone that they met on a dating app.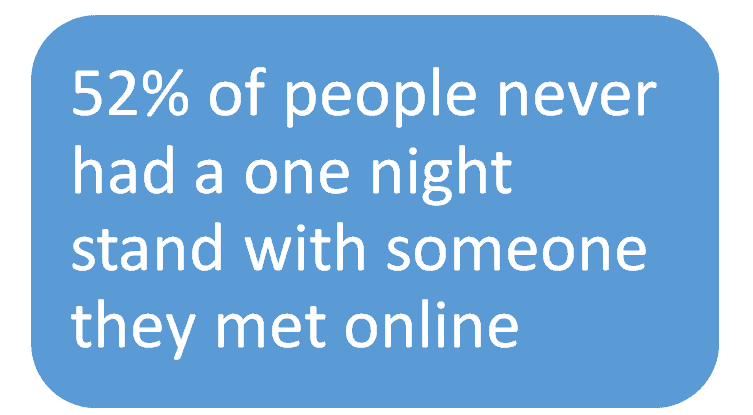 Although, you should take into account that this survey was taken by college students, who generally aren't all that into finding partners for serious relationships.
Still, this proves that there are plenty of people on Tinder who will probably be happy to just hang out with you and have fun.
And if you doubt that, look at that total of 73% of people on Tinder who aren't looking for anything romantic or sexual.
Who's to say that you won't find a good person to become friends with between all of those people who just want a confidence boost?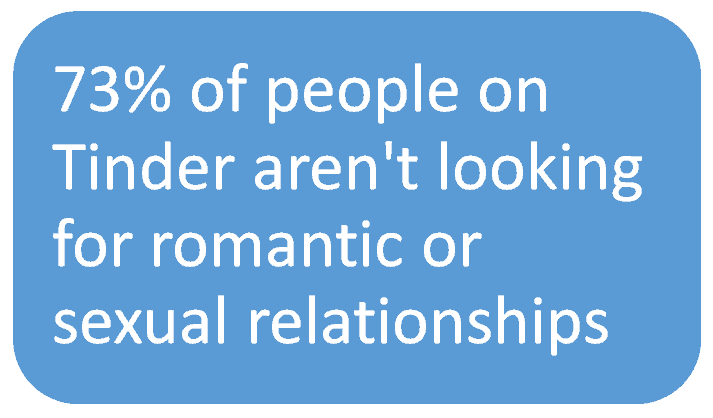 Actually, a lot of people on Tinder make friends on accident.
They match with someone, chat with them for a while and see that they have a lot of common interests, and decide to go on a date.
When the date comes around they realize that the connection is good but the sparks are almost non-existent, so they just stay friends.
The truth is, you'll never know.
Tinder is a dating app where matching is based on physical looks, and people rarely check out the bio when they're swiping.
And how can you make friends on an app where people conclude whether they like you or not in just a couple of seconds?
Even though it seems like Tinder isn't one of the apps to make friends on, there are ways to set your profile up to show that you're looking for friends and we already showed you that there's a pretty big market for that.
Finding Tinder friends can be stressful at times, but we're also going to help you with situations where you and the person that you matched with aren't exactly on the same page when it comes to expectations.
But, before we get into details of setting up your account the right way, let's look at some of the reasons why people install Tinder just to try and make friends, but also the problems that they face when doing so.
Why people look for friends on Tinder
Officially people call Tinder just a dating app, and that's what it was first targeted as.
The beauty of Tinder and the reason for its immense success is that it's so easy to use.
You don't need to do anything except wait for it to supply you with your possible local matches, and then you can choose whether you want them or not by swiping right or left.
However, you can still use it just to make friends if you want to.
But, as we mentioned before, this is a dating app mainly based on physical attraction.
When you get a possible match in your desired area the biggest part of what you see and base your opinion on is their main profile picture.
Well, you also get their name, age, distance from you, and their bio, but the picture is usually the only thing that people look at.
This might be weird when you're just looking for friends.
Also, because there's still plenty of people there who are looking for a relationship, you might a few unpleasant messages from people who probably didn't read your bio and are expecting more than just a friendship.
There's no doubt that these two things are the biggest cons when it comes to using Tinder make some new friends, but even though it isn't one of the best apps to make friends on there are still plenty of reasons why you (and other people) could and should use this dating app to better their social life.
So, why would you want to use Tinder to find friends?
Well, first off, this might sound strange to younger people, but the truth is that making new friends is a social skill that needs to be honed and taken care of, otherwise you're going to lose the touch.
As a result, the older you get the harder it is to make friends.
Of course, getting old isn't the only reason why most people lose this skill, there's also jobs, tiredness, and poor time management.
All of this, unfortunately, makes people suddenly realize that they're lonelier than they imagined.
Luckily, dating apps, and the Internet in general, is here to make finding new friends easier in a time when everyone is in some sort of a hurry.
Another reason why people are looking for friends on Tinder is traveling.
Why not meet some locals when you're visiting a country that you want to explore better?
Additionally, a great way to make some foreign friends even before you visit their country is by using the Tinder Passport feature, which lets you meet people from all around the globe.
Other reasons why people are using Tinder to meet friends could be because they're trying to learn a new language.
Once again, using the Tinder Passport feature helps immensely in this one.
Think about it, you can use this app to make friends from the other side of the world in just a couple of swipes.
This means that you can get a pen pal, someone to talk to on Skype, or even someone whose home you can stay at when visiting their country and getting acquainted with their culture.
Isn't that amazing?
Some people use Tinder to make friends because they moved to a new city where they don't know anybody, or because they realized that they're in a relationship but lonely for more friends.
However, beware of the latter.
Not all, but some of them, might say that they're in a relationship and just looking for friends when in reality they want more than that but they don't want to get caught by their partner.
Now, let's take a look at how to set up your profile to show that you're there to make friends.
How to set your Tinder for making friends
Making it obvious that you're just there to use Tinder but for friends is a pretty easy process.
As mentioned at the beginning of this article, swiping left or right on your Tinder matches is mainly based on pictures, so we should start with that.
1. Choosing the right photos
In summary, everyone uses pictures on Tinder that make them look good, but if you're looking for friends on this or any other apps for making friends you shouldn't use pictures that make you look sexy.
Instead, pick photos that make you seem friendly and fun to be around.
Additionally, if you're in a relationship you can include a picture with your girlfriend/boyfriend to let people know that you're taken.
Your main profile picture should be a picture where your face is visible, without hats or sunglasses.
The top third of your body or just a regular portrait is more than enough.
The most important advice is that you should be smiling in that photo!
Not only does smiling get you 20% matches, but it also makes you seem like a friendly and inviting person.
Even though the main photo is the most important one, you have to add more photos if you don't want to seem like a catfish.
Other types of photos that are good for including into your Tinder friend finder profile is are group photos with friends or family, photos with your partner if you have any, and photos of you doing fun activities that you enjoy.
Do you have a cool photo of you scuba diving or traveling? Add it to your profile to find likeminded individuals!
Writing a good bio can sometimes be harder than finding good photos to use, but the good news is that when you're just looking for friends there's not as much pressure.
First and foremost, you should start your bio by stating that you're just here to make friends.
By putting this info first you're lowering the level of potentially embarrassing and uncomfortable conversations for both parties involved.
The rest of the bio should be reserved for your interest and things that you like and are passionate about.
It can be your favorite books, movies, shows, or just the activities that you enjoy doing.
Also, you can connect your Spotify account to show your taste in music and your Instagram.
People looking for dates shouldn't post their Instagram because not every picture on there is perfect.
And you're almost good to go!
Friends come in all shapes and sizes, but maybe you're looking for just male or female friends.
Well, Tinder, as a dating app, can filter your matches based on what gender you want to get in touch with.
Maybe you know exactly what type of person you want to be friends with.
Besides the gender of that person, it's also important to you how far away they live, where they live, and how old they are.
And the good news is that all of these aspects can be adjusted on Tinder.
Setting this up is easy, and you can change it anytime.
Just tap on the profile icon, go to Settings, and scroll down to Discovery Settings.
There you'll see a couple of things that you can set.
Let's start with gender.
Tinder is for everyone, and diversity creates a great app for making friends.
You can choose whether you're looking for a man, a woman, or both.
Additionally, you can tap on the More section to also search there.
Next, the location.
Changing your location can only be done if you're a Tinder Plus or Tinder Gold user, and you can choose any city in the world, which is great for meeting people from different cultures.
Distance comes later, depending on how near you want your friends to be.
Are you looking for someone from the city that you can easily go jogging with, or do you want someone further away?
You can look for people who are up to 100 miles away, so set this up to your liking.
Last but not least, the age range.
You have to be at least 18 years old if you want to use Tinder and look for people older than 18, but it can be adjusted to any number that you want.
Most people tend to set up the age range so that it's similar to theirs when they're on one of the apps for finding friends, but you can search for whatever you're interested in.
Are you traveling abroad and want to find a younger person who will show you the best local places around town and introduce you to the culture while having some fun?
Or have you moved to a new town and want to meet someone older who will let you in on all the secrets?
It's up to you.
Now let's get to business!
Let your match know what you're looking for
Matching with people on Tinder means that you both swiped right on one another, but the truth is that you probably did it just by looking at pictures.
Even though it's kind of weird to look for friends based on their photos, finding a good friend is kind of like dating.
You can't have a good friendship if there's no chemistry.
Some would say that the best tactic is to just swipe right on everyone that you even remotely like because you never know what kind of friend they're going to be.
However, our advice is to take time and look at bios for at least some of them.
People usually put what they're looking for in their bio, especially those that are just looking for friends.
Swiping right and then matching with someone only to see that they're bio explicitly states that the only thing they're hoping for here are casual hookups, can create a weird vibe, notably if they message you first.
On the other hand, a lot of people who use Tinder don't think that it's an app for making friends, so they won't write what they're looking for in their bio.
However, you should still swipe right if they seem cool to you or have any common interests, because you never know.
Also, they'll probably take a look at your bio when they match with you and decide whether they want to get in touch or not.
But what should you do if they do get in touch and can't seem to get the notion that you're not there for anything sexual or romantic?
Well, this can be uncomfortable, but you have to let them down easy.
And if they turn rude, or seem to try to get closer to you just to see what happens, just tap on the three dots at the top right corner to unmatch from them.
There's no need to take the conversation any further, they're probably more people who are worth your time somewhere else.
Sometimes you have to meet up before you realize whether you're meant to be friends or not.
Of course, if you're meeting with someone for the first time always choose a public place and take care!
But what if you don't want to use Tinder?
Is there a Tinder for friends?
What are the alternatives?
Best Tinder alternatives for making friends
The biggest downside of using Tinder for finding friends is that most people on there are looking for something more than just a friendship, but the good part is there are more people there than on some other apps.
Although most of them are looking for something more you can never know whether you'll make good friends or not, the gamble could be completely worth it.
However, if you're not the gambling type you can always choose to use one of the apps that are made specifically for finding friends.
Here we have a list of top three apps to find friends and short reviews to go along.
This Bumble offshoot is made just for finding friends and is pretty similar to the original.
Unlike the original, where women have to make the first step, on Bumble BFF both genders can start the conversation.
But, same as the original, you have only 24 hours to start a conversation after you match with somebody.
This is an extension of Bumble, so the only thing that you need to do is download the Bumble app and turn off the Bumble Date option in the settings to make sure that you're only finding people who are also looking for friends.
Bumble BFF is great for finding people who are similar to you and close by, and they also give you recommendations for friend dates.
Set up your profile, fill out the questions, and you're good to go!
Friender is a friend app like Tinder, but just for friends.
Both Friender and Bumble BFF are based on swiping and the goal is to get in touch with people quickly.
Like Bumble with the questions, Friender has "interests" that you can fill out and find like-minded people.
The people that pop out on the list of your possible matches will have at least one of those interests in common with you.
For example, if you're looking for someone who'll go hiking with you write that you're interested in hiking.
And for those of you who are more active and are searching for an app like Tinder for friends who want to work out together, we have Atleto.
This app is made for people who just want to find a workout buddy to help each other achieve their goals, but you can make some great friends on there that you won't be meeting only at the gym.
Friends who work out together stay together, right?
Final Word on Tinder for Friends
These are all the info, tips, and alternatives that we have for people who want to make friends on Tinder.
Good luck!