One of the most common questions I get from people leaving me messages on my site is "how does match.com work? and "does match.com work?".
The response that I usually give them is what I'm going to be writing about in this article although in a little bit more detail.
This will make it much easier for me because all I will need to do in the future is send them a link to this article and they should be on their way.
For more information check out the complete guide on how to create an online dating profile. This will help you nurture and get to keep that relationship online till you both decide to meet. It's the best thing that happened to online dating and you should read it also.
Is your dating app giving you the best chance for success?
Make sure to take our online dating site/app quiz to find out.
It's a fact that people who follow our dating site suggestions have on average 2 extra dates per month.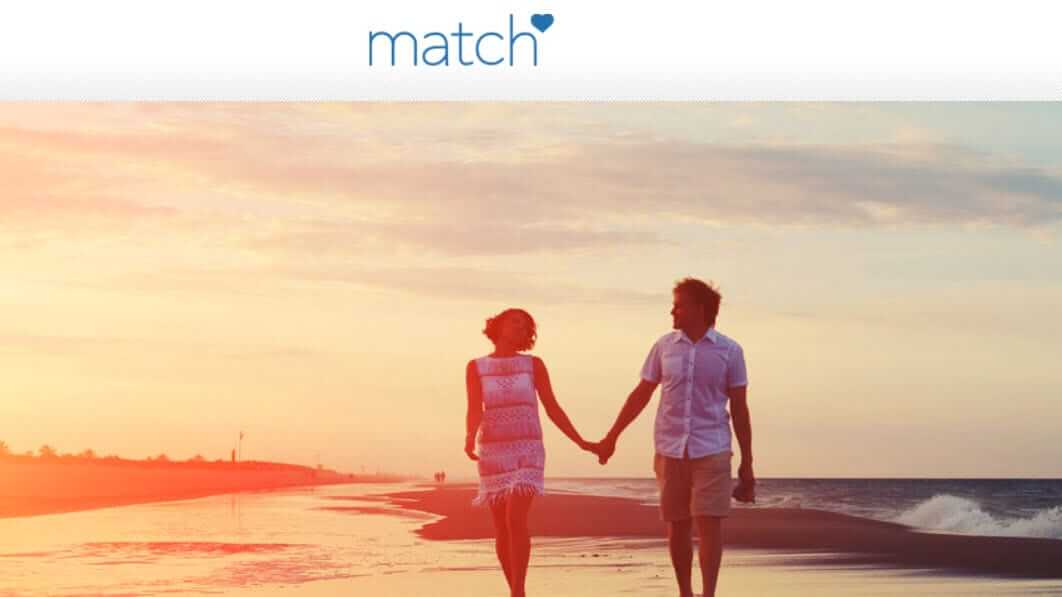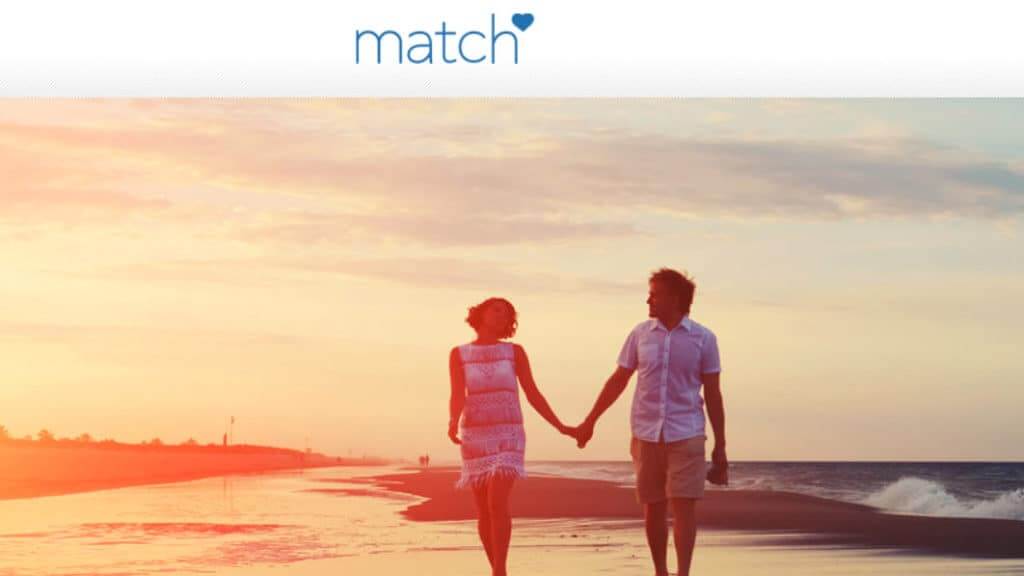 Basic Facts on Match.com
Whereas Match.com exists in 40 countries and has success stories of over 100,000 marriages, you won't want to overlook features such as the 6-month guarantee, in-depth search, and filter functions as well as mutual matches that help to make it an online dating site of great choice.
Mainly what it comes down to is whether or not match.com is what a person is looking for when signing up for dating services. Match.com is one of the largest dating websites that are currently available to us.
Just like the real world, there are tons of different types of people all looking for different things.
Some people are looking for serious relationships while others are looking for a casual fling or even to hook up, many are looking for long-distance relationship just to have something they are looking forward to. For the most part, match.com does work for people that are looking for a relationship or at least open to the possibility of finding true love.
Although I cannot make a sweeping decision for all the people on match.com, that seems to be the general demographic. Although, there are plenty of people just looking for casual get-togethers.
One of the great things about match.com is that it works for tons of different people looking for tons of different things because it has such an enormous number of active users. To learn if and how match.com works you need to know how exactly it functions.
How does match.com work?
Unlike eHarmony.com, match functions in a number of different ways and has a lot more features to cover in order to get a good grasp on how match.com works.
After you sign up for a membership, match offers access to a ton of different features that let you conduct your own search and connect with other active users on the website. Let's go over some of their more popular features so that you can get a good idea of how Match works.
There are also some other nifty little features such as browsing privately so others cannot see that you looked at their profile and you can't also see who viewed your profile. How you construct your profile is very important on online dating space, take note.
Mutual matches
This represents match members that you have a significantly high compatibility rating with. When you join match.com you fill out likes, dislikes and certain personality traits that you are looking for. If a potential match alliance well with the answers that you filled in, and you match their questions as well, this makes it a mutual match.
Reverse match
This is similar to a mutual match except that it only shows people in which you fit their criteria but they might not necessarily fit yours.
Online right now
This will show the profiles of people in your area that are currently using match.com. Obviously, these people are much more responsive than people that are not online.
In-depth search and filter functions
Match.com has one of the best search and filter engines for finding matches that I have ever seen on the dating website. You can search by age, height, distance, body type, hair color and much more. If you are the type of person that likes to dive in and go fishing, this feature is fantastic for you.
OFL Top Recommendations based on 100,000+ Survey

"Serious Relationships"
"Discreet Hookups"
"Best Course for Men"
"Quick Flings"
"Normal Hookups"
"Our Quiz"
The paid features with advanced search features to search new users help you find a match with your own search parameters.
The match.com daily five
Similar to the eHarmony, you will receive five daily matches based on the questionnaire that you check at the beginning of signing up for match.com. These are the top five matches that match recommends for you.
Match talk
This is a special feature that lets you talk online with someone you have been matched with. You can have full on voice conversations right through the platform which is pretty cool because it lets you keep your personal telephone number a secret until you feel comfortable handing it out.
You can send messages to matches for free when you browse profiles of members when on a subscription.
Six-month match.com guarantee
Match.com is one of the best online dating sites because they offer a guarantee of a six-month membership for free if you don't meet someone in the first six months of using their service. Obviously, there are some restrictions that apply, but I have seen it used without a problem.
With a variety of different ways that you could meet someone on match.com, it really expands the possibilities for dating in the modern era. Once you are matched with somebody all you need to do is start a conversation to see if you have chemistry.
You can either send and receive messages on match.com, exchange e-mails and even have voice conversations right through match.com's website.
If you end up hitting it off with one of your matches, you guys can exchange contact information and go on a very first date. Okay now that we all know how match.com works, let's jump right into whether or not match really works for a large number of people. On top of the six-month guarantee, there is also a 3 days match free trial that is available!
Does match.com work? – Let's look at some of the statistics
If I were to ask anybody whether or not something worked, I would want them to show me some real-life proof of it. I would ask them to show me the statistics to back up their claim. Otherwise, it would all just be he said; she said the type of thing which I don't buy for the most part.
One million babies
Okay at first this kind of sounds weird but it is entirely true. There have been over 1 million babies that are born to a couple that met on match.com. Although it may be hard to believe at first, think about how long match.com has been around.
Match.com started in 1995, so it has so far been around for 23 years. Currently, there have been over 500,000 relationships, close to 100,000 marriages and 1 million babies.
Some other extraordinary stats are that match.com exists in 40 different countries and has approximately 400,000,000 e-mails sent between users every single year.
The saying always goes that there is plenty of fish in the sea. This is never truer since the invention of the Internet. There are millions of people in the sea of match.com to choose from.
This match.com work due to this fact? Well, it sure doesn't hurt it!
More marriages, relationships, and dates
Since match.com is the biggest dating website in the world regarding the number of users, it is not unthinkable to imagine that it has the most success from its users.
Match.com claims that its services have led to more dates, second dates, long-term relationships, and marriages compared to any one of its competitors.
The closest competitor would be eHarmony, and it has some pretty impressive statistics as well.
11% of marriages
There is a mold survey which shows that 11% of the married couples from match.com fell in love while talking on their platform. This is a survey that was done in 2004.
This shows that the format and ability to converse and get to know one another on match.com is perfect.
The time that people date one another after meeting on match.com until the wedding day is much shorter than average. This shows that the majority of new people that join match.com are looking for a serious relationship.
It is also true that couples that meet on a dating website are not as likely to break up or divorce one another than those who meet in real life.
This is because they get to know their likes and dislikes and core beliefs from the in-depth member profiles provided by sites like match.com.
Backed up by thousands of successful stories
If you take a look at the match.com blog, you will find a seemingly endless supply of success stories from all types of different people. An example of one of the success stories is Amy and Geoff who first talked on match.com in the summer of 2012.
There is also a study done by science daily that reported approximate only 46% of the success stories from match.com were marriages. So, if you are wondering if match.com is worth your time and works for successful marriages, the answer is yes.
Conclusion
Well, that's about it ladies and gentlemen in my article. I hope you found some of my statistics helpful in your decision on whether or not you should purchase a subscription at match.com.
For me the value for what match.com brings me far outweighs the price I pay for a monthly subscription to it. You can check out the full pricing of match.com here.
How does match.com work if you don't find a match right away
Overall I would suggest at least getting a six-month membership because most people do not find the best connection with only being on the site for one month.
On top of that, the one-month price is outrageous and significantly drops in price with the longer subscriptions.
The biggest reason that I recommend the six-month subscription is because for most people there is a learning curve with match.com.
You also need to sharpen up your skills on talking with your matches, especially if you have been out of the game for a while.
The last reason that I suggest at least a six-month subscription is because match.com offers something unusual. They guarantee that you will meet somebody and have a meaningful relationship with them if you purchase the six-month subscription plan.
If you do not meet someone within this period, they will give you the second six months free!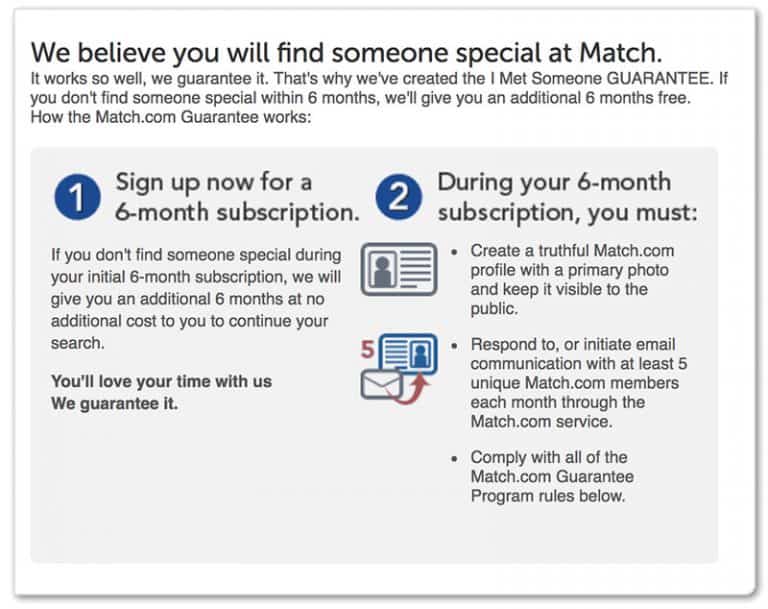 Match.com is so confident that you will find someone on their platform within six months that if somehow you don't, they will give you the same amount of time for free to make sure that you do!
There are however some things you need to do to qualify for the second six months for free. You need to create a full profile and at least respond to or initiate conversations with at least five different matches each month.
So, does match.com work? Just ask the thousands of successful couples or look at the staggering statistics provided in front of you. Match.com is so sure that it works they will even give you half of the year for free to make sure that it does!
You can also improve your chances of success by putting up admirable profile pictures and being bold enough to ask people out on a date and get contact informations from women and men depending on your choice.
Taking note of online dating advice helps to protect against having a bad online dating experience with a woman and also if you are a woman you should know those words used by pervert in order to pull out if you arenew to online dating.
If you want to date older women and younger men, you can check out this link.
I suggest you check out my article between match.com and eHarmony here if you want to know the differences.
Let me know what you guys think in the comment section below!
Learn more; the wonderful guide that helps to constuct your online dating profile. Don't worry about paying for it; I've got you covered. Read for free!