Is true for life legit? Does Cougar Life work seriously? Or is Cougar Life a scam? Hey everybody and welcome to my Cougar Life review. By the end, you will know exactly whether or not this dating website is legit for cougar/cub dating.
Whether you are an older woman looking for younger men, or a younger man looking for older women, you will figure out whether Cougar Life is legit or not.
This review will enable you to know:
OFL Top Recommendations based on 100,000+ Survey

"Serious Relationships"
"Discreet Hookups"
"Best Course for Men"
"Quick Flings"
"Normal Hookups"
"Our Quiz"
At the end of the article, I will give you my number one tip to be successful (for Cubs and Cougars) on Cougar Life, if you decide it's right for you.
Let's get started asap!
Find here, the ultimate guide to creating an online dating profile. This guide will teach you every step of the way how to get a partner of your choice on an online dating site. The guide is waiting for you on our homepage.
Cougarlife.com is running a deal right now, and we suggest that you don't miss out on this limited offer. It's the biggest Cougar/Cub site online.
Is your dating app giving you the best chance for success?
Make sure to take our online dating site/app quiz to find out.
People who follow our dating site suggestions have on average 2 more dates per month.
Cougar Life Review in Video Form
Audio (podcast) form for those of you on the go
CougarLife in one Sentence
Whereas CougarLife charges an average of $12, $29, $40 per month for its 12, 3, 1-month package respectively, it has over 500,000 registered users searching for a Cougar or a Cub. While the age range lies between 20-50, the simplicity of the site makes it easy to use and search for the right partner.
Site design and Ease of Use
Overall, the site design, layout, and ease of use are very clean and intuitive on Cougar Life. The image below will show the main dashboard for the site with the four primary sections that you need to get accustomed to which are the dashboard, your profile, the messaging section, and the search and filter tab which is the most important. These four tabs are highlighted by a blue box. Check here to see the current design layout.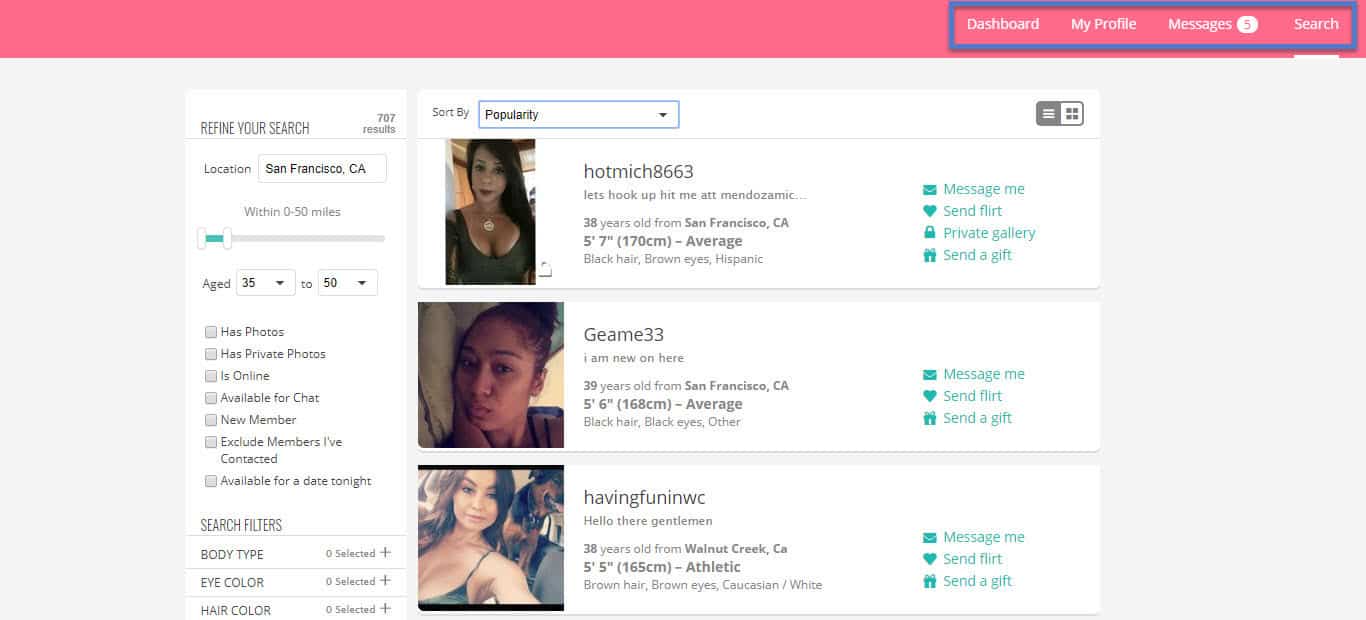 The navigation for cougar life is no more different than any other typical dating website. The learning curve is extremely easy, and once you create your profile, the only section you need to get to learn well is the search and filter section located to the far right.
OFL Top Recommendations based on 100,000+ Survey

"Serious Relationships"
"Discreet Hookups"
"Best Course for Men"
"Quick Flings"
"Normal Hookups"
"Our Quiz"
Besides having an excellent layout for desktop version, there is also an android and iPhone application available for IOS and Android users on cougar life with excellent functionalities.
Overall rating I give cougar life for their design and navigation is a 9/10
Popularity, demographics, and success rates
The Cougar Life website has over half a million active users. This is a relatively big population especially for the specific niche of cougar/Cub dating.
If you happen to be in a larger city or metropolitan area, you will see many active users using the website for cougar dating within your set radius. Just like any other dating website, if you are outside a larger metropolis in the area, you will either need to set your search radius wider or search within your nearest city so you can view profiles that you can set up a date with, the next time you come and visit.
As an example, I am currently in San Francisco and searching for member profiles of those recently online on the cougar life dating app (now or within the last couple hours) in my area, and I am getting a result of 707 cougar profiles. There are much more than 707 people to search from, these are just the ones that are recently or currently online on the dating website. This can be seen by the red highlighted box in the image below.

The demographics of cougar life typically consist of older women (30+) and younger men (typically in their 20s and early 30s). Coming from my perspective (a 30-year-old male) I was quite surprised to see the many pretty profiles of women I found on Cougar Life. For some reason, I was expecting to see many more ugly women.
Although this is the typical demographic for the people with Cougar Life account, there are also lots of other people outside of this demographic. For example, I have seen plenty of cute women in their 20s, and have even matched with a couple of them.
From this perspective, women on the website do not necessarily need to be older women. It's more of a mindset of cougar and cub dating. This typically means that the girls are more mature and more direct compared to the typical girl in their 20s.
This also means that there can be guys on the website that are in their 40s or even 50s. These men typically keep themselves in shape and have lots of energy just like a young cub. As these are the essential features for what a large number of mature women on the website are looking for and what the site offers.
In regards to success rates, I can only give you my experience from using the mobile app for a couple of weeks. The definition of success also varies from person to person depending on what they're looking for in a dating website. So far I have already met up with two cougars on the website.
One of the two was very direct and let me know she was looking to hook up from the cougar dating site (which we did). The other one was looking to find more of a connection/long-term relationship. I would say both dates went well and were successful. The women on Cougar Life are much more direct and willing to meet up compared to let's say Tinder (where the girls only want to chat). These cougars are experienced women who know what they want on dating platforms. They flirt with you right away and you have to flirt back to show that you are on that platform for the same reason.
From a popularity and success rate point of view, I give Cougar Life an 8.
Check out how many people are currently online on Cougar Life in your area.
The features that the site offer is probably the most important aspect of the dating services. Cougar Life is no different in this regard. The majority of the features you will find are located in the search tab at the top of the website. Here, you will be able to search and filter for the cougars or cubs of your liking. You can search and filter and peruse the site as much as you want as a free member. If you're going to have the ability to read and send messages, you will have to become one of the paying subscribers (just like most other dating websites). Check out the picture below to get a good feel of what the search section looks like.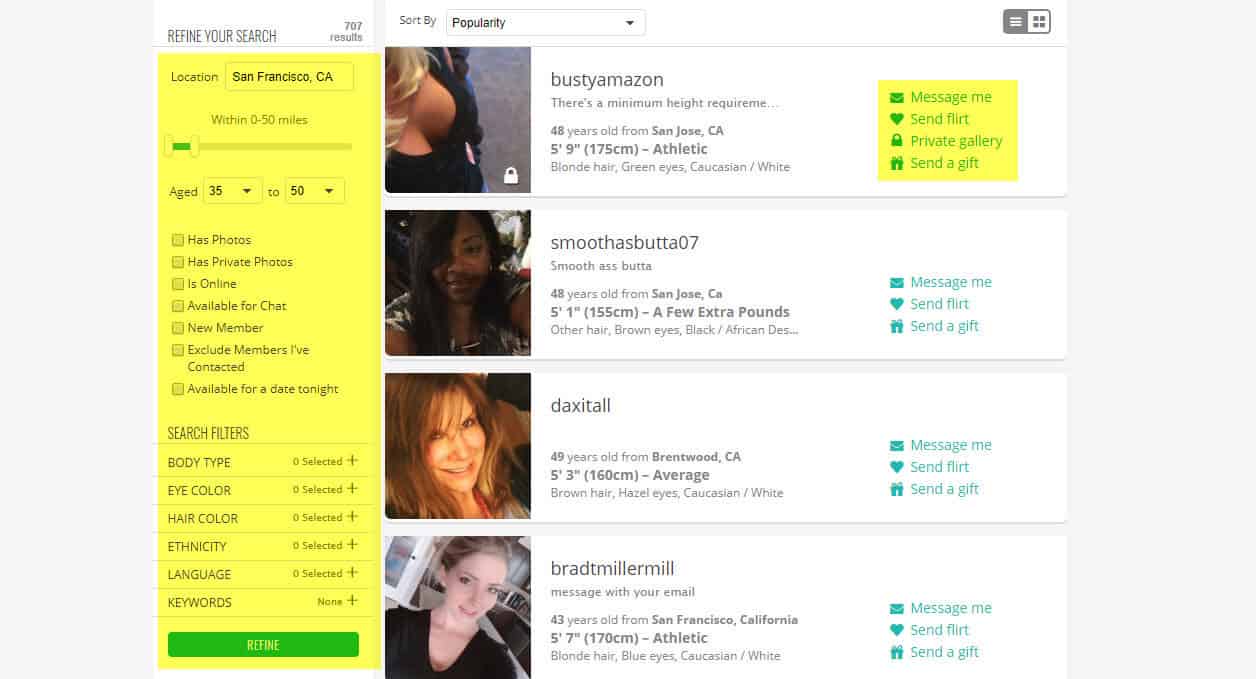 The main search and feature functions are highlighted in yellow on the left.
Search and filter features. This is where the fun starts. The first and most important search filters users should always check is whether or not they have photos to share. You can also filter by whether or not they are online, available to chat, are a new member, are available for a date tonight. You can also exclude members that you have already talked to, and have not panned out.
Women who are interested in dating younger men can browse profiles to find the best from the million users and start sending messages to them.
Other filter options.
You can also filter by height and body type. If you want your cougar to be athletic, curvy, average, or have a few extra pounds, you will have no problem filtering out the ones you are not interested in. You can also filter by eye color, hair color, ethnicity as well as three different languages which are English, Spanish and Dutch.
Of course, everyone deserves to be loved, no matter the language or color.
Cougar Life is a dating site that wants to give you the best to improve your experience on casual dating sites.
On the right side of each profile in the search results section, you have the option to send messages to a person, send them a flirt, send a virtual gift (which requires credits), or request access to view their private gallery.
One of the coolest features I found was the "find a date tonight" feature. You can put yourself as available for a date tonight. You can also view other people that are available for a date tonight which are typically the cougars/cubs that are just looking to hook up.
Another great feature was the ability to change locations and meet people in other areas. This is great if you are planning on traveling or if you do not live in a big city but would like to meet people there for the next time you go.
Some additional features that only subscribed members receive are the ability to view exclusive profiles and get a profile boost. A profile boost gets your profile put in front of the eyes of more members on the site. This dramatically increases your odds of being seen, liked, and found a match.
It has an easy registration process, and you can enjoy the advanced features of sending virtual gifts by subscribing to a monthly membership.
Users can send flirts to potential matches.
From a features standpoint compared to other websites I give Cougar Life an 8.
Check out the features of Cougar Life for yourself.
What people are looking for on the site
From my short two-week experience on cougar life, I have gotten a pretty good feel of what the Cougars are looking for on the website. Compared to other websites such as Tinder or eHarmony, people on cougar life are looking for casual dating or even just hookups (like BeNaughty or Ashley Madison).
A lot of these cougars simply stated right in their profile that they just are looking for a one-night fling. I have seen plenty of other people that are looking for longer connections and real relationships. It just seems like the majority are looking for something short-term.
Regarding what the Cubs are looking for, they are mostly looking for short-term flings as well. They want to know what it's like to be with a cougar life woman who will take care of them and treat them like a man. This is something a lot of people are missing when they are dating younger millennials. They are not that experienced in regard to all aspects of dating.
Not to say that you can't find a serious relationship on the site. This is purely based on the profiles I have been reading about what the women on the site are looking for. One good thing is that these women are very direct and do not like to beat around the bush or play games. So, if you are looking for some quick fun, with either a cougar or a cub, this popular hookup site is your best bet. Here are some examples of what people are saying in their Cougar Life profiles.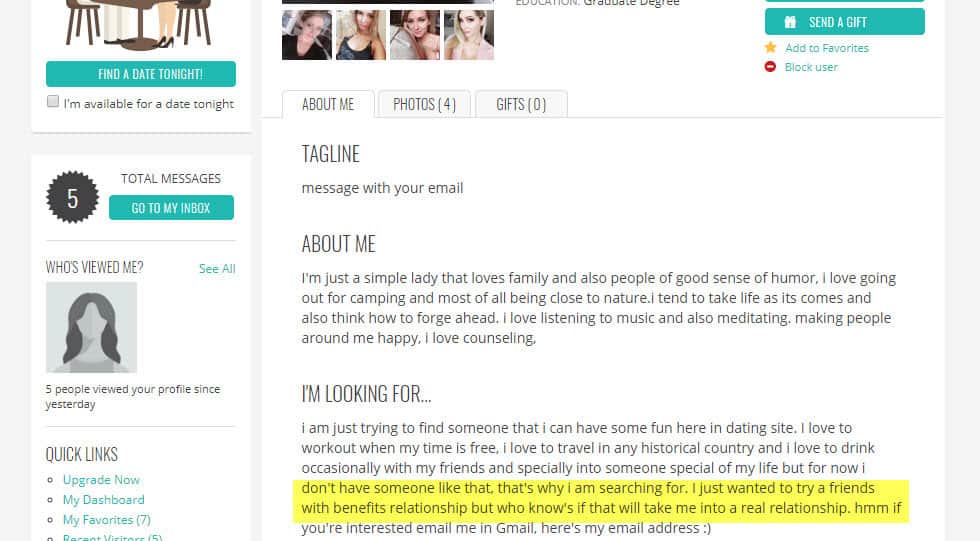 In this instance, this lady is obvious that she is looking for friends with benefits but is open to the idea of something more serious. In the image below, there is a highlighted block at the top of the profile.
This means that she has a private gallery that she can share with you if she wants. People with private galleries usually have more dirty photos to share and are more likely looking for something a lot more short-term.

This is a very typical profile for cougar life as well. She wants a boy toy for a quick romance. I also saw profiles of women that were looking for longer-term relationships. So if you are looking for that, I still would not count this website out.
To give this section a rating, it all depends on what you're looking for.
If you are looking for a site for quick flings or hookups, I give it a: 9
See the cougars that are looking for short flings here.
If you are looking for a more serious relationship, I give it a: 5
Pros and Cons of Cougar Life
Now let's get into the things I like about the site as well as the things I am not so fond of.
Cougar Life is reputable and established
There are half a million users (a lot for niche dating)
The ability to search for matches in different locations
It is mobile friendly
The users are much more direct and more willing to meet up
Extremely easy sign-up and navigation
A relatively high price point for the month by month plan
Does not have identity verification features
You can't message or read cougar life messages without a subscription
There is no cougar life free membership, you need to opt for a paid membership subscription.
The overall Cougar Life price is based on different subscription links. There is a one-month membership, a three-month membership, and a 12 month (yearly) membership.
$40 per month for the month by month membership (and 100 credits)
$29 per month for a three-month membership (and 500 credits)
$12 per month for a 12-month membership (and 3,000 credits)
Check here to see the current cost of Cougar Life
The credits that come with the different subscriptions can be used for simple features on the website such as sending electronic gifts to your matches. By far the best deal is to get the 12-month membership for $12 a month. This brings it within the price range of most other regular dating websites.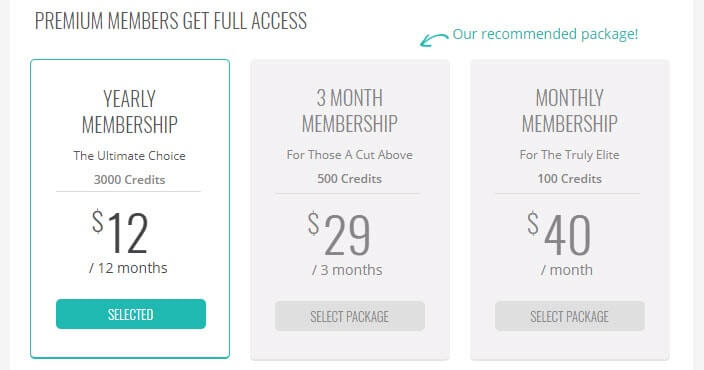 The Sign-up process and my number one tip to be successful!
Okay ladies and gentlemen, now we finally get to the part that you have all been waiting for. How to have success on the Cougar Life dating platform. First, I'll be giving the advice for Cubs (like myself) that has landed me two dates in the last two weeks of using their service. Secondly, I will advise the cougars to use the website rather than the cougar life app so that they can have a better chance of landing a cub.
To have success on Cougar Life, you need to be portraying yourself as what the majority of the users will probably be looking for. The first tidbit of advice is to use profile pictures of yourself doing something active. This can be pictures from the time you went white water rafting, skydiving, Cliff repelling, photos and the gym, or private photos of you playing your favorite sport.
You should have lots of pictures of you being outdoors during active things. You will want to be seen as young, energetic, and strong.
The next piece of advice is what you should have in your biography. The about you portion should include outdoor activities that you like to do, what you do for work, and make sure that you add that you love animals.
The section about "what you are looking for" should be serious and to the point. This is the key! This is how I was able to receive multiple matches and go on two dates in such a short period. You need to be direct and say that you are not looking to play games. Say you are looking for a woman to treat you like a man and that can handle your energy. Here's an example of my profile.

Most importantly, you need to be honest about what you were looking for on the website.
There are also things to avoid on your profile, your profile should speak your distinct qualities that an older woman will perceive as sexy. Communicating with a cougar is different from communicating with a younger female; they come on to you hard and forward, be ready to reciprocate the energy.
The advice I have for cougars is also to be as honest as they can about what they're looking for in their cub. The young men on the website are looking for a woman that can treat them with respect and not play games.
This is one of the biggest reasons Cubs are on the website in the first place. They are sick of dealing with young millennial girls that want attention and are not experienced with dating, relationships, or in bed. They're looking for someone to treat them like a man, and not like a boy.
That is why I am personally on the website, and I know that's the same reason all of my friends are as well. We are looking for women to be direct with us and not to play cat and mouse games. You should display this in your profile to get the most attention from a younger gentleman.
Having registered on the CougarLife platform and tested the site on various devices, we were able to arrive at an overall rating.
The approach adopted was to study how user-friendly the site is, our experience on the ease of access on the login page, navigating through the site, and the overall CougarLife matches experience.
A combination of our experiences on the site with real reviews from users on various social media platforms helped us to come to a reasonable conclusion.
Cougarlife.com Review Conclusion
Well, that's it ladies and gentlemen for my Cougar Life review. I hope you got everything you wanted out of this overview of the cougar and cub dating website. Make sure to use the tips and tricks I mentioned above to have the most success on the website. If you think that Cougar Life is a scam, you can be rest assured knowing that Cougar Life is legit and that it can work.
New users should not worry about scammers, since everyone has to be on premium membership, even if it is a month subscription before anyone can access any services on the dating site.
You will be safe from fake accounts and fake profiles.
So if you are an older woman looking for younger men or a younger man looking to meet cougars, I would not hesitate to sign up.
With all things considered, the overall rating I give Cougar Life is:
Although it depends on what you're looking for. If you are looking for a quick fling or hook up with a cub or a cougar, this website is probably the best place to find that type of relationship.
Even if you aren't necessarily looking for older women or older men, the people on the website have the same mindset. They are all very direct people, and you will have a much higher chance of meeting up with someone on here compared to a site like tinder where the majority of people are there just for an ego boost or to chat.
Cougar Life is the real deal for real men and women, I strongly advise you to make use of this wonderful guide on creating a dashing online dating profile. Trust me, this is the real deal unlike other cougar life scams.
Frequently Asked Questions