Plus size or Big Beautiful Women (BBW) dating sites are something that's become quite the norm in online dating over the past 10 years or so.
And today, we are going to take a comprehensive look at Wooplus, a dating platform where fat-shaming isn't something you have to worry about. So, if you are curvy and want to find a serious relationship (like on Tinder or eHarmony), or just a hookup (like BeNaughty or Ashley Madison), make sure to visit Wooplus.
It's aimed at all plus-size singles including big handsome men (BHMs).
We tackle the site from various angles and that will help you decide if you should have a profile here.
We'll take a look at:
If you've ever been called a BBC or have had to face body shaming on a regular dating site, perhaps this Wooplus review is what you need to read today.
Is your dating app giving you the best chance for success?
Make sure to take our online dating site/app quiz to find out.
It's a fact that people who follow our dating site suggestions have on average 2 extra dates per month.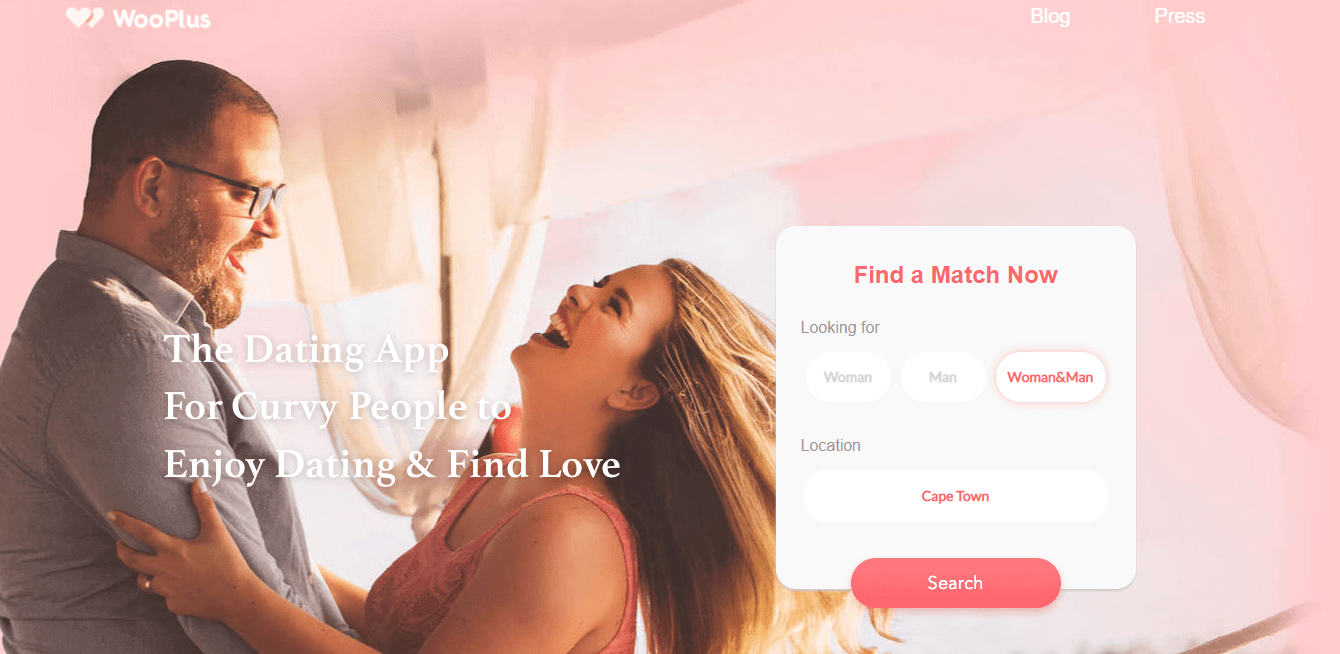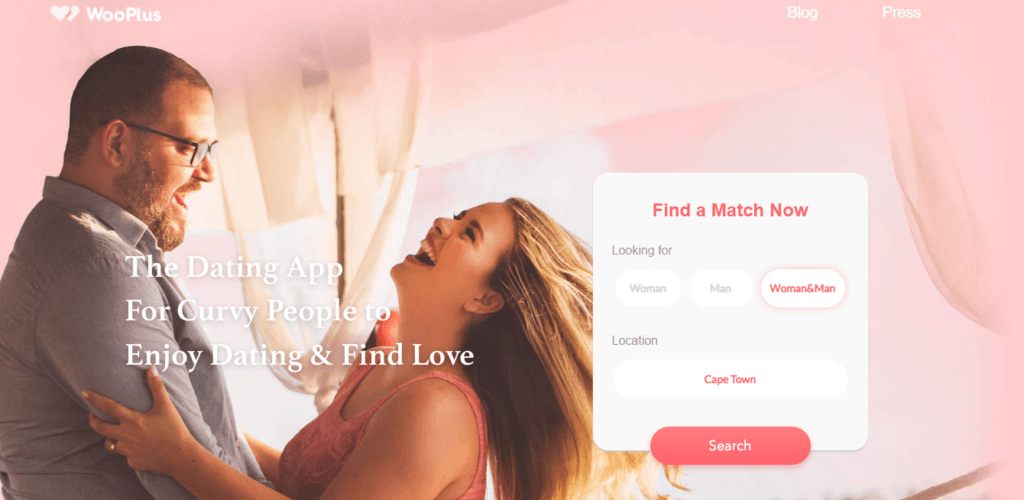 Ease of use – 5/5
Effectiveness – 4/5
Key features – 4.5/5
Pricing – 4.5/5
Android and IOS app available
Wooplus sign up couldn't be easier
One of the best dating sites for plus size and curvy people
Large user base
You only have three "Hi" messages a day as a regular user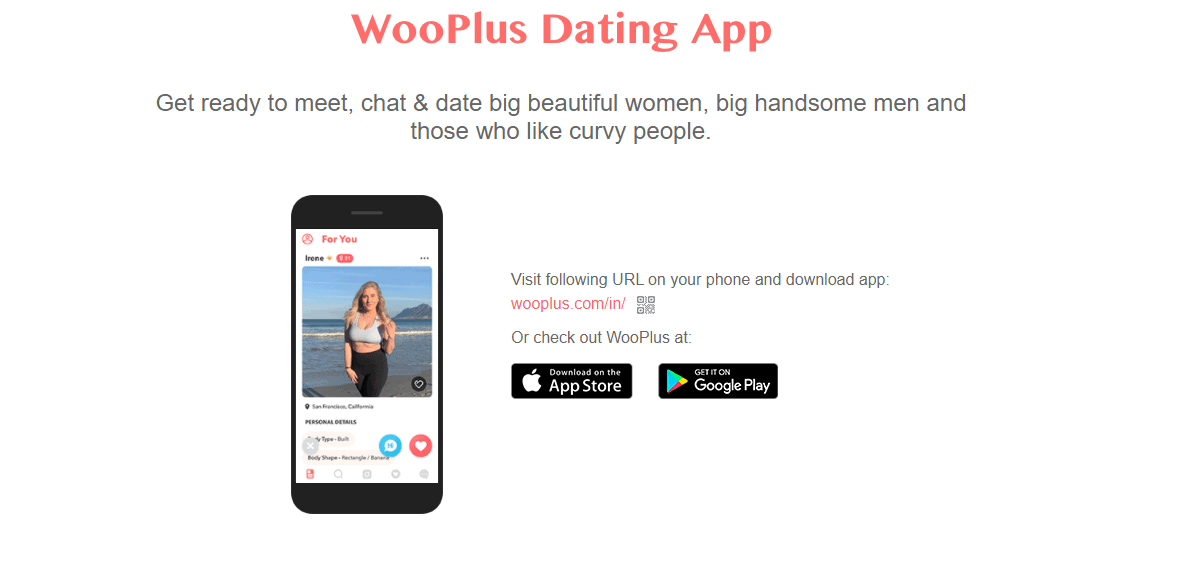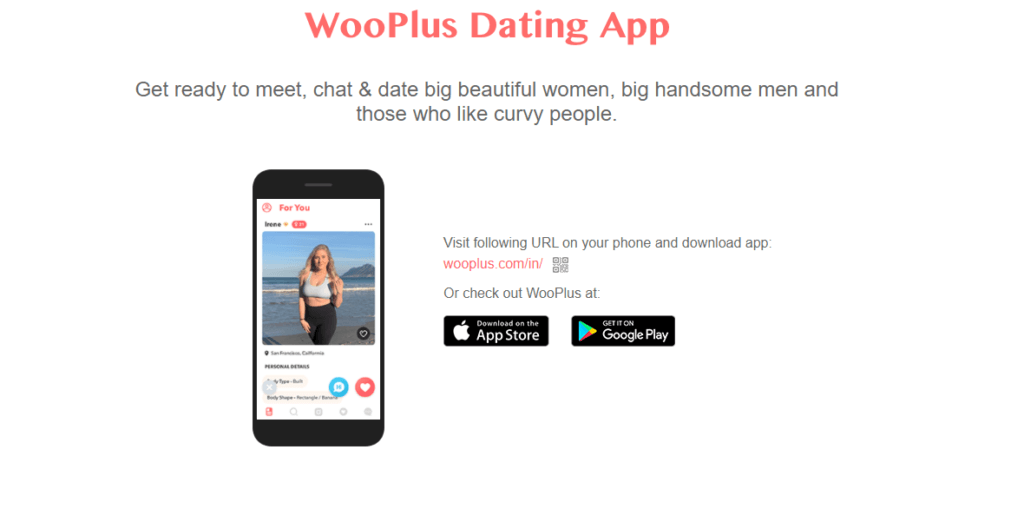 Who Is It For/Demographics?
Dating sites for full-figured people are certainly pretty niche.
They are aimed at full size people who don't want to use a regular dating site in their attempts to find love.
And if you are part of the curvy singles brigade and worried about just how your body type might affect your chances at finding that someone special, sites like this make complete sense.
Dating sites for overweight women and men generally have two target audiences in mind.
The one is obviously those of us who are plus size and are looking to date others.
The second group, however, might not be that obvious.
And those are people who frequent dating sites for big guys and women like Wooplus that might not be overweight themselves but want to date BBWs and BHMs.
I think while most people using Wooplus are from the first group but don't rule the second at all.
So how popular is this site?
Is it the best BBW dating site out there that attracts millions of users?
Well before we make that call, let's see how many users it has.
It's popular, it really is.
My research indicates that presently, Wooplus has over 3.5 million users.
As dating sites for fat people goes, that's incredible.
Many commercial dating sites that accept all kinds of users would be happy with user figures like that and here it's a niche dating site that has them.
But here's even more of a breakdown:
Around 2.1 million members of Wooplus are from the United States
500 000 users are active on Wooplus every month
The plus size dating app has been downloaded over 1 million times on Google Play
Around 65% of Wooplus users are male and 35% are female
The biggest group of users are between the ages of 18-24 years old and they make up 30% of the user base with an equal split between male and female users.
The smaller group of users on the site are 55 and older and they make up about 5% of all users
Certainly those numbers make for interesting ready.
What they do show, however, is just how big boy and big girl dating apps (as many like to call them) have risen in popularity.
And that's simply because they create a space where overweight people won't be ridiculed and feel safe to reach out and say hi to other users.


This is an app only dating site and it can be downloaded off the Apple store and the Google Play Store.
Online dating is growing by the day and making these platforms more accessible in app form certainly is the way to go.
Just note, that the Wooplus app is called BBW Dating, Meet and Match online but also has Wooplus written below that.
You can search for the name Wooplus to find it, however.
My Wooplus sign-up process was easy enough.
You can sign in using your Facebook account or by using an email address, whichever you prefer.
If you choose the latter, you need to provide your display name, gender, age, the gender you'd like to meet and upload a photo.
Provide your email address and a password and you are done.
It takes maybe two minutes in total to sort your Wooplus login out.
Before you can use the app, you have to populate your profile.
I prefer it that way because at least you get it done.
To do this, you will have to give the following information:
Your occupation
Your income
Your height
Your body type
Say what you'd love to do with your partner (for example spend relaxing weekends together)
While that's all the info you need to provide first up, it's not the end of filling out your profile.
Although WooPlus now gives you matchups to look through, click on the top-left of the screen to finish your profile.
I think that's best at this point.
It's fun too as you have to answer a set of questions that Wooplus then uses to match you with others.
These include:
I am not ok if my partner…
Things I will never do…
My must-do thing in the near future…
These days I am obsessed with…
On my first date, I'd like to…
Old person things I do…
More stories about me…
There is more personal information to fill out as well including:
Ethnicity
Religion
If you have or want kids
If you smoke or drink
Interests
You can also add more photos if you'd like to.
Wooplus profiles really don't take that long to complete and they are a bit of fun, that's for sure.
Finding your way around the Wooplus app
Before we look into how Wooplus works, let me describe the layout and what you can expect.
The profile of matchups is first and foremost here and takes up the whole screen basically.
But there are menus that you are going to use during your time on the app.
Let's start at the top of the screen.
On the left-hand side, you can access your profile to make any updates you'd like to.
On the right-hand side, you will see to menus.
The first is the "Rewind" option.
If you realised that you went past someone who you probably should have liked, you can go back to that profile.
This is a member-only option, however.
The second is a "heart" icon.
Click this and you can see all the profiles that you have liked on the app.
If you go here, you can see how long their profile will remain liked by you.
It starts for a period of seven days and counts down from there.
Of course, you are welcome to like them again in the future.
Now let's move onto the menus you will find at the bottom of the screen.
There are four of them:
Matchup screen: Click here to return to your matches
Daily picks: Click here to see users that are near you, popular, online now or VIP members
Moments: Share "moments" with other users. It's like a social media status update.
Into you: Click here to see who has liked you
Chats: Find all your messages here
That's it.
This app is super easy to use and once you know what the menus do, you can find your way around effectively.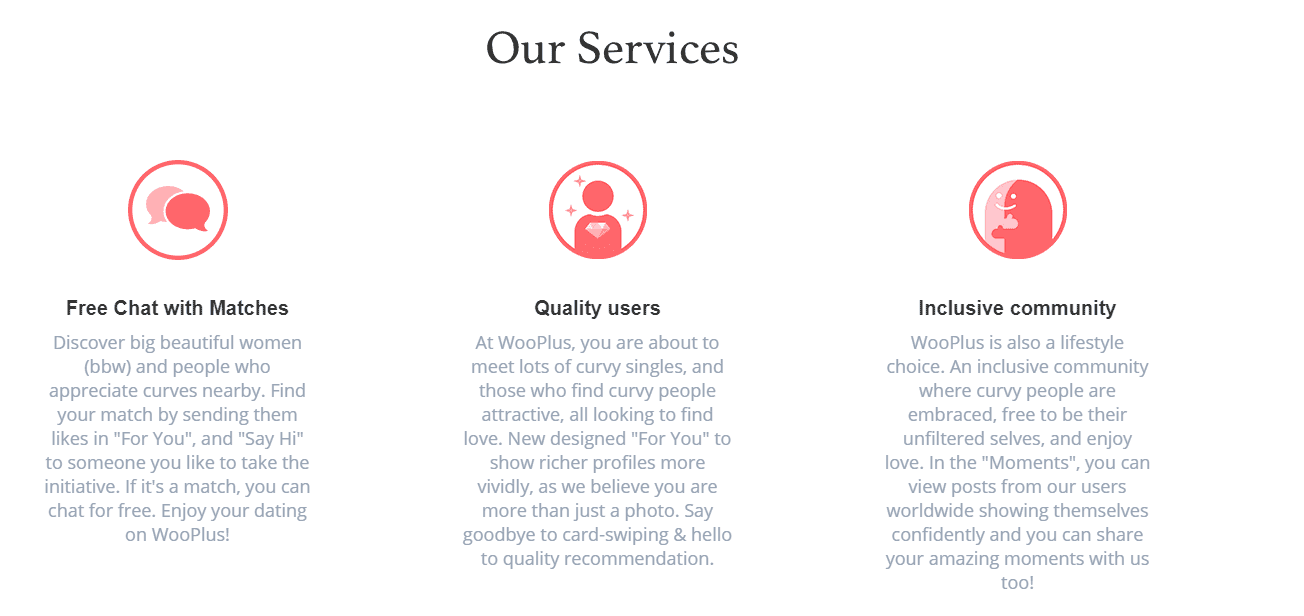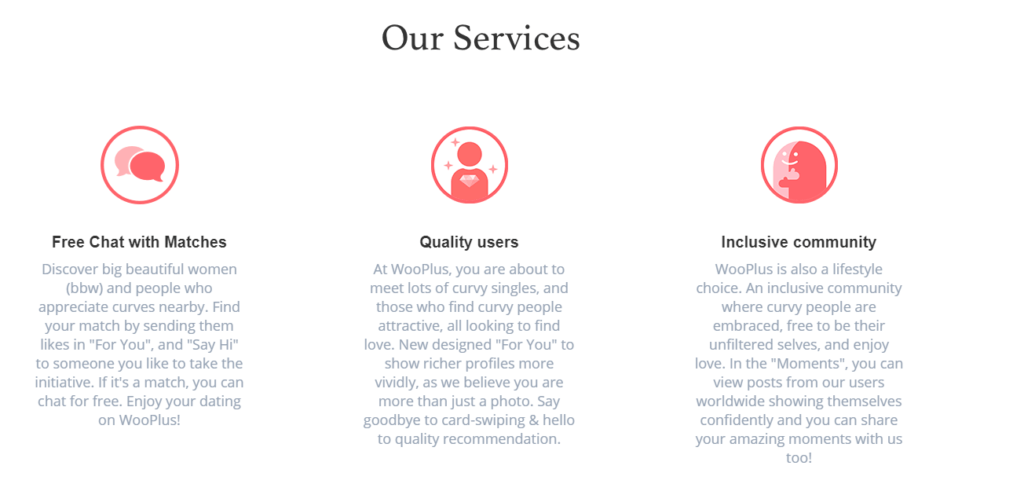 So this is a dating app just like all the others you find out there although you don't swipe left or right on other profiles.
You simply click the "x" if you want to move on and the "heart" symbol if you like some.
There is one added feature for regular users.
You can send someone a "hi" message.
That shows you are interested and if you "like" them and they "like" you back, well then communication channels are open and you can start messaging each other.
It's pretty simple really.
While there is no limit to the amount of "likes" you can make you can only send the "hi" message to three people each day.
Also, if you like someone, they don't know that you have although you will appear in their matchups.
If they like you back, that when the messages can start flowing as I described above.
Whenever you log into the Wooplus app, you will be given matchups on the main screen.
But that's not the only way you can find a potential date.
To search for even more, use the Daily Picks menu.
This has four categories to find matchups by:
Nearby (these are users near your location)
Popular (these are popular matchups on the app)
Online (these are users that are online now)
VIP (these users have paid for membership)
Obviously, the ones that are nearby are the most important right.
We've already mentioned that you can "like" their profile and if they do that back, then messaging is possible.
But to get their attention, use the "Hi" message feature.
Remember, you only have a few a day as a regular user, so you are going to have to be careful as to who you send them to.
As a paying member, however, you don't have problems like this.
You can send as many "Hi" messages as you want plus you can message anyone without having to match with them first.
And while it's possible to use the site without paying, membership probably is the way to go.
The decision to become a member of a dating site is often made with the key features membership offers in mind, so let's look at those now.
Here's a list of some of the excellent key features that Woo Plus has to offer.
While regular users can't see who has liked their profile this isn't a problem for a member.
You can see who has liked you under the "Into You" menu.
Of course, if you like them back, you can start sending messages to them.
Members have unlimited messaging available to them.
This means you can send as many "Hi" messages as you like to break the ice.
​3. More matches every day
As a member, you will be sent more matches from Wooplus every day.
That's really useful in your search for a matchup, right?
Matchups you receive as well as user profiles that you will find under the "Daily Picks" menu can be fine-tuned by using various search filters.
​For example, you can search via profile parameters such as ethnicity, height, etc.
Moved past a profile that you should have liked instead?
Members can rewind if they'd made that mistake.
If you have liked someone's profile, that expires in seven days.
For a member, however, that like never expires.
No doubt you will agree with me, taking out membership on Wooplus bring some spectacular key features for you to use.
Many dating apps would be more than happy to have half of those I think.
But no matter how incredible the membership features that an online dating portal like Wooplus offers, people won't bite if the pricing isn't thought out well enough.
So let's see how those behind this dating app approach things when it comes to how payment packages are structured.
Well, there isn't a trial membership for you to try the site out.
But with the way that Wooplus works, there doesn't really need to be because if you match with someone, you can use the site and some key features as a paying member would.
As soon as you are ready to try out membership, however, you have three different packages to choose from.
There is the regular dating site staple of one-month as well as a three-month and then a 12-month option.
I am never a fan of the 12-month option because a year can be too long to be tied into a dating contract.
The thing is, Wooplus have taken the time to really think about how much they want to change.
And they've gone and got it right in my book.
Let's look at a breakdown of what membership will set you back for each of the three packages.
1-month membership: $14.99
3-month membership: $29.99 ($10 per month)
12-month membership: $59.99 ($5 per month)
Simply amazing, right?
Look at those prices.
They are really cheap.
Even that 12-month plan appeals to me because it works out to just $5 per month.
So even if you meet someone and start a relationship after just a couple of months, you won't be paying too much money like on other dating sites.
This is a very clever pricing strategy and coupled with the membership features, certainly draws you in.


Conclusion and Overall Rating
Thanks for taking the time to read this Woo Plus review.
Is this the best dating site for fat guys and gals?
It might well be.
It really has so much to offer, that's for sure.
For one, it has a massive user base and that's one of the most critical aspects of a successful dating site, right?
It's also simple to start a profile, download the app and get going.
It takes 10 minutes max and that includes filling in your profile.
The app itself is intuitive to use and fun too.
Yes, as a free user, you can find matchups, but communication means that it has to be a mutual matchup.
Those three "Hi" messages a day can help facilitate that, however.
I wouldn't hesitate to go with membership though.
That's because not only are there so many amazing key features but the pricing offers superb value for money.
So let's give Wooplus a rating then.
It gets an excellent 4.5 out of 5.
If you have any questions, leave a comment or check out the FAQ below.
Frequently Asked Questions