Hi Guys!
Today our focus will be on one of the distinctive feature that makes the premium (Tinder Gold) stand out – Top Picks!
In this article, we shall answer the following questions & more:
OFL Top Recommendations based on 100,000+ Survey

"Serious Relationships"
"Discreet Hookups"
"Best Course for Men"
"Quick Flings"
"Normal Hookups"
"Our Quiz"
At the end of this article, you would have understood Tinder Top Picks and how to use this great feature successfully. Let's get rolling!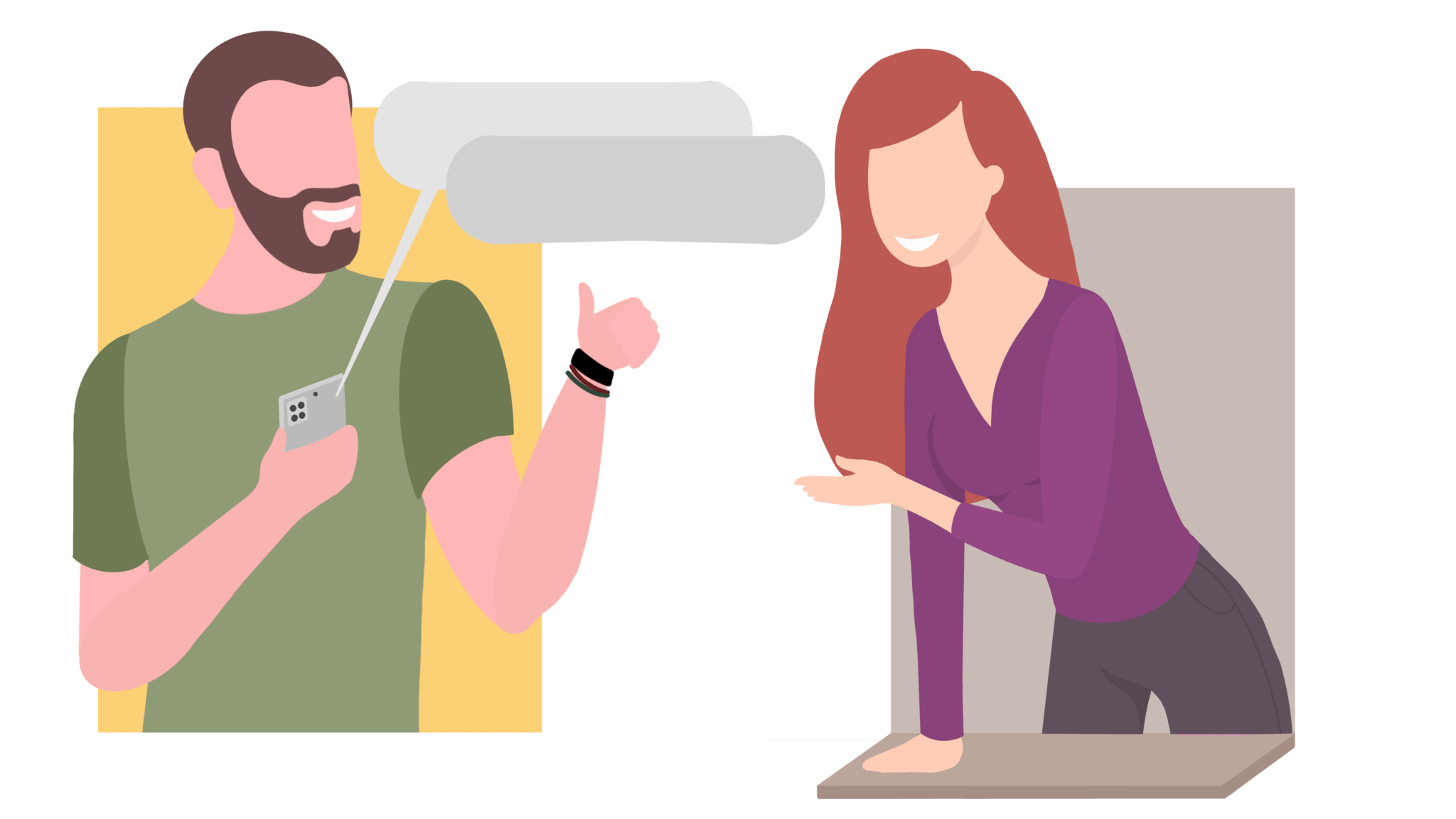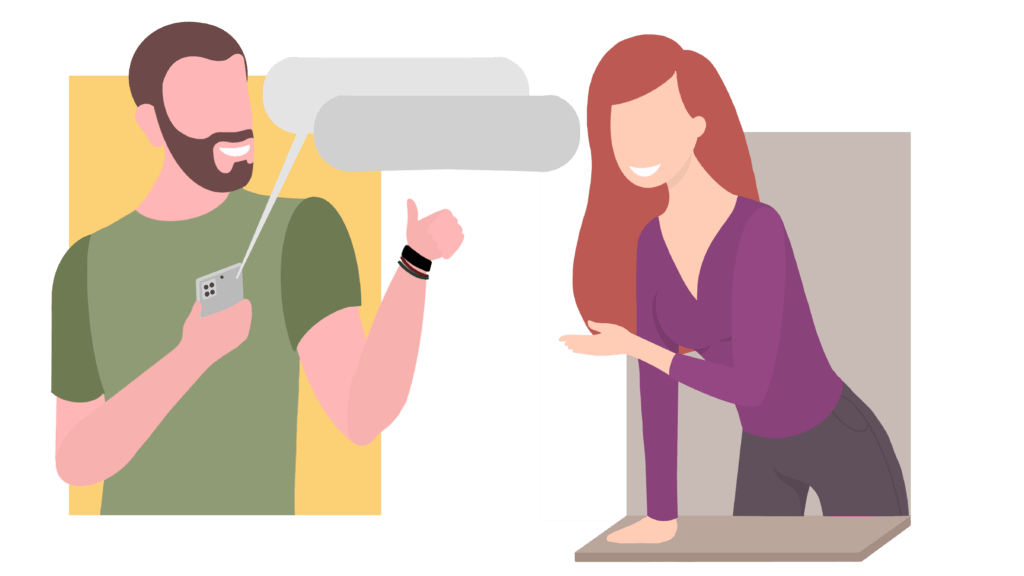 Tinder Top Picks in Video Form
Audio (podcast) form for those of you on the go
The Story behind Tinder Top Picks
What do you mean, what is Tinder top picks?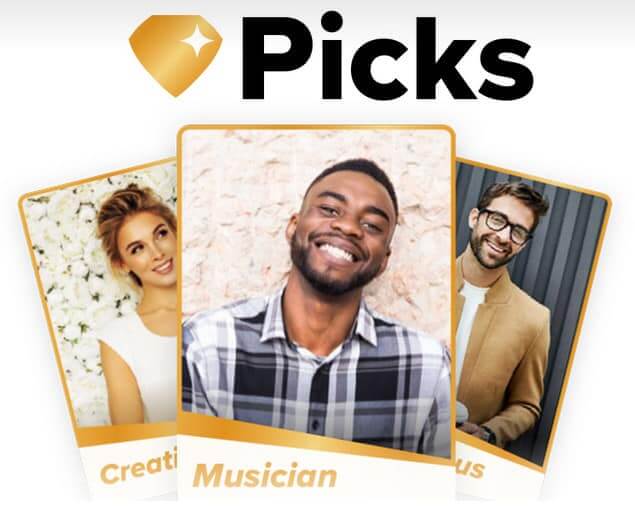 Only a cool feature that, together with Likes You, makes Tinder Gold better than Tinder Basic and Tinder Plus.
Hellooo!
Ok, just to remind ourselves briefly.
Tinder is the biggest dating website out there and it ranges from people looking for a quick fling to Soul mates and is not only for hookups (like BeNaughty or Ashley Madison) or only for those seeking serious relationships (like eHarmony).
The Tinder online dating app offers two paid upgrades to its users – Tinder Plus and Tinder Gold.
Plus has some cool features that, in all honesty, don't cut a deal in terms of improving your chances for a successful match.
Still, it's great as a heads up of what follows with Tinder Gold.
As for Gold, this is another improvement by Tinder that offers some more awesome features for you to enjoy.
OFL Top Recommendations based on 100,000+ Survey

"Serious Relationships"
"Discreet Hookups"
"Best Course for Men"
"Quick Flings"
"Normal Hookups"
"Our Quiz"
And, yes, it's Likes You and Top Picks (I already told you this).
These two make Tinder Gold a tad superior to its predecessor (Tinder Plus).
But, let's focus on Top Picks for the time being.
Seriously, what is Tinder Top Picks?
It is the brand new feature of the Tinder Gold package, that will show several top picks worth checking out.
Namely, these are the picks that have the biggest chance of ending as a match.
For free users, there's only 1 top pick daily, while on Tinder Gold, you'll enjoy 10 top picks – meaning, your chances go up!
The idea behind Tinder's top pick is essentially a good one.
With this feature, instead of displaying random people in your vicinity, you will now see the top choice of people for you made by the app.
These Tinder picks will be hidden under a golden diamond at the top of your app (top of the screen).
So, as soon as you click it, you will be presented with a true feast for the eyes!
There will be an array of such people that you will instantly want to swipe right and/or Super Like all of them to boost your chances of not spending another night on your own.
If you have been using Tinder Basic even before reading this article, then you must already be familiar with the Top Picks feature.
The only difference now is that with Tinder Gold you get 10 people selected as your top picks instead of just one you had before.
But, my friend, if you think this is just 10 picks until the end of time, you are on a completely wrong path.
The app chooses new picks for you every day.
Yeah, every day. You might even grow tired of it eventually.
Fairies?
Magic Beans?
Cupid?
Yeah, right!
An algorithm is more like it.
Do you remember how you need to provide some details about yourself for the app, including bio and interests?
Well, obviously, everybody has to do it.
Next, you spend your time on the app by actively swiping left and right, letting the app know what your likes and dislikes are in the process.
These are going to be a perfect setting for the app's algorithm to choose what it "thinks" is the best for you.
Its main purpose is to keep track of everything you do on Tinder and make suggestions accordingly.
So, you swipe right some boy or girl who "likes to read", your top picks will be swamped with people who are zealous readers.
Still, be aware that this is all machine work that operates by recognizing keywords.
As a consequence, if someone fooled the system by saying something like "the only reading I do is when I check my social network profiles" this person will still be categorized as a reader.
Not particularly a bookworm you had in mind.
But, don't see these as a bad thing necessarily.
Why?
Well, for the simple reason that you can do the same.
Get creative, come up with an interesting bio and description.
Advertise yourself as best as you can and let everyone think about how you are a model while the only modeling you do is putting clothes on when you get ready for work.
Except for the previous catch, there will be nothing wrong with these Top Picks, right?
And, what do you expect to be wrong with them?
A Miguel from Barcelona, currently living and working in the USA, was among my Top Picks; and, guess what – I met the guy in person and he was all flesh and blood. And damn cute too (find me a Spaniard that ain't cute, I dare ya!), just like his profile photo on Tinder suggested.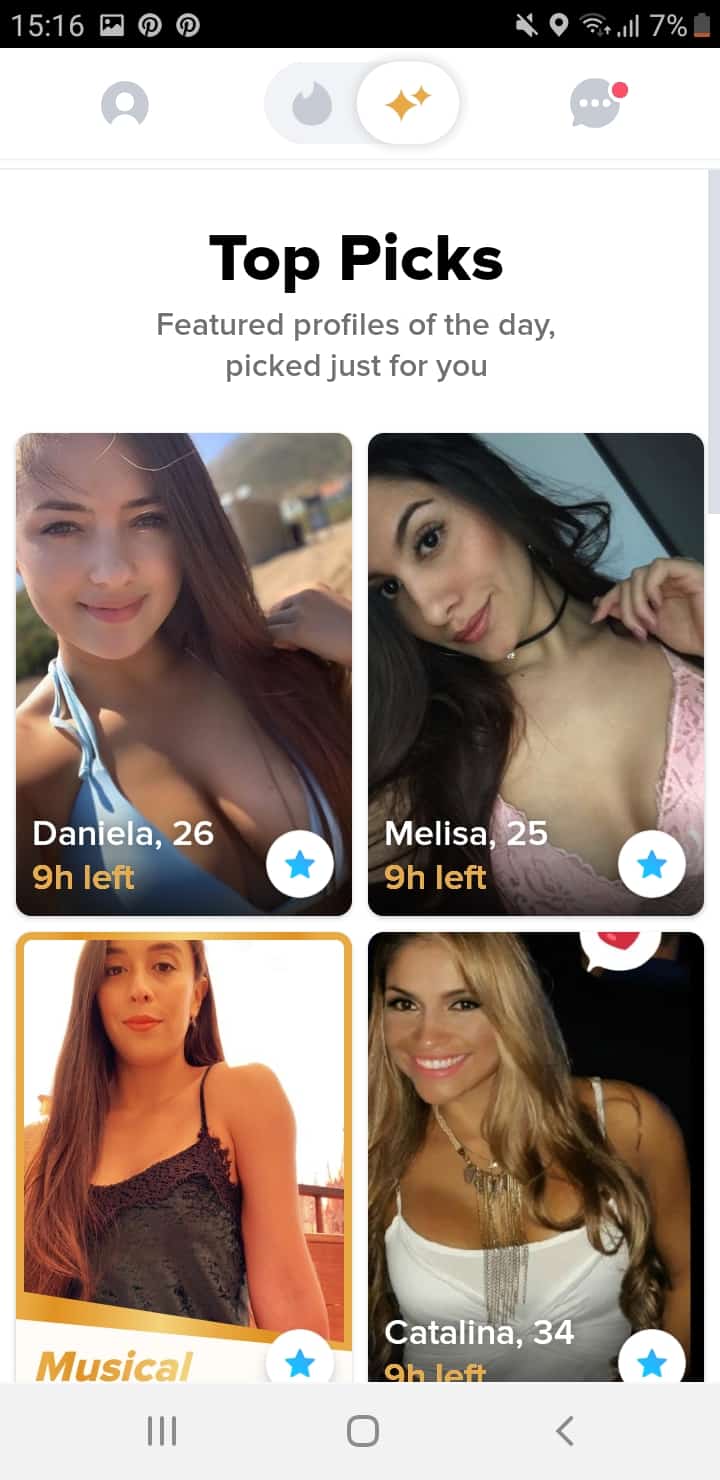 I know you might be worried if this is all for real and I can tell you this is all-natural considering the stuff we see happening around.
I was skeptical too for a while thinking it's all make-believe, especially having in mind the type of guys I could see in my Tinder Top Pics.
Hot, hot, hot!!! (Not to say out of my league 😀 )
But, based on the personal and the experience of others, it is safe to say that top picks Tinder are as real as it gets.
It's real people behind these profiles and you don't have to worry it's a cheap scam.
Again, it's up to you to decide what to do with these.
To sum up, the answer to your question is how does tinder top picks work? is that the in-built algorithm chooses the profiles of the people it sees as the best potential matches for you, all based on your previous behavior on Tinder (preferences, left and right swipes, Super Likes, etc.).
Eliminating the Confusion
Even though I covered the basics of what are top picks tinder? and how it all works I am sure there is still a huge veil of mystery hovering over all of it.
As I am sure you are still struggling to understand some of the points, I will go step by step breaking all doubts as I go.
You just sit tight and read carefully!
Do your Top Picks Know They are There?
One of the first things you might get confused about is whether the people in your Top Picks know that they are your Top Picks.
As a matter of fact, they will not know that the app chose them to be in this selection.
Only you can see this and like them if you want.
In a similar streak, your profile might be in somebody's Top Picks and you won't know it even if they swiped you right.
The only way they can know is if you Super Like them.
This is how they can figure out you Top Picked them.
To be honest, it is a good thing that they do not know.
There's no harm done if you don't swipe them right.
You can only be a bit disappointed if you do swipe someone right and they do not return the favor eventually.
Tinder Gold – Will the Top Picks Be There?
Ok, let us go a few steps back.
I mentioned already how the Top Picks on Tinder are chosen by an algorithm.
With this in mind, allow me to make a brief digression (it's in your interest).
Namely, the algorithm operates by the text and image recognition principle.
To put it simply, this means that it looks for similar patterns in your previous Tinder behavior, whether in biography (text) or profile photos of the people you swiped right, and then it chooses the most alike to (or even better than) your previous voluntary choices.
Now, let us go back to your main concern here.
If you haven't been using Tinder previously, and you decide it's time for you to do that grand style (skipping basic and going for Gold directly), you probably think that the Top Picks will be there.
Now, let me say this – you are NEW to Tinder, no previous behavior, no patterns.
How do you expect the app to choose anything when the algorithm "doesn't know" what to pick for you?
This is not to discourage you from the undertaking, but instead, this is just to tell you that you need to be patient for a while.
Start using the app, create some typical behavior and then let the app do its magic.
If you give it time, you will be amazed by how great Top Picks you will receive.
So great that you will think you are being rewarded for something.
This leads us to the next point of concern.
What are Top Picks on Tinder, again?
They are the best of the best.
Or, the best for you, at least.
Among the Top Picks that the app chooses, you will find people that seem to be way too good for you.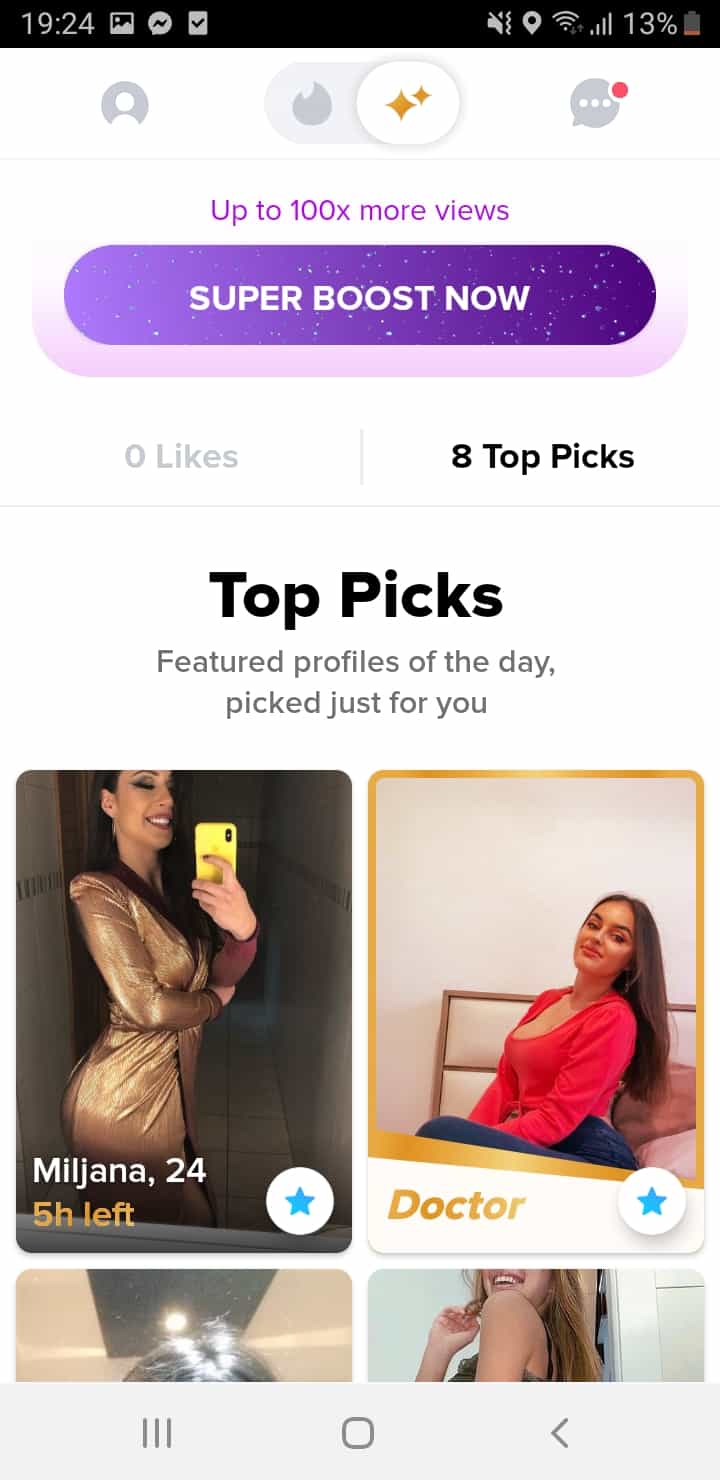 Let me be clear – I don't mean to offend anyone, but the app will truly make such suggestions that you will even think yourself that they're too good for you.
This doesn't necessarily have to be the case.
They have a better profile is more like it.
If your profile is poor, then almost anyone will seem to be out of your league. Tinder is all about advertising.
So, advertise yourself in the best possible way.
Make your profile ship-shape, write a cool bio, add a cool photo (maybe even a bit provocative, why not?).
Get people to notice you with funny and creative bios.
Boring profiles are easily skipped.
Nobody pays attention to these.
Raise your Tinder game to the next level and make yourself a worthy match to the Top Picks that the app's algorithm will choose for you.
Don't Mix Top Picks with Super Likes
Ok, we've established that you can swipe your Top Picks right (i.e. like them).
But, I already explained that these people will not know about this.
Obviously, the likes done within the Top Picks feature should not be confused with Super Likes.
Super Likes will let your liked one know immediately.
Here, you're shooting blanks (figuratively) in the majority of cases.
You're already using Tinder.
And you've already updated to Tinder Gold.
Why not make the most of it?
Remember, you get a new batch of Top Picks every single day.
Why not like them all?
You're not losing face because only you will know you liked them.
They could know only when they see your profile at a later stage and then swipe you right.
Only then will they understand that you swiped them right.
Otherwise, you're in the safe zone with your face fully preserved.
Still, in all honesty, the numbers are not really in your favor with Top Picks.
You can swipe right as much as you like, but there's no firm guarantee that the like will be returned and that you will match the people in your top picks.
But again, the more the merrier.
Out of the ten new suggestions every day there must at least be one to Super Like who will like you back.
Start from this and see where it goes.
And before any of that, boost your profile.
Both literally (try Tinder Boost) and figuratively.
With the latter, what I want to say is that you should make your profile as attractive as possible so as to draw somebody's attention.
Let's be honest here – with online dating, we all tend to rely on appearances.
I think that with this we've covered the answer to the question Tinder what are top picks?
You got the details on how the feature works, the idea behind it, and what to do to make the most of it.
Now it's up to you to do all it takes and make the top picks worthwhile.
Frequently Asked Questions